Denimhunters is a knowledge portal about denim. Since 2011, we've helped denim lovers make educated buying decisions in the pursuit of timeless and adaptable wardrobes stocked with well-made essentials.
Looking for the bar-none best pair of selvedge jeans? You've got options. We've cut it down to a dozen makers of the best men's selvedge jeans.
A well-faded raw denim shirt is a grail for most denimheads. But it's tougher to fade than your jeans. Here're 20 shirts worth the work.
If you need a jacket that can stand the cold and look great for decades, this buying guide is the perfect place to start your hunt.
In this history of jeans overview part 3, you'll learn how vintage denim broke through the mainstream, plus how to tell the story when you're selling.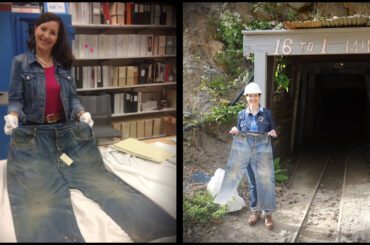 On this episode of the podcast, I talk Tracey Panek about what she does, why the Archives is such a crucial department for Levi's, and how her work influences jeans from any brand.
When you know how the defining features have evolved, you can build better narratives about the jeans you're selling by putting them into a bigger picture.
When we look for new jeans, there's much more than the colour and fit to take into consideration. In this article, I'll be looking specifically at the labels that appear on premium denim, and the semiotic and semantic power that such labels carry.
The Denim Encyclopedia by Denimhunters is a knowledge base with answers to frequently asked questions about denim and jeans, as well as explanations of how denim and jeans are made.
The Encyclopedia is divided into sections, each with its own homepage where its entries are listed with brief descriptions and links to read more. The Encyclopedia is continuously updated with new entries.
THE DENIM ENCYCLOPEDIA
How to cuff jeans: The 8 most common ways
Cuffing is not only a practical way of making your jeans shorter without having to cut and sew, it also looks great.
This guide explains the eight most common ways to cuff your jeans.
THE DENIM ENCYCLOPEDIA
How to hand wash jeans
If you need to wash your jeans, but you don't want to change the way they look, wash them by hand.
It's the most gentle way you can wash your jeans because there is less agitation, which less risk of unwanted creases.
THE DENIM ENCYCLOPEDIA
7 myths about how to wash raw denim
In this section of the Denim Encyclopedia, we investigate and debunk the myths about how to wash raw denim, including not washing for 6 months, ocean washing, dry cleaning and more.