Well-Made Essentials » Winter jackets
Buying Guide to Well-Made and Essential Heritage Military Winter Jackets
Our need for outerwear climbs as we climb the latitude ladder. If you live, as we do, in a country with outdoor ice rinks and ski hills, you probably already have a heavy winter coat that you reach for when Jack Frost comes calling. If, however, cloud and rain are the worst that you have to contend with, a lighter shell or denim jacket is probably enough.
The same can be said for twentieth-century soldiers and sailors. On deck in the North Atlantic or in a cockpit 10,000 feet in the air, servicemen needed jackets that could fight tooth and nail with the elements. For those who saw service in Vietnam, the M-65 may have been all the jacket they needed, but winter soldiers needed much more.
Those who volunteered to stand and watch on that wall needed battle-ready jackets, and military outfitters gave them what they needed—creating some of the world's most iconic jackets in the process.
By and large, cold-climate denimheads tend to look to these Greatest-Generation jackets for inspiration. Why they do this is fairly obvious. Those who first wore leather bomber jackets, duffle coats, deck jackets, and the other jackets we'll feature on this list were rugged, hard-working men. They wore their grit and courage on their sleeves for all to see.
They combined the stiff upper lip of the working man with the effortless stylishness of the shore-leave sailor, so it's no surprise that we try to recreate their looks by wearing what they wore. For those who look to the distant and dusty past for style inspiration, these fighting-spirit pieces (and the men and women who wore them) will always be icons.
The sections we cover in this guide:
Our guides are reader-supported. We earn a small commission when you make a purchase, but it doesn't cost you anything. Prices include local VAT and are subject to change.
---
Well-Made and Essential Military-Inspired Jackets
There are far more pretenders in this space than there are genuine well-made articles. A few makers can be reliably depended on to produce flawless reproductions of iconic military-age jackets. As with everybody, though, even the leaders in the field do some things better than others. We've identified eight iconic pieces from seven makers that we think deserve a close look if you're considering a military-inspired jacket.
Let's dive in with an iconic piece from the only maker we'll be featuring twice on this list:
---
If you've been following these lists (and we hope you have), Real McCoy's should be a familiar name by now. With our focus on timeless pieces, we frequently highlight pieces that capture a particular moment in time, and nobody does this better than Real McCoy's. Their military reproductions are second to none, and they were strong contenders in nearly every category below. As on this list, they're the first and last name in vintage Americana reproductions.
They torpedo the pea coat category out of the water. Their version of the iconic and highly adaptable double-breasted wool coat puts pretenders to shame. Made of long-staple double melton wool and a supple cotton lining, with subtle slash pockets and rayon sleeve lining, this jacket leaves little room for improvement.
Since its popularisation by the British Navy, the pea coat has been one of the most popular cold-weather menswear staples on the planet. One look at the Real McCoy's version of the coat and it's easy to see why.
Double long-staple melton wool
Low-tension weave (very soft)
Cotton twill interlining
Rayon sleeve lining
Made in Japan
13 star ebonite buttons (they fade!)
Other versions of the pea coat worth considering:
Standard & Strange ship from the UK. If they are sold out, or if you're looking for other places to buy Real McCoy's, visit these retailers: Lost & Found (Canada), The Real McCoy's international (UK), directly from Real McCoy's (Japan), Clutch Café (UK)
---
Nearly every brand in this space has taken a run at the classic deck jacket at some point. It's iconic silhouette shares a number of similarities with vintage denim jackets, so it's no surprise that the jacket is a popular one among denimheads searching for a cold-weather jacket.
If you've been directed to this page from our N1 jacket article, you've come to the Well-Made Essentials buying guide for military-inspired winter jackets. Of course, the N1 makes a prominent appearance.
Iron Heart, as they so often do, came into the category with guns blazing. They're now sitting coolly in the corner, their hat covering their eyes. I wouldn't test them if I were you.
Their Made-in-Japan version of the N1 has a cotton whipcord shell on the outside and, on the inside, an ultra-warm mixture of 80% wool and 20% alpaca. They bring the alpaca back for the hand-warmer pockets, and they finish everything off with a double action YKK zipper and, of course, the iconic buttoned placket.
Like everything that Iron Heart makes, this piece just gets better with age. Rather than dreading the moment when you have to put the denim jacket in the closet, you'll eagerly look forward to sliding your hands through these knitted cuffs.
Cotton whipcord shell
Long pile 80% wool / 20% alpaca lining
Additional interlining for increased wind resistance
Over spec'd double action YKK zipper
Quilted satin lined sleeves
Knitted contrasting storm cuffs
Permex snapped alpaca-lined pockets
Other versions of the N1 to consider:
Iron Heart ship from the UK or the US. If they are sold out, or if you are looking for other places to buy Iron Heart, check out: Franklin & Poe (US), Brooklyn (Canada), Corlection (Australia), Brund (Denmark)
---
When arctic winds blow, there are a few coats on this list that need to be layered up—perhaps with a sweater or a heavy flannel over a thermal henley. This Freewheelers Deck Crew Coat is not one of them. Wear your aloha shirt (or nothing at all) under one of these Deck Crew Coats and you'll probably still feel a little feverish indoors.
Freewheelers has been making a run at the reproduction throne since 2009, and they've closed the gap considerably in the last few years, thanks to subtle designs and meticulous craftsmanship. Their Flight Deck Crew Coat, which brings together Primaloft Gold insulation and an Alpaca lining, is based off a 1940s civilian design. In both name and function, though, it's military roots are showing: it's ready for battle.
Paraffin-coated jungle cloth
Alpaca lining
Primaloft gold middle insulation layer
Made in Japan
Waldes zipper
Waxed cord rouche
Available in khaki green for the ultra-authentic military look

Other military-inspired parkas to consider:
Son of a Stag ship from the UK. For other places to buy Freewheelers, try: Corlection (Australia), Denimio (Japan)
---
Often referred to as a jeep coat, the mackinaw parka was designed with winter soldiers in mind. Its cotton twill shell allows for greater freedom of movement than some of the cockpit-friendly jackets we'll cover below. It's not as warm as the winter parkas or the shearling jackets, but, with its heavy wool liner (in this case a 26 oz. one), the mackinaw can more than stand its own.
As with all their vintage reproductions, Buzz Rickson's version of the mackinaw is a true show stopper. Admittedly, it's not a look for everybody. If you've got narrow shoulders, the mackinaw will overpower your frame and make you look smaller than you are. If, however, you've got the width and breadth to pull it off, you'll look like you're ready to leap into a Nazi nest with a knife between your teeth. Button up, pop that wool collar, and cinch up that belt. You're ready to take the continent by storm.
West Point Uniform twill cotton
26 oz. blanket wool lining
Made in Japan
Military spec urea buttons
Solid brass buckle
Wool shawl collar
Other Mackinaw parkas to consider: Buzz Rickson's seem to be the only ones doing a decent version of the Mackinaw parka. We'll let you know if anybody else joins the party. 
Son of a Stag ship from the UK. If you're looking for other places to buy Buzz Rickson's, try: Clutch Café (UK), American Classics (UK), B74 (Germany), Burg & Schild (Germany), Second Sunrise (Sweden), Buzz Rickson's Europe (UK)
---
We're now getting into the leather military reproductions, and this is where we had to make some difficult decisions. We went with a trio of shearling jackets with clear cold-weather bonafides.
We're leading off with Eastman's version of the D-1 Ground Crew Jacket. Designed for, you guessed it, Air Corp ground crews, the jacket quickly crossed over and became pilots' favourite layering pieces (they would often wear the D-1 over the much thinner A2).
Eastman has been making leather reproductions since 1984. They saw a booming collector's market, but they knew that these pieces were out of range for most people who just wanted a wearable piece of history. From the tanning to the construction, they set out to build jackets that looked and performed exactly like the originals. Their D-1, complete with ¼ inch fleece depth sheepskin and zippered front pockets, is one of the more wearable and versatile reproductions you can find. A bargain at any price.
¼ inch fleece depth sheepskin
Same breed of sheep as was used to create the originals
Horsehide trim
KWIK zips (the brand's own period-authentic production)
Authentic USAAF mil-spec buckle
Woven USAAF spec label
Single chin strap
Other D-1 leather jackets to consider:
Eastman ship from the UK. If you're looking for somewhere else to buy Eastman, try: American Classics (UK), Burg & Schild (Germany) and Stuff (Germany)
---
Another extremely bold choice for would-be winter soldiers, Cockpit USA's B-7 Jacket stands at a distance from the more popular pieces on this list like the pea coat and the deck jacket. It takes a little more guts to wear one of these confidently.
The B-7 arctic parka was produced in the early years of WWII for soldiers on the ground in unforgiving northern climates and at sea in the frigid North Atlantic. They cost an arm and a leg to produce, so the army didn't make them for long. Originals are highly sought after by collectors.
Who better to take on this historic piece than the passionate and careful artisans at Cockpit USA (one of the only makers brave enough to take on the task). They're the only ones that have managed to balance street-ready style and combat-ready functionality. As they age, jackets like this become strong character pieces (think Tom Hardy's Bane), so throw everything you've got at it to make the piece truly your own.
Thick shearling
Nappa leather finished exterior
Made in the USA
Coyote-trimmed hood
Leather welted seams
Buckle throat latch
Front pouch pockets
Side entry zippered hand-warmer pockets

Other B-7 jackets to consider:
Aero Leathers' natural version of the B-7 might be the most accurate reproduction (it helps that they made the originals)
Clutch Café currently has an original Aero B-7 in stock. If you want to own a piece of dusty and faded history, you can't do much better
Simmons Bilt also do the B-7 quite well
Cockpit USA ship from the USA. If you're looking for other places to buy Cockpit USA, try: American Trench (USA) and Bison Trading (Canada)
---
We've gone round the Arctic Circle, and it's brought us back to Real McCoy's and their superb take on the B-6. For our money, this is it folks: the creme de la creme of military-inspired winter jackets. Even without its bloodlines, this is a stand-alone stand-out that cries out for the open road or, even better, the open skies.
Real McCoy's B-6 (like the original) is not as bulky as the B-3. It fits closer to the body, striking that balance between warmth and freedom of movement. With ¼ inch shearling (a Shinki Tannery exclusive) and horsehide accents, you'll have to work at it a bit to break it in, but when it starts to relax, it'll almost certainly become the first thing you reach for when winter has its wheels on the ground. It'll just keep getting better year after year.
When you're breathing your last, be sure to leave clear instructions in the will. Otherwise, this legacy piece might be the wedge that drives siblings apart.
Combination-tanned sheepskin leather
Shinki Tannery exclusive
Acrylic lacquer finished
Made in Japan
Period-correct Talon zippers
Throat latch
Waist adjusters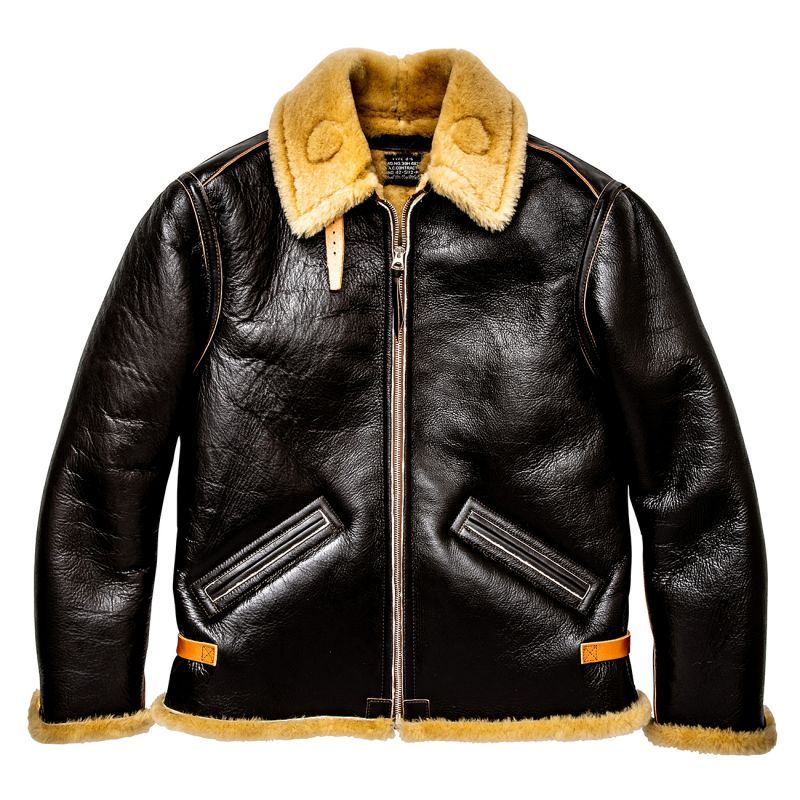 Other versions of the B-6 to consider:
The Real McCoy's ship from Japan. Other places to buy Real McCoy's include: Lost & Found (ship from Canada), Clutch Café (ships from the UK) The Real McCoy's international (ship from the UK), Standard & Strange (ship from the US)
---
Eastlogue x Gloverall Monty Duffle (Navy)
For many, the duffle is more associated with the thoroughly English marmalade-loving bear than with cold-weather soldiers, but it's only taken on these cute and cuddly associations quite recently.
The duffle (or duffel) took its name from a Belgian town where the rough and tumble fabric originated (it's the same stuff genuine duffle bags are made from). When duffel had proved its worth over and over again on the seas and in the trenches, Gloverall purchased mountains of the stuff and started producing civilian versions, which became so popular in England that even pint-sized bears got in on the action.
Korean sportsman and workwear brand Eastlogue has gone back to the source, collaborating with Gloverall to create a slightly updated version of the duffle. They've used a 24 oz. Italian double wool twill, and they've left it unlined, letting the heavy fabric do all the heavy lifting (and it's got brawn for days). They've given it a slightly slimmer silhouette, a trio of handsome jute rope and bone toggles, and a pair of snap closure front pockets to seal the deal. There might be more faithful reproductions of the military-spec original out there, but this one's got our vote.
24 oz. double-faced Gloverall Italian wool
85% wool / 15% polyamide
Made in England
Unlined
Jute rope and bone toggles
Military-grade gunmetal snaps
Herringbone twill reinforcements
Other versions of the duffle coat to consider:
Division Road ship from the USA. If you're looking for other places to buy Eastlogue or Gloverall, try: Corridor NYC (USA), Gloverall (UK), and Kafka Mercantile (UK)
---
Why Well-Made Military-Inspired Winter Jackets Are Essential
Well-made military-inspired jackets tick both of our essential boxes: they are both timeless and adaptable. They have never gone out of style, and they never will, and they work with a wide range of cold-weather looks. Let's take a closer look at each of these points.
Well-Made Military-Inspired Jackets Are Timeless
Most outerwear owes a debt (small or large) to the military outfitters who designed and produced garments for the Army and the Navy around the middle part of the century.
Yes, fur-lined parkas were a centuries-old form by the time the military started issuing versions of it for winter soldiers. Yes, Dutch sailors were wearing versions of the pea coat in the early 18th century. But the American and British military outfitters effectively perfected the jackets. They brought a distinctly utilitarian ethic to their task, and everybody since has been walking in their very large footprints.
Especially in the Air Force and Marine Corps, iconic product categories like the N1 (1943), the B-3 (1934), and the D-1 (1937) became instant classics. Collectors will kick their own mothers in the teeth to get their hands on original pieces in relatively good condition. They're not just a collectable piece of military history. They are highly wearable and stylish pieces that will slide right into modern wardrobes and workwear rotations.
Those who can live with reproductions don't have to make do with inferior copies. If anything, makers like Real McCoy's, Freewheelers, and Buzz Rickson's are making military-inspired jackets that outdo in every particular the jackets they're based on.
As we'll see below, to get into these pieces means spending a bundle, but if you've ever dropped big bucks on a pair of jeans or leather boots, you know that, when you know what to look for, it's easy to justify the extra costs. This is why most serious denimheads either already have a jacket in this category, or they've got one their grail list. They know that this is not a category to save money in. It's a category to save money for.
Well-Made Military-Inspired Jackets Are Adaptable
Besides its warmth-giving properties, a great piece of outerwear's best quality might be its adaptability. Especially when worn buttoned or zipped up, the jackets we feature below can be layered over just about anything. If you wear them unbuttoned or unzipped, they tend to look best with heavy wool (if it's cold) or a henley (if it's cool).
They look equally at home with a pair of fresh raws or thoroughly faded ones. You can wear them with khakis or with work pants, with loafers or with boots—it's all the same.
The only challenge they present is also one of their best features: their warmth. If you spend a considerable amount of time outdoors, the jackets on this list will keep you warm and dry no matter what the winter brings. They'll stand their ground against all comers, and they'll look better year after year for decades. If, however, you spend the winter months moving from one indoor space to another, you'll spend more time carrying these coats than wearing them.
To get the most out of the almost limitless adaptability of these coats, you need to be prepared to fully embrace their functional side. Take them into the elements where they are at their best. Combine them with a watch cap and a pair of heavy denim. When the north wind blows, you can just stuff your hands in your pockets and tell it to do its worst.
Combine your battle-ready jacket with a sturdy pair of gloves and take the motorcycle out for a ride when everybody else is building fires. This is what these pieces are all about. They allow you to do what you must do (or what you'd prefer to do) while others are looking through frosted windows waiting for spring to come. They make you unstoppable.
---
How to Identify a Well-Made Military-Inspired Winter Jacket
In some of the more popular categories (like the N1 and the pea coat), there are literally hundreds of versions of the jackets available. Lay a mass-market version of one of these beside the genuine well-made article and there's no comparing them.
The hastily produced knockoffs aren't made of the right stuff, in the right way, or for the right reasons. If you're considering investing in a well-made military-inspired jacket, here's what to look for.
What It's Made of
We've covered (and fought over) a fair amount of ground with this category, so there's a wider range of materials here than in other lists. We've got a few leather pieces, a ripstop one, some paraffin-coated jungle cloth, and generous helpings of wool and cotton. You won't see many blends here. It's all or nothing at this kind of level, and the best makers tend to outdo themselves, searching high and low for the most weather-resistant, durable, and long-lasting fabrics on the planet.
If, say, you're looking at a wool coat, the well-made articles will put the mass-market ones to shame long before you start a closer inspection. Cheap pea coats or duffles look flat and lifeless. They might look all right on a mannequin, but on the hanger they just, well, kind of hang there. The wool is gutless and weak-wristed. It's more of an absence of a coat than a coat itself.
A well-made coat stands to attention. It's the same shape on and off the hanger. When you slide it on, you'll feel this difference almost immediately. If it's leather, you'll feel the jacket fighting you like a Spartan when you bend your arms.
If you're trying it on in the store, a few degrees of movement is enough. If you want to see steam come out of the stockist's ears, bend your arms 90 degrees and stuff your hands in the pockets (don't do this—they hate it).
Whatever the jacket is made of, it should be heavy—like, really really heavy.
What to look for in a well-made military-inspired winter jacket:
100% cotton/wool
High-quality leather (sheepskin leather for shearling coats)
Solid, well-built feeling
Meticulous hardware (leather, horn, brass, etc.)
Stiff (it will soften in time)
How It's Made
At this level, you want painstaking attention to detail. All of the items we've highlighted below sit at the pinnacle of their category. They were all made extremely carefully by craftsmen with an ability to marry vintage looks with modern techniques.
Heavy hardware (buttons, toggles, and zippers) will offer some resistance at first, but each time we fasten the jacket or open a pocket, we're greasing the wheels. As the jacket ages, resistance will give way entirely. When new, though, it should fight us a little bit. Everything will be a little stiff until we've been in a few dogfights.
The fit needs to be perfect. Nothing less will do. Even if the fit is meant to be on the boxy side, the shoulders and cuffs should line up perfectly with your frame. If it's a waist-length coat, it needs to sit just below your belt line. If it's a longer piece, it should probably sit somewhere around the middle of your thighs. If there's not a neat alignment between how the jacket is supposed to fit and how it fits on you, put it back on the rack—no matter how much it pains you to do so.
There are some denimheads and vintage enthusiasts who get obsessed with a particular piece. They scrimp and save, and, when they have the money, they finally try the piece on for the first time. They've been waiting for this moment, but the fit is less than perfect. Rather than accepting that the piece isn't for them, they slam the money down on the counter.
After a few wears, the ill-fitting piece ends up languishing at the back of the closet. They regret, and they start looking for buyers to take the piece off their hands. This is how grail pieces end up on used clothing sites—the last place you want to be as a seller.
If the fit isn't perfect, or if it's more coat than you need (i.e., it's too warm for your weather), you might need to look for a different maker's take on the piece or a different piece altogether.
Tie yourself down too firmly to a particular model and maker and you might end up taking a big bath on a very expensive item. Remember, many of these are lifetime pieces–heirloom pieces even that your children might continue wearing one day. To get your money's worth, the fit needs to be nothing short of perfect.
Construction details to look for in well-made military-inspired jackets:
Rugged construction
Faithful recreation
Heavy-duty hardware (stiff at first)
Absolutely perfect fit (nothing less will do)
Reputable maker (usually reflected in the price)
Why It's Made
The pieces we cover below represent a clear attempt on the part of the maker to capture a particular moment in time. More than this, they are an attempt to capture a rugged spirit, an enduring and battle-hardened ethic of responsibility and inflexibility. The times were hard, and so were the men and women who endured them.
The best pieces in this space capture this and pass some of this spirit down to you through design and construction. Like those who make great denim pieces, these makers don't want you to baby their pieces. They want you to push them as hard as you can, to take them to their absolute limits.
In our darkest hour, these pieces and the men who wore them held the line. Whatever you've got to throw at them, they've seen worse and emerged—scarred but unbroken.
Do these pieces justice. The best faded examples are all from people who have treated them not as occasional pieces worthy of casual rotation. To get the most out of these incredible pieces, you need to absolutely live in them when the seasons change. Find a way to make them an indispensable part of your wardrobe and they'll reward you (and keep on rewarding you year after year after year).
Got the Jacket? Complete the Kit
To make your well-made winter jacket really jump out, you'll need the full well-made kit. You'll definitely need a pair of well-made raw selvedge jeans, and nothing goes better under the winter jackets we've covered on this list than a heavy-duty henley. Put the right combination together and you'll be kitted out and battle ready.