Well-Made Essentials » T-shirts
Our Top 10 List of Well-Made T-Shirts That Will Revolutionise Your Approach to Workwear Basics
If you've been resisting the pull of well-made tees, we want to push you off the fence. It's time to make that leap. A well-made tee will make the leap worthwhile, but the ones on this list will do more than this. They'll change your approach to basics forever.
When I ask people about their favourite tees, the conversation veers off in one of two directions. Those who have made the leap into well-made basics territory talk about the dye, the cotton, or the construction. Those who have held back on making this leap tell me stories about unforgettable concerts or festivals or fortuitous visits to thrift stores.
Even those of us who've started welling well-made basics have a few of these story-time tees. They fit us just right, they're butter soft, and the graphic has cracked and faded just so—they're a part of us. They're woven through with history and meaning, and they're entirely irreplaceable.
Then there are all the rest. Most of us have a good stack of these superfluous tees. They seem to appear out of nowhere and breed in secret. They might get a wear or two a year. Otherwise, they sit at the bottom of the drawer, consistently passed over for our old favourites.
The world's best T-shirt? Yeah, it's here!
We've tested and reviewed seven tees that all fit the bill as 'world's best' in their own categories. Read that review here.
Keep the Best, Bin the Rest
Two days after buying my first well-made tee, I gathered up an armload of old tees and donated the lot. I kept my most treasured ones, but I said goodbye to the rest, and I haven't regretted it for a moment. Here's why.
I resisted the pull of well-made tees for almost a decade. I inched into the well-made goods space piece by piece, starting (as most of us do) with premium selvedge and leather boots. As I was drawn further and further into the scene, I started investing in complementary denim pieces and flannels, but I turned up my nose at well-made tees.
I finally made the leap, and it quickly became apparent what I had been missing. I started with a dark indigo-dyed shirt from Tanuki, and I was immediately converted. The colour, the feel of the fabric, the fit, and the construction—everything blew the doors off my other tees.
I found myself wearing it nearly every day. Even long-loved tees were entirely neglected. When shopping, I used to keep one eye open for an eye-catching or funny design, but having experienced well-made, there was no going back.
The sections we cover in this guide:
If you want to know more about why we created these guides, please read our Manifesto. If you want to understand the criteria we apply for each item, read our definitions of 'well-made' and 'essential'.
Our guides are reader-supported. We earn a small commission when you make a purchase, but it doesn't cost you anything. Prices include local VAT and are subject to change.
---
Why a Well-Made T-Shirt Is Essential
We probably don't need to convince you that a T-shirt is an essential part of a man's wardrobe—not in the same way as, say, a heritage work shirt or a military-inspired jacket. We'll cover the history briefly (because it is more interesting than you might think), but we'll quickly turn to the heart of our argument, which is this:
To get the absolute most out of the T-shirt's timeless silhouette and unbeatable adaptability, not any old tee will do. We need a well-made one.
A Well-Made T-Shirt is Timeless
Until 1951, when Marlon Brando played petulant and perpetually sweat-drenched Stanley Kowalski in A Streetcar Named Desire, the T-shirt was regarded in the same light as Y-front briefs. It was an undergarment. On sweaty nights, a man might strip down to this layer, but usually only when he was safely behind the walls of his castle.
Brando changed all this in an instant. The white tee quickly became a potent symbol of hot-blooded youth, of virility, rebellion, and devil-may-care attitudes. By the time James Dean appeared on screen in a T-shirt in 1955 in Rebel Without a Cause, he was effectively pushing at an open door.
Brando and Dean owed a style debt to late-nineteenth-century American labourers, who wore what was then called a 'union suit'. The button-up onesie was great when the weather was cool, but it was hell in the heat, so the workers hacked at the garment until it suited their needs. They cut it in half, tucking the top half into the lower one, and sometimes they didn't wear the bottom half at all. Some took things further by cutting the sleeves short.
The Cooper Underwear Company saw untapped potential, and they soon introduced what they called a 'bachelor undershirt'. The sleeves were still long, but the buttons were gone (single men are still notoriously poor when it comes to resewing buttons).
The henley-style buttons were replaced with a neck that had enough give to slide over the head with ease. With a few more years of workers adapting the shirts to suit their preferences, the T-shirt was born. By 1913, US Navy quartermasters were handing out T-shirts to sailors.
It remained a working man's undergarment until the counterculture icons of the fifties made the T-shirt a badge of badassery. Ever since, the tee (thanks to the ease with which it can be blazoned with slogans or pictures) has remained a piece that, like no other, is stitched up with our identities.
Whatever we wear on our sleeves—be it our sense of humour, our politics, or our artistic tastes—we display this proudly and publicly with our choice of T-shirt. No item in our wardrobe speaks so loudly about who we are.
The T-shirt has evolved through the ages, but all that has really changed is what we choose to print on it. The times they may be a-changin', but, underneath it all, the tee rolls on and on, ever the same.
A Well-Made Tee is Adaptable
As long as the atmosphere is casual, there's simply nothing a crisp white tee can't do. It's the perfect bottom layer in a layered look, or, if the weather is right, it can keep us cool in every sense of the word.
The tee's adaptability does have limits, though. We need to keep it simple. The classic pain tee speaks softly but confidently. The minute we embellish it with branding, graphics, or slogans, it starts to shout. The tee becomes the focal point of our outfit, and it works better as a background basic.
I said above that I have a few tees that I've had for years and would never dream of getting rid of. All of them have graphics on them. As much as I love these tees, they only work with certain outfits and in certain settings. A plain tee in a simple colour doesn't have these limitations. It works everywhere and with everything.
This goes double when the tee is well made. A thick tee with some texture and weight has the same kind of impact as a collared shirt. It joins hands with your other well-made pieces and knits the outfit together into a coherent well-made whole.
It's not enough for it to be white and clean. To be almost universally adaptable, it simply has to be well made.
---
How to Identify a Well-Made T-Shirt
Price is a good starting point, but there are plenty of brands that hike the price considerably for the privilege of wearing their badge on your chest. You can avoid this by looking for tees that don't feature branding of any kind, but this is not the only thing to look for.
Here are a few pointers.
What It's Made of
All of the shirts we've listed below are 100% cotton, but, as with '100% genuine leather' boots and jackets, '100% cotton' doesn't really tell us much.
Organic cotton is a great starting point. This means that the cotton growers have not used pesticides, so it's the environmentally friendly option, but this isn't the only reason to choose organic cotton. Organic cotton fibres tend to be significantly longer and tougher, translating to a more supple and longer-lasting material.
Those who operate in the high-quality cotton space use more time-consuming manufacturing processes. This investment only makes sense if they start with the best available cotton. A pack of "quality" cotton T-shirt might look like a bargain, but you get what you pay for.
And you sometimes get more than you bargained for. There are hidden human costs in cheap cotton. For instance, cotton grown in China's Xinjiang Province is the product of forced labour—most of it performed by Uighurs, a Chinese minority ethnic group who have been effectively imprisoned in re-education camps located in Xinjiang.
It's a human-rights travesty that's tainted Chinese cotton. Around 80% of China's cotton trade can be traced to Xinjiang Province, so some consumers (us among them) are avoiding Chinese cotton entirely.
Boycotts have helped push manufacturers away from the ethically toxic trade in Xinjiang cotton, but the low cost is too tempting for some to resist. None of the makers that we highlight below use Chinese cotton.
Look for words like the following: organic/certified organic, fair-trade, long-staple/extra-long-staple, Pima/Supima, Sea Island, Giza, and Suvin Gold. For places of origin, look for Japan, USA, Egypt, and Zimbabwe. This is not an exhaustive list, but it's a good starting point.
What to look for in a well-made tee:
100% cotton
Long-staple cotton
Stay away from Chinese cotton
Pima/Supina very common in well-made tees
Significant weight and thickness to the tee
If blue, dyed with indigo
Character in the fabric (especially when colour is introduced)
How It's Made
The pattern for a T-shirt is relatively simple. In the well-made space, we can start looking for fewer seams. A handful of the best makers use loopwheel machines, which knit the cotton around a wheel, creating a tube rather than a sheet of cotton.
Loopwheel knitwear is like the selvedge of the denim world. It's a slower process, producing about 1m of fabric every 90 minutes) with a much higher-quality result. Like those who make the switch to selvedge denim, those who switch to loopwheel rarely go back. The tees hug the body like nothing else.
Selvedge Masterlist Top Three Jeans
The list of our favourite Japanese selvedge jeans is long, but at the very top of it, you'll find: Iron Heart 634S, Samurai S710XX, and ONI 622ZR.
There are plenty of incredibly well-made tees that haven't been made on loopwheel machines, but you can be sure that, if you see loopwheel anywhere in the description, you're looking at a high-quality item that's been made slowly by people passionate about their craft.
Japan and Germany are the only countries in the world that produce loopwheel knitwear, so this is not readily available. You'll have to do a bit of looking. Our list below is a good place to start.
The seam where the sleeves meet the body of the tee should be extremely clean. If there is any puckering at all, toss it back on the pile.
Finally, take a close look at the neck, the bottom of the tee, and the ends of the sleeves. The neck (usually ribbed) should have a bit of give, but it should still feel substantial. You might see similar reinforcement at the end of the sleeves. Usually, though, the bottom of the tee and the sleeves are both doubled over and stitched carefully.
Construction details to look for in a well-made tee:
Loopwheel is 'nice to have'
Substantial weave
Ribbed neck
Flat seam construction
Clean and tight stitching throughout
No puckering along major seams
Why It's Made
The best makers want to help you make a statement with your tee. This statement has less to with what is printed on the tee than with how the tee is made and with what. It's a statement about quality, taste, and refinement. It may not say as much about you as your printed tees, but what it says is still important.
High-quality cotton gives your basics some bite. Whether rich in colour or as pure white as the driven snow, a well-made T-shirt is made to be worn with other well-made items, to tie outfits together and to give them a durable and classic foundation.
If you've chosen to ignore the T-shirt in this space until now, we're encouraging you to take these makers up on their offer.
You'll be able to replicate some of the more classic looks without sacrificing anything in terms of quality.
Add a few quality tees (or even just one) into the rotation and you'll soon be wondering why you waited as long as you did.
---
10 Well-Made and Essential T-Shirts
With a high price tag being no guide to quality (I've seen $400 T-shirt that would be put to shame next to any of the tees on this list), and with literally every clothing manufacturer offering some version of the classic tee, it can be hard to know where to start.
A good name is a strong indicator of quality, and you could walk into any of the stockists we normally highlight and walk out with a good tee. Still, some are the true cream of the cotton crop. Here are our ten favourites.
---
It's not remotely controversial to call Merz the king of basics. The German brand started over a century ago, but they folded like a cheap shirt when cheaper manufacturing led to a rapidly shrinking market.
When the fashion world was starting to develop a taste for well-made basics, an enterprising couple came across an old Merz henley in a flea market. They contacted the descendants of the original owners and brought the brand back to life in 2011.
They have a few things to brag about. First and foremost is their loopwheel manufacturing. The Merz plant in Germany is one of only two factories in the world (the other in Japan) that makes loopwheel knitwear, and they've leveraged this exclusivity to perfection.
They stick to the basics, offering very little that mars the serene face of their cotton tees and sweaters. As well as any brand in this space, they understand exactly what their customers want and deliver exactly what they promise.
100% organic prima quality cotton
Loopwheeled
200 gram
2-thread construction
Round neckline
Straight hem
Expect some shrinkage (usually around 2 cm)

Other Merz shirts to consider: The 1950s Crewneck (with a wider and more casual neck) is another of the brand's popular favourites. Merz has a wide selection of styles and colours available on their website.
Franklin & Poe ship from the US and Merz ships from Germany. If you're looking for other places to buy Merz, try: Self Edge (USA), Burg & Schild (Germany), Maplestore (Australia), Lost & Found (Canada), Son of a Stag (UK)
---
This 7 oz. monster tee comes courtesy of a Japanese brand that has hit a bit of a rough patch in recent years. It's unclear whether Kobayashi-san, the legendary Flat Head founder, is still piloting the ship (if so, it's from below deck).
The brand severely over-extended itself and found itself over-burdened with debts. When it looked like the brand would crumble, somebody stepped in to right the ship, but it's uncertain whether this will be enough to save The Flat Head from eventual extinction. Best to get while the getting's good.
With or without the steady hand of Kobayashi at the tiller, The Flat Head has long been known for absolutely bulletproof construction. They bring the same ethic to their jeans as they do to their legendary leather and knitwear.
Their loopwheel tee is evidence of this spirit in action. Featuring their trademark triple-stitch collar construction, this might be the best collar in the game, and the yarn-dyed cotton drips with character and will just get better as the tee ages. It looks great in white, but it's an absolute stunner in heather grey.
100% cotton
7 oz. (one of the heaviest tees you can find)
Loopwheel
Made in Japan
Yarn-dyed
Triple-stitched collar
Once washed (minimal shrinkage)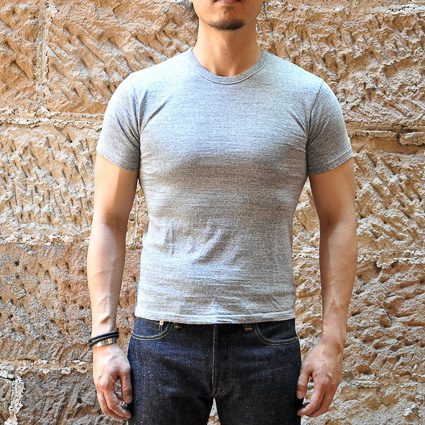 Other Flat Head tees to consider: The Super Slow Loopwheel Tee is also available in white, olive, and black. They also have a comfort-fit '20 Version Loopwheel Tee in white, black, and navy.
Corlection ship from Australia. If you're looking for other places to buy The Flat Head, try: Self Edge (USA), Denimio (Japan), Rivet & Hide (UK), and DC4 (Germany).
---
For the true indigo head, this shirt from one of Japan's most forward-thinking brands will rocket to the top of the rotation. Tanuki is a baby in the Japanese scene, having only started introducing products to the market a few years ago. They've quickly made a name for themselves, though.
More than any other brand in the space, they have positioned themselves as a modern brand. In a space filled to bursting with brands focused on the past, Tanuki has their face to the rising sun of the new age of Japanese denim.
Their Heavy Shinkai Tee may not be loopwheeled, but it more than makes up for this with stunning details. Stunning tonal stitching along the main seams and subtle branding over the shoulder mean that eagle-eyed enthusiasts should be able to pick these tees out from across the room.
The play between dark and light blue (the result of careful rope-dying) can't be captured in photographs. This shirt needs to be seen up close to be fully appreciated.
100% premium cotton
Knitted in Japan
Slub yarns (tons of texture)
Rope dyed with natural indigo
Irregular contrasting blue side seams
Reinforced blue ribs on neck
Embroidered Tanuki logo on the shoulder
Other Tanuki tees worth considering: They also have an Oversized Lightweight Shinkai Tee on the Tanuki website, but it's not nearly as eye-catching as the heavy, slim-fitting version.
Redcast Heritage ship from Spain. If you're looking for other places to buy Tanuki, try: Canoe Club (USA), Blue Owl (USA), Denimio (Japan), Godspeed (Australia), Store Du Nord (Netherlands), Stuff (Germany), and Miloh (Canada).
---
For made-in-Japan classics, it doesn't get much better than Studio D'Artisan. The legendary Osaka 5 denim studio has been operating in the space since the late '70s, and they haven't taken a wrong step.
As one of the early innovators, many of the brands that have leapt into the market over the past few decades have followed Studio D'Artisan's lead. Once the young upstart revolutionising the denim scene with their prescient focus on high-quality selvedge, they have settled firmly into a niche that they helped create.
The brand has a definite conservative bent, and this white loopwheel tee is about as conservative as they come. The brand uses the motto "the reconstruction of great old things", and they've used the old loopwheel machines at the Wakayama plant to produce this timeless tee. It's not likely to draw oohs and ahhs of admiration from across the room, but up close the quality is unmissable. You can see and feel it on your skin.
100% premium cotton
Loopwheeled
Made in Wakayama Japan
No side seams
Heavyweight
Surprisingly soft
Slim fit
Other SDA tees to consider: The 9913 is also available in Black. They also have an ultra-soft Suvin Gold Loopwheeled Tee (with a chest pocket) in White and Black (dark grey really).
Rivet & Hide ships from the UK. If you're looking for other places to buy Studio D'Artisan, try: Self Edge (USA), Okayama Denim (Japan), Redcast Heritage (Spain), Son of a Stag (UK), Corlection (Australia)
---
Never a brand to stuff cotton in their ears, Iron Heart has clearly been listening to its customers. They've produced a version of their extremely popular 1610 tees with a slightly longer body.
The classic 1610 is still a great-fitting shirt for those who fit the Asian mould, but the longer body is a sight for sore eyes for those who need a little room to stretch their legs out.
Iron Heart is one of the few made-in-Japan brands that have tried to adapt their sizing to reflect their growing popularity in the West, and we tall men are certainly glad they've done so.
The tee (available in a number of colours) is 6.5 oz., putting it just a sliver lighter than the Flat Head. Like the other made-in-Japan loopwheel tees, Iron Heart's was made at the Wakayama plant.
There are some limitations to the width that the loopwheel machine can generate, so, while the S, M, and L come without side seams, the XL and XXL have been assembled out of two separate pieces of loopwheeled fabric.
100% premium cotton
6.5 oz. fabric
Knitted on loopwheel machines
Made in Japan
Tube construction, but XL and XXL have side seams
One washed (minimal shrinkage)
Sizing is a little erratic, so try before buying or ask stockist for specific measurements
Other Iron Heart tees worth considering: The 1610L is also available in Heather Grey, Navy, Olive, and Black. The classic 1610 (with the shorter body) is available in Light Grey, Marl Grey, Navy, and White. They also have an insanely heavy 1600 (an 11 oz. cotton knit crew neck) in Black and White.
Iron Heart ship from the UK and the US. If you're looking for other places to buy Iron Heart, try: Franklin & Poe (US), Corlection (AUS), Self Edge (US), Brund (Denmark), Statement (Germany)
---
Hemen Biarritz Dani
The crisp look of a white tee fresh out of the box or the wash is just the ticket for some people. As frequently as we find ourselves in this camp, we are also drawn frequently to basics in earthier tones. They work so well with other well-worn well-made pieces, and there's only a handful of makers that combine the perfect colour with an impeccably made tee. The French undergarment specialist Hemen Biarritz is one of them.
Long ago, in the foothills of the Pyrenees Mountains, the Basques believed that undergarments could, with love and faith, be endowed with magical properties to protect the wearer. The French brand has taken this story to heart, and their basics do seem to have a touch of the old Basque magic.
Their made-in-Portugal tees may not be loopwheeled, but this doesn't stop them from being one of the best tees you'll find anywhere.
100% certified organic cotton
150g jersey knit fabric
Made in Portugal
Double-stitched collar
Pre-washed (minimal shrinkage)
Relaxed fit
Available in a wide range of colours
Biarritz has experimented briefly with other tee styles, but it seems that they're confident enough in the Dani Tee to make it their only offering in the category.
Hemen Biarritz ship from France. If you're looking for other places to buy Hemen Biarritz, try: Brund (Denmark), Stuff (Germany), Hepcat (Sweden), Goteborg Manufaktur (Sweden), and Liberty (UK).
---
The founders of Utilitee, a husband and wife team from Kojima, saw and seized an opportunity.
The Wakayama factory, which produces knitwear for nearly every major Japanese denim brand you can think of, has two series of loopwheel machines. The older ones are much in demand, but the newer machines (built in the '80s) have a unique advantage. They offer a tremendous amount of sizing flexibility that the older machines lack.
Enter the Utilitee. It's a classically cut 5.5 oz. loopwheeled tee that comes in every size from small to quadruple XL. If you've had any trouble finding a quality tee big enough for you, your prayers have been answered.
In the middle of the sizing spectrum, these tees fit great, and they're just that little bit lighter than the typical heavy loopwheel tees (a bit of a relief if you regularly get hot under the collar).
The classic colours are all there, but it's this baby blue version that's really caught our eye. Even better value when they're bundled together (most people buy at least two at a time).
100% cotton
Knit on loopwheel machines
Made in Wakayama, Japan
Tube constructed
Sizes from S to XXXXL
One washed (minimal shrinkage)
The 5.5 oz. Loopwheel Crew Neck is also available in White, Navy Blue, Black, Grey, and Royal Blue.
Sonder Supplies ship from the UK and they are the exclusive outlet for Utlitee (for now).
---
If you've got a drawer full of old band tees, it might have been some time since you had a truly black tee. The old band tees get that washed out look after a few wash/wear cycles, and this might be just the way you like them. If so, this collaboration between Samurai and Australian stockist Corlection might be right up your alley.
Samurai tend to make things a little heavier than standard, and this shirt is no exception. It's tied with the Flat Head for the heaviest shirt on this list.
It's an exclusive cotton they've only used for the collaboration, and it's an incredible mixture of slub (that uneven texture) and smooth hand feel. The overdyed shirt will fade beautifully (like everything Samurai makes), and the Ripen cotton will just get softer and softer. It's a band tee killer.
100% Ripen cotton
7 oz. heavyweight fabric
Knit on super slow loopwheel machines
Made in Japan
Double-stitched collar
Overdyed
Once washed (minimal shrinkage)
Slim fit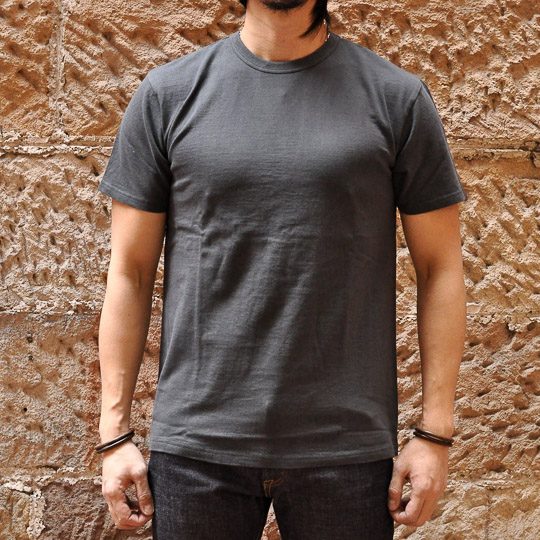 The Ripen tees are also available in Natural, Mint, Violet, Blue, and Icy White.
Corlection ship from Australia. The tee is exclusive to the Australian retailer, but you can purchase other well-made Samurai goods from: Okayama Denim (Japan), Denimio (Japan), DC4 (Germany), Son of a Stag (USA), and Statement (Germany)
---
If you're going for that classic silver-screen rebel look, Mister Freedom has you covered. The Californian brand has been going to the vintage well for inspiration since they started.
This shirt is so steeped in undershirt designs from the '40s and '50s that they named it the Stanley (after Stanley Kowalski, the character Brando played in A Streetcar Named Desire).
The quality is undoubtedly higher than anything you could have found in the '50s. It's a tubular knit (not loopwheeled, but the next best thing), so there's no side seams.
The lightweight cotton fabric is ever-so-slightly transparent, which means that right out of the packaging it looks like it's been worn a few hundred times. Perfect as an undershirt or for those hot New Orleans nights.
100% cotton
Lightweight slubby fabric
Milled in the USA
Tubular knit (no side seams)
Cover stitch self-fabric neckband
Inspired by 1940s USMC government-issued undershirts
100% cotton threads (natural roping on seams)
The Stanley Tee is also available in Black and Olive.
Franklin & Poe ship from the US. If you're looking for other places to buy Mister Freedom, try: Mister Freedom (USA), Rivet & Hide (UK), Clutch Cafe (UK), and Second Sunrise (Sweden).
---
John Gluckow Standard Issue Navy Tee
Based on the tees issued to marines during the second world war, this made-in-Japan beauty comes from the workshop of an American designer who found himself washed up on Japanese shores.
His Strongarm Clothing and Supply Co releases two collections of vintage-inspired pieces per year, but they have a small range of Strongarm Standards—this tee being one of them.
The shirt is tubular knit in Japan, and it's dripping with well-made details. Flat-locked seams combined with the heavyweight cotton give the shirt a bulletproof feel, and the slighter wider neck opening makes it a bit more of a standout piece than the classic, more tight-fitting tees. A great timeless piece from an underappreciated maker.
100% cotton
Heavyweight fabric
Tubular knit
Made in Japan
Flat-locked seams
WWII USMC pattern
Wider-cut neck opening
The Standard Issue Tee also comes in Green.
Stuff ship from Germany. If you're looking for other places to buy John Gluckow, try Clutch Cafe (UK).
---
Kitted to a Tee
If you've invested in some well-made basics (henleys are another essential), all you need is something to layer them with. A heavyweight flannel is always a great choice, but if you need something a little warmer, check out our list of well-made CPOs and overshirts.
Of course, the tee is always a classic when simply paired with a great pair of raw selvedge jeans. However you wear it, as long as you're pairing with well-made and essential pieces, you'll be kitted to a tee.