Go Further Faster: These Selvedge Denim Jeans Will Take You to Denim Heaven in a Hurry
Each time we cross the finish line of the Indigo Invitational, I pore over hundreds of submissions from denim faders from all over the world. Last year, I was struck by how many pairs that, after a full year of wear, crossed the line looking nearly brand new.
Nearly all of these pairs had something in common. They were heavy. Heavy denim demands a lot from us. It's hard to break in, and, if we want to fade it fully, we must keep our feet moving.
The recipe for beautiful fades is no secret. Find a pair that's a good match for your personal style and your lifestyle and then live in them, washing them infrequently. If you're only able to be a part-time fader or if you live a low-impact lifestyle, our advice is even simpler: Don't bite off more than you can chew.
In this guide, we've rounded up ten lightweight and middleweight denims that will help you go further faster. Rather than waiting years for the fades to emerge, you'll see progress in a matter of months.
The list includes these respected brands: Naked & Famous, Iron Heart, TCB, Benzak, The Flat Head, Samurai, Warehouse, Big John, Mister Freedom, and Left Field.
Our guides are reader-supported. We earn a small commission when you make a purchase, but it doesn't cost you anything. Prices include local VAT and are subject to change.
---
Naked & Famous Natural Indigo Selvedge (12.5 oz.)
We're leading off with an absolute stunner of a lightweight. When I reached out to the good people at Naked & Famous and told them that I wanted to encourage faders to consider lighter pairs, they sent me two pairs that they thought fit the bill: Dirty Fade Selvedge (14 oz.) and Natural Indigo Selvedge (12.5 oz.).
I was impressed with both pairs, but the Natural Indigo absolutely floored me. I was not remotely prepared for how much I would enjoy wearing them.
Before even trying them on, I was immediately struck by the softer indigo tone of the denim. Rather than saturating the yarns with dozens of dips into the indigo bath, they've clearly made a little indigo go a long way.
This means that, right out of the box, the pair has a steely grey-ish tint that contrasts very nicely with darker indigo pieces. This makes the Natural Indigo Selvedge an excellent choice for those who want to wear double denim without looking like they're wearing coveralls.
The light natural indigo bath really comes into play when you start wearing the pair. The thighs started lightening almost immediately. Every night when I took them off, they looked a little lighter than they had the night before.
Within a week, sharper contrasts had started wrapping around the sides of my knees, and within two weeks, whiskers had started to emerge across the top block.
By the end of the month, sharp creases had formed behind the knees. The back pocket showed a clear outline of my wallet, and stacks had started to take shape above the cuffs. They slid on easily every morning and came off just as easily at night. They're the very definition of an easy-wearing and easy-fading pair.
It had been so long since I'd worn a lightweight selvedge that I'd forgotten just how exciting it can be to wear something that fades this quickly. At the end of a month in the pair, I switched to the Dirty Fade selvedge, planning to give the slightly heavier pair the same 30-day test. The 14 oz. denim was every bit as good as expected, but I just couldn't resist the call of the Natural Indigo. I was back to them after only a few days in the Dirty Fades.
I chose the Super Guy fit for the Natural Indigo Selvedge. The slimmer fit created just enough tension through the top block and around the knees to help bring out the honeycombs and whiskers.
I gave the pair a long soak in warm water before wearing them. I measured before and after, and they hadn't budged an inch. All of the measurements were within a few millimetres of the measurements quoted online.
The denim relaxed a considerable amount during the first week or so of wear, easing gradually down from a tight fit to a snug and comfortable one. When considering fit and size, opt for something on the tight side. When the denim relaxes, you'll be glad you did.
The Natural Indigo Selvedge was the inspiration for this list. They're hands down the fastest-fading pair I've ever tried. If you've struggled to bring the best out of heavier selvedge, let this serve as your wake-up call. If you want to go further and faster in your pair, the Natural Indigo Selvedge is like rocket fuel. Slide them on and buckle up!
---
Iron Heart's 142 Selvedge (14 oz.)
The lightest denim in Iron Heart's line-up, the 142 selvedge (so-called because it's their second and most-successful attempt at creating a 14 oz. denim) gets far more love from fans of Iron Heart's denim jackets than fans of their jeans.
The brand is best known for their 21 oz. selvedge, and those who have experienced the heavy stuff usually climb the ladder up towards their incredible 25 oz. XHS.
There's no doubt that Iron Heart's heaviest denims have produced some of the most remarkable fades we've ever seen, but the Japanese brand's heavier denims have a well-earned reputation for stubbornness.
They won't fade fully inside of a year without a truly titanic effort. If you've got the patience to wait it out, the fades will come, and they'll definitely be worth the wait. If you want to get to denim heaven in a hurry, though, this denim is your ticket.
The 142 selvedge has a truly remarkable hand-feel. Most denims at this weight feel thin and slick, but this one is plush and springy (perhaps a result of the double-twisted weft yarns).
It feels and looks much heavier than it is, but it doesn't have the same kind of stiffness you experience with the heavier Iron Heart denims. You don't have to earn the comfort. They feel great right out of the box, and they just keep getting better and better with each wear.
I'll be fading this denim in this year's Indigo Invitational. The recent collaboration between Iron Heart and Ruedi "Swiss Jeans Freak" Karrer uses the 142 selvedge. Proceeds from the pair (available in both the 777 and the 634 fits) go to support Ruedi's Jeans Museum—a worthwhile cause in our books.
Iron Heart ship from the UK or the US. If they are sold out, or if you are looking for other places to buy Iron Heart, check out: Franklin & Poe (US), Brooklyn (Canada), Corlection (Australia), Brund (Denmark)
---
TCB Zimbabwe Cotton Selvedge (13.5 oz.)
Buy a pair from Redcast Heritage
If you're looking for crisp denim that will crease and crack to create eye-catching contrasts, this is not the denim for you. If, however, you're looking to slide into a pair that's comfortable from day one and primed for long-haul wear with regular washing, you'll be hard pressed to find a better denim than this one.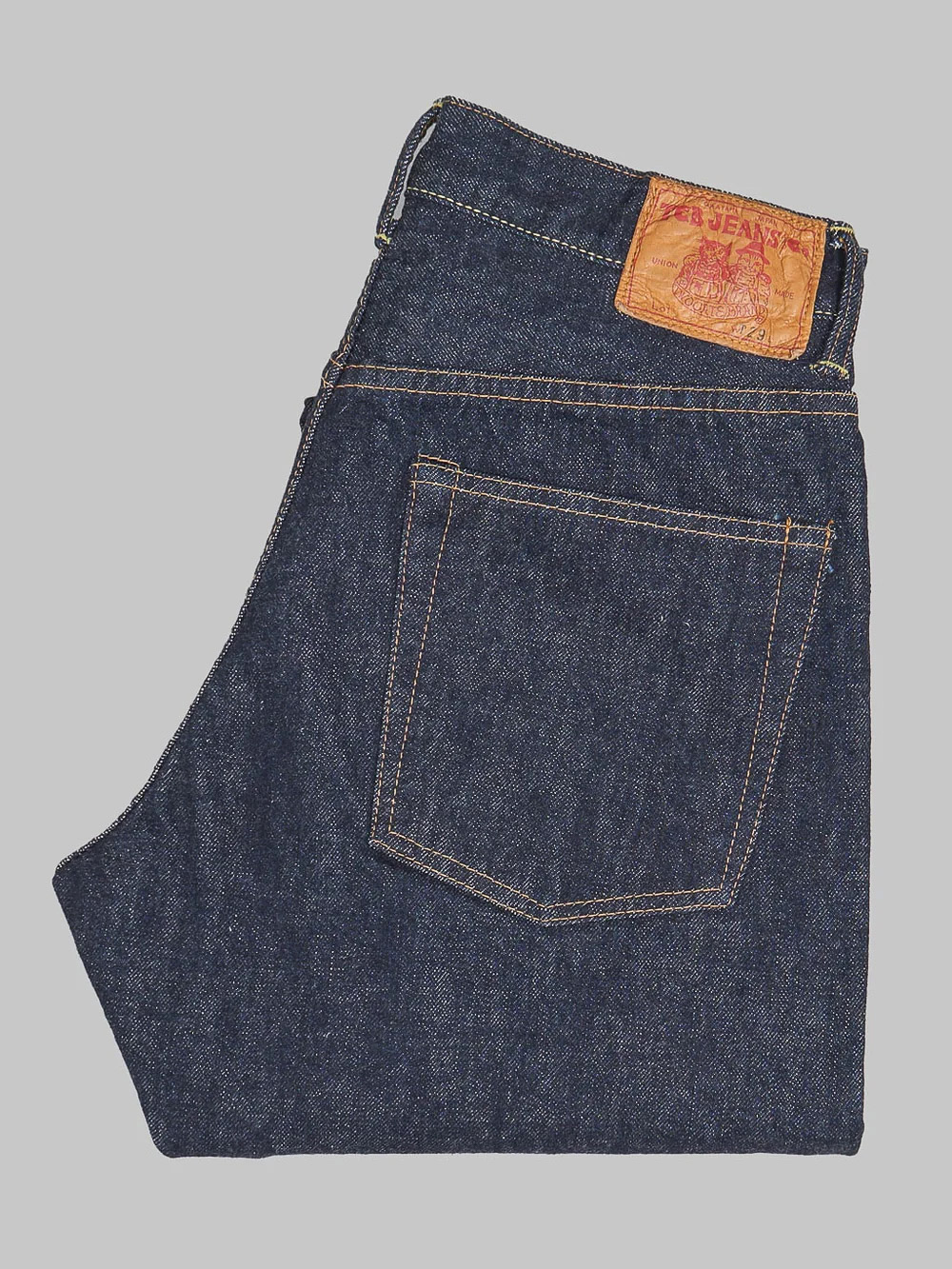 Like much-more-expensive pairs from brands like Full Count and Momotaro, the key here is the Zimbabwe cotton. Selvedge woven from the long-staple cotton has a soft and plushy hand-feel, and this makes the pairs incredibly easy to wear day in and day out.
It's a truly painless break-in period, and those who have a pair (particularly the Slim 50s) frequently say that they are the pair they turn to when they need or want a hiatus from the heavy stuff.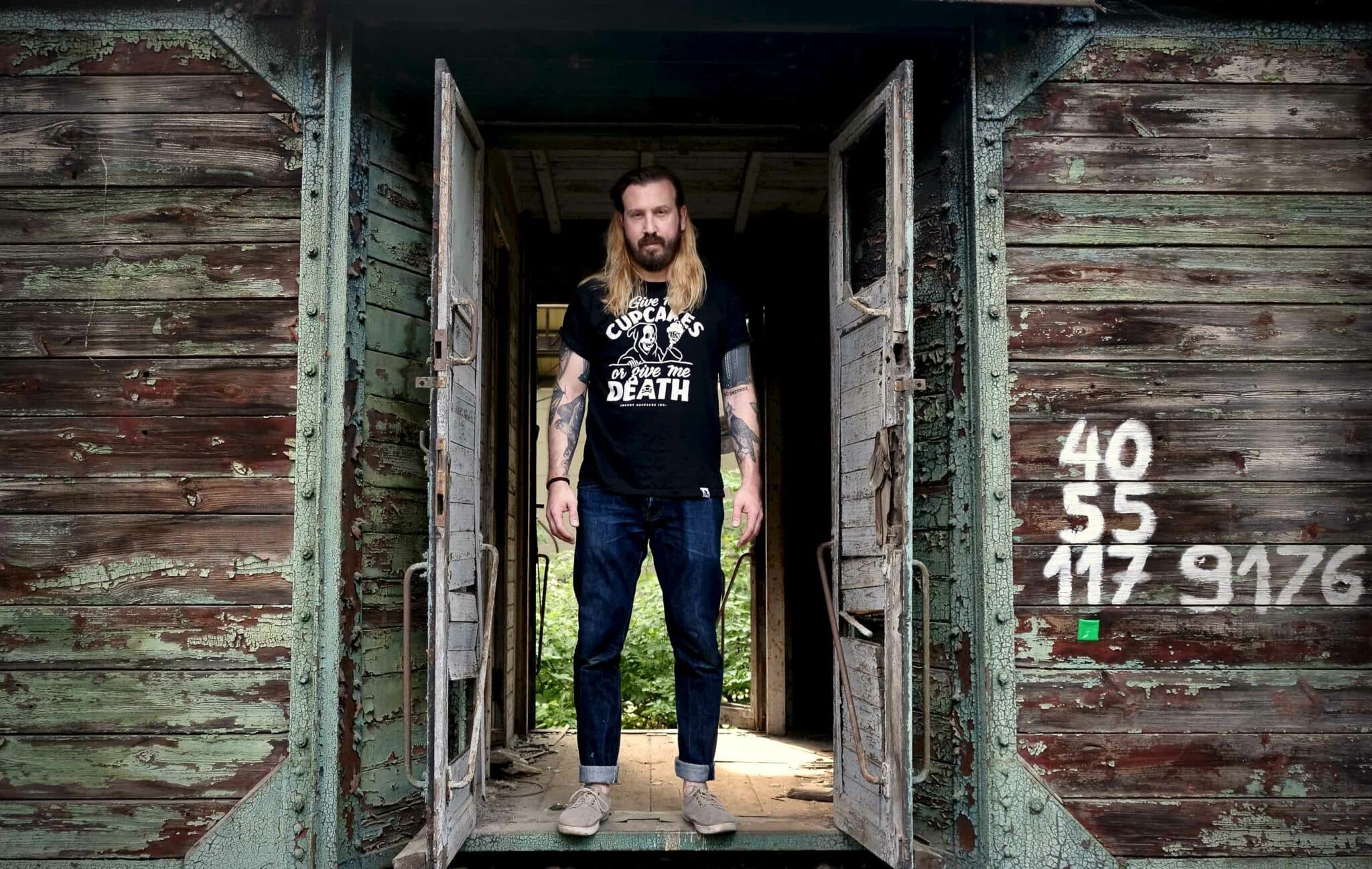 TCB also might be the best value pairs you'll find from a brand that weaves its denim and sews all of its pairs entirely in Japan. For this reason (among many others), popular pairs like the Slim 50s sell out remarkably quickly.
If you find a pair in your size, jump into them. The relatively small investment will immediately start paying huge dividends.
---
Benzak Brown Cotton Golden Selvedge (15 oz.)
The pride of Amsterdam, Benzak was founded in 2013 by Lennaert Nijgh, a deeply passionate forum regular who had a vision for a distinctly European brand that could compete with established selvedge brands in Japan and America.
The brand's modern and stylish cuts quickly set them apart, and what began as an underground hit is now one of the most popular brands in the European scene.
To celebrate their 10-year anniversary, Benzak has released a very special anniversary collection utilizing a new 15 oz. Brown Cotton Golden Selvedge especially woven for Benzak by legendary Italian mill Candiani.
Italian selvedge is known for its uniform texture, but Benzak worked with the mill to create a deeply textured and hairy denim with an earthy tinted weft (the result of brown cotton weft yarns).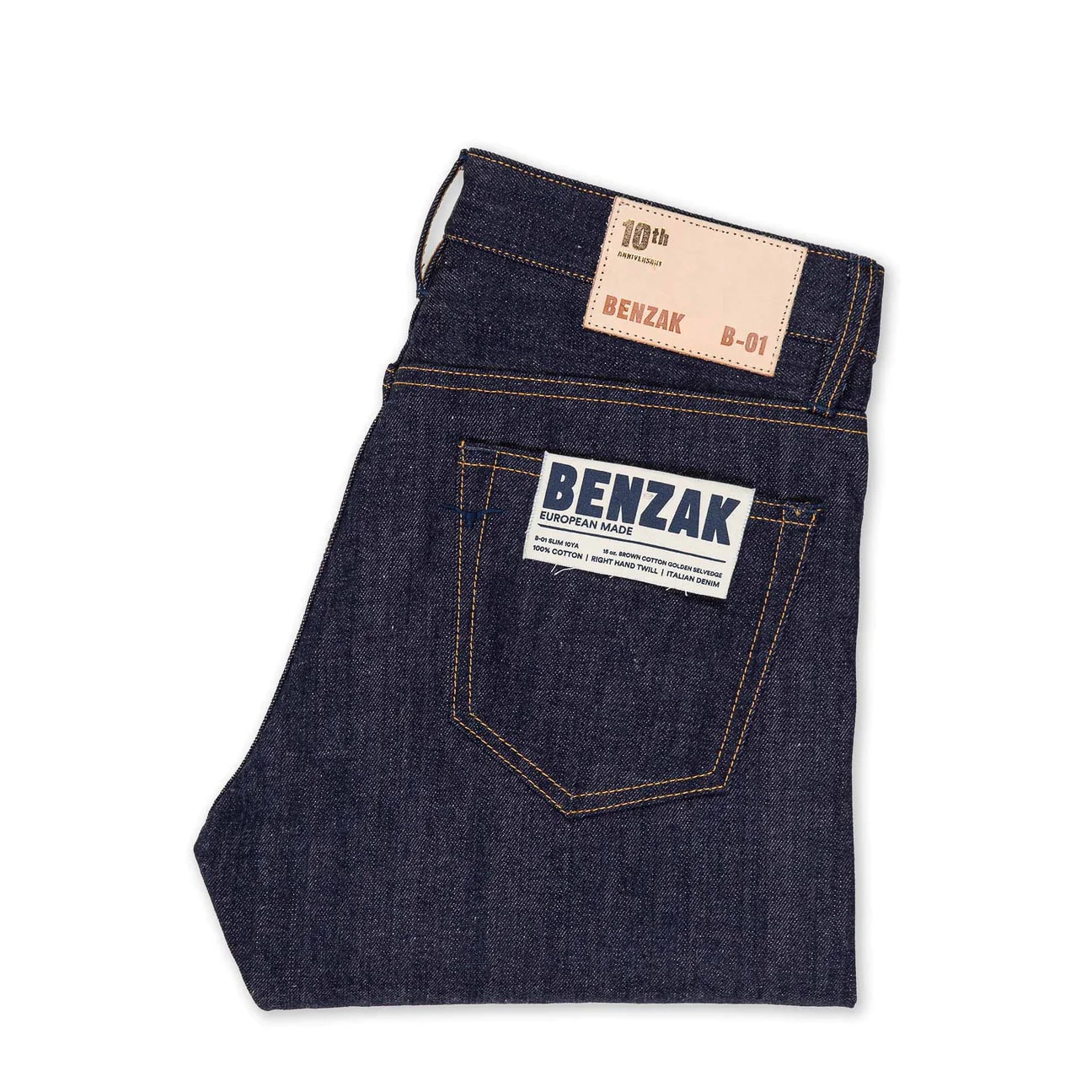 This denim may go down in history as both the brand's and the mill's best. Produced in a severely limited amount, when this denim is gone, it may never come back. This is not one to sleep on. Get one before they're gone.
---
The Flat Head Pioneer 3XXX Denim (14.5 oz.)
One of the truly legendary denims to come out of the Japanese selvedge scene, The Flat Head's Pioneer denim is a light middleweight selvedge that has, since its introduction, inspired nearly unparalleled levels of devotion from serious denimheads.
With its trademark vertical texture (a result of carefully engineered slub yarns), the orange-line selvedge has been behind some of the most incredible fades we've ever seen.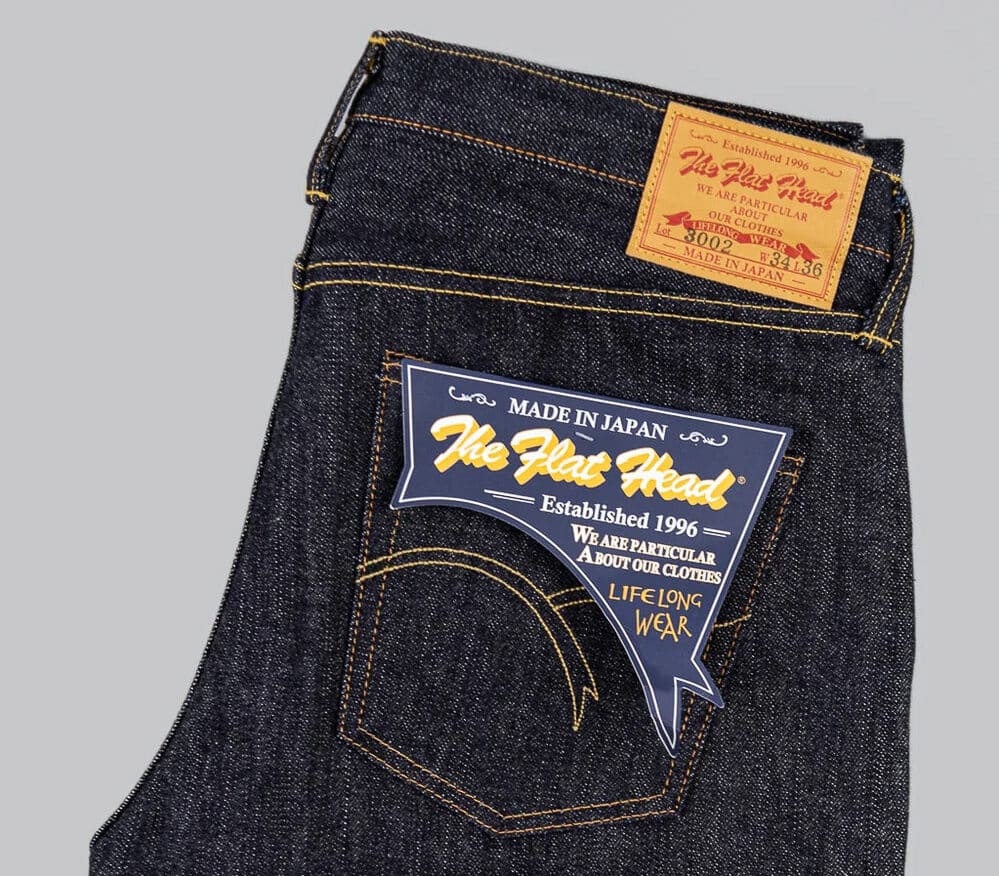 We don't, though, see as much of it as we once did. Flat Head rarely ventures into heavyweight territory, seeming to prefer denims around the middle of the weight scale.
As faders have moved towards heavier and heavier denims, this has resulted in Flat Head pairs being a kind of rare bird in the scene. For us, this rarity only adds to their appeal, and the denim is as primed for serious fades as it has ever been.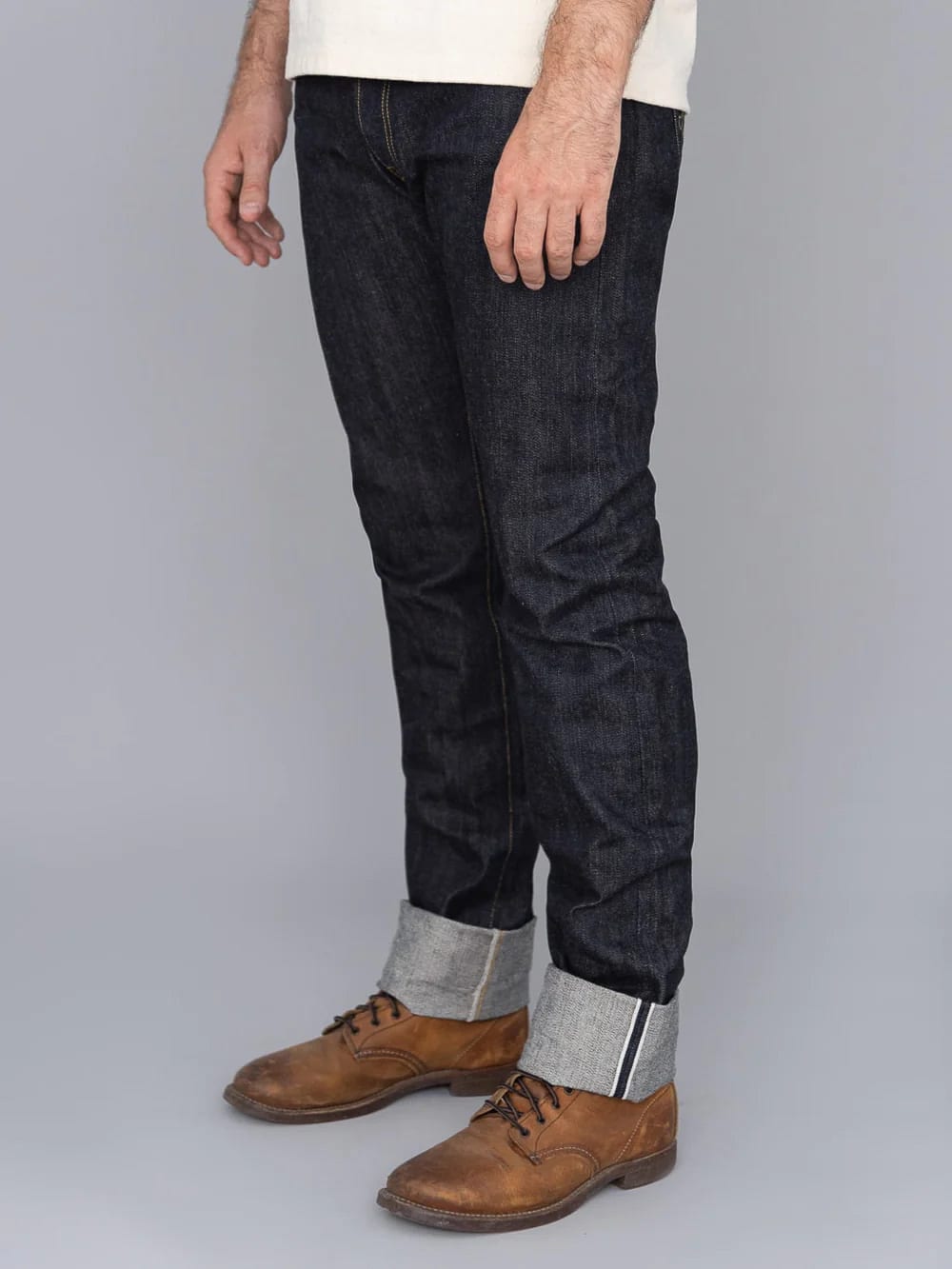 With iron buttons, hidden rivets, and unmissable arcuates, there's lots to get excited about here, and, at this weight, you can expect to bring the absolute best out of this pair inside of a year.
Best of all, thanks to the crispness of the denim, with steady wear and infrequent washing, you should be able to produce contrasts far more impressive than almost any other denim at this weight.
The Flat Head is sold at: Redcast Heritage (ES), Corlection (AU), and Franklin & Poe (US)
---
Samurai Otokogi Selvedge (15 oz.)
Another brand that is best known for their heavy selvedge, Samurai fans line up around the block whenever the brand drops a new 25 oz. pair. Engineered to produce sharp contrast fades, their heavy denims are among our top recommendations for faders who want to turn heads with their combs and whiskers.
Don't scroll past their lighter offerings, though. Samurai's 15 oz. Otokogi selvedge is a remarkably crisp and rough middleweight denim.
It's one of the most tightly woven selvedges around, and it's been made using short-staple Texas cotton. This gives it its characteristic rough hand-feel, and it will also help generate sharp contrasts.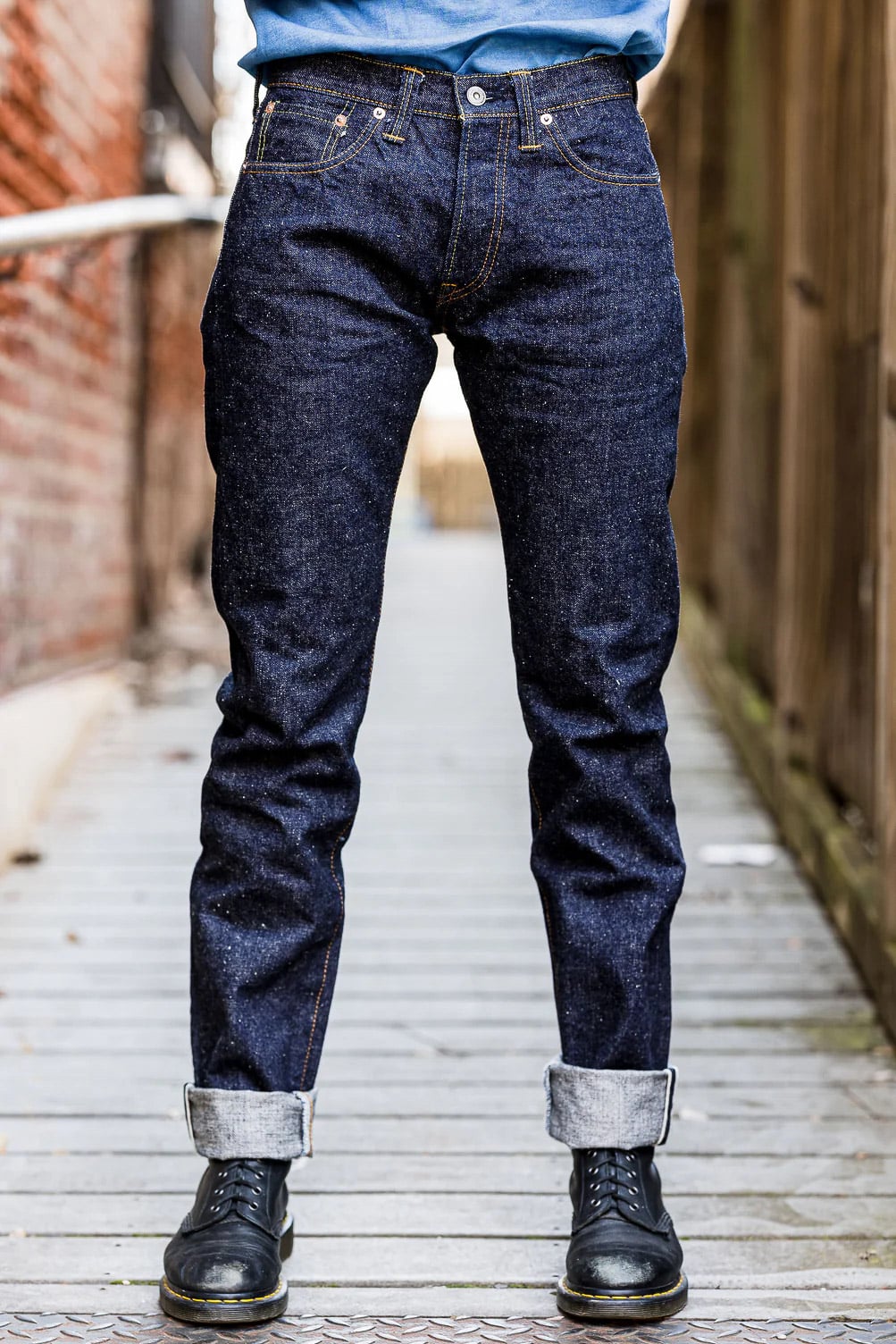 The denim is one of the best around for those who want to balance contrasts and comfort. Rough on the legs at first, it breaks in quickly, but it doesn't give up the fight for ages.
This means that, even while you're enjoying the comfort of a middleweight, you'll still be getting those sharp combs and whiskers that Samurai are known for.
You can buy Samurai from all of these retailers: Franklin & Poe (US), Brooklyn Clothing (CA), Blue in Green (US), Redcast Heritage (ES), and Corlection (AU).
---
Warehouse Banner Denim (12.5 oz.)
The selvedge world is generally divided into two categories of enthusiasts. On one side are the lovers of high-contrast fades; on the other, the vintage fade enthusiasts.
If you've been drawn into this world by eye-catching contrast fades, but you've always wondered what the vintage purists are raving about, there's no better way to see what all the fuss is about than to slide into a pair of Warehouse 1001XX.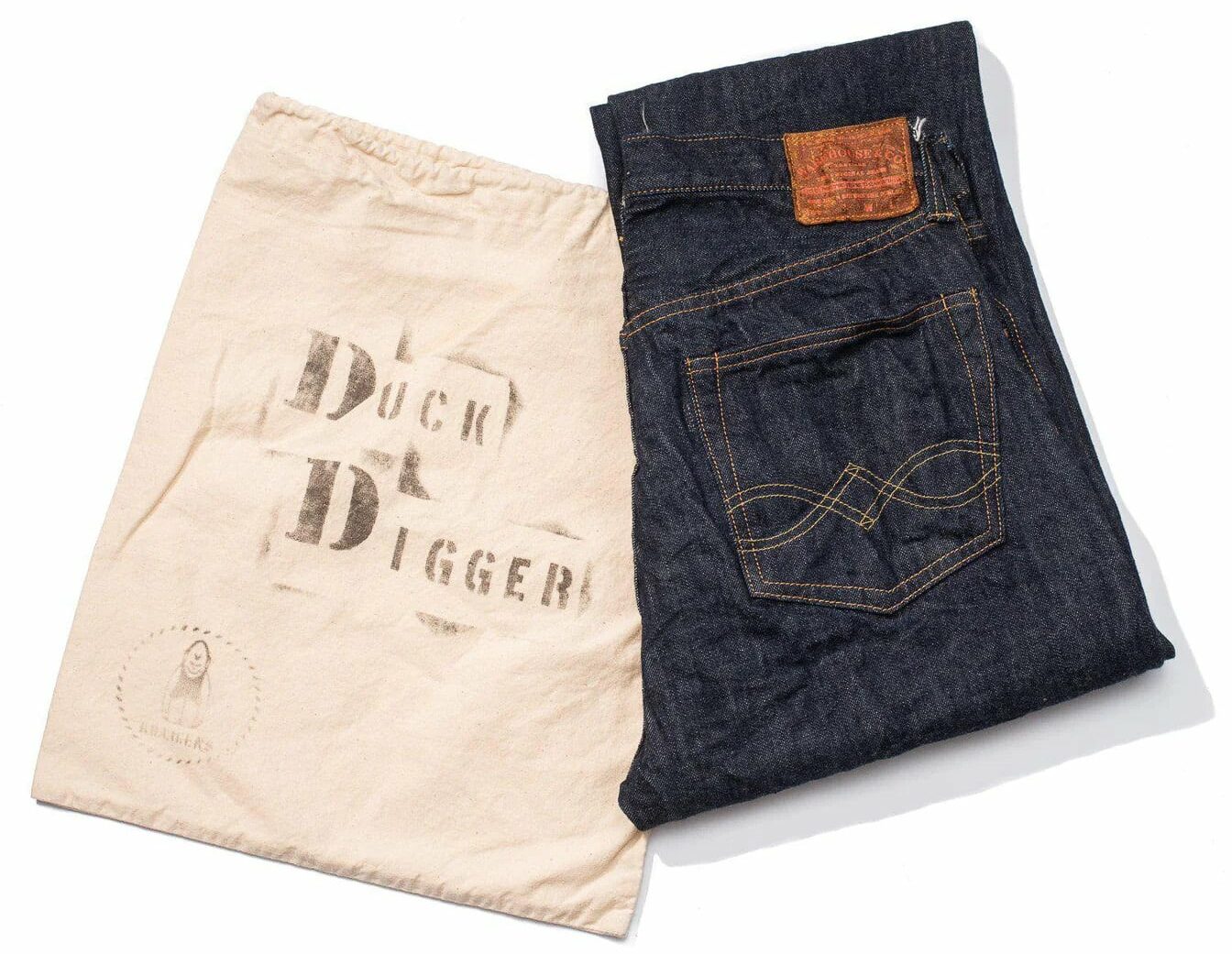 Last year, we saw a pair of these in the Indigo Invitational, and they were passed over in the community voting round. We made sure that they went into the Top 20, giving them one of the last wild card slots.
Our experienced judges knew immediately that this pair was something special. They ended up earning a bronze medal, and they very nearly took the silver.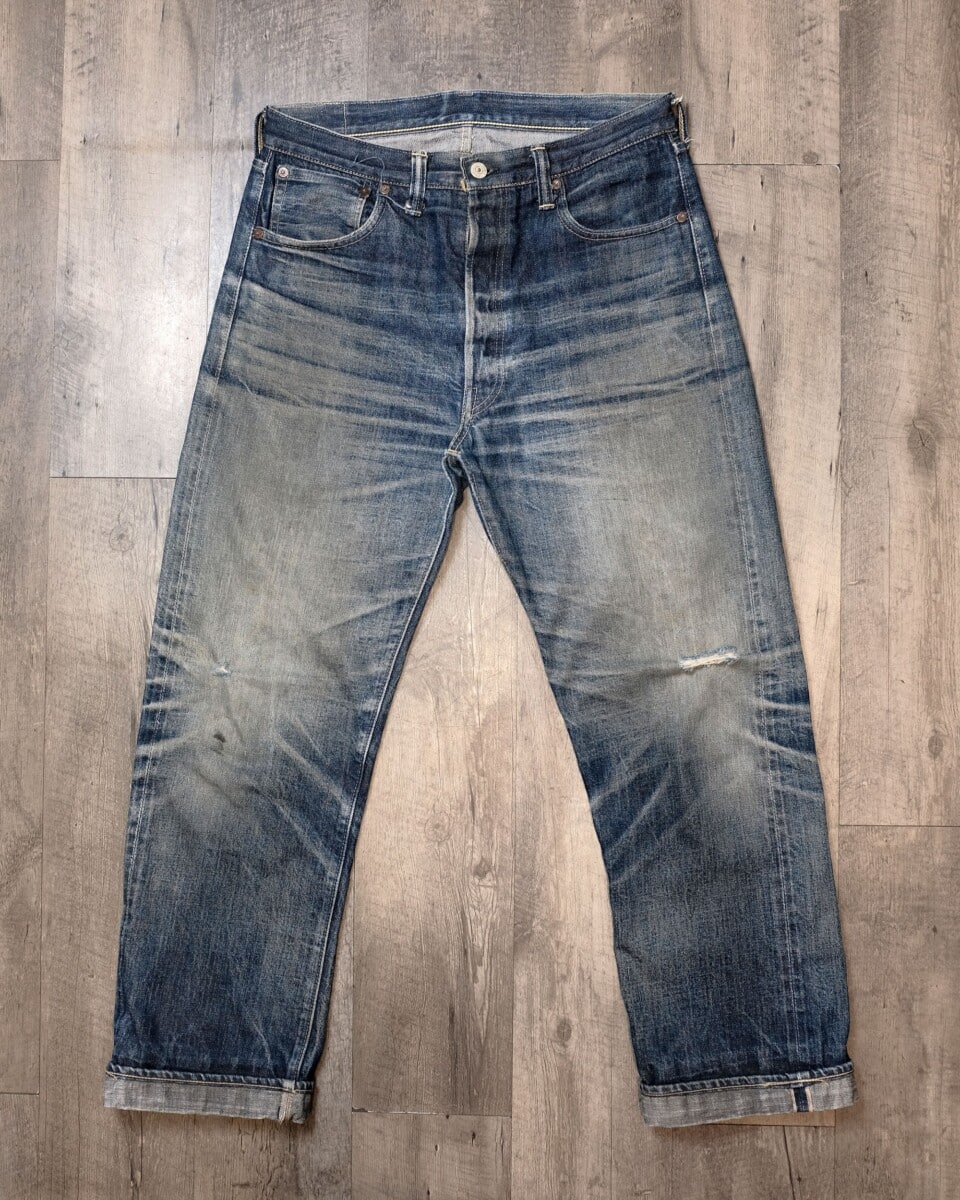 Trung really brought the best out of the denim with a combination of dedicated wear and regular washing. The denim is meant for this kind of treatment. It was specially developed by Kenichi and Kenji Shiotano, founders of Warehouse, who managed to track down a pristine Levi's banner from the 1930s.
They dissected the banner and placed the fibres under a microscope, analysing how the cotton was harvested, dyed, and then woven.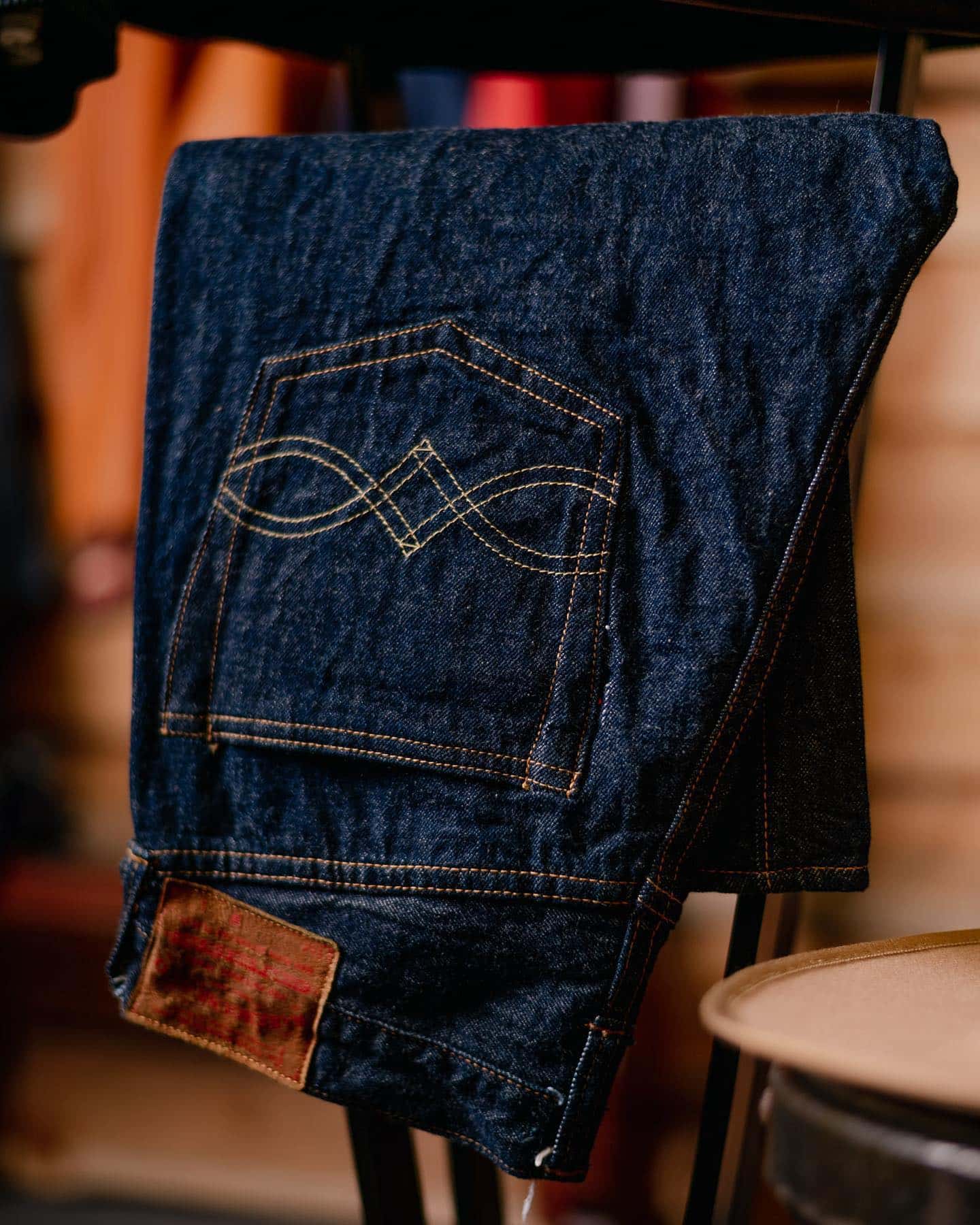 The resulting recipe (a blend of three different American cottons) and an extremely carefully dialled in loom set-up (with just the right amount of chatter) produces what is widely regarded as the best reproduction vintage selvedge on the market.
If you're keen to experiment with vintage fades, there's no better starting point than this denim.
Warehouse is sold at these excellent retailers: Clutch Café (UK), Sun House (JP), Corlection (AU), Lost & Found (CA), Hinoya (JP).
---
Big John Rare (15.5 oz.)
Those in the know will tell you. Big John's Rare denim (the heaviest we'll include on this list) is one of the best and fastest-moving fade foundations on the market. We saw two pairs in the Top 20 of the Indigo Invitational last year, and we're expecting another strong showing from fans of the brand in Year Four.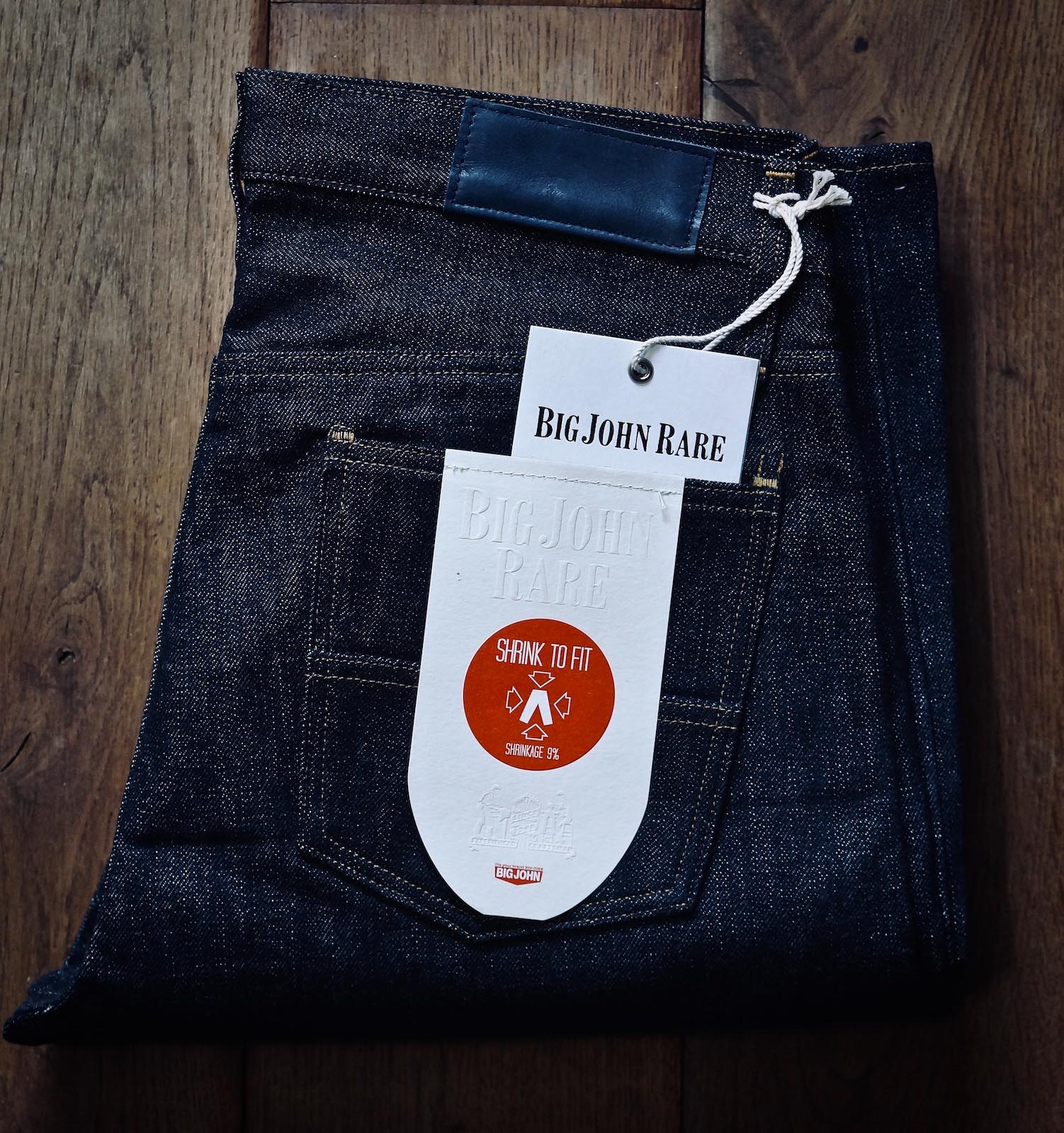 With their long history, Big John are as close as you can get to a sure thing in the selvedge world. They were the first Japanese company to make jeans domestically, making their first pairs in the '60s from American selvedge.
Related post: In-depth review of the Big John Rare jeans
Then, with the help of legendary mill Kurabo, they debuted the first entirely made-in-Japan pair in 1973. In the '80s, they followed this up with their first Rare pairs—instant classics.
Crammed full of bells and whistles like deerskin-backed buttons and rivets, an indigo-dyed deerskin patch, some of the industry's toughest pocket bags, and "wrench-proof" construction, which pre-twists the jeans to counteract leg twist, Big John's Rares are as essential as they come.
They fade remarkably quickly, and (take our word for it) they will sail past more expensive pairs in your collection to the very top of your rotation.
---
Mister Freedom NOS Cone Denim (14 oz.)
Pick up a pair at Franklin & Poe
If you've been around the block a time or two, you're probably familiar with Cone Mills. In 1915, Cone Mills and Levi's reached an historic agreement—still referred to as the "Golden Handshake."
The mill produced all of the Levi's selvedge during their most iconic years, and the bond between the mill and the king of workwear remained unbroken until the White Oak Cone Mills plant finally closed its doors in 2017.
Related post: The history of Cone Mills White Oak
Since then, the remaining rolls of Cone Mills selvedge have been hot commodities, with established denim brands doing everything in their power to secure some of the world's most famous selvedge denim for themselves. It's becoming increasingly rare to find out there as brands' old stock is depleted.
Mister Freedom have stockpiled a few rolls of NOS (New Old Stock) Cone Mills denim. They release it in a trickle, using it to make pairs with a deep '60s vibe.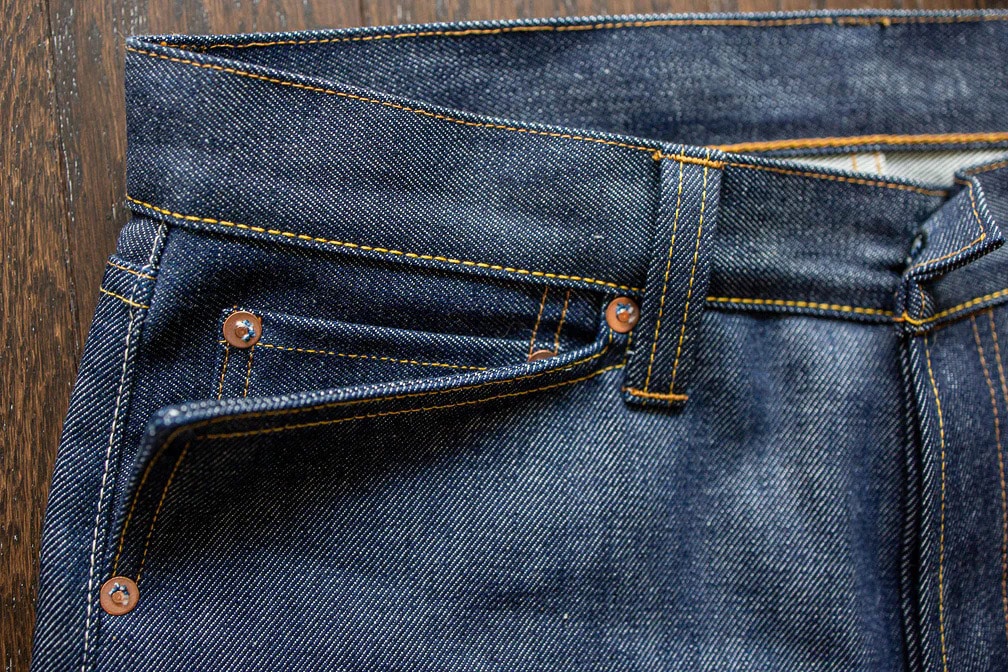 Founder Christophe Loiron cut his teeth in the Southern California rag trade, and he trained his eye to spot Cone Mills selvedge from across the room. He knows a good thing when he sees it, and so do we. These are flawless. Get a pair before they're gone forever.
---
Left Field Black Maria (14 oz.)
Black denim just doesn't crack. It's one of the more difficult projects a fader can take on. Double-black denim just ups the difficulty level even further, and this goes double when the denim is exceptionally heavy.
New York's Left Field makes one of our favourite black-on-black pairs that sits comfortably near the bottom of the middleweight range.
They've sourced the denim locally, from Louisiana's Vidalia Mills. When the White Oak Cone Mills plant closed their doors in 2017, Vidalia secured 45 of the vintage Draper looms that had produced some of America's most iconic selvedge for generations.
They took over an old Fruit of the Loom factory, and they now provide American-made selvedge for some of the world's best denim brands.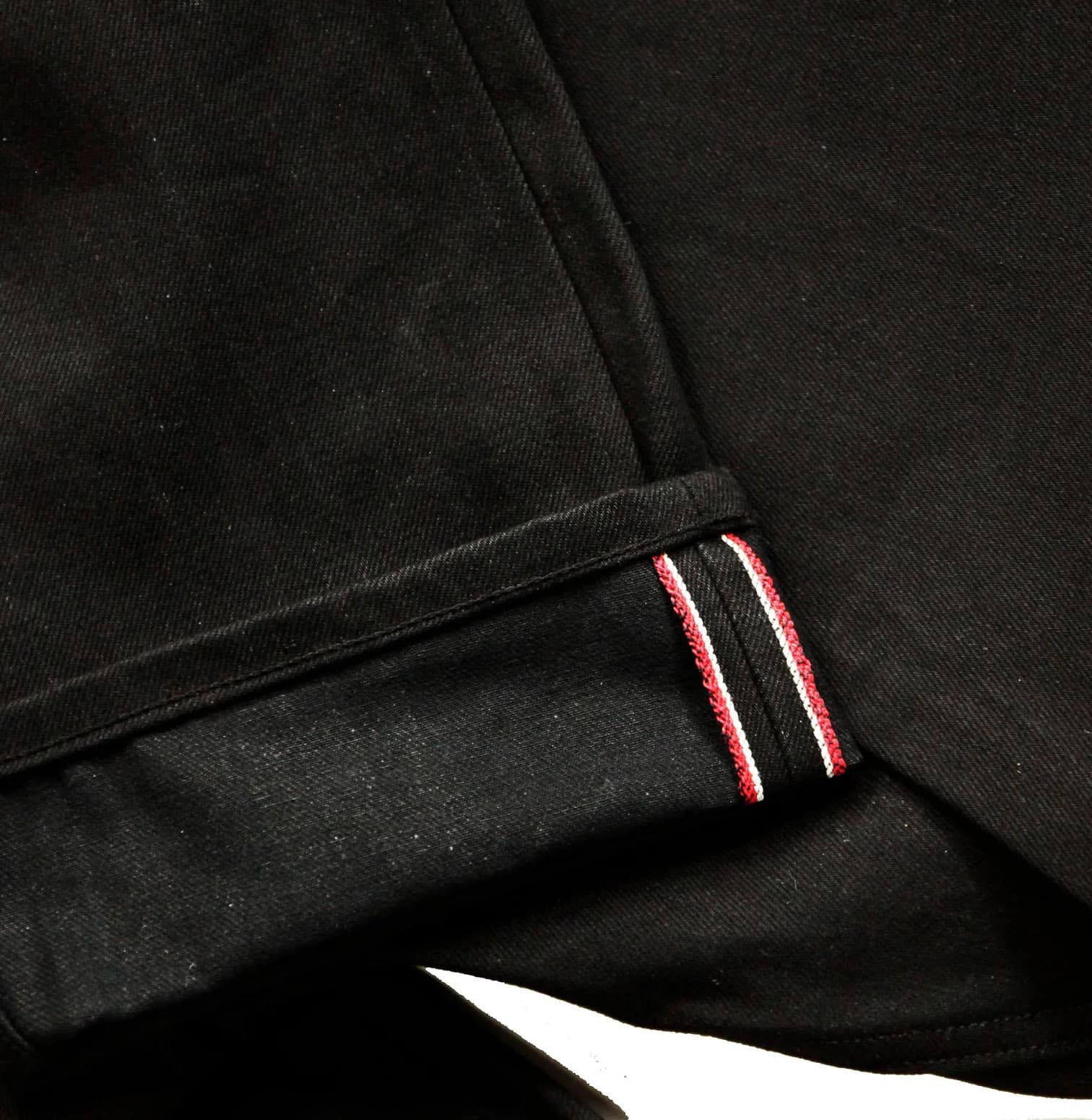 If you've ever been keen to add some faded black denim to your line-up, this double-black sulphur-dyed selvedge might be just the ticket.
It's available in all of Left Field's cuts, but we're awfully partial to the Atlas, a cut with generous thighs that will be perfect for those with sturdy legs.
---
Fight the Light Fight in the Indigo Invitational
With your lightweight or middleweight pair in hand, you're ready to fight the light fight. Register for Year Four of the Indigo Invitational here.
The fun begins on January 1st, 2024. Stick with your pair and, when you cross the finish line a year later, you'll have a fully faded masterpiece on your hands.