This blog post is sponsored by Tellason. Read about how we run this site here.
Buying Guide to Five Items That Define Tellason
Since their early days as garage-based denim entrepreneurs, Tellason founders Pete Searson and Tony Patella have kept things relatively simple. The long history of well-made San Franciscan workwear provides a near-perfect blueprint: Make the product well and make it close to home.
The legacy denim brands may have strayed from this, but Tellason is sticking to the script. They make America's most iconic product in the way (and the place) it used to be made.
To introduce (or perhaps re-introduce) you to the brand, we look at five of Tellason's definitive pieces in this buying guide:
If you're new to the scene and building a small wardrobe of well-made garments, any one of these garments could be an excellent foundation piece. If you're a veteran of the selvedge scene, you might have holes in your collection that one of these pieces could fill.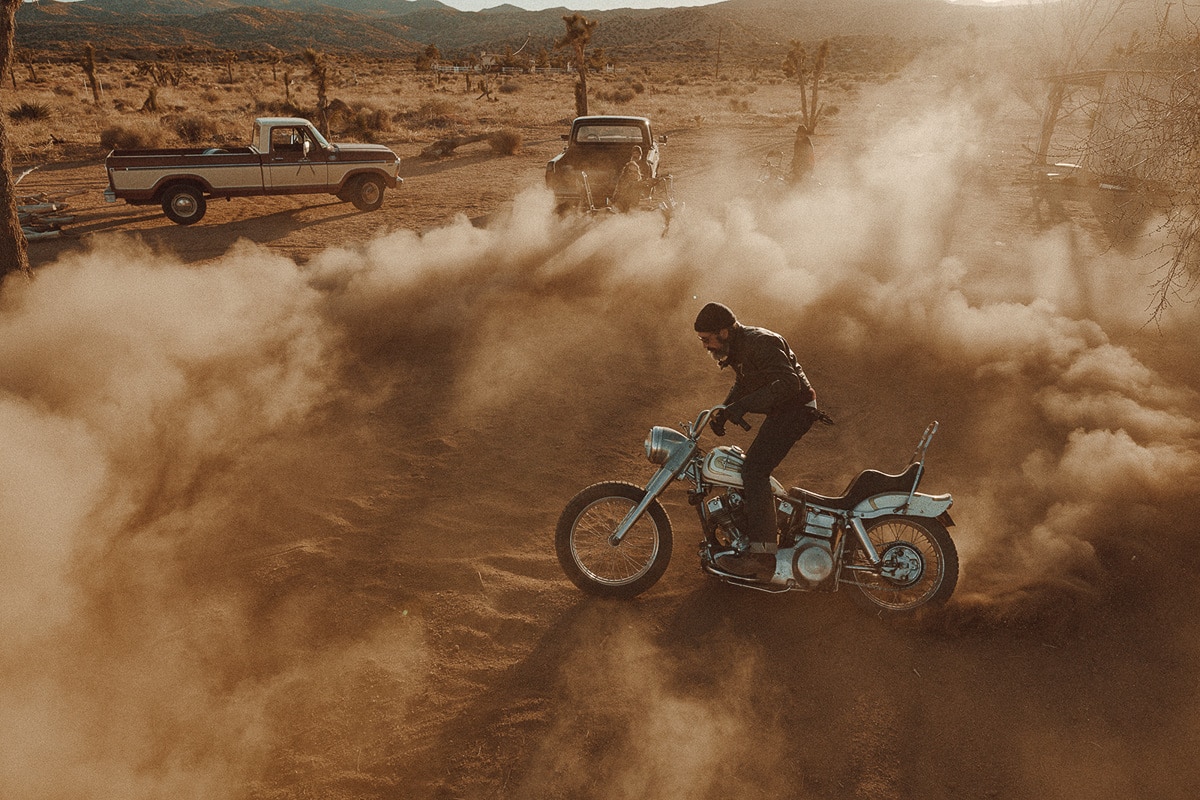 ---
The Ladbroke Grove Jeans
Ladbroke Grove is a street in West London that runs through Kensington and Chelsea. The street and its environs were the site of a series of youth-led countercultural movements in England in the 1960s and '70s, with Joe Strummer of the Clash being one of the area's notable residents.
Considering its name, Tellason's Ladbroke Grove fit feels appropriately youthful and continental. Like the famous street, it's broadly welcoming, working well in a wide range of styles and for an equally wide range of body types.
Slim through the top block and with a low rise, the Ladbroke Grove cut works best for those without a lot of padding through the middle. It's by no means a skinny jean. The thighs leave some breathing room, and the taper is not dramatic. It'll be an easy pair to fill from top to bottom if you're bottom heavy, but the fit will be a comfortable and stylish one for most body types.
If you're quite slim, the Gustave features an even more dramatic taper that might suit you better. If you carry a bit of weight around the middle, the medium-rise Elgin might be a better fit for you. If you've got thicker legs, or if you just prefer a more generous cut, Tellason's medium-rise Blubaugh (designed to fit comfortably over engineer boots) or the true-straight Ankara will be excellent choices.
The Ladbroke Grove, first introduced in 2011, became one of the brand's flagship cuts back when Tellason was still using Cone Mills selvedge. The iconic American mill, who used to produce selvedge for Levi's, closed their doors in 2017, and Tellason ran out of their Cone Mills supply ages ago. They now use proprietary denim developed with Kaihara in Japan.
As with Tellason's other fits, you have your choice of 16.5 oz., 14.75 oz., and 12.5 oz. indigo selvedge and a 13.5 oz. black selvedge—all milled by Kaihara. We feel that the Ladbroke Grove is most at home in their popular 14.75 oz. indigo selvedge, but, for those looking for striking high-contrast fades, the 16.5 oz. selvedge has the edge. We'll leave the choice to you.
The jeans are finished off with punch-through copper rivets, extra heavy pocket bags, lined back pockets, bartack reinforcements, donut buttons, and a leather patch produced by Portland's Tanner Goods.
As with all of Tellason's jeans, the design elements are quiet. The arcuates, for instance, are a simple double row of stitches. These are functional too, holding the pocket lining in place. It's the classic five-pocket jean made from excellent Japanese denim. No crazy bells and whistles. Just a great pair of jeans at a very attractive price.
---
The Fatigue Pant
Variety is the spice of life. For those of us who obsess about denim, it's easy to entirely immerse ourselves in an ocean of indigo and complimentary shades. Tellason's Fatigue Pants, the brand's most popular non-denim product, offer an unmissable opportunity to brighten up your bottoms.
The shade of olive green (with earthy brown tones giving the green a faded look) is muted enough to pair nicely with dark or faded denim pieces, but it becomes utterly essential when combined with complementary shades like brown, orange, or cream. If you've been keen to experiment with a broader colour palette, Tellason's Fatigue Pants are an excellent place to start.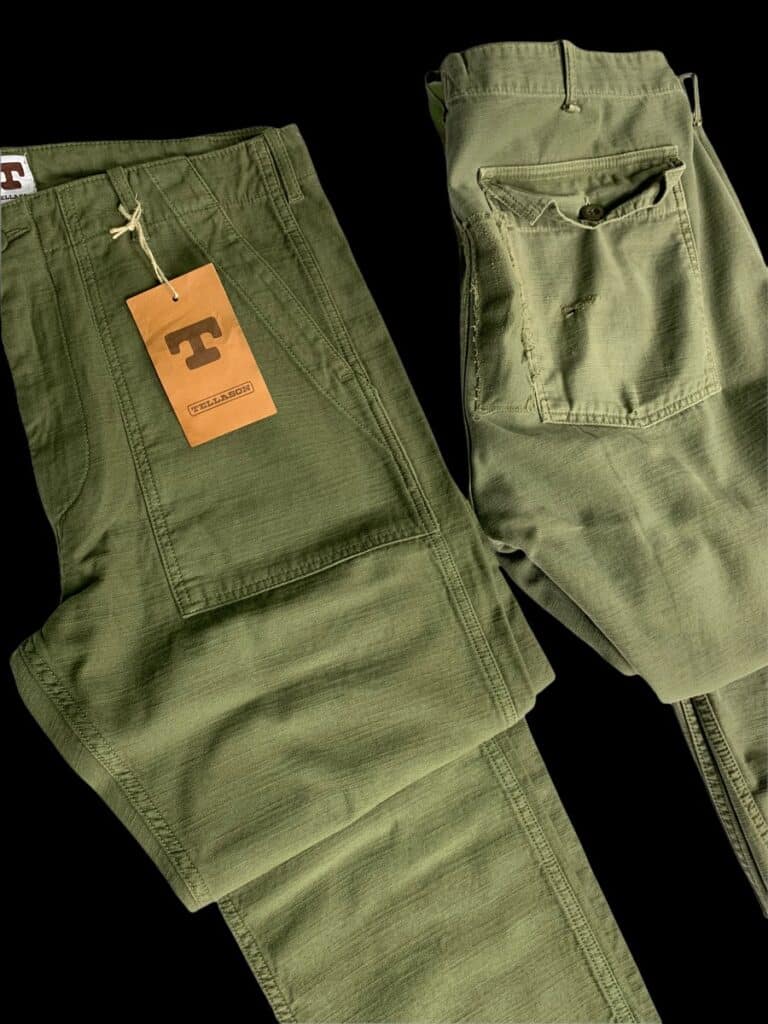 The backbone of the Fatigue Pant is the fabric—an Italian-milled reproduction of OG-107 (the name refers to the particular shade of olive green developed for use in the military). The cotton sateen fabric was first issued to soldiers in 1952, replacing the olive drab HBT (herringbone twill) which had been in use both during and after WWII.
Sateen is tightly woven like satin (hence the similar name), but it uses cotton yarns rather than silk or polyester ones, making it considerably more robust and durable than its luxe cousin.
Beloved by servicemen, OG-107 made an easy transition into civilian style. Best known for its use in the M-65, the characteristic shade of green played an outsized role in American counterculture in the '60s and '70s, making numerous appearances in cult films and in pop culture.
The fabric was retired from active military service in 1981, but original OG-107 pieces have lived on. They are still beloved by collectors, especially the older 100% cotton version, which was replaced by a cotton/poly blend in the '70s.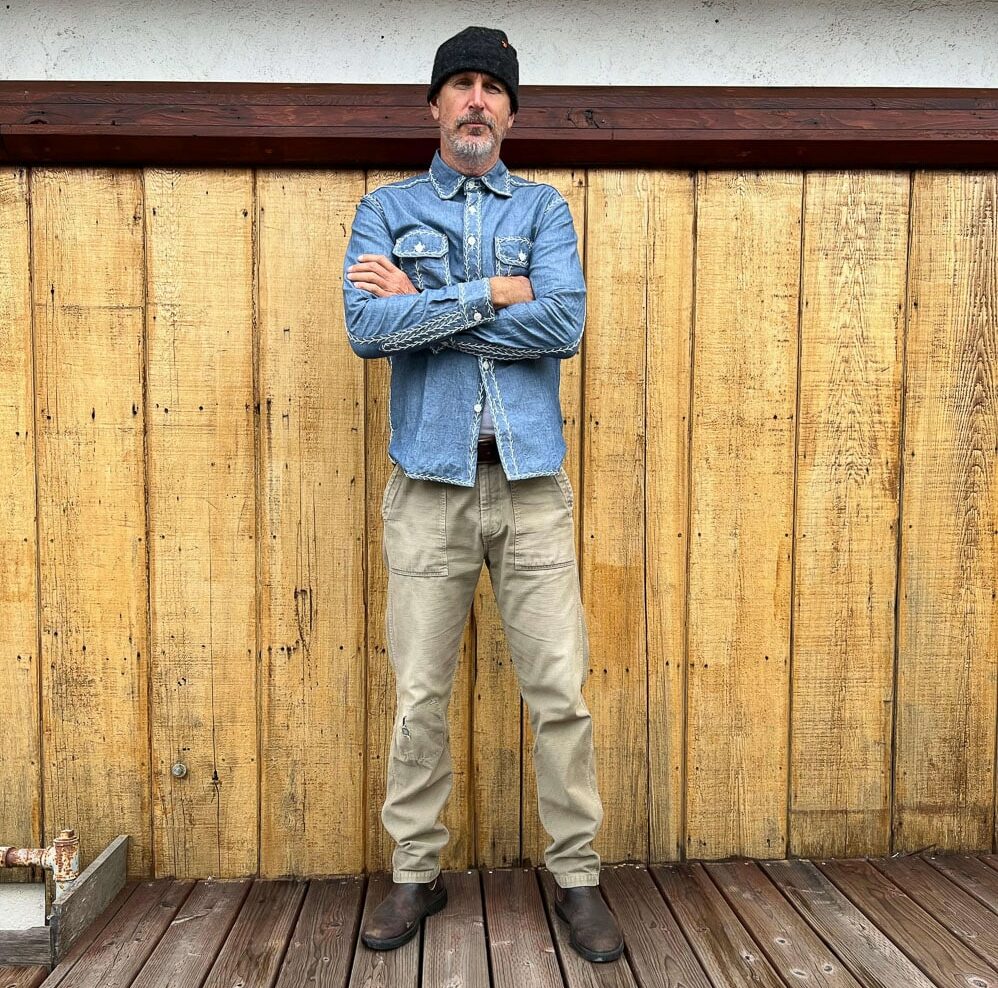 It's not hard to see why this fabric has been so popular among vintage collectors (or among Tellason customers). Durable and stylish, it finds an easy and natural home in rugged and rebellious wardrobes.
Tellason has trimmed it nicely, with large patch pockets on both sides. On the back, the pockets have button-down flaps; on the front, they feature angled entries that sit on the hips. With matte buttons, a zipper fly, generous thighs and a modern taper from the knee down, the Fatigue Pant goes on easy. Don't be surprised if they become your go-to trousers on days when you don't feel like wearing denim.
---
The Coverall Jacket
For our money, this is not just the best denim jacket in the Tellason line-up. It's one of the best denim jackets on the market. Each year, we see a few of these entered in the Redline Rally (the shirts and jackets arm of the Indigo Invitational), and it never fails to impress.
Especially in its heaviest weight (16.5 oz.), it produces nearly unbeatable honeycombs mid-way up the arms, and it fades to a drop-dead-gorgeous shade of blue after it's been worn a few hundred times and washed once or twice.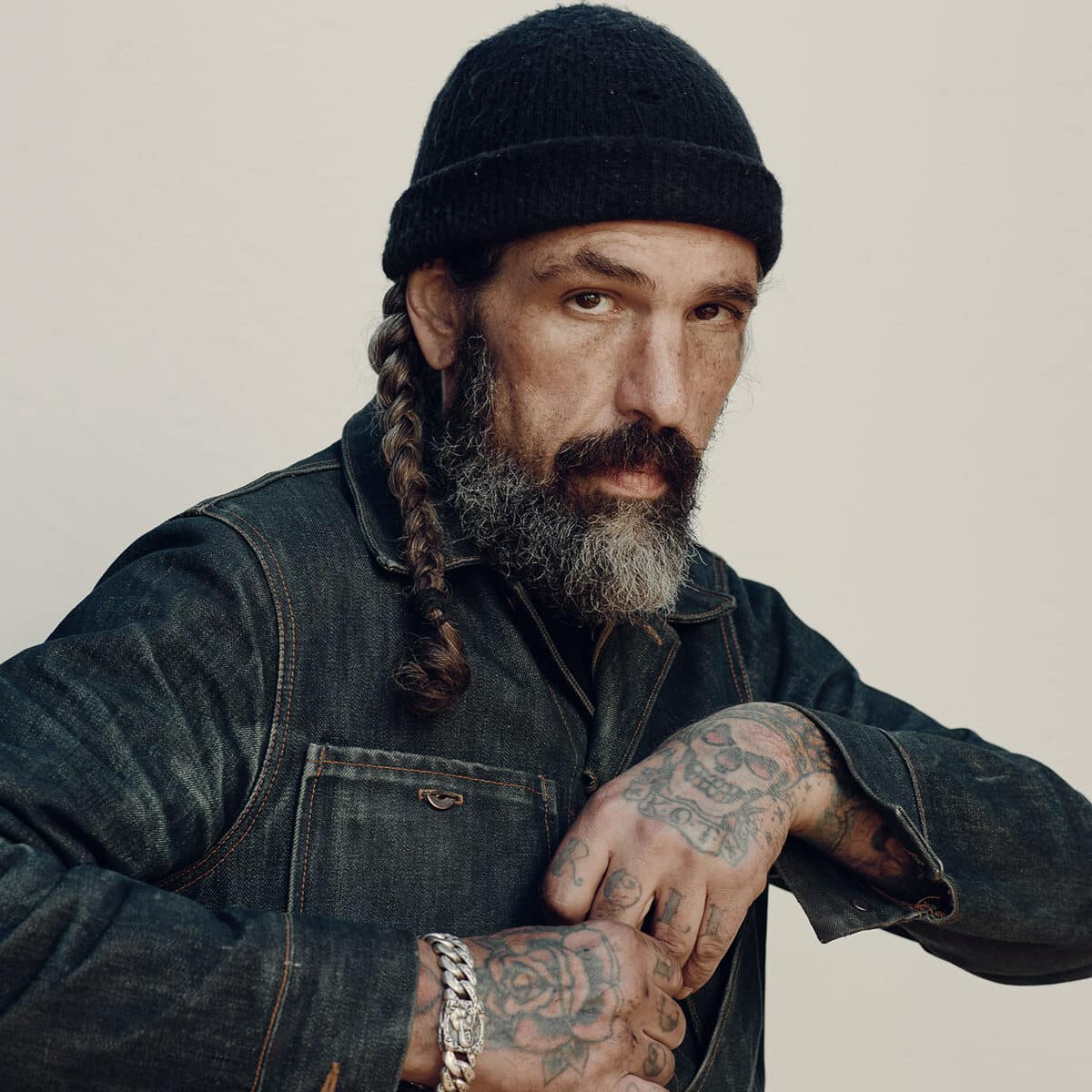 It's the go-to fade foundation for some of the world's best faders, and no collection is truly complete without one. The jacket is also available in a variety of denim weights and in other fabrics, including blue chambray, black, green, ecru, and orange denim, and even suede, but it's just got to be that 16.5 oz. denim version for us.
The Coverall Jacket is Tellason's unique twist on the iconic chore coat. The French workwear classic, with its generous cut and ample patch pockets (large enough to hold most hand-held tools) on the lower half of the jacket, became extremely popular among the French working-classes in the nineteenth century.
The design found fertile soil in the United States early in the twentieth century, with brands like Carhartt and Dickies producing legendary denim and duck versions of the coat that have remained extremely popular among American farmers and builders for more than a century.
Tellason has made the jacket even more useful than its French and American predecessors. With a total of six pockets (five on the front of the jacket, and one concealed on the inside), the Coverall is as handy as a tool belt.
The big kahuna is the newspaper pocket on the heart side of the jacket. Running down nearly the entire length of the front panel, the pocket is large enough to hold a rolled up newspaper with room to spare. For most wearers, it's simply a catch-all for whatever they need to keep on them. The pocket gets so much use that Tellason added a reinforcing rivet at the corner that was prone to failure.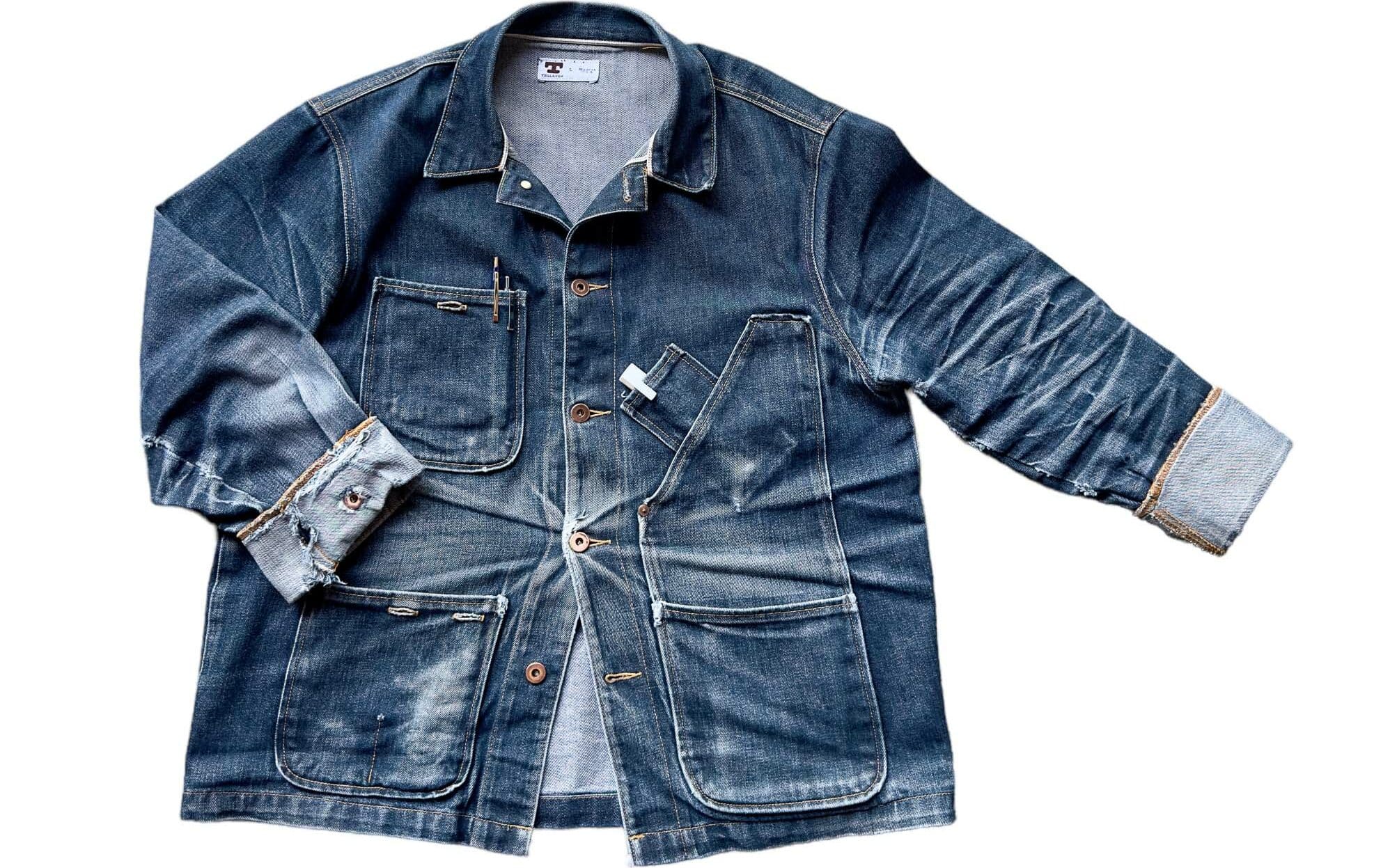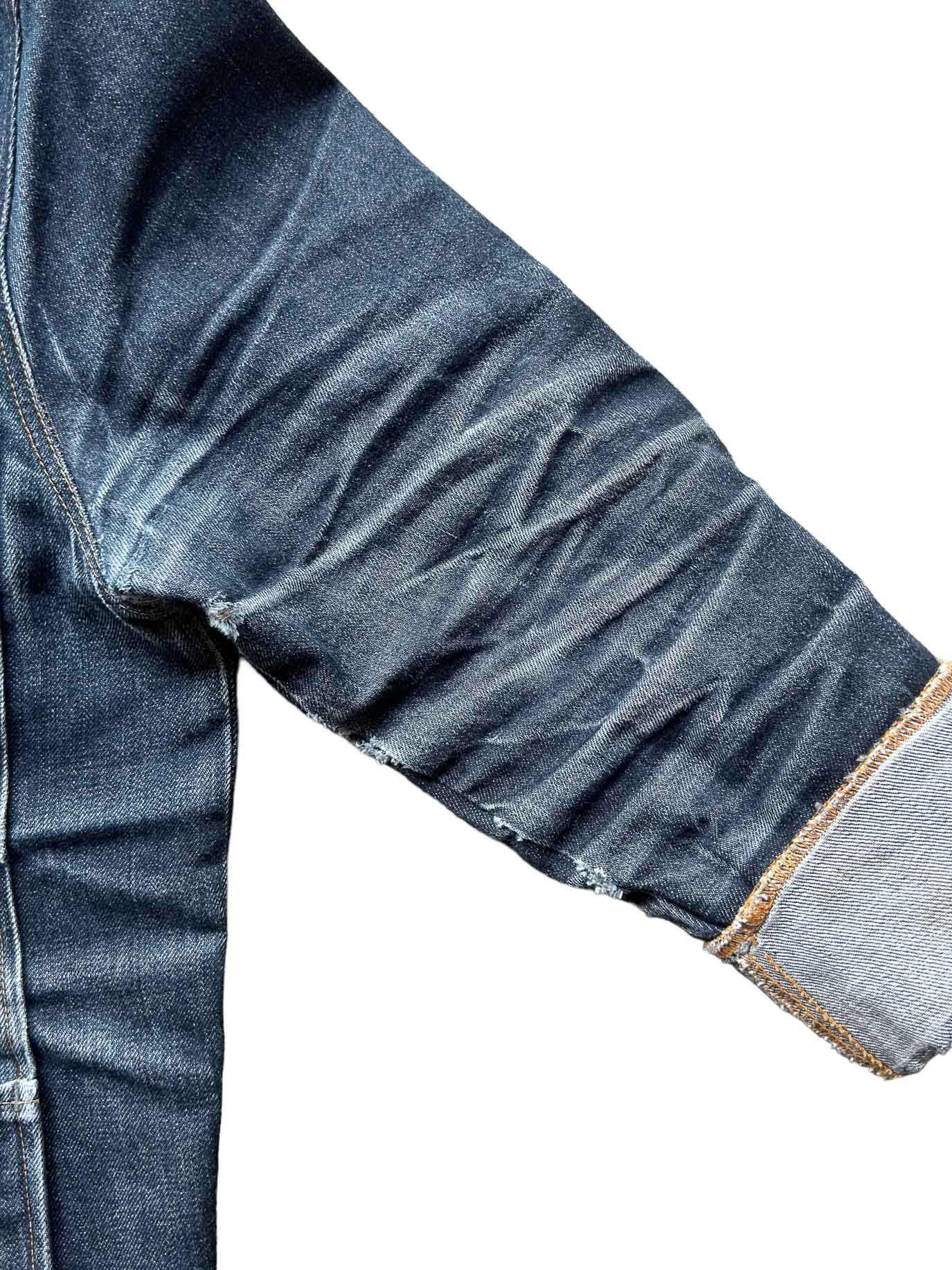 There's also the diagonal sunglasses pocket and a small pencil slot on the right-hand hip pocket. That same pocket has been divided with a row of stitching at the bottom that turns one large pocket into two medium-sized ones.
It's a true Swiss army knife of workwear, and it somehow manages to do all of this without looking like a purely functional garment. Stylish and practical in equal measure, it's not hard to see why so many of those who add one of these to their collection fade them to absolute perfection. They get worn, and they get used—the perfect fade recipe.
---
The Clampdown Shirt
Once again, there's a connection with The Clash at play here. Pete and Tony's memories are foggy, but they think they might've been listening to "Clampdown" when they were throwing around name ideas for the shirt. The lyrics support this: "You start wearing blue and brown, and you're working for the clampdown!"
While the traditional chambray shirt features open, work-style patch pockets on the chest, the Clampdown features a pair of button-down flap pockets that make the shirt more versatile and, if you spend any amount of time either nearly or completely upside down, more practical as well.
Both pockets are also divided, giving you a pencil slot on the left-hand side and a handy knife pocket on the other side. In some versions, Tellason uses tonal stitching, but in the indigo chambray, the stitching contrasts nicely. We prefer it with the contrasting stitching as it highlights the shirt's working heritage and makes it immediately recognizable.
The shirt is available in a number of different fabrics and colours, and Tellason keeps things fresh with a few unique fabrics each year. They're currently offering the shirt in a moss-coloured twill, two handsome mid-weight plaid flannels, and a slightly heavier blue and grey flannel that will be great for fall temperatures.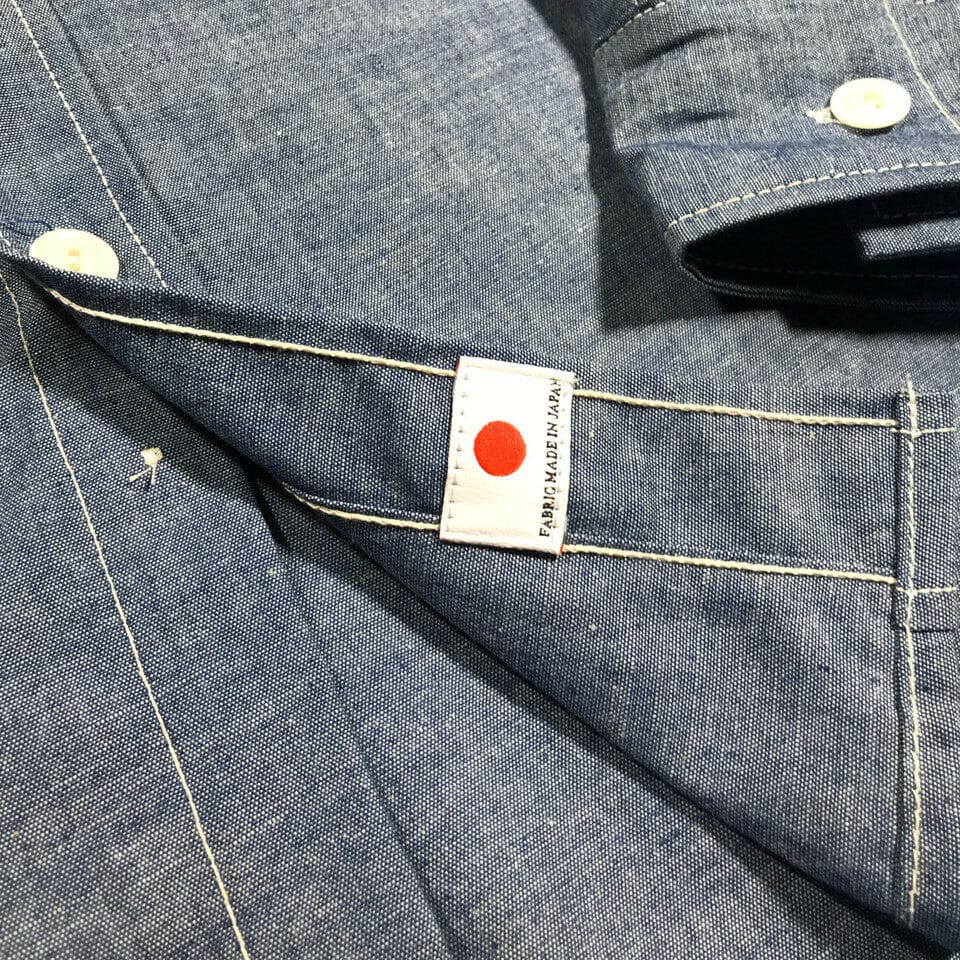 Our hands-down favourite is the blue chambray. The 5.5 oz. 100% chambray fabric has been milled in Japan, and, fresh out of the box, it jumps out at you in a vivid and dark shade of indigo. With regular wear and washing, it fades to a dusty shade of blue reminiscent of American workwear from the first half of the twentieth century. If you don't yet have a chambray that you've beaten into submission with hard work and lots of sun, this is a great one to start with.
You'll find it easy to spend a lot of time in it. The chambray shirt is one of the most versatile pieces in the rebel's wardrobe. Its plain weave breathes very nicely, so it remains wearable even when the temperatures climb. In the fall and winter months, it can be worn as a layering piece under heavier denim shirts or jackets, providing a softer layer close to the skin and a great contrasting tone when layered under dark indigo pieces.
Tellason hasn't rocked the boat with this one. The Clampdown is just a simple shirt with a few utilitarian touches. It will glide into your rotation, making friends easily with your other workwear pieces. Always in style and always a boon companion, it's utterly essential.
---
The Jean Jacket
Tellason's stellar version of the Type III denim jacket deserves far more attention than it gets. How good is it? When he's not wearing his tattered Storm Rider, Ruedi "Swiss Jeans Freak" Karrer wears his Tellason Type III. With more than 14,000 denim pieces in his Jeans Museum, Ruedi knows a good denim jacket when he sees one. He's been wearing his Tellason Type III since 2021.
The Type III (given this name by Japanese collectors in either the '70s or '80s) has managed to cruise through the decades since its release in 1963 with ease, remaining all the while a casual essential. Though it has enjoyed widespread popularity since the '60s, it has managed to maintain a keen countercultural edge. The silhouette is just too good to ever become cliche, and it's no wonder that nearly every denim brand references this design in either subtle or obvious ways.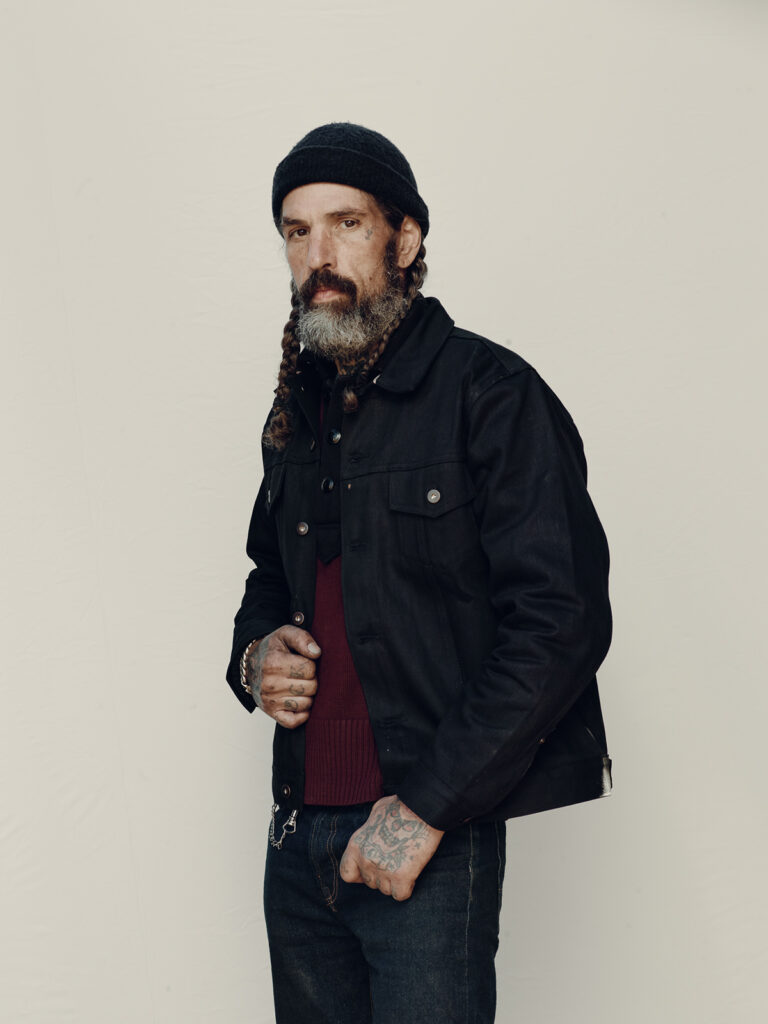 The Jean Jacket was one of the earliest Tellason pieces to emerge from Tony's garage. Both Pete and Tony are tall guys, and they wanted a denim jacket that was a little longer in the body.
The classic version of the Type III rides quite high on the body, and this means an apron of fabric hanging below the jacket's waistband when it is worn with untucked shirts. They cut the jacket considerably longer so that it creates no issues of this kind for those (most of us) who wear their shirts untucked.
Initially, and for many years after its release, the Type III featured only the two chest pockets. Designers added the convenient hand-warmer pockets, and Tellason has done the same with their version, aligning the edges of the pockets with the vertical stitching running down the front of the jacket.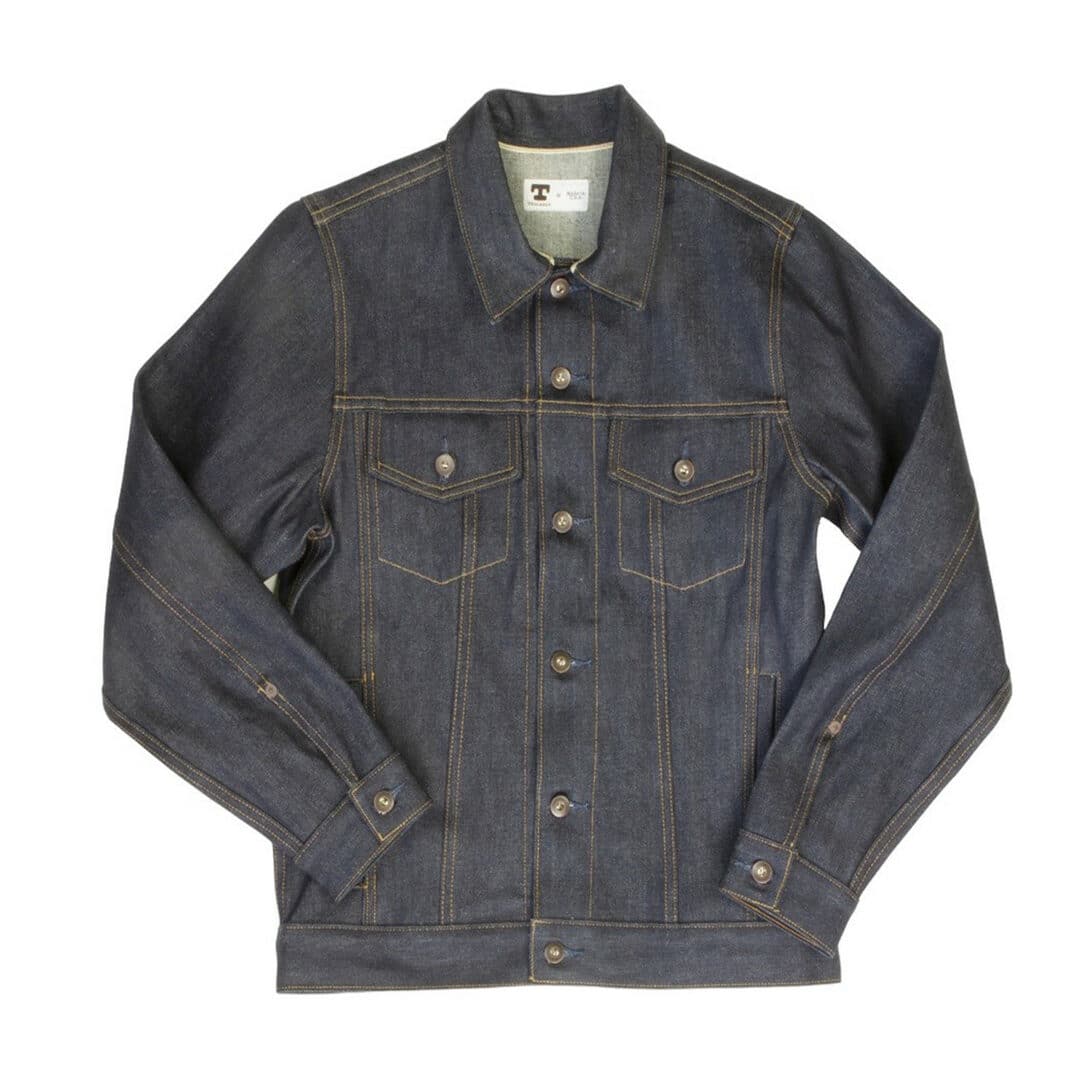 Rather than having both lines of stitching running through the pocket, they've moved the outer line of stitching closer to the shoulder so that it runs in a nearly straight line from the waistband up to the horizontal stitching that runs across the chest. This makes the jacket (and its wearer) look broader, and it helps align the pocket openings with the aesthetic stitching.
We tend to prefer Type IIIs without hand-warmer pockets, but we'll make an exception here. They've managed to add the pockets to the design without interfering with the jacket's aesthetics—not an easy feat.
Tellason's Jean Jacket is available in both 12.5 and 16.5 oz. selvedge, in a black 13.5 oz. Japanese selvedge, and in a non-selvedge 14 oz. Cone Mills denim. It's also available in a blanket-lined version, but it's the unlined 16.5 oz. Kaihara selvedge version that takes the cake for us.
The denim fades brilliantly, and the fit is generous enough on most frames to allow room for a sweater or hoodie when the temperature gets cool. It's an excellent three-season coat (give or take depending on your proximity to the equator).
Like all of the other pieces we've covered here, the more you wear the Tellason Jean Jacket, the better it will look. Tellason pieces aren't designed to hang on the rack. They're meant to be used and abused daily. When they're not in use, they should hang on a hook by the door, waiting to be called into service at a moment's notice.
Keeping Up with Tellason
Each week, Tellason name one of their products the Item of the Week. In a short video, they dive into the story behind the product, discussing how it came to be part of the Tellason family, its pre-Tellason history, and how it can be styled.
Each Item of the Week is discounted by 20%, so it's definitely worthwhile to get notifications from Tellason each time they announce a new Item of the Week.
Check out the current Item of the Week here and sign up to receive them weekly.