20 Raw Denim Shirts Primed for the Podium
Once we've faded one piece of selvedge, we want to fade them all. For many of us, the grail of fades is the denim shirt. Fading jeans is relatively straightforward, but the perfectly faded denim shirt proves elusive for many.
Above-the-belt fades are, of course, trickier to produce than jeans, mostly because we are more likely to rotate through a collection of shirts than we are to focus on a single piece for months on end. The formula is simple, though.
Brands you'll find on the list
In this guide, we won't just be covering the selvedge shirtmakers of note, like Samurai, Iron Heart, The Flat Head, TCB and Studio D'Artisan. We'll also be looking at a host of other brands whose button-up masterpieces are primed for a full year of fading like Benzak, Rogue Territory and Blaumann.
To produce a truly spectacular faded shirt, you need:
a perfectly fitting made-to-fade shirt; and
dedication.
To help you with the first, we've put together this list of made-to-fade raw denim shirts. Even if you've struggled to find that perfect fit, there should be something below that will fit you perfectly from cuff to cuff.
To help with the second, there's the Redline Rally. All of the shirts on this list are eligible, but take some time choosing your champion. The shirt you pick will be your constant companion for a full year. Get the fit and fabric right. The fades will follow.
Our guides are reader-supported. We earn a small commission when you make a purchase, but it doesn't cost you anything. Prices include local VAT and are subject to change.
---
The Flat Head Denim Western (10 oz.)
If the sleeves were a touch longer, I'd probably have two of these hanging in my closet. The styling is simply perfect, with a tight trio of yellow mother of pearl snaps at the cuffs and slanted pockets that tip towards each other without skewing the clean, modern design. If the fit is right, snap one up.
If you prefer more classic workwear styling, try their 12 oz. Work Shirt.
The Flat Head is sold at: Redcast Heritage (ES), Corlection (AU), and Franklin & Poe (US)
---
Iron Heart IHSH-33 (12 oz.)
Conspicuously well-made, Iron Heart's denim westerns are, for many, the standard by which all others are judged.
The contrasting yellow thread used in the triple stitched yokes makes this version immediately recognizable as a serious piece of kit. It's notoriously stubborn, but the fades, when they finally arrive, are well worth the wait.
We also recommend their heavyweight 18 oz. CPO Overshirt, their Overdyed 12 oz. Black Western, and their 10 oz. Western.
Buy Iron Heart from these select retailers: Iron Heart International, Franklin & Poe (US), Division Road (US), Corlection (AU), Brooklyn Clothing (CA).
---
Studio D'Artisan Denim Western (14 oz.)
This 14 oz. denim tips this shirt into overshirt territory, but after a couple hundred wears and a few washes, this shirt can be worn next to your heart.
An instant classic with an Osaka 5 pedigree (the Ivy League of denim brands), this shirt doesn't need to make a lot of noise. It's quietly and heavily brilliant.
Though they are selling so fast that they will probably be gone by the time this goes to print, we highly recommend SDA's Mud-Dyed Western.
You can buy Studio D'Artisan from these retailers: Redcast Heritage (ES), Brooklyn Clothing (CA), Corlection (AU), Hinoya (JP), Division Road (US)
---
Samurai Denim Western (10 oz.)
Samurai's takes on the western shirt feature the boldest styling of any of the items on this list. They play with the western shirt's conventional pointed yokes and pocket flaps, making them sharper and asymmetrical.
If you're looking to make a denim statement, this one's got three exclamation points.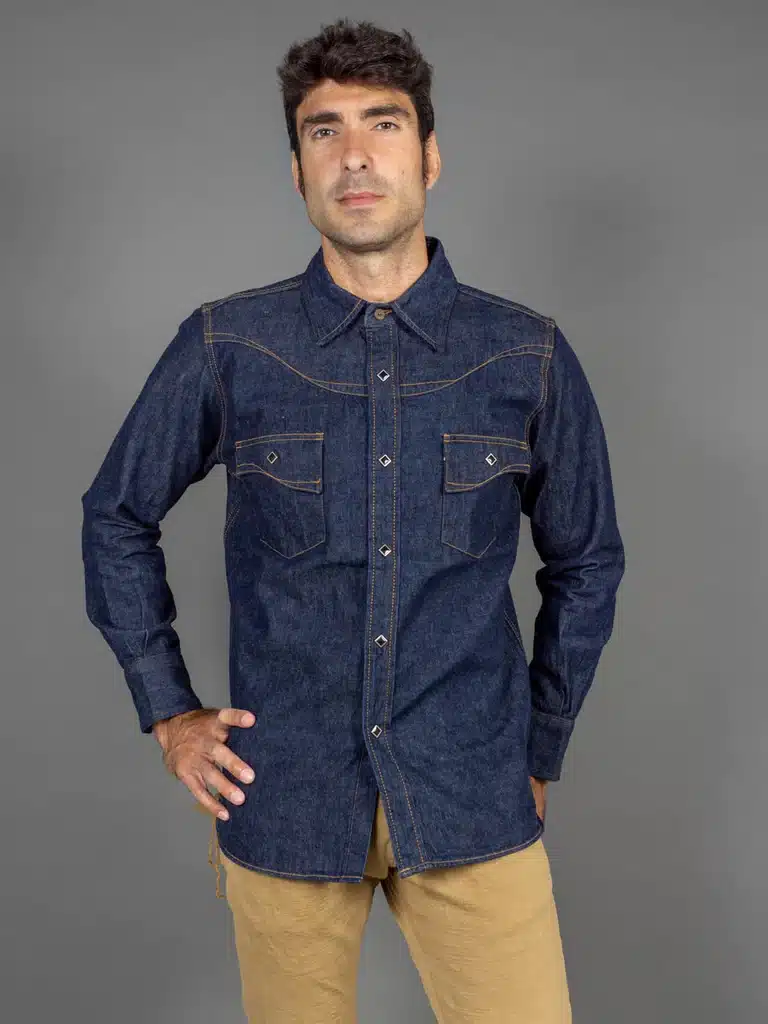 But if those pockets don't do it for you, give their slightly more conservative 101 Denim Western a try.
You can buy Samurai from all of these retailers: Franklin & Poe (US), Brooklyn Clothing (CA), Blue in Green (US), Redcast Heritage (ES), and Corlection (AU).
---
Got a Shirt or Jacket? Register for the Redline!
The Redline Rally is a year-long fade competition. There is no better way to generate above-the-belt fades than joining the Rally. Year Two kicked off on January 1, 2023.
Like the Indigo Invitational, the Rally helps you move one piece to the center of your rotation and do some real damage. Even slow faders produce results if they stick with the program.