Looking to Elevate Your Selvedge Style? Here's How To Wear a White Shirt with Raw Denim
The worlds of blue-collar and white-collar style flow in very different channels. At times, these channels intersect, and occasionally they run parallel to each other. When, for instance, the classic menswear enthusiast seeks the best-possible pair of jeans for casual looks, they might find themselves drawn into the world of well-made selvedge.
In the same way, the rugged menswear enthusiast who either wants or needs to present a more polished appearance can look to the world of classic menswear for guidance and inspiration.
If we are going to borrow just one piece from the classic menswear cannon, let it be the button-up shirt. Paired with selvedge, the classic business shirt, the button-down ivy, or the breezy linen can transform blue-collar styles into hybrid business-casual styles in a hurry.
The advice I've been able to find on dressing up denim seems to always approach the subject from the perspective of the typical well-dressed man (think GQ or Esquire) in search of more casual looks. They treat the jeans themselves as an afterthought, as something that can pull classic white-collar pieces in more casual directions.
Since selvedge is central to our notions of style, we've approached the subject from the opposite direction. We know that you've put a great amount of thought into your jeans, and we're going to look at a few ways we can apply a coat of polish to selvedge-based looks, beginning with our not-so-secret weapon.
Your Not-So-Secret Weapon: The White Button-Up Shirt
Like a great pair of selvedge, the white button-up shirt has few equals in terms of versatility. Depending on what you pair it with, it is comfortable everywhere from the pub to the country club, rubbing elbows and sipping cocktails with every skin or fabric tone. This makes it the ideal blank canvas for those who want to experiment with style elevation.
However, not just any white shirt will do. The fit has to be dialled in, and the details (collar, placket, and cuff style) have to work together with the pieces you're pairing it with. The fabric has to be right, and it simply has to be spotless–it doesn't have to be new, but it does have to look new.
If your only white button-up shirts were purchased in a hurry for a special event of some kind, and if they've been pulled out of the closet for every subsequent special occasion, it's probably time for a new dance partner.
Is there a yellow ring around the collar? Are the armpits a different colour than the rest of the shirt? Are the elbows threadbare? Are the cuffs frayed?
If you've answered yes to any of these questions, bin that old shirt and start looking for a replacement. A bleach bath can help in some cases, but once the stains are set into the fabric, no amount of bleaching will get them out.
Unless you've invested enough in the shirt to make collar or cuff replacement worth your while, it'll be best to start fresh with a crisp white shirt in one of the styles we recommend below.
Wear Proper Selvedge and Proper Cloth
Before we turn to our shirt recommendations, a quick word on some fundamentals for dressing up denim. First, we need to start with the right pair.
If you're new to the world of quality selvedge denim, our Selvedge Masterlist is an excellent starting point. We'll have some more specific recommendations below.
We're big fans of heavy selvedge, but for dressed up looks, something in the middleweight range will be best. The fabric should move with you without putting up much of a fight. Most importantly, it should look comfortable, even if it is brand new.
Like the shirts, your jeans should also be clean. For more polished looks (anything that features a white button-up shirt qualifies), new selvedge will be best. While we will never tire of encouraging denim lovers to fade their jeans thoroughly, this is one case where we can lay that advice to one side. Keep something crisp and dark in reserve.
Finally, keep it slim and simple. Slim straights or tapered fits are best, and the classic five-pocket design is your best option here. Wide legs and vintage details like cinch backs and exposed rivets might elevate your vintage style, but they'll gel uneasily with the shirts we've recommended below.
Business, Rugged or Casual?
We're recommending three different shirt styles: the classic business shirt, the button-down ivy, and the breezy linen. Which of these will be right for you will depend on which of the looks we've assembled below catch your eye and which mesh with your personal style.
I want to thank the good people at Proper Cloth who sent me the three white shirts I've used for this article. I've ordered from them before, and they have my measurements on file. It takes all the guesswork out of ordering shirts. I just pick the fabric and select the appropriate options, tweaking the fit here and there depending on my desired style.
They have an almost impossibly broad selection of fabrics. For these three shirts, I sorted through nearly 50 white fabrics, picking what I felt were the best ones for the style of shirt I was trying to create. I've included links to each of the fabrics I picked, but I encourage you to explore their full range of shirting fabrics.
---
The Classic Business Shirt
We're leading off with the dressiest shirt in the bunch, and there's no way around this one. The classic business shirt has to be tucked in. No matter how you try to dress it up, an untucked business shirt looks sloppy.
Straight point collar
Long one button cuff
Standard front placket
Split yoke
Rounded hem
Standard buttons
No chest pockets
Because we're tucking our shirts in, we need jeans with at least a medium rise. Tucking shirts into low-rising trousers elongates the torso, making the legs appear comically short.
Even if you're a long-legged fellow (like me), this won't be a flattering look. Low-rising denim will be fine with the untucked looks we'll cover below.
Top 3 Selvedge Jeans with Mid-High Rise
For tucked in looks, I like to wear a belt, even if I don't need one. I hate the look of empty belt loops, and I have a decent range of belts to pick from, which allows me to coordinate my belt with my footwear. Slimmer belts with buckles on the subtle side work best. If all you've got is two-prong monsters as thick as fan belts, it might be best to go unbelted.
If you've got a few ties that you'd like to bring into active service, this shirt style will be the best choice for you. Indeed, this style of shirt should always be worn with a tie (it seems somehow incomplete without one). If you prefer open-throated looks, the ivy shirt below will be a better choice.
For a smashing business casual look, pair the classic business shirt with a vest. Choose a tie that works with both the vest and the jeans.
I've gone with a striking plaid vest I picked up in Tokyo at The Flat Head boutique, a pair of 16 oz. Realign Tapered Yoshis, and a two-toned brown tie that serves as a nice counterpoint to the vest's complex pattern. The classic four-in-hand tie knot I've used is the only one you need to know.
If you have a blazer or a sports jacket, you can throw this in the mix. Some jackets that are part of matching suits can pass for sports jackets, but not all.
Do not use a worsted wool suit jacket that is clearly meant to be the upper half of a business suit. Stick with jackets made from rough tweed, corduroy, or linen. They'll all harmonise nicely with selvedge.
Finally, try wearing the shirt and tie under double-denim looks. Bryan Tyree Henry did this exceptionally well in Bullet Train, pairing a Uniqlo Type II and matching jeans (probably also Uniqlo) with a white dress shirt and a tie.
As with Henry's look, the denim pieces should be of a similar or identical cast. They should also be faded (if at all) to a similar degree.
Truth be told, this look was the inspiration for this article. I tried it myself. I expected it to work, but I wasn't prepared for how sharp the combination would look.
It fuses the worlds of rugged and the classic menswear with ease, and it gets a ton of attention on the street.
The key is the tie, which should connect in some way to the rest of the outfit. Henry's tie was a near-perfect match with the stitching on his Type II, and I've tried to do the same here.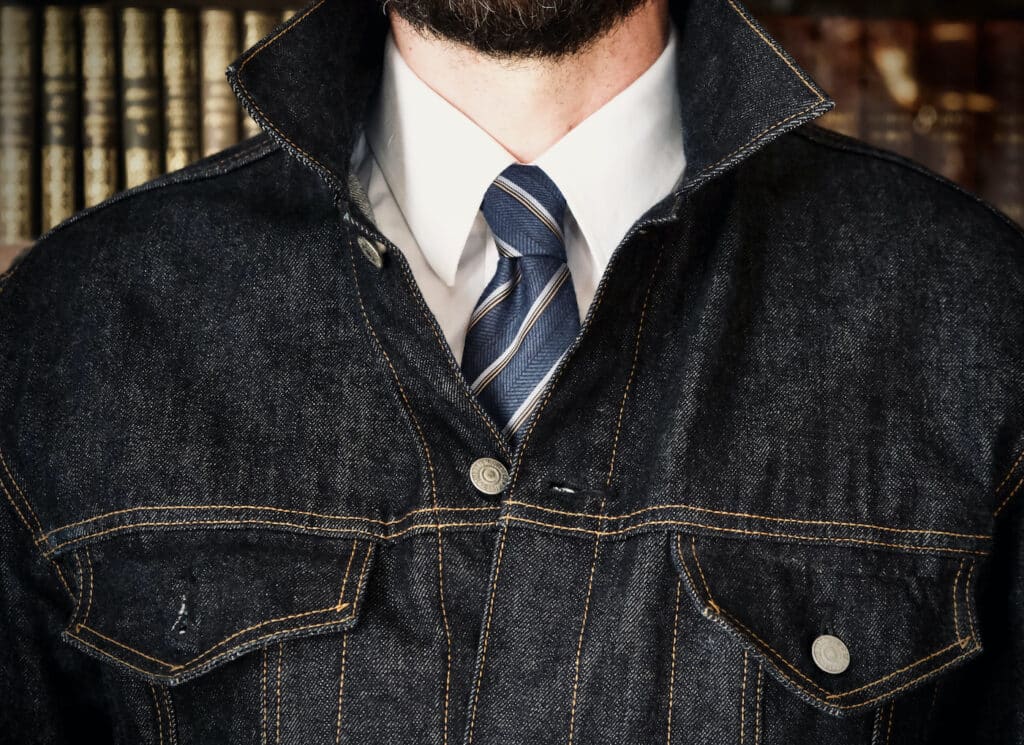 I'm wearing a Zegna tie with subtle yellow stripes that match nicely with the stitching on my Real McCoy's Type III. Choose a tie that references your denim pieces in this way and you can't go wrong.
---
I've always avoided the button-down oxford–mostly because of its preppy associations. When I was researching for my book, though, I began to see the worlds of prep and ivy (and the button-down oxford) through new eyes.
Soft ivy button down collar
Soft long one button cuff
Soft front placket
Split yoke
Rounded hem
Standard buttons
No chest pockets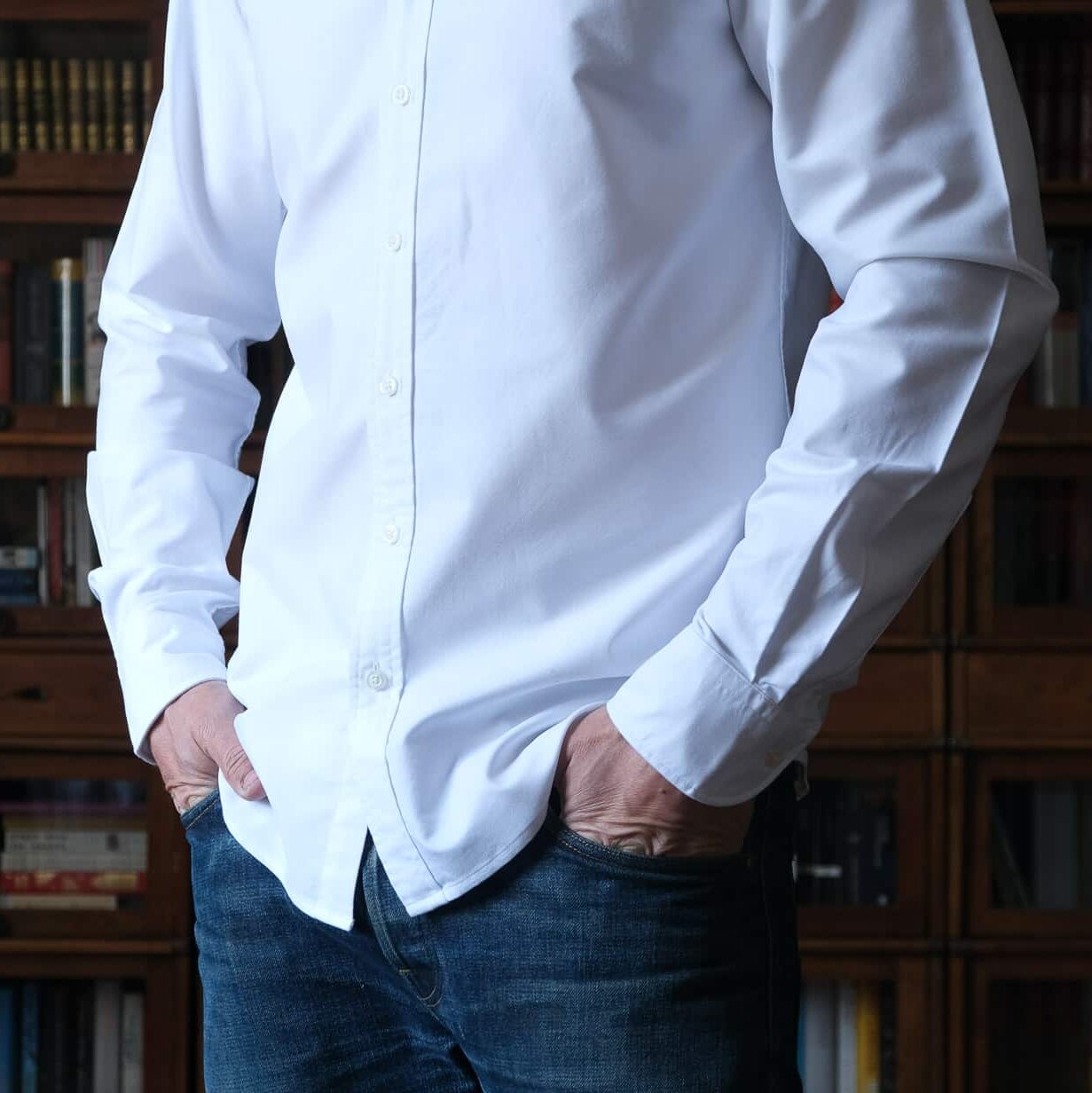 Incorporating denim (selvedge of course), leather varsity jackets, and sweatshirts, ivy bridged the worlds of workwear, sportswear, and classic menswear, creating a hybrid style that has remained current for the better part of a century.
What's more, made-to-fade (or bleed) madras and the look's privileging of well-worn pieces over brand new ones opened the door to slower approaches to style. We owe more to ivy than you might think.
What I saw in books like Take Ivy and Jason Jules's Black Ivy was that the worlds of rugged and ivy style draw towards each other at the base.
Like rugged style, ivy was, for those who first practised it, a radical reinterpretation of men's fashion.
Top 3 Ivy-Ready Selvedge Jeans
The button-down oxford with its gracefully rolled collar was the backbone of the casual style, and, having added one to my wardrobe, I can see why. Of all the button-up shirts, it is by far the most adaptable.
It can be worn tucked or untucked, with a tie or without, with a jacket or without, buttoned up to the top or open at the throat, and it is heavy enough to pair with selvedge of just about any weight.
To lean into its roots, pair the oxford with pieces that share an ivy-league pedigree.
I've gone with a Dehen1920 x James Dant varsity jacket, a throw-back piece that makes almost as many appearances in ivy style manuals as the button-down oxford.
Finished off with a pair of custom jeans from Ruttloff, the outfit looks ready to hit the quad (even if my school days are long, long behind me).
The shirt's not fussy. It plays exceptionally well with others, pairing effortlessly with complementary pieces like sports jackets and cardigans. At the same time, unlike the classic business shirt, it shines as a solo performer.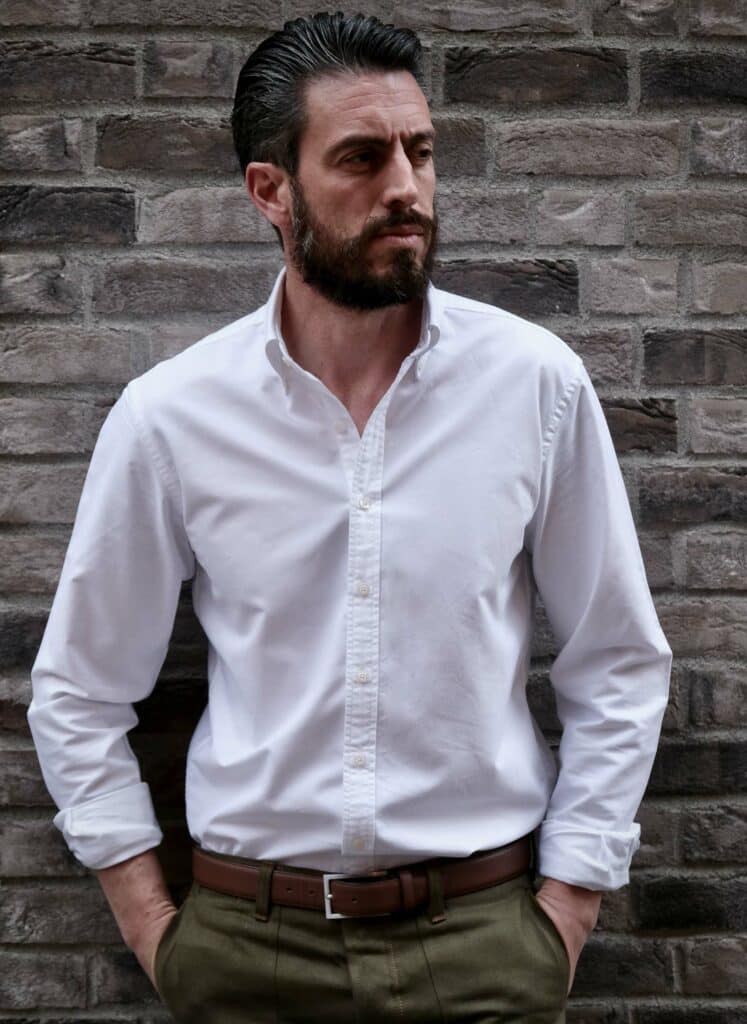 My favourite way to wear it is tucked into these green denim chinos from Ruttloff. I bought the chinos a few years ago, and I've been struggling to find an outfit that does them justice.
The button-down oxford did the trick, and the stellar combination means that both the chinos and the shirt will see regular action.
---
Even in northern climes, the summer sun makes heavy denim shirts and jackets impractical. If you still want to wear long-sleeved collared shirts, even when the temperatures are soaring, the linen shirt is indispensable. It's a summer classic with few equals in terms of its ability to spruce up our hot-weather wardrobes.
Details: Franklin spread collar
Soft long one button cuff
No placket
Split yoke
Rounded hem
Standard buttons
No chest pockets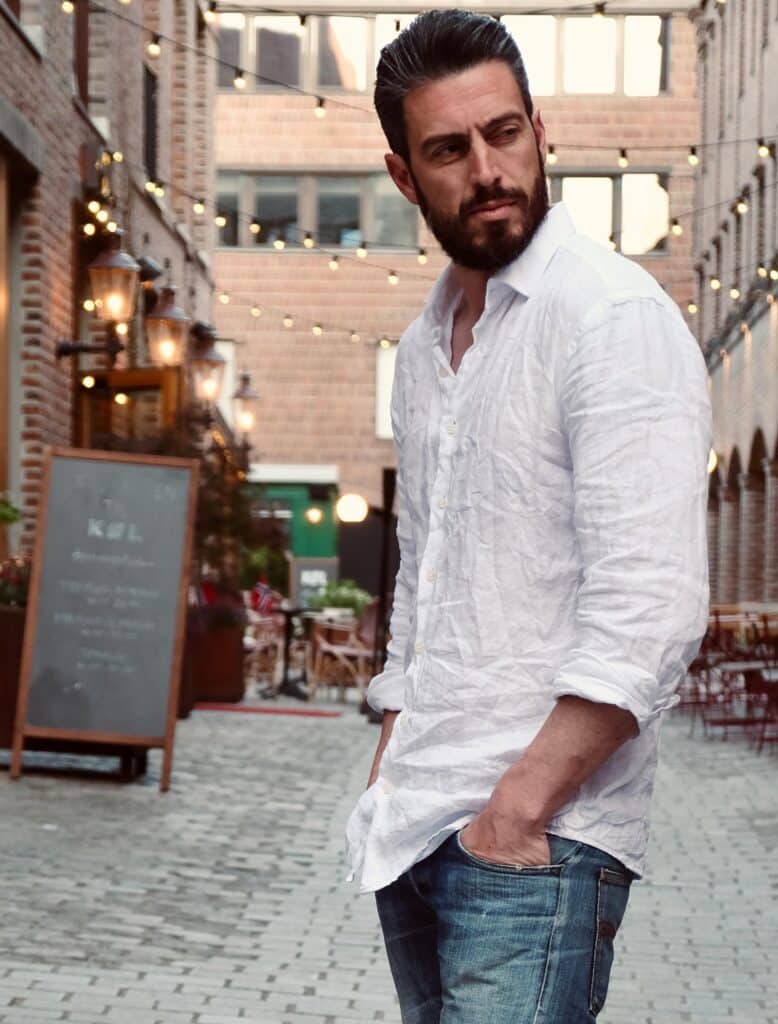 It will work with denim of just about any colour and weight, but it's most in its element with lightweight and thoroughly faded selvedge.
On a sunny day or a sweltering evening, reach for your favourite pair and throw the breezy linen shirt over your shoulders. Roll the cuffs of both the jeans and the shirt, and slip into some slip-ons. Job done.
Top 3 Lightweight Selvedge Jeans
Like flannel and denim, linen is ideal for those who hate ironing their shirts, and it's not just that linen doesn't need to be ironed. It actually looks better when wrinkled.
Simply launder it and hang it up and wear it straight off the hanger. Alternatively, you can roll it into a ball before you throw it on for that extra rumpled look.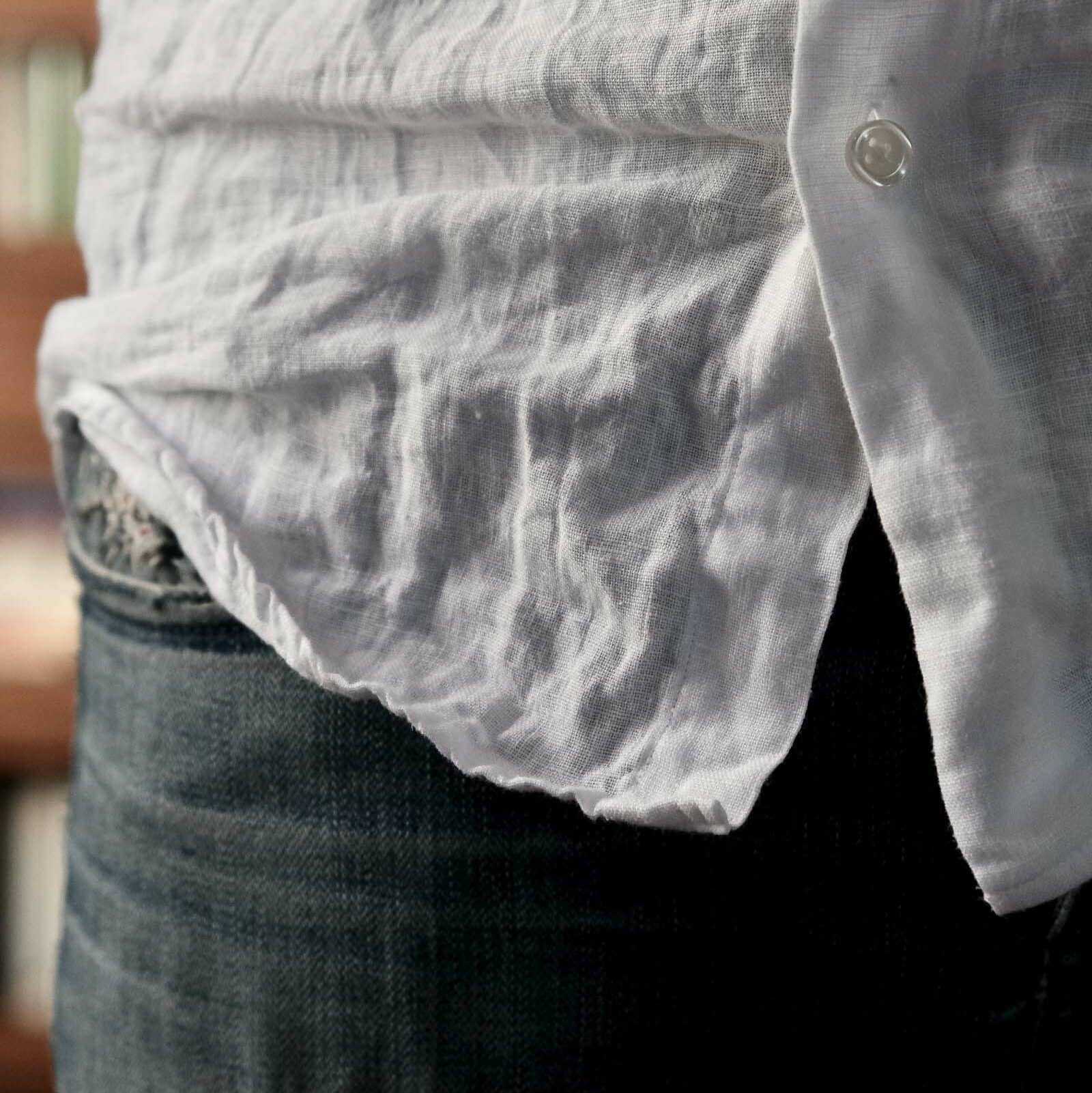 I've paired mine here with my oldest pair of raw denim–a pair of non-selvedge Nudies in their now-defunct Average Joe fit.
Well into their second decade, the jeans don't see as much action as they once did, but on hot days they, like the linen shirt, are an excellent no-fuss option.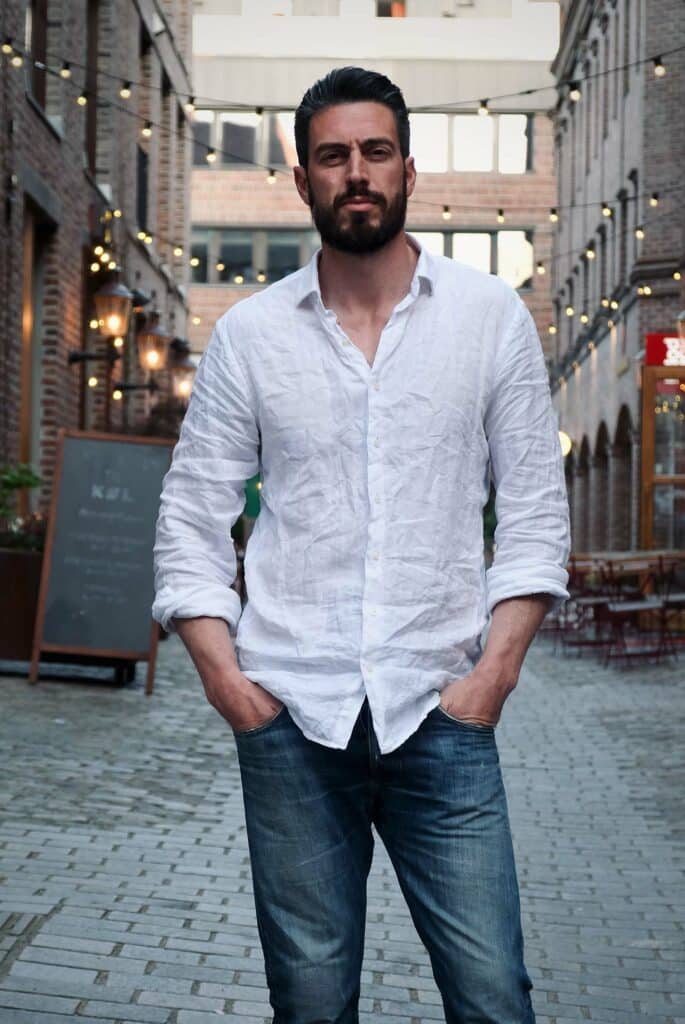 The shirt worked best, though, with my 13 oz. pair of Naked & Famous. Purchased not long after the Nudies, they saw some rough usage when I was backpacking across Europe.
I've repaired them myself, and the heavy white thread and the rough Irish linen joined up like long lost friends when I put them together.
Now It's Your Turn
We'd love to see how you've worked white button-up shirts into your selvedge looks. Send us a DM at either @denimhunters or @denimstrummer with your pics. We'll share our favourites.
Our guides are reader-supported. We earn a small commission when you make a purchase, but it doesn't cost you anything. Prices include local VAT and are subject to change.