The 4 Features That Make a Great Fit, Plus How to Find a Flattering Fit For Your Body Type
We've been wearing jeans for almost 150 years. They've become ubiquitous; everyone wears them! So how come it's so difficult to find a pair that fits?
Small differences between sizes, fabrics, measurements, treatment and a host of other factors can make big differences in the way two pairs of jeans look on you. And that's not even taking you and your body type into consideration.
In this third article the series about buying jeans, I look at why fit is the most important criteria for finding jeans you'll love and wear. It's not just my opinion, consumer research says so too! This free in-depth jeans fit guide for men will help you find jeans that actually fit you.
Hand-Picked Must-Haves and Essentials
Sorry to interrupt your reading but we've found these products that we really think you should take a closer look at!
T-SHIRT
Support us when you shop: We earn a small commission when you buy from these merchants.
---
Prefer to listen?
In episode 10 of the Denimhunters Podcast, Thomas discusses his fit guide for men. You can listen in the embedded player above or on Apple Podcast, Google Podcast, Spotify, and Stitcher.
---
It's More Than Your Waist Size and Height
The average European guy is about 178 cm tall and probably wears something like a waist size 31 or 32 in jeans. If that's you then congratulations, most jeans will (probably) look great on you. That's because jeans are usually designed based on the measurements of average guys.
But as someone who's actually 178 cm tall and usually wears a size 31 (give or take), I know from first-hand experience that even us average-sized guys have issues finding jeans that fit. There's so much more to it than the measurements of our waistline and our height.
Finding perfectly fitting jeans presents different challenges for the two sexes. Women usually want jeans to accentuate or hide their curves. That's not (as much of) a problem for most men. In this free jeans fit guide, I look at it from a man's perspective—but much of the advice works for women as well.
Looking for Quality Jeans and Other Well-Made Menswear?
Visit our buying guides before your next purchase. We guide you to the best raw selvedge jeans, denim jackets, heavy flannels, T-shirts, denim shirts, and more.
How Jeans Should Fit
Back in the good ol' days, jeans were workwear: everyday apparel that had to be durable. How it looked was less important. That meant fits were generously cut, and jeans had to fit any body type. When blue jeans became big business and a fashion item, designers began improving the fits to get specific looks. These days, patternmakers are developing techniques and ways of sewing that create the perfect fit.
Jeans are often described as a second skin. And because we wear our jeans virtually all the time, they see their fair share of wear and tear—and you usually have to shell out a good deal of cash to get into a quality pair.
That's why you'll want them to fit you well, and show off your good sides. There's no definitive answer to how jeans should fit, but the goal is to find something that balances out your proportions and highlights your best attributes.
As a rule of thumb, you should always be able to answer "yes" to these two questions when you're trying on jeans:
Do you feel comfortable?
Are you convinced you look good in them?
With that in mind, let's take a closer look at the four tangible features you should consider when you're shopping for jeans.
The 4 Features That Make or Break the Fit
All too often, we're being dictated by trends, what your friends wear, or even a particular fabric or look when we shop for jeans. Instead, look for jeans that suit your body.
Many consumers buy the fit that is prescribed by fashion (probably a skinny). If you look at the matter from a tailor's point of view, or from the technical side, a skinny would (almost) never be recommended," says Paul Kruize, who makes bespoke jeans.
To find a pair of jeans that makes you feel comfortable and look good, consider these four features of the fit: the shape of the leg; the rise; the length (also known as the 'break') and; the fabric.
The Shape of the Leg
The shape of the leg is what gives you the different types of fits. It's determined by three measurements: the thigh, the knee and the leg opening. All are measured with the jeans laying flat, and the figures are then doubled.
The thigh is the top of the leg, and it's measured at a right-side angle just under the crotch. To get the full width of the thigh, you need to include a bit of fabric from the back of the leg, and not merely the width of the front of the leg. The knee is measured 35 cm (or 14 inches) down the inseam from the crotch. The leg opening is the measurement across the hem.
The combination of these measurements gives you the shape of the leg. But there's no standard for how brands and denim designers combine the measurements to create different fits. So in one brand, the leg shape of a loose fit might be similar to that of a regular fit from another brand. And, obviously, the actual measurements vary depending on the size of the jeans.
What this means is that, to find jeans that're both comfortable and look good, you cannot simply shop for jeans based on what fit they're labelled as. You need to try them on or carefully measure them against a pair of jeans you already own. The exception would be a fit you already know, but even then you can have discrepancies between production runs, fabrics and washes.
The most common fit categories include: super skinny, skinny, slim, regular and loose. And except for skinny fits, they can all have a straight or a tapered leg.
Selvedge Masterlist Top Three Jeans
The list of our favourite Japanese selvedge jeans is long, but at the very top of it, you'll find: Iron Heart 634S, Samurai S710XX, and ONI 622ZR.
The Rise
The rise is the distance from the crotch joint to the top of the waistband. That means you've got both a front rise and a back rise. Unlike trousers and slacks, the back rise of jeans is curved. That means it wraps around to the front of the jeans. This is what gives jeans their figure-hugging fit.
The rise is important because it determines where the jeans sit on your body. To make sure you get a fit that's comfortable and looks good on you, the rise should follow your contours.
Generally, there are four categories of rises: low rise, mid rise, high rise and drop crotch (where the length from the base of the fly to the crotch seam is extended). Like with the shape of the leg, brands have different definitions for what each rise category entails in actual measurements—and they vary from size to size. So you should use the rise as a guideline only.
The rise is part of what's called the 'top block' of the jeans (in other words, the section from the waist to the crotch). In addition to the length of the rise, you should also consider the angle of the yoke as it determines the curve of the back rise.
The Length
When it comes to the length of your jeans, the golden rule is that you want the break (where the legs end) to be just where your feet begin. Worn without shoes, this means the front of the hem will rest on top of your instep, and the back will kiss the floor.
With trends like cropped legs, cuffing and stacking, the length of jeans has largely become a matter of personal preference. But the length of your jeans is important for how they look on you—and you can use it to your advantage to create optical illusions.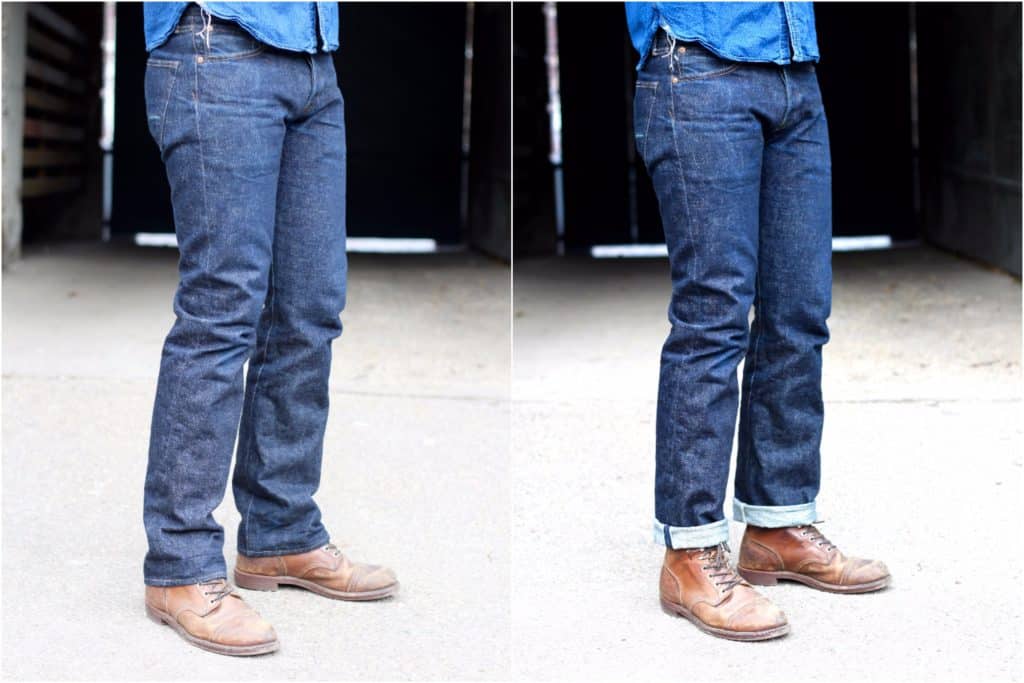 The length is the measurement of the inseam, starting from the crotch and then all the way down to the leg opening. Compared to the shape of the leg and the rise, the inseam is a somewhat more universal standard. Still, play it safe and try on the jeans or compare it to a pair you already own. And don't forget to factor in shrinkage; even sanforized denim shrinks a little bit.
A tip before your shop: get your inseam measured. You get a long way by measuring a pair of jeans you own with a perfect inseam. Otherwise, your girlfriend or your local tailor can help you get your actual inside measured.
The Fabric
Denim has traditionally been made from 100% cotton, in which case it's known as 'rigid denim.' However, as fits have been slimming down over the past couple of decades, and as spinning technology has evolved, stretch denim is becoming the norm for many fashion denim makers.
The 'elastomer' (that is, the stretch material, usually some form of spandex) is spun into the core of the yarn. That's why stretch yarn can only be ring-spun. Technically, the stretch yarn is 'core-spun,' meaning the cotton is wrapped around a strand of spandex. This way, you maintain the soft touch and fading capabilities of cotton while adding 'stretchability.'
The key advantage of having stretch in denim is well-known to anyone who has tried it; the jeans become immensely more comfortable. Even with a few percentages of stretch material, you can get stretchability up to 30-40%, meaning the denim will stretch 1.3-1.4 times its actual size.
Best Places to Buy Well-Made Menswear
Whether you're looking for a pair of selvedge jeans, a denim jacket, a loopwheeled T-shirt, or anything that is made slowly and purposefully, start your search with these brands and retailers:
Support us when you shop: We earn a small commission when you buy from these merchants.
The problem with adding an elastomer to the fibre mix is that the fabric often loses (some of) its authentic denim look. Because stretch yarn makes the denim more compact, the characteristic twill lines become less pronounced.
Another common problem is that stretch denim gets saggy with wear. It lacks 'recovery,' as denim insiders call it. To combat that, yarn makers are adding a strand of polyester to the mix and spinning yarns with more than one core. This makes it dual core-spun. Or they mix the two synthetics together in top secret ways to create two-component fibres like Lycra T400 or Candiani's Sling technology (which gives you as much as 75% stretchability).
Whether you like it or not, stretch denim is here to stay. While denim purists stubbornly argue that stretch denim is not as beautiful as rigid denim, the spinning industry is now making high-stretch denim that is visually more or less identical with rigids. If you can't tell the difference, you might be willing to trade in a little authenticity for the increased comfort of having stretch. After all, a pair of skin-tight jeans made from rigid denim is practically unwearable. But the choice is yours.
If you are looking for something contemporarily lean, stretch denim will probably do the trick. Just make sure it still looks like denim! If you prefer wider authentic fits, you'll want to opt for a rigid denim instead.
Now that you know the four features to consider when you're shopping for jeans, let's look at how they work with the five most common body types.
A Flattering Fit for Your Body Type
These days, even die-hard denimheads wear contemporary slim fit jeans. After all, a slim fit can look very flattering if you have the body for it. The problem is that not all fits fit every body type—yet many people still follow fashion trends instead of wearing jeans that fit them.
When we're talking about fits, we're not talking about the size of the jeans. The fit is how the right size fits your body. A good fit should balance out your proportions.
That means the best way to shop for fits is to base your decision on how you're built. Let's take a look at the five most common male body types and what kind of jeans work best for each of them.
(I'm using myself as an example here to show how different fits create different looks. I'd consider myself an average build, but my thighs are a little beefy. And I've got a bit of knock-knee going on. That influences the fit a lot!)
Average-Sized Guys
If you're blessed with an average-sized frame, shopping for jeans should be a breeze. Whether the fit is slim and loose, it'll probably look good on you. That means you've got plenty of styling options.
Any kind of rise will do, but steer clear of the extremes. The most obvious choice for leg shape is a slim straight fit. And, even though you can, don't wear skinny jeans if you want to look like a man—women think those skinny jeans makes you look like a teenager, and that's not turning them on!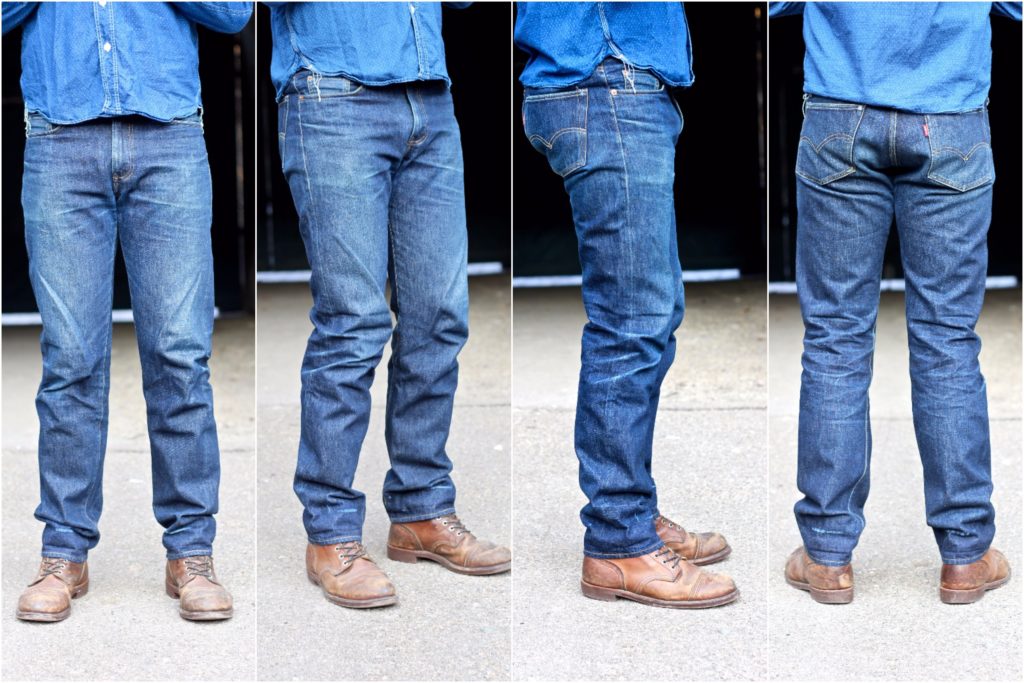 However, for average-sized guys with beefy thighs, tapered fits are usually more flattering than slim straights. And be aware that slimmer fits have a tendency to accentuate bowlegs and knock-knees like you'll notice in the fit pics of yours truly. But that goes for any kind of build.
Average-sized guys should go for
Any rise
Slim straight or straight leg (if your legs aren't too chunky)
Tapered fit (if you've got beefy thighs)
Average-sized guys should avoid
Skinny fits (unless you actually are a teenager)
Slimmer fits (if you've got knock-knees)
Shorter Guys
This is the guy who's below average height but has an average build. What you (usually) want from a fit is to have to make you appear taller than you actually are.
To do this, you want to avoid anything with a low rise. Instead, opt for a mid-rise that adds balance to your proportions.
In terms of the shape of the leg, you'll want something that is straight as it has the wonderful effect of making your legs look longer than they are.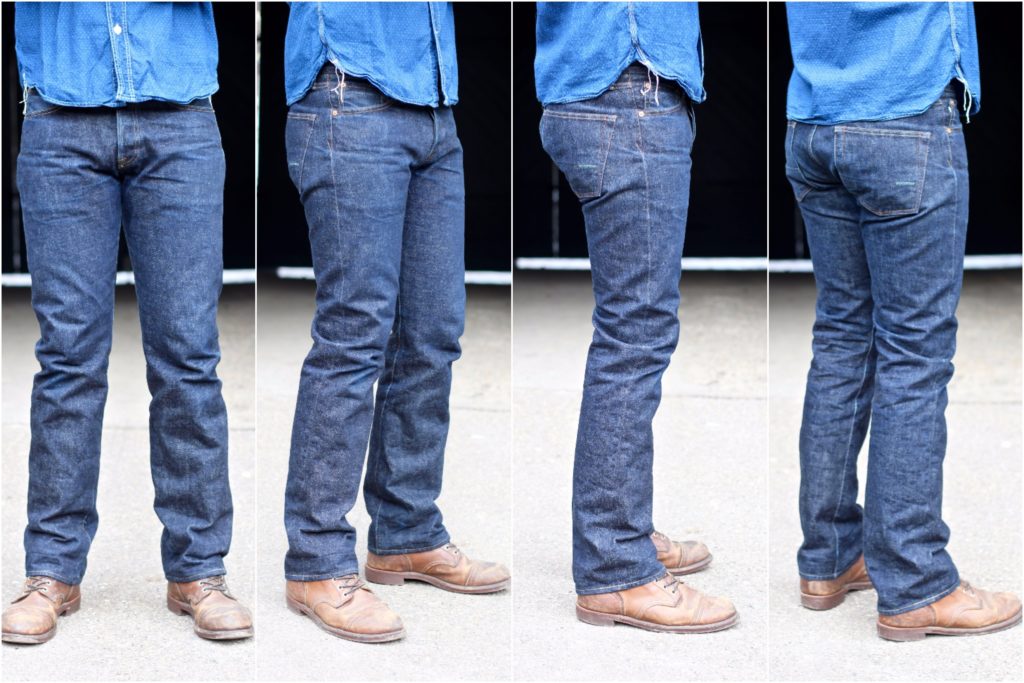 And you want to steer away from loose fits and overly long jeans if you've got short legs; they make your legs look even shorter than they are. Wearing your jeans low-slung only makes it worse. And don't believe the hype of skinny fit jeans; they're certainly not for you!
Short guys should go for
Mid rise to add balance
Straight leg fits that elongate your body's frame
Short guys should avoid
Low rise
Relaxed and loose fit jeans to make you look smaller
The unforgiving skinny fit
Taller Guys
For tall guys—meaning anyone who's above average height but has an average build—the issue is usually that you don't want your jeans to make you look even taller.
To achieve this goal, you should generally avoid high-waisted jeans as they make your legs look even longer. Instead, pick something with a mid or a low rise. However, if it's your torso and not your legs that's long, a higher rise can elongate your legs. But be cautious.
In terms of the leg shape, you'll be best off with a slim or a regular fit. You might be tempted to try something skinny, but it looks ridiculous in anything that's bigger than a waist size 32. Lengthwise, the jeans should rather be on the short side than too long.
Tall guys should go for
Mid or low rise (if your legs are long)
A higher rise (if it's your torso that's long)
Slim or regular leg
Tall guys should avoid
Skinny as it draws attention to your long legs
Jeans that are too long
Big Guys
The big guy body type is the broadest. This is the guy with a big frame; you might have massive thighs or it's the belly that's taking up most space. Often it's a combination of the two. And when we're talking about jeans fits, it doesn't matter that much if the mass comes from muscle or fat. That means the advice is valid for big, muscular guys too. Think Schwarzenegger.
Go for something with a lower rise. Especially in the front. It may sound counterintuitive not to try to have a high waist hide your belly bulge (if you've got that), but the exact opposite happens, and you'll be sure to get the infamous muffin top.
When it comes to leg shape, you'll want a tapered fit with plenty of room in the thigh area. The important thing here is not to go too tight! You'll almost inevitably get a spray-on look. On the other hand, picking something that's too loose will make you look even bigger. And steer clear of lightweight fabrics as they drape more which makes the jeans more revealing.
For big guys with an athletic build, regular fits can also work. They give a slimming appearance as your rear and thighs are hugged by the denim while the rest of the leg is straight. The regular fit is a good match for guys with hips that are narrower than their shoulders.
Big guys should go for
Mid or low rise
Tapered leg with a relaxed thigh
Regular fits (if you athletic and want a slim look)
Big guys should avoid
Skinny, slim and loose legs
Lightweight fabrics
Differences between sizes, even within the same brand and fit, means that it's paramount for big guys to try on the jeans.
Skinny Guys
If you've got the body of a fashion model, most jeans will look good on you. That gives you room to play.
Essentially, any rise will work. But a lower rise works best to build up your stature.
You can also pick your favourite among leg shapes. This is the only body type that a skinny fit can indeed look good on, especially if you're not too short. But you want to avoid anything that's super skinny as it gives you chicken legs.
You might want to try something made from a bulky fabric as it's perfect for not drawing attention to the size of your leg (or lack thereof).
Skinny guys should go for
All rises and legs shapes
Bulky fabrics
Skinny guys should avoid
Super skinny (because there's a limit!)
5 Things to Consider To Get That Perfect Fit
Once you've found a fit that makes you feel and look good, consider the following before you hand over your pile of cash or your credit card information.
Go the Extra Mile to Try On the Jeans
When you have found a fit you like, try it on. If that's not an option, measure it against one of your favourite jeans to see if the fit works for you, and what size you need.
Don't buy jeans that are too big. (Here I'm talking sizing, not fit.) Because denim stretches with wear, you'll get the best result if you buy a size that fits snugly when you try them on for the first time. Just don't go overboard and buy them two sizes down! And never ever blindly follow size tags; especially if you don't have any experience with the brand, fit or the fabric.
Most jeans are pre-shrunk. If they're not, you'll most likely be told by the brand or the store that you're entering the land of shrink-to-fits and unsanforized denim that shrinks up to 10%. In that case, you should pick your size according to what the brand prescribes. The actual shrinkage varies from denim to denim, so consult the seller before you buy (they should be able to give you a straight answer about how much the denim shrinks, ahem!).
If the jeans are made from stretch denim, and especially if they're on the slimmer side of fits, it's growth you should be concerned about—in other words, what happens when the denim lacks recovery. Again, ask the seller about this.
When you're not able to try on the jeans—if, for instance, you're shopping online—and you're not sure about what fit or size to get, try 'bracketing;' buy the size you think you are, and then one size up and one size down. Just don't forget to return the jeans you don't need. And make sure to check if the retailer actually allows you to return only part of the order (some don't!).
Don't Be Intimidated by the Waist Size
The waist measurement of a pair of jeans is (in most cases) not the same as your natural waist (at your belly bottom).
While the two measurements used to be more or less identical back in the days when only cowboys and workers wore jeans, the waistline has been creeping down over the decades.
That means we no longer wear our jeans at our natural waist—which would require an ultra high rise. These days, we wear our jeans somewhere on our hips, where we're usually wider than at our waists. But the waist sizes have stuck around.
Part of the explanation might also be that we're getting bigger. Any jeans maker who's watched Seinfeld knows that no one wants to admit they've gone up in size. So they just alter the sizing chart and make the jeans bigger.
This supports my argument that you shouldn't blindly follow what the size tag says. It's not uncommon that you'll be a size 30 in one brand and a size 33 in another. It all depends on the shape of the leg, the rise, the fabric, your body type and possibly many more factors. Just go and try them on, for Pete's sake.
Enlist the Help of A Professional to Get Your Jeans Shortened
If you need to have your jeans shortened, leave it to someone who knows how to operate a sewing machine. It takes practice to do a good hemming job. And be aware that shortening slightly alters the fit if the jeans are tapered.
There are a few common ways around it, but if your jeans were washed and distressed when you bought them, you get the best result if you preserve the original hem.
Most tailors don't have the sewing machine that can make the iconic chain stitch (unless you're in Japan where any self-respecting jeans store has it). If you want your jeans hemmed with an original chain stitch, here's a list of tailors and stores that can do it for you: Indigo Proof, Denim Repair, Self Edge, Rivet and Hide, Iron Heart and Nifty Jeans.
Back Pockets – Friend or Foe?
On top of the four features I've listed above that can make or break the fit, you need to consider the back pockets as they influence what the jeans look like on you.
Firstly, there's the placement. The closer together the pockets are placed, the smaller your rear will look. "The attitude of brands can sometimes impact the placement of a back pocket," my friend, Klas Dalquist, who used to design jeans for Lee, told me.
Then there's the size of the pockets. It's not necessarily intuitive, but big back pockets also create the optical illusion that your rear is smaller than it actually is. (I'm starting to sound like a girl!) Lastly, there's the amount of "noise" they make. Back pocket signatures draw attention to them, so if you don't want that, no matter the reason, go for something that's as clean as possible.
Think Twice About Whether the Fit Is Age-Appropriate
When you have found a fit that ticks off all the boxes, think about whether it fits your age. It's not necessarily your biological age I'm talking about, it's more about where you are in life.
Some things don't transcend age very well. Skinny jeans are one such thing. If you're in your forties or fifties, it doesn't matter how lean you are. You want to look like a man, and skinny jeans don't help with that.
This is going to sound very generalising, but the younger you are, the tighter your jeans can be.
Need help finding the perfect pair of jeans?
Denimhunters is a knowledge portal for denim enthusiasts and newcomers. Launched in 2011 as a pioneering denim blog, we're a trustworthy source of denim knowledge and advice.
Our Well-Made Essentials buying guides help you build a timeless and adaptable wardrobe of carefully crafted items that're made to last. Start your hunt here!
The research I did for this jeans fit guide led me to the following sources: FashionBeans, The Idle Man, Men's Fitness, AskMen, Refinery29 and, of course, Blue Blooded.