Contributing Indigo Invitational sponsors get in-depth coverage here on Denimhunters. To enquire about sponsorship opportunities, contact us here. This post was originally published on Tour de Nîmes.
To Find Your Perfect Fit in Samurai Jeans, You Need to Know Your Numbers
A favourite brand for those seeking fast-fading heavyweight denim. Samurai Jeans have a nearly unmatched lineup including some of Japan's hardest and heaviest raws.
They've also got some of the most stylish fits in the game. Their iconic cuts are as sharp as a katana blade—the samurai's weapon of choice—and we want to help you pick the fit that's best for you.
For those new to the brand, knowing which pair to pick isn't always easy. The model numbers can be a little confusing. Unlike most other brands, the numbers on the waist patch (the lot numbers) don't say anything about how the pair will fit.
Hey, sorry to interrupt you …
You might have seen the disclaimer that our guides here on Denimhunters are "reader-supported". This means that – on some of the products featured – we earn a small commission if you click the link and make a purchase.
To support us when you're buying Samurai Jeans products, get yours from either Redcast Heritage, Big in Green, Franklin & Poe, Corlection or Brooklyn Clothing Co.
Thank you 💙 Now, back to the guide …
The lot numbers on the patches tell you what year the jeans were produced and which lot they're from. Once you know what you're looking at, they're actually pretty easy to decipher.
This system started with the brand's first pairs released in 1998, which were given the lot number 0. The year 1999 got lot number 1, and so forth.
If there is a three-digit number following the lot number, this is the SKU number, which helps the brand and its retailers track their stock.
To find out what fit we're looking at, we need the model number, which appear on the flasher and in online listings. In the case of the jeans above, the model number is S5000VX21ozII.
All we're concerned with in this guide is the first part: the S5000. That is the fit. The rest of the model number tells us about the denim, which is a whole other kettle of fish.
We've looked carefully at the measurements, crunching the numbers so you don't have to. We've grouped the fits into two categories: straight and tapered. In each category, we'll start with the widest fit and progress to the slimmest.
At the beginning of each section, we've provided charts showing the key measuremets (in centimetres) across the board in a single size (34W).
To make sure that we're comparing apples to apples, we're only going to look at the unwashed shrink-to-fit versions available in each of these fits.
Now that we've cleared that up, let's begin with the widest straight fit that Samurai make.
Hand-Picked Must-Haves and Essentials
Sorry to interrupt your reading but we've found these products that we really think you should take a closer look at!
T-SHIRT
Support us when you shop: We earn a small commission when you buy from these merchants.
---
Samurai Straight Fits
| | | | | | |
| --- | --- | --- | --- | --- | --- |
| Size 34 | 3000 | (0)510 | 500 | 5000 | 0500 |
| Waist | 86 | 87.5 | 87 | 88.5 | 88 |
| Thigh | 31 | 29.6 | 28.8 | 28.3 | 29 |
| Rise | 33.1 | 31.7 | 31 | 30.4 | 30.5 |
| Hem | 24.1 | 23.7 | 22.5 | 23.2 | 22.4 |
| Inseam | 90 | 91 | 88.6 | 90 | 91 |
Vintage Straight: S3000
The widest of Samurai's available fits, the 3000 cut combines a high rise with an extremely wide leg.
If you put comfort before everything, if you've got body-builder's thighs, or if your style icons wore denim in the 1930s or '40s, anything with 3000 in the model number will tick all your boxes.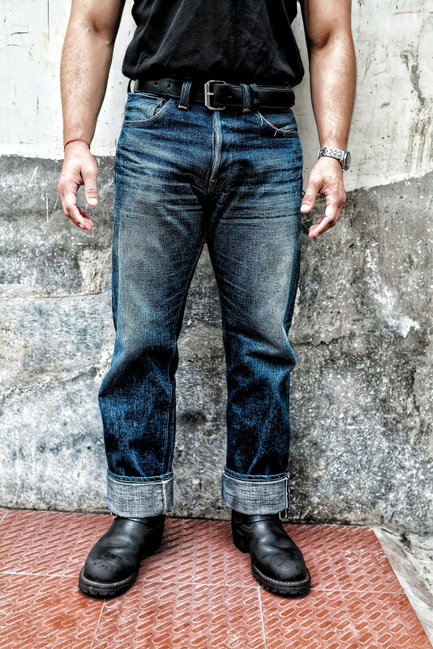 Indigo Invitational competitor, Bhaskar, put on a vintage fading clinic in Year One of the Invitational in his wide-legged S3000VX.
The tranquil sea of sky blue that dominates the back of these jeans shows why serious vintage faders need at least one pair of Samurai straights in their collection.
Comfortable Straight: 510 / 0510
If tapered fits give you the heebie jeebies, but if you don't want baggy denim, you can narrow it down to either the 510/0510, the slightly slimmer 500.
Samurai's most popular fit in Japan, the 510 rides the wide line separating vintage and modern straights. The comfortable fit works exceptionally well on curvy figures and pairs brilliantly with slide-on boots.
If this cut is still much too wide, skip down to start with the 710.
We've yet to see a competitor do serious damage to a pair of Samurai 510s, which is surprising considering how many beautifully faded examples we've seen out there.
We know that it's just a matter of time before a serious contender crosses the line wearing Samurai's flagship cut.
Classic Straight: 500 / 0500 / 5000
The difference between the 500, the 0500 and the 5000 cuts is marginal. They're all medium rise jeans, and they all feature generous thighs and just a bit of taper below the knee. If your thighs need just that touch of extra room, the 500 will probably suit you best.
If you like the extra room below the knee, the 5000 is a safer bet. If you tip towards the slim side both above and below the knee and if you prefer lighter denims, the 0500 will be perfect.
Competitor Shane Burrow's muscular thighs made the S500AX a natural choice for him last year, and he beat the blue out of them, reminding us all why Samurai's natural indigo-dyed pairs (look for AX in the model) are highly sought after by vintage faders.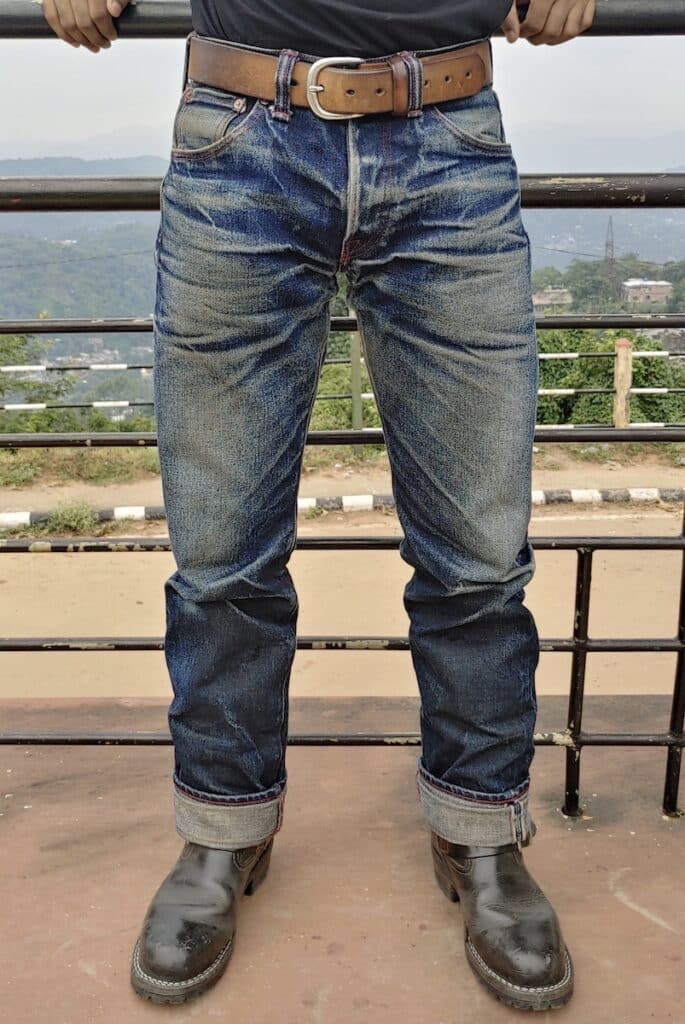 On the other side of the planet, the slimmer Mousam Gogoi rode a 21oz pair of S5000VX into a top ten finish, showcasing the incredible high-contrast fade potential of the 5000 cut when it is combined with Samurai's heavier denims.
The 0500, exclusively available in Samurai's 15oz Texas cotton denim, has all the makings of an exceptional competition pair. The denim with the famously rough hand is a perfect match with the barely slim straights.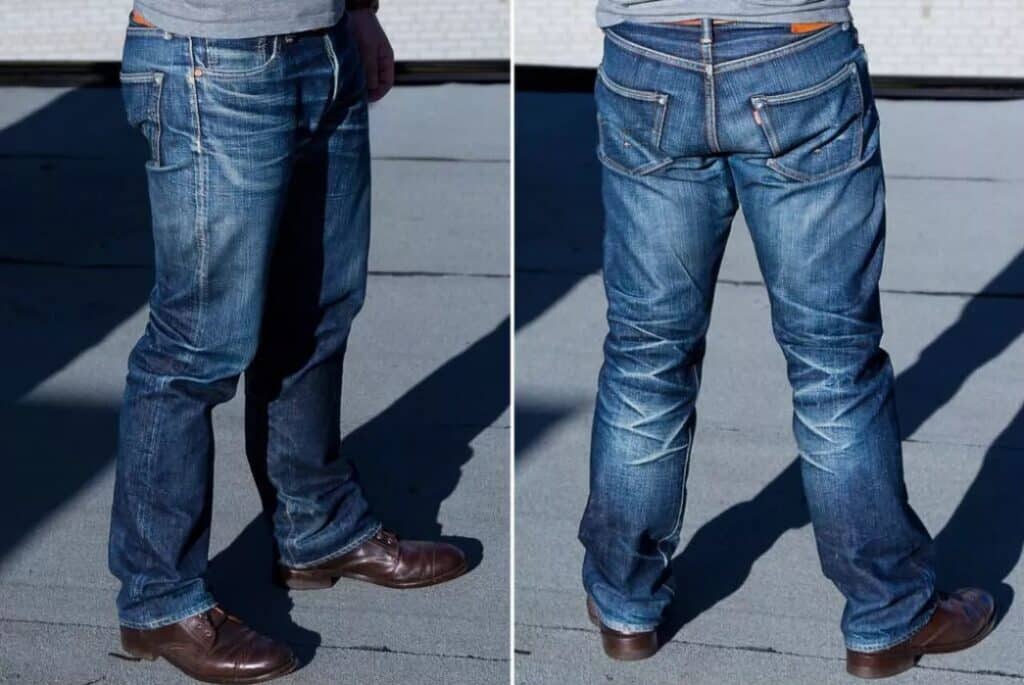 If the faded example above doesn't make your eyes pop out of your head, keep scrolling. The tapered fits below might ring your bell.
Ready to buy a pair of Samurai Jeans?
Just a gentle reminder that you can support us when you're buying Samurai products by getting yours from either Redcast Heritage, Big in Green, Franklin & Poe, Corlection or Brooklyn Clothing Co.
---
Samurai Tapered Fits
| | | | |
| --- | --- | --- | --- |
| Size 34 | 710 | 0511 | 003 |
| Waist | 87 | 88 | 88 |
| Thigh | 28.5 | 28.5 | 27.5 |
| Rise | 29.9 | 29.5 | 28.9 |
| Hem | 21.5 | 20.4 | 20.6 |
| Inseam | 90 | 91 | 91 |
A Touch of Taper: 710
The 710 could go either way. While we've classified this as a tapered fit, the taper is so subtle that this pair will be right down main street for fans of slim straights.
Those who prefer tapered fits tend to find the 710s too generous below the knee, so, if you've come here in search of Samurai's best tapered pair, the 0511 or the 003 might be more your bag.
Muhammad Rizky left no doubt when he crossed the line in his 25oz pair of S710XX25oz-GDs in Year One of the Invitational. He earned himself a gold medal with deep-cut whiskers and combs and not even a sniff of stacking.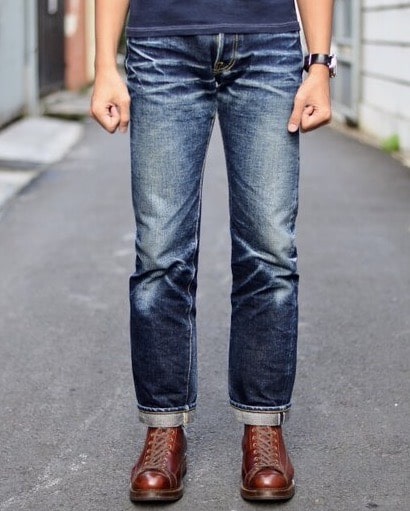 The 25oz denim might be the best denim to reach for if you want a sure-fire way to create eye-catching contrasts. In our humble opinion, though, Samurai's fast-fading 19oz Kiwami selvedge has been Samurai's best denim since the brand debuted it in 2003. Samurai's 710 in their 19oz selvedge is, in our opinion, the most essential pair in their lineup.
For proof of this, look no further than Chris Clark's Year Two Indigo Invitational pair. His beautiful results speak for themselves.
Grown-Up Taper: 0511
This is one of the few times that the model number gives you a clue what kind of denim they've used.
Whenever you see a zero before the three-digit fit number (as with the 0500 and the 0510 above), you're looking at Samurai's 15oz Texas cotton denim—a deeply underappreciated loom-state middleweight.
As you can see with the pair faded beautifully by Emil (aka @weftyarn) below, it doesn't take long to get this pair moving. After a little less than six months of steady wear and regular washing, his pair shows exactly what this combination of fit and fabric can do.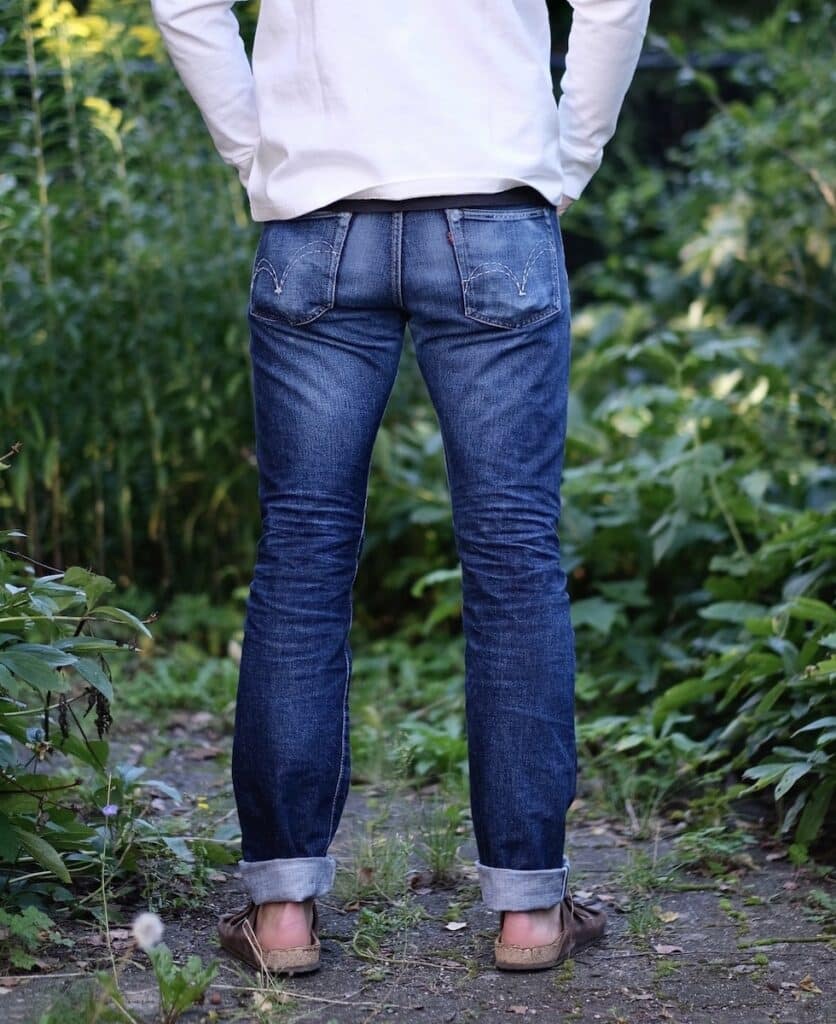 The 0511 leaves plenty of room in the thigh and top block, tapering gently. It's what Emil calls a grown-up taper, and we think that's an apt description of this cut.
The 0511 fits most body shapes comfortably, but it works exceptionally well on men with some meat on their bones who don't want to swim in denim around their ankles.
If this describes you, and if you're looking for a trim-fitting middleweight, the 0511 should be at the top of your list.
Up and Down Slim Taper: 003
The last fit on our list, the gracefully tapered 003, is slim from top to bottom. Though this pair is occasionally listed elsewhere as a slim taper, the Samurai bosses insist that this is an up-and-down slim straight.
We've placed it here because it's slim enough around the ankles to fit in the tapered category and because its snug fit from top to bottom makes it an unlikely choice for those who prefer classic straight fits.
The rise is as low as they get for Samurai, and the thighs will be very snug if you've got any padding around your hips. If, however, you're working with a compact frame (like Witsarut above), the 003 can end up fitting much like a 710. For reference, Witsarut is 5'7 and 143 pounds.
The Cutting Room Floor
Our search criteria meant that we had to exclude almost as many cuts as we included. Samurai frequently collaborates with other brands and retailers and regularly produces cuts exclusively for the overseas market.
Because we've only looked at their raw cuts, we've had to exclude some of the brand's spectacular recent releases, like the comfort tapered S140, S211, and S520 and the slim tapered S713 and S0255.
This also meant that we had to exclude their updated and once-washed versions of their standard cuts (designated with an II at the end of the model number). You can see comparisons of these updated cuts below, with the straight fits on the left and the tapered ones on the right.
---
Updated Samurai Standards
| | | | | |
| --- | --- | --- | --- | --- |
| Size 34 | 3000 (II) | 5000 (II) | 710 (II) | 511 (II) |
| Waist | 86 | 86 | 86 | 86 |
| Thigh | 30.5 | 27 | 29 | 28.2 |
| Rise | 33.4 | 28 | 31.2 | 30.7 |
| Hem | 23 | 22.5 | 20.5 | 18.6 |
| Inseam | 87 | 91 | 91 | 88.2 |
We could go on, but an exhaustive list of Samurai's available cuts would sprawl over a dozen pages or more. If the pair you're looking at isn't included on this list, you can use the numbers we've provided as a reference. Remember that we've used Size 34 as our standard throughout this list.
As always, the best way to find the perfect fit is to head to your nearest Samurai-stocking retailer We can recommend Redcast Heritage, Big in Green, Franklin & Poe, Corlection or Brooklyn Clothing Co., but you can also check out Rivet & Hide, Self Edge, and Okayama Denim.
Ideally, visit them in person to try on every pair that catches your eye until you find the perfect fit. If this isn't an option, and if this will be your first time trying Samurai cuts, pick an online retailer that has a flexible return policy.
Remember as well that all the pairs we've covered in detail above are unsanforized and unwashed. You can expect them to shrink approximately 4-6% when you introduce them to water.
Once you've washed or soaked them (which you can learn much more about in these guides), you won't be able to return them, so if you're trying an unwashed pair, be sure to include shrinkage in your calculations.
Love denim and fades? Join the competition!
The Indigo Invitational started as a small group of enthusiasts who wanted an excuse to buy a new pair of denim and to see how far they could push themselves and each other.
There are thousands of dollars worth of prizes, but this is just the gravy. The meat underneath is a tight-knit community of enthusiasts held together by a mutual love of fades.
If this sounds like something you want to participate in, join the Facebook group, follow the competition's updates on Instagram and visit indigoinvitational.com.
Visit indigoinvitational.com to learn more and stay up to date! If you need a new pair of jeans, check out our buying guides.