Contributing Indigo Invitational sponsors get in-depth coverage here on Denimhunters. To enquire about sponsorship opportunities, contact us here.
An In-Depth Profile of Iron Heart and the People Behind the Iconic Brand and Its Selvedge Jeans
Back in 2012, I was still relatively new to the selvedge scene. I'd bought and faded two pairs of raw denim (the first from Nudie, the second from Naked & Famous). As a newcomer, I hadn't bothered to really research the scene; I just dove in head first and started fading the pairs that were locally available. As far as I knew, I was already wearing the world's best jeans.
A chance encounter in Brooklyn (the Canadian menswear boutique, not the NY borough) changed all that. While I was browsing, a man walked into the shop. The clerk took one look at him and practically leapt over the counter. "Are those Iron Hearts?" he asked. "Yeah," said the customer, "they just arrived from Japan."
While I eavesdropped, the two men gushed about Japanese denim, and about Iron Heart in particular. It was easy to see what the fuss was about. The jeans, Iron Heart's signature 21 oz. 634S, were like nothing I'd ever seen before–sleek and heavy, they were serious jeans. The customer said that they were exactly as advertised. They were, he said, the world's best pair of jeans.
A few months later, I moved from Canada to Europe, and I tracked down an Iron Heart stockist (Rivet & Hide) in London. It was my first hands-on experience with the brand. I tried on five or six pairs, but the 634S were clearly in a category of their own. I slapped down the plastic and walked out of the shop wearing my first pair of Iron Hearts.
Just as Nudie and Naked & Famous hold a special place in my heart for introducing me to raw denim, Iron Hearts were my first taste of made-in-Japan selvedge. For a certain class of customers, they remain the best-possible introduction to this world.
If this is your first time hearing about the brand, allow us the honour of introducing you to Iron Heart, the reigning king of the Japanese selvedge scene.
3 Iron Heart Icons (Denimhead Must-Haves)
A Heart of Iron
Beginning in the '80s and '90s, Japanese selvedge brands were quietly moving the centre of the denim world from San Francisco to Osaka.
Five brands in particular, (Studio D'Artisan, Evisu, Denime, Full Count, and Warehouse–collectively known today as the Osaka Five) caught the attention of consumers, first in Japan and then in the West, by producing versions of the classic 501 that were far better than anything then being produced in the US.
Haraki-san cut his teeth in this world beginning in the early '80s, when, as a young man, he started working for Edwin, rising quickly to the role of director. Over a 23-year career in the denim industry, he designed (not exaggerating here) thousands of pairs, leaving his mark from the top to the bottom of the country's denim subculture.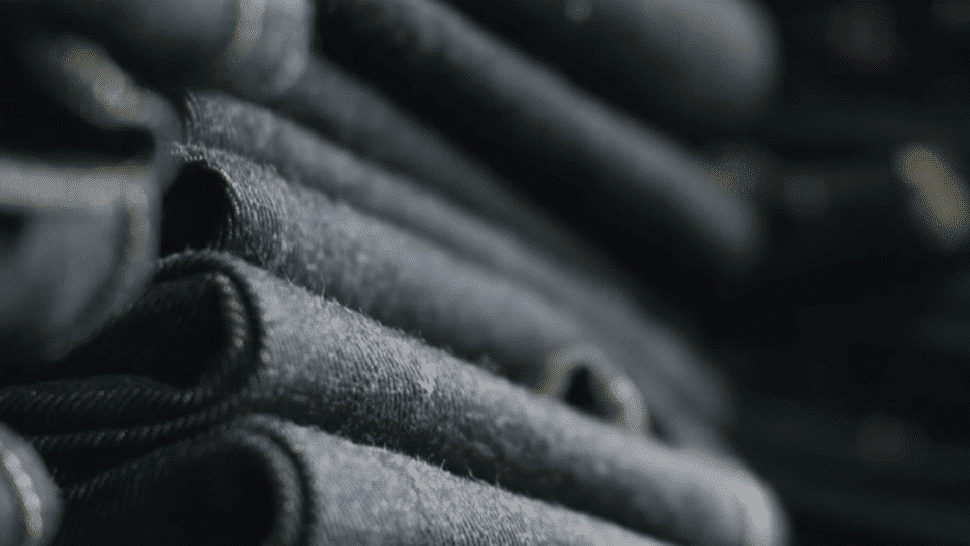 By the turn of the century, he had all the know-how he needed to compete with other Japanese brands in the repro space, but he didn't want to remain tethered to the past. He wanted to produce an entirely new breed of jeans, something that would immediately set his label in a category of its own.
Rather than trying to make a broadly appealing product, Haraki-san targeted what he felt was an underserved niche: Japanese motorcycle enthusiasts–more particularly, Harley Davidson riders. Using the '66 Levi's 501 as his foundation, he began designing a distinctly Japanese version of the five-pocket biker jean.
A longtime Harley rider himself, Haraki-san knew exactly what needed tweaking. He moved the back pockets outwards, allowing riders to access their wallets with relative ease without getting out of the saddle, and he shaved centimetres here and added them there to create what he felt was the perfect biker silhouette.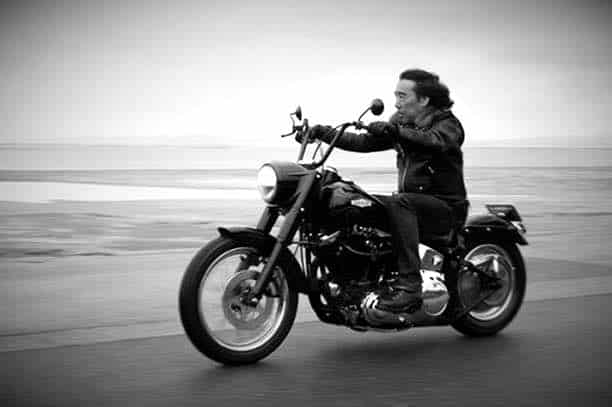 Key to this silhouette was the weight of the denim, which holds its shape far more firmly than conventional denims. Sliding into a brand-new pair feels like being lowered into a suit of armour. The heavy yet supple denim streamlines softer frames and adds muscularity to slim ones.
When Haraki-san debuted the 21 oz. denim, it was the world's heaviest. What still sets it apart is the double-twisted weft yarns. Two thick yarns are twisted together like exposed wire in speaker cables. These are then woven with conventionally twisted and indigo-dyed warp yarns. (If you're curious, you can learn more about how denim is woven here.)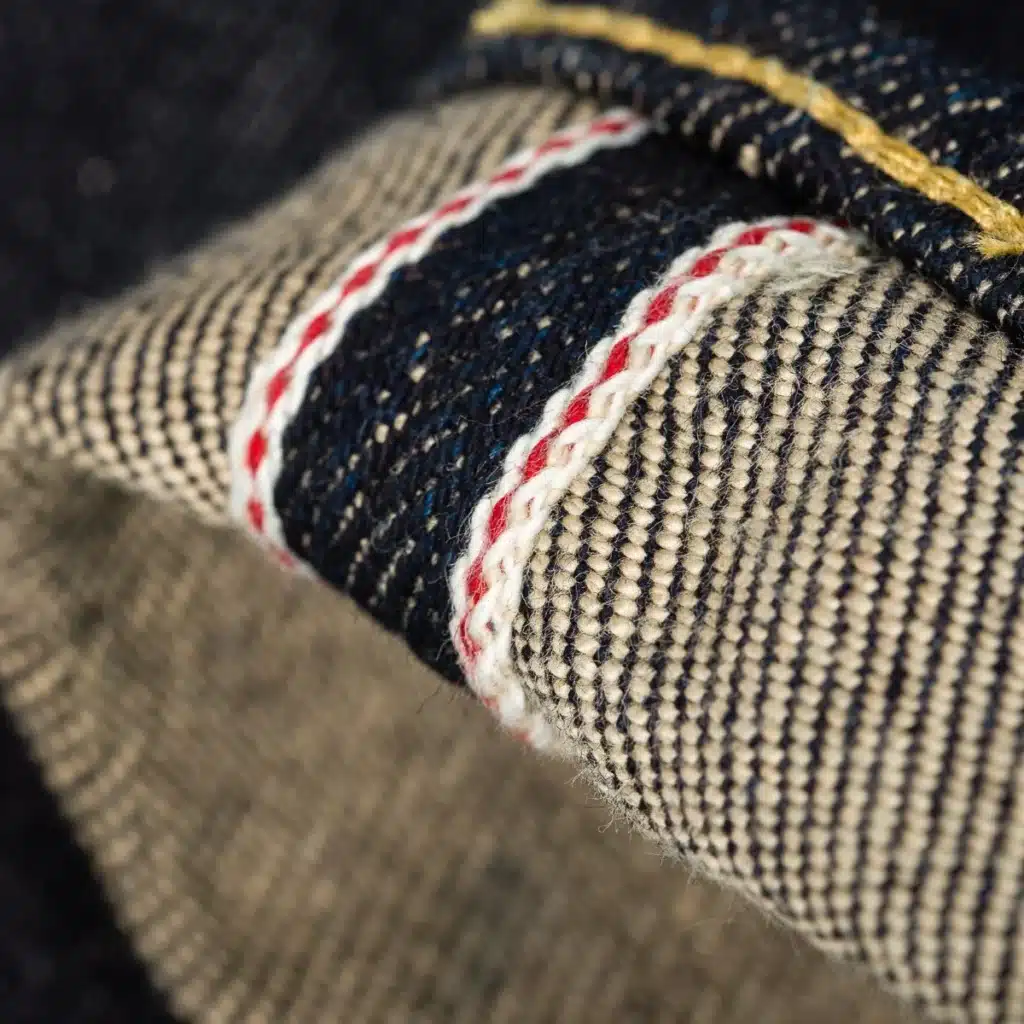 The resulting fabric manages to balance comfort and weight, performance and durability. It may not offer as much protection for denim-loving riders as leather and polyurethane, but there are plenty of stories of Iron Heart denim saving the hides of riders who lay their bikes down.
A closely guarded treatment makes the denim fade-resistant, but this doesn't make it any less essential for fade lovers. They wear their thoroughly faded pairs of 21 oz. Iron Hearts like a badge of honour.
Those hip to the brand's reputation know that beautifully faded 21 oz. pairs are the result of years of patience and dedication. This makes faded pairs all the more rare, and all the more impressive.
Completing the Outfit
Of course, Haraki-san didn't stop with jeans. After only a year or two, Iron Heart released their first jackets, made from the same 21 oz. denim.
The 526J (his version of the Type III) and 527J (a chopped-collar rider jacket) were both cut with riders in mind, with longer arms that don't ride up when the rider reaches for the handlebars.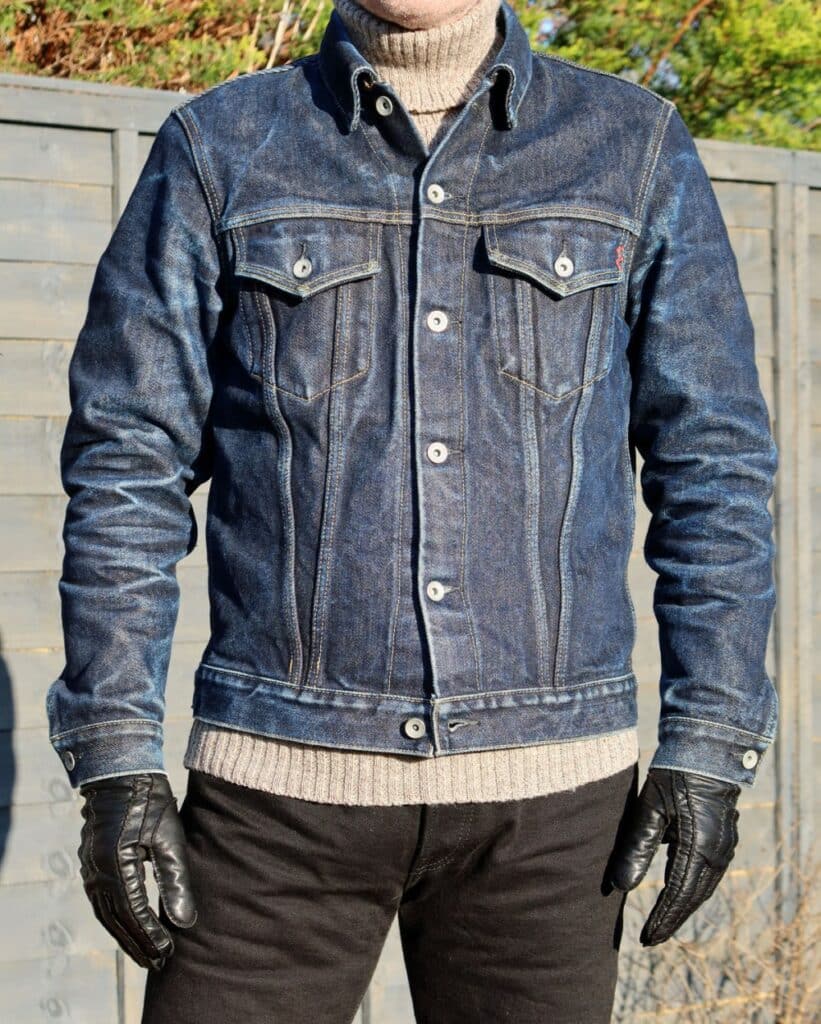 Other jackets, including the modified Type III with added hand-warmer pockets and a popular Type II, would appear (along with heavier and lighter denims) later.
To complete the outfit, Haraki-san introduced his Ultra Heavy Flannels–his first foray into shirting. Like the jeans and jackets, they were designed for riders.
For years, they were the heaviest flannels on the market, and the motorcycle crowd couldn't get enough of them. At highway speed, they can be worn in lieu of a jacket on a warm day; on a cool one, they make an excellent insulating layer under either leather or heavy denim.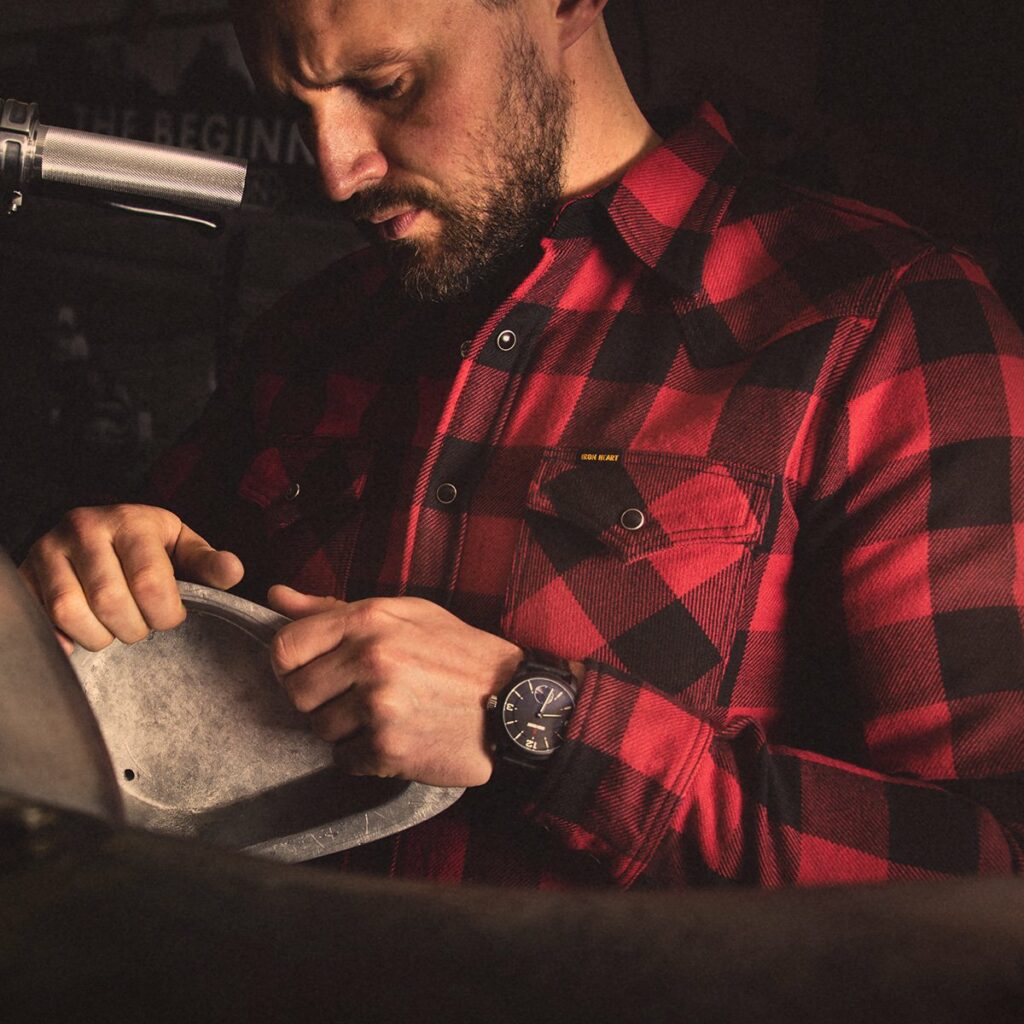 Denim western shirts and chambrays followed shortly, but none of Haraki-san's above-the-belt offerings have been able to match the UHF for popularity. Season after season, they are one of the brand's biggest and most dependable draw cards, with popular new colourways selling out only hours after their release.
With their twentieth anniversary in the rearview mirror, Iron Heart has assembled an impressive line-up of full-throttle pieces ranging from tees and waffle thermals to horsehide versions of their iconic jackets and road-ready military-inspired outerwear.
The brand's core identity (cemented with their first release) remains the same: pieces designed for bikers, but adored by all who appreciate well-made and even over-engineered clothing.
Iron Heart Icons to Complete Your Outfit
A Family Affair
Key to Iron Heart's success in the West has been the involvement of Giles Padmore, who has cultivated a sterling reputation in the Japanese selvedge scene. While researching the value of some of his old 501s, Giles fell headfirst down the Japanese selvedge rabbit hole.
He saw a massive unrealized potential for Japanese selvedge brands in the Western market, and, in 2005, he reached out to a number of them to offer his services as a West-facing representative.
Haraki-san was the first (and only) boss to reply to his emails. This was thanks to a stroke of luck. An English-speaking friend happened to be in Haraki-san's office when Giles's message arrived.
Haraki-san liked the sound of Padmore's proposal, and he offered to meet with Giles in Los Angeles–a fortuitous meeting for both men.
There are, of course, many reasons why the partnership has worked so well: Haraki-san's products are peerless, but they don't sell themselves.
Giles brought a slick presentation and best-in-class customer service to the table, which helped introduce and then endear the brand to thousands of new customers. He helped the brand find a much broader audience, and then made these customers feel like family.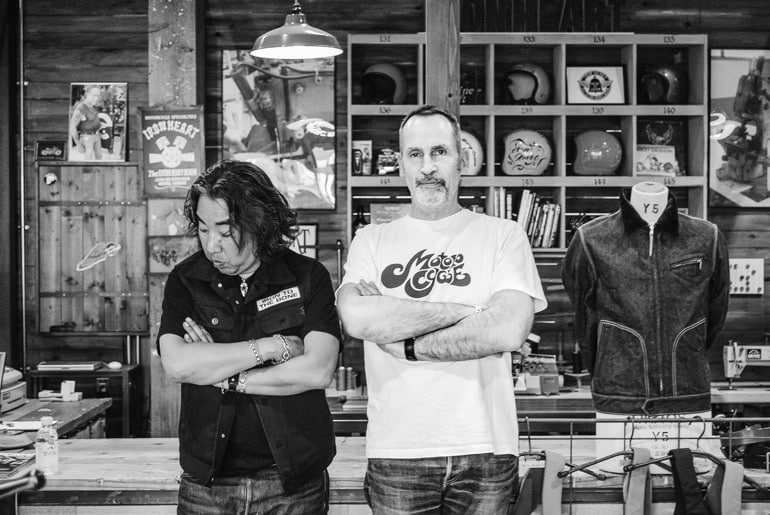 Combining the strengths of East and West means that Iron Heart is a best-of-both-worlds brand. Giles and Haraki-san are a formidable one-two punch, with each of them bringing very different ideas to the business.
Giles was the driving force behind Iron Heart's popular 666 cut, and he was responsible for resurrecting the UHF, which briefly disappeared from the Iron Heart lineup when the flannel weaver dropped off of Haraki-san's radar (he had moved to a different factory).
Giles also spurred the creation of the Iron Heart Forum, which quickly turned into a gathering place both for fans of the brand and the wider selvedge-loving community. The forum became a portal through which customers could speak, not only to each other, but also directly to those at the helm of the brand.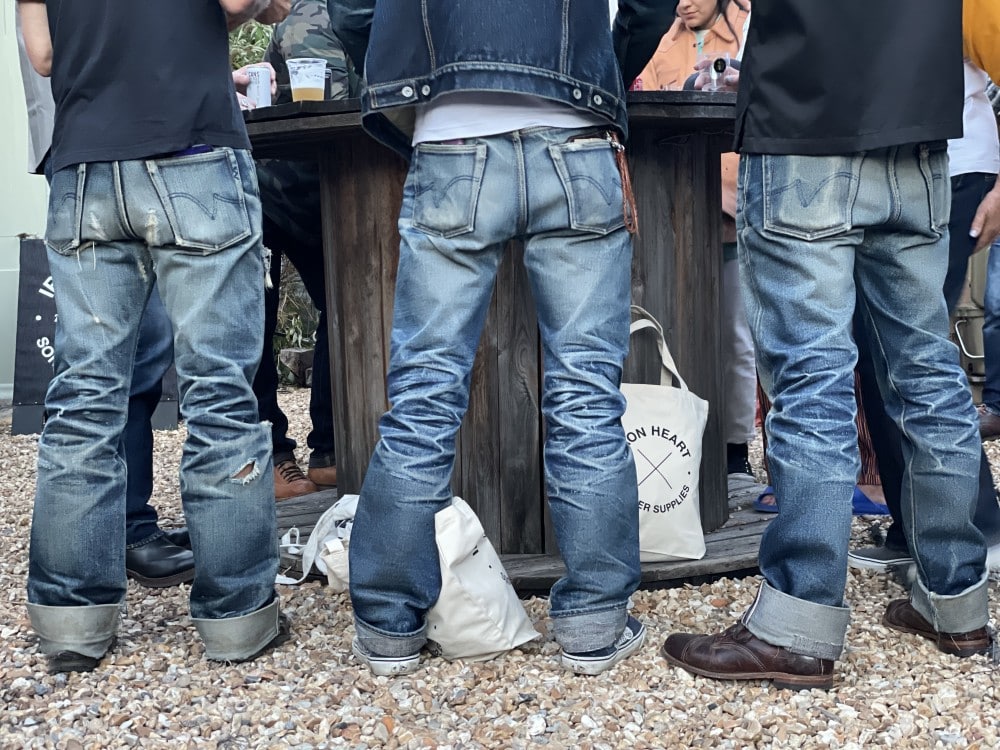 It's all part of the brand's larger mission to replicate as much of the brick-and-mortar experience in the digital space as possible. Their return rate (dramatically lower than average) is a measure of their success with this approach. They check and double-check with new customers to make sure they have read and understood the sizing charts etc. before shipping anything. Most customers return for a second helping.
Giles is now enjoying his retirement at the helm, not of a brand, but of a beautiful fishing boat named Sakura (named after Haraki-san's daughter who passed away after a battle with cancer). He still regularly responds to questions and comments online, but it's his son, Alex Padmore, who sits in the captain's chair at Iron Heart International's headquarters in Gosport, England.
The father and son speak with one voice (they are virtually indistinguishable from each other on the phone). Like all fathers and sons, they might differ on some of the particulars, but they share an overarching vision for the future of Iron Heart.
With Alex at the helm, the personal touch that turns customers into soldiers in the Iron Heart Army will continue without alteration or interruption.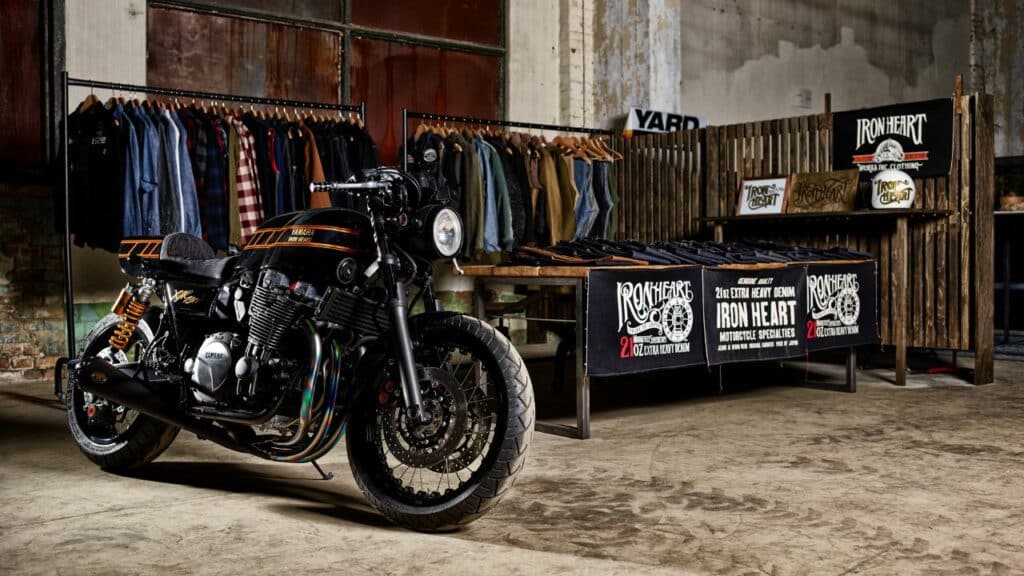 As for Haraki-san, he too may put his boots up on the pegs and ride into the sunset one of these days. Even though Haraki-san has no sons to pass the business to, the brand will, we hope, roll on and on.
Giles says that it is a mark of dishonour for businessmen in Japan to allow a successful company to fold for any reason, so we hope this means that the brand will exist long after Haraki-san's retirement. Whoever is holding the handlebars, the brand's core products are too good to fade away.
Ready to Fade a Pair of Iron Heart Jeans?
To get the absolute most out of your Iron Hearts, you'll need to put the time in. Buy a pair from Iron Heart's website (or from one of their stockists) and register in the Indigo Invitational and compete against the world's best denim faders.
If you want to learn (even) more about Iron Heart, check out these posts from our library: