Contributing Indigo Invitational sponsors get in-depth coverage here on Denimhunters. To enquire about sponsorship opportunities, contact us here.
The Iron Heart Army is Locked and Loaded with This Unbeatable Made-to-Fade Lineup
Iron Heart have a well-earned reputation as makers of some of the world's most stubborn selvedge. At every weight, their denims hold onto the indigo for dear life, looking as though they're fresh off the rack for months. This is by design.
Haraki-san, the denim visionary helming the brand, has said that he doesn't design his clothes with fades in mind. His aim has always been to make tough-as-iron clothes for high-octane lifestyles. They're not made to fade. They're made to go toe-to-toe with asphalt at 100mph and live to tell the tale.
And yet, fade enthusiasts the world over consistently rank Iron Heart among their favourite brands. Iron Heart finished on the podium in every running of the Indigo Invitational, taking a gold medal in Y2, and they took home a silver medal in the first year of the Redline Rally. To understand why this is, you need to experience the brand for yourself.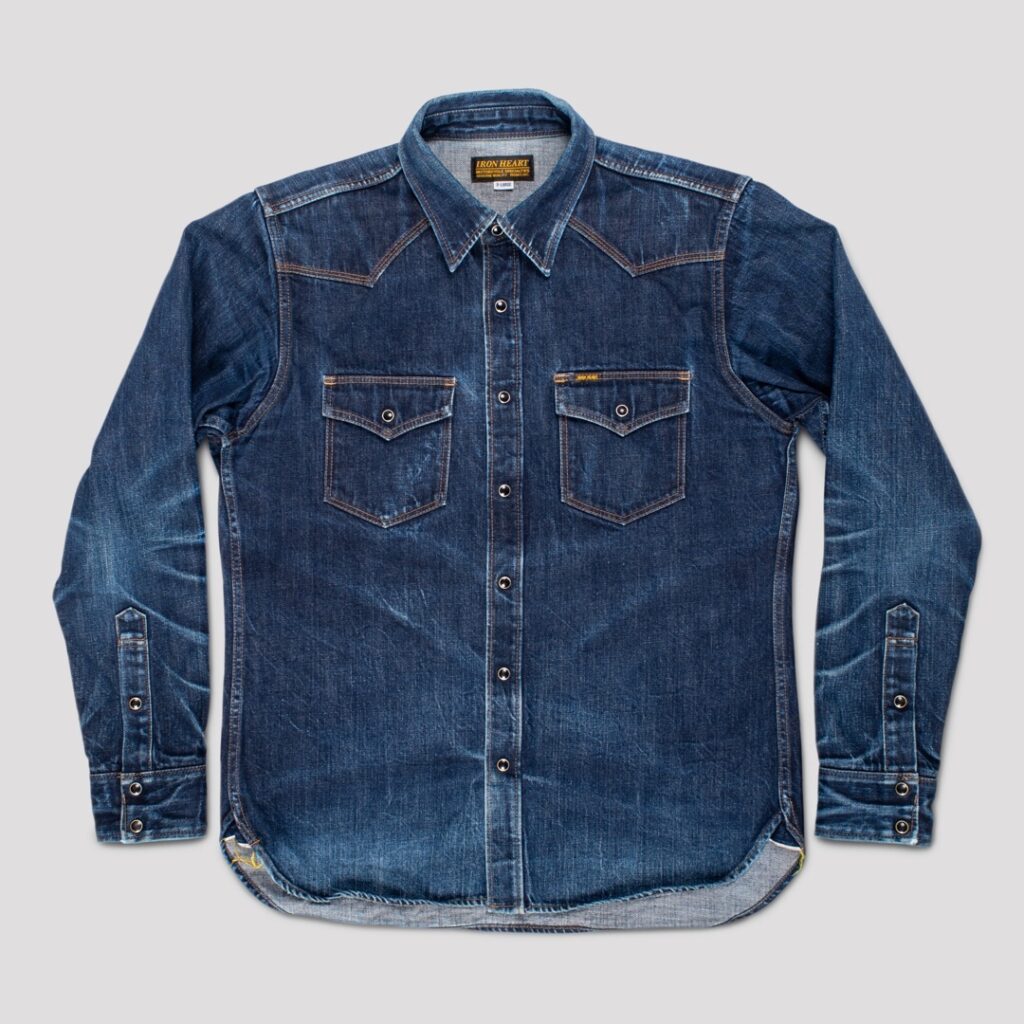 Iron Heart fans know that the brand's jeans, jackets, and shirts, stubborn as they are, produce fades that are more than worth the wait. After a few months of steady wear, the denim turns a corner. It begins to roll downhill, gathering speed as it goes. The electric blues begin casting off sparks, and the denim's inner beauty–that intoxicating mixture of white and indigo–begins to emerge.
It takes a mighty effort to get Iron Heart shirts and jackets to this point, but we've got a secret weapon. The Redline Rally was founded to give faders a reason to be patient and to dedicate themselves to a single worthwhile piece for a full year. Grab one of the Iron Heart shirts or jackets listed below and commit to give it everything you've got with a full year of fading.
Armed with indigo iron, you'll be ready to hit the track. After that long front straight, you'll be ready to dive into that first corner, twist the throttle and drop a knee and feel that rush of acceleration. You may not be the fastest thing on two wheels, but the road will go on and on forever.
Our guides are reader-supported. We earn a small commission when you make a purchase, but it doesn't cost you anything. Prices include local VAT and are subject to change.
If your size isn't in stock, sign up to be notified on each product page on Iron Heart's webshop. Featured image of the IHSH-292 is from Rivet & Hide.
---
526J-142ib Indigo/Black Type III (14 oz.)
Harry, our second-place finisher in last year's Redline Rally wore one of these highly covetable Indigo/Black Type IIIs. He came within a thread's breadth of the gold medal, which, thanks to Harry's first place finish in Y2 of the Invitational, would have made both Harry and Iron Heart back-to-back repeating gold medalists.
Iron Heart and Harry combine to create absolute magic, but we know that, armed with this piece, magic is within reach for just about anybody. Put the hours in with this jacket and you can expect spectacular results. The combination of indigo warp and black weft produces legendary contrast fades.
At this weight, the jacket should remain wearable all year long either on its own or as a layering piece. You might be tempted to climb the ladder and reach for a heavier-weight piece, but this is really in that sweet spot for 365 days of fading. This makes it our top pick.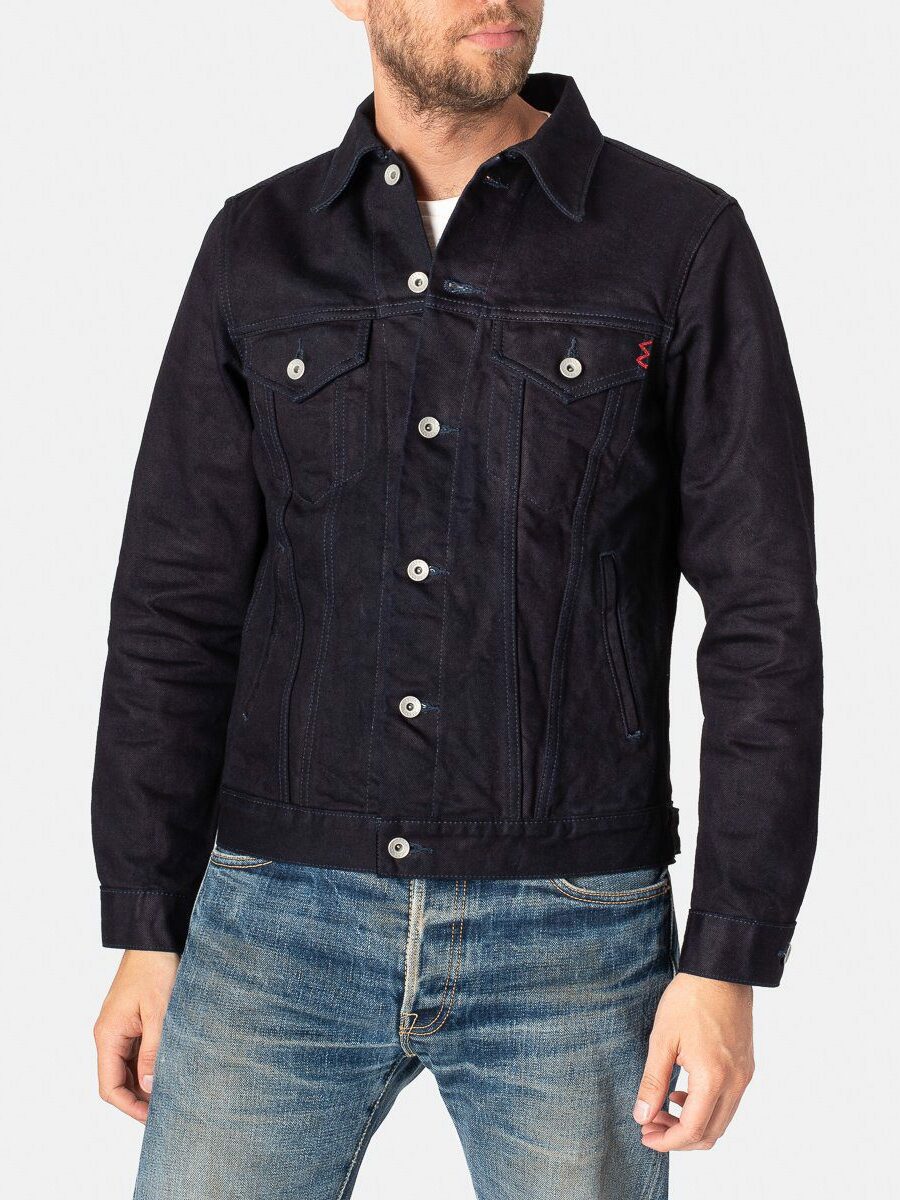 If it's heavy or bust for you, try the IH-526PJ, the brand's 21 oz. Type III. Faded examples of this are rare enough to gather a crowd when they appear in the wild.
Buy Iron Heart from these select retailers: Iron Heart International, Franklin & Poe (US), Division Road (US), Corlection (AU), Brooklyn Clothing (CA).
---
526J-SLB Slubby Type III (16 oz.)
This slubby denim spent years in development, going through multiple iterations behind the scenes until Haraki-san finally had a texture-dripping denim that met his high standards.
Based on what we've seen so far, the wait and the reams of discarded denim were worth it. Iron Heart's SLB is poised to join the classic 21 oz. selvedge and the UHR as one of Iron Heart's all-time greats.
While the jeans made with this fabric are already producing some great-looking fades, it's the jackets that have really been drawing in legions of Iron Heart diehards.
The heavy middleweight promises to produce sharp contrasts and some serious vertical texture, but there's no need to wait for the fades. This denim looks spectacular even when it's brand new.
The Type III is a natural fit for the SLB denim, but don't forget about their Type II. In this denim, the '50s style is a serious challenger for the best denim jacket that Iron Heart makes.
---
101-JV 1946 Rider's Jacket (18 oz.)
While most of Iron Heart's jackets are made with motorcycle riders in mind, this one, Iron Heart's tribute to a cowboy classic, is for those who prefer four legs to two wheels. More even than the Type II, Lee's Rider's Jacket was the true precursor to Levi's iconic Type III Trucker Jacket, and this is as good a tribute as you can find.
The Rider's Jacket, like the original, features a roomy fit through the chest and the shoulders, but it's not a true vintage fit. The extra inch or so here and there changes the silhouette slightly, but not so much that you'll be swimming in it. This cut is ideal for those who find Iron Heart's Type III a touch on the slim side.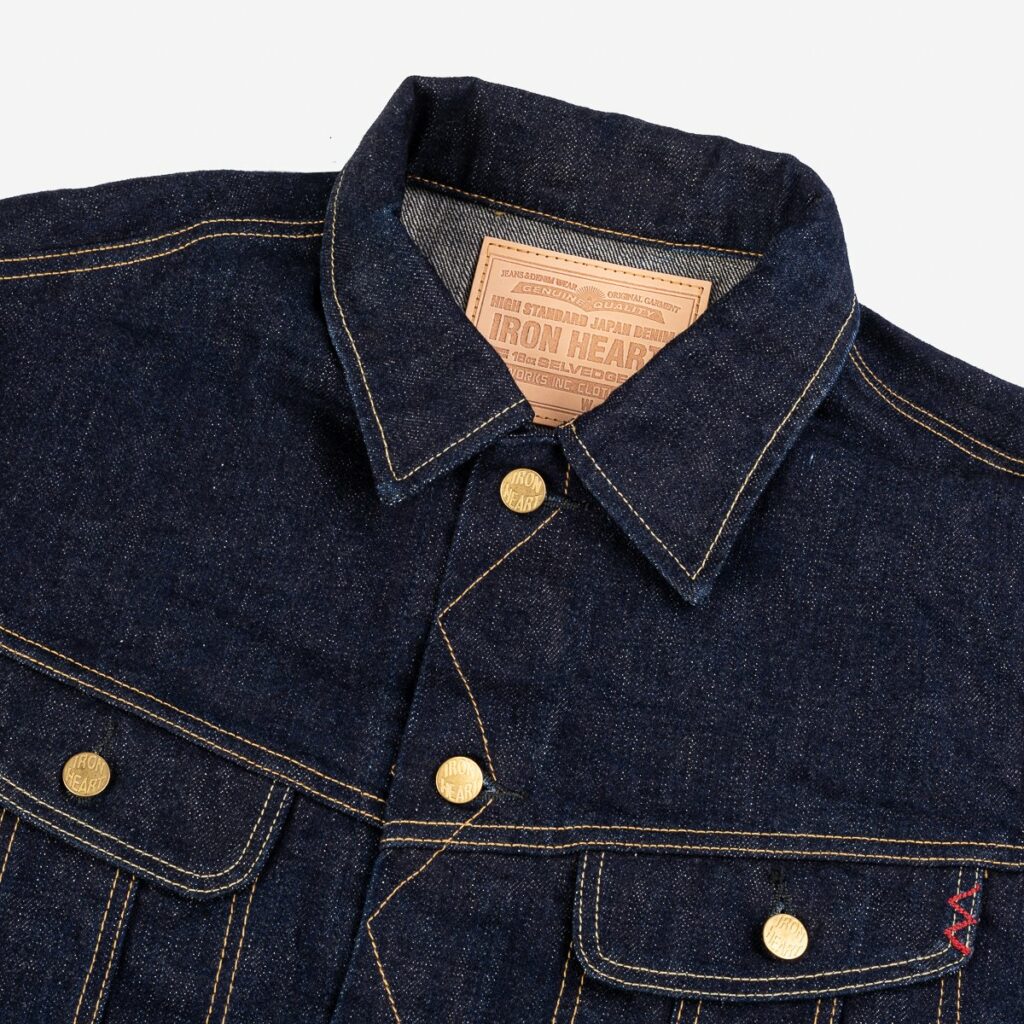 In Iron Heart's trademark 18 oz. vintage selvedge, this jacket is as tough as rawhide. It won't ride into the sunset without a proper fight, so don't expect it to lay down for you after a few wears. You'll need to lean on this one hard if you want it to fade.
---
IHSH-33 Selvedge Denim Western (12 oz.)
For above-the-belt classics, you can't do much better than Iron Heart's 12 oz. take on the western shirt. If you're lucky enough to spot a faded version in the wild, you'll understand immediately what draws serious faders to the IHSH-33.
Rather than waiting for one to come along, it's our advice to start working on one of your own in the Redline Rally. Wear this shirt as a jacket in the spring and summer and beneath your outerwear in the fall and winter. At the end of 365 days, you'll have a treasure that will produce gasps of admiration whenever you cross paths with a true-blue denimhead.Our favourite version of the shirt features contrasting yellow thread, which makes the yokes and pointed pocket flaps unmissable.
They also offer a IHSH-33-T with tonal stitching that blends with the denim. If you want to go even darker, try the IHSH-218-BLK, the aptly named Johnny Cash shirt that is a fitting tribute to the Man in Black.
---
IHSH-62 Wabash Western (12 oz.)
Iron Heart's working-on-the-railroad Wabash Western is a throwback to the glory days of steam and coal. While many of the wabash fabrics out there come in a kind of royal blue, Iron Heart's wabash is a deep midnight indigo tone.
It was regarded as one of those nearly impossible-to-fade indigo pieces, until one of our friends in Thailand showed what was possible with one of these shirts.
Kang Jantrasri, last year's Redline Rally winner, turned hundreds of heads with his faded wabash masterpiece. The shirt is actually shared between Kang and his brother in fades Aticha Tragunthanan. Aticha purchased the shirt and left town for a while, leaving it in Kang's capable hands. By the time he returned, the damage was done. The two Thai faders now share custody of the shirt.
The contrasts and the tone of blue that Kang brought out have made nearly everybody who has seen this shirt want a similarly faded one. Few have been able to produce results like these with their wabash, but Kang and Aticha have together shown what is possible.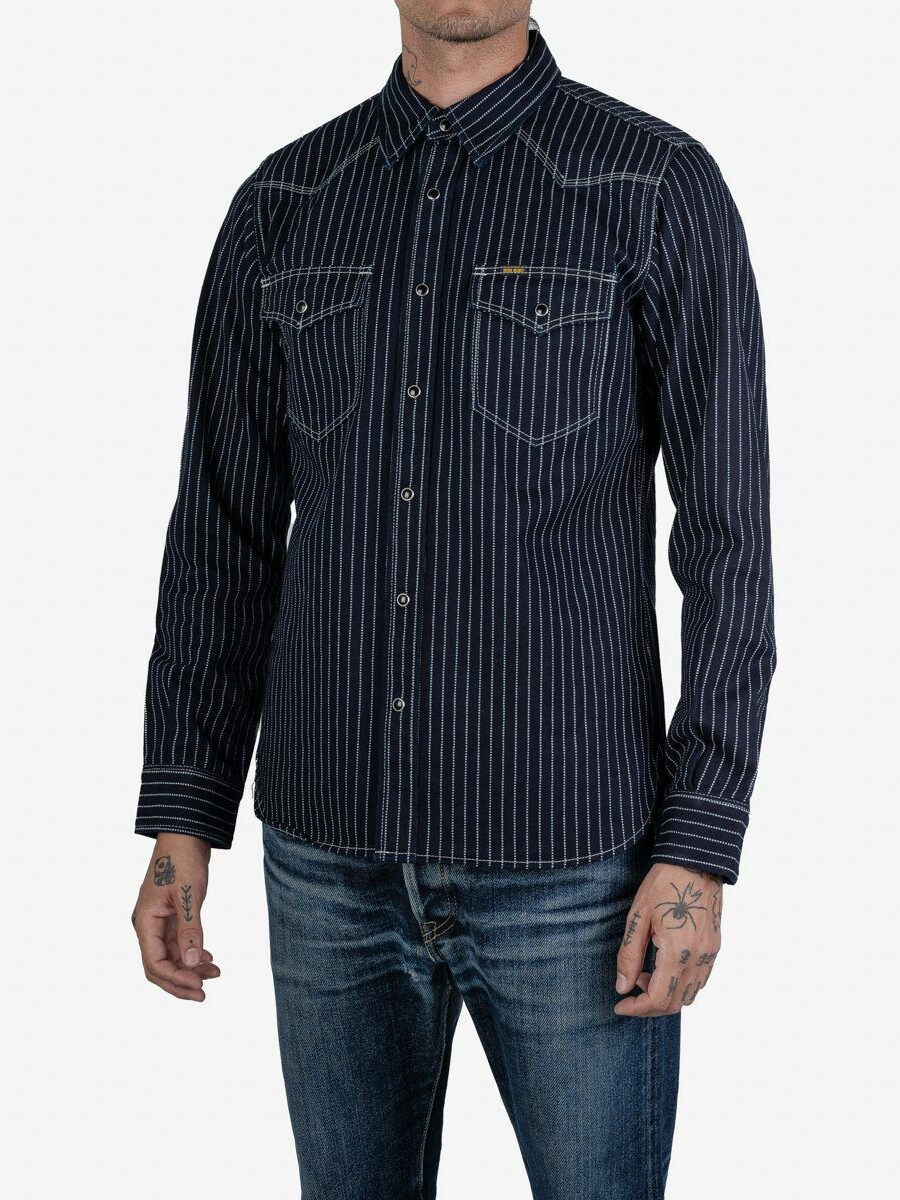 The shirt is notoriously stubborn, but, at this weight, it's easy to stack up hundreds of wears in a row. Whether or not you think you can match Kang's and Aticha's incredible results, this wabash is a winner.
If wabash strikes your fancy, you've got a ton of options. There's the IHJ-103 Wabash Chore Coat, the IHSH-227 Wabash CPO (not announced yet, but dropping soon), and there are work shirt versions available in both Indigo Wabash and Black Wabash.
Sticking with the railroad theme, we're also allowing hickory into the competition this year. This puts into play Iron Heart's sulphur-dyed IHSH-07 (the oldest Iron Heart shirt still in production). At the 20th anniversary party in Gosport, Thomas saw a much-loved and well-faded version of this shirt.
---
IHSH-208 Kersey Western (14 oz.)
We encouraged competitors to try kersey in last year's Rally, and we had a few takers. The indigo-dyed and heavily textured fabric (the kersey is often mistaken for corduroy) is arguably one of the most beautiful combinations of cotton and indigo you can find.
It is not as stiff as denim, so it won't produce the same kind of sharp contrasts as Iron Heart selvedge, but it will develop beautiful wear patterns at the elbows, cuffs, and pockets. You can absolutely beat the blue out of it, leading to stunning combinations of white and blue.
The comfort level of this fabric is off the charts. Tipping the scales at 14 oz., it's heavier but cooler than Iron Heart's 'Ultra Heavy Flannels'.
It's an ideal layering piece, and it'll just get more and more beautiful with each wear. If you can coax one of these into its faded state, you'll definitely be getting a close look from the judges.
While we think that the kersey looks best as a western shirt, it is also available as a Work Shirt.
---
IHSH-292 Vintage Selvedge CPO (18 oz.)
Since Iron Heart introduced their CPO style, they've been steadily winning converts. Best when combined with heavy denims (like this 18 oz. Vintage Selvedge), the style is perfect for those who, for whatever reason, prefer heavy shirts to jackets.
While most CPOs are cut roomier with the expectation that they'll be worn as an outer layer, Iron Heart has not gone this route. They've kept the measurements quite trim across the shoulders and through the chest. The biggest difference is the twill-lined hand-warmer pockets, which adopters swear by.
A highly versatile cool-weather piece, the CPO might be too much shirt for those within spitting distance of the equator. If, however, you live somewhere where the summers are short and the winter nights long and dark, this heavy piece will be indispensable.
To amp up the contrasts, try the black overdyed IHSH-293OD, and for true workwear style, try what is sure to be a future classic, the brand-new Brown Duck IHSH-189.
Got a Shirt or Jacket? Register for the Redline!
Since the earliest days of the Indigo Invitational, Iron Heart has proved over and over again that they support this competition and community. You can help us show our appreciation and gratitude by wearing Iron Heart pieces in this year's Redline Rally.
The Redline Rally is a year-long fade competition. There is no better way to generate above-the-belt fades than joining the Rally. Year Two kicked off on January 1, 2023.
Like the Indigo Invitational, the Rally helps you move one piece to the center of your rotation and do some real damage. Even slow faders produce results if they stick with the program.