Contributing Indigo Invitational sponsors get in-depth coverage here on Denimhunters. To enquire about sponsorship opportunities, contact us here.
Join the Samurai Clan and Cut Through the Competition
Samurai's reputation as a leader in the fade space isn't accidental. Since their emergence in 1998, they have engineered their jeans and workwear with fades front of mind. Their now-legendary Kiwami selvedge turned the denim world on its head, creating an entirely new category of heavy selvedge prized for its fast-fading properties.
Unsurprisingly, Samurai has done exceptionally well in the Indigo Invitational. A pair of their 25 oz. jeans faded by Muhammad Rizky (aka @notyourordinaryfade) walked away with first prize in the first running of the Indigo Invitational, and they had a strong Top 10 showing in Year Two. They're on track this year to finish in the money once again.
What did surprise us, though, is how few Samurai pieces we saw registered in last year's Redline Rally. With the second running of the Rally just around the corner, we want to change that. If you only think jeans when you think of Samurai, think again.
Provided that you fade them for all that you're worth, the pieces below will give you as good a chance at a podium finish as anything else on the market. Best of all, when the Rally is done, you'll have a jacket or shirt (or perhaps both) that will stand out from the crowd, cutting through the piles of unfaded raw pieces like a katana.
Our guides are reader-supported. We earn a small commission when you make a purchase, but it doesn't cost you anything. Prices include local VAT and are subject to change.
The featured image of the Type I jacket is from Statement.
---
Samurai SWD-L01 Seagull Western (10 oz.)
While Samurai's jackets (see below) are perhaps the best showcase for Samurai's unmatched fade potential, their western shirts are primed for the 365 days of the Rally. We've yet to see anybody really do one of these shirts justice, but we're hoping to change that with this year's competition.
All of the details that you'd expect with a classic western are here, but with a distinctly Japanese dramatic twist. The pointed yokes and flaps are honed and razor sharp (designed to imitate Samurai's arcuates), and the diamond-shaped snaps recall shuriken throwing stars.
The 10 oz. denim places this firmly in middleweight shirt territory, but that means that you'll be able to keep this shirt at the centre of your rotation for a full 365 days. Every day that it's hanging on the hook will be a day wasted.
At the time of publication, the SWD-L01 shirt is also available at Corlection (AU), DC4 (DE), Pronto (TH), and Dutil Denim (CA).
You can buy Samurai from all of these retailers: Franklin & Poe (US), Brooklyn Clothing (CA), Blue in Green (US), Redcast Heritage (ES), and Corlection (AU).
---
Samurai SWD-L02 Hisho Western (10 oz.)
The Blade Star Western isn't for everybody. It might be a little bold for your tastes. If so, the subtler L02 Western might be just the thing. The stitching here is meant to represent the cut of a katana blade. It's clean, sharp, and precise, and it makes for arguably a more timeless version of the western.
The other details are identical. You've got the same 10 oz. denim, the same diamond-shaped snaps (three of them at each cuff), and the same exposed selvedge at the forearm and the gusset.
Battle-ready and fade-primed, this modern take on the iconic western shirt is ready to take on all comers. Will pair beautifully with one of the jackets below.
Looking to shop closer to home? You can buy the SWD-L2 shirt from Redcast Heritage (ES), Corlection (AU), Statement (DE), DC4 (DE), and City Workshop (US).
---
Samurai SSS22-01 Natural Indigo Dobby (10 oz.)
This shirt might look like it's patterned, but that's just a trick of the eye. It's actually a heavy dobby, with three different shades of natural indigo-dyed yarns woven together to create a stunning and richly varied effect.
With a fabric as textured and colourful as this one, there's no need to go overboard with the details. Samurai have kept things simple with two button-down chest pockets and a single-button cuff closure. With its throat latch and long collar points, it's clear that this is a classic work shirt, but this fabric is simply too beautiful for really heavy work.
That said, we'd love to see somebody really push this gorgeous piece to its limits. 365 days of steady wear could turn this shirt into a world-class masterpiece of the dyeing, weaving, and fading arts.
Supplies are limited for this shirt, so you may need to look around to find one available in your size.
According to Samurai, though, all of the following retailers sell the shirt: Franklin & Poe (US), Brooklyn Clothing (CA), Corlection (AU), Dutil Denim (CA), Statement (DE), DC4 (DE), Blue Owl (US), Four Aces (DE), Blue in Green (US), DeeCeeStyle (CH), and Rivet & Hide (UK).
---
Samurai S0553XX Type III (15 oz.)
We're leading off Samurai's jackets with their slimmest offering, their 15 oz. Type III. If you've been holding out and waiting for the perfect trucker jacket to add to your collection, you'll be hard pressed to find a better one than this.
For a great look at how this denim fades in both the Type II and Type III versions of this jacket, check out the video below from Samurai.
Samurai's distinctive touch is most obvious at the pockets, which are a little smaller than those found on typical Type III jackets. They are still big enough to hold just about anything, but be aware that these are the only pockets on the jacket (like all great Type IIIs, Samurai's doesn't feature hand-warmers).
The jacket has been washed once, so you can expect it to remain the same size after its first wash or its first good rainstorm. The size charts will be a faithful guide for how this will fit both before and after its first wash.
You can look for the S0553XX at the brand's stockists, including Corlection (AU), Blue in Green (US), DeeCeeStyle (CH), and DC4 (DE).
You can buy Samurai from all of these retailers: Franklin & Poe (US), Brooklyn Clothing (CA), Blue in Green (US), Redcast Heritage (ES), and Corlection (AU).
---
Samurai S0552XX Type II (15 oz.)
Slightly longer and wider than the Type III, Samurai's S0552XX is tailor made for those who are thick through the middle or across the chest. Alternatively, it can be an incredible layering piece for those who like to wear denim jackets over hoodies or other thick pieces.
Recently, a Type II (made by Uniqlo) made a prominent appearance in Brad Pitt's Bullet Train. Paired with a crisp white shirt and tie, the jacket, worn by Brian Tyree Henry, garnered new attention for '50s-style denim jackets. Samurai make one of the absolute best (better by far than Uniqlo's).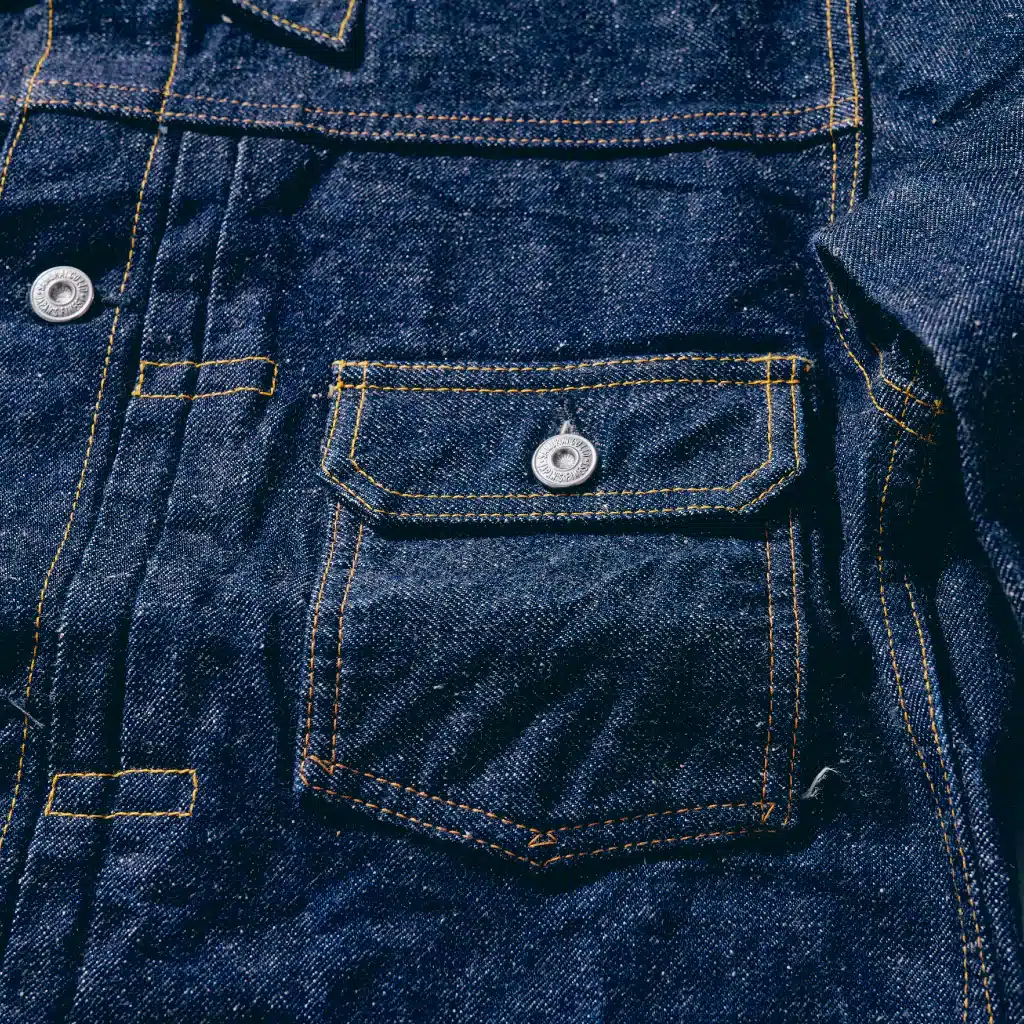 Again, the video above shows how both the Type II and the Type III look after a couple of hundred wears. With dedication, fades like these are definitely within reach within a year.
At the time of writing this guide, the S0552XX jacket is available at Blue in Green (US), Corlection (AU), DC4 (DE), Dutil Denim (CA), and DeeCeeStyle (CH).
---
Samurai S0551XX Type I (15 oz.)
The rarest of Samurai's jackets, the S0551XX Type I is most often found in deep denim collections, but, even if you're looking for your first well-made denim jacket, Samurai's version of the Type I should be a big blip on your radar.
While the Type III and II remain the most popular denim jacket styles, the Type I is enjoying something of a renaissance thanks to the rise of comfortable and wide-cut jeans. With its barrel-chested and high-waisted fit, the vintage workwear piece is finding itself at the centre of modern style.
What really sets Samurai's Type I apart is the weight of the denim. The 15 oz. Okotogi selvedge is considerably heavier than is standard in vintage reproductions, so you're getting a solid mixture of old and new here. The triple pleats and single chest pocket pull this jacket towards the past, but the denim itself is a modern innovation.
This jacket is tough to track down, but you will sometimes see it pop up at Samurai's stockists. You should be able to find it at Corlection (AU) and DC4 (DE), though.
You can buy Samurai from all of these retailers: Franklin & Poe (US), Brooklyn Clothing (CA), Blue in Green (US), Redcast Heritage (ES), and Corlection (AU).
Got a Shirt or Jacket? Register for the Redline!
Samurai have been an integral partner in Year 3 of the Indigo Invitational, and we want to show our appreciation by assembling an army of Samurai faders in this year's Redline Rally. Once you've chosen your blade, get ready for the battle by registering for this year's Redline Rally.
The Redline Rally is a year-long fade competition. There is no better way to generate above-the-belt fades than joining the Rally. Year Two kicked off on January 1, 2023.
Like the Indigo Invitational, the Rally helps you move one piece to the center of your rotation and do some real damage. Even slow faders produce results if they stick with the program.