Well-Made Essentials » Raw selvedge jeans
The Shortlist of Well-Made and Essential Raw Selvedge Jeans Every Denimhead Should Own
Blue jeans are an absolutely essential wardrobe cornerstone that transcends time and place. For denimheads, great jeans are more than a piece of clothing. They're a blank canvas. We paint our masterpieces on them. And we know that great fades start with great denim.
If you're looking to buy your first pair of raw selvedge jeans, this guide is the perfect place to start your hunt. If you already have a growing collection, use the guide as your shortlist for your next pick-up. We also list ten pairs that we think every denimhead should own.
Our guides are reader-supported. We earn a small commission when you make a purchase, but it doesn't cost you anything. Prices include local VAT and are subject to change.
---
10 Well-Made and Essential Raw Selvedge Jeans
We are denim lovers, and, believe us, it was no easy task whitling our list down to ten essential pairs. There are dozens of makers who produce excellent well-made raw selvedge jeans, but we wanted to help you create a shortlist of essential pairs, and that's what we've done.
The ten pairs below are, we feel, the most essential raw selvedge jeans you can buy.
---
It doesn't get any more classic or timeless than the 501. The 1947 501XX is the most iconic jean (ever!) in its quintessential incarnation.
Every pair of jeans since then has been a response (in some form or another) to the 501. The post-war 501 has all the features we've come to expect from well-made raw selvedge jeans: a slimmish straight fit; belt loops; button fly; hidden rivets; leather patch; and the double-needle 'diamond' arcuate stitching.
Alternative to consider: Sugar Cane's 1947. Get it from Franklin & Poe (US), Hinoya (JP), Blue in Green (US) and Redcast Heritage (Spain).
The jeans used to be cut and sewn in the USA from American-made Cone Mills selvedge denim. Cone closed their White Oak plant in 2016, though, so LVC now uses Japanese denim from Kaihara (a solid substitute). They make the jeans in Bulgaria now, but hey, it's still the original.
12 oz. unsanforized selvedge denim
Made in Bulgaria (!)
Big E red tab
5-button fly
Zinc buttons
Copper rivets
Hidden rivets
Leather patch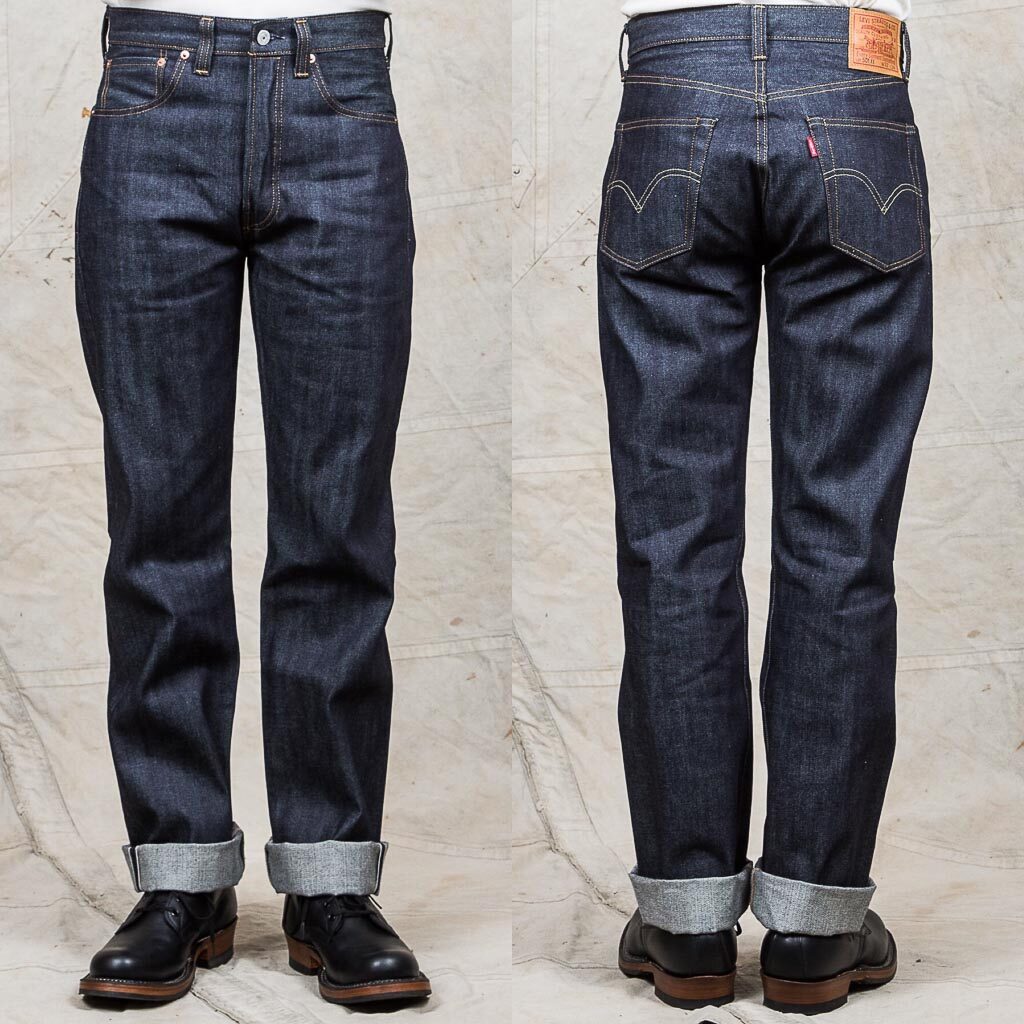 Other LVC fits to consider: 1966 501 and 1937 501XX
Second Sunrise ship from Sweden. If they are sold out, or if you are looking for other places to buy LVC, check out: Cultizm (Germany), directly from Levi's (global), END. (UK)
---
The 634S is the fit and denim combination that started it all for Iron Heart. After building a career at Edwin, Shinichi Haraki set out to make the market's toughest jeans. As a Harley Davidson enthusiast, he wanted to create a denim that captured the rugged essence of motorcycle culture, and he absolutely knocked it out of the park with his first swing.
The weight sends newbies scurrying, but those who can ease the denim past its break-in point know that this heavyweight has a soft heart. Within a week or so, the denim becomes supple, and it just keeps getting better month in and month out. If you're new to heavyweight denim, this is the denim to start with.
Haraki-san didn't design the denim for high contrast fades, so don't expect that. The denim is loosely woven and stretches quite a lot, so take this into consideration when sizing.
21 oz. sanforized selvedge denim (rinsed)
Made in Japan
Fades slowly
4-button fly
Copper rivets
Hidden rivets
Veg-tanned leather patch
Other Iron Heart fits to consider: 888 (high rise tapered), 777 (slim tapered), 666 (straight slim), and 555 (high-rise slim tapered).
Iron Heart ship from the UK and the US. If they are sold out, or if you are looking for other places to buy Iron Heart, check out: Franklin & Poe (US), Corlection (AUS), Self Edge (US), Brund (Denmark), Statement (Germany)
---
Strike Gold flies under the radar. It's not a name on everybody's lips, but those who have tried a pair know that they've landed on the denim world's best kept secret. Once you've faded a pair, you'll understand why they've been included on this list.
The secret to the 2105's success is the mud-dyed weft. Almost immediately, the rich earth tones begin to poke their heads out. After a month or so of wear, the denim has an almost dirty look that draws the eye further into the fabric's depth of colour and texture. Their stiffness will make them feel heavier than other 17-18 oz. pairs, but they'll soon start to relax, quickly becoming one of the comfiest pairs you'll ever own. Don't be surprised if these leap to the top of your rotation and stay there.
A nice final touch is copper rivets with iron washers, which will rust with wear and wash.
17 oz. unsanforized selvedge denim
Made in Japan
100% Zimbabwean cotton
Medium rise, slim straight leg
Pure indigo warp and brown-beige mud-dyed weft
Slubby, irregular and hairy texture
Gold selvedge ID
Punch-through copper rivets with iron washers
Hidden rivets
Peek-a-boo selvedge on coin pocket
Deerskin leather patch
Raised belt loops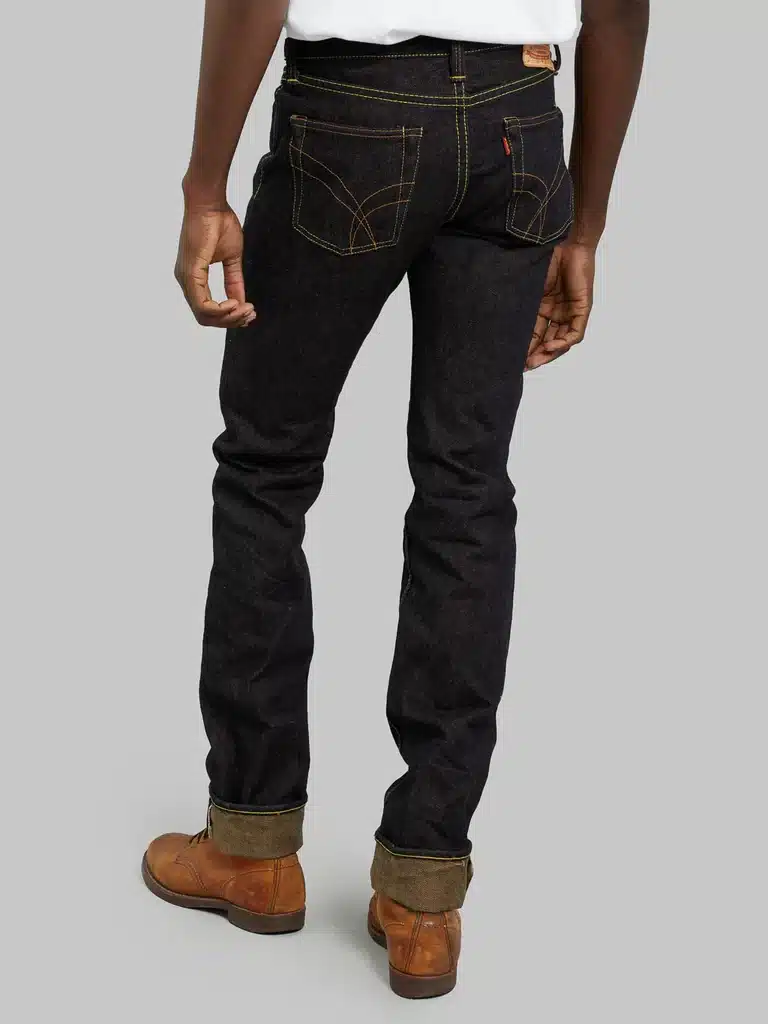 Other fits to consider: 5109 (slim tapered), 7104 (straight tapered)
Redcast Heritage ship from Spain. If they are sold out, or if you are looking for other places to buy Strike Gold, have a look at: Self Edge (US), Corlection (AUS), Burg & Schild (Germany)
---
When Miki-san decided to branch out on his own in the early '90s after cutting his teeth working under Yamane-san at Evisu, he had a clear goal: to make the best jeans possible that would get the best (read: most 'vintage') fades possible. The key, he'd learned, was in the raw materials.
The 13.7 oz. denim is woven at the fashion Shinya Mills from hand-picked 100% Zimbabwean cotton. The result is a luxuriously soft yet durable denim. The lightweight denim won't hold creases like the heavy stuff, so, like the TCBs, the Fullcount 1108s are textbook vintage faders.
13.7 oz. unsanforized selvedge denim
Made in Japan
100% organic Zimbabwean cotton
Button fly
Goatskin leather patch
Raised belt loops
All cotton thread construction
Copper rivets
Hidden back pocket rivets
Other fits to consider: 1109 (slim tapered), 1101 (straight), 0105 (loose straight)
Clutch Café ship from the UK. If they are sold out, or if you are looking for other places to buy Full Count, try: Stuff (Germany), directly from Full Count (Japan), Son of a Stag (UK)
---
TCB (which stands for both Two Cats Brand and Taking Care of Business) creates jeans that capture iconic periods from denim's past. The TCB Slim 50s is the brand's take on iconic jeans from the '50s. They honour the original, but update it for modern tastes. They'll quickly rocket to the top of your rotation.
Like other vintage purists, they make this pair out of Zimbabwe cotton. It has a slightly hairy texture that gives way to a pronounced softness after being worn and washed. TCB is the brand that faders who love that vintage look reach for first, and you'll quickly see why when the signature roping starts to emerge. The hand-made paper patch is meant to fall off too—just like it did on the made-in-America originals.
13 oz. unsanforized selvedge denim
One-washed
Made in Japan
Button fly
Sewn on vintage sewing machines
Hand-made paper patch (made to crumble)
Plain copper rivets
Other fits to consider: 40s (loose), 50s (straight), 60s (regular straight).
Redcast Heritage ship from Spain. If they are sold out, or if you are looking for other places to buy TCB, check out: Second Sunrise (Sweden), Directly from TCB (Japan), Stuff (Germany), American Classics (UK), Göteborg Manufaktur (Sweden)
---
Thanks to their bold details, Momotaros (especially their GTB line with the iconic battle stripes) are one of the only pairs on this list that you can identify from across the street. Momotaro's signature 15.7 oz. denim has inspired die-hard acolytes all over the world. It's the perfect weight for those who want to get the full raw experience without shredding the backs of their knees and hands.
The denim is made from Zimbabwean cotton that's been rope dyed in pure indigo, giving these jeans off-the-chart fade potential. The long-staple cotton makes the denim exceptionally soft with wear. For the finishing touch, the jeans are rinsed in the ocean off the coast of Okayama.
15.7 oz sanforized selvedge denim (rinsed)
Made in Japan
100% Zimbabwe cotton
5-button fly
Pink selvedge ID and pink inseam
Copper rivets
Herringbone pocket bags
Deerskin leather patch
Painted 'battle stripes' on the right back pocket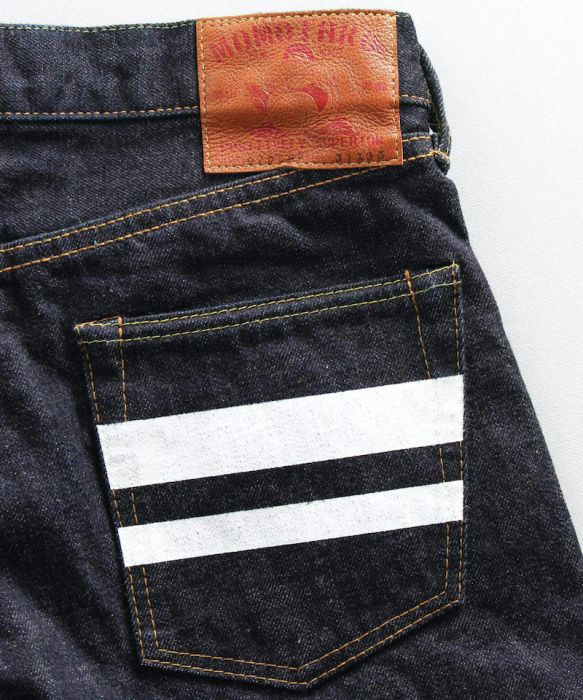 Other fits to consider: 1005TP (straight), 0105SP (narrow tapered)
Momotaro ship from Japan. If they are sold out, or if you are looking for other places to buy Momotaro, visit: Rivet and Hide (UK), Franklin & Poe (US), SUNSETSTAR (Austria), Stuff (Germany), Hinoya (Japan), Denim Heads (Czech Republic)
---
Oni's Secret Denim might the worst-kept secret in the denim world. Faders have been shouting its praises from the rooftops for years. Masao Oishi has been famously tight-lipped about how he actually makes his denim, and this mystique lends his denim some of its charm. The heavy lifting is all done by the denim itself, though. Oni has built a stellar reputation on the back of this fabric and how it performs under stress.
If it's smooth, evenly textured denim you're looking for, give this one a miss. If, however, you want denim positively oozing character, a pair from Oni should rocket to the top of your list. The slubby texture and the mixture of rope-dyed indigo and beige weft make this pair one to get up close and personal with. It truly has a colour like no other and an intensely textured touch. Just try to leave them on the shelf. We dare you.
20 oz. unsanforized selvedge denim
Made in Japan
Available in both unwashed and one-washed
Pink selvedge ID
Rope dyed indigo warp and beige weft
Custom engraved buttons and hardware
Hidden rivets
Heavy duty bar tacks
Raised belt loops
Hidden coin pocket selvedge
Veg-tanned deerskin leather patch
Other fits to consider: 546ZR (tight straight)
Blue in Green ship from the US. If they are sold out, or if you are looking for other places to buy Oni, go to: Redcast Heritage (Spain), Blue Owl (US), Son of a Stag (UK)
---
Samurais have earned a reputation as the best jeans for fading you can find. Every serious fader has a pair in their rotation (or has a pair on their shortlist). Every detail is designed to maximize the pair's fade potential. The denim is heavy and unsanforized. In as little as a few weeks, the much-coveted electric blues will start to emerge in the form of whiskers and honeycombs.
Fade enthusiasts know that Samurais are best when they're heavy, and Samurai's proprietary Kiwami selvedge is some of the best heavy denim on the market. It's tight and crisp to the touch (fade fanatics know that this is exactly what to look for).
19 oz. unsanforized selvedge denim
Made in Japan
Red and silver lamé selvedge ID
5-button fly with iron buttons
Copper rivets
Jacquard pocket bags
Goatskin leather patch
Other options to consider: S510XX21OZ (regular taper)), S5000VX25OZ (straight)
Franklin & Poe ship from the US. If they are sold out, or if you are looking for other places to buy Samurai, check out: Blue in Green (US), Redcast Heritage (Spain), Blue Owl (US), DC4 (Germany), Statement (Germany), or directly from Samurai (Japan),
---
Brands in this space often cultivate reputations in one particular area. Iron Hearts are tough, Samurais fade like nobody's business, and Momotaros slide on like butter. Pure Blue Japan is all about the texture. These indigo artisans take pains to present themselves as the world's foremost slub-masters, but fade enthusiasts consistently reach for one of their most conservative option.
The XX-019 is Pure Blue Japan's best-selling fit, and it's not hard to see why when you look at a few faded examples. The denim (the first that PBJ developed) is woven under low tension to get that signature slubby and hairy touch.
When combined with the 019 fit (with a relatively high front rise, a wide thigh and a strong taper from the knee down) the result is an unbelievably comfortable pair with a sleek silhouette and a face that cries out to be touched.
14 oz. unsanforized selvedge denim
Made in Japan
Blue selvedge ID
5-button fly
Custom PBJ hardware
Lambskin leather patch
Leaf logo on the right back pocket
Other fits to consider: XX-003 (slim straight), XX-013 (slim tapered)
Redcast Heritage ship from Spain. If they are sold out, or if you are looking for other places to buy Pure Blue Japan, visit: Blue in Green (US), Corlection (AUS), Okayama Denim (Japan), Blue Owl (US), Stuff (Germany)
---
If you've got a pair of first-generation Big John RARE jeans hiding in your attic, you're in possession of a true treasure of denim history. First produced in 1980 (when the brand was only 40 years old), Big John's RARE denim was the first to introduce artificially made slub yarns into the manufacturing process. When the rest of the denim world was moving production over to more efficient high-speed looms, they held fast with their vintage looms, paving the way for the coming selvedge revival.
To celebrate the 70th anniversary of their brand, they released the third generation of their RARE fabric, and we think this is the perfect pair to round out this list of raw selvedge essentials. It's a true classic. The surface of the denim has a smooth hand feel, the details are understated, and the blue is subtle yet vivid. It's the flagship model from one of the most storied brands in denim history, and no collection is complete without one.
15.5 oz. unsanforized selvedge denim
Made in Japan
Slim tapered fit
Indigo-dyed deerskin leather patch
Steel buttons and rivets
Leather-backed rivets
Single-stitched hem (so there's no chain stitch!)
Other fits to consider: R008 (classic straight)
Hinoya ship from Japan. If they are sold out, or if you are looking for other places to buy the brand, go to: Okayama Denim (Japan), Stuff (Germany)
---
Why Well-Made Raw Selvedge Jeans Are Essential
Well-made raw selvedge jeans are essential because they're both timeless and adaptable. They are built to last, they'll never go out of style, and they can be worn with anything. Let's take a closer look at each of these important points.
Well-Made Selvedge Jeans Are Timeless
In 1873, a Latvian tailor and a German drygoods merchant received a patent in San Francisco that set the standard for jeans that has remained virtually unchanged ever since.
The details and fit may have changed. But if you're wearing raw selvedge, your jeans are practically the same as the riveted waist overalls that Levi Strauss began producing almost 150 year ago.
For the first 50 years or so, denim was a working man's fabric. We're talking about old-school, hard-working men who worked dirty jobs from sun-up to sun-down. The first men to wear riveted overalls laid the railroad tracks and felled the trees. They shaped the world with their hands, and they live today in our memories as some of history's grittiest, hardest-working badasses.
In time, the working man's utilitarian aesthetic became fashionable. Wide swaths of society started wearing jeans and cultivating a more blue-collar style. First it was dude ranchers who went west to play pretend cowboys, imitating stars of the screen and stage. After WWII, denim became the uniform of an entire generation of rebels.
What does 'raw' mean?
Raw denim is the kind that hasn't been washed or treated before you start wearing it. It's also called 'dry' and 'unwashed.' No matter what you call it, the denim is still deep dark blue, and there are no marks or signs of wear on it.
What is 'selvedge'?
The word 'selvedge' comes from 'self-edge,' which refers to the self-finished edges on each side of shuttle-loomed denim. You'll see these edges when you cuff your jeans. The selvedge ID is usually white and often has a coloured yarn in the middle, typically red but it can be any colour.
Well-Made Selvedge Jeans Are Adaptable
Rather than flashing in the pan, the blue-collar look stuck around (and is still sticking around) because denim worked with a wide range of dressed-down looks. From the United States and Australia to Italy and Japan, blue jeans became a quintessential part of casual looks.
You can wear your jeans with a casual blazer and an oxford shirt, or you can pair them with a white tee and a motorcycle jacket. You can wear them with flannels, hoodies, and sports jackets. You can pair them with other denim pieces or with any other fabric you can think of. No matter what your style, no matter what your occasion, blue jeans always fit.
This goes double with well-made denim. While a pair of mass-market jeans might work with a top-shelf double-breasted blazer, a pair of premium selvedge with the cuffs rolled just so will be a better match by far. It'll also be a better match (by far) for your white tees and flannels. Well-made denim is never out of place. It just makes every outfit better.
Psst, you should really check out our NEW BOOK!
Sorry to interrupt your reading, but there's something we're dying to tell you: We have a NEW BOOK out!
It's called the Rebel's Wardrobe and it looks beyond denim and jeans to explore the often-surprising origins of the garments we all wear and love.
---
How to Identify Well-Made Raw Selvedge Jeans
When we talk about well-made jeans, we're looking at much more than the price tag. What we're looking for is something that—when we take the label away—is still worth every penny.
When we say well-made, we mean something that is durable, rugged, and built to last for years and years (not just from one end of the runway to the other). Here's what you should look for.
#1 What It's Made of
Premium selvedge has the character that the mass-market stuff lacks. It has texture, unevenness, and irregularities that you can see and feel. This character is what produces beautiful fades; the more you wear it—and wash it—the more this character comes to the surface.
The first thing many denimheads do when looking at a pair is roll the cuff to examine the selvedge ID. While it's true that not all premium denim is selvedge, and not all selvedge denim is premium, the selvedge ID is a good indicator that the jeans have been carefully made by denim artisans.
Take a close look at both sides of the denim. Get up close and personal with it. Run your hands down the face of the jeans, rub it between your fingers, and look very carefully to notice the interplay of warp and weft fibres. When you try them on, notice how the jeans feel. How does the denim feel against your skin? Is it smooth or rough?
#2 How It's Made
The stitching on a well-made pair of raw selvedge jeans should be clean, straight and tight. The hardware should feel bulletproof, and the high stress areas around the pockets and the crotch should leave no room for doubt about whether or not the pair will stand up to prolonged abuse.
The cut comes down to preference, but remember that the jeans are not in their truly finished state until they've been worn and washed. If your pair is unsanforized, the fit will change considerably the first time you introduce water into the equation.
Details like pocket bags, arcuates (the brand-specific stitching on the back pockets), and lined back pockets and yokes might be key points of difference. Before you commit, inspect every detail—inside and out. The more of these key points of difference you spot, the better.
What to look for in quality construction of jeans:
Clean stitching throughout
Seams that don't give
Leather patch
Solid hardware
Hidden rivets
Pocket bags with heft
#3 Why It's Made
Great makers don't make disposable jeans. They hope that you do justice to their creation by wearing it day in and day out for years. The truly timeless pieces have clearly been made with this in mind. They tend to be conservative, making quiet statements of quality and refinement that enthusiasts have learned to pick up on.
You won't find unusual cuts or details, or any super slubby, neppy, or patterned denim on our list above; these kinds of bold denim statements don't have the staying power of the classics. If you've already got a deep rotation, yes, something radically different might be just the ticket. It's just as likely, though, that your bold choice will end up buried at the bottom of your rotation. 
The true classics are made to last and made to fade. They rise to the top, not because they are bold or different, but because they are the perfect canvas for your fade masterpiece.
Got the Raw Selvedge Jeans But No Jacket?
If you've got a pair of raw selvedge jeans but no denim jacket, check out our list of the most essential raw denim jackets that will pair perfectly with the jeans above.