Well-Made Essentials » Heavy flannel shirts
The Shortlist of Well-Made and Essential Heavy Flannels Every Denimhead Should Own
Flannels are the quintessential outdoorsman piece. Especially in places where the men and the bears head for their caves when the evenings get long and dark, warmth-giving flannels are something of a uniform. Wherever the fog rolls and the winds blow, the heavy fabric and the checks are as essential as hot drinks and dry kindling.
Psst, you should really check out our NEW BOOK!
Sorry to interrupt your reading, but there's something we're dying to tell you: We have a NEW BOOK out!
It's called the Rebel's Wardrobe and it looks beyond denim and jeans to explore the often-surprising origins of the garments we all wear and love.
Flannels are so woven into the fabric of the North that you'll see racks bursting with that characteristic red and black plaid at gas stations and souvenir shops. These fleece monstrosities (eschewed by the locals) are, of course, a far cry from the kinds of well-made flannels we'll be recommending below. A well-made flannel isn't a piece of kitsch or a souvenir. It's made to be worn seriously for years on end.
As much as any other button-up shirt, the well-made flannel is a linchpin of workwear looks. Even in its red and black buffalo check incarnation, it's never tired or cliche.
Since mass-market and fast-fashion brands have all jumped on the flannel train, you can find a ton of corner-cut flannels. But none of these hold a candle to the genuine well-made article. The colourways, the construction, the feel of the flannel itself—nothing compares to a heavy, built-to-last flannel. And nothing pairs better with a heavy pair of selvedge.
If you want to wear denim seriously (and who doesn't?), you need a well-made flannel.
The sections we cover in this guide:
If you want to know more about why we created these guides, please read our Manifesto. If you want to understand the criteria we apply for each item, read our definitions of 'well-made' and 'essential'.
Our guides are reader-supported. We earn a small commission when you make a purchase, but it doesn't cost you anything. Prices include local VAT and are subject to change.
---
Why Well-Made Flannels Are Essential
Well-made flannels are essential because they're both timeless and adaptable. They are built to last, they'll never go out of style, and they can be worn with just about anything. Let's take a closer look at each of these important points.
Well-Made Flannels Are Timeless
The first people to wear flannels were 17th-century Welsh farmers, who wore heavy overshirts of carded wool or worsted yarn. The fabric crossed the Atlantic with early American settlers, and it became a northern staple in places where, year round, the mornings are chilly and damp.
As the lumberjacks cleared the eastern forests of its most valuable timber, they moved west, bringing the flannel with them until they reached the Pacific. They brought their legends with them. Brawny Bunyan and his trademark red and black flannel both put down thick roots in Washington State's and British Columbia's cedar and redwood forests, where the flannel is still immensely popular.
Flannels have proved such a lasting fashion staple thanks to their ability to fuse practicality with rugged good looks. Take your average urban coffee-shop hipster, hide his razor for a week or two, and set him loose in the forest in denim and flannel and he'll look the part. After a few hours in the thicket, he might even feel the part.
There's a catch, though. Flannel has become something of a catch-all term for plaid shirts of any thickness or quality. If you want to really lean into that timeless urban woodsman look, the best way to do this is with a built-to-last flannel that marries softness and ruggedness. Mass-market and fast-fashion flannels just can't stack the flapjacks like a well-made flannel can.
Well-Made Flannels Are Adaptable
A rough and rugged flannel (almost always worn untucked) pairs effortlessly with raw denim. Whether you're one or five hundred wears deep, a well-made flannel will be your perfect companion on your raw denim journey.
There's no fussing about with flannels. They're designed to just be thrown on whenever that extra layer is called for. Some of the flannels below have a brushed interior that calls out to be worn against the skin, but they're also great layering pieces.
If you're pairing denim jackets and jeans, a flannel can help break up the sea of blue. As a general rule, two pieces of denim at a time is enough. Plaid flannels with red, brown, or orange foundations can really pull a denim-based kit together.
This is why the flannel is such an essential part of the denimhead's wardrobe. It shines in its own right without dimming the light of our other carefully selected denim pieces. If we want this effect, a flimsy flannel should be the furthest thing from our mind.
---
How to Identify a Well-Made Flannel
Fashion labels have long tried to capitalise on the popularity of plaids and flannels (not the same thing). Luxurious plaid pieces might have a hefty price tag, but they are a far cry from the kind of rugged pieces we'll be highlighting below.
Yes, the flannel shirts we'll be looking at are expensive (though often not as expensive as their luxury label counterparts), but we're paying for something that will be a cornerstone piece in our wardrobe.
Here's how to make sure you get your money's worth.
What It's Made of
The flannels we cover below are all 100% cotton. Synthetic fabrics don't break the rules of flannel (the definition leaves a lot of wiggle room), and some quality makers might introduce polyester or wool into the mix, but our favourites stick to cotton, and we're suggesting you do the same.
As with most workwear pieces, weight is a good guide. A good flannel won't be as heavy as a jacket or a wool sweater, but it should be inching towards that outershirt territory. It should have some heft when you take it off the hanger.
Premium flannels should also have some loft (thickness that is the result of brushing either one side of both sides of the garment). It should feel both soft and durable. It shouldn't be too soft, though. If you see 'fleece' (made from recycled plastic) anywhere on the label, put it back on the shelf and wash your hands.
No matter how classic the pattern, there should be a clear attempt on the part of the maker to re-interpret the plaid and put their own spin on it. This might mean a subtle variation in the classic colours, or a weave that reveals its complexity when examined closely.
You can feel the difference (especially when you put the shirt on), and you can see it. The quality is woven into the shirt.
What to look for in well-made flannel:
Weight (9 oz.+)
Loft (thickness)
100% cotton
Brushed on one side or both
Classic patterns perfectly executed
Plaids in rich earth tones
How It's Made
Once you've assessed the fabric, the first place you should look is the hardware. If the shirt is fastened with plastic buttons or (gasp) a zipper, there's no point in examining the piece any further. Ideally, you should be looking at heavy-duty snaps, not only down the front of the shirt but also on the pockets and the cuffs.
The collar and cuffs should be firm and hefty, with sturdy and carefully colour-matched stitching. On the inside of the shirt, you should also see some of the hallmarks of careful tailoring.
Look for flat-felled seams with the edges of the fabric rolled over rather than loose), and single needle stitching (one row of stitching on the outside of the garment, but on the inside two rows so close as to almost overlap). These are labour-intensive practices, but they produce cleaner, tighter seams that will stay tight and true when you put the shirt through its paces.
Finally, when you've got the shirt on, take a good look in the mirror. Is it boxy and shapeless, or has the tailor tried to create a piece that follows the curves of the human figure? Flannels may be perfect to throw over a tee shirt or a long sleeve, but this doesn't mean that they should hang straight down from your shoulders. If you have to add two or three layers to make your flannel look full, you either have the wrong size or the wrong shirt.
Construction details to look for in well-made flannels:
Clean stitching throughout
Flat-felled seams throughout
Heavy-duty hardware (ideally snaps)
Single-needle construction
Sturdy collars and cuffs
Close to tailored fit
Why It's Made
Great flannels aren't made to fade in the same way that denim is. They age beautifully, but we don't judge them by their ability to wear their abuse on their faces. Quite the opposite. We expect a great flannel to retain its vivid colours for years, and makers make them with this intention in mind.
The weaver and tailor collaborate to create a shirt that won't go to pieces in either the bush or the wash. The fabric is almost as tough as kevlar, and the seams are equally bulletproof. Choose to invest in a well-made flannel and It'll be there (thrown over the chair or at the end of the bed), ready to keep you warm and to look great for years to come.
---
8 Well-Made and Essential Flannels
The market is positively bursting with flannel options. Surprisingly, though, there are not very many makers who really push themselves to the fore in the well-made flannel space.
To find a well-made flannel worthy of the name, you have to look high and low. That's exactly what we've done. Here are the best eight heavy flannels we've found.
---
The undisputed king of the category, the Iron Heart Ultra Heavy Flannel continues to lead the way in terms of build quality and wearability. Woven with aspero cotton from the foothills of the Andes, and double brushed on the inside for added comfort, sliding one of these over your shoulders feels like slipping into a warm bath on a cool evening.
The classic red/black and blue/black colourways are dependably stocked, but their crazy check patterns are another matter. Popular sizes will sell out in a matter of hours, so, if you want a truly stand-out piece from the Pride of Japan, it's wise to keep your ear to the ground and be ready to leap when the leaves start to turn.
12 oz. ultra heavy flannel
Made in Japan
Single brushed on face
Double brushed on reverse
Branded Permex snaps
Single, double, and triple needle construction
One-washed (very little shrinkage)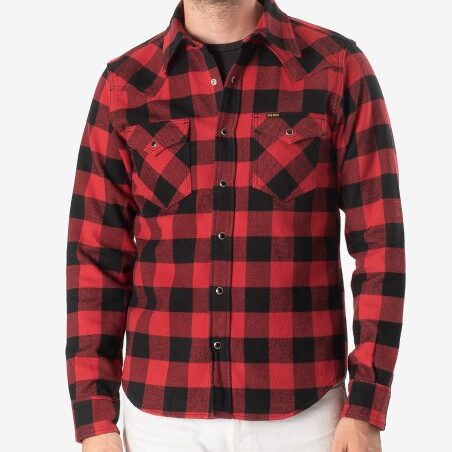 Other cool-weather Iron Heart shirts to consider: IHSH-251 (9 oz. selvedge flannel), IHSH-235-BLK (13 oz. serge)
Iron Heart ship from the UK and the US. If they are sold out, or if you are looking for other places to buy Iron Heart, check out: Franklin & Poe (US), Corlection (AUS), Self Edge (US), Brund (Denmark), Statement (Germany)
---
If anybody has got Iron Heart's Haraki-San looking over his shoulder, it's the good people at UES. They've turned more than a few heads with their crazy heavy flannel offerings in the past few years, and they're gathering steam with each passing fall.
Their flannels tip the scales at a whopping 14.5 oz., and they're woven on vintage shuttle looms and rope dyed for that ultra-authentic story that can be read in every piece. They're made by passionate denim artisans who have built their brand around a noble idea: each UES piece is designed to be "worn well" and worn until every ounce of pleasure has been wrung out of it.
14.5 oz. flannel
Made in Okayama on vintage shuttle looms
Wabash stripe (other patterns are available)
Rope dyed
Rolled and double chain-stitched seams
Brushed on the reverse
Ivory palm nut buttons
Other cool-weather UES shirts to consider: UES has an impressive Range of Flannels that gets updated each year. Most flannel lovers have at least one of them.
Redcast Heritage ship from Spain. If they are sold out, or if you are looking for other places to buy UES, try: Rivet & Hide (UK), DC4 (Germany), UES Official (Japan)
---
California-based Freenote Cloth have built a reputation as one of the strongest made-in-America denim brands out there. As good as their jeans are, it's what they're doing above the belt that has made their name ring out in the workwear scene. They've got a shirtiers eyes for fit and detail, and they sign each piece with a flourish. Once you learn to spot this signature, you can spot a Freenote piece from across the room.
If your closet isn't already bursting with Freenote shirts, this heavy beauty will be a warm introduction to the brand. The 11 oz. brushed cotton was milled in Japan especially for the brand. Skilled artisans constructed the shirts in the United States, topping each piece off with custom horn buttons. It's a campfire classic in the making.
11 oz. brushed flannel
Made in USA
Milled exclusively for Freenote in Japan
Bias cut pockets and back yoke
Custom horn buttons
Custom Made-in-the-USA label
If this colour doesn't catch your eye, Freenote has a small Range of Flannels that they update regularly.
Franklin & Poe ship from the US. If they are sold out, or if you are looking for other places to buy Freenote, try: American Classics London (UK), Stuff (Germany), Populess (Canada), and Freenote Cloth (US).
---
Swedish brand Indigofera, like Freenote, has established itself as one of the best shirt makers in the game. They produce some of the best wool blankets anywhere, so they know a thing or two about keeping their customers warm when the temperature drops.
Woven on shuttle looms in Japan, Indigofera's Bryson flannels bring together old and new like nobody's business. The vintage-infused check sits atop a tailored fit and a long fit (quite a bit longer than Japanese flannels). A perfect fit for the modern gentleman with vintage sensibilities.
Selvedge flannel
3 x 1 Pima cotton twill
Woven in Japan on shuttle looms
Assembled in Portugal
Bias-cut pockets and yoke
Melamine buttons
Runs large, consider sizing down
If yellow isn't your favourite colour, Indigofera has a small Range of Flannels to look at. Though the range is small, they somehow manage to have one to suit every style.
Franklin & Poe ship from the USA. If they are sold out, or if you are looking for other places to buy Indigofera, try: Pancho & Lefty (Sweden), Denim Heads (Czech Republic), Burg and Schild (Germany), Brund (Denmark), Rivet and Hide (UK), Standard and Strange (USA)
---
Hitting the classic black and red flannel right in the sweet spot, The Flat Head is a strong contender for best in show. The brand is best known for their jaw-dropping leather goods and their jeans, which have long been a favourite among fade enthusiasts. They know a thing or two about well-made menswear, and it shows with this shirt.
The biggest draw card here is the pattern. The Rob Roy MacGregor tartan has been interpreted a million times, but never quite as well as this. Everything from the cat's eye buttons to the tilt of the bias-cut pockets harmonies perfectly.
Before leaping into one of these, check the measurements carefully. Designed for Asian bodies, they aren't a perfect fit on all frames.
100% Cotton flannel milled in Japan
Assembled in Japan
Chain stitch run-off
Double chain stitched side seams
Chain stitch run off
Black cat's eye buttons
Work shirt pockets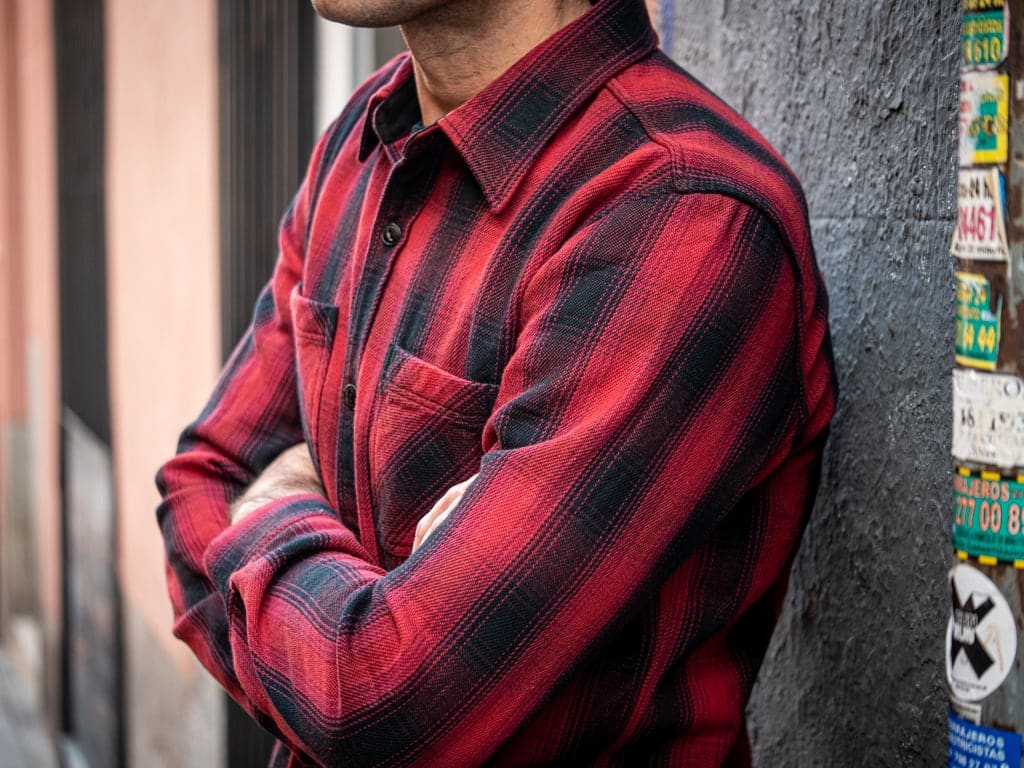 The Flat Head also have flannels in Ivory/Navy and woodsy Blue/Green colourways, and they make a stunning Western Version of the Ombre.
Redcast Heritage ship from Spain. If they are sold out, or if you are looking for other places to buy Pherrow's, you can find Flat Head at Franklin & Poe (US) and Corlection (AU).
---
If that boxier vintage cut is your bag (it's not really ours, but who are we to judge), the Real McCoy's impeccably assembled Napped Flannel shirt has probably got your number. One of Japan's premier vintage reproduction specialists, Real McCoy's takes pains to make sure that everything stamped with their label is equal parts well-made and 100% authentic.
The flannel itself has loft and heft (probably well into double-digit territory). Heavy-duty urea buttons complete the vintage look, and you can be sure that every stitch will be a work of art. Equally at home in the woods and the coffee shop.
Heavy-duty flannel (~12-13 oz.)
100% cotton
Made in Japan
Heavy-duty urea buttons
Straight hem
Available in red and yellow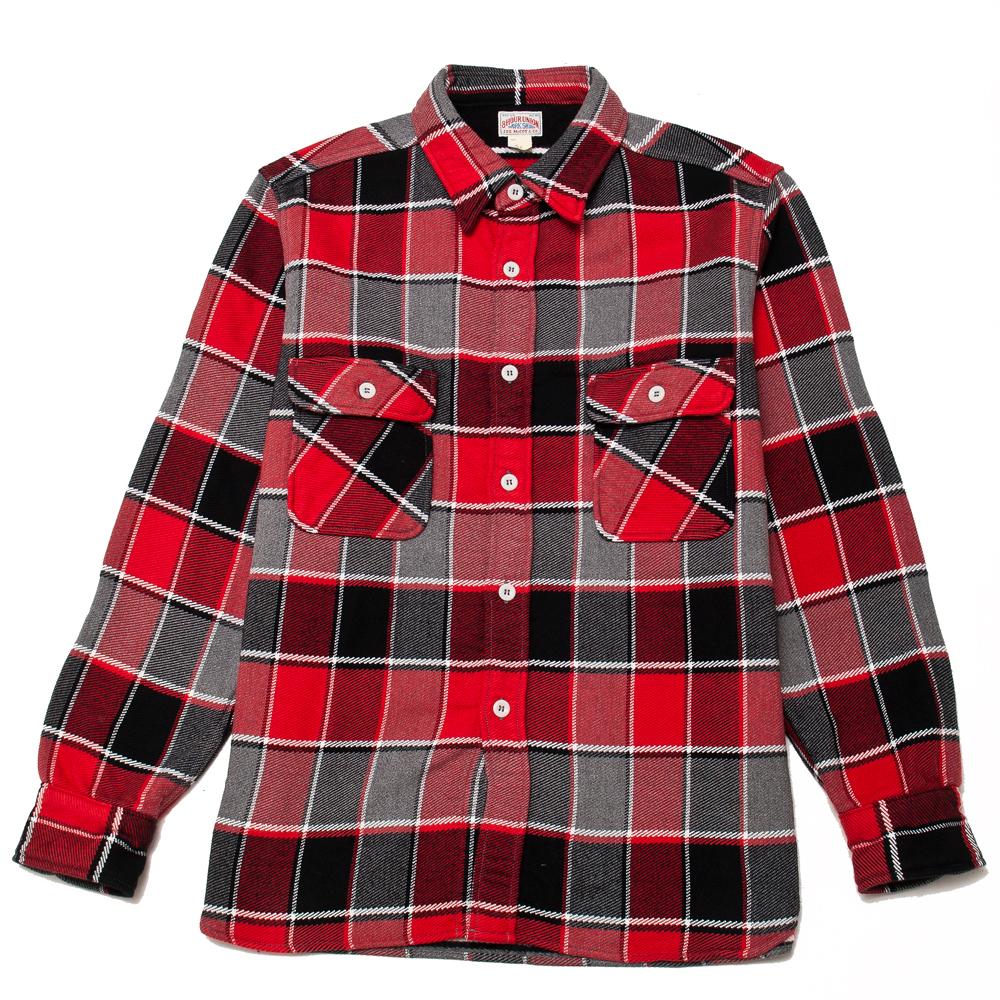 Other cool-weather Real McCoy's shirts to consider: 8HU Buffalo Check Flannel (the classic red/black), 8HU Horse Blanket Flannel (dusty and washed out)
Lost & Found ship from Canada. If they are sold out, or if you are looking for other places to buy Real McCoy's, try: Clutch Café (UK), The Real McCoy's international (UK), directly from the Real McCoy's (Japan), and Standard & Strange (US).
---
Seattle-based Filson has leaned hard into the rugged outdoorsman and workwear categories since the end of the nineteenth century. Originally, they focused on outfitting Klondike-bound prospectors. Their focus was on rugged garments, blankets, sleeping bags, and boots that would stand up against the elements and against anything the miners could throw at them.
Things, as they say, panned out for the brand. When the gold rush dried up, Filson turned to outfitting fishermen, hunters, and loggers—really, just about anybody who needed warm and durable gear and clothing, and they flourished in the space.
Filson manufactures much of their clothing in Asia now, so they don't have the same bona fides they once did, but this is one of the pieces they refuse to offshore. Made entirely in Washington State, it is a true testament to the brand's heritage. The only non-cotton piece on this list, this heavy wool shirt is as warm as they come.
18 oz. 100% virgin wool
Sewn at Filson's plant in Seattle
Tightly woven for wind and water resistance
Double flap chest pockets with concealed buttons
Been in the Filson lineup for more than 50 years
Other cool-weather Filson shirts to consider: Northwest Wool Shirt (11 oz. wool/nylon blend), Field Flannel Shirt (7 oz. cotton flannel), Moleskin Seattle Shirt (7 oz. cotton sueded Moleskin)
Filson ship from the USA. If they are sold out, or if you are looking for other places to buy Filson, try: Brund (Denmark), Cultizm (Germany), Mr Porter (global), Nordstrom (USA), HepCat Store (Sweden)
---
We're closing out with what perplexingly remains as one of the best-kept secrets in the world of well-made goods. Warehouse might be a name familiar to most, but it's a brand that far too many of us experience late in our denim journey (I've been just as guilty of this as the next guy).
Create a panel comprised of the foremost vintage denim experts and ask them to name their favourite contemporary denim brands. There'll probably be a good variety of names mentioned, but dollars to donuts it'll be Warehouse that gets the most nods.
Their jeans, tees, and sweatshirts approach perfection, and their flannels show all the same hallmarks of meticulous construction and careful fabric sourcing. This 11 oz. green number with a brushed interior will rocket to the top of your rotation and, soon enough, you'll join us in singing the brand's praises.
100% cotton selvedge flannel
Made in Japan
Woven on vintage looms
Chain stitch run off
Natural nut buttons
Brushed interior (incredibly soft)
Slim fit
Warehouse have a beautiful range of colourways in their 3104 Flannels, each of them a winner in its own right.
Corlection ship from Australia. If they are sold out, or if you are looking for other places to buy Kato, try Blue in Green (US) and Clutch Café (UK).
---
Got the flannel? Then you need the jeans!
If you've got the flannel, you'll need the jeans to match, so check out our Selvedge Masterlist, which will help you find jeans that will pair beautifully with any of the flannels listed above.