In the World of Custom and Made-to-Measure Jeans, Johann Ruttloff Is in His Own Category
Contributing Indigo Invitational sponsors get in-depth coverage here on Denimhunters. To enquire about sponsorship opportunities, contact us here.
Denim is a trade for some. For others, it is a calling. Johann Ruttloff is one of the latter. He started experimenting with sewing when he was a high school student, and he found himself drawn to denim.
What began as simple denim repairs in his bedroom slowly blossomed into homemade jeans, which he made first for himself and then for his friends.
Johann is the very definition of a denim autodidact. He combines his passion for tailoring with a love of machines (particularly old ones, which he repairs himself).
The mechanical side of the tailoring trade caught his attention early on. His first machine, a Textima that he found in a barn, helped him learn how to use and repair old sewing machines.
Johann now boasts one of the best collections of vintage sewing machines in Europe, with some of them dating to the very beginning of the twentieth century. What he can't learn from online tutorials, he learns by trial and error.
He's restored dusty machines to their shining glory and, in the process, brought back sewing techniques that have been either forgotten or pushed aside in the name of progress.
He studied very briefly at an art and design university in Halle, but he quickly saw that, when it came to denim, the professors there didn't have much to teach him. Johann didn't want to become a well-rounded garment professional; he didn't want to be a fashion innovator with wide-ranging collections; instead, he wanted to perfect the five-pocket jean. After years of dissecting pairs, he already knew more about jeans than his university professors.
Nobody could teach him how to use the machines he wanted to use. He had to teach himself. He began practising the fine arts of cutting and fitting when he was still a teenager. He knew that what made his jeans special wasn't what he held between his ears but, rather, what he held in his fingers–the muscle memory that guided each cut and each stitch.
He didn't cut his teeth by apprenticing or getting experience in retail. He didn't knock at the door, he just kicked it down and planted his feet in the industry. In 2010, he opened the doors of his first studio and began crafting denim pieces for Dresden's most passionate denimheads. He's been steadily turning out some of the finest jeans in Europe ever since.
At His Bespoke Best
Johann has a small range of ready-to-wear pieces carried by select retailers like Germany's Stuff, Store Du Nord of the Netherlands, and Shanghai's Hola Postmodern. Each year, he releases a small number of new ready-to-wear pieces. Produced in limited quantities, they sell out quickly.
I picked up one of these pieces a few years ago–a denim chino made from 13 oz. Nihon Mempu selvedge that I bring out for slightly dressier occasions or whenever I want a break from blue denim. I wanted something a little different for my denim collection, and this pair definitely goes its own way, while retaining much of the workwear touches that make it perfectly at home in my wardrobe.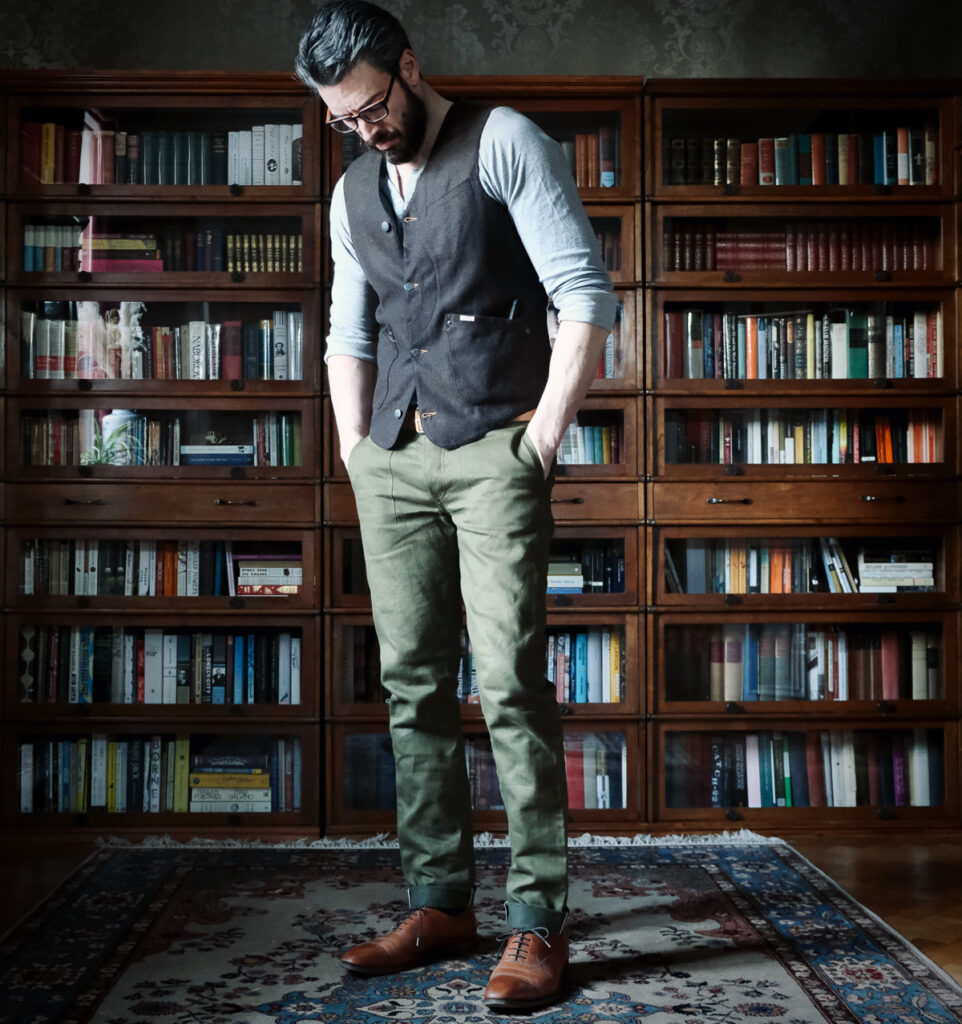 The green Nihon Mempu denim is, hands down, the best green selvedge I've ever seen, and the pair is brimming with Ruttloff's trademark touches: a one-piece fly with selvedge ID, reinforced herringbone twill pocket bags, and a graceful cut that feels as though it was made especially for me, even if it was an off-the-rack piece.
You can take a look at Johann's pre-made offerings here, but his best work is bespoke. If you've never had the full custom experience, take it from somebody who has: you don't know what you're missing. It's like the difference between a kitchen ordered from IKEA and one designed and built specifically for you: the former is a kitchen; the latter is your kitchen. For the connoisseur, this small difference means everything.
Most of the people who knock on Johann's door already have waist-high piles of denim. He doesn't want to carefully craft a pair that will have to fight with other pairs in the middle of the rotation for attention. Denim's durability and unique fade properties only become meaningful when we wear the pair obsessively, so he makes jeans for his customers with the goal of creating a long-lasting love match.
For best results, visit Johann's shop in Dresden, where you can try on pairs from his collection to get a broad idea of what cut will work best on your frame. He will then suggest places to add or subtract to create that perfect fit that denim hunters like us spend decades looking for.
You can choose from his impressive selection of hand-selected fabrics, all of which have been rigorously tested for shrinkage and leg twist. He doesn't want there to be any surprises for his customers, so he adds new denims to his collection only when he can know for sure how that all-important first wash and every subsequent wash will affect how his pairs look and fit.
I was unable to make it to Germany, so I went through this process online. Johann was patient as I described what I was looking for in terms of style and fit. We sent dozens of images back and forth before I entered the numbers we had settled on into his online Jeans Configurator and Johann began cutting the fabric. If you're unsure about what a centimetre will change how your pair fits or fades, Johann will guide you through the process.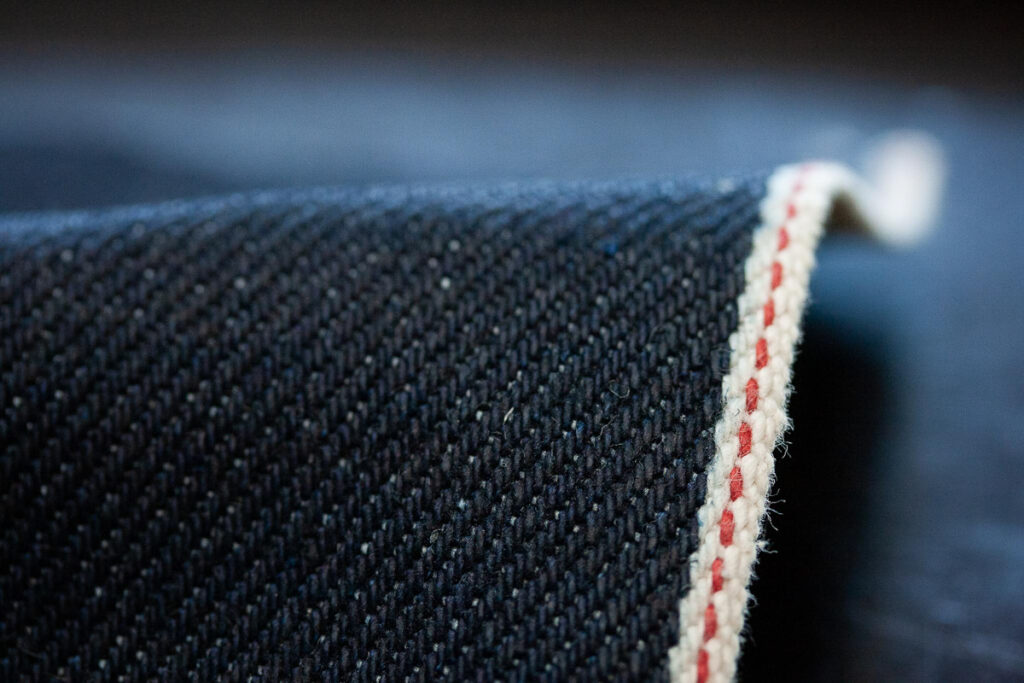 I wore the pair in Year Two of the Indigo Invitational, and it's never been so easy to slide on the same pair day after day. I chose the heaviest denim in his collection–a 22 oz. selvedge from Nihon Mempu with an almost impossibly smooth hand-feel. If the fit had been anything less than perfect, the stiffness of the denim would have made the first few months intensely difficult.
The tightly woven denim opened up slowly, but as it began to fade it picked up speed. By the end of 365 days, I had produced my best-ever fades. The sharp contrasts would not have been possible without the combination of heavy denim and the slim fit that made the jeans like a second skin.
The pair was brimming with the kind of details you expect to find in top-shelf pairs like peekaboo selvedge ID, and one-piece fly construction, but there are some that might surprise you.
The chambray-lined waistband and yoke add a luxurious touch that only a handful of makers can offer. As the jeans aged and began to break down, the yoke lining broke through the surface and became visible at stress points. Keep this in mind when selecting a lining colour.
I added my own flourish. When I sent my jeans back for repairs after a few hundred wears (crotch blowouts are no less inevitable with slim-fitting custom pairs than they are with off-the-rack ones), I had Johann add a pick-pocket to the left pocket of the jeans. Made from the same leather he uses for his patches, it has patinated beautifully.
It's little touches like this (only possible with a custom maker) that helped me form an unbreakable bond with the jeans. They remain my go-to pair whenever I'm performing on stage or want/need a break from my competition pair, and they're far from finished.
What You're Paying For
Ruttloff's pieces are competitively priced when compared to other custom denim ateliers in Europe and North America. If this is your first time exploring the world of premium or custom denim, there might be some sticker shock.
If you wear denim for its durability, you'll find plenty of inexpensive workwear brands that will go the distance for you for much cheaper. Yes, Ruttloff's pairs are engineered to be tougher than most. He adds linings in those areas where denim lovers are used to their pairs going to pieces. He's one of the only denim tailors to line his hems, and his pocket bags are double-layered and reinforced, making them more likely to go much, much longer without needing replacement or repair.
The denims he uses, though, aren't indestructible. They've been selected for their ability to fade and fit beautifully, not to withstand worksite abuse. You won't find rationale for his prices in his pairs' durability.
Where you will find his value is in how the jeans have been put together. Ruttloff refers to the inside of his jeans as his playground, and, though you might find inexpensive pairs that look great on the outside, you won't find anything that looks like this.
You'll also be hard-pressed to find a pair that look as good on your body as a custom pair from Johann's shop. Ruttloff understands that the most stylish denim-based looks start with a foundation of fit. No matter how spectacular the pair, if the fit isn't perfect, the look suffers.
Some lucky denimheads find that elusive flawless fit in an off-the-rack pair, but for others, the hunt never seems to end. If you're one of the latter, the cost of a Ruttloff pair will be a small price to pay to bring that hunt to an end.
Be prepared to wait a while. As a one-man operation, Ruttloff can only create a limited number of pieces each month, and he's got no shortage of eager customers. He guides each piece through both its design and manufacturing stages himself. He doesn't outsource anything other than the raw materials (if he had space for a loom in his shop, he'd probably be weaving his own denims as well).
Finally, his jeans are a living object. They're not meant to be used up in a few seasons and then discarded. This is one of the reasons why Ruttloff chooses to use overlock seams rather than flat-felled ones. He says that this makes it easier to open up the jeans and repair or alter them as required.
His favourite pairs are those that have passed back and forth multiple times between his hands and his customers'. The repairs and alterations are important milestones in a journey with Denim Heaven as its destination. It's only by participating in this years-long process that the true value of Johann's craftsmanship becomes obvious.
From the Ground Up
Of course, Johann's work extends above the waistband. His shirts and jackets are every bit as impressive as his jeans–and for the same reasons. If, like me, you've struggled to find that perfect above-the-waist fit, Ruttloff's custom shirts and jackets will be a revelation.
I've got exceptionally long arms, which makes the hunt for that perfectly fitting jacket or shirt never-ending. When I size up for sleeve length, I end up swimming in the body. When the chest fits perfectly, I have to roll the sleeves up to hide the fact that they're a full inch too short.
It's exceedingly rare that I'm able to find a brand that gets the ratio between chest and arms right, and this puts 95% of pieces that I would otherwise wear out of reach for me. I've had more than my share of pieces tailored to make them fit. Others have to be washed extremely carefully to keep them from shrinking.
I'm the proud owner of a custom wool-lined Ruttloff jacket. We designed the piece together a few years ago, working through every detail for months before he started working on it. The resulting jacket fits better than anything else in my collection, and, best of all, it looks like no other jacket I've ever seen. I could recognize it as my own from 1,000 paces.
It won't be the last denim jacket I'll ever own, but it will always have a special place in my collection. Don't be surprised if, having experienced Ruttloff's jeans, you, like me, find yourself back at his door asking him to help you complete the outfit.
Love denim and fades? Join the competition!
The Indigo Invitational started as a small group of enthusiasts who wanted an excuse to buy a new pair of denim and to see how far they could push themselves and each other.
There are thousands of dollars worth of prizes, but this is just the gravy. The meat underneath is a tight-knit community of enthusiasts held together by a mutual love of fades.
If this sounds like something you want to participate in, join the Facebook group, follow the competition's updates on Instagram and visit indigoinvitational.com.
Visit indigoinvitational.com to learn more and stay up to date! If you need a new pair of jeans, check out our buying guides.