Contributing Indigo Invitational sponsors get in-depth coverage here on Denimhunters. To enquire about sponsorship opportunities, contact us here.
Does Piger Works' New 20MF "Master of Fades" Jeans Live Up to Their Name? We Review Them!
The Indigo Invitational has shone a light on the Southeast Asian fade scene. Thai faders have an almost preternatural ability to produce some of the sharpest high-contrast fades ever witnessed anywhere.
The heat and humidity are definitely a factor, but the equatorial sun isn't the only factor. It's impossible to discount the willingness of the Thai faders to bear the heat and to do the hard work in heavy denim. But even this isn't all.
There are a small handful of SE Asian brands that have been engineering jeans to produce the kinds of sharp contrasts that Thai faders want. Chief among them: Nonthaburi's Piger Works.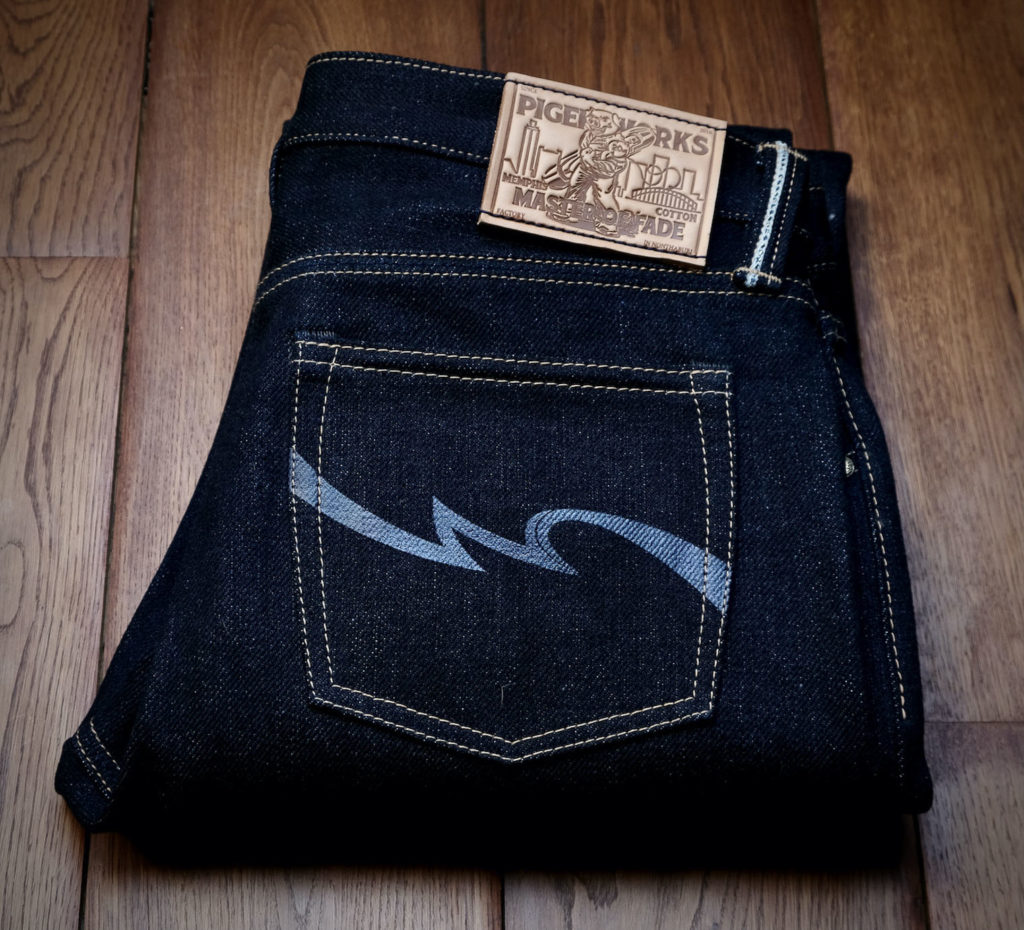 Helmed by Opaspong Tongnuch and Kongchuch Wongrukmit, Piger Works started around 2009, when two Thai engineers met on a website for watch lovers. They started talking about selvedge denim, and more particularly about the available options in Thailand.
With their extensive engineering knowledge, they were convinced that they could put Thai denim on the map and produce something that rivalled or even surpassed the popular Japanese, American, and European brands. Since Kongchuch was born in the Year of the Pig and Opaspong in the Year of the Tiger, they called their brand Piger Works.
Though they are best known for their heavyweight denims, they started off with a relatively lightweight 13.5 oz. Japanese-milled denim. They used this denim to make what they felt would be Thailand's most durable pair of jeans.
The first trial run was 75 pairs in a 1950s cut (still their most popular fit). On April 4th, 2010, they started taking orders. They sold out within an hour.
They've been a pillar of the Thai fade scene ever since. They upped the ante in 2017 when they introduced their brown-weft heavyweights, the 22MD.
Featuring a top-shelf denim milled by Collect and dyed by Kaihara, they're one of the best made-to-fade pairs to ever come out of Thailand.
The 22MDs have been replaced by a new range of heavy and made-to-fade pairs, with the 20 oz. Master of Fades (20MF) leading the way. Piger debuted the pair in 2022, and the Thai scene seems to have caught on. They're running neck and neck with the 22MD, with five pairs of each registered in Year Three of the competition.
The faded pairs, which we'll look at below, indicate that the Master of Fades more than lives up to its name. Let's dive in for a closer look.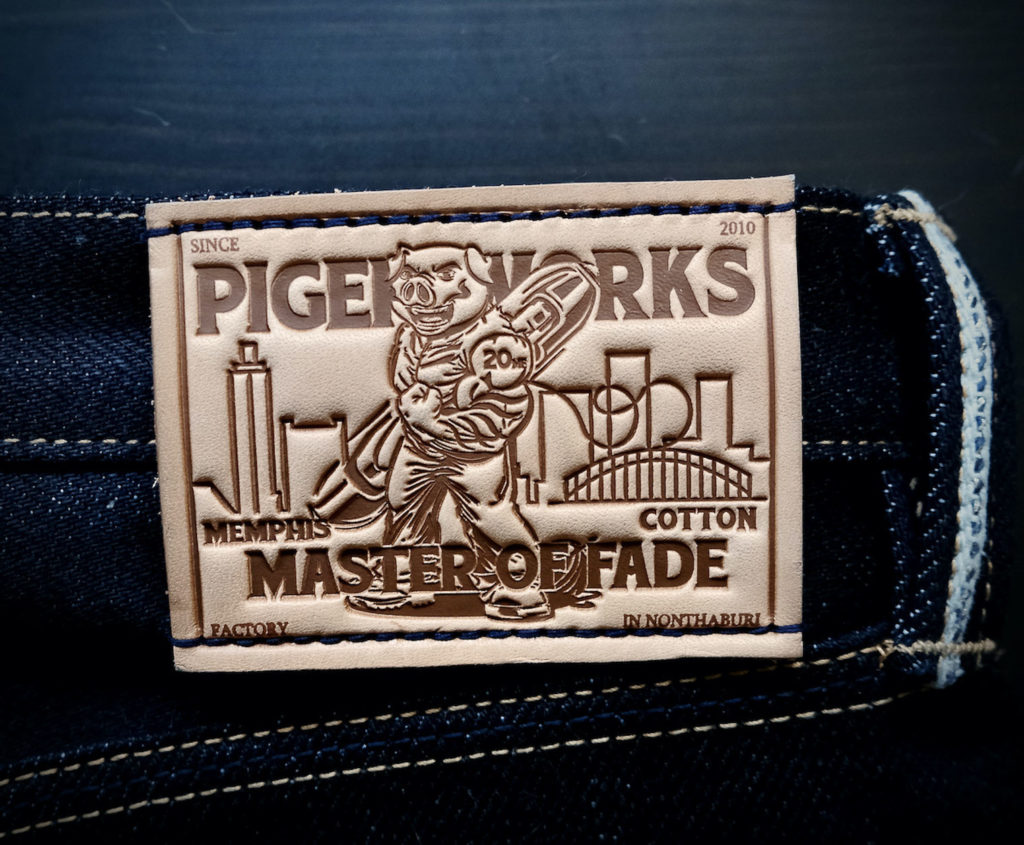 Smooth Face and Straight Fit
Piger Works released a 10-year anniversary pair just a few years back (still a hot collector's item in the Thai scene). The Master of Fades denim is a variation on that successful theme. It's a 20 oz. sanforized denim made of Memphis cotton.
Like Piger's other heavy denims, it's absolutely saturated with synthetic indigo, creating an intensely dark blue. There's not much interplay between the undyed weft yarns and the dyed warp yarns. It's a rigid and smooth surface of unbroken blue.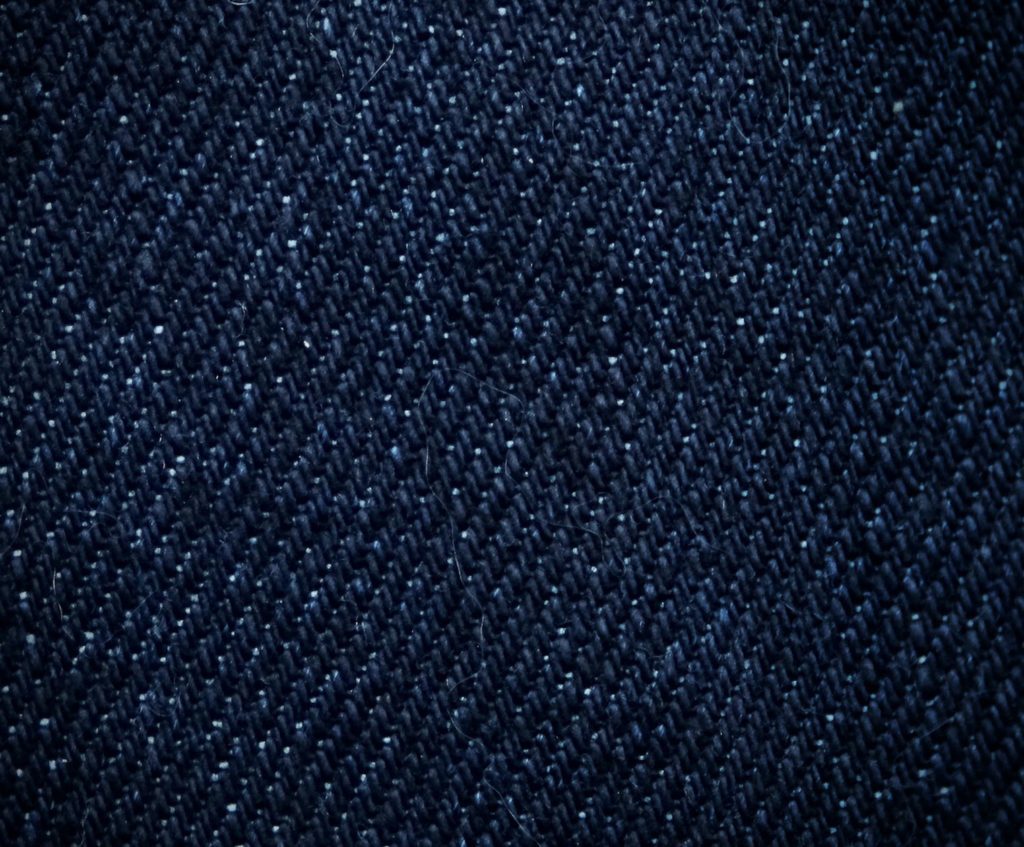 They've used a lot of dips to get a blue this deep, and that means that the indigo dye will get everywhere. These jeans crock like nothing else I've ever worn.
After wearing them for a full day, the palms of my palms were dark blue. I wiped down my (black) office chair, and the rag came away looking like it'd been dipped in an indigo vat.
This might have you salivating if you're looking for a fast-fading pair, but you'll want to be careful where you sit for at least a month or two. Steer clear, not just of white furniture, but anything that isn't dark blue or black.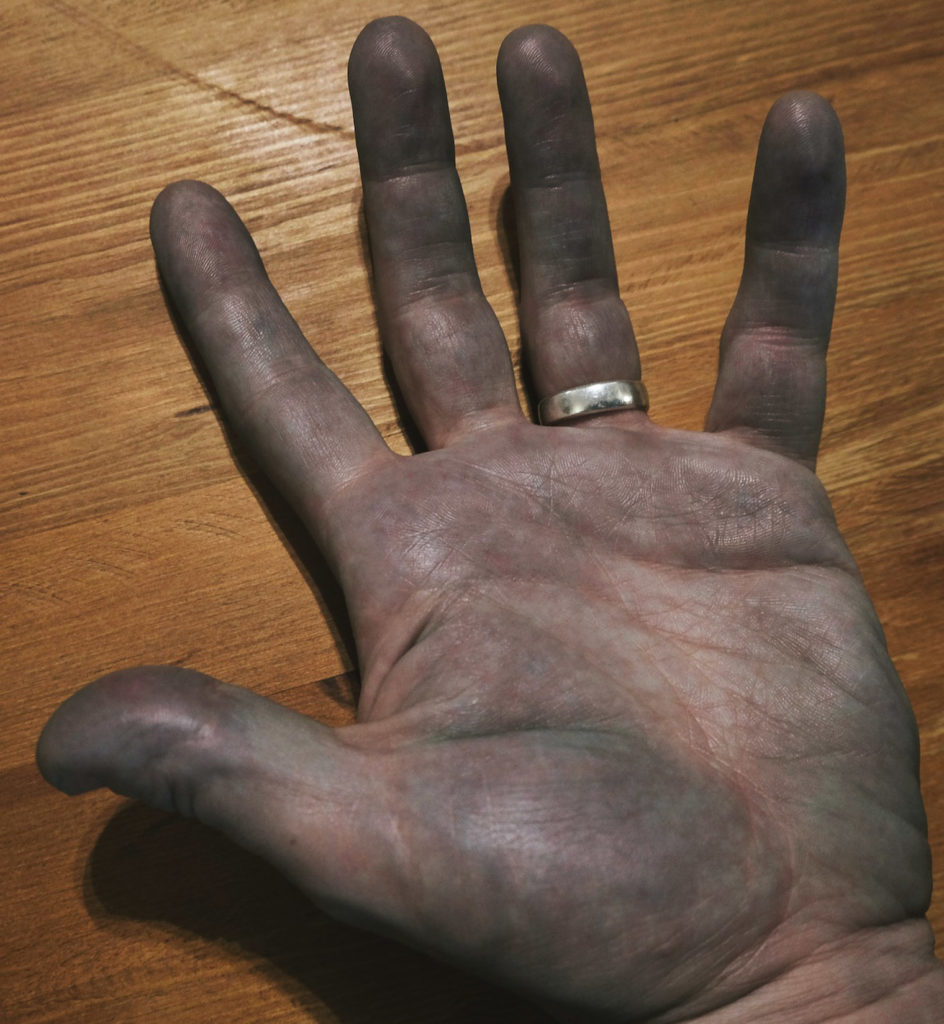 They call their '50s fit the No. 5. It's a medium-rise straight fit with a five-button fly. The top block is very close to Iron Heart's classic 634 fit. From there down, they're almost identical to the Samurai 710 fit. If you're a fan of these fits, the No. 5 fit from Piger Works will tick all your boxes.
It's slim through the top block, with the rise on the low side of medium, and the legs are ample, with plenty of room for heavy slip-on boots. They have eight other fits to pick from, but I was blown away by this cut when I tried the 22MD, so I just stuck with what I knew would work.
I wore the jeans for a few weeks to let them settle on my waist and took the measurements below. You can probably pick your typical size, but when trying a new maker, it's always wise to double-check the measurement charts.
Piger Works uses a "true waist" measurement that might create some confusion at first. They measure the inside of the waistband all the way around with the top button done up. It adds a few inches to the waist measurement, so be aware of this when checking their measurement charts. I've included both measurements in the chart below.
| | |
| --- | --- |
| Piger Works 20MF | Size 34 |
| Waist (side to side x 2) | 90cm / 35 inches |
| True Waist (around waistband) | 96cm / 38 inches |
| Front Rise | 27cm / 11 inches |
| Back Rise | 41cm / 16 inches |
| Thigh | 30cm / 12 inches |
| Knee | 23cm / 9.25 inches |
| Opening | 20.5cm / 8 inches |
| Inseam | 94.5cm / 37 inches **Not Standard |
I soaked them for 40 minutes in the hottest water I could get out of the tap, and the measurements hardly budged. The waist and thighs came in about half an inch, but the differences were marginal across the board. This denim has been thoroughly sanforized. Expect it to stretch more than it will shrink. If between sizes, pick the lower one.
Over-Engineered but Harmonious
It's when you put this pair under the microscope that you can really begin to appreciate the lengths to which Piger have gone to put both themselves and Thai denim on the map. Everything is over-engineered and just a little bit (or a lot) more than necessary. In the world of heavy selvedge, this is not just appropriate–it's welcome.
The yoke stitching is a prime example. The triple row of stitching, with the inner row using indigo thread and the two outer rows using yellow thread, looks like it would be perfectly at home gracing a pair of boots. Though it's common in shirts, it's almost unheard of to use this kind of triple-stitch construction in jeans–not even the super heavyweights from Naked and Famous, SOSO, and OldBlue take things this far.
The fly-buttons are hand-turned brass that have been produced exclusively for Piger. The top button is 925 silver (yes, silver). Behind the buttons, you'll find copper backs from Scovill. You'll find the same approach with the rivets, with branded bronze fronts (which promise to patinate beautifully) and Scovill copper backs. There are no rivets on the back pockets. They've opted instead for heavy-duty bar tacks executed with core-spun thread.
The back pockets are lined with the same heavy cotton material they've used for the pocket bags, and you'll find the gold selvedge ID on the inside of the fifth pocket.
You'll also find it on the belt loop beside the 5mm-thick leather patch. The belt loops are very raised, with a pronounced ridge that will fade more quickly than the rest of the belt loop.
The waistband and cuffs have been chain stitched, and, for the cuffs, they've used a gorgeous baby blue thread that shows on the inside. This is so sharp (and such a key point of difference between these and other pairs) that it demands seeing the light.
Order your pair with a few extra inches to spare and give them a Tokyo turn-up like you see here, or order them with just an extra inch or so and give them a single roll.
Finally, there are the arcuates. I prefer my arcuates on the subtle side, and Piger isn't in the business of subtlety.
They've screen printed these arcuates on, and based on what we've seen from some of the 20MFs in the Indigo Invitational this year, they've used some extremely sturdy paint.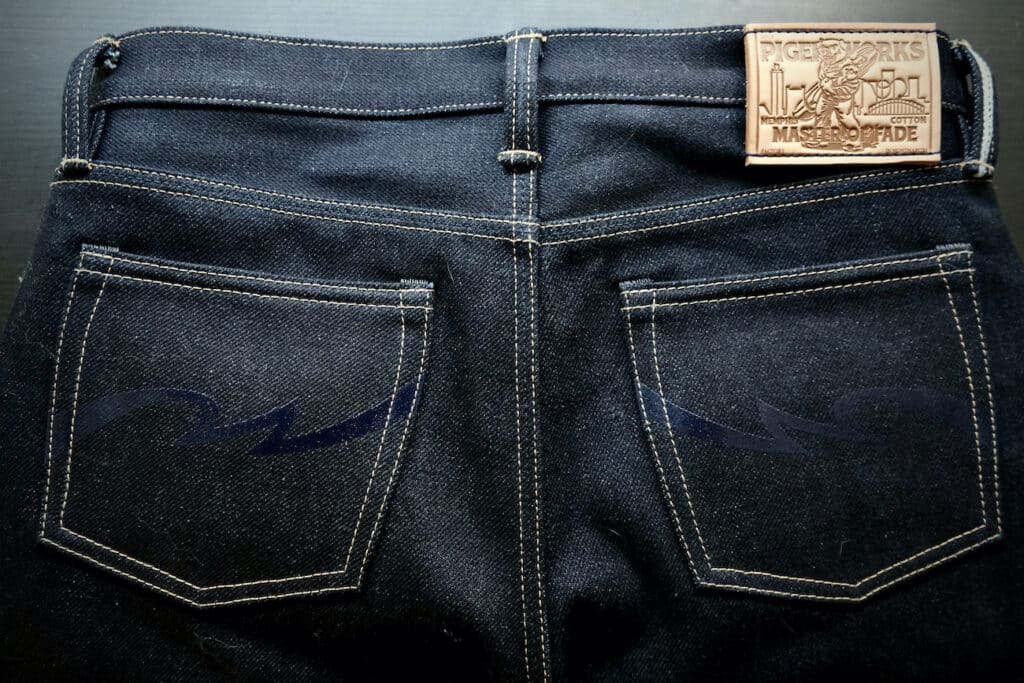 The arcuates have been engineered to last, so they won't chip or fade away like Momotaro Battle Stripes. Depending on the light, they either disappear almost entirely or look like reflective strips.
If it's a deal breaker for you, check out Piger's 18 oz. Gravel (with hidden arcuates) or their 20 oz. 2029 (with blue stitched arcuates).
Championship-Level Fade Potential
The name of this pair, Master of Fades, isn't just about capturing the attention of the fade-loving community. It's a statement of fact. This pair is primed for serious faders, particularly those who give their pairs absolute hell. They're sturdier by far than your average pair, and they'll give up the blue faster than most–though not without effort.
I haven't given my review pair nearly enough of a thrashing to demonstrate the 20MF's fade potential, but one of our competitors from Thailand has.
At the two-month mark of the Indigo Invitational, we could already see that Wutthisak's 20MF were going to be a pair to watch. The all-over fades were demonstrating the depth of the blue that the synthetic indigo can produce, and his combs and stacks were set nicely.
Just two months later and the fades were rolling rapidly downhill. The dark blues are retreating from the calves and the seat, but holding firm around the hips. The combs are really showcasing the high-contrast potential locked away in this pair. They haven't developed the sharpest whiskers around, but there's still a long way to go until the finish line.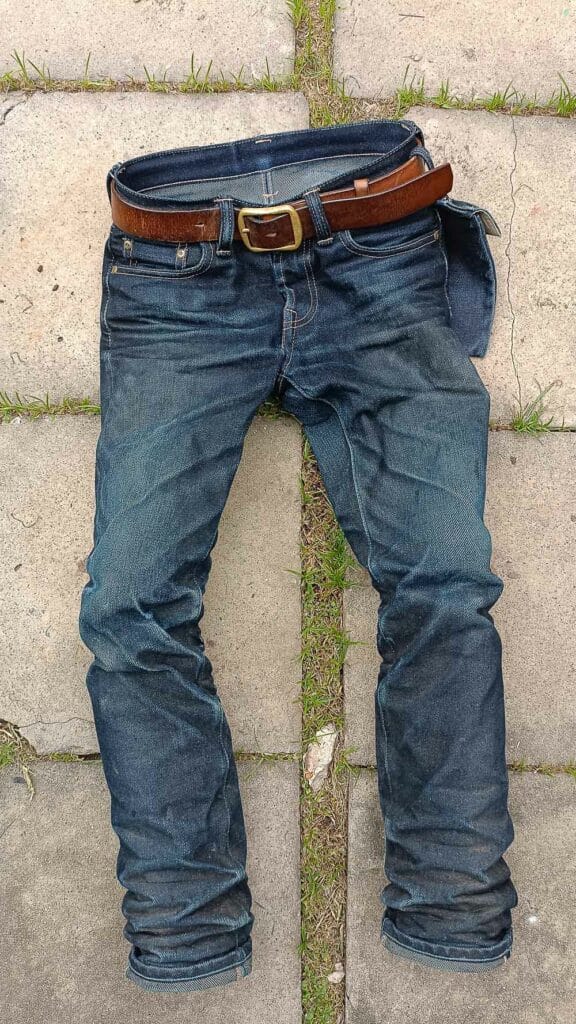 After 10 months, Wutthisak's Pigers were effectively a fade masterpiece, with an impeccable balance between dark and light tones and some mind-bending whiskers, combs, and stacks.
We're expecting a very strong finish from this pair. Wutthisak must be thrilled with how the 20MFs have performed for him, and Opaspong and Kongchuch must be equally thrilled with the justice that Wutthisak has done to his pair.
The Verdict
When I reviewed the Piger Works 22MD (over on Tour de Nîmes), I said that Piger was poised for a break-out in the West. This has started to happen. Pigers are once again a popular choice in the Indigo Invitational, but this time it's not just the Thai faders that are wearing them. One-third of the Piger registrations came from the United States, so the Thai brand seems to be making substantial inroads into the Western market.
Having reviewed two pairs from them, I can't say I'm surprised. Piger Works produce some of the best bang-for-buck fade foundation around, and with Thai fades starting to get attention around the world, denim enthusiasts are dipping a toe into the Southeast Asian pool, and the water's warm.
Those who have expanded their denim horizons by looking to the SE have started to see that the secret to Thailand's incredible fade results isn't a simple combination of passionate enthusiasts and the equatorial heat and humidity. It's also what they're wearing.
Love denim and fades? Join the competition!
The Indigo Invitational started as a small group of enthusiasts who wanted an excuse to buy a new pair of denim and to see how far they could push themselves and each other.
There are thousands of dollars worth of prizes, but this is just the gravy. The meat underneath is a tight-knit community of enthusiasts held together by a mutual love of fades.
If this sounds like something you want to participate in, join the Facebook group, follow the competition's updates on Instagram and visit indigoinvitational.com.
Visit indigoinvitational.com to learn more and stay up to date! If you need a new pair of jeans, check out our buying guides.