Oni have managed to outdo themselves. Stamp this one TOP SECRET.
Most of us have that pair that's been on our bucket list for a while but just hasn't found its way onto our legs yet. At the top of my list is Oni's Secret Denim.
Every time I come across a pair, the timing isn't quite right. Before I leave the shop, I caress the denim's rough face with loving hands. "Next time," I always say.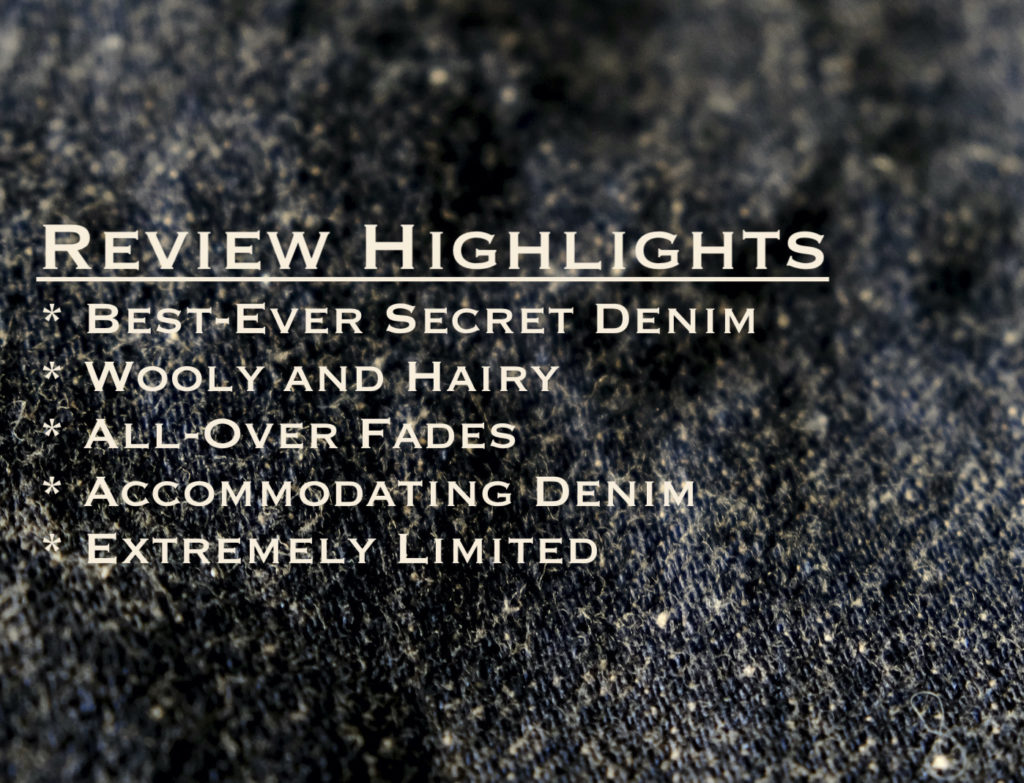 I know exactly what I'm missing. The denim is a near-miraculous mixture of earthy beiges, sea-foam greens, and deep blues, and it fades to stunning washed-out tones.
Patrick Gessner (aka Ticho Blanco, co-host of the Stitchdown podcast) faded a pair of Secret Denim in last year's Invitational. They were perfect in every way, and they deserved much more attention from the voters than they received.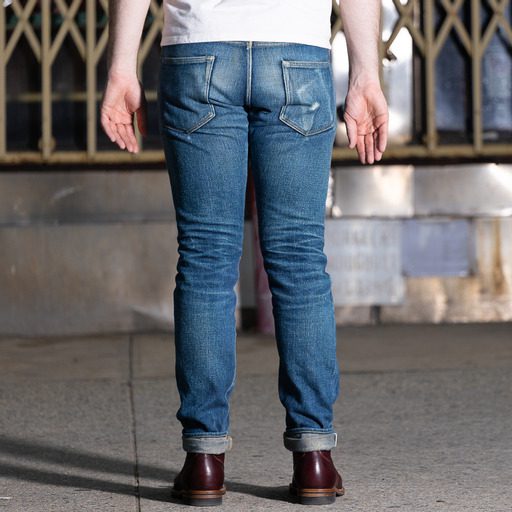 While Secret Denim is on the heavy end, tipping the scales at 20 oz., it's not renowned for its ability to develop sharp whiskers or eye-catching combs. Their 17 oz. XX denim (also available at Redcast Heritage) will produce stunning contrast fades, but, as good as their conventional denims are, Secret Denim is the brand's flagship for very good reason.
Now, I try not to own more pairs that I can reasonably fade at one time. But when Isabel and Eduardo of Redcast Heritage offered me a chance to review Oni's 20th Anniversary Moca Secret Denim, I simply couldn't resist. And that was before I'd seen it. When it landed in my mailbox, I was glad I'd waited. This juicy secret has been 20 years in the making.
The Secret's in the Slubs: 20 Years of Secret Denim
Masao Oishi, the media-shy man behind the brand, has been working in the industry in one form or another for more than 60 years. He normally doesn't answer questions from the press.
I took a shot in the dark and sent some questions to Eduardo and Isabel of Redcast Heritage. Thanks to their close relationship, he was willing to provide some detail about the birth of Secret Denim.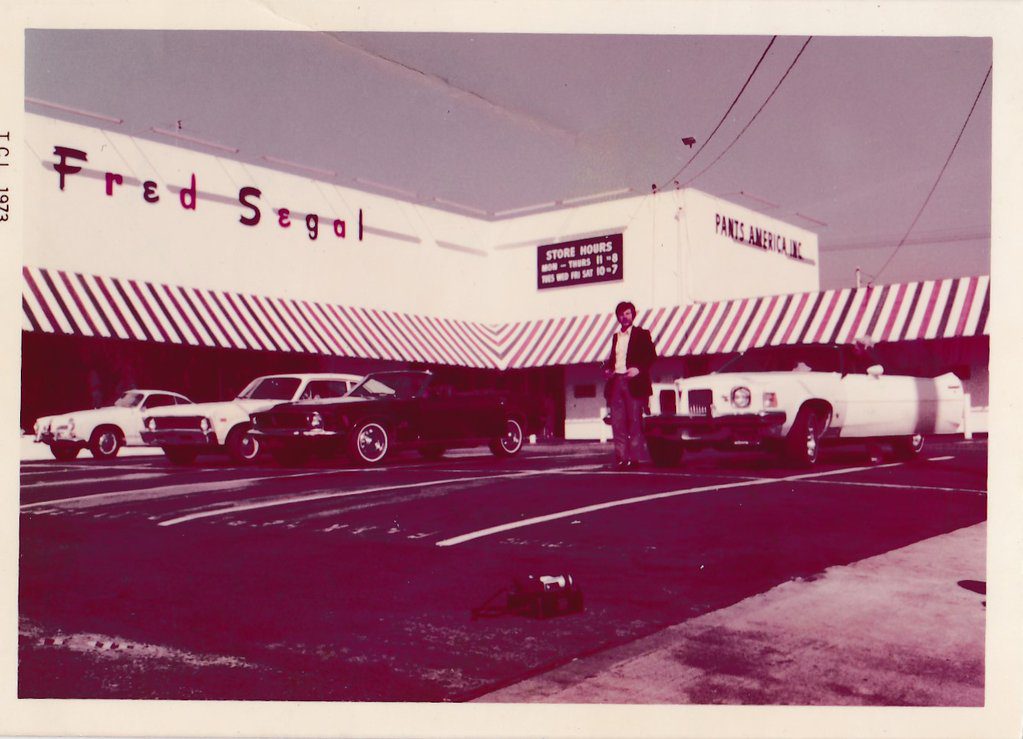 Secret Denim started as Oishi-san's attempt to recreate the warp yarns of the first Cone Mills denim that was imported into Japan. The first Japanese selvedge used Canton Mills denim and were sold, starting in 1965, under the Canton brand.
The success of this brand helped convince Cone Mills to send rolls of denim to Japan, which were then used to create the first pairs of Big Johns in 1967. Tetsuo Oishi, Oishi-san's father, was the man behind these East/West denim partnerships.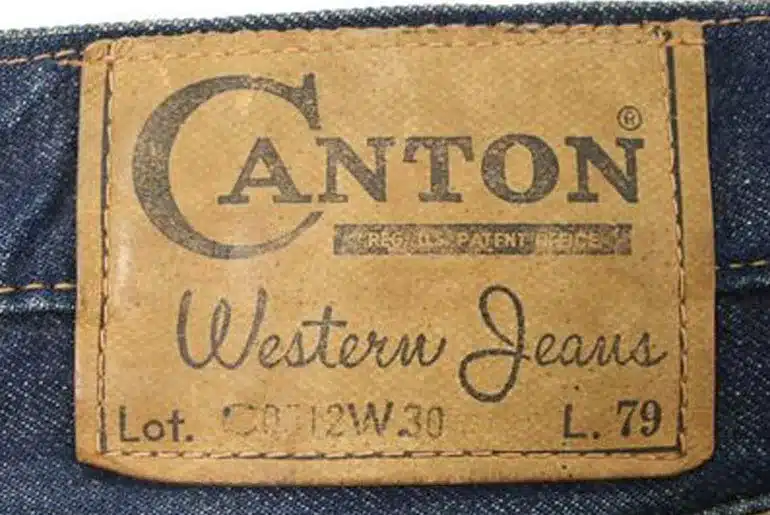 In his attempt to recreate this iconic denim, Oishi-san dyed the weft yarns a light beige and then beat them, hoping to produce something similar to the natural yarns Cone Mills used in the late '60s.
Though tinted weft yarns weren't yet popular, denim aficionados gobbled up the pairs. Oishi-san was clearly on the right track, but he wanted to take things further. He added more texture and colour into the mix by introducing thick slub yarns for both the warp and the weft and dyeing the weft yarns a darker beige.
This was really when Secret Denim started to become a secret. While clever weavers might be able to replicate the loom set-up, the slub yarns were entirely unique to Oni. The machine used to spin the yarns was virtually extinct.
It helped Oishi-san introduce a forgotten-technology-driven secret ingredient into the formula. It is virtually impossible for other brands to recreate what Oishi-san is doing.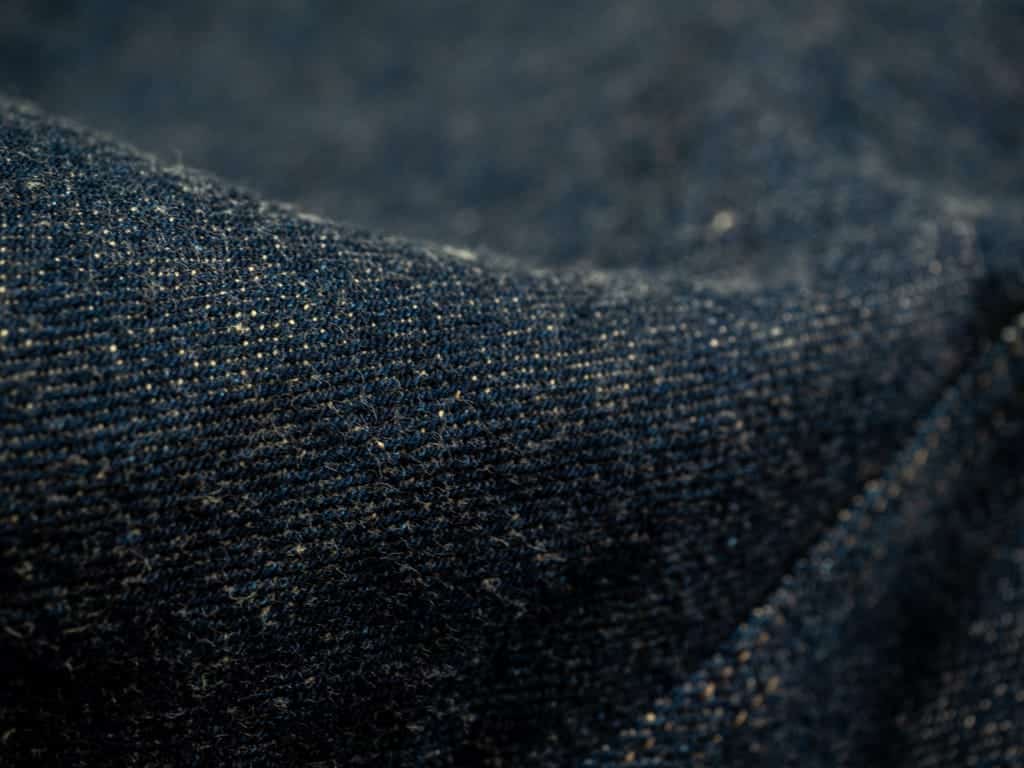 The Secret Denim that emerged from the Oni workshop caught fire first in the Japanese scene and then globally, selling out very quickly. Because the company had no website or contact info for Oishi-san, the legend around the denim and the mysterious artisan behind it began to grow. Oishi-san chose his stockists extremely carefully, building relationships slowly (a practice he still follows).
The final ingredient is the weaver responsible for creating the denim. Oishi-san has known him for more than 40 years, and there is no more knowledgeable one-two punch in the denim world.
They are both getting on in years, and when they hang it up for good, they'll leave behind shoes too large to fill. Now 73 years old, Oishi-san says that there is nobody in place to take over the business when he retires.
The pair I've reviewed below celebrates 20 years of Oni denim. To mark the milestone, they've released two very special (and very limited) versions of their Secret Denim, one with a striking moca weft, the other with a subtler olive-ish grey weft.
For both anniversary denims, Oishi-san has added more of his secret ingredients. The weft is more vibrant, the green-cast indigo is slightly darker, and the slub yarns are thicker.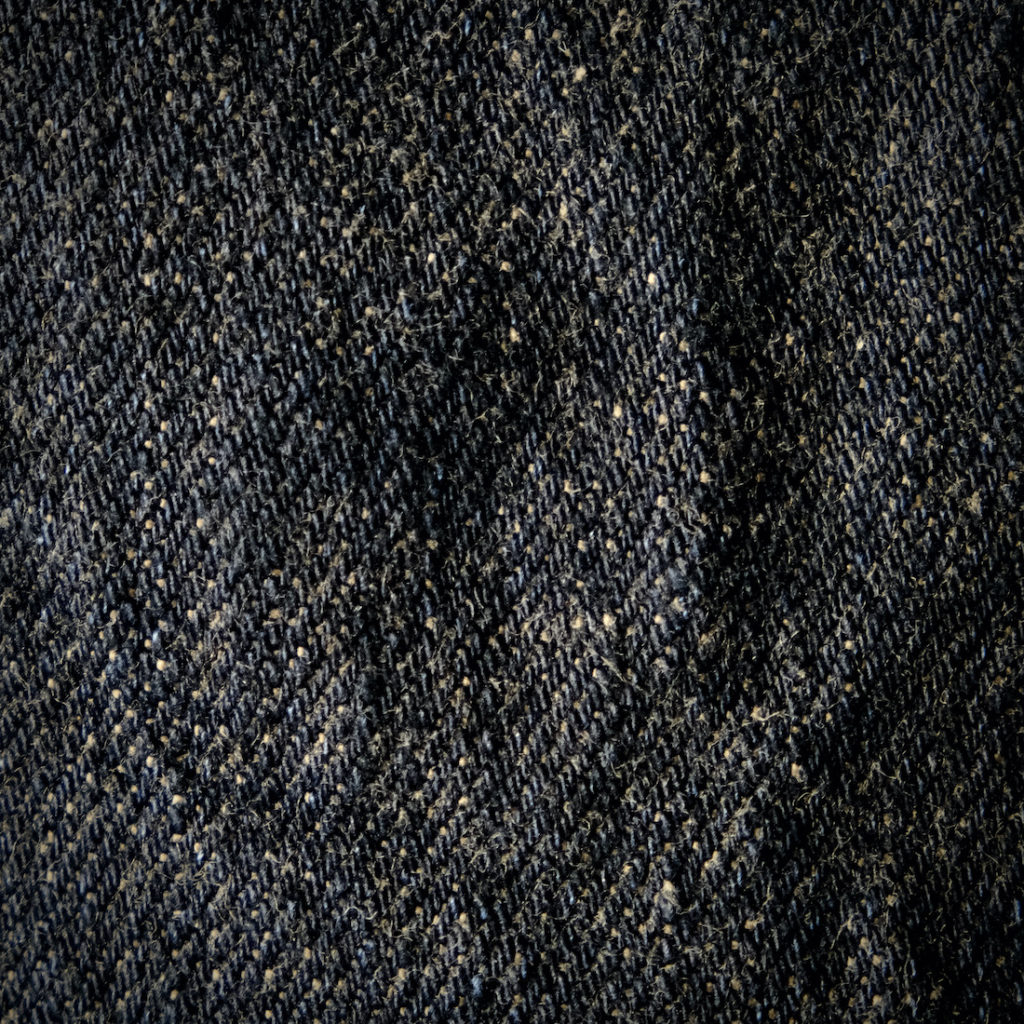 For my money, this Moca Secret Denim is the most stunning fabric that Oni has ever produced. It's true that brown-weft denim is like catnip to me, but it's not just the tinted weft that's impressed me here.
It's the depth of the blue, the texture of the fabric, and the interplay of blue and brown on the face of the denim. There's nothing like it, and, even if I wasn't reviewing it, this pair would be finding a permanent home in my collection.
A Tapered Triumph
Secret Denim wouldn't be half as popular as it is without Oni's fits, and, in my mind, the 622 rules them all. It's a modern tapered cut that, thanks to the accommodating loose weave of Secret Denim, looks incredible on a wide range of body shapes.
It's a relatively low rise in the top block, with a four-button fly. The top block leaves room to breathe. For slender frames, the denim will fall gently down the front of the hips as it relaxes.
For wider frames, it will fit more snugly through the hips. The denim has a ton of give, so, unless you want a really relaxed fit, it's best to start on the tight side. It will relax with wear and washing.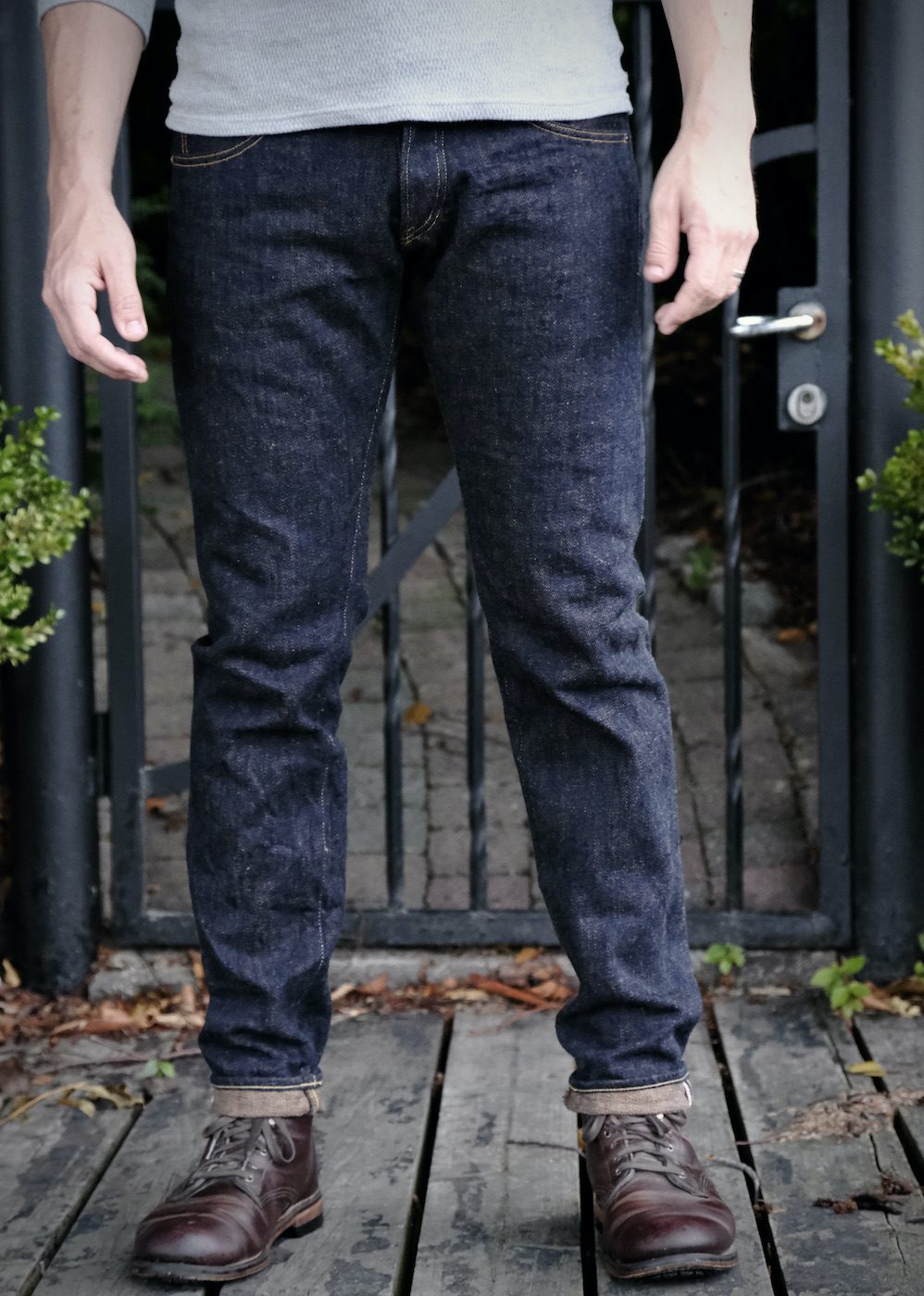 Moving down from there, the thighs touch the legs gently all the way down to the knee. I'm slim through the legs, but not skinny, and these jeans aren't tight anywhere, and my hand slides easily into the pocket. They just fit everywhere, leaving just a few cms of room from top to bottom and following the natural taper of my legs.
This continues below the knee, where the jeans follow the line of the calves perfectly. The narrow opening at the bottom means that you won't be able to kick these jeans off too easily. Of course, my experience is based on size 13 feet, which only slide easily in and out of straight fits. You might be able to kick these off without any kind of struggle.
I'd experienced this fit before with the sulphur-dyed Heavy Oxford that Oni released in collaboration with Redcast Heritage last year. Having tried the cut, I'm completely hooked. As good as their straighter fits look, the 622 ticks all my boxes. See the measurements below.
Measurements with Variations from Advertised Measurements
| | |
| --- | --- |
| Oni 622 20th Anniversary Moca | Size 34 |
| Waist | 86cm / 34 inches |
| Front Rise | 27cm / 10.5 inches |
| Back Rise | 36.5cm (-1) / 14.25 inches |
| Thigh | 32.5cm / 13 inches |
| Knee | 22cm / 8.5 inches |
| Opening | 18.5 / 7.25 inches |
| Inseam | 87 (+1) / 34.25 inches |
You can see from the wrinkled leather patch that these have been washed at the factory to remove the shrinkage. To confirm that there would be little to no shrinkage, I gave my pair a 30-minute soak in a warm bath. They lost a centimetre here and there, but nothing dramatic anywhere. Expect quite a bit more stretch than shrink out of this pair.
If the 622 cut isn't your cup of tea, Redcast Heritage also have the anniversary denim in Oni's slimmer tapered 544 cut and their modern straight 246 cut.
A Symphony of Colour and Comfort
Oni's Secret Denim can be spotted from a mile away. Rough and flecked with beige, it is a lighter and greener shade than most selvedge, and it oozes texture.
This limited version of Secret Denim twists the volume knob to the right, adding more depth of colour and hand-feel to the mix. This denim will draw texture-lovers like moths to a flame.
It demands to be touched. Rub your hands over its face and it feels remarkably rough. It's one of the loosest-woven selvedge denims out there, and this gives it an entirely unique hand-feel.
Remarkably, the roughness doesn't translate to chaffing of any kind. There's no uncomfortable break-in period. They are as comfortable out of the box as much lighter denims.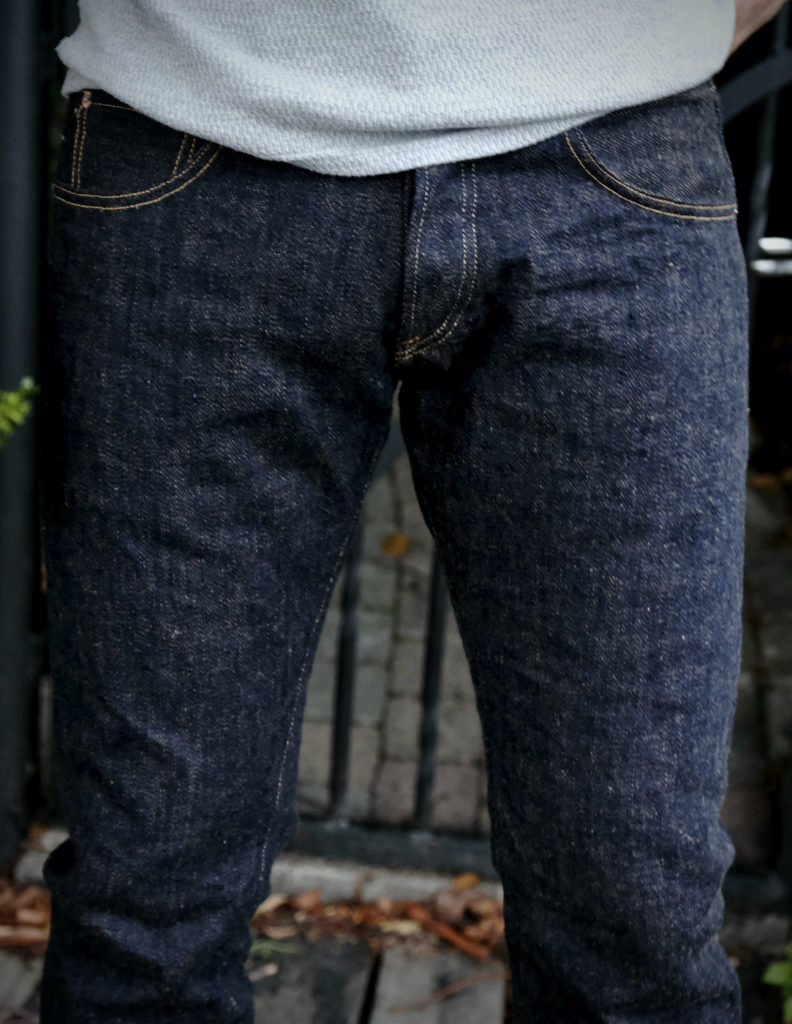 The looseness of the weave also pulls the brown weft fibres towards the surface, allowing for much more visual interplay between warp and weft than you normally see in denims at this weight.
As the denim fades, the two colours will blend into a harmonious whole. As you can see in Gessner's faded Secret Denim, there's virtually no vertical texture–just a lingering rough texture that draws the hand and the eye.
The wooly and hairy texture means that fibres are constantly rubbing against each other, sawing in and out of position as the denim stretches and relaxes. This means you can expect these to be fast faders through the top block and around the thighs.
Since contrasts will be difficult to produce, best practice with these will be to wash them a little more regularly than you might otherwise. They'll reach that sweatpants stage after 6-8 months of steady wear.
The Devil's in the Details
Oni may be best known for its fabrics, but they are a first-rate sewing factory as well. While they could let their denims do their heavy lifting for them, they take pains to buttress every pair with first-class construction and vintage-minded details.
They've used three different thread colours. There is chain stitching along the waistband in thick, copper-coloured thread. You'll also find this thread in the reinforcing between the bottom of the fly and the tip of the crotch.
Along the bottom of the yoke, the back-rise seam, at the belt loop attachments, and lining each of the pockets, they've used a beige thread. Everywhere else (including the chain stitch at the hems and the arcuates), they've used a muted yellow thread.
They've used Universal copper rivets branded with Oni on the front side and Universal on the back side. When you turn the pair inside out, you'll find hidden rivets at the corners of the back pockets.
The Oni-branded donut buttons (a nice vintage touch) have smooth, plain backs. They're probably copper as well, and they've been coated with something to give them a matte iron finish.
The belt loops have been raised, but not tucked. You can expect them to fade a little more quickly than the rest of the jeans, and the beautiful vegetable-tanned deerskin leather patch will patinate as your pair ages.
The thin leather will probably be vulnerable to extreme heat, so to get the most out of it, keep the temperature low when washing.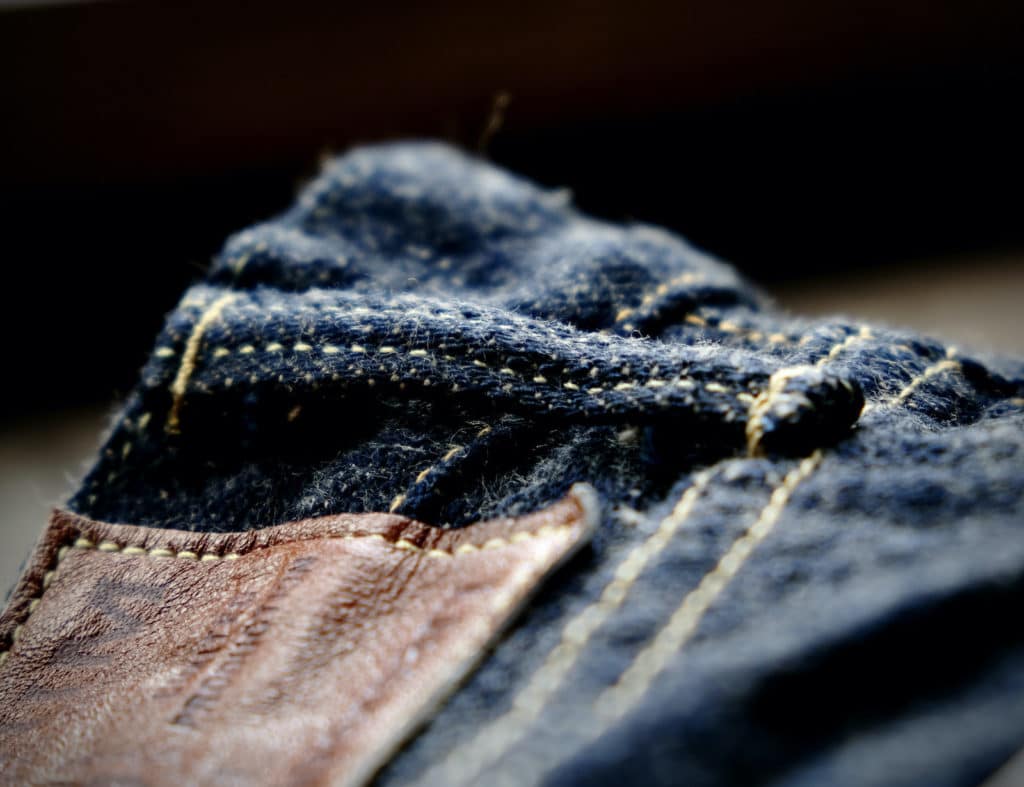 The outside seam showcases the red and white selvedge ID, and you'll also find it in the coin pocket. The inside seam is overlocked. With the jeans fitting most wearers quite snugly through the thighs, the overlock is a predictable choice. It rubs less against the inner thigh, and it adds a touch more flexibility to the seam.
The beige herringbone pocket backs don't have a lot of heft to them, but they should be sturdy enough to go the distance.
There's a clear workwear heritage at play here, but they haven't gone out of their way to brace this pair for use on job sites. They're primed for the street and for light labour. Treat them accordingly.
Finally, each pair comes with either a brown or an olive 20th anniversary cotton bandana. Its crispness disappears almost immediately. Mine has been living in my back pocket since it arrived, and it will likely remain there until it gives up the ghost. I like it enough that I'm tempted to order one of the olive ones (they're available to purchase separately).
Verdict
I've got a few pairs in the hopper waiting to be worn at the end of the Invitational, but I don't have anything I'm quite as excited about as this pair of Anniversary Secret Denim.
I very much want to get them to that sweatpants stage that everybody raves about, so they'll almost certainly be at the top of my rotation when spring comes around.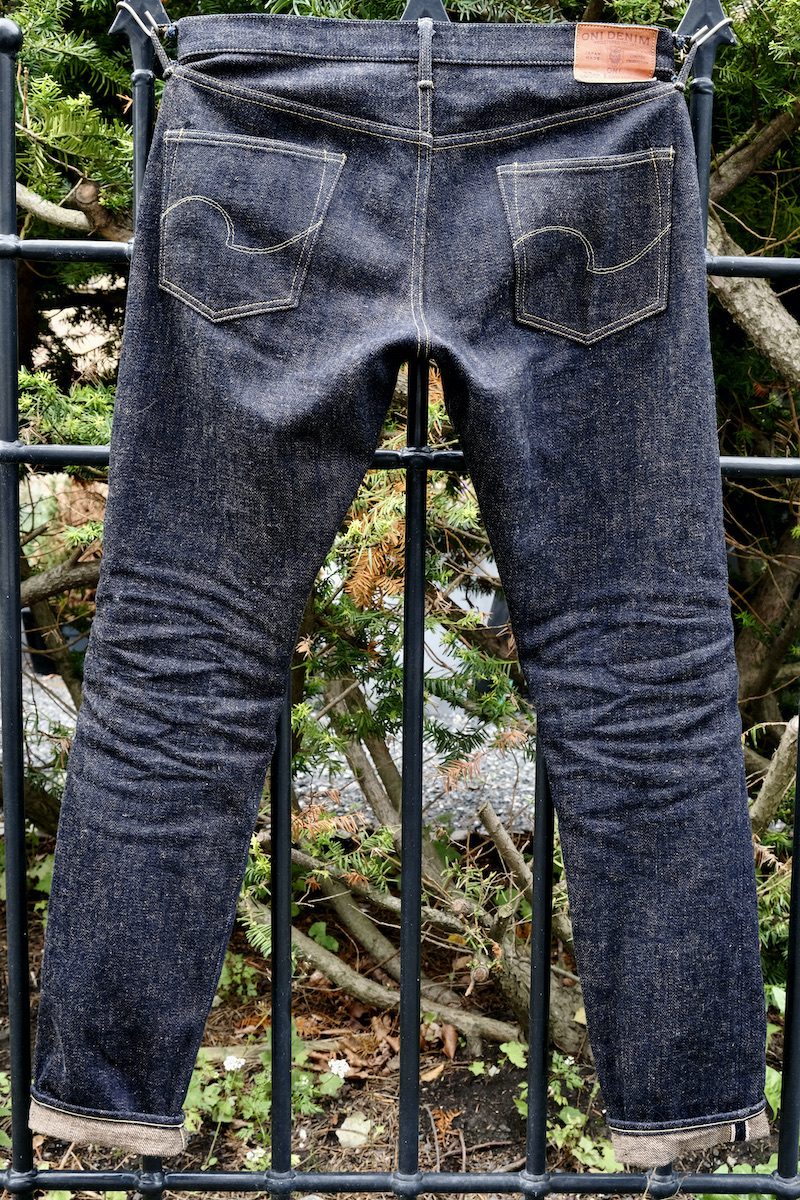 If you're already starting to think about your Year Four Indigo Invitational pair, and if you're keen to try something outside of the conventional high-contrast vein, you can't do much better than this. It's unlikely that there'll be any of these left by the time the leaves start falling, so grab this pair and put them on ice until the next competition.
If you're not competing, and if, like me, you've been waiting for that right moment to try Secret Denim, that moment is now. Between the olive and the moca weft, one of these is sure to hit you right between the eyes.
Even if you've already got a pair of the classic Secret Denim, these will be a welcome addition to your collection.
If your wardrobe is chock full of jeans, you might want to consider one of the Type III jackets in this denim (Redcast are stocking both the olive and the moca). We're expecting to see at least a few of the Anniversary Type III jackets in the Redline Rally. Tinted weft denim jackets just don't come around very often, and this one's a show stopper.
This anniversary release is a fitting milestone marker for the super-secretive brand. They have an aura of mystery around them, and they've got people talking. Now you see them, but soon you won't. The secret's out.