Disclaimer: Redcast Heritage were confident enough in the 622HOX that they were willing to send us a pair to review. These are our honest impressions of that pair.
Redcast Heritage x Oni Denim 622HOX Review
I've always had a fondness for underdogs and upstarts—particularly those who are determined to go their own way. When they first popped up on my radar, Redcast Heritage were new to the scene, but they had the air of a hungry and determined challenger.
They stocked hard-to-find Japanese brands like Strike Gold, Trophy, and UES, and they were wading into the collaboration pool with an eye-popping pair from Spain's premier denim atelier, Companion Denim. They were testing the market with well-placed jabs, and they seemed to be constantly moving forward, never on the back foot. Right from the start, they knew what they were about. They swaggered like a heavyweight, confident that they had the goods to back up this posture.
It's now been three years since Redcast Heritage first stepped into the ring, and they've got an impressive winning streak behind them. They've become a go-to source for popular artisanal denim brands like Oni, Tanuki, Tender, and Studio D'Artisan. Since their second anniversary last year, they've expanded their roster considerably to include some of the biggest Japanese brands like Samurai and Pure Blue Japan. They're moving out of their corner and planting their feet in the centre of the ring.
To mark their third anniversary, they're coming out swinging with both hands with a limited collaboration with Oni Denim. Once again, they've stepped off the beaten path with this sulfur-dyed heavy oxford cloth. In my opinion, it's a one-swing knockout.
Oishi-San: Behind the Man of Mystery
The 622HOX have all the trademarks of pairs that come out of the Oni workshop. The fabric's texture pulls the eyes closer and closer, and the finishing details are subtly brilliant. On the surface, the 622HOX are slick and modern, but they've got rugged workwear baked into their DNA.
Redcast couldn't have picked a better collaborator or a name with more heritage clout than Masao Oishi. The Oishi name has deep roots in Japanese denim history. When Maruo Clothing, which would later become Big John, and Georgia's Canton Mills cooperated to produce the first pair of true-blue made-in-Japan denim in 1965, the deal was brokered by Oishi Trading. Sitting in the corner office at Oishi Trading was Masao Oishi's father.
As an importer, Masao's father had been satisfying Japan's insatiable appetite for America's unwanted or discarded denim since the '50s. His pivotal role in the deal between Canton Mills and Maruo Clothing cemented his place in Japanese denim lore. And that was still only the beginning.
As a young man, Masao Oishi developed a keen interest in the manufacturing side of denim. In the early '70s, he accepted a position with Levi's Japan. As one of their first employees, he helped the American brand plant its feet in Tokyo. At the same time, he was learning from Kenjiro Moriya, the owner of a Tokyo vintage clothing shop with a cult-like following and a long list of Japanese A-listers for clients.
He worked patiently behind the scenes and waited for his moment. That moment finally came in 2003, when he produced his first samples. The Oni brand name and the now-legendary Secret Denim would come a little later, but his first releases made it immediately clear that he was a wizard of the weaving and dying arts, and he's no slouch with a needle either.
Long before they founded Redcast Heritage, Eduardo and Isabel were Oni fans. It was one of the brands they knew they wanted to carry, and they finally got the opportunity to do so after meeting with Oishi-san in his village in Japan. Since that first meeting, the three of them have become fast friends. They email each other on an almost daily basis (with Google Translate as a go-between). Oishi-san was a semi-professional flamenco guitarist, so, though he doesn't speak much Spanish, he has a deep appreciation for Spanish culture.
With their third anniversary approaching, Eduardo and Isabel wanted to do something special to mark the occasion. They wanted to collaborate with Oni on a non-indigo pair—something that would cut across the grain and be immediately recognisable. They threw a few ideas back and forth, starting with a canvas chino, but this didn't really blow anybody's hair back. Oishi-san suggested a sulfur-dyed oxford cloth that he'd been developing. It was exactly what they were looking for, and, as it turned out, it's exactly what I needed.
Fit and Fabric
The Redcast x Oni 622HOX have been hot soaked and dried in the sun, so expect minimal shrinkage. These should stretch a little more than they shrink, so, if torn between two sizes, the smaller one is probably the best bet. I'm in between a 33 and a 34, and I went with a 33.
Measurements
| | |
| --- | --- |
| Size | 33 |
| Waist | 88cm (+1) / 34.6 inches |
| Front Rise | 28cm / 11 inches |
| Back Rise | 38cm (-1) / 15 inches |
| Upper Thigh | 31.5cm (-1) / 12.4 inches |
| Knee | 21.75cm / 8.5 inches |
| Opening | 17.5cm / 6.9 inches |
| Inseam | 87cm / 34.3 inches |
With variation from advertised measurements
The 622HOX won't shrink, but it will stretch. If you're between sizes, a tighter fit will probably be a good choice. That said, even though these are cut like jeans, the khaki oxford cloth gives this pair a strong chino vibe. If you're planning to wear them in either professional settings or use them as workwear (they suit both), you might want to lean towards the larger size to give you a bit more room in the thighs.
If you've ever worn a pair of Onis in their 622 cut (for my money the best fit they offer), these will be familiar territory. It's a modern relaxed taper, with a silhouette that strikes the delicate balance between rugged and refined. The thighs are slim but not tight, and there's a gentle taper that leaves plenty of room at the opening. They work exceptionally well with six-inch boots, sneakers, or dress shoes, but they'll pair uneasily with heavier work boots or engineers.
The medium rise is right down main street. There's enough rise that these will work very well with either tucked in or untucked looks. The top block moves with you. Even when crisp and new, it's easy to slide your hands in and out of the pockets.
The yellow-tinted beige of the oxford cloth puts these in the territory between workwear and modern urban menswear. In some lights, the yellow comes through, in other lights, they look brown or even green. Redcast worked with Oishi-san to find the exact colour they wanted to achieve, and they have to be pleased as punch with this result.
While most sulfur-dyed fabrics are dyed after weaving, Oishi-san has chosen a more old-fashioned approach, dying the yarns individually before weaving. It's a more costly and time-consuming process, but the result is a depth-charged colour that modern methods simply can't produce. With wear and washing, the heavy oxford will shed some of its yellow skin, fading to a creamy shade of vintage khaki brown.
It's extremely rare to find an oxford cloth with this much texture, and it's even rarer to find an oxford anywhere near this weight. Oxford, with its characteristic 2 x 2 basket weave, is a favourite fabric for both tops and bottoms, but nobody has pushed it this far.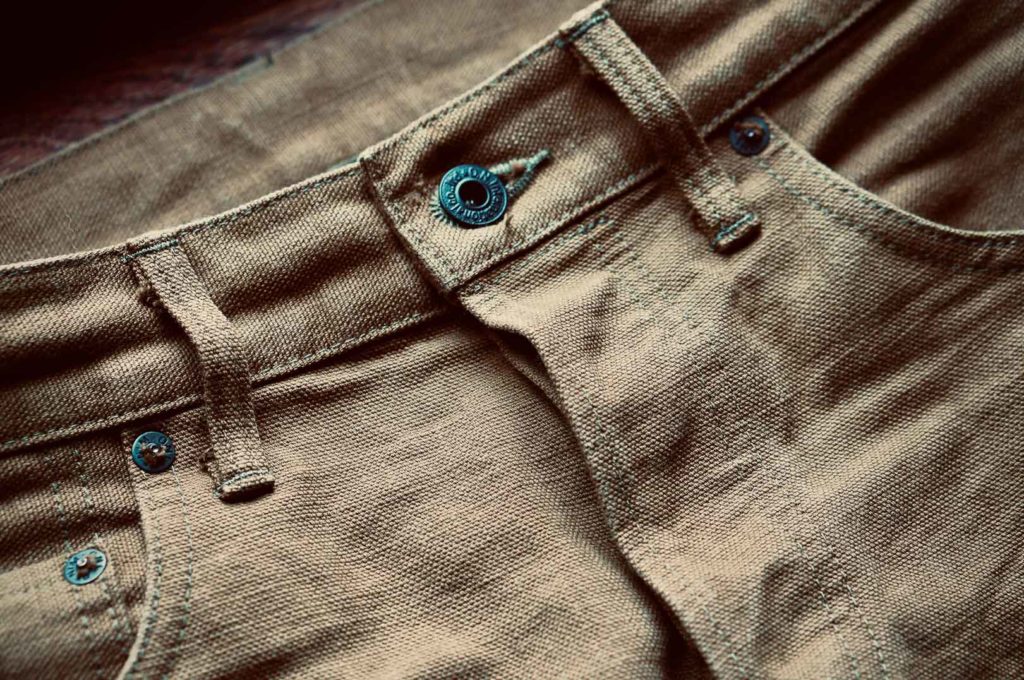 Weaving a 14oz oxford presents significant engineering challenges for the weaver. The selvedge looms Oni normally uses for their denims were not up to the task, so they had to move to a loom specially tuned for the thick twinned yarns. This means that there's no selvedge ID, but this doesn't suggest anything about the quality of the fabric or the painstaking lengths to which the weavers went to produce it.
Details
Though you might mistake the 622HOX for chinos from across the room or for denim at arm's length, the design details make the intention clear. The 622HOX are closer in spirit to five-pocket jeans than they are to chinos. Apart from the tapered cut and the telltale fifth pocket, they've got prominently raised belt loops (the ridge will be one of the first things to start fading).
The Oni-branded black-coated copper rivets and donut buttons lend a touch of seriousness and even severity to the top block. The buttons might not see the light of day if you wear a belt, but the rivets will draw the eye and make it clear that these aren't trousers to trifle with.
Some of the other workwear details will be your little secret. There are hidden rivets on the back pocket that will show themselves if you push the denim past its breaking point. And there is, of course, the chain stitching at the hems. While this pair looks fine with either a single or a double cuff, I prefer to wear them unrolled.
The naturally tanned deerskin patch is lightweight and pliable, making it a great match for the 14oz heavy oxford (a heavy cowhide patch would just not work with this pair). The Japanese Tempi Treatment, which combines a hot soak and a sun bath, shrinks and shrivels deerskin patches, which means that some of the details in the patch disappear. Eduardo and Isabel chose to affix the patch after the Tempi Treatment. The extra round trip meant higher production costs, but it also means that we get to fully enjoy and appreciate Daniel Sheridan's impressively detailed patch artistry.
The Redcast x Oni 622HOX come with a special gift. The Oni-branded navy sacoche has come out of one of the best nylon bag workshops in Japan. They've sworn me to secrecy, but I can tell you that, if a name leaps to mind, you're probably on the right track. It's a brilliant little piece that, thanks to the adjustable strap, you can wear either on the hip or up under the arm, and it's lightweight enough to sling it under an overshirt or jacket when travelling. I have been carrying my passport in my back pocket, but no more. This will be my new travel buddy.
Finally, whoever chose the bobbin thread that they used on this pair deserves a round of applause. Around the patch, they've used contrasting yellow thread, which will be a perfect match for the leather patch as it patinas. Everywhere else, though, they've used a steely olive cotton thread that complements the dark khaki perfectly. At reinforcement points on the pockets and the belt loops, it gives just a hint of eye-catching contrast.
The arcuates glint when they catch the light, but they all but disappear when viewed from any distance. The cotton thread will fray and break eventually, and it may lose some of its sharp colour as the pair fades.
The Verdict
I have a hunch that, if you're on the fence about this pair, it's for the same reason that you absolutely should grab a pair before they're gone. Most of us have dedicated our sartorial lives to the god of indigo, and praise be! I've found this pair a refreshing change from indigo-dyed denim. It pairs beautifully with denim tops and jackets, helping you steer clear of double denim outfits. Redcast Heritage is betting that this pair will slide easily into workwear rotations, and I'll take that bet every day of the week.
There's good reason to strike while the iron is hot. Oishi-san has indicated that his time in the denim industry may soon be drawing to a close. He's over 70 years old now, and there's no third-generation denim master waiting in the wings to take Oishi-san's place when he retires.
The problem isn't just at the management level. The weaver who is responsible for producing Oni's denims is now over 80 years old, and his health prevents him from working when the weather is cold. It might only be a few more years before the weaver calls it a night.
It's unsure what this will mean for the future of the brand, so denim collectors the world over are treating every Oni release as though it will be their last. We advise you to do the same.