Could you fade a shirt or a jacket for a full year?
We've spilled quite a bit of ink on this page talking about the Indigo Invitational. Even if this is your first time hearing about the competition, you've probably seen some of the incredible fades produced by the top finishers.
The winner, Indonesia's Muhammad Rizky turned his 25 oz. Samurais below into an absolute work of fade art. He was joined on the podium by a pair of Americans, Stephen Snider and Alex Swords, proving that West and East could meet and compete on a level playing field.
What's more, dozens and dozens of incredibly faded pairs proved the competition's central thesis: Beautiful fades are the result when we stop rotating and focus on a single pair for a year.
Year Two of the Invitational is now in full swing, and you can follow the faders' progress on the competition's Instagram account and in the Facebook group.
Could the same approach work for a shirt or jacket? If we bring all of our fading energy to a single above-the-belt piece, could we have beautiful fades inside of a year?
The founders of the Indigo Invitational wanted to help us all answer this question, so they introduced a new competition: The Redline Rally. Registration is open now (register here!). The flag drops on May 1st.
---
Do it for the fades … or for the Invitational
Primarily, the competition is a product of our love for beautifully faded shirts and jackets. Made-to-fade pieces are crying out for this kind of attention, but beautiful jacket and shirt fades are as rare as hen's teeth.
We want these fades, but every season something new catches our eye. That shirt or jacket we started with the best intentions get pushed to the back of the closet. The Redline Rally should arrest that process in its tracks.
Just as crucially, though, the competition is also about supporting the Indigo invitational.
The Invitational is wide open (meaning you can wear whatever pair you want and get them wherever you want), and it's absolutely free (no entry fee or administration fee—your new raws are your entry ticket).
The founders want to keep it that way for Year Three and beyond. The Redline Rally is how they're doing this.
They've put together an impressive list of sponsoring partners (which you can have a look at here). To enter the Rally, you need to purchase your made-to-fade shirt or jacket from one of these partners. Every registration supports the Invitational, helping keep the competition both viable and independent.
I'm doing my part: Normally we include affiliate links the buying guides we publish. This helps support Denimhunters, but we won't be doing that with this article. There are NO affiliate links below—just links to brands and retailers that are supporting the competition.
---
10 shirt and jacket fades to get you revved up!
Nothing revs up that fade engine like an amazing faded example. New pieces turn my head, as I'm sure they do yours, but my eyes get wide as saucers when I see a piece that's been given its due by a persistent fader.
Bryan and I have reached out to some of the world's best faders, asking them for a few pictures of their hard-worn jackets and shirts. We've also asked them to share the stories about how they climbed that ladder to denim heaven.
---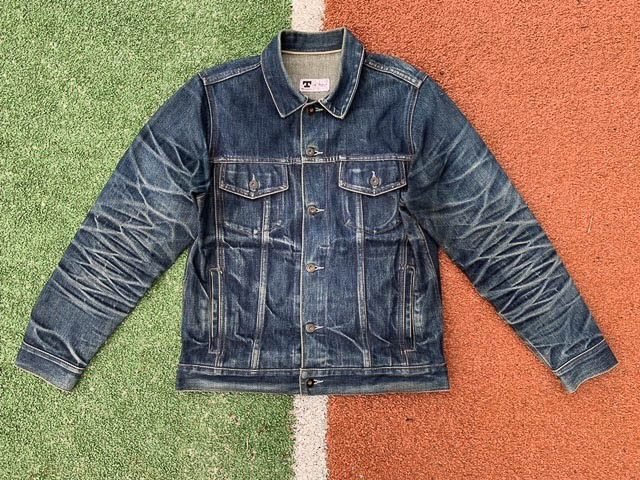 Fade #1: Tellason Type III – 16.5 oz.
Faded by @niko.x3020
Taiwan's Niko is a superstar in the world of jacket fades, and it's an open secret how he does it. He says that he loved the feeling of denim when it's worn next to the skin, and he takes this about as far as you can go with it.
Niko wears denim like we Scandinavians wear wool. Denim is his base layer. Nothing (and we do mean nothing) comes between Niko and his raw denim. If it gets cool, he layers on top of his denim, but never underneath.
Niko was drawn to the Tellason Type III because it perfectly captures the rugged spirit of the American denim scene. It's a simple piece that speaks softly but in confident tones, and there aren't many frames that it doesn't work on.
It's made to last and made to fade, which makes it a perfect fit for the Redline Rally. If you want fades like Niko's, don't wear your Tellason Type III like the jacket it is. Wear it like a shirt (and leave the tees in the drawer).
Other eligible Tellason retailers: Iron Shop Provisions (USA).
---
Iron Heart Western CPO – 17 oz.
Faded by @denimmindset
Adam Gilnsky is no stranger to denim fading competition. He was competing in the second iteration of the DWC, and he decided to pair his competition pair (IH634XHSod) with a shirt every bit as tough as the iconic jeans.
It was a heavy kit that demanded heavy wear, and he put his back into it. He wore it to work, but also when he was hiking or spending time with friends. He sweat in it, got it muddy, and this abuse shows in the gorgeous inner-elbow fades that run most of the way down his forearms to his wrists.
Rather than keeping it dry, he washed it whenever it got dirty. He's a strong proponent of this method. He usually hand washes his denim in the tub with a bit of detergent, saving machine washes for when he knows that the hand scrub won't do the trick (i.e., almost never).
He's got a special fade technique that we can share with you. He calls it his 3D drying technique. When he's hung the shirt to dry, he waits until it's about 75% dry, then he puts on the shirt and wears it around for 15 minutes or so. This helps set the creases. He uses the same approach with his jeans, and the results are pure magic.
He was drawn to the 76 because, at the time, it was the heaviest shirt that Iron Heart offered. He was inspired by Nils, a fellow competitor in the DWC, who absolutely thrashed his Iron Heart CPO in the competition.
We know that Iron Heart pieces and those who fade them will make a strong showing in this year's Redline Rally, and we know that every Iron Heart piece is built to go the distance. They'll cross the line with gallons of gas in the tank and indigo to spare.
The IHSH-76 is extinct, but it's been replaced by the slightly heavier IHSH-177. The model number might have changed, but you can depend on this CPO to fade just as beautifully as the one pictured.
Other eligible Iron Heart retailers: Iron Heart EU (Europe), James Dant (USA), Iron Shop Provisions (USA), Self Edge (USA), Rivet & Hide (UK), and Statement (Germany).
---
Rogue Territory Supply Jacket – 15.25 oz.
Faded by @Maverick23
A perfect piece for the vintage fade fanatics out there, this RGT Supply Jacket has lost just enough blue to give it that comfortably lived-in look (especially around the elbows), but not so much that it's not a vibrant and eye-catching piece. He's done this RGT modern classic justice.
Desert-dweller Jason embodies the Redline spirit perfectly with his approach to fading denim pieces. Rather than rotating pieces, he brings all of his attention to one of them at a time. He takes full advantage of every moment of fading time he has available.
He goes for hikes, plays with his son, and throws himself into every available opportunity to put that little bit of wear into his piece. Whatever piece he's working on, it's always there with him. He's writing the story of his life and his loves on every inch of it.
When we go out of our way to do this — to turn our pieces into records of our journeys — the results speak for themselves.
This goes double when we start with the right fade foundation. Jason was drawn to the Rogue Territory Supply Jacket because of its beautiful shade of indigo and its sleek design. It's like nothing else on the market.
He could see in his mind's eye the piece it would become, and he's put the work in to bring that vision to life.
Other eligible Rogue Territory retailers: James Dant (USA), Rivet & Hide (UK), and Iron Shop Provisions (USA).
---
Oni Type III – Secret Denim – 20 oz.
Faded by @gtpowers
Pennsylvania's Grant Powers wanted a denim jacket that he could wear year round, and he didn't expect that he'd find exactly what he was looking for in a piece of denim that is veering into the super heavyweight category.
The key was Oni's Secret Denim's breathability. The weave is loose enough to make the piece wearable during the summer months. The piece was heavy, but he found that he never felt like leaving it at home on the hanger, even when the temperatures soared above 90 degrees fahrenheit.
He kept things cool by layering the jacket over a light tee shirt. It's clear from the fades that Grant lives a vigorous lifestyle, but you can also see that his jacket has been a much-loved piece. There aren't any tears or other serious damage. It's got tons of life left in it.
After only seven months of wear, It reached that stage where it paired well with absolutely everything. Oni's Secret Denim, because of its unique greenish hue, is really always at that stage, but he's beaten just enough of the blue out of it to make this the perfect complement to any hard-wearing pair.
He's got some beautiful contrast fades at the stress points, and some great overall fades on the front and back.
You can believe the hype: Secret Denim is some of the best fade foundation around, and it's year-round wearability makes it a perfect Rally piece.
Redcast is currently our only eligible retailer that stocks Oni. Secret Denim pieces don't stay on the shelves long, so this is not a piece to sleep on.
---
Iron Heart Wabash Western – 12 oz.
Faded by @kan745 and @aticha_acha
The workwear bloodlines run about as deep as you can get with this shirt. We all know that the wabash is an essential piece of workwear. You'll often see at least one in denimheads' collections.
The problem is that, far too often, this trainyard staple is the caboose in the rotation. Only a handful of us put the wabash through its paces. Faded examples just don't pop up that often.
Thailand's Kang Chantrasri and Aticha Tragunthanan, together, might have changed that forever. The two have taken turns fading the shirt, and the resulting piece became instantly iconic and made denimheads the world over take a closer look at the fading potential locked away beneath those pristine stifel stripes.
Aticha purchased the shirt, but he needed to leave to go on a pilgramage, so he left the shirt in the capable fading hands of his denim brother Kang. By the time Aticha had returned, Kang had turned the shirt into a work of art. He had Thailand's heat and humidity on his side, but we've seen over and over again that the lifestyle of the fader makes far more difference than the prevailing weather conditions.
The 12 oz. weight of the wabash is right in the fading sweet spot. Aticha knew when he bought the shirt that it would produce beautiful combs if he gave it everything he had, and he had already made good progress when he handed the baton to Kang.
The shirt is now back with Aticha, and we're watching closely to see how far it can go. Will he pass the baton back to his friend one more time? Only time will tell. They'll both be competing in the Redline Rally, and they'll both be faders to watch.
Other eligible Iron Heart retailers: Iron Heart EU (Europe), James Dant (USA), Iron Shop Provisions (USA), Self Edge (USA), Rivet & Hide (UK), and Statement (Germany).
---
Iron & White Western – 13 oz.
Faded by @TheBeardedUnderdog
Jonathan is a gifted leatherworker, but he's equally well known as a walking billboard for Iron and White's western shirt. He was an early adopter, and his faded example has forced denimheads around the world to give the young Italian brand a first or a second look..
He wasn't the first to wear the Iron & White Western well, though. Jason first spotted the shirt on the back of The Hague Denim, and he immediately wanted one. The silhouette was a perfect match for his frame, so it wasn't long before it became the only shirt he would wear. That dedication paid off in a big way.
Jason says that he doesn't do anything special to fade his shirts. He wore it for almost two years before he got it wet, and that certainly helped give it some gorgeous high-contrast honeycombs. He would have held out longer, but almost two years of beard oil and balm had collected around the collar, making that first wash absolutely necessary.
If you want to turn your denim shirt into a marathon piece, it might be a good idea to follow Jason's example. He wears a tee underneath it at all time. This helps keep that pit-sweat smell at bay. With a bit of regular airing, the shirt should be able to make a full tour of the track before it needs to be washed.
He's already working on a black Iron & White, so expect more incredible fade pics from the Beaded Underdog in the near future.
Iron & White shirts are exclusively available through direct order. Reach out to Simone via either email or Instagram. He'll get back to you.
---
Mister Freedom Denim Tops
Faded by @Yuttapon23
Thailand's Yuttapon Saynongkham is another light-speed fader who can do damage faster than a speeding bullet. What you see below is the result of only eight months of hard-fading work.
Christophe Loiron's name is spoken in hushed tones in SE Asia. The fade community there holds a special place in their hearts for Mister Freedom pieces, and it's not hard to see why. They fade quickly and beautifully, and the iconic yet modern designs work on nearly every frame.
This doesn't mean that you won't have to work for the fades. Yuttapon works outdoors for as much as 12-14 hours a day. If you want similar results, you'll have put your back into it.
This Lot 64 Ranch Blouse isn't currently available, but we are throwing our endorsement behind every made-to-fade Mister Freedom piece you can get your hands on. We've listed a few of their Redline-ready jackets available from our eligible retailers below.
Other Mister Freedom denim tops to consider:
---
Indigofera Fabric 49 Fargo – 14 oz.
@Statement_Store shop shirt
If you're ever in Munich, make the pilgrimage to Statement and bend the knee before one of the best-faded examples in Europe. The retired Indigofera Fargo hangs on the wall, a testament to the unbeatable combination of incredible denim and patient fading.
Shop owner Josh Heise says that fading denim to perfection starts with a deep appreciation for a single piece. We don't focus on the wear count or agonize over the fades. We merely pick our favourite and well the hell out of it, simply because we can't get enough of it.
Josh isn't too particular about washing. He follows the usual protocols (washing it inside out, at 30 degrees, and with no spin cycle), but he doesn't try to push the wear count between washes too high. When the shirt is dirty, or when it starts to smell, he throws it in the wash. Simple.
I asked Josh about why he chose this particular piece, and he told me that he has known the Mats and the rest of the Indigofera team from the very beginning. It's a brand that shares his principles, and the spirit Indigofera breathes into every piece they produce really resonates with Josh.
Indigofera only used this particular denim (the 14 oz. Fabric 49) for two years when the brand was still in its swaddling clothes. Fabric 49 has faded into distant memory, even for those who stamped their name on the garment. Like the brand, this shirt has travelled a long way. Like the brand, this Fargo has fully realised its potential.
Both the Fargo and the Copeland (the Fargo's slimmed-down sibling) remain core pieces for Indigofera, and it's not hard to see why. Their 29 Hand-dip (13 oz.), No. 9 (14 oz.), and their Gunpowder (14 oz.) denims all brim with fade potential. If you've never put an Indigofera piece to the test, the Redline Rally is the perfect opportunity to do so.
Similar Indigofera shirts to consider:
Other eligible Indigofera retailers: Göteborg Manufaktur (Sweden) and James Dant (USA).
---
Rogue Territory Supply Jacket – 15.25 oz.
Faded by @Urban_Lupe
Eagle-eyed readers will notice that we've already included an RGT Supply Jacket above (same with the Tellason Type III below). It says something about a piece's fade potential if there are multiple beautifully faded examples out there. That these are such popular choices for exceptional faders should tell you something.
Edison Li runs Urban Lupe, a well-made goods stockist in Australia that retails Rogue Territory's goods. He wanted to showcase what the jacket could do with a little rough wear, and he was drawn irresistibly to the jacket's style, which stands apart from what other brands offer in the space.
He doesn't baby his denim. He works in it, sweats in it, lives in it. The Supply Jacket responded incredibly quickly to his focused attention. It's developed some beautiful contrast fades in the elbows, and the cuffs have whitened beautifully along the edges.
The jacket still sits at the centre of his rotation, and it continues to reveal itself. There's still a ton of indigo left in the denim, but he's got the jacket running downhill nicely. We'll keep watching to see how far he can go with it.
Other eligible Rogue Territory retailers: James Dant (USA), Rivet & Hide (UK), and Iron Shop Provisions (USA).
---
Tellason Type III – 16.5 oz. with Wool Liner
Faded by @petesearson co-founder of Tellason
The SON in Tellason, Pete Searson stands behind his brand's American-made products. He's been wearing his 16.5 oz. Cone Mills White Oak Type III for years, and it's clearly much more than a showpiece.
He's lived in the jacket — the chilly winds coming off the San Francisco Bay make the lined jacket appropriate all year round. If you've ever visited the City on the Bay in the spring, you've probably quickly realized why the most popular souvenir isn't a tee shirt from the rock — it's usually a fleece jacket or a hoodie. The city's unofficial mascot is a shivering tourist.
The 16.5 oz. denim is the perfect weight to produce bold contrasting fades. It doesn't bend like a reed in the wind. It stands like a California redwood. Every swing of the axe leaves its mark. Pete lives his life "vigorously", and every bump and scape of the last few years is etched in the fabric of his favourite jacket.
I asked him about the lightning bolt, and this was what he told me:
"Skateboarding was my life in the mid to late '70s. This was pre-Bones Brigade, when style was the only thing that mattered and riding barefoot was common. This love of board riding led to my life on a surfboard beginning in 1979. I bought and coveted every Surfer Magazine back then, and my walls were end-to-end surfing and skateboarding posters. No one more present than the Zen master, Gerry Lopez. His effortless style at the Banzai Pipeline was unmatched and seeing that big bolt on each of his boards led us to a life in the water, catching waves and trying to surf crappy two-foot beachbreak like Gerry Lopez. I loved that bolt logo. I wore Lightning Bolt clothing, and even made plexiglass lightning bolts in woodshop back in junior high school and sold them to friends for a buck a piece."

Pete Searson
Asking his daughter Luella to paint a lightning bolt on his faded jacket was a no brainer. She took her time, started with a primer then a coat of red. He's washed the jacket a few times, but that lightning bolt isn't going anywhere.
It's just one more chapter in the jacket's story, and that story is far from finished.
Other eligible Tellason retailers: Iron Shop Provisions (USA).
---
Love denim and fades? Join the competition!
The Indigo Invitational started as a small group of enthusiasts who wanted an excuse to buy a new pair of denim and to see how far they could push themselves and each other.
There are thousands of dollars worth of prizes, but this is just the gravy. The meat underneath is a tight-knit community of enthusiasts held together by a mutual love of fades.
If this sounds like something you want to participate in, join the Facebook group, follow the competition's updates on Instagram and visit indigoinvitational.com.
Want to make sure you never miss a post? Sign up for Denimhunters' email newsletter.