The Indigo Invitational Is Introducing Us To Some of the World's Best Faders
This post was written by Bryan Szabo, founder of the Indigo Invitational. First time you're hearing about the competition? Check out Bryan's Q&A here.
From day one of the Indigo Invitational, some competitors began to separate themselves from the pack. These quickly became the faders to watch, and we were curious about what makes them tick, so we reached out to a few dozen of them to ask them some questions.  
Surprisingly, nearly all of them responded—so many, in fact, that we had to split them into two camps: West and East.
In this post, I'm profiling 10 competitors from Southeast Asia. If you've ever wondered how they produce the fades they do out there, these profiles are required reading.
Follow the competition
The Indigo Invitational is a year-long fading competition. It's free to join, and all brands and weights are welcome. All you need is a brand new pair of raw denim jeans, and the best fades win! Oh, and the prizes are insane!
Your jeans can be unsanforized or sanforized, as long as they're raw (factory one-washed jeans being the only exception). Year 3 of the competition runs from April 2022 to April 2023.
Visit indigoinvitational.com to learn more and stay up to date! If you need a new pair of jeans, check out our buying guides.
Dre (34) calls himself a "regular working man". He's ticked most of the settled-down boxes: he's married with two kids and a few dogs, and he's a regular churchgoer. Look a little deeper, though, and you'll see he's got a rebellious weft. He loves leather (especially the vintage stuff) and tattoos, and, of course, denim and fade culture.
He lives in Manila, Philippines, where he works in retail, and one of the reasons he joined the Indigo Invitational was to showcase Leon Denim, a rising Philippino brand.
He's wearing a pair of Leon LDXX18HB (18 oz.), and, right from the beginning of the competition, the pair stood out for its damn-near perfect combination of silhouette and texture.
Dre is out to prove that Leon can compete with the big Japanese brands, and thanks to his eye-catching pair and their clear fade potential, he's well on his way to doing this. He's also learning a great deal from his fellow competitors and expanding his denim network.
Dre's fade recipe: combine one cup of world-class denim with one cup of love of denim and fade evolutions; shake vigorously. Enjoy the process and remember that it's not a sprint, it's a marathon.
Kang Chantasri – @kan745
Thailand's Kang Chantasri (44) is cultivating a reputation as one of the best faders, not just in Southeat Asia, but in the world.
He sells products in a local fresh food market, and the heat and humidity combined with his unrivalled dedication to fades have produced eye-popping high-contrast fades that have been attracting notice all over the world.
Kang has been wearing denim for as long as he can remember, and he's always sought out the company of fellow denim enthusiasts. The Indigo Invitational is just another opportunity to connect with denimheads like himself—win or lose, it's all the same to him.
He'll be happy with the result as long as he cracks the top ten. He's well on the way to a top-ten finish—if not a podium one.
Kang is fading a pair of MC Jeans (18 oz. Heavy Selvedge). The Thai brand was founded in 1975, and it has enjoyed an excellent reputation in Southeast Asia for decades, but raw denim is, for the brand, an afterthought.
They recently dipped their toes in the pool with a limited heavyweight range, and Kang is convinced that, by highlighting the fade potential, he can convince the brand to reach out to new pools of denim enthusiast customers.
Want fades like Kang? You're going to have to sweat for them.
Kang wears two pairs at the same time—one tighter pair underneath a looser one. And that's not all: he wears them 24 hours a day.
If you're curious why somebody would do this to themselves in a place where the temperature and humidity push most people towards light cotton, just check out Kang's history of fades—some of the best you'll find anywhere.
Nicholas Vallen – @dnmboi
Nicholas (22) has been a member of the denim scene since he was a pup, drawn to raw denim for its ability to reveal (in ways that few other fabrics can) the intensely personal journey of our lives.
In his daily life, Nicholas is a graphic designer in Jakarta, Indonesia. He is also, in his spare time, a painter.
He entered the Indigo Invitational because it was, he says, easy. What could be easier than joining a competition that will see him doing what he would have been doing anyways. He's also enjoyed watching some of the other competitors and their fade progress.
He's fading a pair of Naked and Famous Elephant 4 (22 oz.). The pair's black weft and uniform weave make them one of the darkest and slickest pairs around. With very heavy wear, the E4s produce just the kind of clean, high-contrast fades that Nicholas thinks will do well in the competition.
Nicholas says that the most satisfying fades are the result of devotion. Wear the jeans every single day without fail, and be patient. If you wear them, the fades will come, and watching your pair evolve is intensely rewarding.
For the true fade fanatic (like Nicholas), the journey is every bit as satisfying as the destination.
Thawatchai Chatjindakul – @ice.twc35
Thawatchai (27) used to be a tour guide, but he is now a professional technician living just outside of Bangkok, Thailand. The change in careers made it necessary for him to wear clothes that can take a beating, so he wears raw denim every day to protect his skin.
He joined the Indigo Invitational for a number of reasons. He was drawn to the competition by the challenge. He wants to make friends in the global fade community and see how his fades stack up next to some of the best faders in the world.
Also, like no small number of his compatriots, Thawatchai is determined to put the Thai denim fading scene on the map. The Thais are among the top-tier faders in the competition, so Thawatchai can already say that some of his goals have been accomplished.
He is fading an 18 oz. pair of MC Jeans (a Thai brand that is, like Thawatchai, trying to convince the world that Thailand belongs in the larger global denim conversation).
He wears his jeans extremely hard, and he washes them as little as possible. He says that the only time to soak or wash your jeans is when you know for sure that the wash will reveal the hard fading work that has preceded it.
Rudolph (36) is self-employed and calls Baguio City, Philippines, home. He has three children, and, in his spare time, he is a trail runner.
He has been a denim enthusiast for a while now—drawn to the denim scene by his insatiable curiosity. In the world of denim, there's always more to learn, more avenues to explore.
Rudolph joined the competition more for the social aspects than for any other reason. With more than 100 competitors, the social media groups are ripe with conversations and opportunities for learning and sharing. Everybody seems to be equally passionate, and, whether new to the game or an experienced veteran, everybody is treated the same.
He is wearing a 15 oz. pair of Blue Denim (a relatively unknown Philippino brand) with striking rainbow weft. The jeans checked all his boxes, and they were his only unworn pair on June 1st when the competition started, so he decided to see how they'd do, and they haven't disappointed.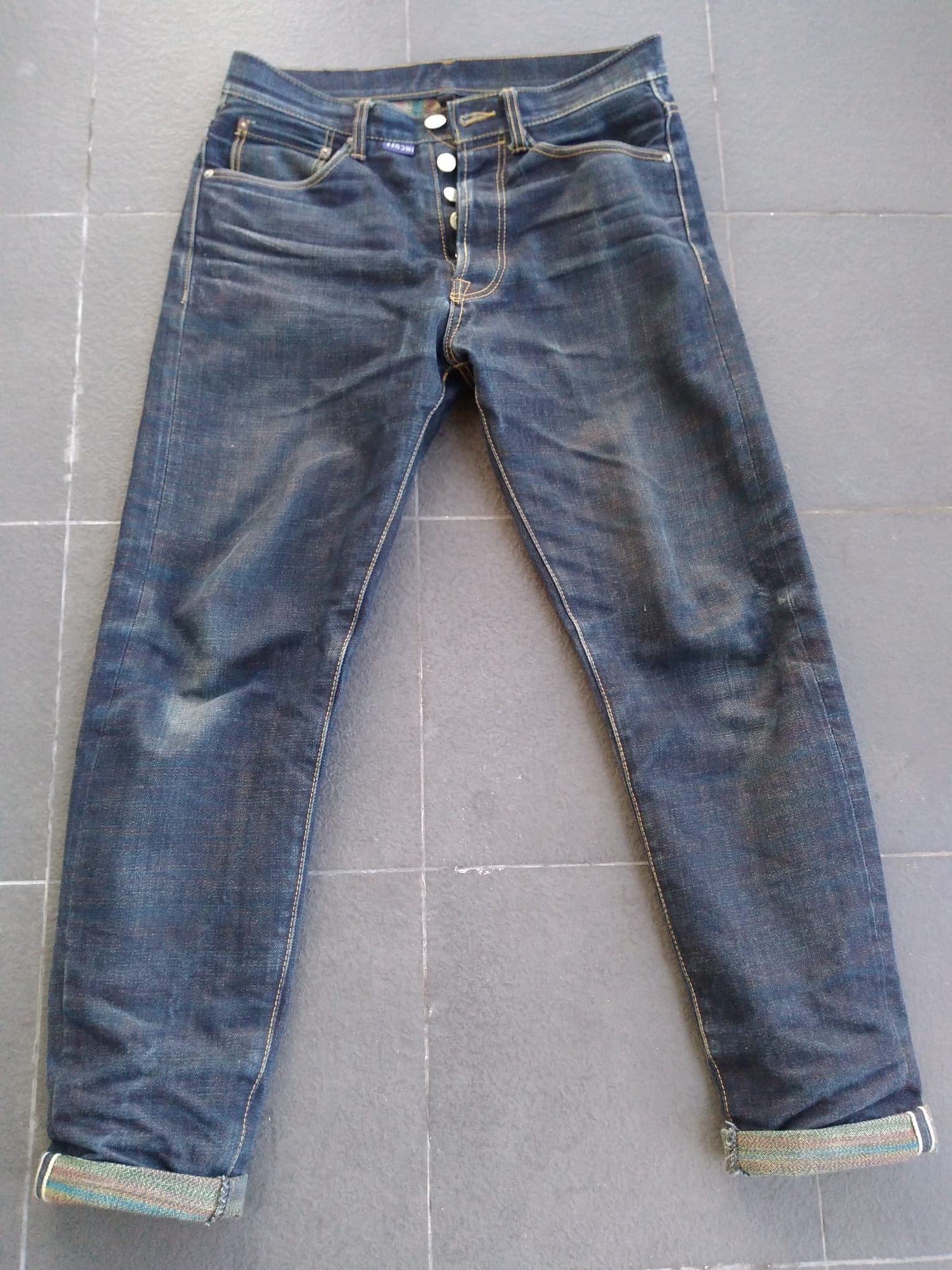 Fades like Rudolph's are, he says, pretty easy to get. All you have to do is wear them all day every day and wash them "sometimes".
Chiangmai's Ponlawat Nanchaika (32) is one of Thailand's premier faders. He joined the Indigo Invitational in the hopes that his fades would introduce denim and fade enthusiasts all over the world to Amory Jeans, a small Thai brand that does vintage-inspired basics extremely well.
Though they may be newcomers to the scene, you wouldn't know it from looking at Amory's finished products. If Ponlawat's updates are any indication, they know how to produce pairs with great fade potential.
Ponlawat is enjoying the opportunity that the Indigo Invitational is bringing him to see and be seen by the larger fade community, and (like so many of us), he sees every conversation with his fellow faders as an opportunity to learn more about the denim scene and refine his fade process.
He's established himself early on as a force to be reckoned with in the competition, all thanks to his absolute dedication to non-stop wear.
Elmer Richard S. Sentillanosa – @elmer.richard
Elmer (37) is a physician from Davao City, Philippines. He has an encyclopedic knowledge of denim and its associated products (especially boots), which makes him a valued contributor on denim forums.
Newbies with questions can always count on a helping hand from Elmer, particularly when they have questions about out-of-the-mainstream Japanese brands and vintage repros.
When the Indigo Invitational started, Elmer was fading a pair of TCBs, going for those rich, all-over vintage fades (appropriate considering the brand's yesteryear focus), but he wanted to try something a little different for the competition.
He chose a pair of Boncoura XX after he saw some of the faded samples. They had the kind of high-contrast fade potential that he was looking for, and he's followed the recipe for high-contrast fades to a tee: hard daily wear and no washing whatsoever.
Elmer says that he isn't doing anything out of the ordinary to produce his fades. He sleeps in them occasionally when his work demands it, and he always takes the stairs during his hospital rounds.
This means multiple trips up and down the stairs each day, and he's seen some glorious honeycombs emerging thanks to this practice.
Ma. Tessa Sentillanosa (37) calls Davao City, Philippines, home. She works on a poultry farm and co-owns a restaurant, so she's on her feet for much of the day—a perfect recipe for great fades.
She also has access (through marriage) to one of the best denim minds around. Her husband, Elmer Sentillanosa, is also competing in the Indigo Invitational and is a well-known enthusiast in the scene.
When she met Elmer, she quickly caught some of his passion for denim and fading, and she's since started adding a few carefully selected pieces to her wardrobe. At first, this was to support her husband's passion, but now she can call herself fully committed.
Like many female faders, she gravitates towards slimmer styles that can highlight her figure without making her look boxy or boyish.
She's found exactly what she's looking for in the Momotaro 0705 in their signature 15.7 oz. denim. They're a perfect fit, and they're fading beautifully.
She may have joined the competition at her husband's suggestion, but she's now competing enthusiastically and loving the journey—loving seeing her own jeans develop and also watching those of her fellow competitors.
Her IG page doesn't have as dedicated a denim focus as the other competitors on this list, but you can see that's been bitten by the denim bug. She's a denimhead in the making—definitely one to watch as she becomes a full-blown fanatic.
Aticha (33) calls Saraburi, Thailand, home, and he spends his days there doing soil filling and working with heavy tools.
He's a man of few words, letting his epic fades speak for themselves.
He joined the Indigo Invitational hoping to broaden his horizons. The competitors are an international bunch, so he's getting exposure to scenes and scenesters from all over the planet.
He is wearing a 15 oz. pair of Denim Error, a favourite label among Thailand's growing number of ultra-hardcore faders. The details and the vintage cut are both on point, and he's having no problems wearing them day in and day out.
The secret of his fade success is simple: everyday wear and heavy, practical use. If you want fades like his, get out of doors and get your hands (and jeans) dirty.
Alex Chong (26), a coffee roaster and barista from Kuala Lumpur, Malaysia, has a few abiding passions: coffee, leather, and (of course) raw denim.
He throws himself into his passions with everything he's got, and he's fairly new to the world of raw denim, so every day he's learning more and gaining crucial experience with the fading process.
He's treating the Indigo Invitational as an opportunity to understand more about what produces great fades and what can be expected from the different denim brands.
This is only his second pair of raw denim. His first pair was an Indonesian brand, but the fit wasn't all that he'd hoped it would be, so it was back to the drawing board.
After extensive research, Alex settled on a pair of Studio D'Artisan G003 (15 oz., G3 shuttle loom). The minute he slid them on, he knew he's found a pair that he'd be able to wear day in and day out. The hairy texture and perfectly-fitted silhouette are both striking, as are the meticulous stitching details.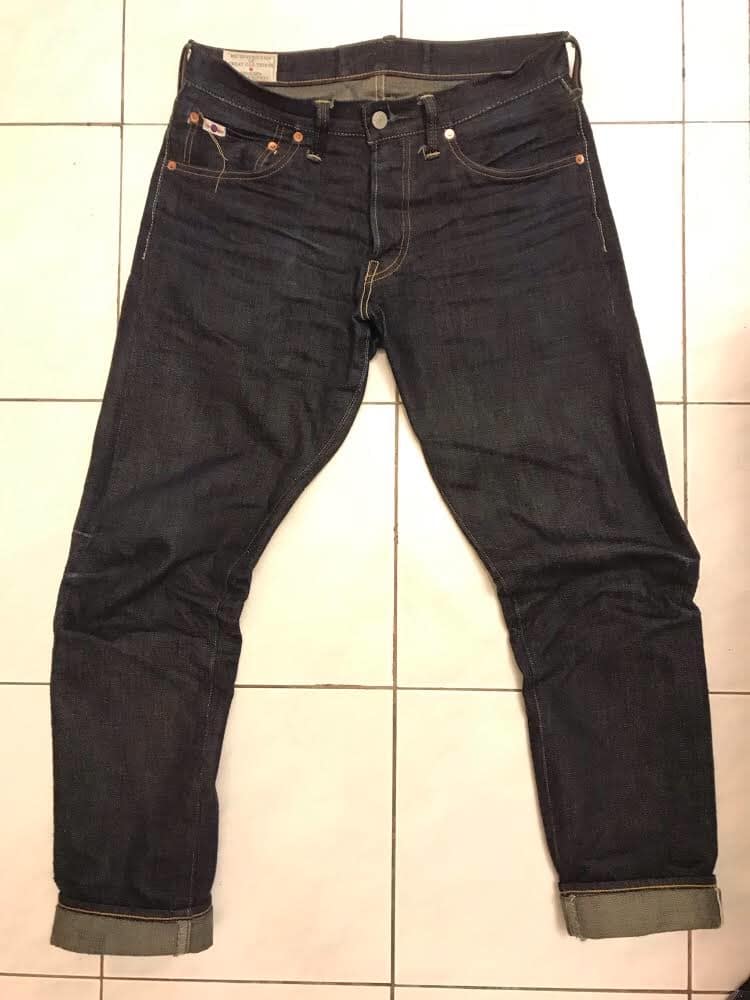 It was a big jump in price from the Indonesian denim he started with, but, as he was learning, this hobby demands sacrifice.
Alex still thinks that he's at the bottom of the denim fading learning curve, but he's learned enough to offer a few pointers.
He feels that the most important step in the fade process (at least with unsanforized denim) is the first one: the initial soak.
The soak should, he says, be brief. Washing out all of the starch will soften the denim too much and make forming those highly coveted sharp fade lines more difficult. The denim should still feel a little sticky after the first soak, he says. If you soak until that stickiness is gone, you'll be making it more difficult to get those high-contrast fades.
The break-in period after the first soak is when Alex focuses on making and shaping his creases. They should, he says, be clear and solid before the first wash. This will be the foundation of all the fade work to follow.
Love denim and fades? Join the competition!
The Indigo Invitational started as a small group of enthusiasts who wanted an excuse to buy a new pair of denim and to see how far they could push themselves and each other.
There are thousands of dollars worth of prizes, but this is just the gravy. The meat underneath is a tight-knit community of enthusiasts held together by a mutual love of fades.
If this sounds like something you want to participate in, join the Facebook group, follow the competition's updates on Instagram and visit indigoinvitational.com.
Want to make sure you never miss a post? Sign up for Denimhunters' email newsletter.