Name: Al Ramirez
Birth year: 1980 (yup, I'm actually quite old)
Location: UK
Profession: Self-employed furniture designer and maker, carpenter (currently doing a whole lot of everything but carpentry), builder, hoping to make it in the world of property developing, a novice mechanic, and a professional fixer of all toys my son breaks. According to my son, "my daddy can fix anything."
Al's Instagram and Photo Routines
Thomas: How did it all start with your Instagram feed?
Al: I'm actually quite new to Instagram and I was kind of nudged by friends because they're on it. To be honest, I didn't spend much time on social media but I'd come to realise, with Instagram, it's a simple way to connect with close friends and family with what's going on.
So I started a personal feed, @manilagorilla28, in mid-2017, which is basically to show a little about me, my work projects, my boys (my son and my dog), our fun projects and mini-adventures.
I'm a single dad raising these two absolute dudes, so it's a nice way to document what we get up to. Then, maybe down the line, when he's older, we can look back at these good ol' times.
Part of the shots I posted was on Red Wing boots and denim, now this opened up a whole new world that I for one was not aware of. The boots and denim community is so vast, full of cool like-minded people that share the same or similar interests. I knew from then on, a newbie to the Instagram game, I wanted to be a part of it, so a specific @wings_n_work feed got started in September 2017.
T: Why Instagram? What are your goals?
A: It was basically just for fun, and it still is. No real major goals, show them your shots and see how it goes. Oh, and of course meet lots of good people.
Personally, I like the way I can try to tell a story through a series of shots. But it's not always easy to capture everything, so it becomes a challenge. And in most cases, challenges are good, but it's hit or miss with me most of the time!
T: How much time do you spend on Instagram on a daily basis?
A: In the beginning, I was hooked! But I soon realised how little work I was actually getting done. So I try to keep it a moderate 8 hours a day. Haha, nah, just kiddin'! Around a couple of hours, if I'm editing shots, and much less, sometimes none, if I'm not posting. I'm probably fixing something.
T: How do you take your photos?
A: I'd say I took 98% of my shots myself and the rest by whoever's nearby with instructions on how I want to frame it. Would you believe even my 4-year-old took some of those shots!?
T: Which tools do you use?
A: I started with just my phone. The quality is pretty good, so I wanted to see how far I could get with strictly phones shots.
Plus, there's a video function where I could film what I'm doing whether it be work or on the move and the film takes a series of still shots throughout. Then, I just pick and choose the best one. Awesome!
Soon. I started playing with my Canon DSLR on regular and mini tripods. The quality is much better and the remote helps too. So now I use both.
T: What's your editorial flow?
A: There's a noticeable pattern to the shots I post. Both horizontally and vertically. I'll let you figure that out.
Looking at how an Instagram page is laid out, I thought it'd be cool to do it this way and get the most of what I'm trying to show. Series of 3 shots and boot rotation. I really just try to capture what I'm doing at the time – it can be disruptive for work sometimes that's why some shots are before or after the work is done.
T: What are your favourite locations to take photos? And why?
A: I enjoy doing my work shots so wherever I'm working, I guess, but finding new spots here there and everywhere is always fun.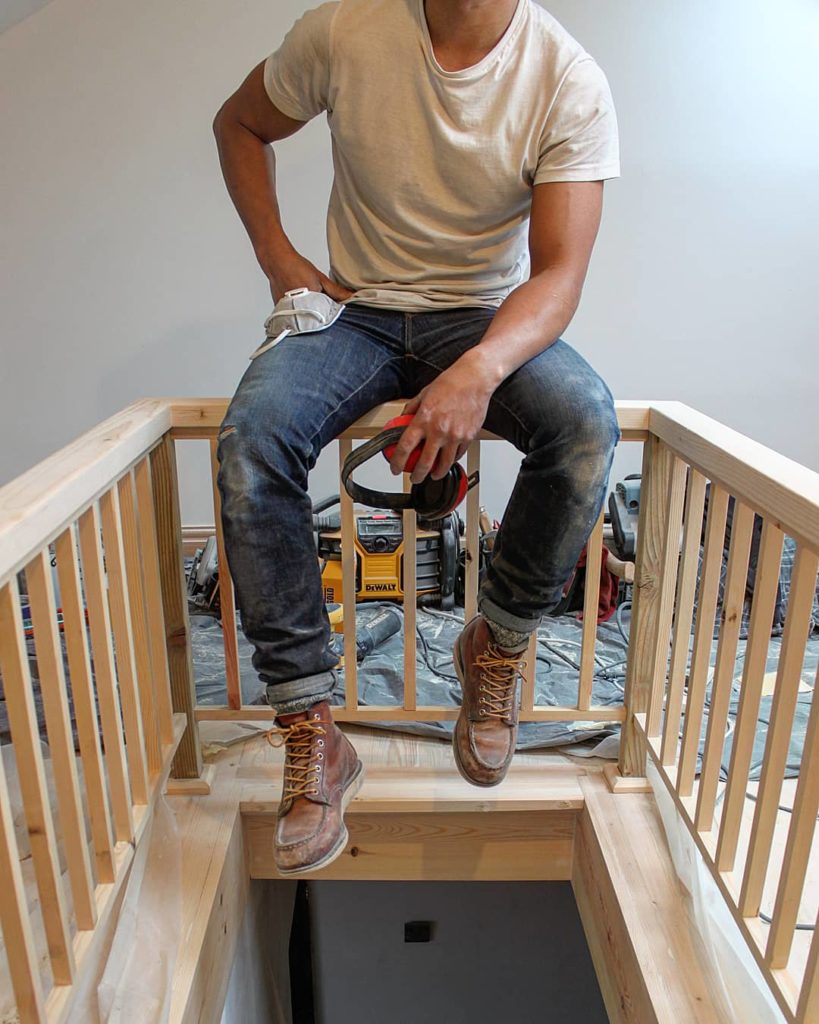 Al's Denim and Boot Style
T: How did you get into denim?
A: I've always worn denim as far as I can remember. I even did the pin roll as far back as 15 or so years ago, haha! I actually worked in retail in my early 20s, part-time assistant manager at a popular High Street denim brand. My manager, who I actually got on with (most were assholes), he educated me in the world of raw selvedge denim.
T: What's your favourite feature of jeans?
A: I'm a sucker for small details inside and out. When I see it, it's like "ah nice!" hehe. And of course how denim evolves.
T: How do you wash your denim?
A: With my older pairs, they get thrown in the wash only when they absolutely need to. My newer pairs aren't washed at all yet. I know, eeerw! But they'll get dunked for a soak when it's time.
T: What's your favourite denim brand?
A: Iron Heart for durability. Edwin for fit and comfort. Momotaro for style. I'm yet to explore other brands, so we'll see how it goes.
T: What's your favourite fit? And why?
A: Slim tapered, because I like it, haha!
T: Which boots and leather goods do you wear with your denim?
A: Red Wings mainly, and trying out Urban Shepherd Boots and JeansDa.
T: Which sneakers do you wear?
A: I was a sneaker freak back in the day (I still am a little) and had a healthy collection of sneakers. I had some old school Nike running shoes but mainly Chucks and Vans. I sold loads to buy my first pair of Red Wings Iron Rangers, then sold even more to get the 875s. Then went from there.
T: Favourite item that's not denim or leather?
A: I'm a sucker for simple T-shirts; white tees in general. I also have a thing for hats – baseball and trucker caps, flat caps and beanies. I wear a hat almost every day, but you'll hardly see that because my shots end up with my head cut off.
T: Where do you buy your gear?
A: Hard to find time to do proper shopping nowadays, so it's mostly online. But if something needs to be tried on for fit, then I'll try to make an effort to get out there.
T: What's your monthly clothing budget?
A: No real budget really, try to only buy what I need.
T: What styling tips would you give your followers if they wanted your style?
A: Firstly, I'm very humbled if you follow my feed, so thank you all so much! I honestly didn't think many would. I'm no fashionista by any means, just a dude showing what I wear on the daily and for work. If you dig it, cool!
Adopt it and make it your own, add a twist of yourself into it..that way you'll stand out. Peace!
Ready for More Q&As?
If you'd like to read more personal stories and Q&As, you can check out all the previous ones right here. Want to make sure you never miss one? Sign up for the free weekly Denimhunters email newsletter.