After ~100 Reviews, The Denim Hound Reveals His Own Collaboration Jeans
Los Angeles has to be one of the most important denim cities in the world. While it started with vintage and later premium denim, raw and heritage denim also found a home in LA with pioneers like Mister Freedom, Rising Sun, Self Edge LA, and many more.
Naturally, this means LA has its share of denim bloggers too. One of them I met on his hometurf back in 2016, not too long after he'd started blogging. He goes by 'The Denim Hound,' his passport says Greg Tamura.
The Denim Hound thing started when my girlfriend got fed up hearing me relentlessly talk on and on about denim," Greg writes to me in an email. "I don't want to hear anything else about denim! You need to start a blog or something," she told him.
The name came up when she caught him sniffing some jeans to see if they needed a wash. "You're a dog," she said. "I'm a denim hound," he replied. Later that day, Greg started his Instagram account. After a month or so, he started his blog.
Born and raised in California to a Japanese father and an Irish mother, he came to the city fifteen years ago when he was in his early twenties. He acts, writes, takes photos, and works for Freenote Cloth.
On his blog, Greg does what he calls 'honest denim reviews.' And they've led him onto something I'm sure many bloggers dream about; designing a collaboration jean!
The Denim Hound x Kojima Genes x SF Jeans
Collaboration jeans from brands and retailers have been part of the raw denim community for years. But collaborations between bloggers and brands are less common. So, how did Greg land the deal?
I think you have to bring something to the table that they aren't doing on their own, or at least hadn't thought of yet. It has to be something that will expand their reach, and at the same time be in line with the brand's concept and design," he explains.
"I first started working with Kojima Genes x SF about two years ago," Greg writes. "I did a review of their 21 oz. denim, and we kept in touch." About a year and a half ago, they contacted him with the opportunity to collaborate.
About Kojima Genes and Kojima Genes x SF
Kojima Genes aims to deliver top quality jeans to denim lovers. Established in 1996 in—you guessed it—Kojima, the brand is still relatively unknown on the European and North American raw denim scenes. Kojima Genes x SF ('SF' for 'San Francisco') was created in 2014 to change that, Greg writes in the press release for the collaboration.
With a vision of bringing the story and denim artisanry of 'Made in Kojima' to every corner of the world, the strategy of the SF branch this is grow through crowdfunding campaigns and collaborations with influencers.
The official name of the jean is Bridge 1, Greg tells me. The Golden Gate bridge in San Francisco and the Great Seto Bridge in Kojima are sister bridges.
In a way, denim has been sort of a bridge between Japanese and American cultures. So I thought this would be the perfect concept for these jeans."
Influenced by Almost 100 Jeans Reviews
Greg has been into denim since elementary school. He's been collecting jeans for years, and owned close to 200 pairs at one point.
I've done detailed reviews on almost 100 pairs." He's essentially been studying denim and the construction of jeans.
The Bridge 1 jeans feature clean aesthetic in a medium rise, slim tapered fit. The jeans are, naturally, 100% made in Kojima. They include details Greg have come to appreciate in the jeans he's reviewed.
"I've always loved the yoke lining that Momotaro use on their Copper label or Naked and Famous use on the Japan Heritage model," he writes to me.
Other features he favours include tucked belt loops, flush rivets, peek-a-boo selvedge, hidden selvedge in the fly, and the one star and laurel leaf button that Oni and many others use.
What he doesn't like are overwhelming back pocket arcuates and too much-exposed selvedge.
What's the point of packing on details if they end up looking like gaudy clown pants. Think about why you True Religion makes your stomach turn when you see 'em."
The 5 Key Features of the Bridge 1 Jeans
Kojima Genes proudly makes affordable jeans. At $199, the Bridge 1 is no exception.
I wanted to make a pair of jeans that would be my favourite pair ever. And I wanted to put a $300-$400 pair of jeans in people's hands for under $200."
"It was a challenge to get all of these details in a high-end pair of jeans, and keep the price down," Greg writes.
Here are five key features of the jeans:
#1: Fast-Fading Denim
In general, the denim itself is Greg's favourite feature on jeans, he writes to me. "There're no details that I can't live without, but if I don't like the denim, it's a pass."
And naturally, the denim of the Bridge 1 gets 'sick fades.' It's sanforized, 100% cotton, weighs 13 oz., and exclusively made by Kuroki Mill for this collaboration!
The denim's woven from slightly slubby ring-spun yarn. The weave is tight to give extra strength. And it's dyed to a very dark shade with pure indigo.
To keep the core of the yarn as undyed as possible, it's dyed quickly and dried for longer periods between soaks to allow more oxidation. Result: fast, high contrast fades.
Wash it like Greg? He usually does a soak first, even for sanforized denim, and then goes about a month in between soaks.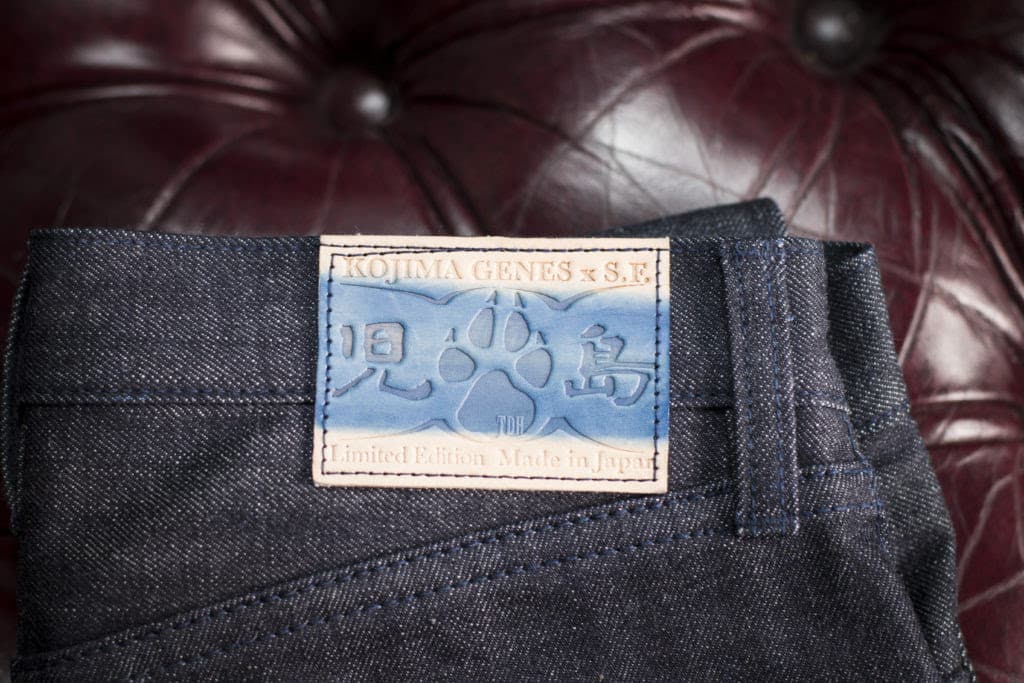 #2: 'Taco Dip' Leather Patch
The 5 oz. Brazilian veg tan leather patch is hand-dyed by Isaac from Pigeon Tree Crafting with a time-consuming process that Greg calls the 'Taco Dip' method.
Each patch is hand cut and stamped. Then, it's bent like a taco and hand-dipped in pure indigo."
#3:  Hidden Arcuates
The back pocket arcuates represent the connection between Golden Gate Bridge and the Great Seto Bridge in Kojima. They're done with tonal navy thread to make the arcs appear slowly as the denim fades.
#4: Sashiko-Lined Yoke and Pocket Bags
The yoke is lined with a sashiko fabric that's also used for the pocket bags. "It gives the yoke another layer that pops through you get any holes down the road," Greg points out.
"The Japanese pattern used is called Shippou 七宝," Greg writes in the press release. It refers to the seven treasures of Buddhism, which are: gold, silver, lapis lazuli, agate, seashell, amber, and coral.
I chose this pattern because, to me, it represents how when different groups of people work together, something new is created," he adds.
The copper colour of the fabric is echoed across the jeans with the copper rivets and thread on the inseam.
#5: Tucked and Raised Belt Loops
Raising the belt loops makes them more reliable and gives the jeans a cleaner look, Greg argues.
I like to wear a key hook on my belt loop. The inserted rope on raised belt loops keeps the friction away from the stitching and focuses it in the center of the loop."
Result: They'll last longer and get nicer fades.
Additionally, the jeans are numbered; they have copper stitching on the inseam and hem; the fly has hidden selvedge on the inside; and the back pockets feature hidden rivets.
Ready to Pre-Order the Bridge 1?
The Bridge 1 jeans are available for pre-order at Atrium for only $199 (plus shipping).
Greg's Instagram Routine
As Greg and I were emailing back and forth about his collaboration jeans, I asked if he would answer my 'Blue Blooded Instagram' questions. The first of which is 'why Instagram?'
I like Instagram for my photography background, and it's just a more positive and creative network compared to other social media."
Greg used to post on a regular schedule. These days, he posts whenever he has a shot worth posting. "I've been really busy with the collab jeans and acting, so I make a point not to go too long without posting something. At least once or twice a week," down from four times a week.
He tries to keep his time spent on Instagram to a minimum. "I'm more concerned with living a full life outside of my phone and computer," he writes. That being said, he still spends about two hours a day on the social media. "It used to be three or four," he adds.
He usually shoots his photos alone on his Canon 70D DSLR and a 50mm prime lens. Occasionally, he'll use his Samsung s9 phone.
Sometimes, I can get my girl to help, or I'll go shooting with some of the @ladenimhangs dudes."
Greg's Denim Style Advice
Greg likes jeans fitted, with a mid to high rise, and a slim straight leg with a slight taper. But well-fitted doesn't mean tight, he argues.
"I think, seeing jeans stretch at the back of the thighs, or shirts stretching to fit under the arms or back is not a good look. And it's actually bad for your health. But to each his own."
He also encourages his followers to mix it up a little. "I'm not one for conformity. Wearing slim tapered jeans, Red Wing moctoes, and indigo canvas work shirts is a cool look. But, at this point, almost a uniform."
Greg wears his jeans with boots from Red Wing, Thursday, Sutro, Santalum and 2120 Handcrafted. Or with Chuck Taylors or Vans Skate Los.
When it comes to leather goods he wears Pigeon Tree Crafting, Wild Frontier Goods and Sweet Trade. He gets his gear from Okayama Denim, Denimio, Blue Owl Workshop, and General Quarters.
Pre-Order Now (While They're Available!)
The Bridge 1 jeans are available now for pre-order at Atrium for only $199 (plus shipping). But only while supply lasts!
Kojima Genes x SF are making no more than 150 pairs! Each will be numbered. So don't sit on it. Pre-order today!