15 Instagram Feeds by Swedish Denimheads You Should Follow
You probably already know that denim originates from Southern Europe: Italian sailors wore pants made from a fabric woven in Nîmes; the British called it 'denim' and brought it to the United States, where a Bavarian businessman and a Latvian tailor received a patent in 1873. This became the start of the world's most famous garment. Blue jeans.
But while Sweden is not part of that story, the Swedes have adopted denim and truly integrated it into their fashion culture. Just look at the number of Swedish denim brands; big and small, fashion and niche.
Not surprisingly, Instagram too has its fair share of Swedish denim dudes. Several of them I've already featured in Blue Blooded Q&As. But here's a list of my must-follow Instagrammers from Sweden.
Alexander is a PR Officer and 'country bumpkin' living in Gothenburg who loves coffee and Daniel Norgren, as he puts it himself. He's also the Blue Blooded Instagrammer #4.
Thomas: How did you get into denim?
Alexander: Actually by chance. I was working for Levi's in London a couple of years ago and hung out with our tailor that taught me about the heritage part of denim. Then I was hooked.
T: Why Instagram?
A: It's an easy way to share and connect in our, very niche, interest.
T: What's your favourite feature of jeans?
A: Cinch backs are still at the top.
Andreas lives in a small town between the two biggest lakes in Sweden with his significant other and their two kids.
I love spending time with my family and friends and also going to concerts, watching football, travelling, great food and beer!" he writes to me in an email.
Thomas: How did you get into denim?
Andreas: I have always been interested in denim and clothes. But my interest in selvedge denim and quality goods came in recent years.
T: Why Instagram?
A: I started following people with the same style and interest. After a couple months, I posted my first pic. The best thing about Instagram is that I've met people with the same passion and now have new friends for life.
T: What's your favourite feature of jeans?
A: I love how every single pair has its own story. And nothing smells and feels better than a new pair of raws, right?
Christian is a sales coordinator at Nudie Jeans Co. Born and raised in a suburb of Stockholm, he's been living near Gothenburg with his wife and two kids since 2014.
I'm really into music and love to go to venues and concerts. I have an interest in old vintage stuff as well."
Thomas: How did you get into denim?
Christian: For as long as I remember, I always cared for clothes. As my music interest took over, I wanted to look like my heroes. A lot of rock 'n' roll, 60s, punk, grunge, Britpop and so on. It always ended up with some kind of denim.
I didn't really realise my obsession until 10 years ago when I started working in the Nudie Jeans store in Stockholm. Along the way, I learned more and more about jeans and denim. I learned to love the ageing part of it.
T: Why Instagram?
C: Basically to get inspired and more connected with the denim community. I actually started an "incognito" account a couple of years back to keep up-to-date with all the denimheads. I wasn't ready to step into the online world until the beginning of 2018 when I felt an urge to get even more involved with the whole thing.
T: What's your favourite feature of jeans?
C: Nothing comes close to how beautiful wood, leather and denim can fade over time of wear and use. How the worn-in pattern tells a story. It's fascinating to me. I like to try different cuts, styles and fabrics. It just almost always ends up with a pair of selvedge denims.
If you've been keeping up with the Blue Blooded Q&As, you've probably already read Daniel's story—he's Blue Blood #20.
Thomas: How did you get into denim?
Daniel: Always had an interest but it grew when my wife had her own denim shop back in 2006. Since then, I've just gotten more and more into it, and back in May 2015 @redrawdenim was "born."
T: Why Instagram?
D: Easy and accessible, not too much writing, easy to reach out. Everyone can do it!
T: What's your favourite feature of jeans?
D: What's not to like? Haha! Can anything beat the smell of a fresh pair of raws?!
Douglas Luhanko has been deep into the world of denim for years. Before many of us even knew what selvedge was, he was hunting for vintage denim in California and Nevada mines together with Michael Harris.
He's the founder of the brand Blue Highway Clothing. And together with his girlfriend, Kerstin (who's on my list of must-follow ladies in denim), he owns and runs the store Second Sunrise in Stockholm. The couple has also written a book about indigo dyeing.
Thomas: How did you get into denim?
Douglas: I like to say that it was the combination of the characteristics and qualities of cotton, the durability of a twill fabric, and the mystery of indigo I fell in love with when I was a teenager. Ever since I've tried to gather as much knowledge about it as possible.
T: Why Instagram?
D: Instagram serves as a good source of inspiration, and it's pretty much the only social media we use for Second Sunrise. We do our best to keep our feed variated with products we carry, repairs we make, crafts we practice and things that inspire us!
T: What's your favourite feature of jeans?
D: For me, a pair of jeans represent security, comfort and reliability. I wear them for their simplicity and I don't think there is any garment better suitable to wear in my everyday life. If there was, I would most likely wear that instead!
On a side note, Kerstin just finished and release a second book, called Lappat & Lagat (which roughly translates to "darned and patched"). So far, it's only available in Swedish.
Johannes Luttrén aka @sennah0j
A father of two sons, Johannes works as a carpenter and lives in Ljungby, a small town in southern Sweden. He spends as much time as he can in Bollnäs (700 km north) where his girlfriend lives.
Just to be clear, @sennah0j is Johannes backwards," he adds.
Thomas: How did you get into denim?
Johannes: Always, always, always loved denim. I did have a period around when I was 14-15 that I barely wore jeans. Trying to make up for that now.
T: Why Instagram?
J: It's definitely more enjoyable to look at pictures than to read a text. I created this account as a 'regular' Instagram account. Then I found @jasonvanpul's and @andreasbergstrom83's accounts, and mine quickly turned into what it is today.
T: What's your favourite feature of jeans?
J: Always liked to wear my clothes. See how they develop over time. Seeing that not two pairs of jeans fade the same, but still, you can see the resemblance in honeycombs and whiskers (and in my case knee fades). I'm that person who, if I find a tee, a jacket or a pair of jeans that I love, I wear them every day all day!!
Magnus is a sound engineer on live events. He does everything from conferences to parties to tours. He's a family man, living in a house just outside of Stockholm with his fiancée, two kids and his vinyl collection.
Thomas: How did you get into denim?
Magnus: Denim has always been around. I got my first pair when I was a kid and it's always been what I wear. I've been into clothes and well-made products since forever, but my serious denim interest probably started ten years ago.
T: Why Instagram?
M: I like how easy it is to communicate with pictures. I'm not much for writing texts, even have trouble with what I should write for captions to my posts.
I also like the fact that you can reach new people—I don't think any of my followers or the people I follow is someone I knew from before. It's a great thing that you can actually meet new people through Instagram that you would never have met otherwise.
T: What's your favourite feature of jeans?
M: I would probably say it's the fact that they're so versatile. You can wear them at work, to relax in, to dress up. I also like the fading part of it; that it's like a living material that changes over time.
Martin lives in the middle of Sweden with his wife (for 20 years) and their two teenage boys. He loves cooking, eating good food, and having a drink or two.
Thomas: How did you get into denim?
Martin: Denim has always been a part of my wardrobe. Lately, though, the fabrics got more 'exclusive.' I saw a picture somewhere with a model wearing jeans and denim jacket, and I decided I wanted that look.
T: Why Instagram?
M: My Instagram account started as a family account but when the denim interest grew, it went on to focus only on denim.
T: What's your favourite feature of jeans?
M: I've always been interested in clothes and my favourite colour is that deep blue of denim. I prefer high waists and a slim, tapered look.
'Matz Megatron' sounds like the name of the villain in a science fiction movie or something. In real life, Mattias is a husband and father living in Gothenburg, working as a property operating technician.
In his spare time, though, he does some pretty badass stuff. He's the guitarist, vocalist and bass player in the band Memfis & Faster Katt. He also describes himself as a denimhead, beer geek and moustache activist.
Thomas: How did you get into denim?
Mattias: For me, it started about 2010 with vintage Lee denim jackets and 70s-style bootcut jeans. It then developed to the raw and selvedge denim eco-philosophy with local denim brand Nudie Jeans. Later on with Instagram and webshops, it escalated to heavy ounce denim and Japanese brands.
About two years ago, two denim repairing dudes from our town opened up their own jeans store Göteborg Manufaktur. It's a great place to hang out, shop and talk about quality brands and meet other like-minded people.
T: Why Instagram?
M: Social networking with new and old friends. It's an easy way to follow a huge variety of interests (just swipe away). And I also enjoy the creative side of making a new post and building my own feed. Perks that I feel other social platforms lack.
T: What's your favourite feature of jeans?
M: Durability, the rewarding progress that you get from a raw state to a broken-in/faded denim that only gets more beautiful over time.
It's also the timeless and classic look that a pair of jeans or jacket represent. And the practical aspect of a five pocket jean. Take the coin pocket, for example, it's perfect for guitar picks!
Max studies music production at the Royal College of Music in Stockholm. During the weekends, he works at Nudie Jeans.
I started playing the violin at the age of five. After trying a couple other instruments, I got hooked on playing bass, which still is my main instrument. I love to write and produce pop music and I also spend a lot of time doing photography, mostly shooting film."
Thomas: How did you get into denim?
Max: In my late teens, I started caring more for what I wore. Eventually, that lead me to the denim world.
My first pair of quality jeans was a Nudie Grim Tim. I wore them pretty much every day for a year and a half. When the crotch blew out, I mended it myself, quite poorly, and wore them for another six months.
That's when I visited a Nudie Jeans Repair Shop and learned they repair for free. Soon after, I found out about selvedge, different weaves, indigo and all the rest. Since then, I've been hooked on denim.
T: Why Instagram?
M: I started my Instagram journey about a year ago. I had been following a couple of denim-related accounts and realised that there's a huge denim community on the platform. I wanted to connect with like-minded denim lovers and at the same time, I got more interested in photography.
T: What's your favourite feature of jeans?
M: My favourite feature of jeans is the way they age with time. Cliché, I know. I absolutely love the look and feel of a brand new pair of raw denim jeans, but there's something special about breaking them in and seeing the colour changes.
Nils works as a test developer in Lund. He lives in Malmö with his wife (who's Danish) and their two children.
I enjoy music. I play a couple of instruments and used to sing in a choir. I also enjoy running, photography, beer and board games."
Thomas: How did you get into denim?
Nils: It started with two pairs of Edwin jeans I bought in 2011-2012. I had raw jeans before that, but had not given the topic much thought.
I stumbled over an article about denim at Denimhunters. After that I was hooked! (true story!) I read everything I could get my hands on. The more I read, the more enthralled I got.
I found Rawr Denim (now Heddels) and their forum where members could add pictures of their denim evolution. But most of the time, there were only one or two pictures. I wanted to see the full story. So I started posting pictures of the entire evolution of the pair I used most at that time (Edwin ED-49).
I also discovered Superfuture and whole new denim world opened up for me. There's a thread called "The Evolution of Jeans: Pictures, Scones and Tea." I must have read every single page in that thread, and still follow it on daily basis.
T: Why Instagram?
N: I started using Instagram as a picture diary to capture the evolution over time. Instagram is a great place to share pictures and it has a great denim community with loads of enthusiasts like myself.
T: What's your favourite feature of jeans?
N: I love seeing how denim evolves. It's a slow process and the result varies depending on who you are, what you do, and how you handle and wash your denim.
I also love the feeling of putting on a fresh and crisp pair of jeans after the initial soak.
It would be hard to just point out one feature but I really like to take close-up photos of my denim. The fabric and hardware looks amazing when you can zoom in and see the details.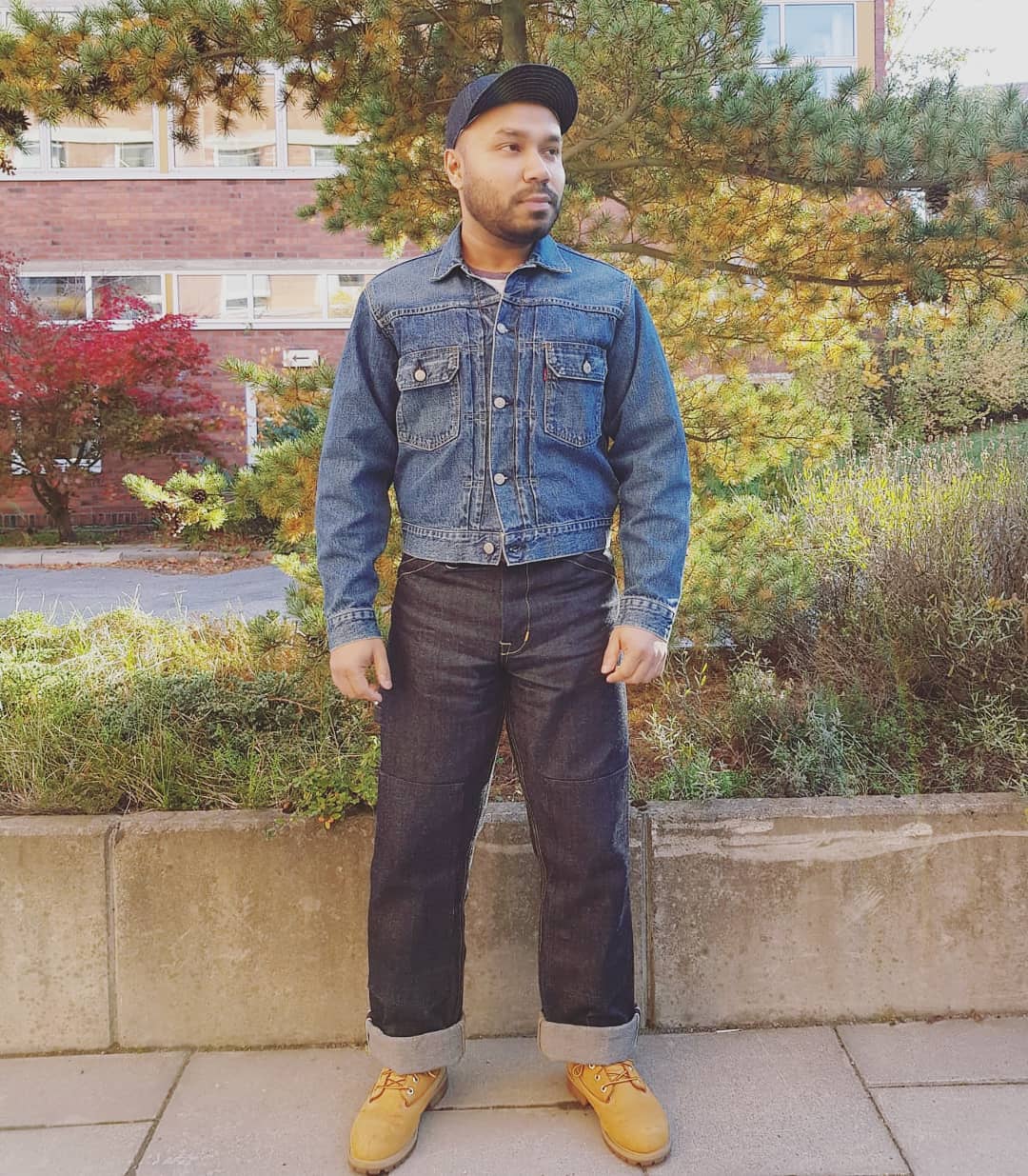 Oisik is a material scientist with a PhD from the University of Auckland and a Master's degree from Washington State University. He's current researching bio-polymers and natural fibres at KTH Royal Institute of Technology in Stockholm.
I have an ardent interest in workwear (denim and canvas) and material performance of such fabrics under harsh environmental conditions. My ultimate career aim is to design a material that is impervious to entropy changes," he writes to me.
Thomas: How did you get into denim?
Oisik: As a material scientist, I had to test the material properties of different natural fibres. Denim has superior abrasion resistance, breaking load and fabric tear resistance. My economically humble background made me depend on denim, which requires fewer replacements since it's less affected by the second law of thermodynamics.
If you don't know what that is either, Wikipedia describes it here.
T: Why Instagram?
O: It's a great platform to portray one's interest and meet like-minded people.
T: What's your favourite feature of jeans?
O: It's a hard-wearing, comfortable, and versatile fabric that undergoes evolution. Denim stimulates nostalgic feelings about the good old times. The hard work done by cowboys, ranchers, construction workers and miners are personified by denim!
Pål is a marketer living with his girlfriend in Stockholm where works part-time at the Red Wing Shoe Store. He loves sustainable fashion, design, long-lasting garments and heritage stuff. He's also the Blue Blooded Instagrammer #6.
Thomas: How did you get into denim?
Pål: I've worn denim since I was a kid. When I got older, I became tired of how all my clothes and jeans were of poor quality and always wore down quickly. That's when I found sustainable fashion.
I also like how the clothes people had worn and 'broken in' were nicer and had awesome fades, which made me want the same.
T: Why Instagram?
P: It's such an awesome platform to meet new and interesting people and to stay up to date on nearly everything and express my interests.
T: What's your favourite feature of jeans?
P: The patina and the history around each and every pair. The persons and the brand behind the garments, and not least the wearer, make every pair unique and nothing can beat that. When you buy a new pair of raw denim jeans, that's an unbeatable feeling.
Sebastian is a sound engineer working mainly on TV and movies. He lives in the south of Sweden with his wife and daughter.
Thomas: How did you get into denim?
Sebastian: I've gone through a lot of different styles throughout the years. At one point, I only wore suits and tweed jackets and ties. Now I feel I've really found my own style.
I got into raw denim and selvedge through my interest in rockabilly music, actually. With that came an interest in dressing the part. I use to wear skinny stretch jeans but I thought that 50s-inspired look with straight cut jeans and big fat cuffs looked really awesome. I got my first pair of raw denim jeans from HepCat Store. I still wear them from time to time.
T: Why Instagram?
S: I was on Facebook for a while but got fed up with the constant feed of uninteresting posts. I really got hooked on Instagram because of its simple nature.
At first, I was following different denim dudes, but in the middle of my 9 months of paternity leave, I just figured 'hell, now is a great time to start a denim account,' so I did.
T: What's your favourite feature of jeans?
S: I like everything about jeans and denim, from the long and diverse history down to the extremely geeky details. But if I'm going to pick one feature I'm particularly fond of, it would be the arcuates.
The history behind them is very interesting, with all the early brands copying Levi's, but then being forced to come up with their own designs. It's a little sad that many newer brands don't have arcuates.
Tim was born and raised in Helsingborg but now lives in Örebro with his wife, daughter (who's named Indigo!) and their little pug. He's worked in retail for 8-9 years but is currently in the midst of changing career.
Quite recently, I started making leather goods, and I absolutely love it! Shout out to Joel @jcleatherworks for pushing me to get started, and for teaching me a lot of stuff!
Thomas: How did you get into denim?
Tim: I got really hooked thanks to my former co-worker at Levi's, Jim. He showed me what happened when you wear a pair of raw denim jeans for a long time. It fascinated me, and today, I strive to buy properly made garments that'll last.
TSB: Why Instagram?
TT: Instagram is such a nice platform to meet and connect with like-minded people. Like in March this year, when I went to visit my best friend in New York and we met up with Albert (@upstateguystyle). That really opened up my eyes to this awesome community.
Now, every time I see denimheads are coming to Sweden, or if I'm travelling, I'll try to arrange meet-ups. For example, I went to Stockholm earlier this year to hang out with Joe Pizarro. And when I was in LA this summer, I hung out with him and others from the @ladenimhangs crew.
TSB: What's your favourite feature of jeans?
TT: I love how all the different fabrics fade differently, and how two people wearing the same denim will fade them in their own way. And since I always wear a belt, I must say that I truly appreciate the belt loops!