Q&A with King-Yu Yiu aka @kingyuyiu
Name: King-Yu Yiu
Birth year: 1989
Location: London
Profession: Associate Creative Director
King-Yu's Instagram Routines and How It Started
Thomas: How did it all start with your Instagram feed?
King: It started five years ago when I started documenting the evolution of my Lee 101Z 23 oz. jeans on a monthly basis, following a strict 'no wash' policy, as well as featuring artworks from past collaborations to hopefully inspire others alike.
T: Why Instagram? What are your goals?
K: To share the beauty of faded indigo; as an artist, colours are everything in my work and the sheer uniqueness of natural fading over time is gorgeous. It's a fantastic visual diary to show your vision amongst other great indigo faders.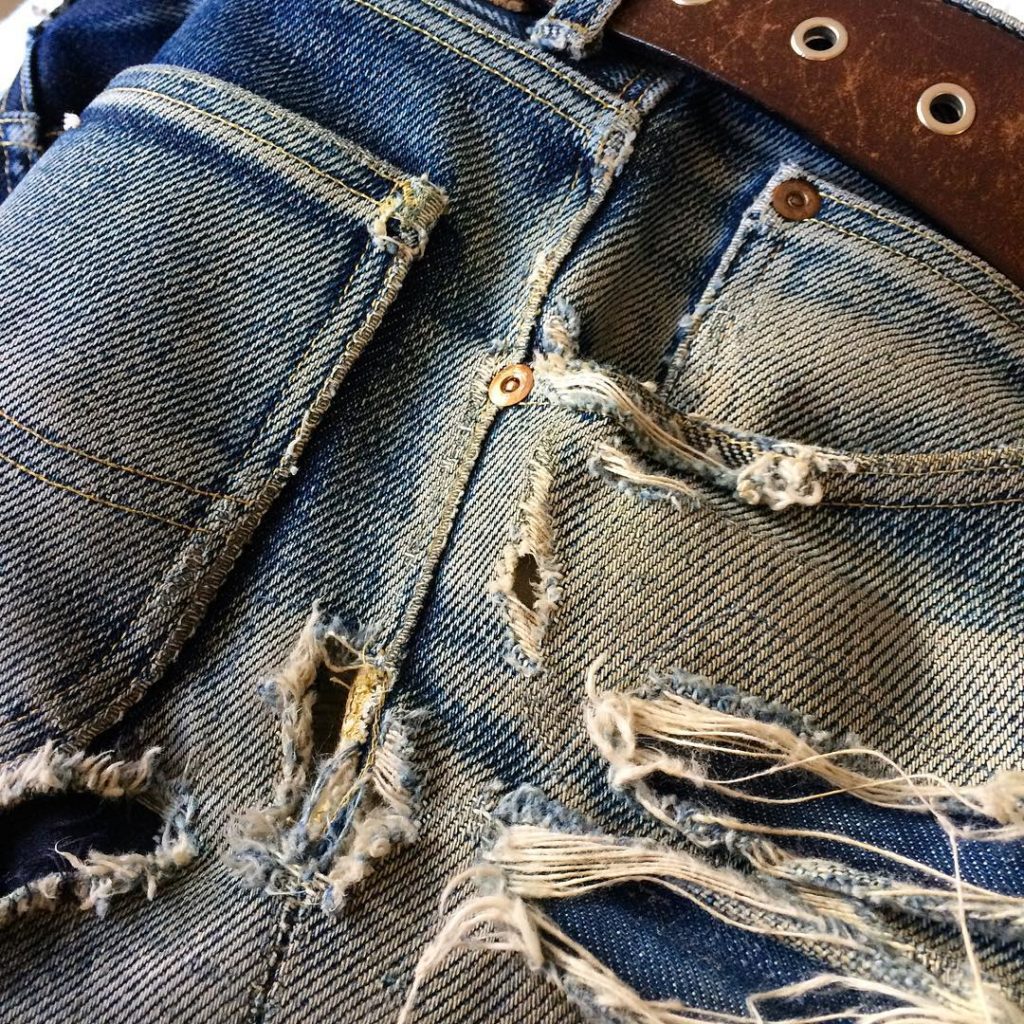 T: How much time do you spend on Instagram on a daily basis?
K: The (usual) daily routine would be a quick check-in during my morning coffee, mid-afternoon while enjoying my wife's delicious lunches, and another brief browse at the end of the day in bed.
Since the nature of my job is always seeking new imageries and inspirational references, luck and timing can sometimes find great little snippets on the newsfeed.
T: How do you take your photos?
K: All photographs are taken by myself.
T: Which tools do you use?
K: A LEICA M10-D.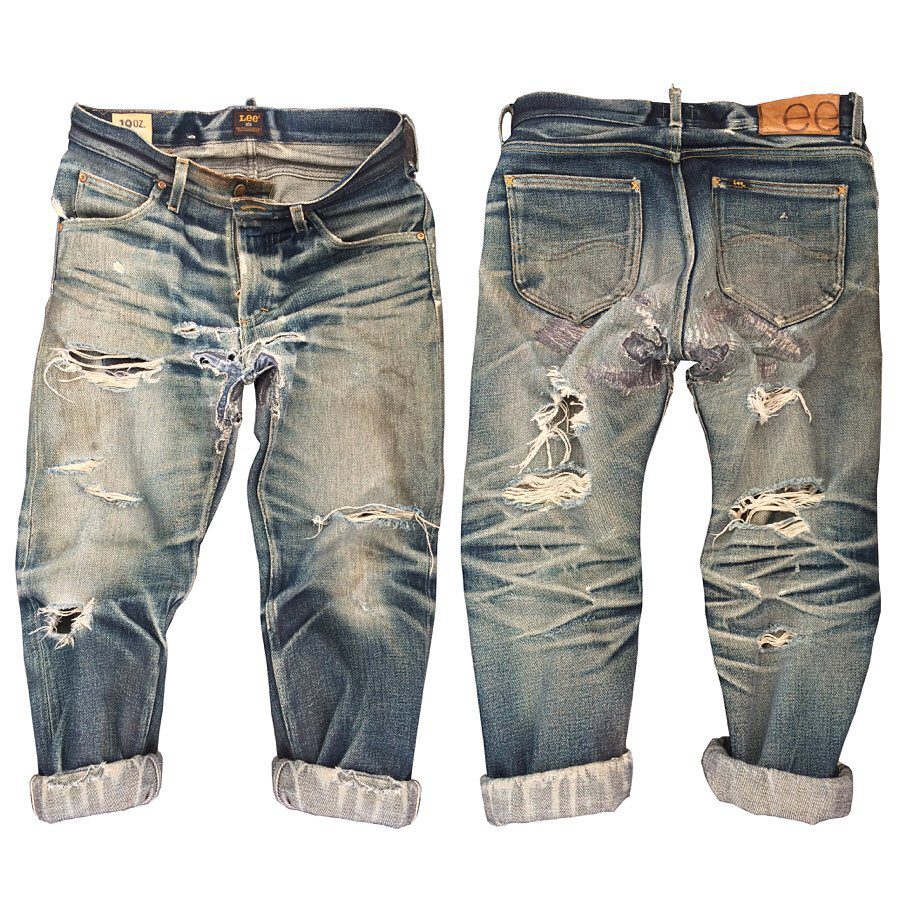 T: What's your editorial flow?
K: The main key calendar date is at the end of each month to document overviews on my current Lee 101Z 19 oz. jeans. Rest is ad hoc when a good moment pops up, I'll just snap it and share it in between.
T: What are your favourite locations to take photos? And why?
K: The majority of my photographs are taken in the studio; I'm very fortunate to have a lovely open top window with great natural lighting capturing the details.
King-Yu's Denim Style and Preferences
T: How did you get into denim?
K: This would be the first day working at Evisu back in 2007 when the head office was still based in Savile Row.
It was a complete eye-opener to the world of denim and tailoring; the smell of wet indigo from the drizzled morning rains while commuting to developing my first embroidery artwork, they showed me the ropes to becoming a denimhead. All the guys were fantastic; I owe it to that close-knitted friendly team.
T: What's your favourite feature of jeans?
K: One of my favourite parts would have to be the honeycombs – the highs and lows of contrasting indigo shades, the form and definition are always fun to see.
Another part is what's underneath the rolled cuffs! Unravelling it from time to time, I love the degrade from the original raw denim to what's been faded – the gradual 'dip dye' look effect is stunning to see.
T: How do you wash your denim?
K: NO WASH!
T: What's your favourite denim brand?
K: Never an easy question. However, in my opinion (bearing in mind the involvement of sentimental values as well), would be Evisu BUT the Japanese mainline where the designs are still authentic to how they were back then.
The story Mark told me a pair were once sold for $400 back in the early 90s compared to $50 by Levi's – people were fascinated as to how a pair of unheard jeans can have such a value at the time but after knowing their '13 pairs a day' production run – that commitment was the true meaning of quality and craftsmanship. They involved elements of humour to their collection too which I could relate to.
T: What's your favourite fit? And why?
K: Evisu Japan Lot. 2001 "OLD CUTTER FIT" in No.1 Tiger Selvage "Gatagata", straight jeans with loose legs. A proper workwear silhouette, can't beat the classics.
T: Which boots and leather goods do you wear with your denim?
K: Both leather boots and jacket by Carol Christian Poell, a true modern-day avantgarde designer.
T: Which sneakers do you wear?
K: I'm currently sporting my ASICS Gel-Kayano 25 in the shocking orange/black colourway.
T: Favourite item that's not denim or leather?
K: This would have to be my Nike hoodie in heavy grey melange sweat. I've had this for almost 15 years and still going strong.
The construction is based on an American 30's "Double V" vintage sweatshirt. It's aged nicely with gradual wears along the hems, cuffs, kangaroo pocket and elbows with the brushed felpa breaking through.
T: Where do you buy your gear?
K: Mostly through vintage markets, private sellers and suppliers offering rare and well-considered one-off pieces.
I've recently visited Leicester during a manufacturing/research trip and stumbled upon a couple of local independent boutiques selling all sorts of products from various eras; never tired of it.
T: What's your monthly clothing budget?
K: To be honest, I don't really have a budget for clothing. I rarely treat myself these days as I'm currently saving for a property!
T: What styling tips would you give your followers if they wanted your style?
K: Comfort and enjoying your own look! Don't force a garment that you don't feel good wearing, it won't match your personality.
I like garments with history or a story; finding out the original purpose or particular method of constructions is interesting and makes you truly appreciate what you are wearing.
Ready for More Q&As?
If you'd like to read more personal stories and Q&As, you can check out all the previous ones right here. Want to make sure you never miss one? Sign up for the free weekly Denimhunters email newsletter.