Q&A with Ruedi Karrer aka @swissjeansfreak
Name: Ruedi Karrer
Birth year: 1959
Location: Zurich
Profession: Geographer and Founder of The Jeans Museum
How Ruedi Got On Instagram
Thomas: How did it all start with your Instagram feed? When did you join the platform?
Ruedi: After using several social platforms like Mynudie or Superfuture, I randomly found Instagram in 2011.
T: Why Instagram? What are your goals?
R: I found out how easy it was to upload pictures with captions and hashtags.
T: How did you get your nickname (the Swiss Jeans Freak)? Did you come up with it yourself?
R: Yeah, it was actually just my own idea since I was sure that I must be pretty freaky for everybody with my super strong raw denim addiction. I used the same nickname on other platforms I was on before Instagram and on Twitter as well.
T: How much time do you spend on Instagram on a daily basis?
R: About 2 hours.
T: How do you take your photos? (By yourself, with the help of others, etc)
R: I always take my pictures with my iPhone 6 Plus.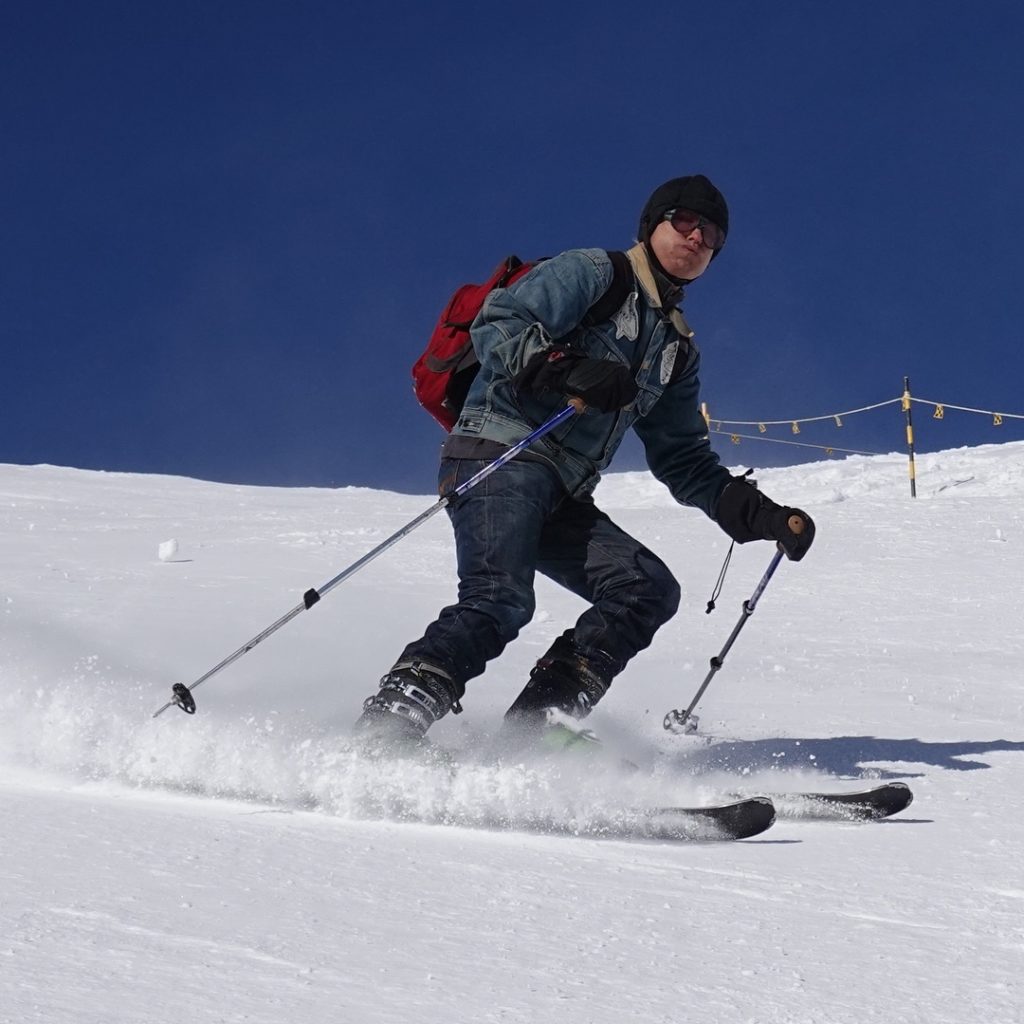 T: Which tools do you use?
R: I never use any additional gear; no tripods, no special lenses, never a filter nor PhotoShop, just the plain picture as it is.
T: What's your editorial flow?
R: They're all randomly taken. But I usually try to post in the morning to be able to check the reactions during the day.
On special events like denim trade shows, I always take some pictures that I post over the next days.
T: What are your favourite locations to take photos? And why?
R: Mountains or while working like when I'm cutting wood. I love both raw denim, mountains and working, so I try to combine them.
Ruedi's (Very Special) Denim Style and Preferences
T: How did you get into denim?
R: After our big family received 2 pairs of Levis jeans in a cloth donation parcel in 1973.
In this video interview, Ruedi explains why he's so obsessed with raw denim.
T: What's your favourite feature of jeans?
R: I love all kinds of strong, natural raw denim evolution like on the fly, front pocket scoops, whiskers, honeycombs, back pockets.
T: How do you wash your denim?
R: Never.
T: What's your favourite denim brand?
R: I love green cast denim the most, and I love all raw denim brands with a lot potential for fading evolution!
T: What's your favourite fit? And why?
R: Straight cut, and I always wear them a little oversized to make them more comfortable.
T: Which boots and leather goods do you wear with your denim?
R: A leather belt and my legendary sandals ?
Watch this video where Ruedi talks about his sandals and other quirks.
T: Which sneakers do you wear?
R: Asics.
T: Favourite item that's not denim or leather?
R: My beanie from @hattersanonymous, my running shorts, and many T-shirts.
T: Where do you buy your gear?
R: Sneakers and outdoor equipment in an outdoor store, denim items I have more than 50 pairs on my waiting list since I'm a too slow fader so no buying anymore.
T: What's your monthly clothing budget?
R: For myself, less then €20 per month. I have too many items and they will last longer than I'll be alive.
For The Jeans Museum, I spend about €300 every month for some new raw denim gear.
T: What styling tips would you give your followers if they wanted your style?
R: Just wear them a little bit oversized to have them comfier and do some outdoor activities in them and avoid water as long as possible
Ready for More Q&As?
If you'd like to read more personal stories and Q&As, you can check out all the previous ones right here. Want to make sure you never miss one? Sign up for the free weekly Denimhunters email newsletter.
… Want more Ruedi?
If you can't get enough of Ruedi, and you haven't seen it already, check out this fantastic mini-documentary that Benzak Denim Developers made about The Jeans Museum.