Q&A with Egor Rasskazov aka @twerd.mfg
Name: Egor Rasskazov
Birth year: 1988
Location: Moscow, Russia
Profession: One man brand (officially, I have cook diploma)
Egor's Instagram Feed
Thomas: How did it all start with your Instagram feed?
Egor: In the early autumn of 2017, my friend Ilya @redhillscompany convinced me I needed to start a separate account for TWERD' Mfg.
T: Why Instagram? What are your goals?
E: Since for most people, visual perception is key for defining and evaluating things, Instagram with its image feed and distribution mechanics based on 'word of mouth' became a top platform to show up with who you are or what you do.
Obviously, it'the s best app to reach people with similar interests and visions, and so the goal, to be honest, is to spread the word about a small denim brand from the land of bears and vodka! ?
T: How much time do you spend on Instagram on a daily basis?
E: Well, let's say an hour in the morning, an hour in the evening and at breaks during the workday. Phone stats show about four hours, don't know if it's too much or still okay ?‍♂️
T: How do you take your photos?
E: Some I shoot and edit myself. When I'm in the frame, I need a friend or photographer. Some, but not often, are from events and from other people wearing TWERD' items.
T: Which tools do you use?
E: With rare exception, photos are taken on a DSLR camera in raw quality that allows me to edit picture according to my vision and taste. I use Photoshop for colour, lights and texture adjustments. That's it.
T: What's your editorial flow?
E: I have no strategy or rules, I just show new garments I make, the details, how they fits, mixed with updates of what is happening with me as a maker and garments ageing.
T: What are your favourite locations to take photos? And why?
E: Old industrial area on Moscow's outskirts where the shop is located are always best surrounding for the workwear garments I make, emphasising and complimenting their character.
The shop floor also doubles as a simple background that expresses the handicraft behind the items. Or, at least, I find them so and photos are mostly taken here.
Egor's Denim Preferences
T: How did you get into denim?
E: In early 2011, a sales guy at a trade show introduced me to raw denim. It was just like vampire's bite that changed everything and opened a new blue bleeding world. Though I remember raw jeans even before, I didn't pay attention to it.
T: What's your favourite feature of jeans?
E: The complexity of things, such as its history with all the twists, wide range of uses throughout epochs; the fabric, its texture, colour and fading ability; shrinkage of unsanforized denim; simple and comfortable construction regardless of trends.
T: How do you wash your denim?
E: I usually start with a hot soak to shrink the garment. Then, when I feel it's dirty enough and needs a wash, I do another hot soak—this time to avoid marble fade—and a machine wash right away. I'll then machine wash whenever needed.
Early denim era wearers didn't pay much attention to fades, they just worked hard, and had limited possibility to wash their garments. Now it's different. Some do fade challenges, others don't, it depends on personal preferences. I don't.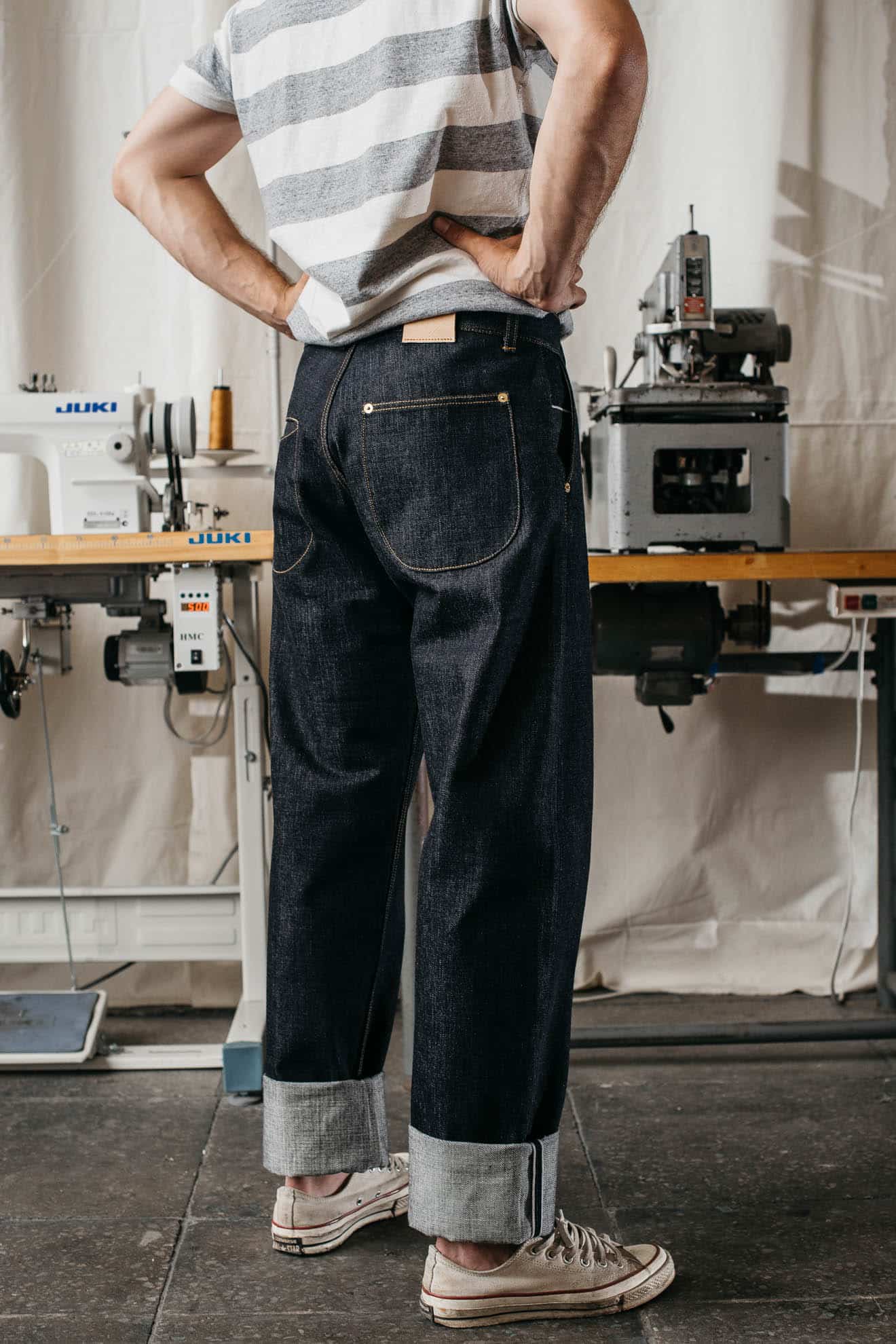 T: What's your favourite fit?
E: 30s and 40s fits.
T: Which boots and leather goods do you wear with your denim?
E: It's usually Red Wing Beckmans or Chelsea boots and one of Red Hills Co. wallets.
T: Which sneakers do you wear?
E: High or low 70s Chucks, mostly.
T: Favourite item that's not denim or leather?
E: Hmmm. A glass of beer?! ?
T: Where do you buy your gear?
E: I don't buy much, so boots at the local Red Wing retailer, Code7, Converse at a local shop and I buy some small things from small brands and shops in support reasons.
T: What styling tips would you give your followers if they wanted your style?
E: Always go for something that you would even sleep in.
Ready for More Q&As?
If you'd like to read more personal stories and Q&As, you can check out all the previous ones right here. Want to make sure you never miss one? Sign up for the free weekly Denimhunters email newsletter.