Like you might have guessed from his username, Michel is a fan of Volvo cars and he's into Superfuture. He's also won a TCB Jeans contest, and he plays the hell out of the flute!
What's your story?
Name: Michel Balatti
Birth year: 1980
Location: I live in a tiny little village called Ellera, not far from Genoa in the Northern part of Italy.
Profession: Musician (www.michelbalatti.com) / Festival director / Consultant for matters related to performing arts
I've studied music all my life, I perform various types of folk music on wood flutes (check out the video below!). I travelled a lot as a touring musician, now I am trying to slow down a bit and enjoy life in the countryside with my wife and daughter.
Since last year, my main work activity has become project management and consultancy work for festivals and music organisations, which allows me to spend more time at home.
Besides work and my love for denim pants, I like to spend as much as possible with my family. I also love vintage Volvo cars, spending time with funny people, eat and drink well, photography and computers (I love Linux and open source).
How Michel Runs His Instagram
Thomas: How did it all start with your Instagram feed?
Michel: I opened my Instagram account to join the action for a denim contest, I think in 2014, the TCB 50s contest, which I then eventually won.
T: Why Instagram? What are your goals?
M: Instagram is a nice social media, it's very targeted so it's easy to find likely minded people. I like to see what other people wear and be inspired by it, Instagram is very good for that.
I don't take it seriously. What I don't like about Instagram is that there are too many similar pictures, for instance, I can't stand photos of people adjusting their cuffs anymore!
T: How much time do you spend on Instagram on a daily basis?
M: Perhaps one hour a day? More if I'm travelling or I am bored, less if I have real-life tasks to do.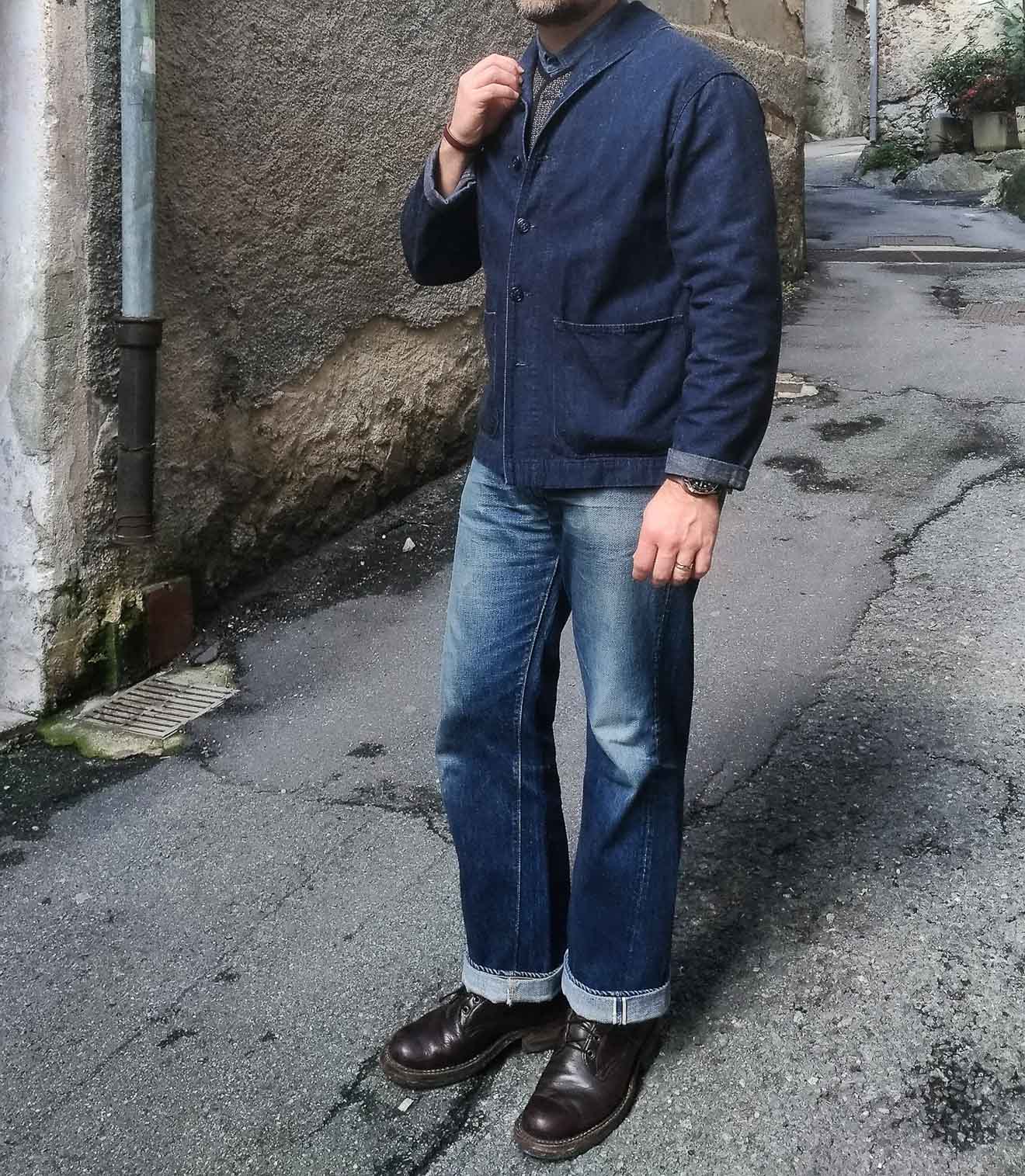 T: How do you take your photos?
M: I like to use a camera as much as possible but I also end up using my phone. Sometimes my wife helps to take pictures, though most of the time she's too busy taking the piss out of me being a peacock.
T: Which tools do you use?
M: I use a Sony a6000 camera with many different vintage manual focus lenses or a Xiaomi Redmi 5 smartphone. I usually edit photos with RawTherapee on my Linux computer or with Snapseed on my smartphone.
T: What's your editorial flow?
M: I don't have an editorial plan with my Instagram feed, I just post whenever I have time for it.
T: Do you make it a priority to post on a regular schedule? And how do you remind yourself of it?
M: I would like to, but usually during summer I'm so swamped with work that I almost completely stop posting on Instagram and on the denim forums I follow (Superdenim and denimbro).
T: What are your favourite locations to take photos? And why?
M: My favourite location is the back alley of my home. Why? There is a gutter where I can put my smartphone on self-timer!
T: What the story of your username?
I am a huge fan of Volvo 240! This year, I sold (!) my old 240 from 1993, which had 570.000 km on the clock, of which 300k were done by me. But I had to buy a newer car because now I drive too much to rely on such an old car. I have a newer Volvo, of course! I still own a 244 from 1980, which I drive on weekends.
Michel's Denim Style and Preferences
T: How did you get into denim?
M: I always liked denim since I was I kid. I still remember the first pair of 501s, which I bought when I was 13. I still have them somewhere.
I bought the first pair of "nice" selvedge jeans while on tour in Germany about 10 years ago. It was a pair of Edwins, the cut and denim felt so perfect and luxurious.
I started doing a little research online and found Superdenim, and from then on I've been going down an endless rabbit hole.
T: What's your favourite feature of jeans?
M: Perhaps the denim itself. Generally, I am a big repro nut. I love Japanese repros jeans in the 50s and the 60s cuts. So what gets me excited is a mix of period correct fabrics and texture with the right hue of blue, and period correct stitching details.
T: How do you wash your denim?
M: Back in 2008, I used to avoid washing as much as possible for the first year. Now I much prefer the look and feel of jeans that have been washed whenever needed.
When breaking in new unsanforized jeans, I usually soak the jeans inside out in the bathtub with the hottest water of the tap for about 45 min. Then I throw the jeans in the washing machine at 40°C and then hang dry. I don't have a dryer!
T: What's your favourite fit? And what's your least favourite fit?
M: At the moment, I'm wearing a pair of TCB 20s jeans (a Levi's 1922 501 repro) and I'm loving them as well. I don't like to wear slim and slim tapered cuts—generally, I'm not a fan of jeans that show too much man curves.
TCB is my favourite denim brand and if I should pick a specific cut, I would say the 50s. They hang off your body in a great way and set you apart from the thousands of peasants wearing testicle constricting jeggins in the streets ?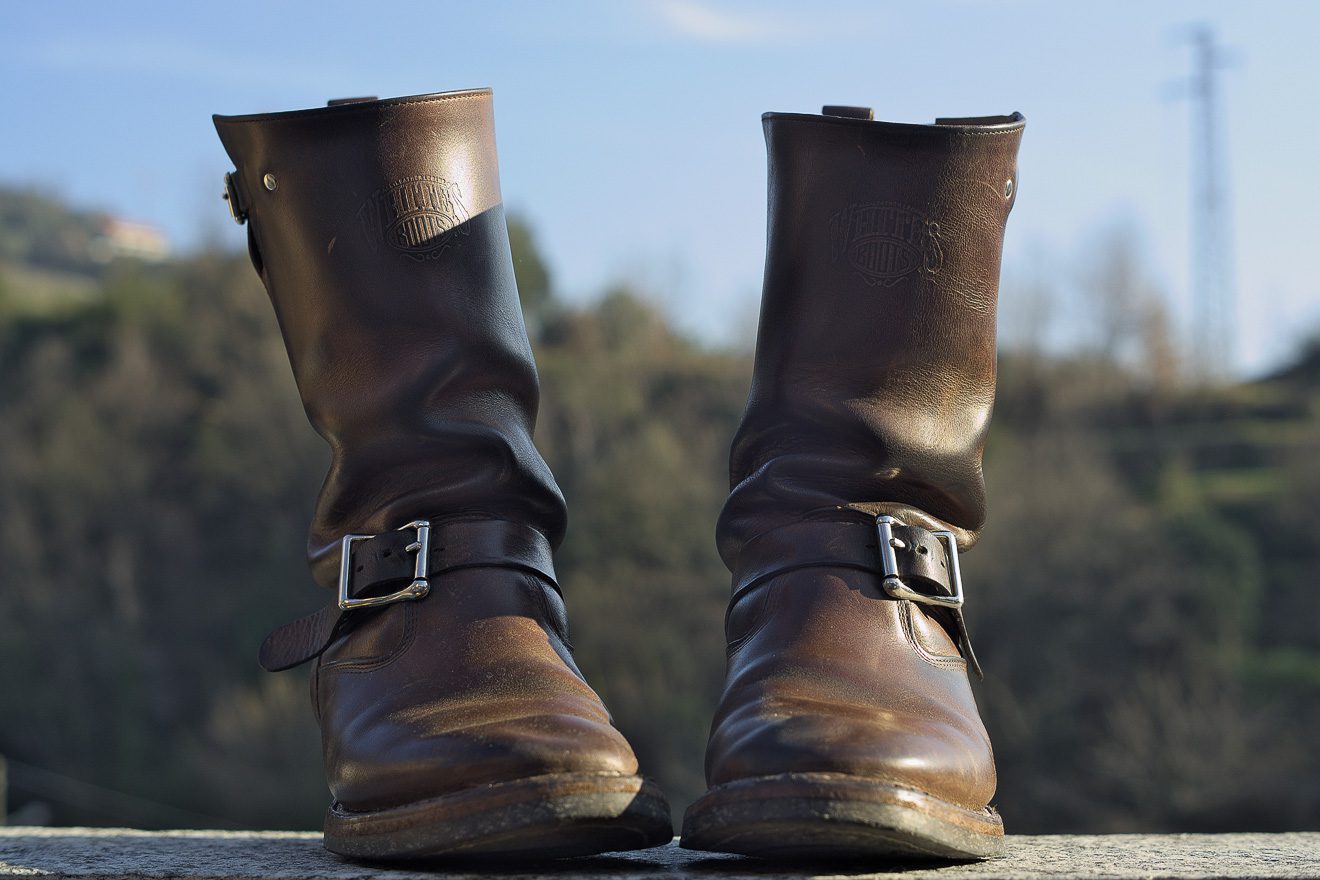 T: Which boots and leather goods do you wear with your denim?
M: Work boots from White's and Red Wing among others, perhaps my favourite pair of boots are a pair of natural Chromexcel White's engineer boots with raw cord Dr. Sole soles, which fit me like a dream.
I always wear an Ewing Dry Goods belt loop with my keys, a wallet made by Uwe Tauber and one of my belts (I have a couple made by forum member Zissou and one made by Ian Hubbs).
T: Which sneakers do you wear?
M: I used to wear Vans and Converse a lot. At the moment, I'm wearing a pair of Excelsior sneakers (a Korean brand) that I bought from the good guys of All Blues Co in Leeds. These sneakers are standing the test of time and wear much better than the aforementioned brands.
T: Favourite item that's not denim or leather?
M: There are too many, perhaps a cheap Chinese N1 deck jacket repro that I've worn lots and fits me really well.
T: Where do you buy your gear?
M: I try to buy directly from the producer when possible. I love the farcical experience of buying from Japan with the aid of Google translate, I like challenges! ?
Over the years, I've bought a lot of stuff from Rakuten and more recently got some excellent deals on second-hand quality Japanese goods on Yahoo.co.jp.
Otherwise, I like to buy my clothes from All Blues Co, they have a nice range and they're super friendly. I also buy non-denim items from a few Chinese repro brands on Taobao (mostly Bronson and Bob Dong).
T: What styling tips would you give your followers if they wanted your style?
M: Get inspired by others and then find your own style. And please don't post pics of you adjusting your denim cuffs on Instagram ?
As a little bonus, here's that video of Michel wearing his TCB 50s on stage while playing the flute. You will be blown away!