From Guernsey and Gansy to Aran Cable Knits, Here Are the World's Best Fisherman's Sweaters
For the landlubber, the sea is a vast and inscrutable mystery. For the fishermen and the sailors, though, it has spilled some of its secrets. Those who work among the waves can read both sea and sky like they were newspaper print. They can spot shoals and shallows from afar and scent storms on the wind.
The history of the fisherman's sweater is covered in considerable detail in our book, The Rebel's Wardrobe. Get your copy here.
They know things that the landlubber does not, and this has always leant them a special status. Our fascination with sailors and fishermen extends to their clothing. Anything tough and warm enough for them is tough enough for us.
We've already looked at the sailor's peacoat, deck jacket, and duffel, but in this guide, we're looking at what is arguably the most iconic sea-born garment: the fisherman's sweater. Traditionally made from five-ply worsted wool, which can absorb as much as 30% of its weight in water before it begins to feel wet, the tightly knit sweaters have been the Atlantic fisherman's best friend for centuries.
We've scoured the world of well-made goods for the absolute best fisherman's sweaters on the market. You won't find any luxe cashmere or angel-soft sweaters on this list. Instead, you'll find sweaters made for warmth and durability. You won't find any prominent branding or even stripes. Instead, you'll find solid colours and drum-tight knits.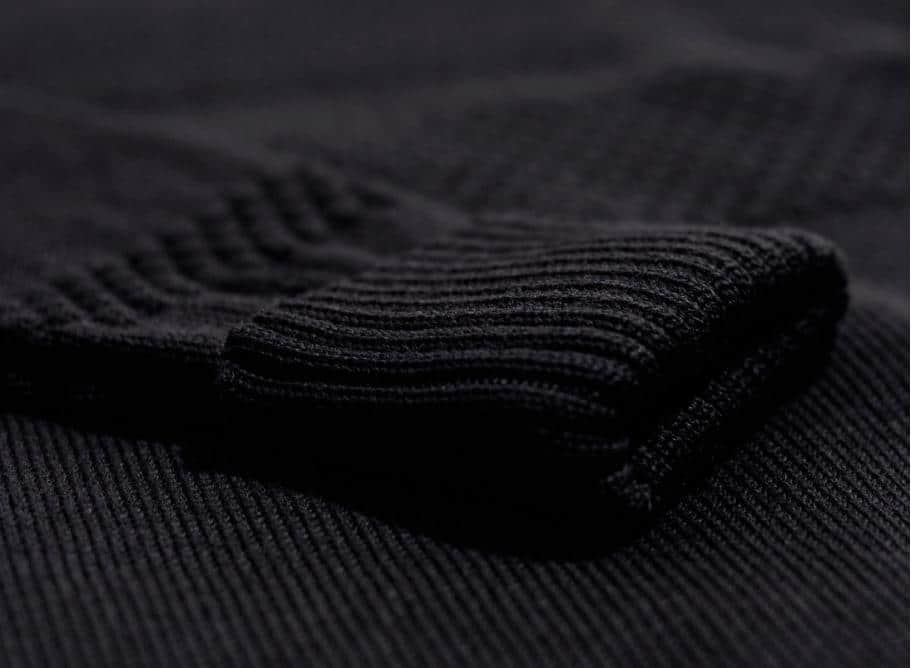 We've included sweaters from traditionalists like Flamborough Marine, Le Tricoteur, and Saint James, rugged European makers like Heimat Textil, SNS Herning, and Andersen-Andersen, and a few heritage brands like Mister Freedom, Aero, Fleurs de Bagne and Filson. Let's dive in headfirst with Heimat Textil.
Our guides are reader-supported. We earn a small commission when you make a purchase, but it doesn't cost you anything. Prices include local VAT and are subject to change.
Disclosure: Heimat supplied us with a sweater to review for this guide.
---
Heimat Textil U-Boat Roll Neck
Our favourite nautical knitwear maker hails from Germany, and their impressive list of stockists is a fog-horn blast signalling the brand's unimpeachable quality and attention to detail. For those whose stock and trade is well-made knitwear, Heimat sweaters are as essential as they come.
Like our favourite stockists, we spend every day sailing the wide seas of well-made goods. There are some first-rate sweaters below, but Heimat are at the top of our list, and they should be at the top of yours too.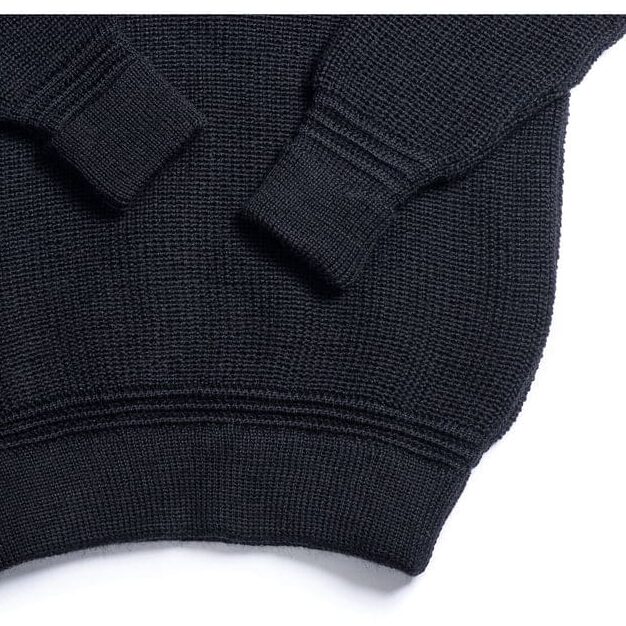 Heimat's U-Boat Roll Neck is based on the simple sweaters designed for both seamen and airmen in WWII. Made from a full kilogram of tightly knit and oily five-ply wool, it will make you feel bulletproof. Like a great pair of jeans, it will relax in time. The oily virgin wool makes the sweater practically self-cleaning, so (again, like a great pair of raws) only wash this one when absolutely necessary.
The Mini-Roll offers the same body and sleeves and an almost-identical range of colours, but it swaps out the high-rolling neck for a more casual mini-roll that rests on the collarbones. The collar is based on a style popular among fishermen and dockworkers along the eastern coast of the United States, but the style has spread absolutely everywhere. This sweater's natural home is anywhere that brine and sweat mix.
The U-Boat Roll Neck is available in Nine Colours, and the Mini-Roll is available in Seven Colours. If you want to add more than one colour into the mix, we highly recommend their Signal Stripes (especially in Rescue Orange/Black) and their Black/White Rugby Harbour.
---
Flamborough Marine Authentic Gansey
Hand-knitted in one piece (fewer seams means fewer places for the water to seep through), these authentic ganseys are the best-thing going if you want a stitch-perfect reproduction of the fisherman's sweaters of old.
They're not cheap, but they cost about as much as you'd expect for an end-to-end hand-made garment. They don't start knitting until the order is placed, so expect a lag-time of six to eight weeks.
Available in a wide range of colours, but, for us, the classic navy wins by a boat length.
---
SNS Herning Fisherman Sweater
A cornerstone of SNS Herning's collection for nearly a century, Herning's fisherman's sweater is as good now as it's ever been. Like other authentic ganseys, the pattern stops around the midsection because that's where the fisherman's overalls would cover the sweater.
Knitted in Latvia, this sweater has nearly all of the hallmarks of authenticity we look for. Originally designed for working fishermen, it's meant to see salty water often and soapy water almost never.
Also available in Bronze Green and other seasonal colours, as well as a Crew Neck version.
---
Allevol x Inverallan Indigo Cable Knit Crew
One of two cotton entries on this list, this sweater is simply too good to miss. Unlike the wool sweaters on this list, this indigo-dyed cotton beauty will fade with wear. One Japanese customer wore his at every possible opportunity for a few years, creating the faded beauty you see below.
Though the cotton cable-knit may not have the insulating properties of its wool cousins, the fades will warm you from the inside out. If you don't plan on weighing anchor and taking to the seas anytime soon, this will be more than enough sweater for you.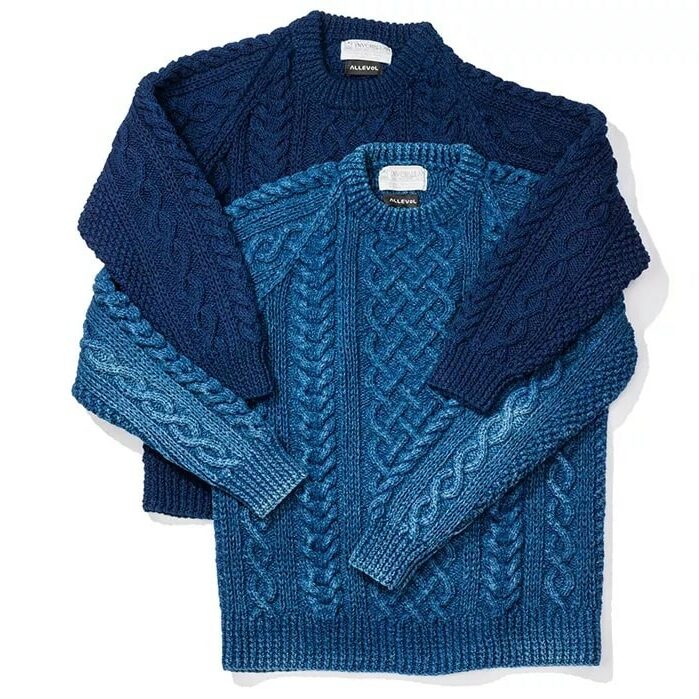 The Crew Neck is also available in Black, and the indigo is also available as a Buttoned Cardigan.
---
Aero 1941 RN Submariner
We're big fans of Aero's leather pieces, but there's more to this brand than hides. They have a stellar line of knitwear, and their 1941 Submariner is hands down the best combination of rugged good looks and value on this list.
It's still a mystery to us while the Royal Navy chose cream for their submariners, who worked in hot and filthy conditions, but, in the process, they created one of the most iconic wartime looks. For that (among many other things), we are in their debt.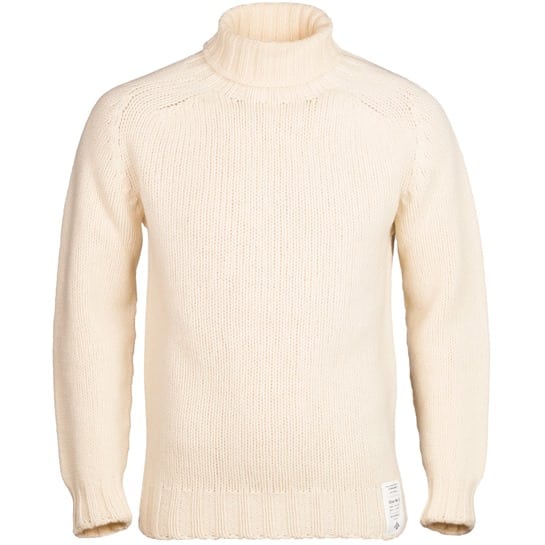 If your idea of the true classic is the blue turtleneck, you'll find that among the other Colour Options for the 1941 RN Submariner. We're also partial to the Trawlerman in Hardwick
---
Andersen-Andersen Navy Seaman
Combining Danish design and Italian knitting, Andersen-Andersen have become a prominent name in the race to become the world's premier outdoor knitwear manufacturer. To distinguish themselves, they focus on quality and timeless design, and they come as close to perfecting the simple sweater as anybody.
Made from Patagonian wool, this turtleneck features extended sleeves with holes for your thumbs. If you don't need the extra coverage, they can be rolled up to the wrist.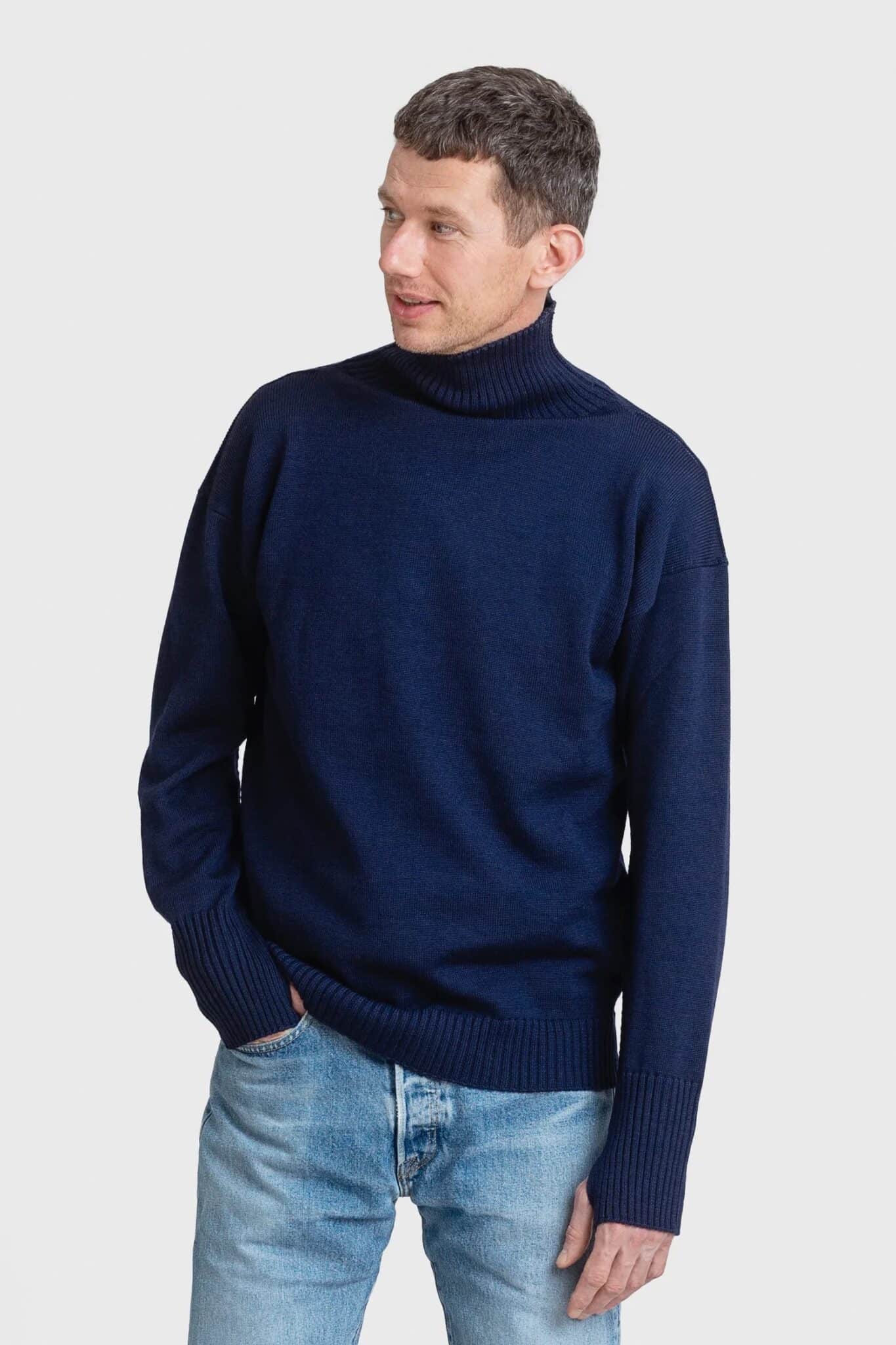 Also available in an extremely sharp Black and a range of Other Colours.
---
Filson Fisherman's Sweater
America's reigning and rugged kings of workwear may have lost some of their bona fides when they started offshoring some of their production, but they remain a force to be reckoned with thanks to their timeless and heavy pieces, with this sweater definitely being one of them.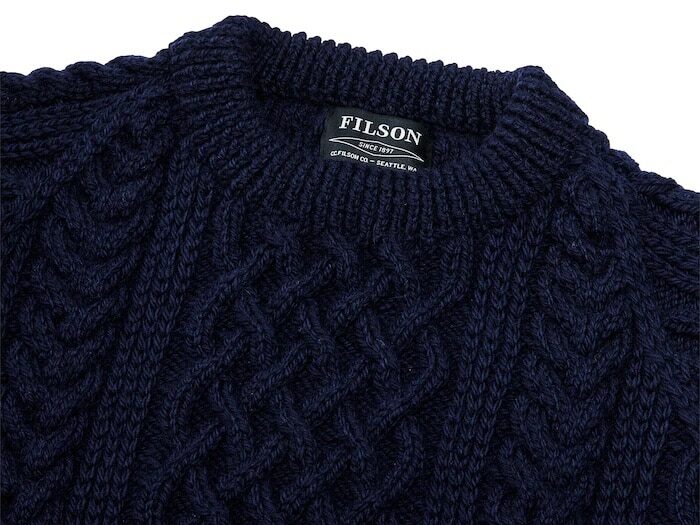 Knitted by hand in India from Scottish wool, Filson's Fisherman's Sweater is one of the chunkiest cable knits around. Wear this regularly as a layering piece and you might have to invest in an oversized coat to make room for it. Of course, in most climates, you won't need the coat at all.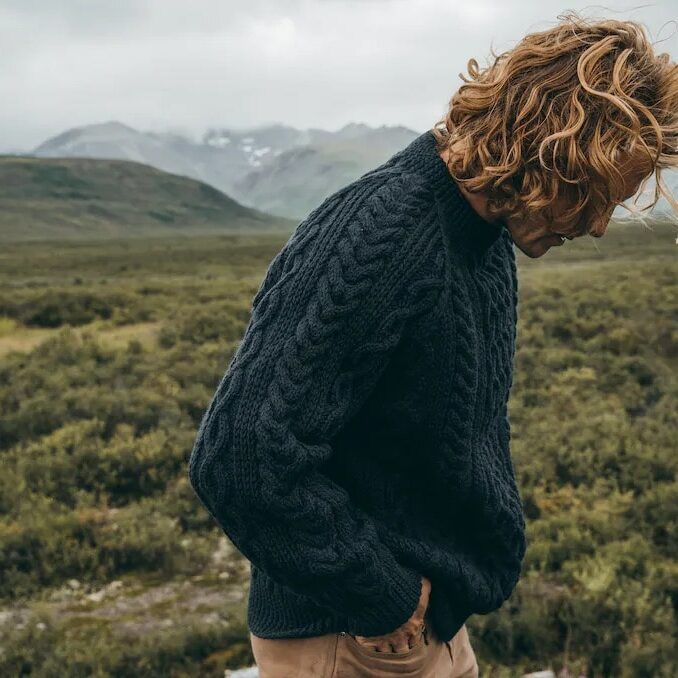 They only produce a limited number of these sweaters each year. If the navy is sold out, the sweater is also available in Orange, Yellow, and Flecked Black.
---
Mister Freedom Mariner Roll-Neck
Our second cotton entry on this list comes to us from Mister Freedom. You can expect this indigo-dyed, made-in-Japan cotton sweater to fade to a stunning shade of light blue around the cuffs, neck, and elbows.
As we've come to expect from Loiron's designs, this sweater fuses workwear with Southwest Americana. It might not be suited to the life of the North Atlantic fisherman, but it will suit the cool evening desert wanderer down to the ground.
Also available in Black.
---
Fleurs De Bagne Le Pull Orlock
Directly translated to "Convict Flowers," Fleurs De Bagne take their name from French prison tattoos. There's a hard-nosed quality to even their softest products–though many of their offerings are, as the name suggests, as hard as nails.
Their 100% wool Orlock sweater features a gorgeous ribbed neck and deceptive softness. Though it might look like a fireside piece (and it will look incredible as an indoor piece), it is ready for just about anything either you or the sea can throw at it.
---
Le Tricoteur Traditional Guernsey
Called "the original guernsey from Guernsey," these sweaters are still hand-finished on Guernsey (one of the Channel Islands in between England and France). Starting in 1964 with a hand-operated knitting machine, the company has been producing one of the world's best fisherman's sweaters for more than half a century.
Like other genuine articles, Le Tricoteur guernseys are fully reversible. To spread the wear out, alternate which side you wear facing front. Another good sign: the price climbs slightly higher as you go up in size (you're paying for the extra yarn).
The Traditional Guernsey is available in a wide Range of Colours and in beautiful Striped Versions.
---
Left Field Tweed Sweater
An absolute feast for the eyes, Left Field has, with this offering,. bent traditions without breaking them. The brand got their start in 1998, operating for the first few years out of a string of apartments and lofts in Brooklyn. Their goal has always been to make clothes that their grandparents would be proud of, and they've hit it out of the park with this salty-dog-approved sweater.
Woven and knitted in the USA from authentic Donegal tweed, this wool sweater features a raglan sleeve construction that flatters just about every shape. Combine the shape with the colour and you've got an unsinkable combination.
Also available in a dark brown Galaxy colour.
---
Freewheelers Trailblazer
Vintage reproduction specialists Freewheelers are best known for their military heritage pieces, but they bring an immaculate touch to everything they produce, and this sweater is no exception.
The long-fibre Shetland wool makes this one of the softest sweaters on this list, but the oils have been left in the yarn, which makes this sweater watertight and ready for winter. Made slowly on vintage knitting machines in Japan, this one has "heirloom piece" written all over it.
If it's blue that you're after, the Trailblazer is also available in Grained Navy.
---
Batoner Signature Crew Neck
You can find Batoner knitwear at the intersection of luxury and durability. With immaculate finishing, this Japanese brand with a French name produce knit pieces for some of the world's biggest fashion houses, so you might have handled one of their pieces already in high-end boutiques.
This crew neck takes the raglan shape to new heights, adding a distinctly horizontal touch to the chest that makes this piece stand out from similar sweaters. It's available in dark green and black, but nothing highlights the interesting knit quite like this beautiful orange.
Batoner has an impeccable Lineup of Sweaters. They make one of the meanest turtlenecks around.
---
Captain Santors Sailor's Pullover
Captain Santors don't just use the sea as a feature of their branding. They draw inspiration from the sailors and fishermen, regularly visiting shipyards and looking for new ideas. Their small line-up is brimming with salty classics like this navy sailor's pullover.
Made from carefully sourced wool, this seaworthy sweater with a boldly chunky neck is quietly but impeccably brilliant. Like everything Captain Santors makes, it's been designed with a very long life in mind.
---
Aran Clanaran Fisherman's Sweater
Don't get too swept away by the clever marketing. These patterns are "inspired by" different parts of Ireland. They don't provide any documentation for historic links between these patterns and particular clans or communities. It's a romantic story, but its foundation in fact is tenuous at best.
That said, these are beautiful sweaters that, due to how and where they are made, have a strong claim to authenticity. There are a dizzying array of patterns to pick from. Rather than rushing to see if your last name is on the list, take your time to find a pattern that speaks to you.
The Aran Sweater Market has a wide range of Styles and Colours to choose from.
---
Saint James Aix Le Bains
We've gone around the world in sailor's jumpers, and we're ending our journey in the small village of Saint James in Normandy. The brand that bears the village's name has been producing woollen sailor sweaters since 1889. They became world famous as producers of authentic striped bretons.
Their take on the classic sweater that they were partly responsible for popularising is a creamy and substantial knit that fits close to the body. It features a mixture of different knitting patterns and working buttons on the shoulders. Très chic.
Saint James also make a gorgeous Navy Crewneck and a Black Fisherman's Sweater. If you want their most iconic product, check out their cotton Breton.
---
Join the Fleet!
A fisherman's sweater goes with just about everything. Well-faded Selvedge Jeans look especially good, as does a nice pair of generous khakis or corduroy trousers. Nothing, though, pairs as well with sailor's sweaters as a piece of naval outerwear. Check out our guide covering our favourite versions of the peacoat, the N1 deck jacket, and duffel here.