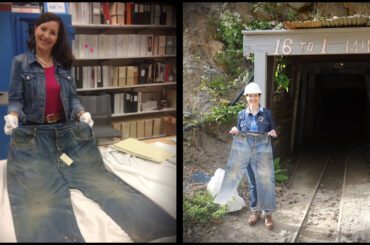 On this episode of the podcast, I talk Tracey Panek about what she does, why the Archives is such a crucial department for Levi's, and how her work influences jeans from any brand.
When you're selling jeans, you're selling history! That's why it's crucial to know at least the key facts of the history of jeans when you work with denim and jeans. And that's what this blog post teaches.
This final episode of my "how denim is made" series discusses how the two kinds of fabric finishes impact the way denim looks and behaves. The trick is to use this knowledge to your advance a make it part of the story you tell.
This second episode in the series about how jeans are made teaches the cutting and sewing steps of making jeans, and discusses the 3 most debated aspects of sewing jeans.
When we look for new jeans, there's much more than the colour and fit to take into consideration. In this article, I'll be looking specifically at the labels that appear on premium denim, and the semiotic and semantic power that such labels carry.
When you know how the defining features have evolved, you can build better narratives about the jeans you're selling by putting them into a bigger picture.