How the Defining Features Distinguish Jeans from Other Trousers
Have you ever wondered why there are pointy pieces of metal at the pocket corners of jeans? Why the back pockets from different makers have different kinds of stitching on them? Or why jeans have belt loops and buttons or a zipper in the fly?
The jeans we wear today are more or less identical to those that miners, workers, and cowboys wore a hundred years ago or more. They've inherited almost all of the original features that made blue jeans a success in the first place.
In a series of in-depth blog posts, Felix and I discuss the stories behind the defining features of jeans; in other words, the characteristics that historically have distinguished jeans from other trousers.
We've divided the features into three clusters:
1) The features that make jeans durable and practical;
2) those that help us differentiate brands, and;
3) the features that make jeans fit and add support.
Understanding how the features of jeans today have evolved, you can build better narratives about the jeans you're selling and put them into a bigger picture.
It helps you explain what makes one brand different from another on a very tangible level. And that makes it a whole lot easier for your customers to understand what they're buying.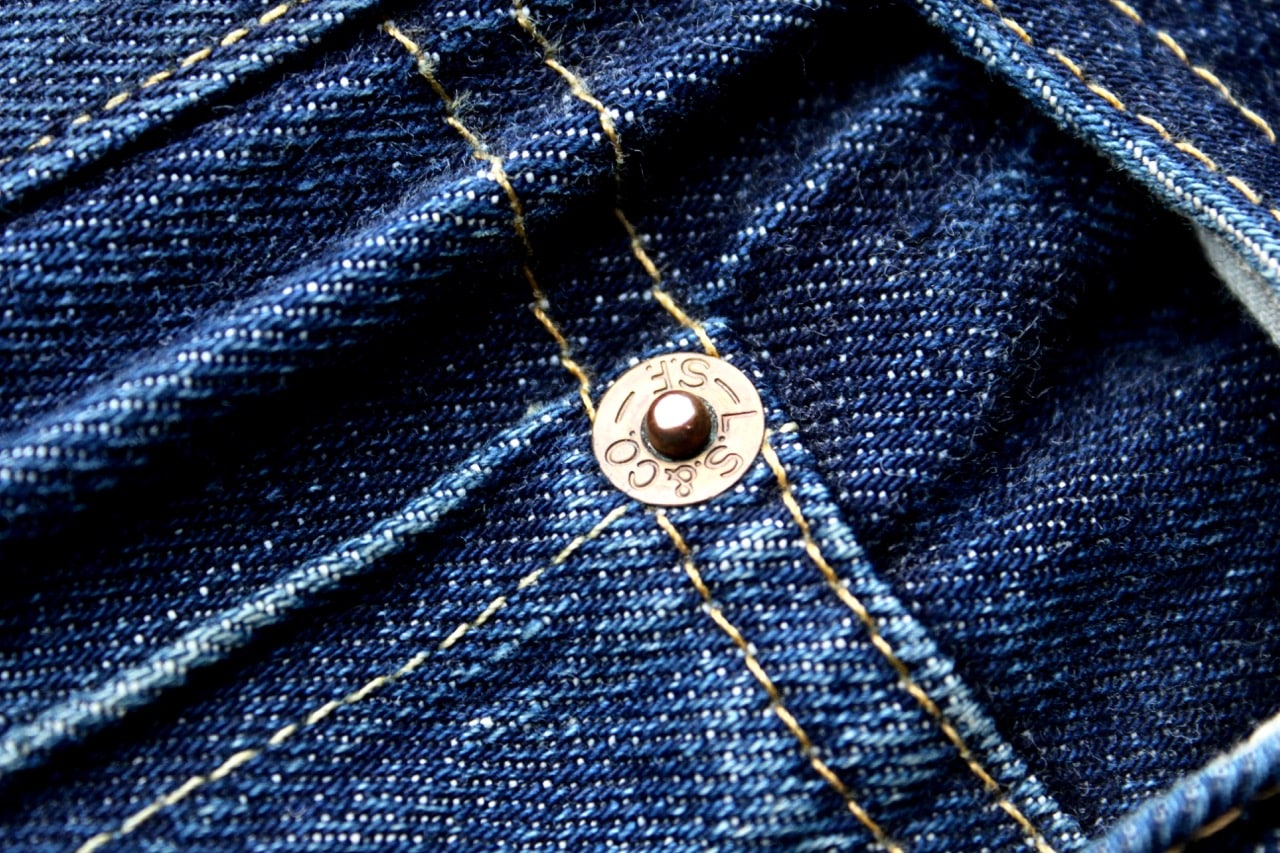 Jeans were designed as workwear. Naturally, this meant they had to be durable and practical.
That's why, back in 1871, Jacob W. Davis started hammering copper rivets onto the places where his customers would often rip their pants; at the pocket corners and the base of the fly. He quickly realised he'd invented a simple, durable and elegant solution to an urgent need for durability.
In 1873, Davis partnered up with Levi Strauss. They got a 17-year patent to use rivets on denim workwear, which became the foundation of the Levi's brand.
While the rivet adds strength to your jeans, it also has drawbacks. For instance, the pointy end that's sticking out can scratch things you get in close contact with. To make the back pocket rivets scratch-proof, Levi's concealed them under a layer of fabric in the 1930s. Another solution is bartack, which is a row of zig-zag stitching.
What differentiates one pair of jeans from another? Most of them have five pockets, they're made from denim, and they usually feature rivets too.
From the very beginning, jeans have been commoditised. That's why makers started using on-product branding to distinguish their garments from competitors'.
The term 'brand' is derived from the act of branding livestock. And all the branded features that have come to define jeans were created long before the kind of branding we know today. Back then, a brand was simply the mark that makers put on their wares to indicate the source and guarantee the quality associated with it.
One of the most commonly used branded feature is labels. The most iconic label is the little red tab that's been part of Levi's jeans since 1936.
A branded feature that's been around since the very beginning is the back pocket signature. While it sometimes holds a piece of reinforcing cloth in place, it's most often there solely for decorative purposes.
The back pockets of Levi's jeans have always been adorned with the 'seagull' design, known as an arcuate. In fact, until Levi's trademarked it in the early 1940s, most jeans featured this specific design. But since then, we've seen a new back pocket signature with every new brand that's popped up.
It's probably not something most people think about, but one of the reasons jeans became a global success is because of the way they fit. No other trouser hugs your body just like a pair of jeans. That's why we argue that the features that make this possible are defining for jeans.
The construction of jeans is instrumental in making the garment fit. The most important feature is the yoke. It allows the fit to be tighter at the waist than the hips, without using pleats or darts.
When you have a pant that's narrower at the hips than at the waistband, you naturally need an opening mechanism. That's why your jeans have a fly that splits the waistband on the front of jeans. And before the invention of the zipper, all flies on jeans were fastened with buttons.
Throughout history, though, wearers have also relied on three accessories to keep up their jeans; suspenders, cinch backs and belts.
Need help finding the perfect pair of jeans?
Denimhunters is a knowledge portal for denim enthusiasts and newcomers. Launched in 2011 as a pioneering denim blog, we're a trustworthy source of denim knowledge and advice.
Our Well-Made Essentials buying guides help you build a timeless and adaptable wardrobe of carefully crafted items that're made to last. Start your hunt here!