Japan's Most Slept-On Selvedge Brand is Back with Another Extra-Ordinary Pair
My first experience with Big John so far exceeded my expectations that it made me question nearly everything I thought I knew about selvedge.
Since reviewing the Rare 009s (read my review of those here), they've been my go-to back-up pair, and I've managed to put a few hundred wear days into them between the competitions.
The Rares are Big John's flagship selvedge product, but they are by no means the be-all-end-all pair in the Big John line-up. The brand is strong from the top to the bottom of the order, with a range of heavier 17 oz. Heavy Gauge Jeans and a relatively new and seriously impressive 23 oz. Tough Jeans in the mix.
They've also got the incredible middleweight denim I'm reviewing today: the 15.8 oz. XXXX-Extra selvedge. Big John debuted their Extra line way back in 1976, but it's long been absent from the brand's line-up. They brought it back in 2020 to celebrate their 80th anniversary.
They're intensely proud of this revised XXXX-Extra pair (for very good reason, as you'll see below). Thanks to its modern fit and its blend of organic cottons, it's an excellent showcase both for the brand's long history and their vision for the future. When they offered to send me a pair to review, I jumped at the chance.
The pair that landed on my doorstep only confirmed the high opinion of Big John I've had since my first experience with the brand. With a history stretching all the way back to 1940, Big John have a longer legacy than any other Japanese denim brand, and they've leveraged this experience to create jeans absolutely soaked through with quality and value.
To put it another way, Big John's pairs have no business fitting this good, feeling this good, or looking this good for this price. To find a better pair, you'll need to spend considerably more money, and even if you spend more, this is no guarantee that you'll be doing any better. If you're looking for that apex intersection of value and quality, this is it.
The Fit: Post-Soak Perfection
The XXXX-Extra are unsanforized. Sanforization is a process that uses a combination of heat, pressure, and moisture to pre-shrink denim. There are some big pluses and equally big minuses with this, so it's wise to approach unsanforized denims like this one with your eyes open.
In the plus column is the character of the denim. Unsanforized denim is often extremely hairy. The tiny fibres, which are removed during the sanforization process, give unsanforized denim its characteristic halo effect (this becomes more pronounced after you've soaked the denim). The small fibres lift away from the surface of the denim, catching the light and drawing both the hand and the eye.
Equally important to fans of unsanforized selvedge is the shrink-to-fit experience. This starts with a quick hop in the tub and a soak in warm or hot water (depending on how much shrink you want or need). In this process, the jeans conform to the shape of your body, resulting in a fit that feels more tailored.
| | | |
| --- | --- | --- |
| | Pre-Soak | Post-Soak |
| Waist | 90cm/17.33 inches | 86cm/34 inches |
| Front Rise | 32.5cm/12.75 inches | 31cm/12.25 inches |
| Back Rise | 39cm/15.25 inches | 37cm/14.5 inches |
| Thigh | 31.5cm/12.25 inches | 30cm/11.75 inches |
| Knee | 23.5cm/9.25 inches | 22cm/8.5 inches |
| Leg opening | 20cm/7.75 inches | 19cm/7.5 inches |
| Inseam | 90cm/35 inches | 87cm/34.25 inches |
While this is a plus for many of us, the process is unpredictable. With each new denim, we roll the dice, and the numbers on the brand's website might not be a fail-proof guide as they almost never describe their wash process in detail. Here is a look at the pre- and post-soak numbers for this pair.
I soaked in the tub for about 20 minutes in comfortably warm water. After the soak, I removed the jeans and gave them a quick blast from the showerhead with hot water. I also stretched the jeans along the inseam to keep as much of the length as possible (this worked perfectly).
I hung them to dry overnight and then measured them. Most of the numbers were within a centimetre or two of the ones advertised on Big John's site. You can expect around 5% shrinkage from this pair, but this comes with a big asterisk.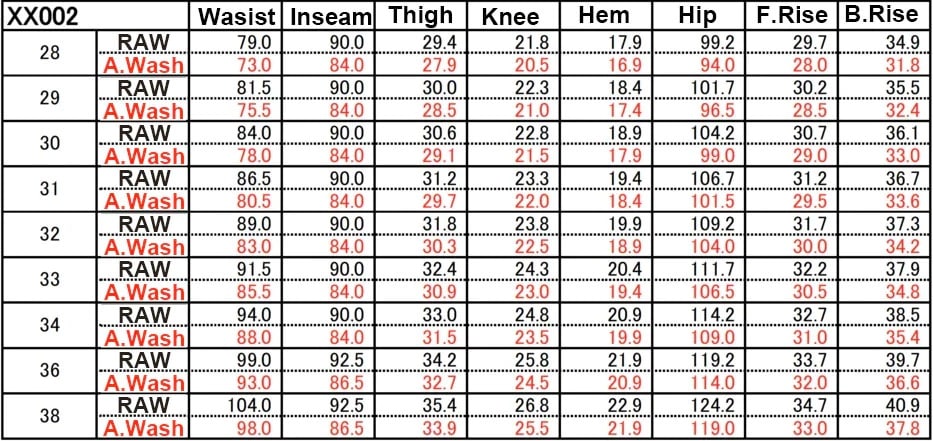 The denim relaxes quite a bit, particularly in the waist. After wearing them for a few days, the waist was back to its pre-soak size. It's a generous slim fit right out of the box, so my advice is to find a waist size that is close to what will be a perfect fit for you when raw. The shrink and stretch should cancel each other out.
The fit is what I would call a generous slim. They taper slightly from the knee to the hem and touch the thigh gently from the knee upwards. The top block is long, particularly in the front, with the belt-line riding along the top of my hips.
They're not baggy anywhere. They're wide enough at the bottom for nearly all of my footwear except for my slip-on harness boots. They're high enough in the rise (and subtle enough in the details) to move into more polished looks with ease, or they can be worn low on the hips, with the crotch hanging a little low. A highly adaptable fit.
Best of all, my hands slip in and out of the pockets with ease. No raw knuckles!
A Natural Beauty
It's not hard to see why the people at Big John think that this denim is something that could bring new customers to the brand. It's easy on the eyes, and it's got an impressive story behind it.
The cotton is an organic blend (approximately 5% of it recycled) from five contents. There's Aspero cotton from Peru, Supima cotton from Texas, and a blend of three other organic cottons from Turkey, India, and Tanzania. It's not entirely clear why an Australian cotton didn't make the cut to round out the six cotton-producing continents, but this aligns nicely with the five points of Big John's baseball-diamond-shaped logo.
The cottons were especially selected and blended to create a slightly uneven yarn. Early in the '80s, Big John became the first Japanese brand to start experimenting with slub yarns, so they are able to draw on their extensive experience here. The vertical texture is unmistakable yet subtle.
The dyeing was overseen by Sakamoto Denim. Since its founding in 1892, the company has been run by four generations of Sakamotos, including Yasushi Sakamoto, who helped Big John develop the dyeing method for their Rare denim.
Yasushi bore the title of Ransei, which translates to "The Saint of Indigo" (we prefer "indigod"). After his passing, the torch was passed to Yasushi's son, Ryoichi Sakamoto.
Sakamoto Denim rope dyed the yarns in natural indigo, dipping them 16 times in the indigo bath (roughly three times as many dips as Big John usually use for synthetic indigo). The yarns were then woven on painfully slow century-old shuttle looms that can only produce about 12 metres of denim per day.
Even after the soak, the denim is crisp and slightly rough to the touch. It is forgiving, shaping to the hips and around the widest parts of my thighs, but the weave is still quite tight. This all adds up to a pair that is easy to wear and absolutely primed for great fades. Well-worn pairs bear this out.
I'm planning to wear this pair for the remaining time before the next Invitational starts. The comfortable slim fit is perfect for long days spent in front of the computer, walks with the dog, and evenings on the couch, and I should start to see some fades start to emerge before I have to fold this pair up and store them.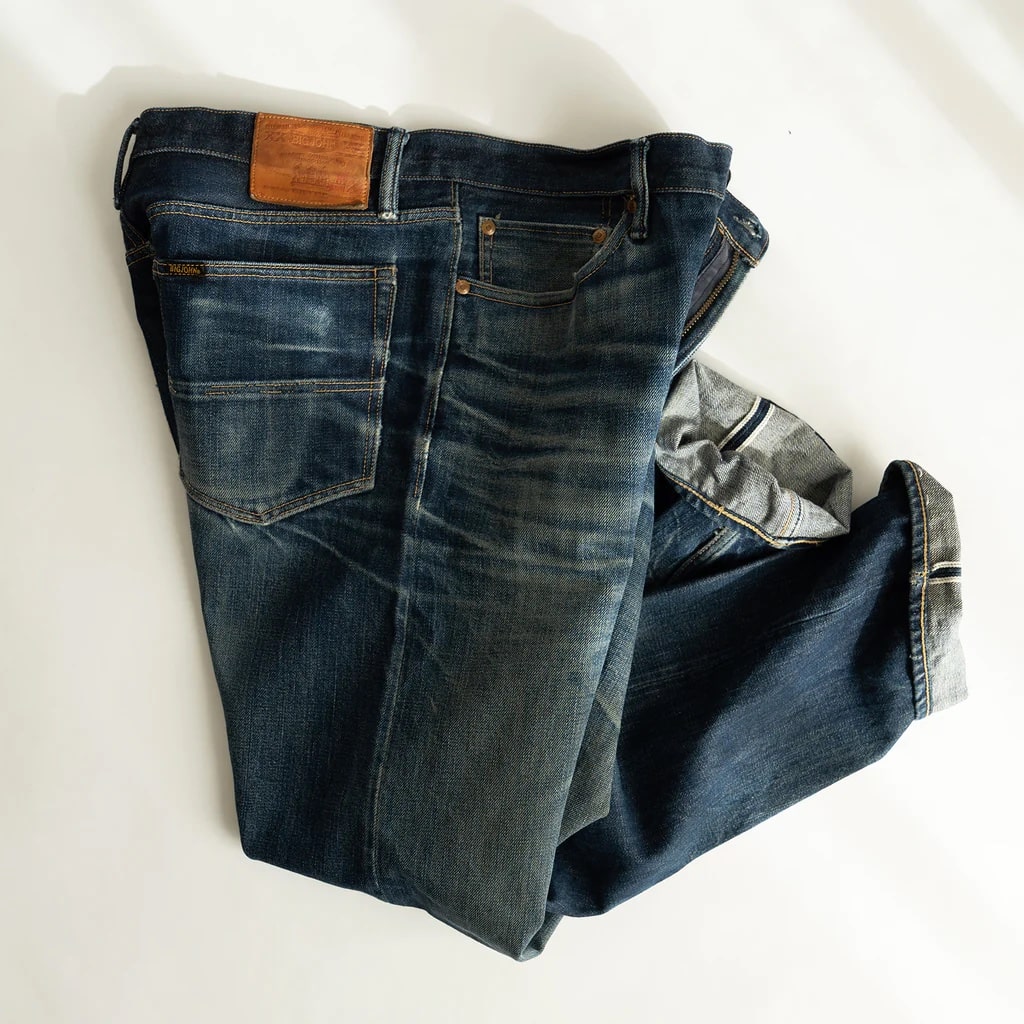 A Few Extras
Big John do details extremely well. Their deerskin-backed rivets and buttons (a feature on Rare pairs) are some of my favourite hidden details in my collection. They haven't used that detail on this pair, but they've till got a few tricks up their sleeve.
They've used an iron button that will rust with enough wear and washing. I wish more brands would use iron buttons like these. They age beautifully.
Belt loops are tucked and very raised. I look for this feature when examining new pairs, and it's a mystery to me why the loops on the Rares weren't raised. I was very pleased to see that it's been included here.
For branding, there's a heavy-duty cowhide patch. It's not a pass-through, so it'll spend most of its life behind my belt, but there's a subtle rayon tag on the back pocket that makes it clear what brand I'm wearing to all who might be interested.
This is my first pair with a zipper since the days before I switched to selvedge. I thought that this would be an issue for me, but I've actually enjoyed having a zipper. Being able to zip in and out of them is an excellent match with the pair's easy-going fit.
There are branded rivets on the front of the jeans, but, as with the Rares, the back pockets are held in place with bar tacks. Unlike the Rares, there is chain stitching at the hems, which should lead to some nice roping down the road.
My favourite detail is concealed in the back pockets. As with the Rares, the double row of stitching across the back pockets is not merely for decoration. It holds the pocket lining in place.
If concealed rivets and a button fly are important details for you, you'll find them (along with a crotch rivet) on Big John's vintage-styled Regular Straight XX001.
The back pockets on the Rares are reinforced with a 15.5 oz. pocket-bag (the toughest I've ever seen). With the XXXX-Extras, they've added an extra layer of denim. This means that I can look forward to some glorious train tracks running across the back pockets.
The Verdict
Big John have done it again with this pair. I've been an enthusiastic endorser for this brand ever since my first experience, and the XXXX-Extras are every bit as good as the Rares.
Like the Rares, these new Big Johns will be at the top of the pile when my competition pair needs a rinse, rest, or repair. It might take a while, but, soon enough, I'll have two fully faded Big Johns under my belt.
… or …