Is Momotaro's 15.7 oz. Selvedge Japan's Best Middleweight Denim?
In the world of well-made selvedge, a small handful of denims have achieved legendary status–many of them needle-busting heavyweights. Iron Heart's 21 oz. selvedge springs to mind, as do Samurai's 19 oz. Kiwami and Oni's 20 oz. Secret Denim.
Because heavy denims are so difficult and expensive to produce, only a small number of makers compete to be the king of the heavyweights. As we descend into the middleweight class, though, the field gets much more crowded.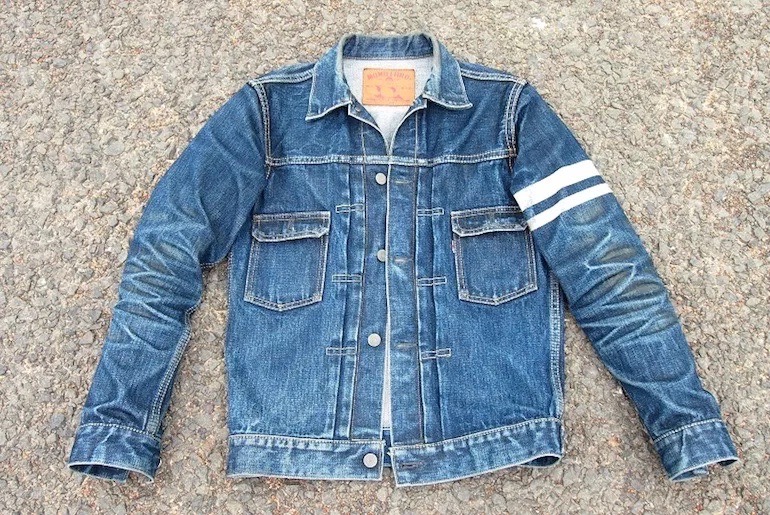 Nearly every selvedge brand offers something in the range of 14 to 18 oz., so brands have to work exceptionally hard to produce a middleweight denim that is exceptional enough to rise through the ranks. Only the creme de la creme rises to the top. Momotaro's 15.7 oz. selvedge is one of these.
The titans of Kojima have placed the Zimbabwe cotton middleweight at the very centre of their line-up, offering a wide range of jeans and jackets in their indigo-drenched flagship selvedge.
Having experienced it for myself, it's not hard to see why they've staked their reputation on this particular denim.
I wanted the full story, so I sent a long list of questions to Dave Stewart (aka @Japanalogue). He took my questions directly to Momotaro founder Hisao Manabe and European Sales Manager Keita Hinamota.
Dave's interviews with Japanese denim bosses are legendary, and if you are interested in learning more about Momotaro, Dave's interviews with the principals are a great place to start.
---
---
Peach-Born Icons
Before we turn to a look at the brand's flagship denim, let's begin with a brief introduction to Momotaro. The Kojima-based brand was founded in 2006, but their roots extend back much further than this.
In the late '80s and early '90s, Momotaro founder Hisao Manabe cut his teeth in the world of indigo dyeing and weaving. From the beginning, he was more keenly interested in the old ways than he was in the new-fangled ones.
Manabe founded Collect Mills in 1992. As the name suggests, Collect not only milled their own denim; they also collected and wholesaled denims from other reputable Japanese mills, making them a one-stop shop for brands looking for Japan's best denims.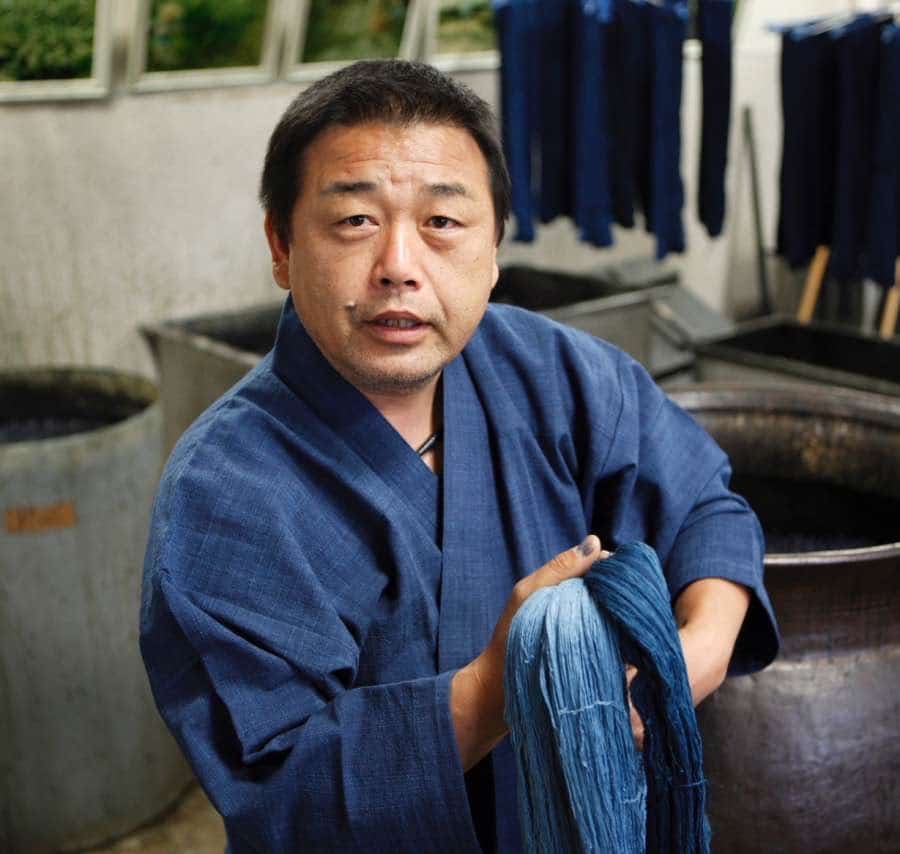 When still a relatively young enterprise, Collect Mills were the first to produce denim made from Zimbabwe cotton. Woven on vintage Toyoda looms, the premium selvedge denim contributed to the meteoric rise of one of the legendary Osaka-based brands, Full Count. It wasn't long before other premium Japanese denim brands were knocking on Manabe's door.
Collect Mills grew to be one of the largest suppliers of selvedge denim in Japan, reinvigorating Kojima's manufacturing industry in the process. Kojima is a sleepy coastal town with a long and rich textile history.
When cheaper and faster ways of producing textiles threatened to turn the town into a mouldering relic of a bygone age, Hisao Manabe stepped in.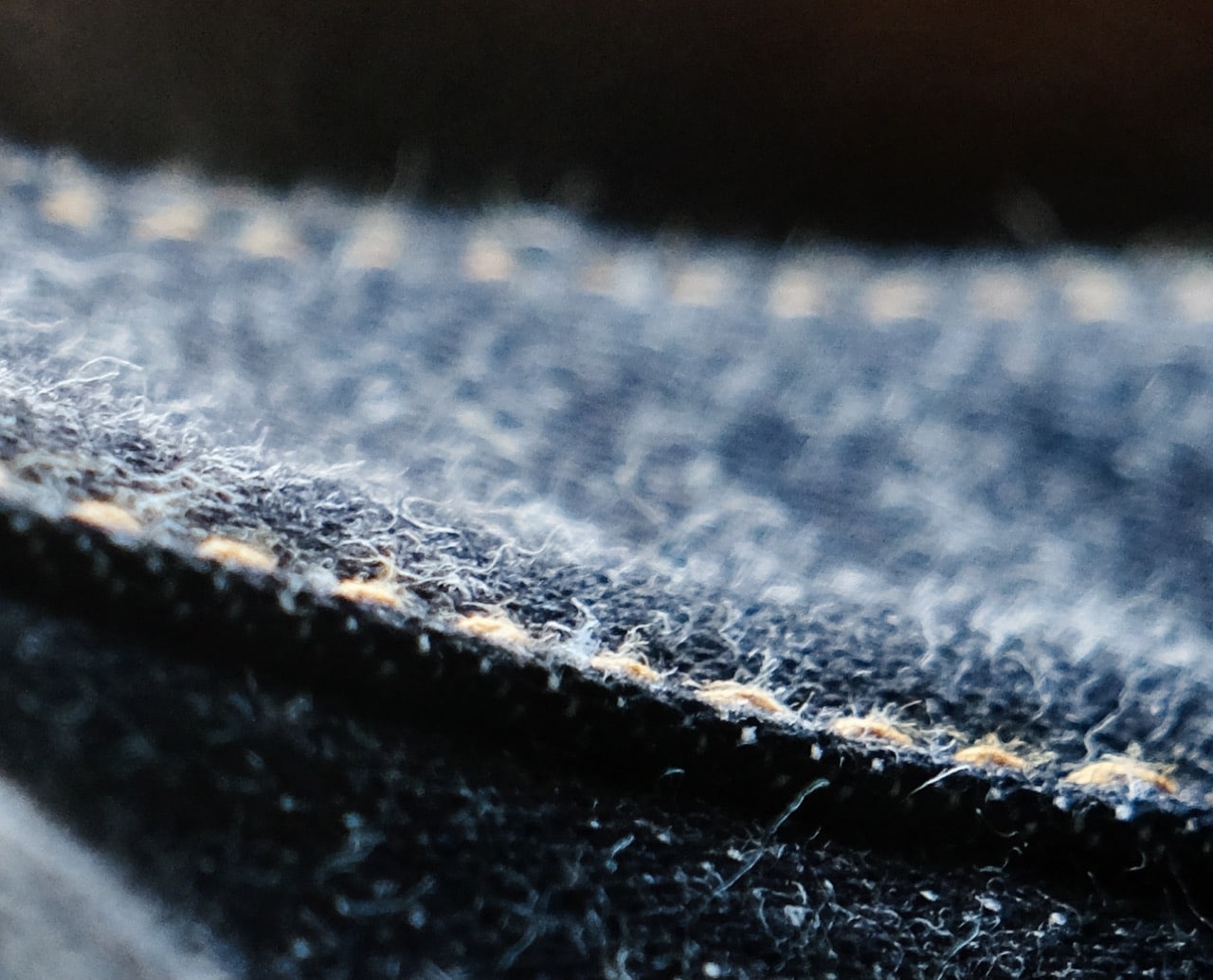 He opened a Momotaro boutique on a street (once a bustling shopping arcade) that was then lined with shuttered storefronts. Rippling outwards from there, other denim brands began to set up shop on the now legendary avenue.
Jeans Street as it came to be known became a Camelot of sorts for denim buyers and brands. Manabe has added fuel to the fire recently by moving nine of the Collect Mills's vintage Toyoda looms into a plant just minutes from the Kojima train station.
Thanks to glass panels through which onlookers can gawk at the looms in action, they've made the manufacturing process more (literally) transparent than any other brand. It's this kind of behind-the-scenes look at the manufacturing process that has drawn flocks of denimheads to Kojima.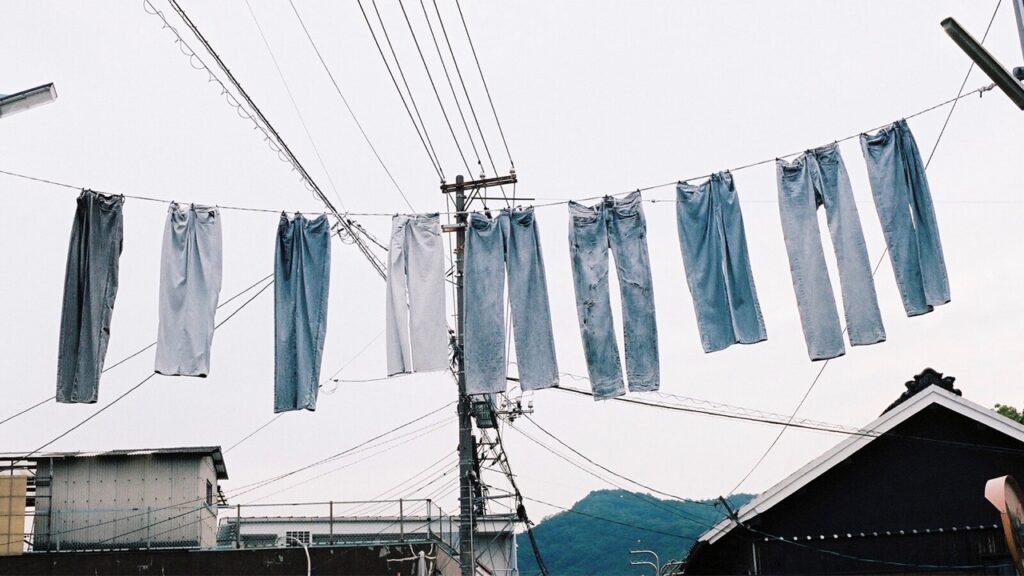 With more than 150,000 visitors to Jeans Street yearly, Manabe's gamble has clearly paid off in spades. It's been very good both for Momotaro and for Kojima.
Step off the train, and you'll see Momotaro's logo absolutely everywhere. It's immediately apparent who the big dog is in town. Simply put, there is no Jeans Street without the peach-born icons.
Momotaro is the only Japanese selvedge brand to mill their own denim, boasting an unmatched degree of vertical integration. With the help of iconic branding (their Going to Battle Stripes are impossible to miss), an attractive price point, and cuts designed exclusively for overseas markets, they've planted their feet in the scene as an absolutely essential brand.
For so many budding denimheads, Momotaro has been the bridge into the world of well-made Japanese selvedge. That bridge is paved with the brand's exclusive 15.7 oz. selvedge denim.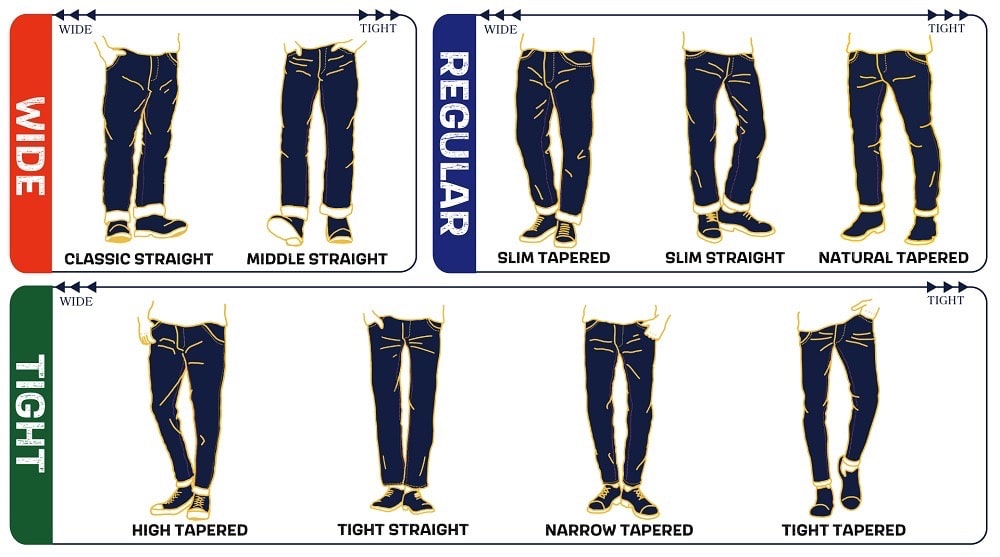 The Fade-Engineered Flagship
Since its introduction, Momotaro's 15.7 oz. selvedge has been one of the safest bets in the selvedge scene. Zimbabwe cotton is prized for its fat and heavy staples, which, when processed carefully, can produce remarkably strong, soft, glossy, and absorbent yarns. The cotton is harvested by soft human hands rather than by metal machinery, meaning less of the plant gets mixed in with the cotton.
During processing, the pure, raw cotton is carded through a double doffer, which aligns the longer fibres and removes short ones. The result of all this is a strong cotton that is free from impurities. This pure cotton is then spun into slub yarns that have been engineered to be slightly irregular in width.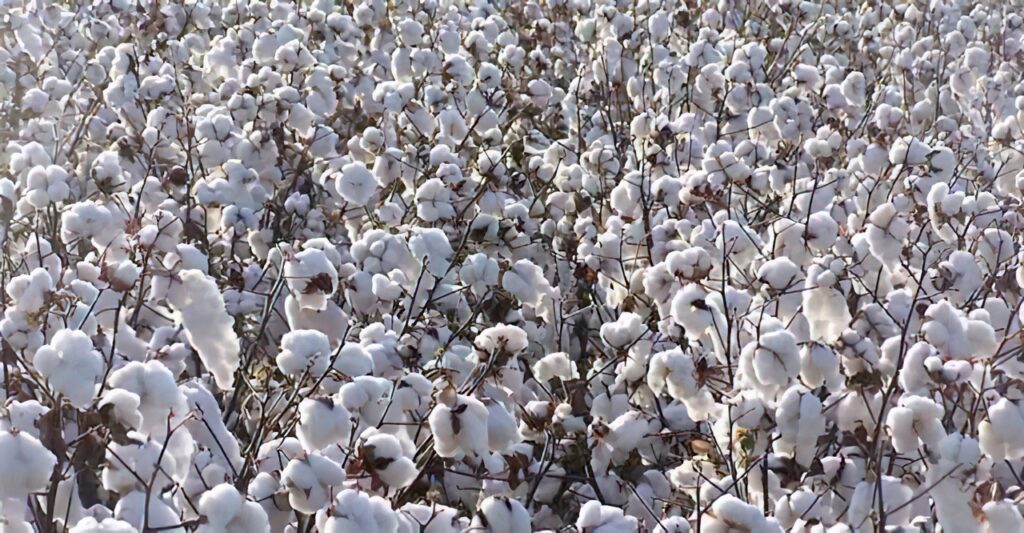 The yarns are then rope dyed. Unlike sheet dyeing, which completely saturates the yarns with dye, rope dyeing leaves the core of the yarn undyed.
The indigo, which bonds lightly with the cotton, slowly flakes off the yarns exposing the white beneath. It's through this process that we get beautifully faded denim, and brands like Momotaro start with this end product in mind.
The indigo-dyed threads are then woven together with ecru yarns. The indigo yarns are stretched onto the looms, forming the warp, and then ecru yarns are woven through these yarns, passing under three yarns and then over one.
When the weave is tightened, the indigo dyed warp yarns dominate on one side, and the lighter weft yarns dominate on the inside.
The denim is woven on antique selvedge looms that require daily maintenance from expert operators. The extensive knowledge it takes to operate these machines is stored in the sinews of these industry veterans.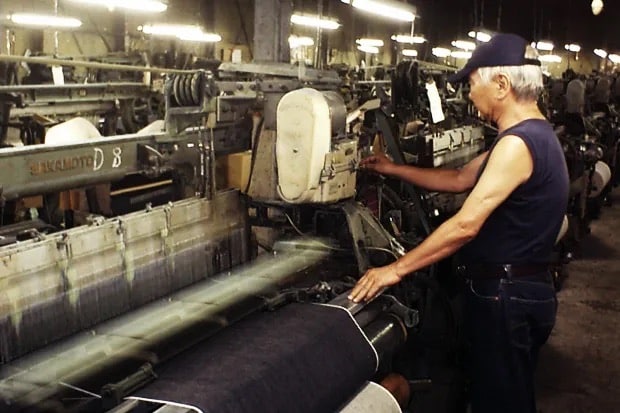 The most seasoned of them are virtually irreplaceable, but the brand is constantly training new personnel to operate and maintain the fragile looms.
The 15.7 oz. denim produced on Momotaro's antique looms covers a lot of bases. Even for those with extensive selvedge experience, it feels heavy and stiff, but it doesn't feel like armour.
It's highly wearable, and it has a crisp and smooth hand-feel. The slub is subtle, but it has character aplenty that reveals itself as the denim fades.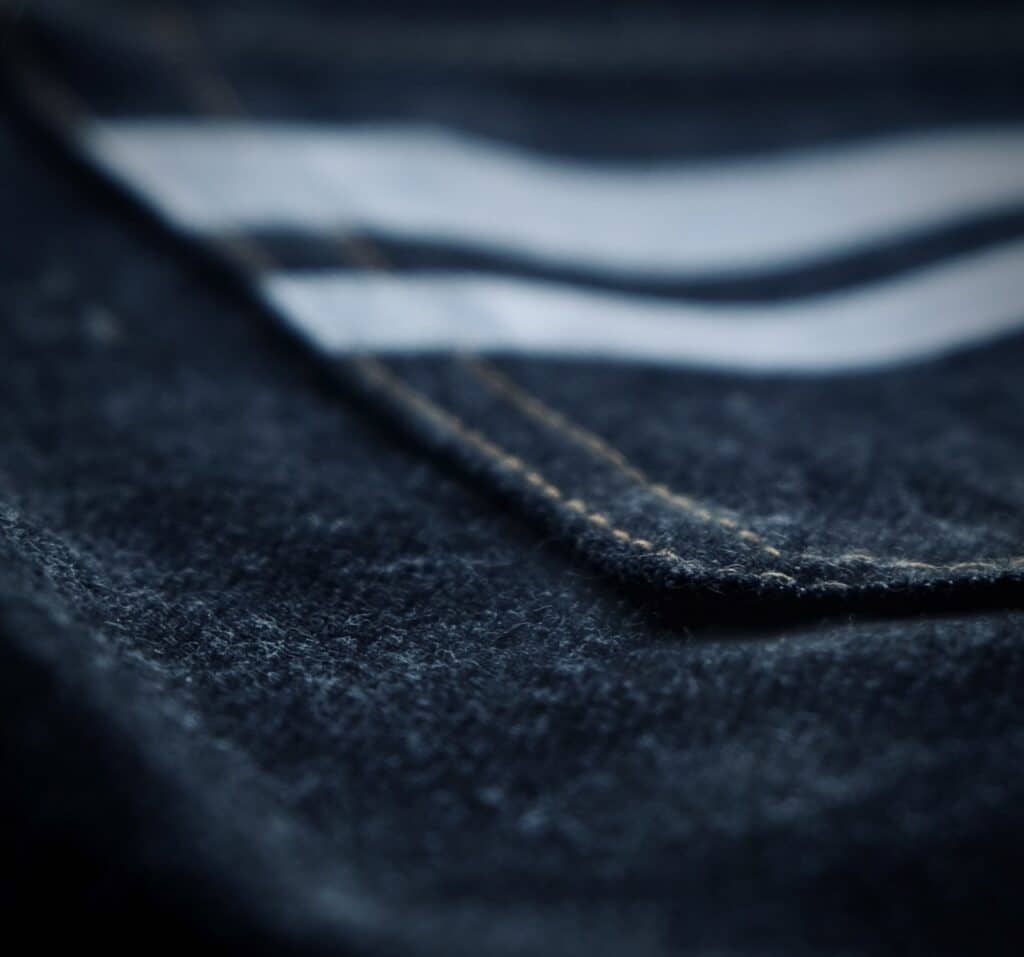 It's not a fast fader by any measure, but it does break in quite quickly. While the contrasting whites and the softer shades of indigo will take time and patience to bring to the surface, the denim moulds to the shape of the wearer's body in a matter of weeks. It softens and stretches around the hips and knees, quickly feeling like a second skin.
It puts up enough of a fight to develop striking combs and whiskers, but it doesn't feel like you're going to battle with your jeans each time you slide them on. Instead, it feels like you're going to battle in your jeans. It may not be the heaviest denim on the field of combat, but it's nimble and crafty. It's not a sweaty, club-wielding brute; it's a clever and adaptable tactician.
Squeezing Every Drop Out of the Peach
This adaptability is key to the 15.7 oz. denim's legendary status. It doesn't have to be worn in just one way to produce results. It is a jack of all fades.
Whether you want sharp contrasts or all-over vintage fades, Momotaro's classic selvage can produce them–you just need to apply the right method.
If you want eye-catching whiskers and combs, ride them dry for as long as possible before that first wash. The denim has been thoroughly sanforized, so there's no need to soak or wash them before wearing. If you sink deep creases across the top block and behind the knees, the wash won't move these creases much, if at all.
Depending on your lifestyle and body chemistry, you should be able to make it to around 150 wears or more before your pair is crying out for its first wash. If you can push them further than this, the contrasts will be more dramatic.
After that first bath, wash them every few months or so. Wash them too early or often, and the best you'll be able to hope for is muted contrasts.
If it's more of an all-over fade you're after, just add more water into the recipe. If you wash them every few weeks, you'll have a butter-soft and powder blue selvedge by the time you cross the six month mark. Momotaro design their pairs with a very long lifecycle in mind (about 10 years), and regular washing should help you extend their lifecycle.
Of course, both methods require you to stack up wear days between washes. Whether you want contrast fades or that lived-in vintage look, Momotaros should be worn daily or near-daily for best results. Try to move your Momos to the very top of your rotation and keep them there.
Entering a pair in the Indigo Invitational is the best way to remain disciplined. Though Momotaros are slow out of the gates, they reward patience, gathering momentum in the second half of the competition and finishing strong. This is definitely a denim we recommend if you're looking at your options for either the Indigo Invitational or the Redline Rally.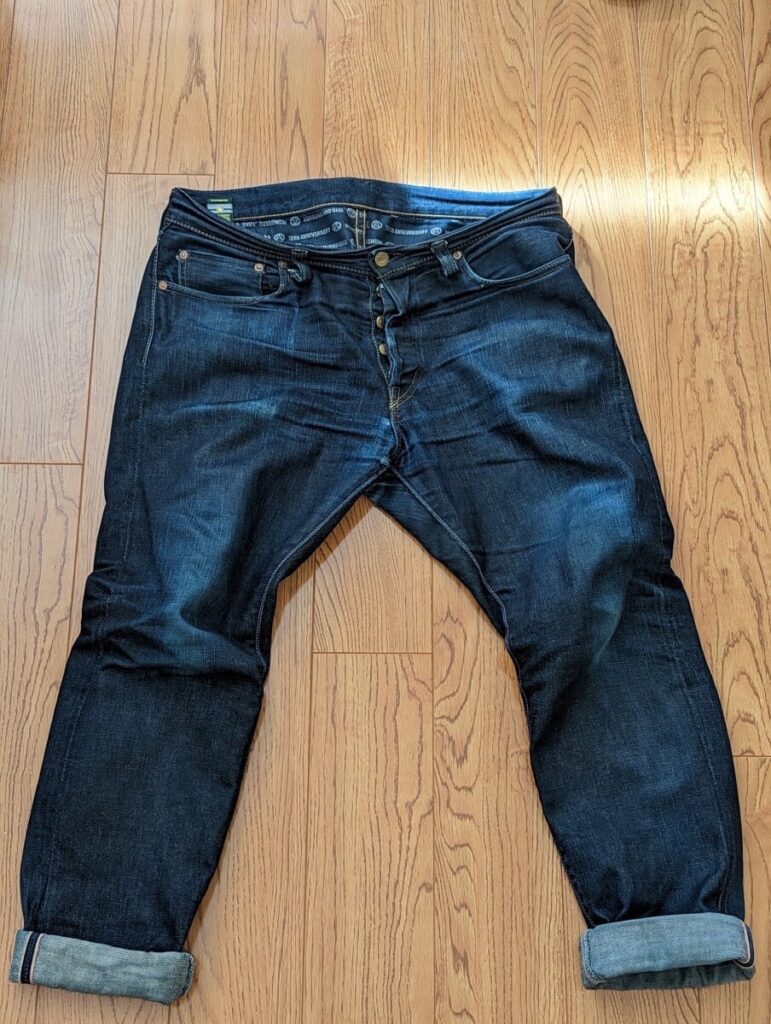 The Verdict
I've been recommending Momotaro as a solid mid-tier entry point for years. Even before owning a pair, I could see that their legendary 15.7 oz. selvedge has earned its reputation and then some. Glorious faded examples are easy to find, and many of those who have tried the brand come back for a second or third serving.
Having finally experienced their 15.7 oz. selvedge for myself, I'm only more likely to recommend them. They're easy-wearing and great-looking jeans, and they produce nicely balanced fades without too much fuss. They're a great entry point to the made-in-Japan selvedge scene, but they're so much more than this.
For experienced faders (and especially those who have gone to the heavy and dark side and never returned), the experience of a well-made middleweight like this one can be intensely rewarding. Selvedge veterans can use what they've learned from wearing and washing heavier denim to bring out the absolute best from this denim–and this denim's absolute best is a show-stopper.
Granted, the brand's flashy Going to Battle stripes and peach-pink inseams are too cheeky and flashy for some. If, as some say, they're a love-em-or-hate-em brand, I'm definitely among the former. The painted-on stripes chip away, becoming more subtle in time, but even when they're fresh, it's nice to have some flash in the collection.
Until these Momotaros landed on my doorstep, I saw the lack of battle stripes in my collection as a deficit. I've now turned that deficit into a surplus. I've got some work ahead of me to get these into fighting shape, but I know the work is worth it. This is some of the best middleweight denim that Japan has to offer. It's just peachy.
Love denim and fades? Join the competition!
The Indigo Invitational started as a small group of enthusiasts who wanted an excuse to buy a new pair of denim and to see how far they could push themselves and each other.
There are thousands of dollars worth of prizes, but this is just the gravy. The meat underneath is a tight-knit community of enthusiasts held together by a mutual love of fades.
If this sounds like something you want to participate in, join the Facebook group, follow the competition's updates on Instagram and visit indigoinvitational.com.
Visit indigoinvitational.com to learn more and stay up to date! If you need a new pair of jeans, check out our buying guides.