Contributing Indigo Invitational sponsors get in-depth coverage here on Denimhunters. To enquire about sponsorship opportunities, contact us here. This post was originally published on Tour de Nîmes.
When I started the Indigo Invitational, I didn't have an encyclopedic knowledge of denim brands. Each day at the helm of this competition exposed me to something new.
Often, the product itself is new—usually some incredible new collaboration or an up-and-coming brand from Europe, North America, or Southeast Asia.
Just as often, though, I learn about something old that I hadn't noticed before. Sometimes, it's something very old. Big John falls neatly into this category.
When we tell the story of Japanese denim, many of us (myself included) have been guilty of skipping over the brands that did the heaviest lifting (Big John and Edwin).
We often start with the Osaka quintet. Studio D'Artisan, Evisu, Denime, Full Count, and Warehouse may have been the first brands to put Japanese selvedge on the map globally, but they couldn't have done what they did without standing on Big John's broad shoulders.
Mauro Clothing (Big John's parent company) had been producing workwear in Japan for nearly forty years when Shigeharu Tagaki became the founding member of the Osaka Five by starting Studio D'Artisan in 1979. And Mauro Clothing had more than just time on their side.
They had a string of firsts. Under the Canton badge, Mauro was responsible for the first pair of Japanese jeans made with American denim (1965). A few years later, they released the first pair of Big Johns (1967), using second-grade denim from Cone Mills.
Not long after that, they teamed up with Kurabo Mills to produce the first pair of authentic blue jeans both milled and constructed in Japan (1972).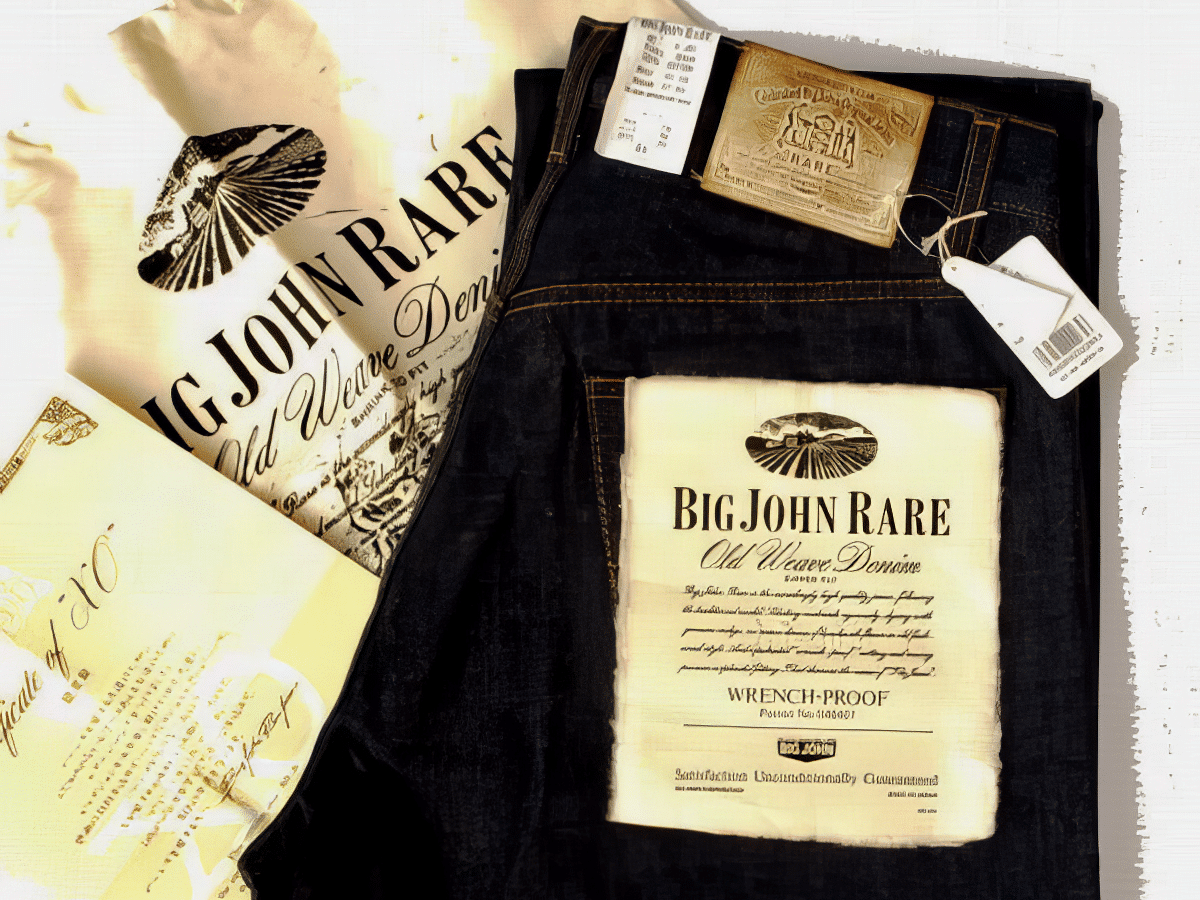 These firsts were simply a matter of a Japanese brand trying to offer a Japanese-made product for the domestic market that was at least comparable with the original, but that would change in 1980 when they introduced the RARE 001.
Big John was venturing into new territory with this pair. Rather than trying to produce a comparable domestic version of the American blue jean, they set their sights on creating the best-constructed pair of Japanese selvedge that available technology could produce. It would be a long time before other Japanese brands started thinking about denim in this way.
They lifted the bar again in 1997 with their second-gen RARE jeans (the RARE 003 Meisters), which were dyed with natural indigo and limited to 300 pairs. They sold out during the pre-order stage and remain grail pairs for serious collectors.
When developing RARE denim, they sourced yarns of varying thickness to add a degree of texture to their denim, making them the first company to experiment with engineered slub.
They also built reverse leg twist into their design so that, rather than skewing along the bias while they age, the jeans straighten with wash and wear (their patented "Wrench Proof" construction). Every detail was considered from both an aesthetic and a practical angle.
The current RARE model (the one I'm reviewing here) is the third-gen version of the jeans. They've returned to synthetic indigo, but they've done this purposefully, working with Sakamoto Denim's Yasushi Sakamoto, known in Japan as Ransei, the Master of Indigo.
Ransei (now deceased) helped them develop a proprietary indigo dye representing the best of both worlds. RARE denim develops beautiful vertical fades like rope-dyed synthetic indigo but, at the same time, fades to the beautiful and soft shade of blue fans of natural indigo are intimately familiar with.
The third generation of Big John RAREs have been in regular production for more than a decade now, so they aren't exactly the rarest of the rare, but they're definitely rare enough to satisfy this reviewer. Let's get down to it.
Fit and Fabric
The unsanforized denim is not intended to be a perfect fit before it's been soaked, so the measurements in your usual size might look strange if this is your first shrink-to-fit experience.
Depending on the bath temperature you give this pair, you should expect 3-8% shrinkage. Let's start with a look at the dry measurements.
| | |
| --- | --- |
| Big John Rare R009 – Size 34 | Dry Measurements (cm/inches) |
| Waist | 90 / 35.4 |
| Front Rise | 26 (-1) / 10.25 |
| Back Rise | 39 (+1) / 15.5 |
| Thigh | 31 (-1) / 12.25 |
| Knee | 22 (-1) / 8.5 |
| Leg Opening | 20 / 8 |
| Inseam | 89/35 |
Pre-soak measurements
The denim is a smooth and crisp right-hand twill with subtle vertical texture. It's not particularly hairy, and there's a pleasing balance on the surface between the white weft and the indigo warp. The dominant tones are blues and greys.
I'm generally between a 33 and a 34. Based on the advertised measurements, it looked like I would be packed in with a sausage if I went with the lower number, so I ordered a 34. As you can see, I wasn't exactly swimming in them, but I had a little extra to work with.
I could pull the waist out from my body, and there was a little bit of gapping on the yoke. Based on how they fit before the soak, I expected them to be a snug, slim-fitting pair that would not be long enough to cuff.
Bath Time
For the soak, I filled the bathtub with cool water (about 20 degrees) and soaked in it for about 12 minutes without bending my knees. With a little help from my wife, I pulled the jeans off without bending my knees. I then hung them up and, with the showerhead, gave them a quick spray all over with cool water, finishing everything off with a quick blast of hot water for the top block.
I was a little nervous about losing length, so before I hung the RAREs to dry, I gave them a few tugs along the inseam. They seemed to respond nicely to this stretching, so I was optimistic about the length.
| | |
| --- | --- |
| Big John Rare R009 – Size 34 | Measurements (cm/inches) |
| Waist | 86 (-4) / 33.75 |
| Front Rise | 25 (-1) / 9.75 |
| Back Rise | 38 (-1) / 15 |
| Thigh | 30 (-1) / 12 |
| Knee | 21 (-1) / 8.25 |
| Leg Opening | 19 (-1) / 7.5 |
| Inseam | 87 (-2) / 34.25 |
Post-soak measurements
The shrinkage after the cool soak was substantially less than advertised. Presumably, a hot soak would have made a much larger difference, but the 8-9% they advertise might be quite high unless you're absolutely blasting these with water straight from the kettle. If you're soaking in lukewarm water, expect 3-4% in the waist and the inseam. Everything else is minimal.
After soaking, the denim's hairiness became more apparent, but I'm not expecting this to last long. The denim is a little rougher than before the bath, but I'm expecting this to disappear quickly.
I had zero trouble sliding them on and getting them buttoned. They don't cut in at the waist at all when I'm seated. The thighs are slim but comfortable and quite snug through the knees, which should help create some sharp combs. They have enough inseam for me to give them a small double cuff.
By every measure, it was a perfect shrink-to-fit experience.
The Details
I'm drawn to understatement, and the RAREs are a symphony of subtlety. At every opportunity, the designers have opted for low-key options, which allows the denim to take centre stage.
The arcuates are a straight double row of stitching across each pocket, and the stitching holds the pocket half-lining in place, so it's not just there for show. The patch is indigo-dyed deerskin, and, for my money, it just doesn't get any better. Pure understated perfection.
While the RAREs are undeniably handsome jeans on the outside, they can only be truly appreciated when you turn them inside out. They've used discs of indigo-dyed deerskin as a protective barrier between the copper backside of the rivet and the denim. They say this will help the jeans last longer. I've never had a pair come apart at the rivets, so this is tough to assess. All I can say for sure is that it's a beautiful detail.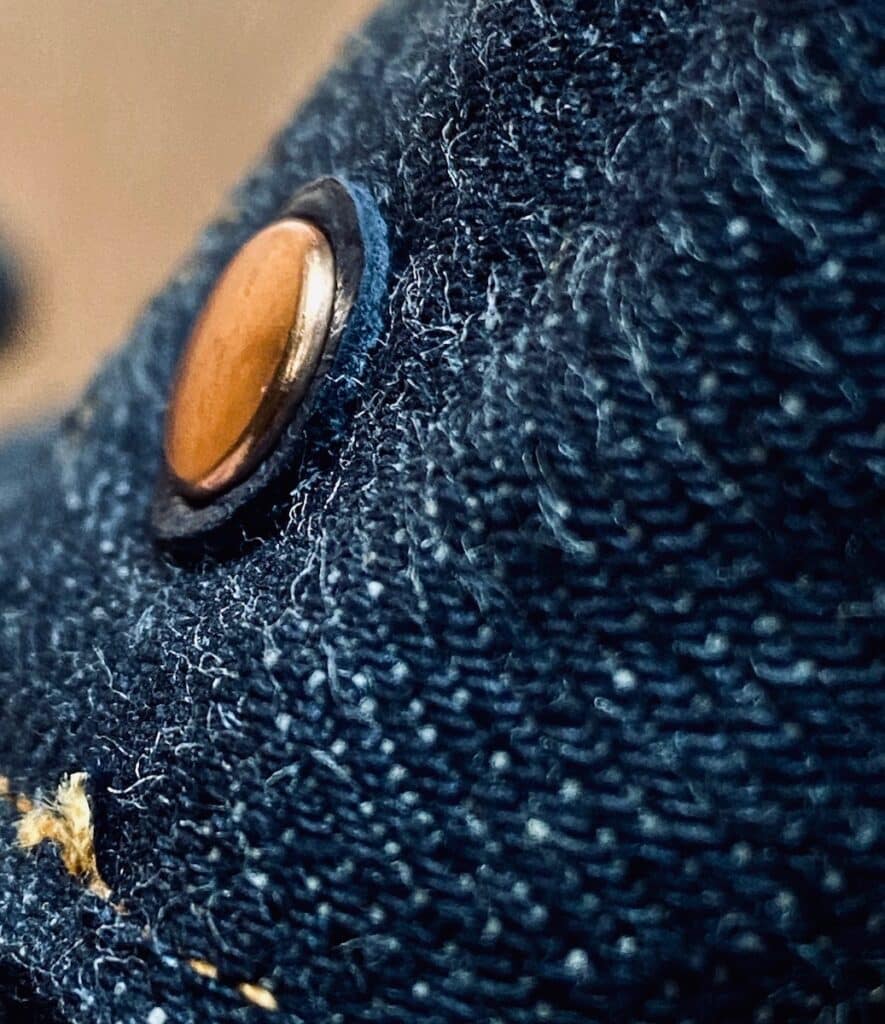 There are a few noteworthy departures from the classic five-pocket form. There are, for instance, no hidden rivets. They've opted, instead, for bar tack stitching at the corners of the back pockets. This might seem like a way of cutting corners, but it's quite the opposite.
They've reinforced all major stitches with blue polyester thread. From the outside, all you can see is the contrast stitching, but on the inside, you can see this second layer of more durable blue thread. Even without the rivets, there is simply no way these are coming apart.
There are also no chain stitches anywhere on these jeans. This means no roping on the hems. Anticipating customers' howls of outrage, they say that this is because chain stitches are prone to unravelling. The single stitch is, they say, the more durable option, and I trust their 80+ years of workwear experience.
If roping is your favourite fade feature, it might be worth it to have them re-hemmed like the faded pair of RAREs below. Clearly, the RARE denim will rope very nicely when given that Union Special treatment.
In the race to produce the most attractive top button, Big John is in the lead pack thanks to their striking iron offering. The buttons, like the iron parts of the rivets, will rust with wash and wear, becoming a work of art as they age.
Finally, the pocket bags are like nothing else I've ever seen. They tip the scales at 15.5 oz (the same weight as the denim), so if you've ever cursed flimsy pocket bags, RAREs are a must. The bags feel as tough as canvas. If you ever manage to put a hole in one, let us know.
The Fades
After 100+ wears and a few washes, the RAREs surged through my rotation to become my go-to day-to-day pair. They got properly dirty a few times, and they looked even better every time they came out of the wash. Push them as hard as you can for as long as you can before that first wash, but after that, unless you're really pushing for sharp contrasts, wash them every 50 wears or so for great results.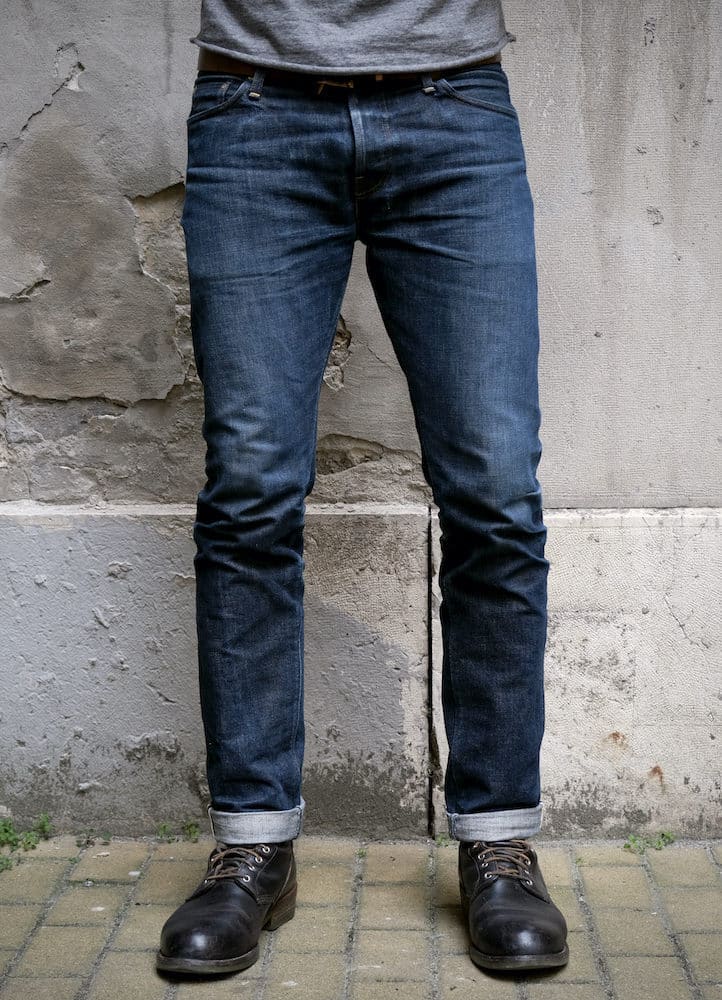 If you're looking for the sharpest contrast fades possible, there are better pairs out there for you. That said, the pair can develop beautiful criss-crossing networks of thin and tightly packed honeycombs that will be more than enough to satisfy all but the contrast diehards.
Like few other pairs, RAREs seem to be able to lean simultaneously towards both vintage and contrast fades. Tomotaka rode his pair dry and produced beautiful contrasts inside of 200 wears. Olivier Grandon washed his pair more regularly and produced the stunning vintage fades below in only 11 months, really showcasing the pair's ability to mimic natural indigo.
Regular washing seems to bring the absolute best out of this pair, but there doesn't seem to be a wrong way to wear or wash this pair. It's dealer's choice.
The Verdict
Besides the conspicuous absence of chain stitching, I can't find a flaw in this pair. I was able to dial down the shrink-to-fit experience to get exactly as much shrinkage as I wanted.
The denim has beautiful fade potential, and it is quick to realize this potential. Finally, the pair features details that draw on the brand's eight decades of workwear experience. Put all this together, and you have a pair perfectly suited to 365 days of steady wear.
They're definitely a conservative choice, but they're also a perfect choice for those who appreciate the simple things done exceptionally well. If you're considering a middleweight pair for the Indigo Invitational, or if you just want to add an absolutely legendary pair to your rotation, put the Big John RAREs at the top of your shortlist.
Love denim and fades? Join the competition!
The Indigo Invitational started as a small group of enthusiasts who wanted an excuse to buy a new pair of denim and to see how far they could push themselves and each other.
There are thousands of dollars worth of prizes, but this is just the gravy. The meat underneath is a tight-knit community of enthusiasts held together by a mutual love of fades.
If this sounds like something you want to participate in, join the Facebook group, follow the competition's updates on Instagram and visit indigoinvitational.com.
Visit indigoinvitational.com to learn more and stay up to date! If you need a new pair of jeans, check out our buying guides.