Q&A with Colin aka @c__jonas
Name: Colin
Birth year: 1993
Location: Switzerland
Profession: Medicine student
Colin's Way Into Instagram and Raw Denim
Thomas: How did it all start with your Instagram feed?
Colin: It all started in 2017 when I decided to open an Instagram account for my menswear "hobby." I've always posted fit pics on forums (Bonnegueule and Superfuture) but I wanted to share outfits on a different platform.
T: Why Instagram? What are your goals?
C: I've been using Instagram since its beginnings with another private account, sharing my daily bits and bobs. Nothing really serious and more friends and social circle oriented. I like how easy it is to share, discover and connect with other people.
Instagram allows you to connect with a bunch of different people. The simplicity and effortless access also made it easier for me to track my outfits and see my progression month after month. I like to have straightforward access to my denim fades and outfits all in the same place.
I get questions weekly about how I wash my jeans. French people aren't used to seeing someone using a washing machine and French literature about selvedge is quite rare. I recently have done a couple of 'how to' guides on my story to answer these questions.
I don't have any particular goals with Instagram except to share outfits and to discover new brands, products, and people.
T: How much time do you spend on Instagram on a daily basis?
C: When I'm going to my University classes, I spend a lot of time on Instagram. I would say a couple of hours a day, essentially in public transportation.
But when I'm on holiday, I sometimes don't open the app at all for a full week! It's good to be able to disconnect from the internet as it's a time sinker. Instagram can quickly become unhealthy if you spend too much time on it.
T: How do you take your photos?
C: I take my photos by myself with a camera, a tripod, and a timer. Usually with a Nikon camera that I borrow from my girlfriend, but I also share some stories taken with my iPhone.
T: Which tools do you use?
C: A Nikon D5500 and a tripod. I edit the photos afterwards on my phone with Snapseed. I usually tweak the luminosity up because it's quite dark where I take the pictures and then upload them on Imgur for forums and on Instagram.
T: What's your editorial flow?
C: I don't really have one. I take pictures of outfits when I have time and if I have something to share. Sometimes I can post a picture a day and sometimes none for a week.
T: What are your favourite locations to take photos? And why?
C: I use my garage door as a background because it's neutral and simple. It's not in direct sunlight, so the lighting is consistent and the garage door color is a muted neutral green, which works great, in my opinion. I've tried taking pictures in the forest near my house, but it's a hassle to walk 1 kilometer with the camera and tripod just for that photo hahaha!
Colin's Denim Style and Preferences
T: How did you get into denim?
C: Back in high school in 2011, I wore mostly used denim and chinos. I wasn't really into menswear or nice clothing. I was skating to class and afterwards every day and I didn't really care about what I was wearing.
I was looking for dark denim but had a hard time finding any in the shops in my town, so I typed 'dark denim' on Google and it was my first jump into raw denim and menswear: I had just found the forums Superfuture and Bonnegueule and spent hours reading the discussions.
A couple of weeks later, I bought my first pair of raw denim when I traveled to Paris: an A.P.C. Petit Standard. It was slim, uncomfortable at first, as it needed to stretch and break in. I loved it.
Then, in 2014, I went on a road trip to the USA. I went to Self Edge in San Francisco and bought my first unsanforized denim: a collaboration in-between Imperial and Self Edge called the "SEXI23".
After wearing unsanforized denim, I was hooked and couldn't look back to sanforized denim or non-selvedge denim, for that matter. My search for the perfect dark pair of jeans had brought me into menswear and later to my Japanese clothing addiction.
During the summer of 2017, I went on a trip to Japan. My favorite part was the small city of Kojima in the Okayama prefecture. There you can find a street called Jeans Street dedicated to denim and indigo garments with more than 20 shops.
There is a 3-parts jeans museum and next to it the TCB factory. Hajime Inoue, from TCB, allowed me to visit his factory and showed me the vintage machine he uses to sew jeans. There, I've bought the pair I'm wearing at the moment: the TCB '50s slim.
You can learn more about my trip and my TCB '50s on an article I've recently written on the blog of a good friend of mine here.
T: What's your favourite feature of jeans?
C: My favorite feature is obviously the denim; I like it slightly slubby and hairy.
I also really like the hardware, especially the buttons, my favorite being the ones on my Flat Head 3005-A.
A chain-stitched watch pocket producing a "lightning" fade is also something I've been searching for recently.
T: How do you wash your denim?
C: I started by wearing my first pair around 6-8 months without any soak or wash. I had no experience in raw denim and all I could read about it back then was that the longer you wait, the better it fades.
I read about the freezer method or ocean wash but I didn't try these methods. I think they are stupids.
Suggested further reading: Raw denim care myths
For my second pair (Imperial X Self Edge), I didn't want to go through the "stinky and dirty" pair of jeans again, so I hand-washed it after around 4 months and then every 2 months or so. For my third pair (Stevenson Overall Co.), I tried the washing machine for the first time and never looked back.
I changed the way I wash my jeans since I've started my 'denim adventure.' I went from never washing to using the washing machine often.
The more you wash (especially with a washing machine), the less contrasty your fades are. I now prefer 'vintagey' fades and clean denim. I've machine-washed my fourth pair (TCB '50s slim) every time it needed, and the results were successful.
T: What's your favourite denim brand?
C: It's hard to say as I love many brands. The favorite denim I've worn is from Stevenson Overall Co. (above). I love the subtle slubs and green cast. The single stitching construction with poly-cotton threads and pockets curves are "unique" and refreshing.
This pair, 767-RXX aka Santa Rosa, is the most durable denim I've worn so far and benefits a lot from frequent washes. The Stevenson's cuts are particular and definitely don't work for everybody, but they suit me well.
Otherwise, I'm really enjoying my orSlow 105 and my Ooe Yofukuten OA02 art the moment.
T: What's your favourite fit? And why?
C: My favorite fits are the one based on the Levi's 501 from the '60s: medium to high rise, some freedom in the seats and thighs and a subtle taper. Hemmed short, this fit works with many different types of clothing while giving me the freedom of movement for my everyday needs.
T: Which boots and leather goods do you wear with your denim?
C: I don't have a lot of accessories, but I've been wearing a natural leather belt by Tanner Goods since a trip to the USA I did in 2013. The natural leather has aged so well.
I've recently acquired a brown belt from SympaBonnard, a Swiss brand. I can't wait to see how it evolves.
I love boots and leather shoes though. If we meet, there are high probabilities that I'd be wearing my Oak Street Bootmakers trench boots or Paraboot Michael or Chambord.
Suggested podcast episode: How leather is made and types of leather
T: Which sneakers do you wear?
C: I don't really wear sneakers anymore except at my job where I wear Common Projects Achilles low. They have become so comfortable and are "dressier" compared to others who wear running shoes. I also have some white high-top Converse made in the Kurume factory in Japan. It's a classic that never goes out of style.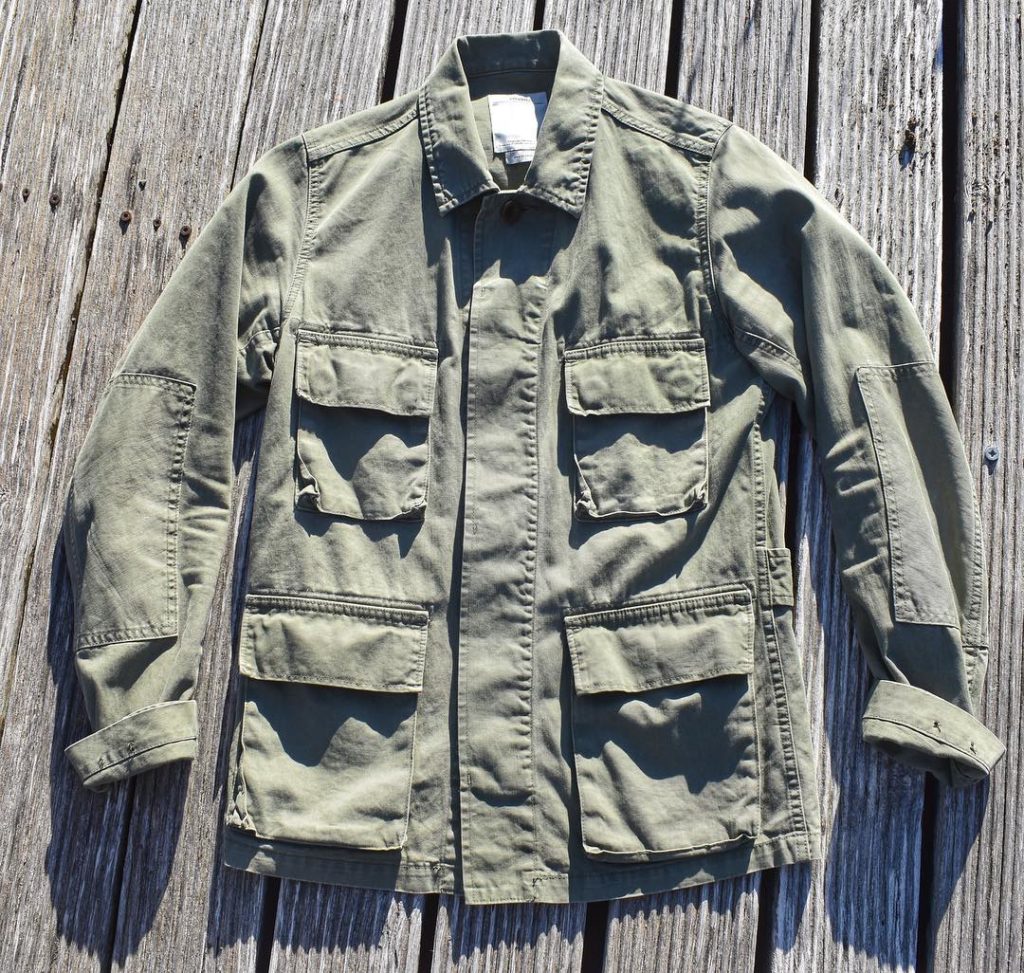 T: Favorite item that's not denim or leather?
C: Definitely one of my Visvim jackets, either the Kilgore (above) or the travail coverall in wabash indigo fabric.
T: Where do you buy your gear?
C: I've bought the majority of my wardrobe second-hand on the internet: mostly on eBay, Grailed, and Rakuten. The only physical shops I've bought expensive stuff were during my trips to the USA, Japan and France.
My all-time favorite shop is VMC in Zurich. They have, in my opinion, the best selection of the brands I love. I also like DeeCee Style in Zurich and Jinji in Paris.
T: What's your monthly clothing budget?
C: It depends on the month and on my budget. I tend to re-sell everything I don't wear and re-use the money to buy something else.
It varies in between 50 USD to 300 USD in general. I buy one or two pieces of clothing each month but sell one I don't wear anymore.
T: What styling tips would you give your followers if they wanted your style?
C: Wear what you want and what you think looks good.
Focus on fit over quality or quantity. The silhouette is the most important part of any outfit for me.
Try larger pants.
Always adjust the length of your pants.
Invest in jackets and shoes. They have the biggest impact on an outfit.
Buy better pieces and get them second-hand. It's ok to wear already used stuff, it looks better.
Stop that Red Wing boots and Chup socks "cuff-check" nonsense.
Definitely try unsanforized denim if you haven't. It's ok to buy one wash if you are afraid of all the shrinking process. Try it and you'll like it. You might not be able to go back!
Ready for More Q&As?
If you'd like to read more personal stories and Q&As, you can check out all the previous ones right here. Want to make sure you never miss one? Sign up for the free weekly Denimhunters email newsletter.