Q&A with Lukas aka @dry_luke
I discovered Lukas back in February or March, I think. At that time, he'd already been posting his Benzak fades and his boots for over a year. And he was getting quite a bit of (well-deserved) attention for it. Here's his story.
What's your story
Name: Lukas
Birth year: 1990
Location: Köln
Profession: Musician (classical saxophonist)
I live close to Köln with my wife and my son. Concerning my hobbies, I'm in the lucky situation that I got the chance to turn my biggest hobby into my profession. As far as other hobbies go, it's family first.
I like denim and all the "rugged" style going along with that. I'm also really into watches, especially Omega Speedmasters and all their variants (vintage for the win!).
Lukas' Routines on Instagram
Thomas: How did it all start with your Instagram feed?
Lukas: I started showing how my Benzak Deep Indigos were fading. Soon after, I got sucked into it and became part of the awesome community we have.
T: Why Instagram? What are your goals?
L: I do for the fun of it. The best thing is to get in touch with like-minded denim nerds ?
T: How much time do you spend on Instagram on a daily basis?
L: Maybe one hour. Every now and then, I check Instagram and the profiles I enjoy. Creating content usually goes pretty fast. 5 mins or so, including editing.
T: How do you take your photos?
L: With a Canon 750D. I put it on my table, stand in front of my wall and shoot. I then transfer it to my phone, sometimes edit bit in Snapseed and job's done ??
T: What's your editorial flow?
L: Always try to make it spontaneous. Usually, nothing too fancy, just whatever I feel like.
T: Do you post on a regular schedule?
L: To be honest, I just post whenever I feel like it. When I'm busy, I prefer to spend time with friends and family. I usually take my pictures right before I have to leave the house so I can edit and post while I'm on the train.
T: What are your favourite locations to take photos? And why?
L: My white wall ? Just because it's convenient. But maybe I should get a bit more creative?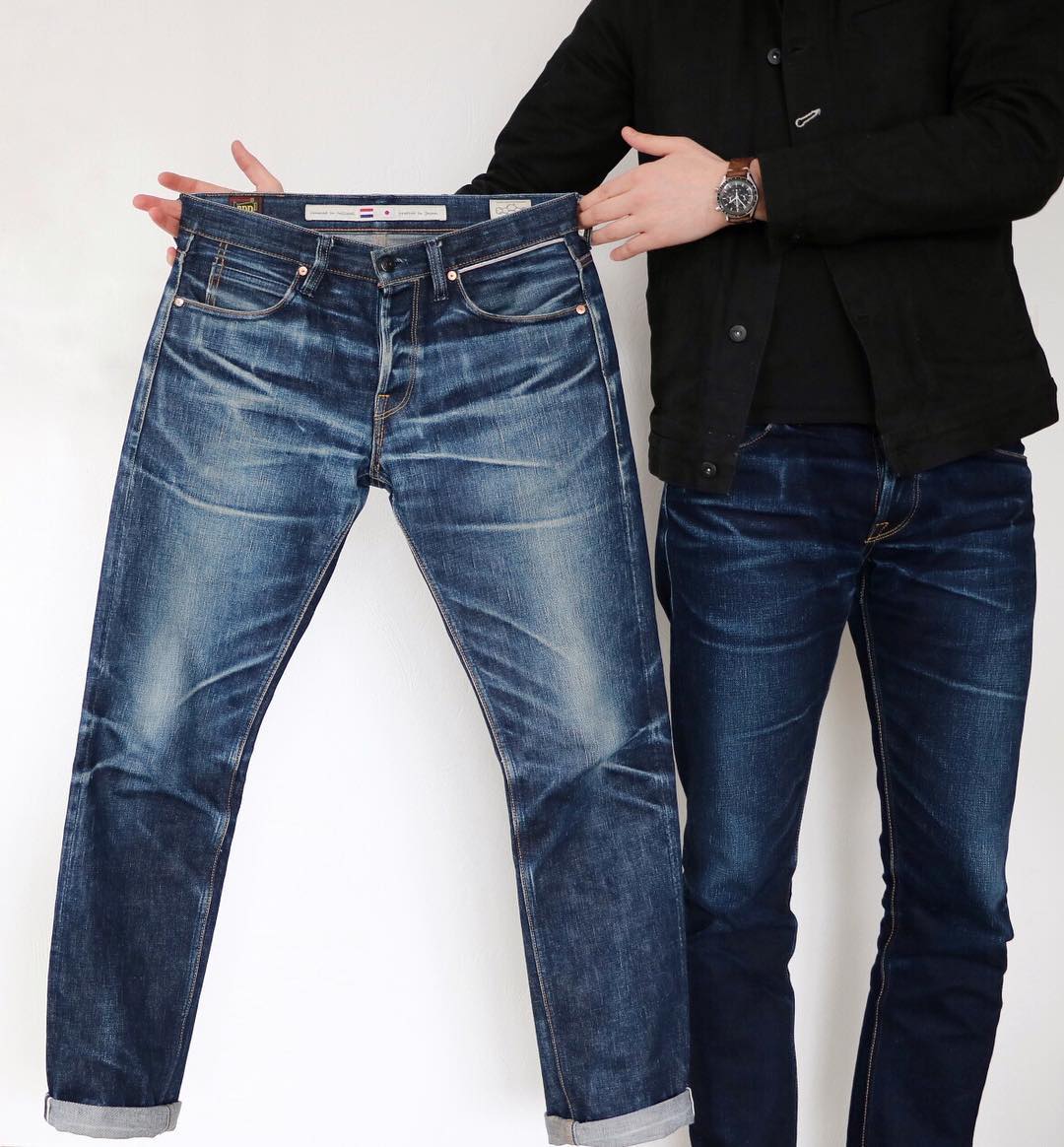 Lukas' Denim Style and Preferences
T: How did you get into denim?
L: I always liked denim like but never really informed myself. Nudie ran a pretty big commercial on how denim can fade a few years back. That got me interested. And as we all know, once that door is opened there is no coming back.
T: What's your favourite feature of jeans?
L: If they have the right fit, they always look good. No matter if they're brand new or totally faded and ripped.
T: How do you wash your denim?
L: I don't keep track how long I have been wearing my denim. I simply wash them when they start to smell. That's usually after 10 to 12 months of wear (with a soak at around 7-8 months).
T: What's your favourite fit? And what's your least favourite fit?
L: I love slim fits. Both with a straight and tapered leg. Not really into bootcuts.
T: Which boots and leather goods do you wear with your denim?
L: I have Red Wing and Truman boots, which I totally love! I also own a card wallet from the brand Sowk.
T: Favourite item that's not denim or leather?
L: My watch ?
T: Where do you buy your gear?
L: Most of my wardrobe is from stuf|f in Düsseldorf. Another great place is the Kentaurus denim store in Cologne.
T: What styling tips would you give your followers if they wanted your style?
L: Quality first, buy less but better.