Q&A with Jonathan aka @yonagrinberg on Instagram
It's funny how there are hot spots littered with Blue Blooded Instagrammers, while other places have almost no one.
Take the Netherlands or Sweden. Tons of cool people, and thriving communities. Denmark and Israel, not so much.
That's why I have a pretty good idea of how Jonathan (known as @yonagrinberg on Instagram) feels. Here's his story.
What's your story
Name: Jonathan Grinberg
Birth year: 1974
Location: Tel Aviv, Israel
Profession: Café and bar owner
I'm Jonathan. I live in Tel Aviv with my wife and two kids aged 2 and 5. I'm a partner and manager of The Streets cafés. We have two locations, 24-hour urban hangouts that give a solution to everyone at any hour. From top-notch coffee to vegan dishes through cocktails and night nibbles.
I'm co-own a bar named Denim, Drinks First. It's a local, rock 'n' roll music no-bullshit bar. At the time we were working on it, I had a book about denim in my bag. My partners saw it and said let's name the place Denim. I guess it shares most of the values that our style does.
My main hobby is surfing. It's a way of life. I travel as much as I can to get good waves. I'm also a huge movie buff and studied arts. I even had a regular spot on a morning show talking about cinema. Besides that, I'm a whisky and gin lover. But hey, who isn't?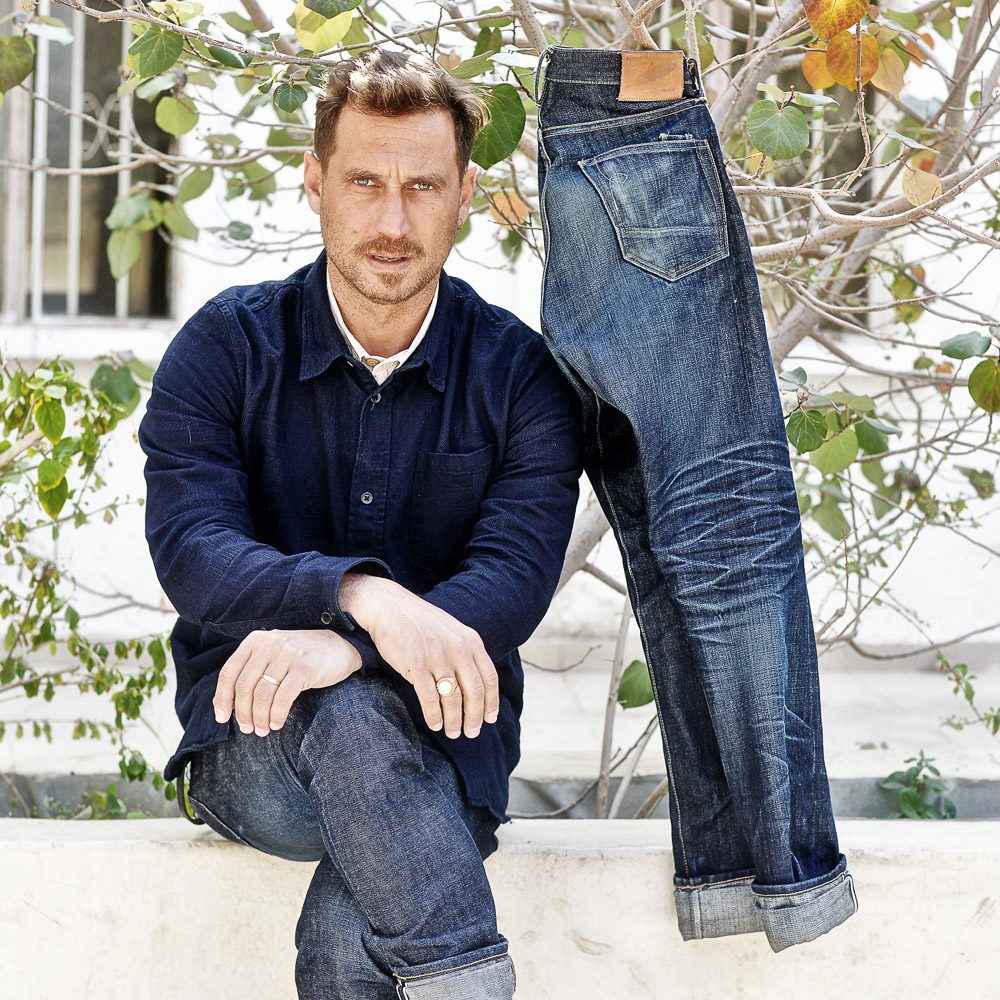 The Instagram Feed and How it Started
Thomas: How did it all start with your Instagram feed?
Jonathan: I'm not on Facebook, and Instagram was an inspirational tool for my work and surfing. Then, through Instagram, I got into the denim community. It's as if I was looking for something but wasn't sure where to look.
I was always into denim, can't forget my first 501 jeans as a kid. I guess it all caught me at a time in my life when I was interested in what is real and lasting in all aspects. After my first raws, there was no turning back. It came naturally to me to devote my Instagram feed to denim.
T: Why Instagram? What are your goals?
J: It just makes me feel good. To plunge into the things I love and spread the word about it. It's out there, no one is obligated to interact. And yet. I find this amazing and of course creative and mind-opening.
T: How much time do you spend on Instagram on a daily basis?
J: It depends. I suppose about an hour a day.
T: How do you take your photos?
J: All my photos are taken by my good friend and amazing photographer Ran Biran with his Nikon D800 and a 50mm lens. When I decided to devote my account to denim, we made a deal to take my photos. Hope he doesn't regret that ?
T: What's your editorial flow?
J: The idea for my feed was really inspired by Benzak Denim Developers' slogan, 'the modern-day cowboy.' I wanted my feed to be very urban, with back alleys, hallways and such. So the workwear will make sense.
And there aren't many denimheads from Tel Aviv out there. So I wanted to show this amazing city. But it takes time, which I don't always have. At the moment, I'm rethinking how to expand my feed.
T: Do you make it a priority to post on a regular schedule?
J: I usually post once a day in the late afternoon. Every session I do creates a few photos I like. So I have enough material.
T: What are your favourite locations to take photos? And why?
J: I prefer hardcore urban or industrial areas. That's my playground. Surfing is flip-flops and no shirt. So I love the dichotomy and rarely take my shots where I surf.
T: Do you repost?
J: I want my Instagram to have a uniform look, I repost only in the story, and usually other inspirational content or just things that make me laugh.
Jonathan's Denim Style
T: What is your favourite feature of jeans?
J: That's a hard question, I love all the details, I believe the whole is greater than the sum of its parts. But I do love cuffs, especially when the chain stitch is visible next to the selvedge ID. I'm also a fan of the back pockets; the shape, stitching, the depth and height.
T: How do you wash your denim?
J: I soak more than I wash, about every 100 wear-days. I'll wash by hand in the tub once in a million years. But I am having conversations and have been convinced to give my current pair a machine wash. I also have a pair waiting for a sea wash.
T: You live in a pretty hot climate. How do you cope with the heat when you're wearing heavy denim?
J: You got to suffer for your art … hahaha ?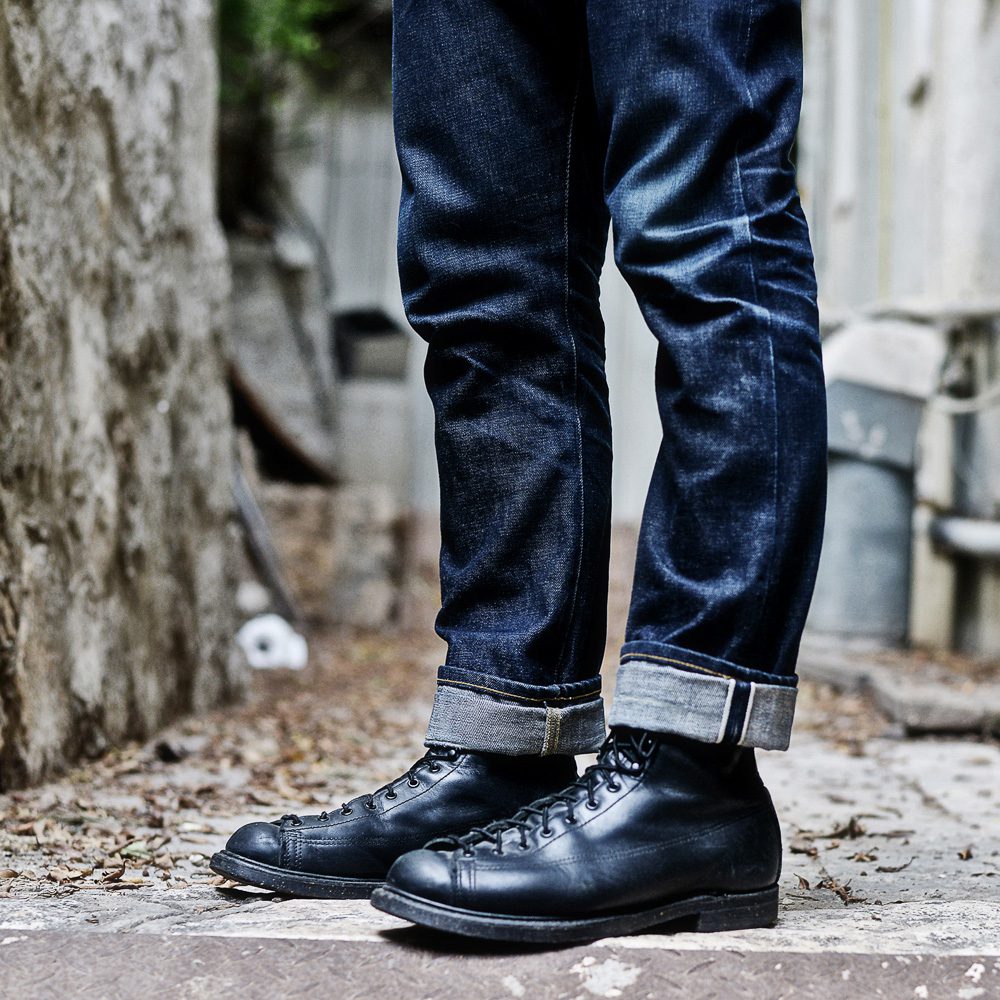 T: What's your favourite fit? And what's your least favourite fit?
J: My current fits is slim tapered, but I'm going a bit wider with every pair I get. And higher on the rise. Growing up as I go along. Too many years of those skinny fits.
T: Which boots and leather goods do you wear with your denim?
J: I own four pairs of Red Wings, but my next pair will be a different brand. None of the big brands are available in Israel, so I'm lucky. It means I wear the hell out of my gear and can apply the 'buy less wear more' philosophy.
I own two belts and a wallet via the amazing Isaac from Pigeon Tree Crafting. A belt from Ewing Dry Goods and one by Hollows Leather. It took me some time to convince him to ship to Tel Aviv.
T: Which sneakers do you wear?
J: I haven't worn sneakers in a while. Only at the gym.
T: Favourite item that's not denim or leather?
J: Try me in a year when it comes to clothing. But my boards are a huge fetish.
T: Where do you buy your gear?
J: Online mostly, when I travel I'll go to the stores that stock my kind of goods.
T: What styling tips would you give your followers if they wanted your style?
J: Take time to choose the perfect items that you feel comfortable in, and wear the hell out of them. The more you explore them the more they will be a part of you.