This guide is co-authored by Thomas from Denimhunters and Bryan Szabo, founder of the Indigo Invitational. The featured image is from Rivet & Hide.
Answers to 7 frequently asked questions about buying raw denim
So, you're considering buying a pair of raw denim jeans.
If it's your first pair, you're about to dive into something that may forever change the way you think about denim.
Or maybe it's your second or third pair, but you feel you made mistakes with your last pair. You leapt before you looked—we've all done it. You want your next pair of raws to fit better, fade better, or stand up to the kind of abuse you expect to subject them to.
Either way, you've probably got questions—which is why you're reading this—and we've got answers.
---
Prefer to listen?
In episode 11 of the Denimhunters Podcast, Thomas discusses the seven FAQs that we also go through in this post.
Listen in the embedded player above or on Apple Podcast, Google Podcast, Spotify, and Stitcher.
---
In this article, we'll be looking at the seven of the most frequently asked questions about buying raw denim jeans that we get from the raw denim community.
This is not a deep dive into the world of raw denim or denim brands. No geekiness—just the straight dope for curious novices. (Throughout the article, you'll find links to blog posts and entries in the Denim Encyclopedia, if you do want to geek out.)
We want to help you make an informed purchase. The questions we'll answer in this article will guide you towards that more informed decision. And whether it's your first pair or your fiftieth, there's always more to learn.
Brands and retailers! You've got questions, and we can help you learn the ins and outs of the denim scene and its loyal customers. Contact us here.
FAQ #1: What raw denim should I buy?
There's no answer we can give you to this question. There are simply just too many factors that go into the buying decision, which is why we've written this guide.
Denimheads are drawn to raw denim because the fading process produces entirely unique garments. What we end up with depends on what we start with, but there's no consensus on what the end product should look like.
If you're not entirely certain what you want your faded jeans to look like, check out @robindenimfades or @indigoinvitational on Instagram, do a quick Google search for "faded raw denim". This will give you at least a faint idea of your destination.
This should also help you narrow your search down to a handful of brands. We can guide you towards or away from particular brands. But there's no guarantee that the brands we love will be a perfect fit for what you are looking for in a pair of jeans.
FAQ #2: What is the best raw denim brand?
Probably the most hotly debated topic in the denim world, this question has nearly as many answers as there are denim brands.
Some people swear by Iron Hearts, others will wear nothing but Momotaros or Brave Stars. Some people will only wear Japanese denim, others refuse to wear anything that isn't made in the U.S. of A.
The vast majority of denim enthusiasts, though, are polyamorous. Instead of giving their heart to one brand, they play the field, picking up whatever catches their eye.
Most denimheads rotate through a few pairs, and, for most of them, this means rotating through brands. They might slant their rotation to favour a particular brand, but it's just as likely that they're denim journeymen. Like so many of us, they're making their way through the denim scene one pair and one brand at a time—looking for that elusive perfect pair.
When it comes to deciding on a brand, don't take our word for it (or anybody else's for that matter). Do some research. If at all possible, try on as many different pairs as you can get your hands on. Don't give your heart to one brand until you're quite sure it's true love.
FAQ #3: How much should I spend? Are the top-shelf brands worth the money?
You should spend as much as you can comfortably afford.
Most denim enthusiasts will tell you—loudly and frequently—that top-shelf denim (in the range of US$300-400 per pair, and sometimes even more than this) is well worth the cost. At the same time, there are plenty of great pairs of raw denim at the entry point ($80-200).
Don't make the leap into the more expensive pairs unless you can afford to do so. The difference is mainly in the details, so you can still get the full raw denim experience on a tight budget.
A word of caution: Until you've really broken in your first pair and done a little research into what else is out there, don't drop a bundle on a stack of jeans.
By all means throw a few bills at a great pair, but, once you've made that initial purchase, sit on it for a while, (in other words, you need to wear the jeans!). Get your money's worth from a pair or two before you splash out.
Raw denim is meant to be worn often and aggressively. Justifying the price tag becomes much easier when we wear the hell out each and every pair we purchase. A closet full of crisp, unworn denim defeats the purpose.
FAQ #4: What's so special about Japanese denim?
Fair question. It's kind of like asking what's so special about French wines or Swiss timepieces. Sure, you'll find great Argentinian wines, and the Germans can make a damn-near perfect watch (no offense). Connoisseurs, though, are drawn to French wines and Swiss watches because these countries have become synonymous with the best.
We're not going to get too far into the weeds here, but we will say that the Japanese have a deep and lasting love for denim that can trace its roots back to the American occupation of the country following WWII.
In the early 70s, Japan started producing its own selvedge denim, and when Western consumers were clamoring for acid washed and stonewashed monstrosities, Japan was keeping raw denim and its traditions on life support.
When the world came to its senses and started seeing the beauty of artisan selvedge, the Japanese were poised on the tip of the cresting wave.
Since then, the rest of the world has effectively been playing catch up. Some European and North American brands have come a long way in terms of matching Japan's trademark eye for detail, but in terms of the fabric itself, nobody disputes it:
The best selvedge denim in the world is made on Japanese looms in Japanese factories. (And no, it's NOT made on old American Draper looms—the Osaka Five busted that myth here!)
You can read more about the history of denim in Japan here. We've also discussed the topic with the author of Ametora, W. David Marx, on The Denim & Boots Podcast.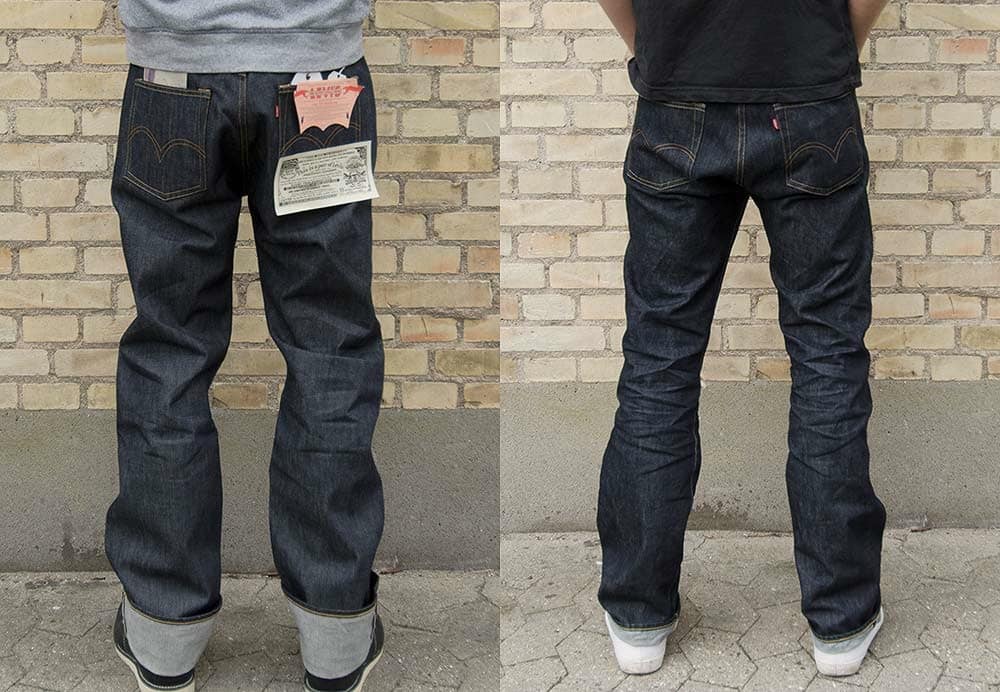 FAQ #5: What is the difference between sanforized and unsanforized?
Sanforization is a process (patented in 1930) that aims to eliminate shrinkage from denim (and other fabrics for that matter). Fully sanforized denim might shrink by as little as 1% during washing. This is good news for when you want your jeans to stay fitting like they do when you first try them on.
Unsanforized denim (also called 'shrink to fit' or 'loomstate denim) has not been subjected to this process, so it will shrink a considerable amount when you first wash it, and it'll keep shrinking in subsequent washes. You might be six or seven washes deep before your denim has settled into its permanent state.
You can read more about sanforization in this Denim Encyclopedia entry.
This might sound like a drawback, but fans of unsanforized denim argue that this produces the best-fitting pair of raw denim around.
It also means that the denim is less uniform. Unsanforized denim has more character—character you can often feel when you run your hands across the face of an unsanforized pair.
This explains why brands like Oni, Tanuki, and Pure Blue Japan—and most other Japanese brands—use unsanforized denims, which they might one-wash. These are some of the most distinctive and unique (and expensive) jeans around, so if you're looking to make a loud statement with your raws, you should at least be exploring your unsanforized options.
Word to the wise: When shopping for unsanforized denim, pay particularly close attention to the sizing guidelines. If you're buying from a brick-and-mortar retailer, be sure to have an in-depth conversation with the staff about how much shrinkage you can expect.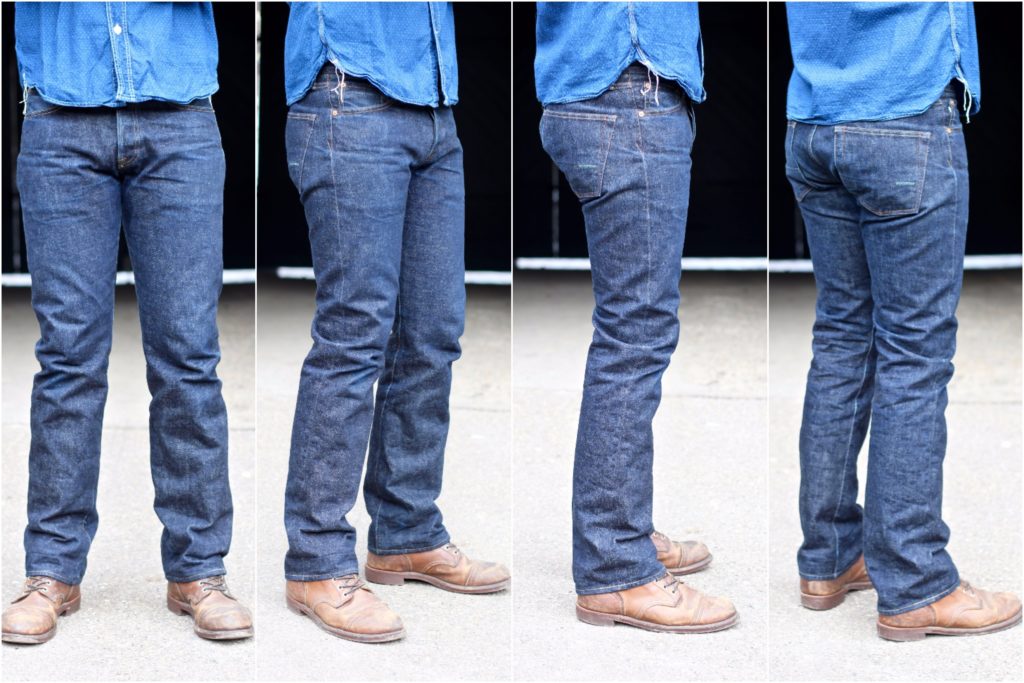 FAQ #6: What is the best fit? What fit will be best for my body type?
The shape of your body, how you wear your jeans (i.e. what you'll be doing in them), what kind of footwear you prefer, and what kind of style you subscribe to will, together, determine what kind of fit will be best for you.
Most brands offer cuts in the three fit categories: regular, tapered, and slim.
If this is your first pair of raw denim jeans, something in one of these fits will be a good starting point (unless you only wear wide legs, super skinnys, or bootcuts).
If you don't have a favourite fit already, you should start by taking a long hard look at yourself in the mirror. We've identified five male body types and the fits that tend to work for them. If you'd like to learn more, check out our in-depth fit guide.
Best practice is to go to your local quality goods purveyor and try on numerous pairs in a wide range of fits. This is the absolute best way to find that perfect balance of look and fit. Even if you don't leave with a pair, you'll at least have a better idea what you're looking for.
If trying them on in person isn't an option, you'll want to spend some time looking at the measurements that nearly all brands make available online. Use your best-fitting pair as a reference and compare their measurements to a few pairs. Be sure to factor in shrinkage.
FAQ #7: What size should I get?
A good rule of thumb is there is NO rule of thumb for sizing across brands.
Depending on whether the fabric is sanforized or not, you might fit into a size range of two or even three full sizes in different brands and fits. This is where that research comes into play.
Most denim product descriptions include detailed notes on sizing and shrinkage. Read these carefully. Most of the people who end up with the wrong size either never read this advice or, having read it, choose to ignore it.
If the manufacturer tells you to go up a full size, take their advice. If they tell you that their sizing accounts for shrinkage, take them at their word.
If you see phrases like 'true to size' (sometimes abbreviated to TTS), you can reach for your usual tag size with some degree of confidence, but don't take it for granted. If you're buying online, check the measurements and the shrinkage guidelines carefully. If you're still in doubt, get in touch with the brand or store you're buying from.
Remember, raw denim stretches a bit as you break it in, so a brand new pair should be snug. However, you should be able to button them without too much difficulty. Breaking in your jeans shouldn't be a walk in the park, but it shouldn't be a painful process either.
Need help? Ask for it
Raw denim is an investment, so the more research you can do, the better. Online research (like the kind you're doing right now) is a great place to start. The best kind of research, though, is the hands-on variety.
A brick and mortar retailer should be your first port of call when you're thinking about making the leap into the world of raw denim. The clerks are not just willing to talk about what they sell; they are often eager to do so. They have embraced the denim lifestyle, so, for many of them, it's more than a job. It's an expression of their passion for quality goods—a passion you may soon share.
Don't be afraid to ask for help. Ask what they recommend, and try on one pair after another until you find something you're excited to wear day in and day out for the next year or two.
Love denim and fades? Join the competition!
This guide is co-authored by Bryan Szabo, founder of the Indigo Invitational—a fading competition that started with a small group of enthusiasts who wanted an excuse to buy a new pair of denim and to see how far they could push themselves and each other.
There are thousands of dollars worth of prizes, but this is just the gravy. The meat underneath is a tight-knit community of enthusiasts held together by a mutual love of fades.
If this sounds like something you want to participate in, join the Facebook group, follow the competition's updates on Instagram and visit indigoinvitational.com.
Want to make sure you never miss a post? Sign up for Denimhunters' email newsletter.