This blog post is sponsored by Bluezone, the independent show for denim and sportswear by Munich Fabric Start. Register for the next show here!
Didn't make it? Here's what you missed at the Bluezone denim trade show this summer
Munich's Bluezone denim show took a short hiatus during the pandemic, but the textile trade show came back with a bang for MUNICH FABRIC START's 50th edition, bigger and better than ever.
Nearly every facet of the denim world was represented somewhere in a total of 45,000 square metres of exhibition space across several shows, including MUNICH FABRIC START, The Source, Keyhouse, and Bluezone. In total, almost 900 exhibitors from 40 countries showcased more than 1,500 collections in Munich this summer.
We didn't have time to visit every booth (or space here to tell you about everything we saw). Suffice to say, we were like kids in a candy store. Here are a few of the highlights from this year's Bluezone denim trade show.
Just steps past the booths where we got our press passes, we found Ruedi Karrer's Jeans Museum booth–a shipping container that we could have found with our eyes closed by following the smell of unwashed jeans.
The Swiss Jeans Freak (his legendary warmth and generosity on display) greeted us with open arms and told us some of the incredible stories behind the faded pairs he had on display.
At the far end of Ruedi's display was a pair of Levi's that had been covered from waistband to cuffs with intricate, overlapping sashiko patterns. They represent hours upon hours with needle and thread.
The handiwork of Nemo (aka @rawdenimwelldone), the remarkable pair has found a good home in Ruedi's museum. It was worth the trip just to see them up close.
Seasonal Denim Themes at Bluezone
We came to Bluezone in search of a better understanding of the denim industry as a whole, and one of the big aha moments was during the first presentation in the main hall, when
Tilmann Wröbel from Monsiuer-T. studio outlined the four themes that designers are riffing on right now:
Trend #1: Slow-Mo
This is about educating consumers to create a slower approach to both purchasing and wearing. This pace resonates with those who want an escape from the frantic and break-neck speed of modern life.
Slow-Mo moves away from the transgressive and edgy and towards a search for those moments from our past where we are at our most natural–our most comfortable selves, which can be a refuge in an unsafe and uncertain world and its warring factions.
Trend #2: Futuretro
A vintage-inspired feeling of youth and freedom. Futuretro plays out in varsity jackets and embroidery that feel at once of the present moment and a movement backwards in time.
Futuretro is behind the triumphant return of the truly classic five-pocket jean, with wide, comfortable fits and durable construction.
Trend #3: Pitch Dark
The rise in ultra-dark and monochromatic styles represents a reflection of the digital environment, of dark worlds only partially illuminated by lit screens.
The denim world is coming into a deeper appreciation of the inky blue-blacks produced by Japanese denim artisans like Pure Blue Japan, Oni, and Iron Heart.
Heavy and serious, dangerous and elegant, Pitch Dark is driven by both the macro and the micro, with silhouettes and close-up texture being equally important.
Trend #4: Bonkers
The urge to distinguish ourselves from the crowd makes insanity a sartorial destination. Bonkers is perpetually immediate and idiosyncratic. It plays fast and loose with gender barriers, with what might be called a trans trend, and it discards conventional notions surrounding fit.
There is a violence of cut and colour. Though the resulting catwalk looks may be almost entirely unwearable, the spirit of Bonkers is driving street-level styles.
While Slow-Mo and Futuretro neatly capture what has been going in the well-made and rugged spaces for decades, Pitch Dark and Bonkers both present opportunities for brands that want to move outside of the relatively conservative comfort zone and experiment on the cutting edge of modern style, joining fashion-forward brands like Rick Owens and Kapital in the way-out space.
An Industry Transformed
Transformers Foundation and Bluezone partnered up this year, and the Transformers-led talks opened up a space for honest conversations about sustainable and ethical manufacturing. These conversations were driven by concrete data, with buzzwords and pie-in-the-sky optimism notably absent.
What became immediately clear was that the push for sustainability, while important, is not the primary concern for manufacturers. Energy prices have placed an unbearable strain on both consumers and manufacturers.
If energy costs remain at this level or rise further, even legacy operators may be forced to shut down production (perhaps permanently).
Andrew Olah, the founder of Transformers Foundation and Kingpins, had some very pointed questions for a Turkish presenter, who was put on the spot about Turkey's continued energy partnership with Russia.
Due to the war in Ukraine, the pinch is being felt most strongly in countries that have closed the door either partially or completely to Russian energy imports.
Beset with an impossible mixture of geo-political and environmental issues, the industry is being squeezed from all sides. With somewhere between 25% and 50% of Pakistan's cotton crop now underwater and energy prices refusing to subside, manufacturers are being forced to raise their prices.
We can expect brands to pass some of these costs on to consumers. If asked to pay more at check-out this fall, keep these pressures in mind. This is not a matter of corporate greed. It's a matter of industry survival.
A Fabric Frontier
As we expected, only a couple of the booths we visited had any selvedge denims to show us, but this is not to say that we didn't have our heads turned frequently by some of the fabrics on display.
I've always been struck by the fact that pre-faded denim is almost always flimsy (usually in single-digit or low-double-digit weights). Pre-faded options will only start to compete with the raw denim experience when brands start attempting to recreate the authentic and original experience of denim in every particular–especially weight.
Evlox: "Heavy" denim
Spain's Evlox, who have been producing denim since 1846, have actually taken this step, producing a heavyweight pre-faded denim that feels and looks very much like a pair of well-worn middleweights.
Tipping the scale at 15 oz., the denim still can't go toe to toe with the selvedge heavyweights, but it's definitely a move in the right direction.
Berto: Selvedge denim
The best-looking selvedge at Bluezone came courtesy of Berto Industria Tessile. Reps from the Italian mill showed us an indigo selvedge and a beautiful white red-line selvedge. Both fabrics would be excellent choices either for selvedge newcomers (either brands or consumers).
Calik: Rawtech
Turkey's Calik brought a number of garments made from their Rawtech denim. Made in the "Japanese spirit," the rigid non-selvedge would be perfectly at home in the Indigo Invitational and Redline Rally. Like Berto's fabrics, Rawtech would be an excellent introduction for newcomers who want to dip a toe in the indigo pool.
Naveena x Endrime
Perhaps most exciting were the two collections produced by Mohsin Sajid of Endrime for Naveena and Lenzing. For Naveena, Sajid created a forward-looking workwear collection for both men and women that uses Dyneema, "the world's strongest denim."
It feels bulletproof, and we're hoping to put one or two of their pieces to the test in this year's Redline Rally to see how tough they really are.
Tencel: Bast Recast
Around the corner from Naveena's tough-as-nails workwear collection was their Bast Recast collection, also designed, cut, and sewn by Sajid. The fusion of innovative denim made from Tencel Lyocell and hemp and truly remarkable hand-distressing took our breath away.
The chore coat he showed us, featuring simulated repairs and ancient Union Made buttons, looked like something pulled from the archives or from the bottom of a mine shaft.
The Bast Recast 1890 Boss Jeans (inspired by Neustadter Bros. iconic Boss of the Road Overalls) featured embroidered hemp leaves at the front pocket openings that recall Neustadter's pre-rivet pocket reinforcements.
It's not often that pre-faded jeans make me salivate, but I would wear this distressed pair in a heartbeat. I'm giving them the Bluezone Blue Ribbon.
The Finishing Touch
Thomas and I may have been outliers among the denim supply chain representatives, but we weren't alone. Bluezone is a beacon, not just for industry insiders, but also for passionate selvedge enthusiasts, makers, and consultants who come to get an inside track on the industry's direction.
Mixing with the crowd were a few absolute legends. Robin Meijerink of Realign was there, and he brought two premier denim photographers with him: Koen Kuik and Hans Jellema.
Guido Wetzels of Blaumann Jeanshosen stopped by Ruedi's booth and sat with Thomas and I for an hour or so to talk about Germany's selvedge scene, and Jesper Andersen of The Denim Agency (who represents Wiser Wash) spent just as long talking about low-impact washing and its potentially revolutionary effects on the industry.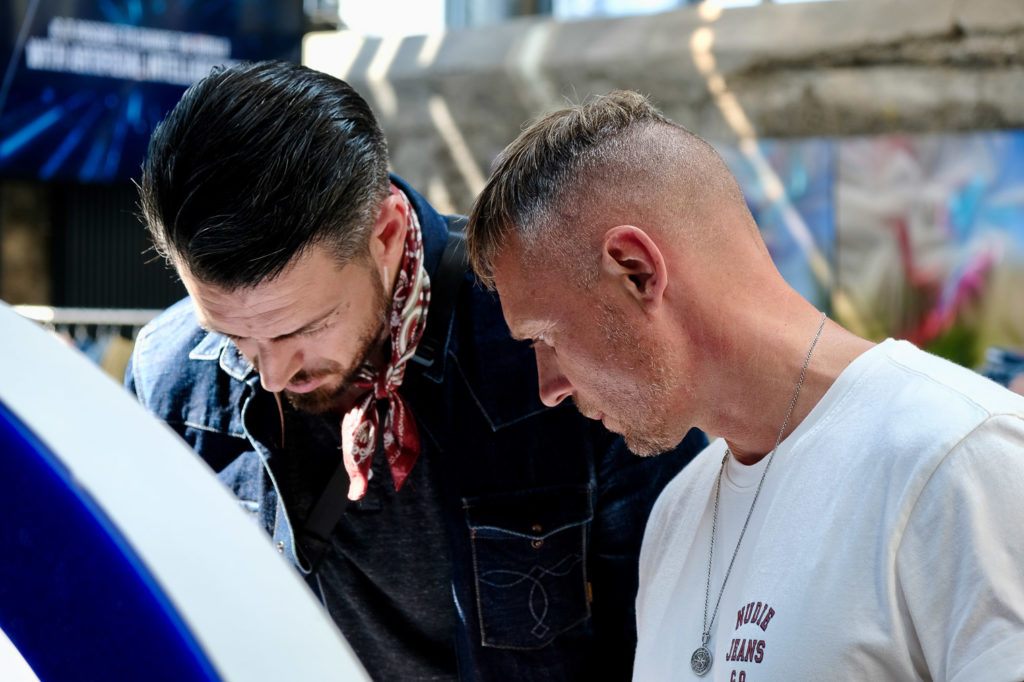 We were also able to confirm two panellists for this year's Invitational. Denim designer and selvedge specialist Christina Agtzidou will be making her first appearance on our Y3 panel, and Mohsin Sajid has agreed to return to our panel. We're excited to welcome Christina and to welcome back Mohsin.
We've already booked our tickets for the next Bluezone in January. We hope to see you there!
Supported by Munich Fabric Start's Bluezone
This blog post is sponsored by Bluezone; Munich Fabric Start's independent trade show for the denim and sportswear community.
The family-run Munich Fabric Start was established in 1996. Twice yearly, it attracts 20,000 fashion professionals to Munich. Bluezone was launched as the first denim-dedicated show in 2003. Today, it hosts more than 100 carefully curated exhibitors.
The show caters to all your sourcing needs: well-established 'all-star' mills; 'catalyzers' that create future trends in denim; and how new technologies and laundry solutions can make denim more sustainable.
Disclaimer: Denimhunters was invited to Munich Fabric Start by the organisers. However, none of the individuals or companies mentioned in this blog post are affiliates.