Contributing Indigo Invitational sponsors get in-depth coverage here on Denimhunters. To enquire about sponsorship opportunities, contact us here.
A Young Pioneering Brand, &SONS Have Hit the Ground Roaming
In 2014, inspiration struck English commercial photographer Phil James. With a 30-year photography career behind him, he had seen much of the world through his camera lens, but what he saw in a derelict warehouse district caught him completely by surprise.
Phil had been mulling over the idea of releasing a line of heritage menswear and, while shooting on location, he noticed a signboard for the company that had once occupied the space. All that was legible was a remnant that read "& Sons".
The intriguing ambiguity of the name combined with the fact that Phil had two sons at home struck a chord. He registered the domain name that night. That was the easy part.
Phil then started sketching out a range of pieces that captured the aesthetic he had in mind—rugged menswear with elegant touches. He took these sketches to prospective manufacturing partners, many of them small, independent, and family-owned English businesses.
The Brand's Story and Key Products
Below, we'll look at &SONS—at the brand's origins and four defining products:
Kickstarting and Twisting the Throttle
Phil's vision was for a label that meant something more than just a great pair of jeans or jacket. He had been frustrated by the process many of us are familiar with–namely, assembling an outfit from multiple retailers and brands. He wanted to create a head-to-toe style that drew on vintage workwear classics of the '50s and '70s.
Rather than dipping his toe in the pool with a small offering, he released a full collection–a bold first step for a brand yet to secure its first customer.
Their Kickstarter collection included selvedge jeans in two cuts, both featuring the brand's signature cuff cinch (designed for bikers), their now-iconic Boardwalk Peacoat, a pair of rugged leather boots in three colours, a chambray work shirt, a pair of cotton twill chore coats, overalls, a branded tee, a tweed flat cap with a leather-lined brim, a henley, a trio of sweatshirts, and a waistcoat. The topper: a Baker Boy tweed cap with a leather-lined brim.
The first responses were encouraging. Backers were enthusiastic about how the clothes looked, but Phil knew this was only a start. The real test came when his first customers received their clothes and started wearing them.
Phil had found much of the available workwear stiff and ungovernable. He understood the reasons for this (as so many of us do), but he wanted to create more wearable pieces that could be layered without sacrificing comfort.
Once again, the initial response suggested that he was on to something. The brand's first customers were quick to notice that the clothes were as easy on the sinews as they were on the eyes, and they loved the brand's approach to style.
&SONS pieces appealed to main street menswear guys–not to those who are drawn to big-name labels but, rather, those who want to invest in quality pieces made to outlast trends.
The Horizon
The brand has grown since then, seeking new ports and points of inspiration wherever they can find them. Through it all, they've kept one eye on the modern workwear scene and the other on heritage workwear that never seems to age or go out of style.
As the collection has expanded, they've sought out new manufacturing partners from the UK, Europe, and the rest of the world, but they've made sure that each of these partners aligns with the brand's founding principles of ethical and sustainable manufacturing.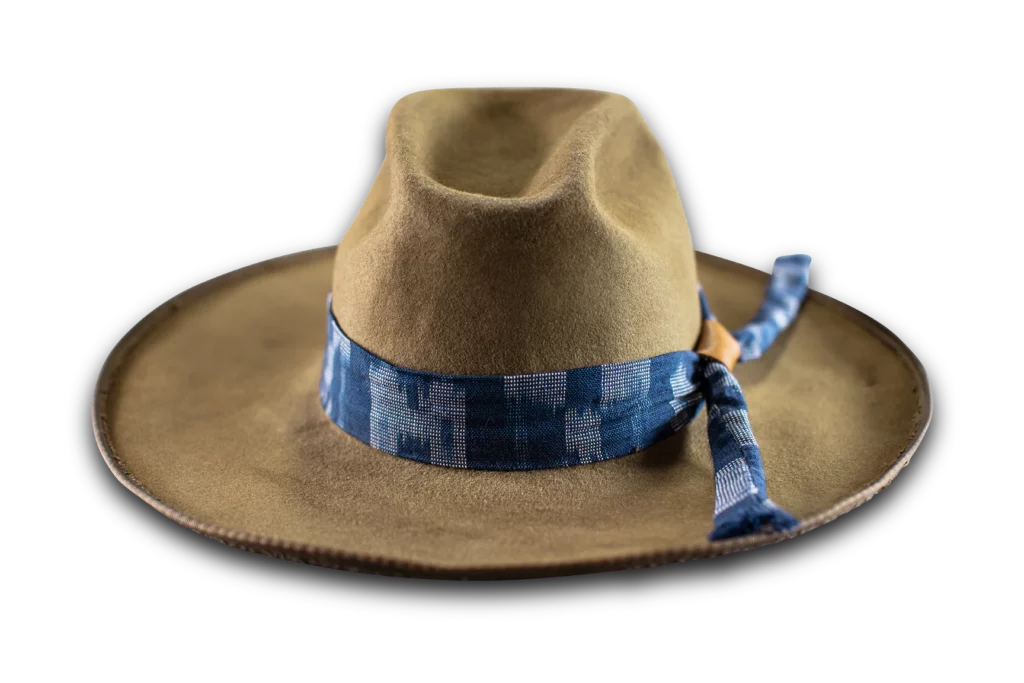 For small-batch releases, they've worked with world-class artisans like The Hat Butcher, who made the brand's Montana Hat. Though this makes scaling production impossible, it's more than profit that Phil is after.
Though these small-batch pieces might not be a lasting pillar in the brand's catalogue, they represent an opportunity for Phil to work with makers he respects and wants to recognize. They sell out quickly, but they serve as a lasting testament to the brand's values.
They're also planning to expand into the American market. During his career as a photographer, Phil spent a tremendous amount of time stateside, and he credits American workwear designers for much of his inspiration.
He knew from the start that, if his brand was a success, it would leap from that UK-based success into the more competitive North American market, and he knows that American fashion consumers have the same pain points as English ones.
To overcome some of the challenges buyers in the US were facing (high shipping and duty costs and difficulty with returns), they opened a distribution centre in Ohio and launched a dedicated website, including customer service chat options with US-friendly hours. They have a handful of American retailers carrying their pieces, but the true milestone will be a dedicated &SONS brick-and-mortar location.
To further their goals of close-to-home manufacturing, they are looking at partnering with small-batch American manufacturers, who can give &SONS' American customers that special satisfaction that comes with supporting their own national industry.
The Wild Bunch
&SONS have a steadily expanding range of rugged gear, but, like so many of our favourite brands, they haven't grown too big for their britches. Piece by piece, they are building their wardrobe, adding new pieces slowly and carefully rather than bloating it with armfuls of new gear with each new season.
We've picked four of their pieces below that we think deserve a closer look. Let's dive in with their denim.
---
The New Frontier Jeans
While &SONS' first pair of selvedge jeans, The Cutter, served as a sturdy foundation for their denim line-up, their newest offering, the New Frontier, shows the brand widening its niche within the modern heritage scene, moving in a slightly heavier direction.
The details make this pair immediately recognizable as an &SONS creation. There are the double back pocket that allows you to keep your phone and your wallet separate, the cuff cinch strap designed for motorcyclists, suspender buttons, a cinch back and split back rise, and the brand's signature chore pocket, which can be worn on either the inside of the pocket or flipped to the outside (perfect if you need quick access to the pocket's contents while working).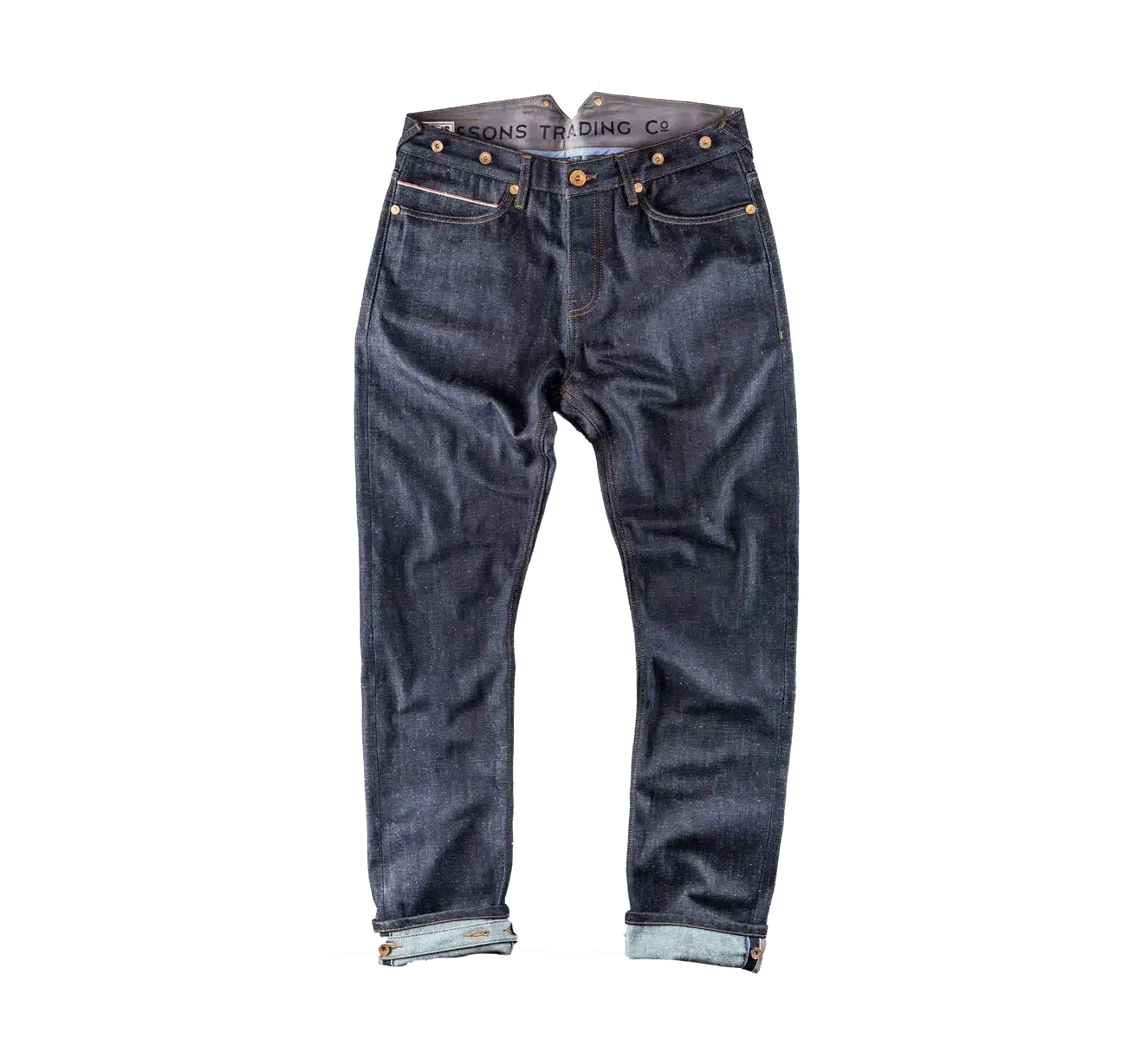 The 14 oz. denim, milled by Turkey's ISKO, has a touch of slub to it, leading to a pronounced vertical texture when it is worn and washed. It also features ISKO's unique antibacterial finish, which promises to inhibit the growth of microorganisms. This means that you should be able to wear them longer (and do more in them) without them giving off a smell–a boon for endurance faders.
We've got a pair of these competing in this year's running of the Indigo Invitational, and we've been immensely impressed with how they've performed. They've faded beautifully from top to bottom, with some great contrasting pocket fades and stacks. The cinch has clearly been put through the wringer, and you can see pronounced wear on the back of the left leg (he probably crosses his left leg over his right when sitting).
What stands out most, though, is how well these fit men with ample thighs. Though the 100% cotton pair doesn't feature any stretch fibres, they are extremely accommodating, expanding to fit the body of the wearer. If the thighs or hips have ever been problem areas for you, it might be time to explore New Frontiers.
We also recommend the pair that started it all for &SONS, the 13.5 oz. Cutter Indigo Selvedge, and their hard-edged take on dark denim, the double-black 14 oz. Rocker.
---
The Boardwalk Peacoat
We aren't exactly starved for choices when it comes to the canonical-as-they-come peacoat. Thrown-together versions of the seagoing classic can be spotted on the racks in most department stores, but there's a huge gap between these inexpensive, mass-market versions and the well-made peacoats that are, for those who own them, the pride and joy of their collection.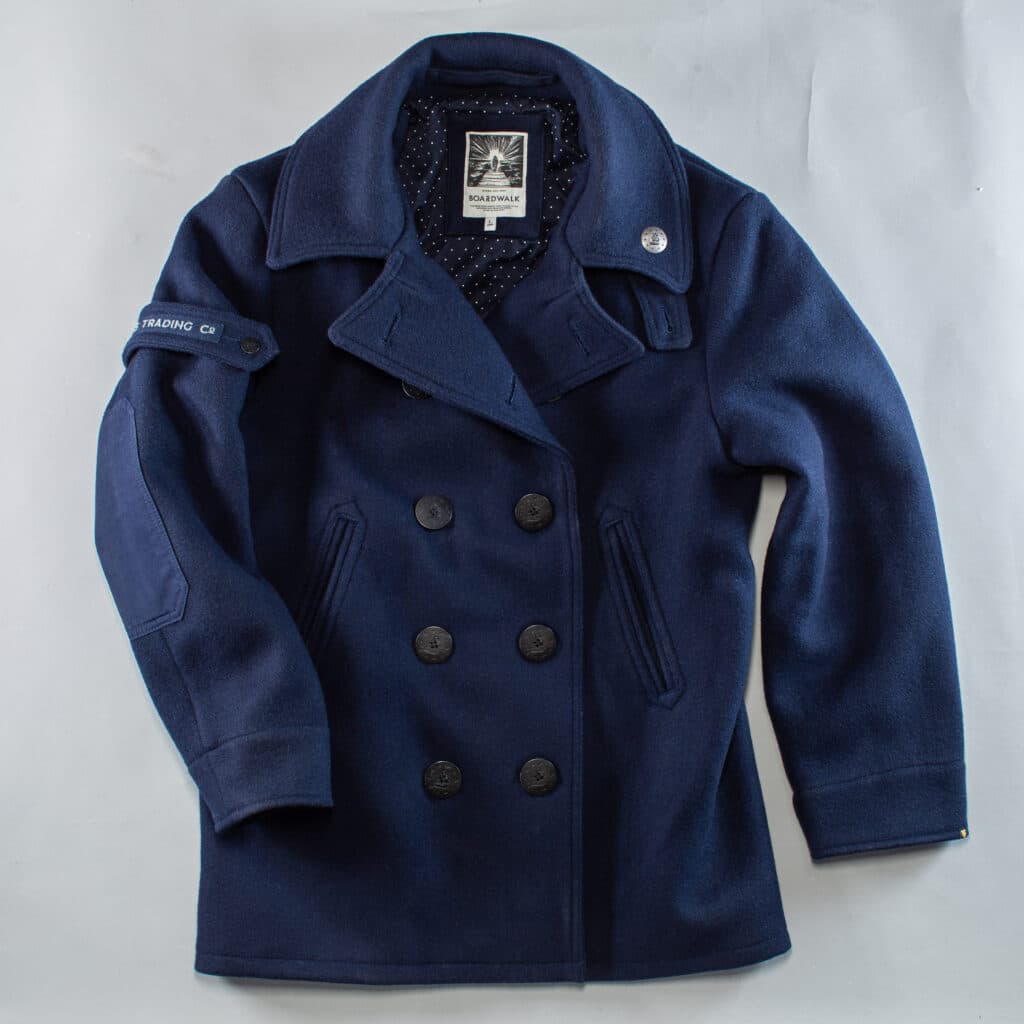 &SONS' version of the peacoat sits nicely in the middle zone where value and quality intersect. You won't be hurling money overboard for a designer label, and you won't be digging deep for a piece painstakingly built to military spec.
At the same time, you'll be miles away from the cheap imitations. You'll be paying a reasonable premium for a stylish and durable piece that has been made carefully and artfully.
Constructed from a 22 oz. Melton wool, the piece features a polkadot Modal lining and a high-standing rever collar that can be turned up in foul weather. There are also canvas reinforcements at the elbows and sturdy corduroy pockets, which means you won't have to baby this piece. It's clearly designed to be stylish, but it stays true to its workwear roots.
The Boardwalk Peacoat, which debuted as part of &SONS' first collection, was a labour of love for Phil. From the start, he has seen the peacoat as an essential component of rugged style, and it has remained as the rigid backbone of his brand's outerwear collections ever since.
When I asked Phil what his favourite &SONS piece was, he said that picking one of his pieces would be like picking a favourite child. It was clear, though, that the Boardwalk has a special place in his heart of hearts. It's not hard to see why.
---
Yukon Flannel
This was the first &SONS piece that really caught my eye. I was on the hunt for a new buffalo plaid flannel, and I found this one in a small curated shop in New York. Though they didn't have my size in stock, I was deeply impressed by both the fabric and the precision with which it had been made.
The 10.25 oz. flannel was woven especially &SONS. It's got a crisp hand feel and some real heft to it. There are black cotton accents on the insides of the cuffs and the collar, bellowed pockets, and the main seams have been flat felled. It's tough to find this kind of precise approach to the woodsman's favourite shirt outside of Japan.
The true show-stoppers are the real buffalo horn buttons, which have been burned to give them a bronzed patina. The addition of an extra button at the back of the collar is a stylish and functional touch, but it's how they look against the red and black flannel that really sets them apart. Hands down, these are the most handsome buttons I've seen on an off-the-rack flannel.
It became clearer and clearer the closer I looked: &SONS belongs in the well-made workwear conversation along with the Japanese, American, and European brands we feature regularly on this site.
Even before my trip to New York, I had been familiar with &SONS through their visually stunning Instagram profile. It was unclear, though, whether they had the goods to back up the remarkable presentation. They do.
If you don't want to look too much like a lumberjack, the Yukon Flannel is also available in Green and Blue.
---
Elder Henley
From the start, &SONS' approach to wardrobe building has been all about layers, and in terms of its layering potential, the henley is simply unmatched.
With roots as an athletic garment (worn by English rowers), it offers much-needed ventilation at the neck and the cuffs can be rolled up or down the forearms as required. This made it equally popular among the English and American working classes.
On warm days, it can be worn on its own, but it's at its best when worn under a chambray or flannel. The unbuttoned placket looks excellent when worn with button-up shirts with the top buttons left undone. Its versatility and strength as a layering piece make it absolutely essential–a massive style upgrade from the crew-neck tee or long-sleeve.
&SONS' best take on the henley is made from 100% raw cotton, which gives the shirt a creamy colour that looks clean and aged at the same time. Henleys work well in bright whites, but they are at their best when they look (as this one does) like they've been transported from the black-and-white age.
Once again, the details don't disappoint. The scooped hem means that the henley won't poke out from underneath similarly scooped button-up shirts (a frequent problem with square-cut henleys).
The cuffs are designed to be rolled, which adds a touch of bulk to the forearms when the shirt is pushed up towards the elbow. Our advice is to undo as many buttons as you like and let that placket fly.
They offer the Elder henley in Indigo, Vintage Red, and Black, and they have an equally stellar Short-Sleeve version.
What's Next For &SONS?
Still a young and ambitious brand, &SONS have shown that they won't be content (at least not for a long while yet) to rest on their laurels. Phil continues to draw inspiration from the heritage fashion archives, and he wants to tighten the knot connecting his brand to its customers. He sees &SONS as a genuine lifestyle brand with the potential to build a culture around itself. With their focus on ethical manufacturing, they've got the sustainability to go the distance.
They've also recently expanded into new territory. DAMSONS, their womenswear line, has a small but growing collection with a recognizable set of principles informing their manufacture. They join the very small handful of workwear brands that have a womens-dedicated line.
They say that their clothes are made for creative pioneers, and they seem to have a strong eye for what these modern explorers (be they men or women) are looking for. It helps that pioneers like Phil James are helming the brand. As they say, it takes one to know one.