This blog post is not sponsored by Iron Heart. The opinions expressed by the author and the brand's customers are their own.
The Philosophy, Key Differentiator and Appeal of Iron Heart
Even before I'd ever seen any Iron Heart products in real life, it was the stuff of legend. I guess I first heard about the brand not long after I got into raw denim. But it wasn't until the spring of 2018, some 12-13 years later, I started wearing their infamously heavy jeans myself.
These days, it's all I wear; I'm completely hooked, I admit it. Seems that's what happens to the many guys—and the few courageous girls—who wear Iron Heart; you get sucked into it. It's more like a club than a brand. A club with extremely loyal members.
I guess it's got something to do with often inexplicable emotions the brand creates. You only need to feel the softness of their ultra heavy flannels or try on their perfectly fitting jeans to be convinced.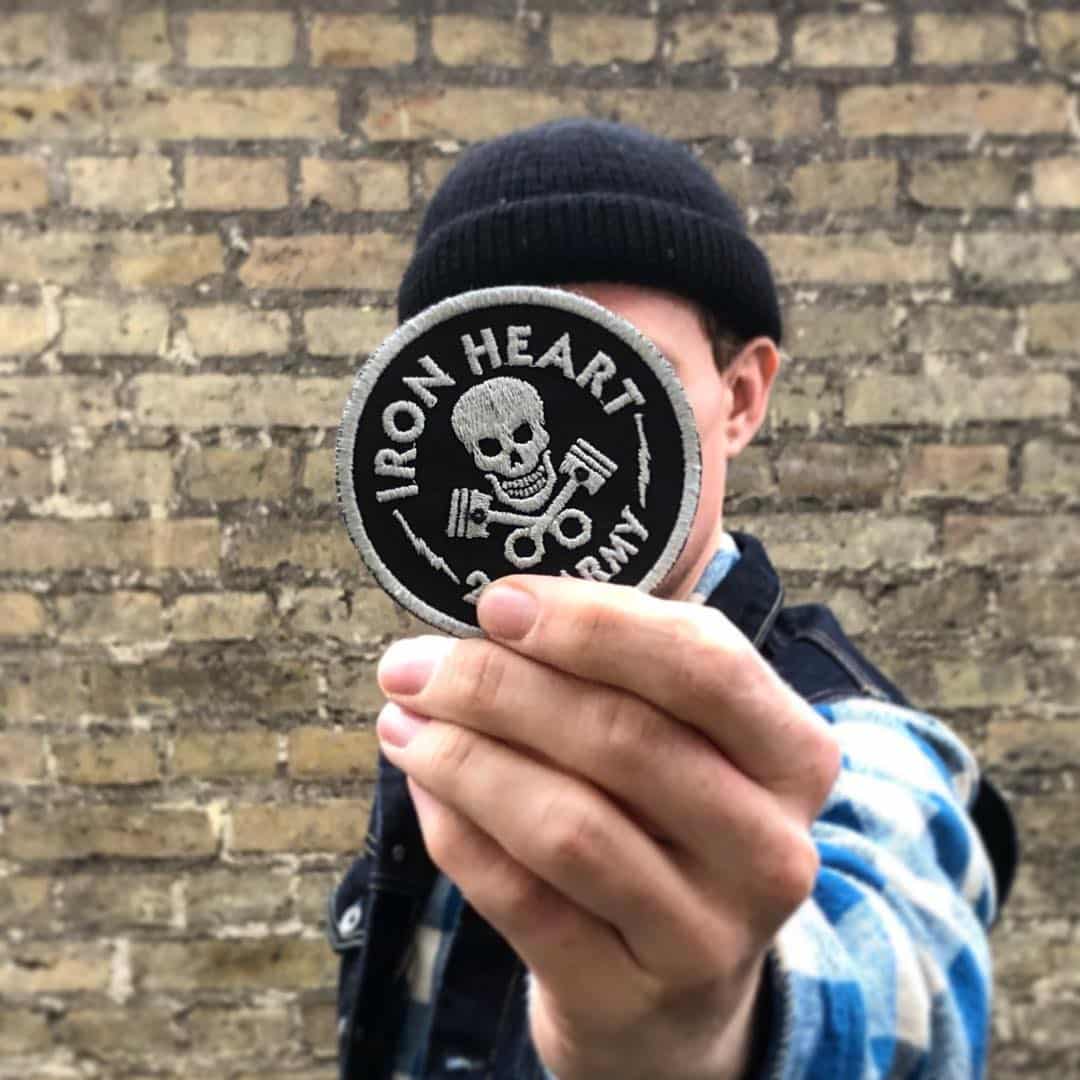 But it's also got something to do with the way Iron Heart do business. They offer one of the market's best customer services through their webshop, and only work with the best retailers. They run a very active forum, where fans discuss and share their experiences. And they're really active on Instagram too.
In my series of brand profiles, I take a closer look at some of the most iconic jeans brands out there.
I'll look how it all started and the philosophy behind the brand; what it is that makes it unique; and why customers become loyal fans. To get some perspective, I'll not only talk to the people behind the brand but also some of the people who wear it.
Key Facts about Iron Heart
Founded in:
2003
Country of origin:
Japan
Contact information:
Products that define the brand:
Heavyweight denims
Their 'ultra heavy flannel' shirts
Primary source of fabrics:
Japan
Cut and sewn in:
Japan
Iron Heart's Roots and Their Philosophy
After two and a half decades in the Japanese denim industry, Shinichi Haraki left a position as a director at Edwin and founded Iron Heart in 2003. The brand's key focus is clothes designed for motorcycling.
Around the same time, Giles Padmore, an English denim enthusiast with a career in IT, had spotted a gap in the market for Japanese jeans outside of Japan. He approached a few different companies and asked if he could represent them internationally.
The only one that answered was Haraki-san. And only because he just happened to be with a friend who spoke English," Giles' son, Alex (who's now the International Manager of the brand) told me in Berlin last year.
Haraki-san and Giles met in LA a couple months later, and the Padmore clan became the international distributors of Iron Heart.
As a result, there's a certain east meets west sensibility to the brand, Giles argues in my book, Blue Blooded. "We're from two very different cultures and bring very different ideas to the business."
"We have a fantastic relationship with the team in Japan," Alex tells me in an email. "They're phenomenally good at designing some of the best products in our market and pushing them through production extremely quickly."
Ready to buy some Iron Heart gear? I highly recommend their webshop. You can also check out their list of stockists to find a retailer near you.
One of Iron Heart's loyal customers, Stephen Snider (aka @denim_rambler on Instagram), agrees that anything the brand makes is made of the highest quality material. "Their functionality in the biker community helps to further differentiate them from other brands in the industry."
Inspiration for the garments come from biker culture and American workwear, as Stephen mentions. The majority of the collections are designed by Haraki-san and the brand's pattern maker, Tom-san, as part of two seasonal releases.
Another dedicated customer, Reuben Quinnell Cleaver aka @reuben_qc, says there's little about Haraki-san's designs that scream vintage or retro. "No frills, or flamboyance, the clothes are in a way humble, but hard as nails and sharp as a knife also."
Although Haraki-san is the brand's primary creative force, many of the designs wouldn't have happened without the mix of east and west, Giles says in Blue Blooded. Perhaps most notably, the 666 Devil's Fit slim fit and the slim tapered Beatle Buster:
I had something of an antipathy to slim jeans when we first did them," Giles admits. "I thought they were a passing trend, but they're actually very flattering and just about all I wear now."
The remainder of products is conceived by Giles and Alex with the western market in mind. "These ideas are often inspired by customers opinions on our forum and on Instagram," Alex adds.
While tapered and slimmers fits might be popular now, straight fit and looser cuts will at some point swing back. Fashion changes but people are always going to wear jeans, as Alex puts it.
We're just gonna keep on doing what we're doing, making a variety of different options. We're not going to follow any sort of fast fashion trends or anything."
Iron Heart's Key Differentiator: Heavyweight Denim
Iron Heart does offer a full range of clothes, with everything from T-shirts to trainers, but it is first an foremost a denim brand. More precisely, a heavyweight denim brand. And they're constantly pushing the limits of what can be done but still be functional.
'Over-engineered is our starting point,' as they say on their website. In fact, it's not only their denim that's heavy. Their 'ultra heavy flannels' (UHFs), loopwheeled tees and sweats; you name it, it's all heavy.
Whilst our stuff isn't motorcycle protective equipment, it's very functional," Alex told me in this interview. "It has to be functional first of all and then fashionable."
"I climb glaciers in Alaska in my Iron Hearts," Stephen tells me, "because their thick 25 oz. denim is impervious to the jagged ice I sometimes have to slide down. So, it is no wonder bikers around the world also choose to wear them."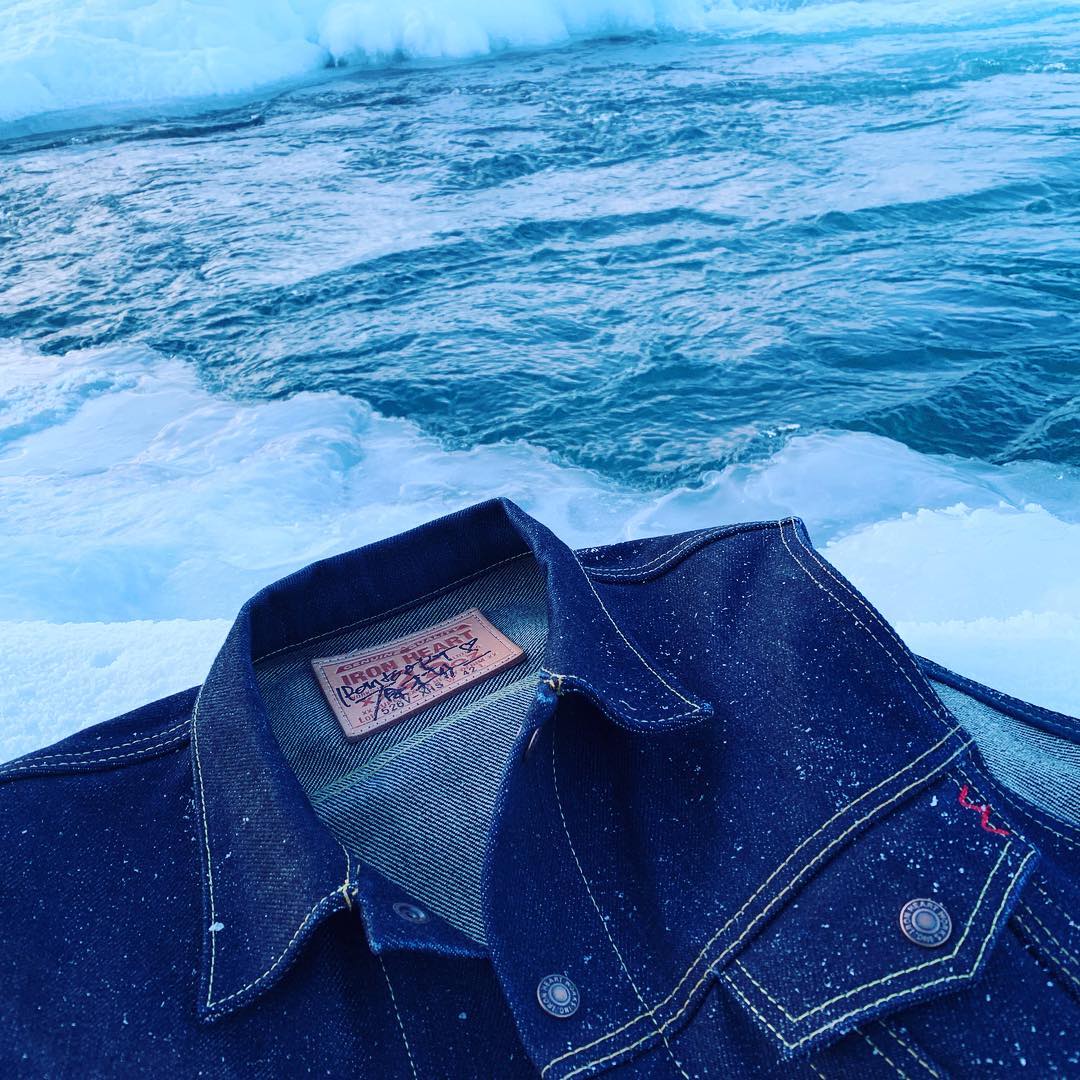 Iron Heart's signature denim is 21 oz. per square yard. To put things in perspective, that's 1.5x heavier than 'normal' denim. Sounds like pretty cruel to wear, but the denim is surprisingly comfortable. It's loosely woven, which makes it breathable. Plus it's actually gently one-washed, which gives a soft hand from day one.
Iron Heart works with just specialist mills in Japan because very mills can make their denim. The second-grade production rate on their denims can be as high as 95%, making only 5% of the fabric usable. But anything that's rejected, they buy from the mill anyway to prevent it ending up on the secondary market.
Then there's sewing the monstrous fabric together. In the product descriptions for their 25 oz. denim garments, you can read that the sewers have to wear protective glasses, simply because needles have a tendency to randomly explode when chewing through the massive fabric!
And the reason they sew on Union Special machines is not only for nostalgia's sake but also because they're the only ones tough enough to do the job, Giles adds.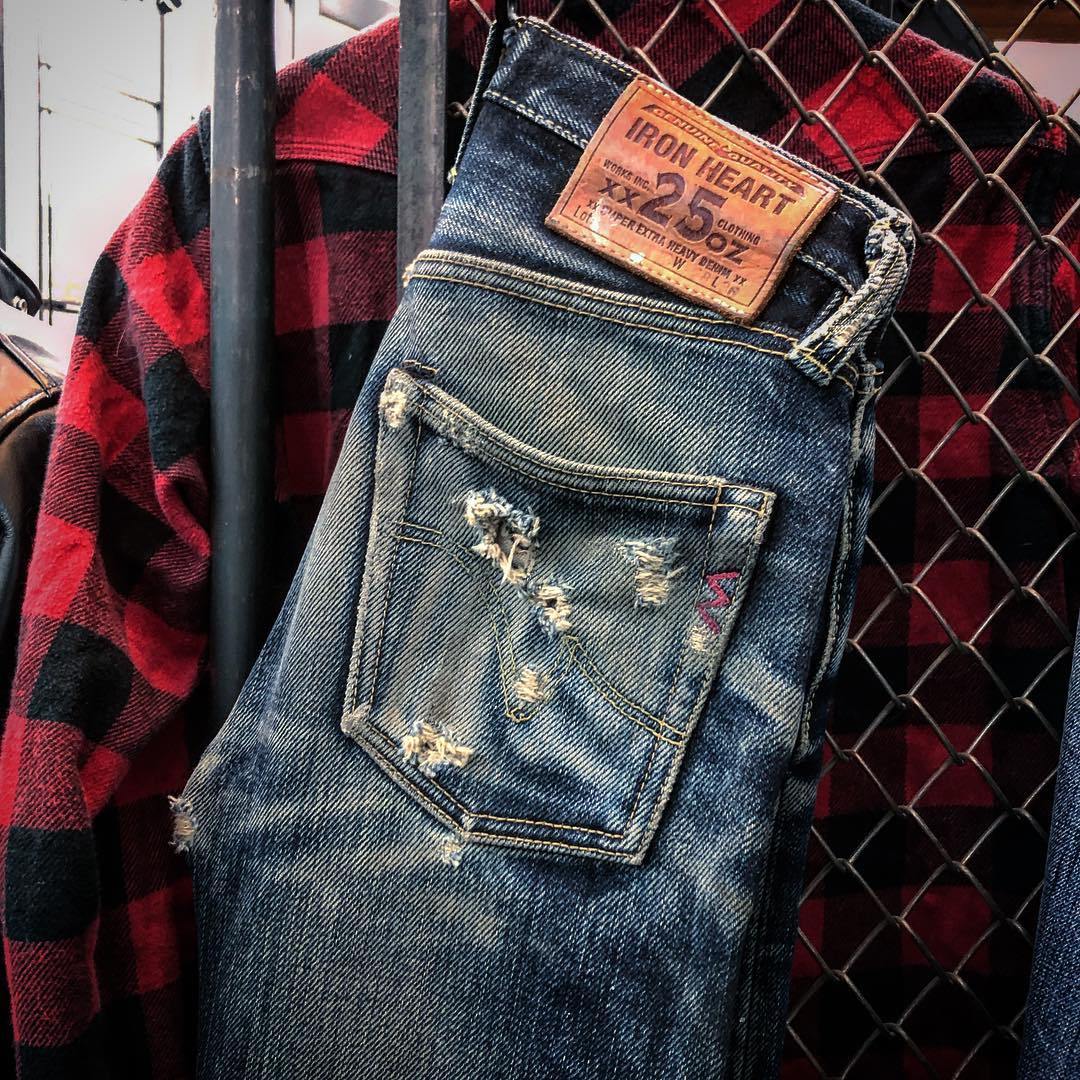 What Is It About Heavyweight Clothes?
'Isn't that super hot and uncomfortable?!' is usually the first question people ask when I tell them I'm wearing 21 or 25 oz. denim. Giles must have heard that a million times. "People think heavyweight denim is uncomfortable, or that it'll be too hot, until they try it," he says in Blue Blooded.
But what is it about heavy denim that's so intriguing?
Jens aka @rocketdrom is sort of a lieutenant in the Iron Heart army (which is what the brand's fans call themselves). He says it's actually not the weight itself but the fabrics and how they feel.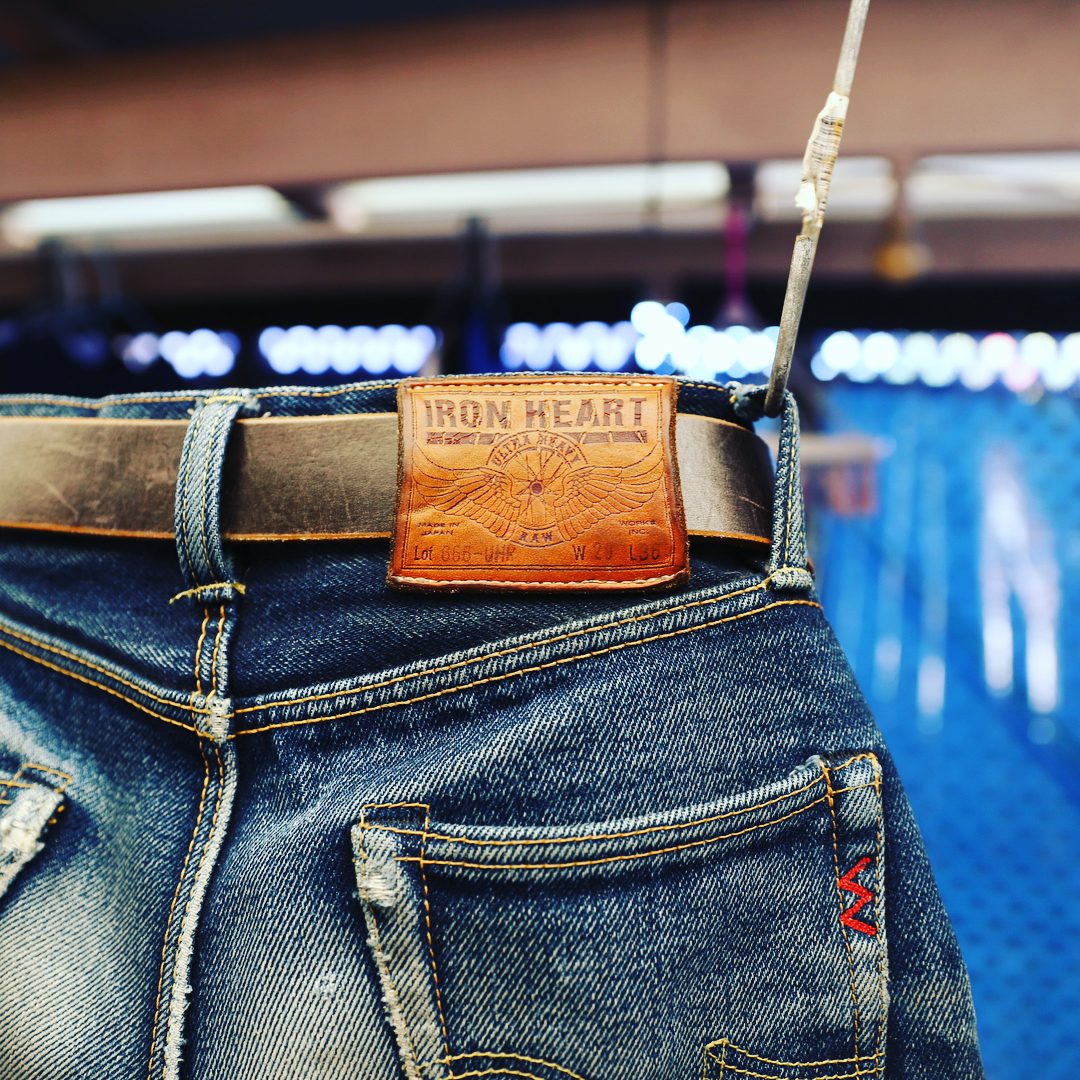 Louis Bosco aka @louisbosco won the Denim World Championship with a pair of Iron Heart's 21-23 oz. shrink-to-fit 'ultra heavy raw' denim. In his opinion, the weight of clothes is inherently linked to the quality of them. When something is light and fragile, he argues, you're kind of sceptical that it'll last long.
I've been in a motorcycle accident where the jeans have protected me and stayed fully intact," he adds.
Before Iron Heart, the heaviest denim I'd worn was a 16 oz. shrink-to-fit. "Anything more than 16 oz. used to be considered 'heavyweight' denim," Stephen argues. "But for those of us that are infatuated with heavier weights, 20 oz. is the cut-off. After wearing 25 oz. denim, I almost feel naked walking around in something 17 oz. or less."
In his opinion, the appeal of heavyweight denim has something to do with functionality, fade potential, and appreciation for the extra time and energy required from both creator and wearer.
Heavyweight denim tends to have more fade potential, mainly because of its ability to hold creases better and longer," he reasons. Reuben agrees. "There is no doubt that the way heavy denims and duck fabrics develop is more interesting with much more pronounced folding, creasing, and draping."
For long-time customer Adam Welch aka @adamwelchart, the weight of the denim lends a feeling of imperviousness and humorous absurdity compared to typical clothing, as he puts. Because the clothes are so thick, it takes longer to wear through them. Quite simply, this means Iron Heart provides the most value for him in terms of lifespan and functionality over time.
Why Customers Become 'Soldiers' of the IH Army
So we're talking about a brand here that specialises in heavyweight clothes, something that has a certain appeal. But that's not the only reason customers become so extremely loyal fans and ambassadors.
Like Reuben writes to me, "soon after I bought my first couple of items, I made the decision that I was going to build an entire wardrobe out of Iron Heart gear. It just seemed like the sensible thing to do."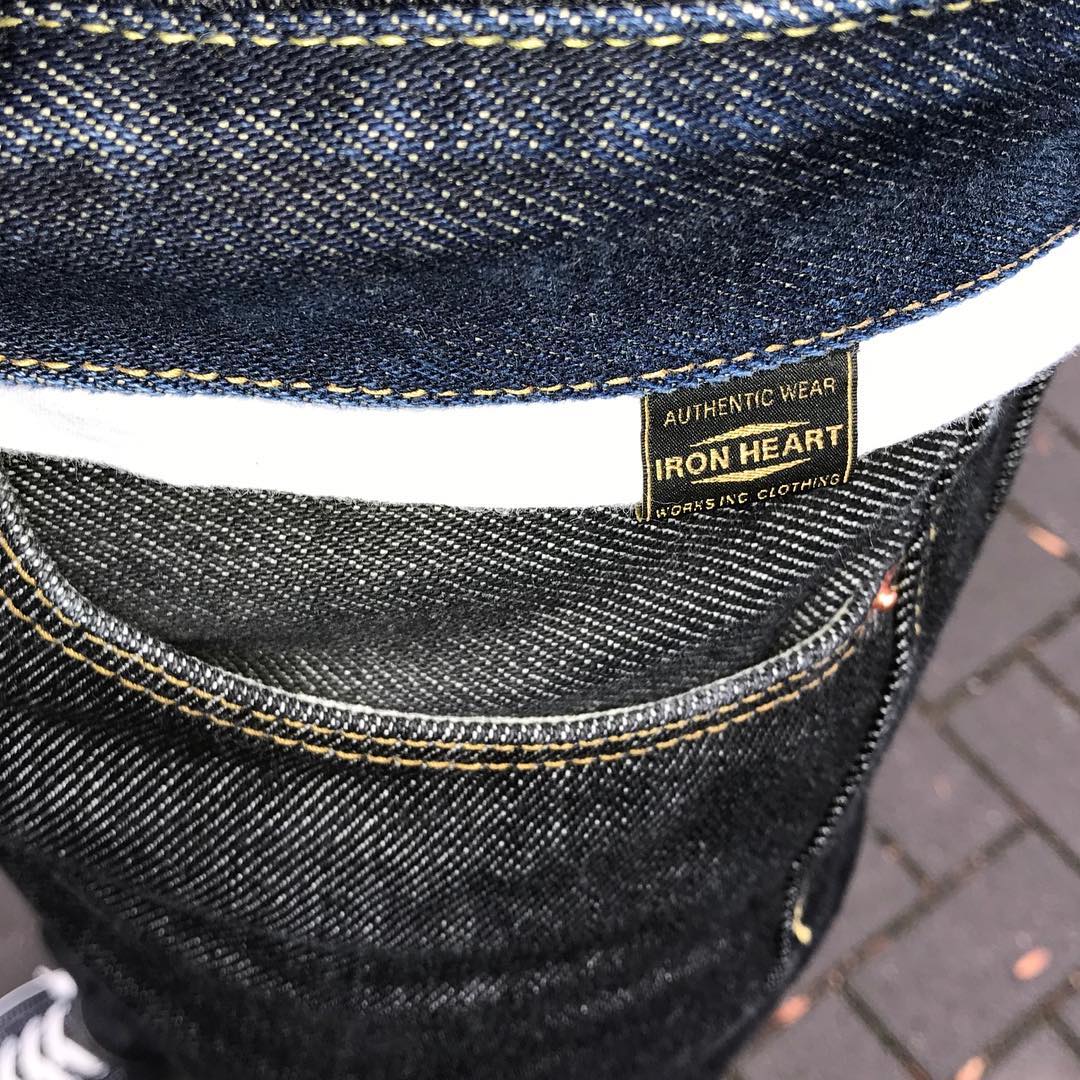 As I see it, the key to Iron Heart's success, apart from world-class products, is the brand's online presence and customer service.
I think the most important thing for us is to try and recreate the bricks-and-mortar sort of environment," Alex explains.
To best recreate the experience you when you actually physically walk into a store where you can touch and try on the garments, Iron Heart has what's probably the most comprehensive and detailed product descriptions in the business. Also, every single product in every single size they sell has a measurement chart. They even do new measurements when restocks come in.
"They know about customer service and understand the needs of the western market," Louis Bosco tells me. "The fact that Iron Heart listens to their customer's feedback, be it good or bad, matters a lot."
Still, when you're buying jeans in the +€300 category, you might a little more hand-holding and guidance. Iron Heart knows this.
"We reach out to every customer when it's their first or second or third, maybe even their four or fifth order, and confirm the actual measurements of that specific item of clothing to make sure they know how we're measuring," Alex explains.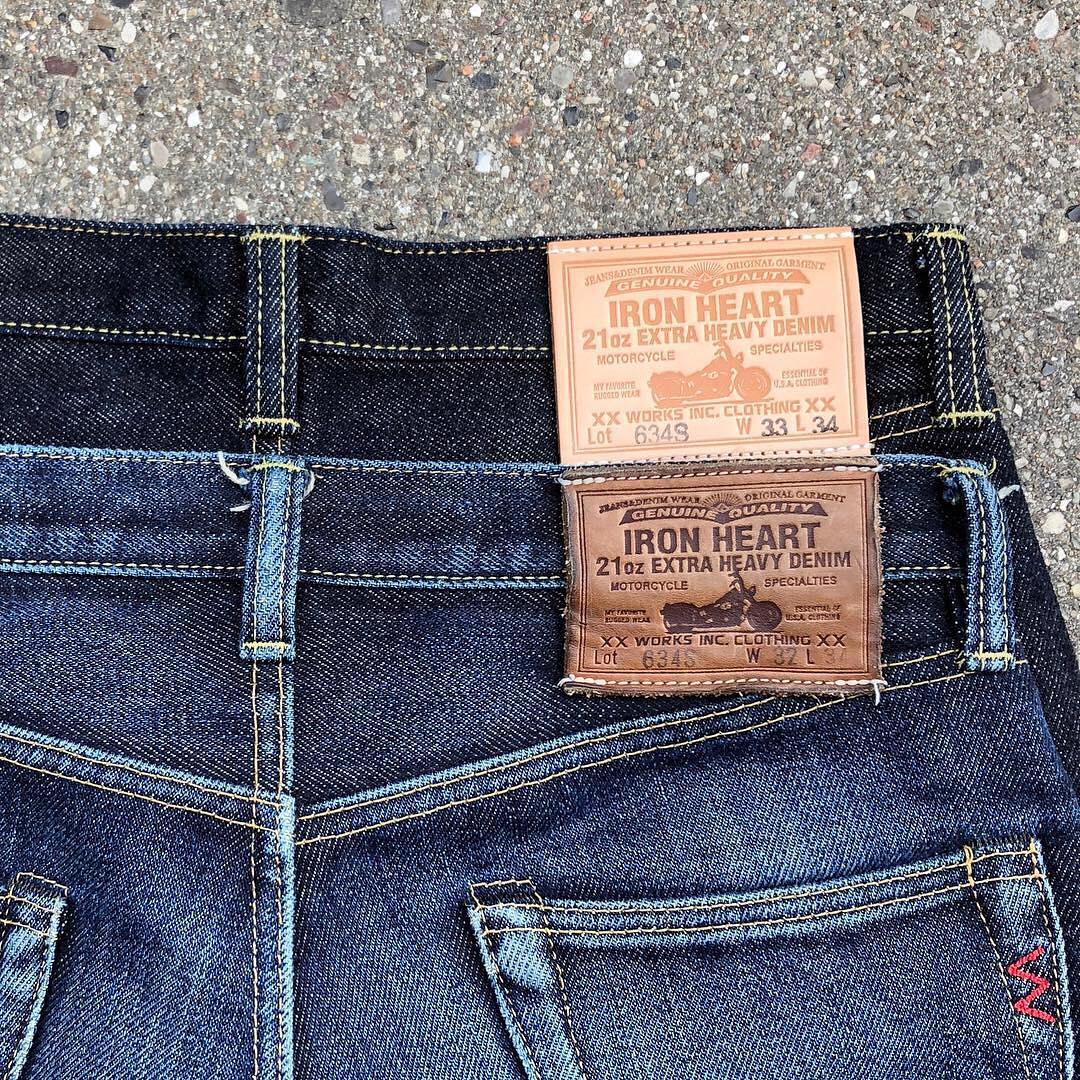 They never ever send out an order out without speaking to the customer first. "It's only going to mean that we have an upset customer, and we end up losing money because the item will get returned," Alex argues.
Iron Heart take care of their customers like no other business I have ever encountered," says Reuben. "They have measured garments individually, not because I asked them to, but because they know I'm particular and they are courteous to a fault."
Then there is the Iron Heart Forum as an extension of the superlative customer service. The whole crew at IHUK are online and use the forum actively meaning customers have an amazing level of access to the people at the heart of the brand.
"The community on the forum is what makes the brand stand out from the rest," Louis argues. "Nowhere else on this internet is a forum dedicated to a denim brand that has such a tight-knit family."
In the end, when you find a brand you resonate with, you start to develop a passion for the brand just as much as you do for the clothing. And that brings individuals together.
You may have nothing in common apart from the fact that you both wear the same brand of jeans. But that can keep you busy talking for hours on end," Alex ends.
What do you think about Iron Heart? Share your opinion in a comment below.
Getting ready to pull the trigger and order some Iron Heart jeans and other awesome products? I recommend you start your search at their webshop.
Need help finding the perfect pair of jeans?
Denimhunters is a knowledge portal for denim enthusiasts and newcomers. Launched in 2011 as a pioneering denim blog, we're a trustworthy source of denim knowledge and advice.
Our Well-Made Essentials buying guides help you build a timeless and adaptable wardrobe of carefully crafted items that're made to last. Start your hunt here!