22 Instagram Feeds by Iron Heart Fans You Should Follow
I've always been fascinated with Iron Heart. But for the longest time, I thought the brand wasn't for me.
Just the idea of denim that's almost twice as heavy as average denim, I couldn't wrap my head around how that would be comfortable at all. Even wearable.
But there's something about the brand that sucks you in. That thing any jeans brand wants. It's more like a club than a brand, really. You sense the undevoted loyalty from its fans.
It's a result of really good products, first of all, which you'll read several testaments to below. But it's more than that.
Iron Heart arguably has the industry's best customer service on their webshop. They have an active forum where fans discuss and share their experiences with their gear. And they're dominating Instagram.
After a little under six months in my first Iron Heart jeans, I feel how I'm becoming a devotee myself. But it's probably still a little ways before I can truly claim to be a soldier of the #ironheartarmy. The 22 Instagrammers I've talked to below can.
As a cannabis farmer, Adam puts his Iron Heart gear to the test every single day. In most all circumstances, Haraki-san's creations gracefully withstand whatever conditions Adam encounters, as he puts it.
Whether it's jeans, shirts, flannels, tees, hats, belts, aprons, socks or boots, everything in my Iron Heart collection essentially functions as my 4×4 for life's experiences."
For Adam, wearing heavyweight jeans gives him a feeling of imperviousness. Like an Iron Heart body armour. That sensation allows him to push harder in whatever he does.
I wear heavyweight denim year round, and find Haraki-san's denims to be supremely comfortable in all types of weather, especially the 21oz., which is buttery soft and remarkably breathable even in hot weather."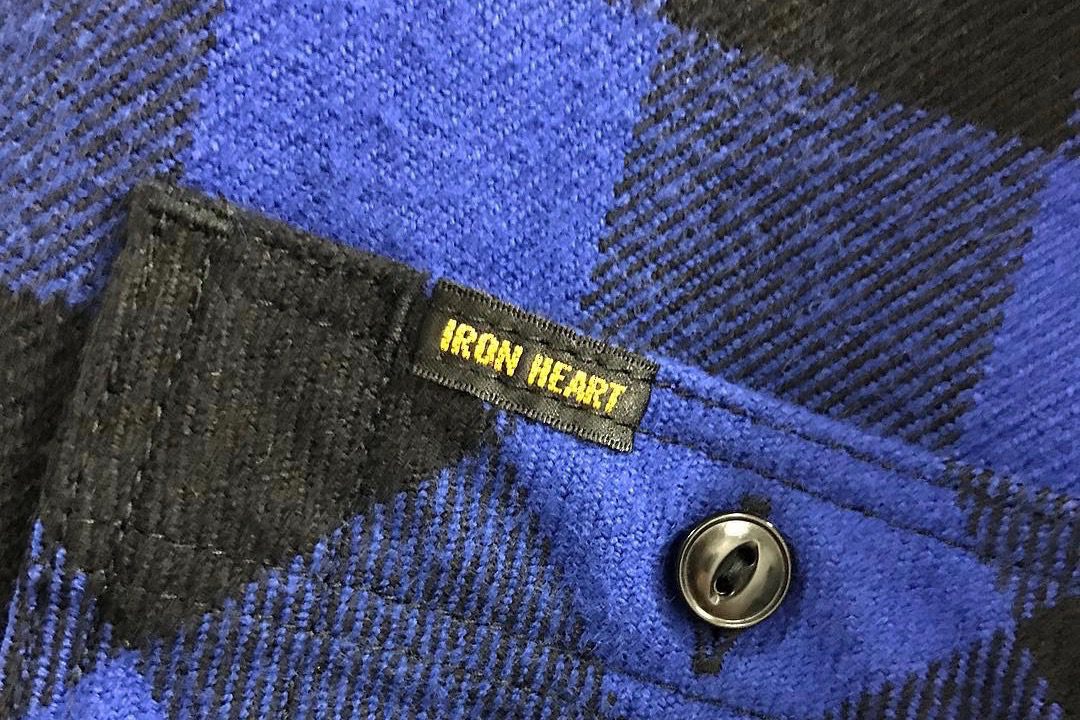 Austin's favourite feature of Iron Heart is the durability and over-engineering.
The ultra heavy flannel shirts are really great, no one else makes a flannel as good as them," he writes to me. "They hold up well to heavy wear and get better with time."
"The fabrics are awesome, no doubt about it," Brilliant writes. "But I love the cuts even more, especially the 555, it's just the perfect cut for me."
Iron Heart has become one of his favourite brands. Not only for the jeans but also the shirts. "The detail of the products is top-notch class, the quality is undebatable."
The rock-solid community that surrounds Iron Heart is a huge part of their success," Kevin writes to me on Instagram.
For him, Iron Heart hits the sweet spot of fit, style and construction. He's a fan of the flagship 21 oz. denim, which has a double wrapped weft that makes it pyjama-like soft. His favourite item, though, is the ultra heavy flannels. "Guaranteed to be like nothing you ever felt before—12 oz. aspero cotton that's crazy thick and soft."
Living in Seattle, he often shops his Iron Heart at Division Road. "The benefit of seeing and trying on the clothes in person while also getting fit advice and product background info is much appreciated for a geek like me!"
The ying to this brick and mortar yang, he argues, is the Iron Heart forum. "That place is a wealth of knowledge and absolutely shortens the learning curve when diving into an Iron Heart purchase."
Jim is a tattooer, sign painter, and jeans professional at @kentaurusdenimshop in Cologne, which is obviously where he gets his Iron Heart fix.
Iron Heart has a fit and feel that no other jeans can match," he argues. "Iron Heart is traditional, classic and dependable."
Besides the denim, Jim is a big fan of the ultra heavy flannels. "Growing up in America, flannel shirts are something most of us get once we're out of diapers! The UHF is the ultimate flannel shirt. Once you try on, there's no going back."
Iron Heart was designed for motorcycling. And that's how Mike uses his gear. "I commute by motorcycle most days, so having heavy duty jeans that also looks nice is important to me," he writes.
The thing about heavyweight denim that's drawn him in is how it has a character all to itself.  "I've grown to love the unique texture you experience with well-worn 20+ oz. jeans," he adds. The oversized whiskers and honeycombs are his favourite. And the badass patches.
Living in Utah, Mike usually shops online at Self Edge and Iron Heart UK. "Both have amazing customer service and blazingly fast shipping."
He also relies on the Iron Heart forum. "The discussions on a product with fit pics are priceless. Being able to see the product on a variety of people and reviewing their pros/cons helps in the decision-making process."
Alex is the general manager of Iron Heart International. Unsurprisingly, he buys 99% of his clothes from Iron Heart UK.
In his opinion, the balance between over-engineered heavyweight denim and exceptional comfort is what makes Iron Heart unique.
My most comfortable pair of jeans ever is made from our 25 oz. denim, which is off-puttingly heavy to a lot of people. But once broken in, they are like nothing else."
He doesn't have one single feature of the jeans. It's the overall attention that is given to every feature, and how they all combine to make an undeniably well-constructed pair of jeans.
If you've followed my venture into blogging about Instagram, you might remember the very first Q&A with Adam. (If not, you can check it out here.)
Adam more or less wears Iron Heart exclusively. "I enjoy the durability and general feel of wearing cotton armour around my legs," he writes. Even though denims like the 21 oz. are heavy, they're somehow still breathable and comfortable to wear in the summer, he adds.
His favourite denim, though, is the 25 oz. one, which gets much higher contrast fades. "I have every iteration of the 25 oz. and can't wait to get a few years in each to really compare them."
Like he also mentioned in his Q&A, Adam buys most of his gear from Iron Heart UK. "Giles and the crew are fantastic at customer service and always aim to please."
Lai's been a fan of Iron Heart ever since he got into raw denim through reddit.
I remember seeing a pair of Iron Heart 666s in white denim. I was impressed by the tough construction and the fabric's thickness. Unbreakable, made to be worn for a lifetime."
As he got into the brand, he learned how the 21 oz. denim is stubborn but gives up lovely, unique fades while being comfortable from day one.
He buys directly from Iron Heart UK because of all the product information on the site. "Besides, the stubborn crew is always ready to answer all of your queries. I really like the way they interact with their customers."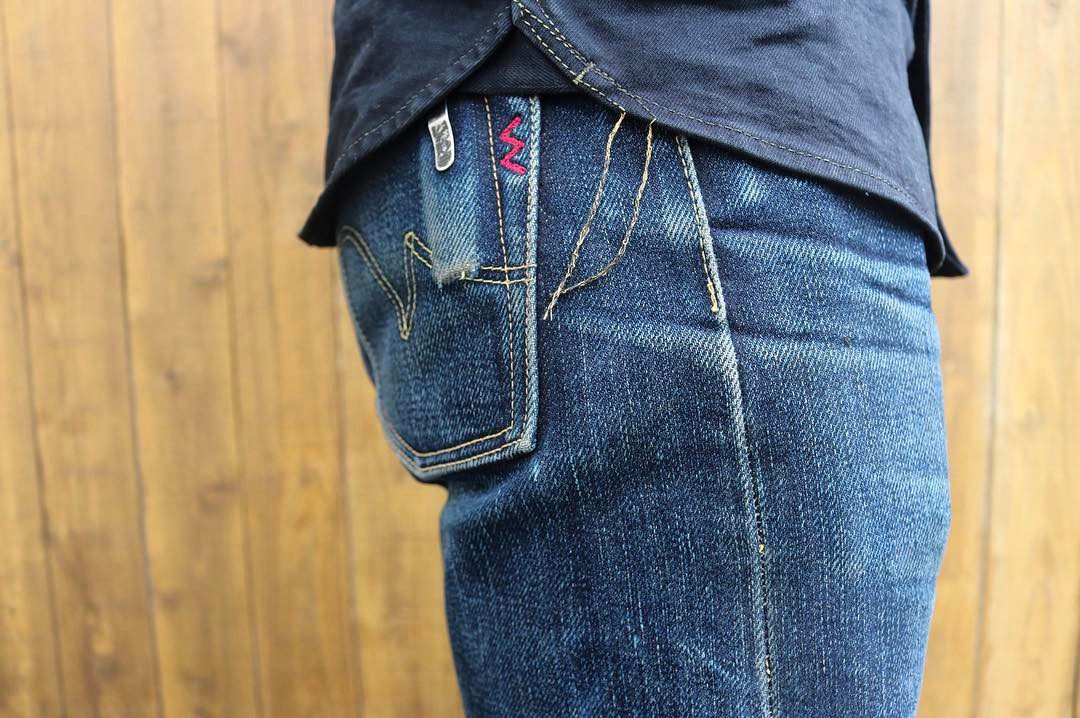 Brock didn't mess about when he started wearing raw denim. His first was the IH-666-XHS, 25 oz. and $400.
He visited the forum and got caught up in care guides, realising he doesn't have time to baby his jeans. "I guess I've really come to embrace the wabi-sabi no-shits-given aspect, and I'm okay with that."
My favourite thing about the jeans I wear is that they can handle pretty much anything I throw at them." His favourite detail of the jeans is the little red W on the right back pocket. "Not sure why, I've just always loved it."
On forums and social media he goes by 'louisbosco,' he real name is Louis Chia. And he won the Denim World Championship with his Iron Heart-666 UHR jeans (above).
He's been wearing Iron Heart for at least seven years, so he knows the garments are built to last. "The workmanship, quality and detail that goes into the products are absolutely fantastic. It shows the dedication of work from the people behind the brand."
He favourite features of the jeans are the toughness of the fabric and the quality of the workmanship.
"I once had a motorcycle accident in my Iron Heart, but the fabric didn't rip! Plus, the fabric remains breathable and comfortable even during Australian summers, which gets up to 40°C."
He buys most of his gear from Iron Heart UK and Rugged Gentleman Shoppe. Or from Iron Heart Hachioji. The service, understanding and the help they offer is top-notch.
"After wearing heavyweight jeans for roughly two years, I think they're the best suited for me," Hiển quite simply argues.
I love Iron Heart's 21 oz. denim because it's heavy and thick but still soft." 'Nuf said.
"It's really comfortable to wear from the beginning. Dyed to a very dark and stubborn indigo blue, the denim is known for its sheen and beautiful fading result."
Zaidul likes to shop at his local Malaysian Iron Heart retailers, ZOLO Collection, Kronoz Denim and Mofref.
"Iron Heart states that 'over-engineered is our starting point', and they mean it," Anthony writes to my question about the appeal of the brand.
I like Iron Heart because they do the best job of bringing classic denim look and feel to a place of modernity with fabric, material and cuts, without losing the essence of the past." He also enjoys the overall simplicity of the designs.
"Living in England, and also being a moderator over at the Iron Heart forum makes it an easy decision for me to shop for Iron Heart almost exclusively through Iron Heart UK," he ends.
Reuben Quinnell Cleaver @reuben_qc
Iron Heart is appealing to me for many reasons," Reuben argues. "It's how the heavyweight denim feels, the way it drapes, creases and ages, and its durability."
Practical design, superlative construction and wonderful fabrics are the foundations of the brand, he adds. On top of that, you have the biker influence, attention to detail, and a tendency to throw an occasional curveball into the mix.
He likes how form follows function in the design of the denims and the construction. He appreciates how Haraki-san doesn't simply copy the originals but instead updates them.
Living in the northern part of Norway, he shops almost exclusively through Iron Heart UK. "The customer service is quite incredible and the product knowledge unbeatable."
A quick scroll through Jens' feed, and you quickly realise that all he wears is Iron Heart. Seriously, everything!
His passion for the brand comes from the honest attention to the detail on every level, in every detail of the products, and the top-notch quality.
I fecking love the people behind the brand, and I am very happy to call them my friends."
Roxanne's already on my list of must-follow lady Instagrammers, but as one of the few female soldiers of the Iron Heart army, this list would be nothing without her.
Quite simply, she wears Iron Heart because of the quality of the denims and the construction. Her favourite feature is the pockets. "Iron Heart has deep functional lined pockets," she points out.
"Those jeans take a real commitment," Joms writes as I ask about the appeal of Iron Heart. "They take a lot of effort and time to break in and fade."
He likes the thick thread, the beautiful details, the pocket lining, and the fits! Living in the Philippines, he shops at Denim Manila. "Kai knows his stuff! A very nice lad and a pioneer of the denim community here."
"I feel Iron Heart has perfected heavyweight denim," Scott writes to me. Simple as that. His favourite is the 25 oz. 666 fit.
I love the level of detail they put into their jeans and flannels. I love the different textures of their various denims."
What keeps him coming back to Iron Heart is also the superior customer service. From every detailed measurement on their website to the fact that if he asks a question, they always answer.
No list about the Iron Heart Army without the Swiss Jeans Freak.
Ruedi is famous for many things, one of them is the achievement of wearing a pair of 25 oz. Mega Beatle Busters for more than 1000 days, without washing them.
I love the patch, the arcuate, the stitching, the lined back pockets, the buttons, and of course the intense indigo colour," he explains.
He shops his Iron Heart at the IHUK HQ in Gosport or at VMC in Zurich.
What is it about Iron Heart and heavyweight jeans that's so appealing, I've asked everyone.
The weight," Stephen simply answers. "I love the 25 oz. denim. The quality of the material, it ages beautifully."
He has several pairs, but his favourite is his IH-666-XHS. "They've become a work of art, and fit like a glove."
Living in Alaska where he works as a fire chief, shopping online is the only option Stephen has. "Buying directly from Iron Heart is my go to. They go above and beyond to surprise me with stickers and with a handwritten note thanking me for being their customer."
He goes by @wings_n_work on Instagram but his friends call him Al. He wears his jeans like they were originally intended; for heavy work.
He describes himself as a furniture designer and maker, carpenter, builder, newbie property developer, a novice mechanic but a professional fixer of all the toys his son breaks. In short, he makes and fixes things.
So why Iron Heart? "It's warmer in the winter," he jokes ? But it's mainly because the heavyweight denim is just so much more durable. "It can really take a beating, especially with the work I do."
Want to Know About More Instagrammers to Follow?
Denimhunters is a knowledge portal for denim enthusiasts and newcomers. Launched in 2011 as a pioneering denim blog, we're a trustworthy source of denim knowledge and advice.
Our Well-Made Essentials buying guides help you build a timeless and adaptable wardrobe of carefully crafted items that're made to last. Start your hunt here!