Q&A with Instagrammer Adam Glinsky aka @ironheartfadez
If you could choose just one social media, which would it be? My guess is you just said "Instagram" in your head.
Even after six years of ownership, Zuckerberg hasn't (yet) corrupted his coolest social media, which started out as a photo filter app. In fact, he's just made it even cooler. Here's why:
1) Instagram is truly a lot of fun. The fact that it's driven by images (and videos) means that it's the most fun and the easiest medium to use, compared to other text-focused media.
2) It's a great place to meet like-minded people! A feature I hadn't realised until I (finally) decided to step up my Instagram game last autumn.
3) It's also become a great place to do business. Take Ben of Clobber Calm, for instance. He's built a blog and a store on the back of his Instagram account! Robin Meijerink's @robindenim is another inspiring example of what's possible with an Instagram account.
Ben's 10@10 series and Robin's 'Our Favorite Instagrammers' are not that different from how I used to create many of my interview-style blog posts in the early days of Denimhunters: Email someone a bunch of questions, they answer, you publish. Simple!
I've wanted to get back to that format for a long time. That's why I'm launching this new series of interviews with fellow blue bloods. First up is Adam aka @ironheartfadez on Instagram.
What's your story?
Name: Adam Glinsky
Birth year: 1988
Location: Pittsburgh, PA
Profession: I work for a popular fruit company
I grew up in rural western Pennsylvania. I work in the city of Pittsburgh but live a more country lifestyle. My brother and I were both adopted. He's currently in Kansas, while my parents live in our hometown.
Outside of my denim account, I enjoy making music (I play the guitar, bass, and 16 pad) as a hobby. I'm a pretty big Pokemon fan and like playing the Nintendo games. I also enjoy martial arts—I'm a blue belt in Brazilian jiu-jitsu and have trained in kickboxing and wrestling as well.
Adam's Instagram Feed and Strategy
Thomas: How did it all start with your Instagram feed?
Adam: I was on the Iron Heart Forum and SuFu for many years as 'Fadez.' I really enjoy researching and checking out menswear such as selvedge denim, leather clothing and goods. So, friends at work told me about Instagram one day and I joined up. Mainly just to see other brands and fades across the world.
T: Why Instagram? What are your goals?
A: I don't really have any goals for my account. I just enjoy denim and want to share my journey with anyone who stumbles upon my page. Instagram is a great way to connect with denimheads around the world.
T: How much time do you spend on Instagram on a daily basis?
A: My phone says that I spend a little over an hour a day… -_-
T: How do you take your photos, and which tools do you use?
A: I use a Nikon D40x along with an iPhone X and Lightroom on my Mac and iPhone. Luckily, my girlfriend supports me (sometimes) and will take photos for me.
T: Do you repost?
A: I've never felt the need to repost anything.
T: Do you make it a priority to post on a regular schedule? And how do you remind yourself of it?
A: I make it a priority to post on the weekends because I usually have Sundays and Thursdays off. So, if possible, I'll try to make as much content as possible to last me Thursday-Monday.
I'll have a few fit pics taken. Then I'll take a piece of gear and get some detail shots. That's where I try to get creative with photography, which I guess is my reminder. The whole denim journey is made fun because I'm learning photography and editing while doing it.
T: How do you come up with new ideas, and what's your planning like?
A: Honestly, I just wing it every time I go out. The most I really plan is my outfit.
T: What are your favourite locations to take photos?
A: My photos have the general theme of an urban but rural environment. Most of my photos are taken outside of my apartment complex, but I also like going to Frick Park and shooting there when I hike.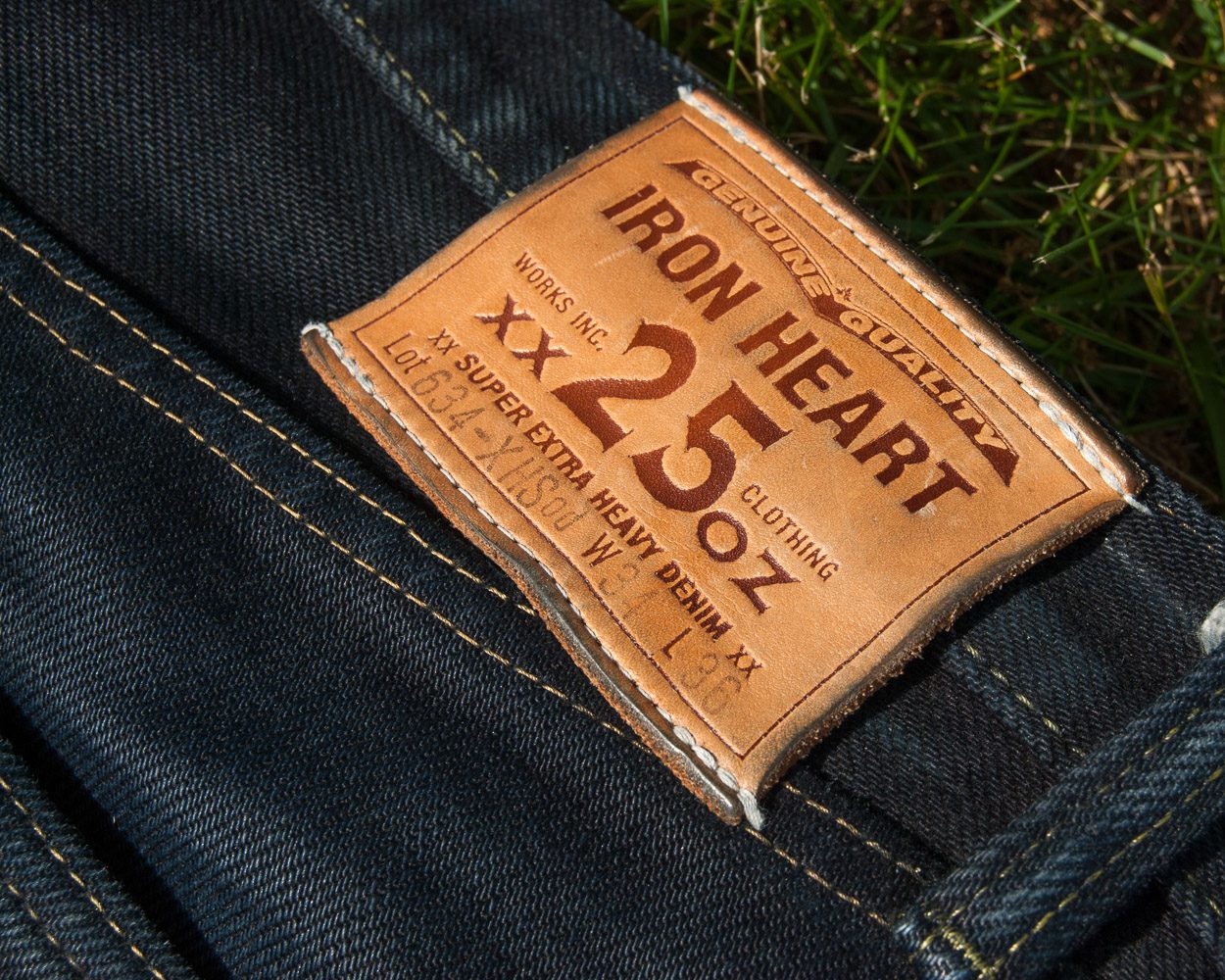 Adam's Favourite Denim and Style
T: What is your favourite feature on jeans?
A: The weight of the denim. I'm a sucker for the heavyweights. The 25 oz. denim from Iron Heart is hard to match.
T: How do you wash your denim?
A: I wash the gear I'm "working on" by hand in the tub and then air dry. Anything else, wash and dry in the machine.
T: What's your favourite fit? And what's your least favourite fit?
A: My favorite fit is probably the IH-633 from Self Edge. The IH-634 is a great fit (I've got two pairs), and I really love the top block of it, but the taper of the IH-633 just makes my day.
My least favorite would probably be the '30s-'50s denim style. It's cut so full that I just feel I'd swim in it. I prefer a slim and/or tapered leg.
T: Which boots and leather goods do you wear with your denim?
A: I have a pair of 9075 Red Wing Heritage boots, 550 Blundstone boots, and a pair of black Aldo lace-ups that do the trick. I really want to get a nice veg tan belt to fade.
T: Which sneakers do you wear?
A: My favorite sneakers are Adidas Sambas, but I also like the Reebok Classics.
T: Favourite item that's not denim or leather?
A: Does chambray count? The IHSH-16 shirts from Iron Heart are 10oz heavy chambray and I love them. The IHSH-16ss was my first Iron Heart item, and I've worn it hard since I got it.
I also picked up a long sleeve in black on the IH Forum too. I'm happy there is a new iteration of them coming this summer.
T: Where do you buy your gear?
A: I buy most of my gear online from ironheart.co.uk. If I can walk into a retail store even better. When I used to live in LA and NJ it was a lot easier to pop into a Self Edge store. Now that I'm in Pittsburgh, it's pretty much IHUK and online retailers.
I did have one great experience with NoBrandedOn. I actually texted them to create my order from Indonesia. That all started with a post of theirs and a DM about how to purchase. They were very prompt considering the time zone difference and great with customer service. They let me switch sizes midway and get a custom arm length too.
I actually think that's why Iron Heart gets so many of my order: they've got a really great team behind their product.
T: What styling tips would you give your followers if they wanted your style?
A: Just keep it real. Be yourself and have fun!
… Stay Tuned for More Blue Bloods!
That's it for the first instalment in the series of interviews with blue bloods! Don't forget to follow Adam aka @ironheartfadez on Instagram!
I'm planning post these on Tuesdays in addition to the weekly denim knowledge posts. Next up is Mr Clobber Calm himself.