Well-Made Essentials » Work shirts (chambray, wabash and hickory)
Our Favourite Well-Made Work Shirts For Perfect Heritage Workwear Looks
When denimheads think about shirting, the first thing that comes to mind for most of us is flannel. The heavy brushed cotton shirts are so rugged and woodsy that they are a natural fit in denim-heavy kits. 
However, there are times when flannels just don't fit the bill. This isn't just about looks, it's also about weight and warmth. Heavy flannels may punch the ticket when the air is brisk and sharp, but when the temperature rises either inside or outside the shirt, we need something lighter. This is when we reach for our trusty heritage work shirt. 
The most common and popular version of the work shirt is the chambray, usually in either light blue or grey. Also popular are the wabash, with its distinctive Stifel stripes, and the hickory, with its solid stripes (either of blue over a lighter background or vice versa).
There are other variations, but these are the shirts that define the category. When we need to roll up our sleeves and get the job done, these are the shirts we turn to. They might not fade in the same way a raw denim shirt will, but as they soften with regular wear, they take on a beautiful weathered and aged look that tells a story every bit as riveting as faded denim.
If you're considering adding a new heritage work shirt into the mix, you won't find a better jumping-off point than the list of well-made and essential heritage work shirts below.
The sections we cover in this guide:
---
9 Well-Made and Essential Heritage Work Shirts
While wabash and hickory shirts are hard to come by, chambrays have crossed over into mainstream territory. Most menswear stores have a few to choose from, but most of them aren't worth a second look.
We're giving you five chambrays to choose from on this list, and we've balanced them with our with three wabash shirts and a pair of hickory beauties from two of our favourite makers.
You can use the guidelines above to guide you towards a well-made work shirt, or you can use the list below as a guide. Either way, you're one step closer to a timeless and adaptable shirt that'll soon become an indispensable part of your kit.
Our guides are reader-supported. We earn a small commission when you make a purchase, but it doesn't cost you anything. Prices include local VAT and are subject to change.
---
We're leaving the station with a true-blue vintage classic from Jelado.
The brand's founder, Yohei Goto, spent his formative years working in a vintage clothing store. This shaped his vision, and few makers can compete with his brand for its ability to create eye-catching and meticulously finished vintage-style pieces.
He's more of a creator than a re-creator, but his most iconic pieces (like his wabash work shirt) pay homage to bygone eras.
Jelado's Wabash Railroad Shirt, with its eye-catching pocket details reminiscent of 1930s coverall designs, captures the wabash spirit perfectly. With aged metal buttons that look like they should be done up with a socket wrench, this piece screams blue-collar at the top of its lungs. Give it a few months of steady wear and you'll be well on your way to fade town.
100% cotton
Indigo dyed
Made in Japan
Triple stitch construction
Chain stitch runoff
Based on 1930s overall design
Pen pocket and watch pocket
The Railroader may very well be sold out by the time this guide goes to press. As a part of the brand's Basics Collection, the shirt will almost certainly reappear sooner or later. If there are no more available, they're definitely worth joining the waiting list.
Other Jelado work shirts to consider: Unionworkers HBT Shirt* (olive heavy-duty cotton work shirt), Railroader Green Check* (same shape as the wabash, but in the classic green check), Smoker Shirt* (1930s chambray)
Clutch Café ships from the UK. If Clutch is sold out, or if you are looking for other places to buy Jelado, try: Blue Works (Australia) and Black Days (Sweden)
---
Freewheelers is, as far as we know, the only brand in this space to painstakingly reproduce the original Stifel stripe, going so far as to include Stifel branding and a vintage Ironalls reproduction tag to top it all off.
The brand has planted their feet in the space thanks to their willingness to go to the extremes in pursuit of true vintage perfection, and this piece is no exception. Nobody can lay claim to a more authentic wabash fabric.
The engineer-style tobacco pocket on the left side is not to everybody's tastes, but it's an instantly recognisable point of difference. Those who know what to look for will recognize the shirt immediately.
The shirt comes to you gently washed, so it's incredibly comfortable on first wear, and it only mellows further with age. Triple stitched seams and mother of pearl buttons are the finishing touches that will make sure this piece gets you your pretty penny's worth.
100% cotton
Indigo Dyed
Made in Japan
Reproduction of vintage Stifel indigo drill
Lightly washed (minimal shrinkage)
Mother of pearl buttons
Triple stitch construction
Other Freewheelers work shirts to consider: Timberman Utility Pullover Chambray (more pockets than you can shake a redwood at), Skid Row Woodsman Chambray (washed out indigo blue beauty), Short Sleeve Work Shirt (chambray with the same engineer style tobacco pocket)
---
Freenote Cloth Calico Bleached Wabash
Who better to recreate the look of a well-faded wabash (without actually doing the fading work for you) than Freenote. This has dusty mesa written all over it, and there's not a piece of sun-baked earth anywhere that this shirt couldn't call home.
Freenote is more interested in catching spirits than ghosts. They try to capture something ineffable—a time or a place that exists only in our minds. You can see this practice at work in their Bleached Wabash.
Rather than the typical dark indigo or even the brighter blue that some makers use to create the look of a more aged piece, Freenote has added some bleach to the process, resulting in a much softer shade that makes this a strong contender for the most immediately adaptable wabash on this list.
The pale indigo combined with the diamond-shaped buttons (imported from Japan) the yoke, and the re-designed sawtooth pockets make this something of a western/work shirt crossbreed, but the wabash stripe screams classic workwear. Even with its western details, it more than earns its spot on this list.
100% cotton selvedge milled in Japan
Indigo dyed then bleached
Made in USA
Selvedge gusset detail
Western-style yoke
Diamond-shaped snaps from Japan
Franklin & Poe ship from the US. If they're sold out, or if you're looking for other places to buy Freenote, try: Directly from Freenote (US), American Classics London (UK), Stuff (Germany), and Populess (Canada)
---
Indigofera Copeland Hickory
Our first hickory entry comes from one of our favourite European shirters. Thanks to its chest seam, snap closures, and pocket flaps, this has all the trademarks of an overshirt, but the pattern blows that steam whistle with all its might.
No rotation is complete without at least one Indigofera shirt, and there's no better place to start than with this one.
It's not exactly clear what the weight of the fabric is, but based on the shirt's heft, it's probably somewhere in the range of 12-14 oz. It can go head to head with Iron Heart's hickory in the battle for heavyweight supremacy, and, depending on your preferences, it might be a better-looking shirt as well.
The dark indigo and earthy beige tones work so well together that it's a surprise more makers haven't hitched their cabooses to this combination. It'll be a long ride with this one, but you'll enjoy the view.
100% cotton twill
Indigo stripes
Made in Portugal
Snap fasteners
Overshirt details
Unwashed (count on some shrinkage)
Decorative stitching on pockets

Other Indigofera work shirts to consider: Alamo Grey/Blue* (cotton twill rugged classic), Alamo Golden Brown* (fall colour version of the Alamo), Fargo Herringbone* (for indigo addicts)
B74 ships from Germany. If they're sold out, or if you're looking for other places to buy Indigofera, try: Denim Heads (Czech), Burg and Schild (Germany), Brund (Denmark), Rivet and Hide (UK), Standard & Strange (US)
---
Iron Heart sits comfortably in the vintage workwear space, but they've always gone their own way. From fabric to fit, their shirting doesn't ever feel like an attempt to capture a particular place or time. It's just an Iron Heart shirt, and it's not trying to be anything else.
They are either at the top or near the top in terms of weight in every category they enter, but their fabrics don't do all of the heavy lifting for them. They match heavyweight fabrics with heavy-duty construction, creating all but indestructible shirts in the process.
The 12 oz. cotton twill they've used for their hickory work shirt might be the softest plushest fabric of the bunch. It'll be too much shirt for those who work in the hot sun, but on cool-weather days, this shirt will more than go the distance.
The vibrant blue and white contrast beautifully, and the navy cat's eye buttons tie the whole piece together. It's such a beautiful piece that you might be tempted to treat it gently. Remember, though, thanks to the sulphur dying process, this shirt is made to fade.
12 oz. cotton twill
Sulphur dyed Indigo hickory stripe (will fade)
Made in Japan
Felled seams
Navy cat's eye buttons
Double and triple chain stitching
Orange chain stitch runoff
Other Iron Heart work shirts to consider: Madras Check Work Shirt* (white and blue plaid), 10 oz. Chambray* (would be perfectly at home among the chambrays below), 12 oz. Wabash* (one of the best wabash shirts you can find anywhere)
Franklin & Poe ships from the US. If they're sold out, or if you're looking for other places to buy Iron Heart, try: Iron Heart* (UK and US), Corlection* (AUS), Self Edge (US), Franklin & Poe* (US), Brund (Denmark), and Statement (Germany)
---
From here on out, we're sailing on the smooth seas of chambray. We're starting with the oasis of blue calm that is the Rite Stuff Heracles Work Shirt.
Bryan Shettig, one of the editors at Heddels, started the brand just a few years ago, but he wasted no time finding his footing in the space. His Heracles Work Shirt became an instant classic, and it's still one of the first shirts that those in the know will recommend to those looking for an impeccably made work shirt.
Bryan's secret is an open one. He's partnered with John Lofgren. Famous for his boots (which we've already highlighted), Lofgren is as passionate as anybody in the business about ethical production, and Bryan shares his values.
The Heracles Work Shirt is made in Japan, and you can be sure that, from the cotton pickers to the finishing tailors, this piece was produced slowly and by people who love what they do and are rewarded commensurately. The results speak for themselves.
100% cotton
Japanese-milled selvedge chambray
Made in Japan in John Lofgren's workshops
Painted metal cat's eye buttons
Ventilation holes under the arms and on the back
Double-layered elbows
Triple stitched main seams
Other Rite Stuff work shirts to consider: the Heracles is also available in Red and White, and the Atlas Work Shirt comes in a beautiful grey
The Rite Stuff ships from Japan. If you're looking for other places to buy The Rite Stuff, try: Redcast Heritage* (Spain)
---
After a long career as a designer in Tokyo, Noboru Tanaka started Belafonte with a simple aim. He was finicky about his clothing, and nothing seemed to suit his style perfectly.
He wanted to create a line of clothing that he would want to wear, and it quickly became apparent that his clothes filled a void in the market.
He takes liberties (sometimes large ones) with vintage designs, but the vast majority of his pieces are successful. Not all his risks pay off, but when they work, they really work.
His interpretation of the classic chambray is aimed squarely at those who want a touch of luxury combined with a workwear aesthetic.
Rather than rugged 100% cotton, he's started with a 60/40 cotton/linen blend, and the result feels refined and almost delicate. It's tough enough to pull its weight, but this is not a piece that will stand up to a lifetime of abuse.
The chopped collar is also not for everybody, but it's perfect for those combing this shirt with other decidedly vintage pieces.
60% cotton / 40% linen
Made in Japan
Triple stitch construction
Chain stitch runoff
Elongated collar construction
Comfort over durability
Be advised that Belafonte has quite a small line that changes with each season. Their pieces don't last long, so keep a sharp eye out. They regularly work with chambray, and their Triple Stitch Chambray is a fairly dependable member of the Belafonte lineup
Clutch Café ships from the UK. If they're sold out, or if you're looking for other places to buy Belafonte, try Belafonte's Japanese webshop
---
Since we're looking back to the golden age of workwear, it shouldn't be any surprise that we're making one last stop in Japan at the vintage repro studio par excellence. Real McCoy's painstakingly recreates iconic workwear pieces.
The men who wore these pieces poured their sweat into America's foundations. As if this wasn't enough, they also fought tooth and nail with their employers for their rights: rights to fair pay, and rights to reasonable working hours (eight hours being the magic number).
The artisans at Real McCoy's recapture this age perfectly with their Eight Hour Union Chambray Serviceman. The pocket design is simple and straightforward, and the 100% cotton fabric begins its life with a rugged touch that softens considerably with wear and washing. It's a shirt that's meant for regular work. Whether you do that work in a factory or at a desk, it'll put in a day's work with you and rack up the overtime if called upon.
100% cotton
Made in Japan
Chin strap
Triple reinforced stitching
Selvedge gusset
8 Hour Union tag
On the long side (great for tall men)
Other Real McCoy's work shirts to consider: Double Diamond Indigo Dye Work Shirt (deep indigo tone and classic style), 8HU Indigo Wabash (wabash with striking pocket design), 8HU Twist Chambray (rugged work shirt available in brown and red)
Clutch Café ship from the UK. If they are sold out, or if you're looking for other places to buy Real McCoy's, visit these retailers: Lost & Found* (Canada), The Real McCoy's international (UK), directly from Real McCoy's (Japan), Standard & Strange (US)
---
Rogue Territory has long been one of the American brands to watch. Year after year, they offer a strong line-up of shirts, jeans, and jackets that demand a second look. They started as a custom denim outfit in LA, and word soon spread.
Their iconic leaf logo started making more frequent appearances in the denim scene, and now most denimheads have at least an RGT piece or two in their rotation (often at or near the top of the order).
Their shirting ticks a lot of our boxes. The fit is more modern than a lot of the Japanese outfits, so they work very well for those who are drawn to updated takes on classical forms. Their Indigo Chambray is a perfect example.
The slim-fitting shirt made of Japanese-milled 5 oz. chambray is neppier than most chambray fabrics, giving the shirt a rougher character that stands considerably apart from other shirts in this space. It's finished with pearl buttons (also from Japan) and tough-as-nails triple stitch construction.
5 oz. milled-in-Japan chambray
Indigo dyed
Built in the USA
Tons of selvedge details
Triple stitch construction
Triple needle chain stitch runoff
Pearl buttons imported from Japan
Other Rogue Territory work shirts to consider: BM Micro Houndstooth (same design, but in houndstooth), Indigo Selvedge Canvas Work Shirt (just try to put a dent in this thing)
Rogue Territory ships from the US. If you're looking for other places to buy RGT, try: Two Jacks Denim* (US), James Dant (US), Maplestore (Australia), Brooklyn* (Canada), and Rivet and Hide (UK)
---
Why Well-Made Heritage Work Shirts Are Essential
Well-made heritage work shirts transcend time, and they work with absolutely everything. They do both thanks to their combination of comfort, practicality, and simplicity—an unbeatable combination that has made the work shirt a staple of rugged looks since the nineteenth century. Here's why.
Well-Made Heritage Work Shirts Are Timeless
If we want to start at the beginning with work shirts, we have to start with chambray. Chambray has been a working man's fabric for almost two centuries. If we broaden the definition to include dyed cotton plain weaves, it goes back considerably further than that.
Cambric, a lightweight plain-weave made by weavers in Cambrai, France, was a popular shirting fabric when Henry VIII was separating heads from shoulders in his search for a perfect wife and a male heir. Its linen and cotton blend made it a more refined version of batiste, a cotton weave that probably originated in the same region of France around the fourteenth century.
Like other weaves, cambric and batiste had both warp and weft fibres. To colour the fabric, weavers dyed both yarns the same colour. Somewhere around the beginning of the nineteenth century, weavers started experimenting with different coloured threads. The most popular combination was the blue warp with a white weft. It was lightweight, durable, and handsome, and it quickly became a popular fabric among farmers and labourers.
At the dawn of the new century, the US Navy allowed sailors a new degree of freedom in their uniforms. Denim trousers and light blue chambray shirts became the new standard, and the lightweight and breathable button-up shirts quickly spread from the docks to the factories. The shirts became so ubiquitous that their dusty blue collars became synonymous with the entire working class. Blue collar style was born.
Backing up to the 1830s (the same decade that cambric became chambray), J.L. Stifel & Sons introduced their trademark Indigo Wabash Stripe. Featuring tight rows of dots (the result of either a dye resistant pattern placed on the fabric before dying or a bleaching process following dying), the inexpensive fabric was adopted by railway companies looking for robust uniforms.
If you drove train or shovelled coal in the nineteenth century American west, you probably did so in stem to stern Stifel. Unless, of course, you worked for Union Pacific. They adopted the hickory stripe—a pattern that, like wabash, refuses to uncouple from its steam-age roots.
Thanks to the liberal use of indigo dye in wabash and hickory and the obvious affinity between denim and chambray, these three fabrics remain the most popular foundations for makers who want their pieces to recall vintage workwear looks. Always stylish (especially when paired with the right pieces) heritage work shirts may be a nod to the past, but they're far from relics. They're here to stay.
Well-Made Heritage Work Shirts Are Adaptable
Of all the shirts we'll cover in these guides, no shirt is as adaptable as the chambray. We may love our flannels and denim shirts, and they're quick to make friends with other favourites in our kit. The chambray, though, has no enemies. It is welcome everywhere.
With a relatively modern fit, a chambray can sit comfortably on top of jeans, chinos, or dressier slacks. It can be layered under almost anything and over almost anything, or it can be worn on its own (preferably with pants, but even this is optional).
In the cooler seasons, it works great over a tee or henley or under a sweater, its collar tucked into the neck. When the sun is blazing, a chambray will keep the sun off your neck and shoulders without leaving you hot under the collar.
Because the chambray's collar tends to be on the softer side, it works a little better with casual and a little rumpled looks than polished ones, but it can be pressed into shape and made to stand at attention when required. For those who refuse to invest in quality dress shirts, it can be a solid stand-in.
Hickory and wabash are a little tricker. Every page of their rough and tumble history is covered in coal dust and engine grease, so they'll end up pulling your outfit in two directions if you try to dress them up. They can work with dressier apparel, but it's best to treat them like your heavy flannels and denim jackets. When you're dressing up, leave them in the closet.
Best to give wabash or hickory shirts something in their wheelhouse. Pair it with your most beaten up pair of raw selvedge. Slide into a true vintage straight cut, polish up your engineer boots, and knot a bandana around your neck for the finishing touches.
Wabash and hickory shirts become easier to mate with other pieces once you've beaten some of the colour our of them. Once that fade train is well and truly on its way, the dustier indigo tones open up your options considerably. Be aware, though, shirts by the best makers take considerable time and effort to fade.
In other words, if you want to get the most out of your wabash or hickory shirt, get your butt out of the dining car and start shoveling.
---
How to Identify a Well-Made Heritage Work Shirt
The badge on the shirt will tell you a great deal about what you can expect from it. If the brand is unfamiliar, there are a few things you can look for. This is how you can tell the genuine well-made articles from the pretenders.
What It's Made of
Chambrays tend to be on the lighter and softer side. If you plan to go easy on the shirt, using it in essentially the same way you use your dress shirts, you can lean into this softness. You might find some chambrays with some linen mixed in. These tend to be styled more like dress shirts, and they're a better fit with loafers than with engineer boots, but this might be what you're looking for.
If you're planning to do any work in your chambray, stick with 100% cotton. One of the shirts featured below is a cotton/linen blend, so that's the one to go for if you're more interested in comfort than durability. The rest are primed for a hard day's work.
If the shirt is blue, it should have something of a dusty hue, interleaved with grey and white fibres. Most of the good makers agonize over their blues, wanting to draw a clear and hard colour line between their blues and the sky blue colour that you'll find in mass-market denim shirts. Many of us have come to the world of well-made denim to get as far away from this uninteresting shade of blue as possible. We've steered well clear of it below.
For the wabash, that Stifel stripe pattern, with its characteristic broken lines, is everything. If it looks wabash, but the lines are unbroken, move on. Respectable makers take pains to put their own twist on the wabash pattern, but they never do this by fusing the dots into one solid line.
For hickory, it's all about the interplay of the two colours. The contrast might be quite sharp (as in the Iron Heart shirt on the list below), or it might be more muted (as in the Indigofera Hickory). Either way, the two colours should be well-married opposites, a perfect fusion of light and dark.
For both hickory and wabash, you should be looking at 100% cotton. While the chambray should be on the lighter side, it's perfectly reasonable to see hickory or wabash shirts tipping the scales well about 10 oz.
What to look for in a well-made vintage work shirt:
100% cotton if you want the shirt to be a lasting rugged piece
Solid and conservative colours
Look best in blues, greys, and occasionally reds and browns
Some depth of colour in the fabric (a play between warp and weft)
>9 oz. for chambrays
<9 oz. for wabash and hickory
How It's Made
The best heritage work shirts tend to be faithful reproductions, so the details are important here.
Unlike western shirts, which can hide a lot of the pocket details behind the flap, most work shirts put the pocket stitching on full display. Look for bar tack stitching at the main stress points on the pocket (a tight group of reinforcing stitches, usually either horizontal or diagonal).
Even if the shirt is relatively light, the front placket should still feel fairly sturdy. The button holes should be clean, without any threads hanging out. The buttons should be securely fastened, ideally with a shank of thread behind the button rather than the button simply sewn directly to the shirt.
As a bare minimum, you should expect to see chain stitching along all the major seams. Chain stitching run off (the trail of chain stitched threads that dangle from the side seam) are a sign that the maker is leaning into that vintage appeal. Cut them or keep them—the choice is yours.
Flip the shirt inside out and you should see the same attention to detail. You should expect to see flat felled seams throughout. The best shirts feature triple stitch construction. This can be seen when you roll the cuff (a detail that careless makers miss).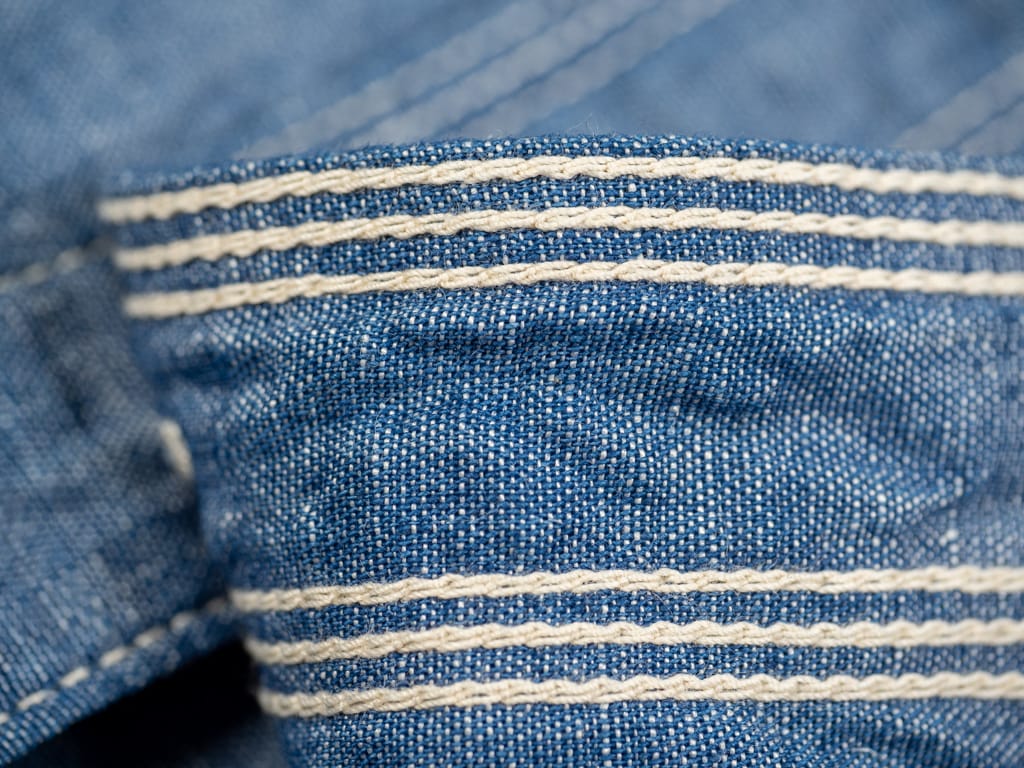 Finally, the shirt should have a bit of room, but not too much. A work shirt should be roomier than, say, a western shirt, but not so roomy that you're swimming in excess fabric. You should be able to raise your hands above your head without feeling like you're fighting the shirt.
When trying the shirt on for the first time, tuck it in. If a ton of fabric is spilling out of your trousers and onto your belt, the shirt is too big for you. Even if you never plan to tuck the shirt in, you want the shirt to fit you as though you could tuck it in. This goes double if you're planning to work around heavy machinery of any kind.
Construction details to look for in a well-made heritage work shirt:
Felled seams
Chain stitching at all major seams
Bar tack stitches at pocket stress points
Shank behind the front buttons
Triple stitch
Chain stitch runoff for true vintage pieces
Comfortable but not loose fit
Why It's Made
The best shirts in this category are made with a very specific kind of customer in mind. Those who are willing to splash out on a well-made chambray, wabash, or hickory shirt are often vintage enthusiasts and fade-loving denimheads. These people tend to put their clothing through its paces, so you can expect that these makers have made shirts that are prepared to do some heavy lifting.
Chambrays won't fade like denim, but this doesn't mean they won't age beautifully. Hickory and wabash will fade if you wear them obsessively. Faded examples of each prove that these shirts will reward your patience, so live in your piece for a few months and see what you end up with. Even if it doesn't develop strong contrasting fades, it will soften considerably and probably become one of your favourite shirts.
As with everything on these lists, we encourage you to push these shirts to their limits. To justify the larger spend, don't just wear your work shirt. Work it.
---
Got the Work Shirt? Give it Something to Work With
If you've splashed out on a well-made work shirt, it needs some great raw selvedge jeans to work with. If you've been looking for that essential pair, give our list a look.
Work shirts are great layering pieces, so take a look as well at our guides to vests, cardigans, and military-inspired jackets for that final touch. You'll be more than ready when that steam whistle blows.