Well-Made Essentials » Denim shirts
The Best Well-Made Raw Denim Shirts For Denimheads Who Want that Cuff-to-Cuff Canadian Tux
Our addiction to denim runs bone-deep. We rise through levels of denim enthusiasm, and while many of us begin collecting with a vow to never wear more than two pieces of denim at a time, the blue stuff is simply too powerful to resist.
WANT OUR
BEST

DENIM SHIRT GUIDE?

Of course you do. And the guide you're reading now is really good. We've just got one that's even better. It lists the best raw denim shirts that're made-to-fade.

All of the hallmarks of well-made goods are there in denim shirts. The fabric brims with character, there are those trademark heavy stitches (often in neat double or triple rows) on the inside that let us know we're stitched in for the long haul. Most importantly, they're made to fade.
We may have to spend a considerable amount of time buttoned into the shirt to see the results we want, but a well-made denim shirt more than rewards us for our patience. As much as we love our flannels and chambrays, when we find the right denim shirt, we've found a home.
No shirt has as much power to make us forsake the rest of our wardrobe like a well-made western.
The sections we cover in this guide:
If you want to know more about why we created these guides, please read our Manifesto. If you want to understand the criteria we apply for each item, read our definitions of 'well-made' and 'essential'.
Our guides are reader-supported. We earn a small commission when you make a purchase, but it doesn't cost you anything. Prices include local VAT and are subject to change.
---
Why a Well-Made Denim Shirt Is Essential
Denim shirting doesn't have as long a history as chambray or flannel, but it's every bit as essential. Especially once they've been faded to perfection, they can move through the rotation with ease, giving a casual and rugged touch to just about any denim-based outfit.
Still not convinced? Let's start with Exhibit A.
Well-Made Denim Shirts Are Timeless
Most denim shirts fit into either the work or the western categories. We've already covered the history of work shirts in our heritage work shirts guide, and we brushed up against heavy-duty snap-up shirts in our guide on CPOs and overshirts.
In this guide, we'll focus on heavy raw western shirts. The denim western shirt is as true-blue American as they come, but it's history is considerably shorter than that of the work shirt.
Levi's started making denim jackets in 1880, but, for some reason, they steered clear of denim shirting. It wasn't until the 1920s that an enterprising clothier started producing denim shirts commercially. Miller Brothers had started their life as New York-based hatmakers, but one of the brothers headed west and settled in Denver, Colorado, where he started a western outfitting brand, Miller Stockman Supply.
One of Miller's employees, a former garter salesman named Jack Weil, helped Miller create his new brand's distinctly western identity. Unbeknownst to Miller, though, Weil had an ace up his sleeve. After a few decades with Miller Stockman, Weil started his own company, Rockmount Ranch Wear, introducing a new version of the western shirt to the commercial market.
Weil's Rockmount became the first company to offer a range of consumer-friendly snap-up shirts. The diamond-shape snaps and the iconic sawtooth pocket design were Weil innovations (as was the bolo tie, but we'll forgive him for that). The hard-wearing shirts spread like brush fire (especially on the rodeo circuit), and brands like Levi's and Wrangler started producing their own iconic versions of the western shirt.
The rugged look soon caught the eyes of Hollywood producers, who were looking for gritty and well-worn clothing that could help them scrub some of the polish off of the big-screen western. Denim was a perfect fit, and in the '60s and '70s, style icons like Steve McQueen, Paul Newman, and Robert Redford helped move denim westerns further and further into the mainstream.
When the dust had settled, the well-worn and well-made denim shirt was still standing—a proud and permanent icon of manly style. Like a bronc buster, the shirt's cowboy roots can't be shaken off easily, but style icons have re-interpreted and re-contextualized the shirt so many times that it's no longer a pigeon-holed piece.
With the aid of passionate makers, it has fused effortlessly with every scene in which denim plays either a starring or supporting role. As we'll see below, the world's best denim brands know that our love affair with the denim western is far from over.
Well-Made Denim Shirts Are Adaptable
The western denim shirt is far from the most adaptable piece we've covered in these guides. It can't really be dressed up (this hasn't stopped people from trying). It lends itself extremely well to tumbled and rumpled layered looks, but it can easily become much too much of a good thing if we pile denim upon denim upon denim.
The truest of the true-blue denim enthusiasts know that denim is the king of fabrics. They would dream of nothing less than three pieces of denim at a time. To these die-hard enthusiasts, we tip our cap. We commend your commitment.
However, we stand by the advice we've offered frequently in these guides: more than two pieces of denim at a time is overdoing it. Since we assume that you're wearing jeans, this means max one piece of denim above the belt at a time.
Layering a denim shirt under a denim jacket only works if it's the middle piece in a heavily layered ensemble. Even then, it's best to just leave the denim shirt at home. It's an either/or situation.
Best practice depends on where your shirt is in its lifecycle. If the shirt is new or relatively new, it'll work best when paired with a pair of well-faded jeans. Reverse this equation if you've put the work in and faded a denim shirt to perfection (or if you purchase one that's been washed to produce a nicely faded look). Unless there's contrast between the top layer and the bottom one, you'll end up looking like you're wearing coveralls.
A denim shirt can be worn untucked (either buttoned or unbuttoned) or tucked in (either buttoned all the way up or with a few of the snaps undone). You can roll the sleeves up, or you can show off those snaps at the cuff and buckle them right down to the wrists.
It can be worn with tees or henleys underneath, or it can be worn next to the skin. It can be layered underneath leather jackets, field jackets, or button-up cardigans. If it's loose enough and if the weather's cool, it can also be worn over thermals or slim-fitting sweatshirts or sweaters.
The more you find ways to work it into your wardrobe, the more it'll fade, and the more it fades, the more adaptable it will become. Once it's arrived at that denim heaven stage, the sky will be the limit.
---
How to Identify a Well-Made Denim Shirt
Nearly every maker—from the best to the worst—has produced some version of the denim shirt. Mass-produced denim shirts might look the part, but they quickly go to pieces when you put them to the test. If you're ready to form a lasting bond with a well-made denim shirt, here's what to look for.
What It's Made of
If you've been wearing denim for a while, and particularly if you've developed a palate for the good stuff, you know what quality denim looks and feels like. You can probably spot the stuff from across the room.
What we're looking for is character. Rather than a bland sea of undifferentiated blue, we want to see some interplay between the dark indigo overtones and the lighter weft on the back face of the denim. The closer we get, the more we can see this dance taking place.
The shirt should feel slightly rough to the touch. It might even have a slightly hairy texture (you can see this if you look carefully at the picture above). When you take it off the hanger, the weight should surprise you. If it is raw and heavy, it will probably be as stiff as cardboard the first time you put it on.
For the true heavy raw denim experience, look for shirts north of 10oz. If you expect to use the shirt in warm weather, something lighter might be a better fit, but this will limit your ability to get those gorgeous fade patterns you might be after.
Anything north of 11-12 oz. is getting into heavyweight territory. If you're patient enough to ease it through its long break-in period, the fades will be spectacular, but you'll need more work and patience to get it there.
Raw and heavy shirts tend to look a little boxy at first. Try to picture how it will look after you've put it through the ringer a few times, and try to imagine how the shirt will feel when the denim relaxes.
As with jeans, the more times you go through the process, the better you will become at predicting how a new shirt will feel and fit after you've put it through its paces. If you want to be sure that the shirt will become a fade masterpiece, our advice is to start with one of the well-made and essential pieces we highlight below.
What to look for in a well-made denim shirt:
100% cotton (steer well clear of stretch)
Selvedge is a very nice to have, but not a must have
Solid colour (made to fade)
One wash (at most)
Heavy (10 oz. + for best fade results)
Depth of colour (a play between dark warp and light weft)
Classic styling
How It's Made
If you're tipping the scales with a heavy western denim shirt, the construction needs to be absolutely bulletproof. Heavy denim fades beautifully because it holds creases. Rather than bending like a reed in the wind, it faces assault head on like the oak. It doesn't give an inch. The fades are its battle scars from this showdown.
It might seem counterintuitive, but heavy denim pieces are even more likely to come apart at the seams than lighter ones. So, when we say well-made, we don't just mean heavy. We need to combine heaviness with expertise. The heavy shirts on this list are all made by makers who have extensive experience working with heavy fabrics. They're the real deal.
Look for flat-felled seams on the inside of the shirt. They're a strong indicator that you're dealing with a precise maker. The first place to look is the major seams that run along the side of the shirt. After that, check the sleeves and the armholes. The more flat-felled seams you see, the better.
Double or triple stitching along the yoke is quite common in the well-made space, but it's not a must. Some of our favourite shirts lean in conservative directions, so the makers have opted for only single or double rows of stitching on the yoke. This is by no means a sign of an inferior shirt. It's just a design choice.
All stitching should be extremely tight. Tug at the seams a bit. If you see any give, hang the shirt back on the hanger.
You should look for the same attention to detail and rugged durability in the hardware. All the shirts we'll be covering in this article have snaps, and, when you've tried on a few shirts in this space, you'll quickly learn how to identify a quality snap. It should come together with a satisfying click.
Finally, even if the shirt is made of heavy denim, it should still have the look of a finely tailored garment. Western shirts should fit quite close to the body (more closely than work shirts), so something that looks boxy or shapeless on the hanger probably won't fit the bill.
This is an important category, but it's also one that many of us rush into when we are on our first raw denim buying rampage. Give yourself time to explore your options. If none of the shirts we cover in this guide are a perfect fit, sit on your hands for a while. Watch the new releases from the brands and stockists we cover. Something will ring your bell eventually. You'll be glad you waited.
Construction details to look for in a well-made denim shirt:
Flat felled seams
Chain stitching at all major seams
Bar tack stitches at pocket stress points
Chain stitch run off (nice to have)
Double or triple stitched seams
Heavy duty hardware (satisfying click)
Should fit quite close to the body
Why It's Made
The best western shirts are not just made to add yet another piece of denim into your wardrobe. They're made passionately with a particular type of wearer in mind. Makers who care about what they produce want you to get the absolute most out of their shirts, and this means getting in the saddle and riding them into the sunset.
The earliest examples of western shirts were highly ornate show pieces made for the stars of the stage and screen. They came in loud garish colours and were often embroidered with flowers, horses, or other western motifs. The became popular in the broader market because they gave hard-working men an opportunity to cast off their dusty garments and peacock in town.
The denim western lifted the pattern and some of the iconic features from vintage western shirts, but it spoke in a very different design language. The icons who made the denim shirt what it is today did so without need of any of the fancy trappings. They fused the western shirt with workwear culture, re-interpreting it as a simple and unadorned classic.
To do true justice to the heavy denim western, do more than break it in. Break it down. Push it to its absolute limits. Wear it day in and day out and inscribe your daily work on every inch of it. You'll end up with a shirt that will more than look the part. It will be the genuine well-made article.
---
Well-Made and Essential Denim Shirts
Most of us have at least a denim shirt or two kicking around (relics from our pre-raw days). These shirts are mostly thin, hastily constructed, and they came to us pre-faded or with only traces of the indigo remaining (if any at all).
As denim lovers, we need to push these shirts to the back of the closet and make space for a pinnacle of the category. We need something we can slide over our shoulders day in and day out, moving that fade ball forward a few inches at a time. Here are eleven pieces that will make that difficult fade work more than worthwhile.
---
We're leading with Iron Heart because they've stamped their name all over this category. Those with any experience wearing the brand know that Haraki-san brings his trademark no-nonsense and no-compromise approach to everything they produce, and their shirts are no exception.
The silhouette is at once modern and classic, the construction is as tough as nails, and their denims are the gold standard, with their 12 oz. shirting denim being a favourite among fade enthusiasts for very good reason.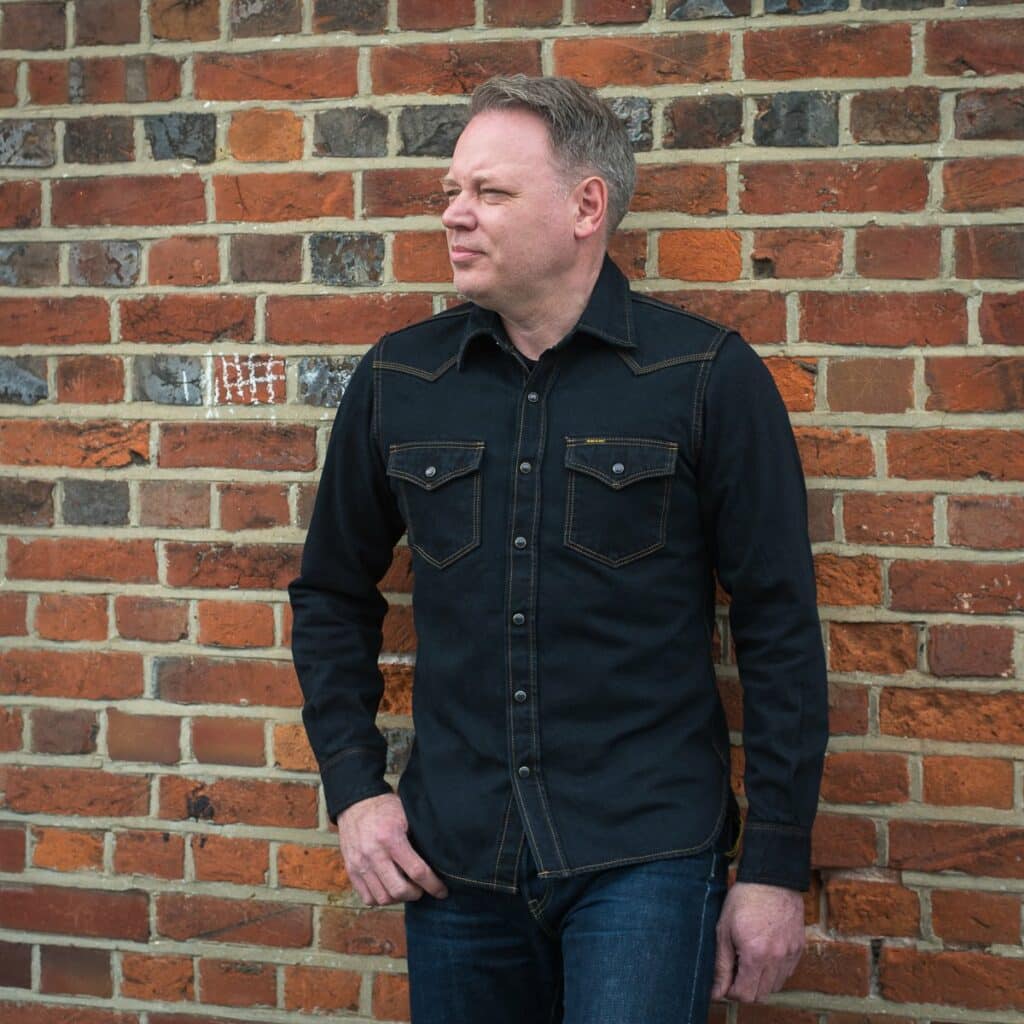 Iron Heart do simple things exceptionally well, and this shirt is indigo-bleeding proof of that. There are no embellishments or eye-catching details. It's just the western shirt perfected. They have a number of versions of the denim western, but their overdyed indigo version is our favourite. Faded versions of this shirt have to be seen up close to be fully appreciated.
12 oz. selvedge denim
Indigo overdyed black (fades to blue)
Milled and constructed in Japan
Rinsed (expect no shrinkage)
Black permex snaps
Dark gold contrast stitching
Felled seams throughout
Chain stitch run-off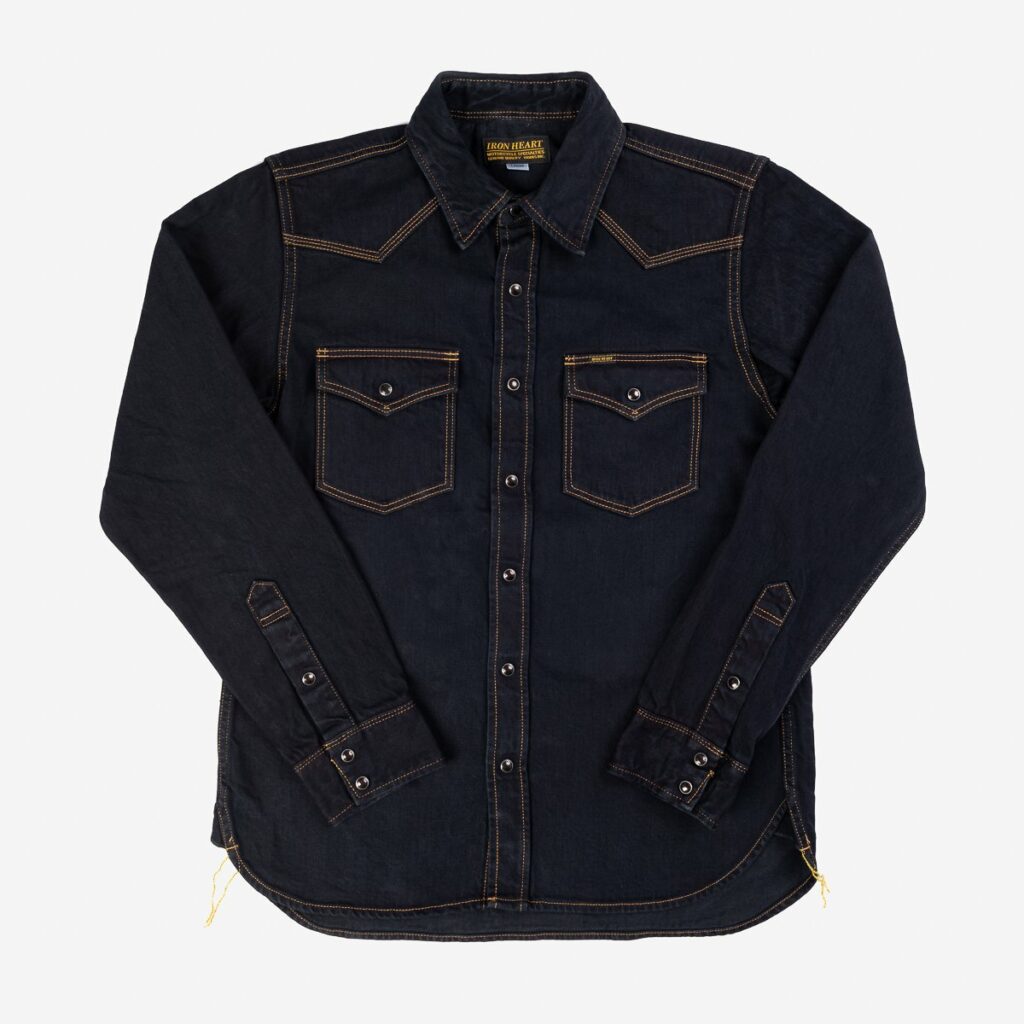 Other Iron Heart denim shirts to consider: 33-IND (12 oz. indigo selvedge), 33-T (with tonal rather than contrasting stitching), dyed with synthetic indigo), 33-BLK (12 oz. black selvedge), and the 218-BLK Johnny Cash III (12 oz. superblack selvedge).
Iron Heart ships from the US and UK. You can also check at Franklin & Poe (US), Corlection (AUS), Self Edge (US), Brund (Denmark), and Statement (Germany)
---
Just a little lighter than the Iron Heart Western, The Flat Head's take on the classic is every bit as muscle and runs neck and neck with any of the shirts at the top of this list. The slightly angled pockets give it that twist of the throttle that will make it an easy choice for those who want to wear their rugged style on their sleeve.
Flat Head seem to have put their financial troubles long behind them. Since a close brush with an untimely end, they have come back with pieces like this one and staked their claim as a brand to be reckoned with.
Expect strong vertical texture as you pull this shirt along with you. Move it to the very centre of your rotation and keep it there for as long as possible. The results will more than justify the cost you have to pay to get into one of these.
10 oz. selvedge denim
Milled and constructed in Japan
Triangular gussets and chain-stitch runoff at the hip
Selvedge ID details
Butterfly mother of pearl snap buttons
Elegantly curved back yoke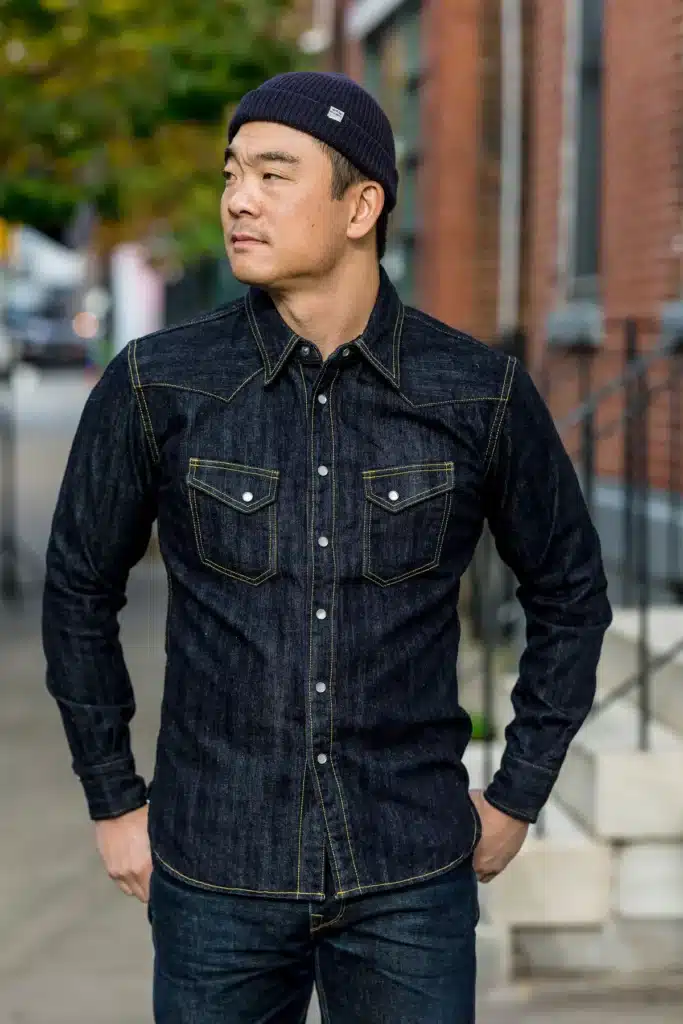 The Flat Head also have an excellent Denim Wabash and a 12 oz. Work Shirt.
Franklin & Poe ship from the US. If you're looking for other places to buy Flat Head, try: Corlection (Australia), Self Edge (USA), Denimio (Japan), Rivet & Hide (UK), Flat Head (Untranslated Japanese Webshop), and DC4 (Germany).
---
Indigofera might not be the largest raw denim brand in Sweden (that distinction goes to Nudie), but they go out of their way to lay claim to being the best denim house in Scandinavia. Their jeans have helped, but it's their eye-popping shirt lines that have done most of the heavy lifting for them.
Their Copeland takes a few of the hard edges off the western, adopting a rounded pocket and doing away with the pointed yokes, but the shirt's fit and the intention behind it connects it to its western roots.
It's exceptionally heavy (13 oz.), which means it's often used as an overshirt, but the chambray-lined collar and cuffs help take some of the edge off. This hefty shirt with yarns that have been hand-dipped 29 times in indigo will take some coaxing to get it to that nicely faded stage. Not for the faint of heart.
13 oz. Japanese denim
Yarns hand-dipped in indigo 29 times
Heavy-duty snaps
Copper rivets
Assembled in Portugal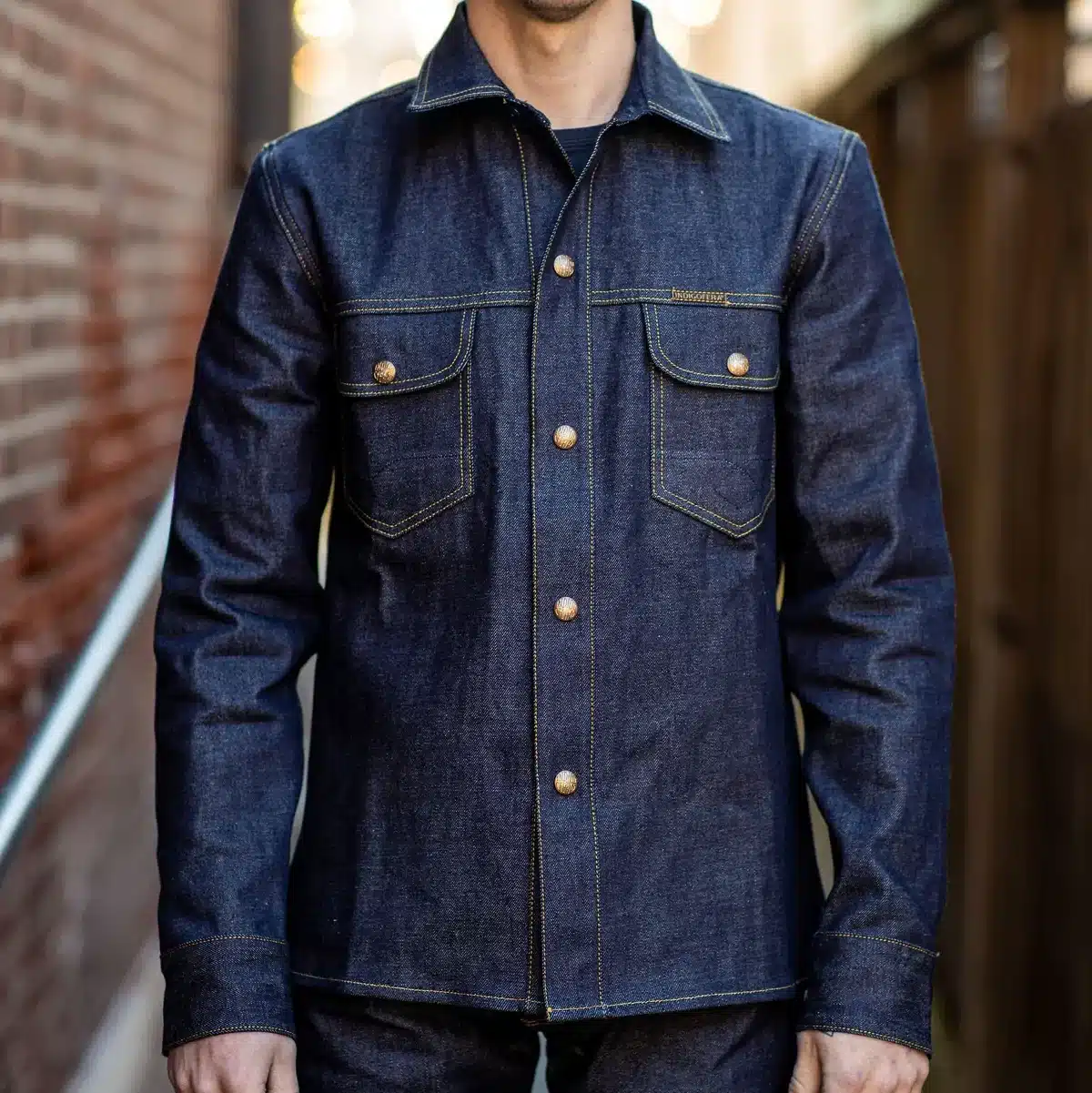 Other Indigofera shirts to consider: The Fargo (featuring lower chest pockets) runs neck and neck with the Copeland for the brand's best denim shirt.
Franklin & Poe ships from the US. If they're sold out, or if you're looking for other places to buy Indigofera, try: Denim Heads (Czech Republic), Burg and Schild (Germany), Brund (Denmark), Rivet and Hide (UK), and Standard and Strange (USA)
---
If your first question when looking at a garment is "How does it fade?", you're probably already familiar with the Samurai badge. More than any other brand, their first priority is how their products will look when they've been heavily used and abused.
Even better, they engineer their fabrics to get to this stage remarkably quickly. Their denims trot out of the stable and accelerate quickly, reaching a break-neck gallop after 100 wears or so.
The details will make the ride all the more enjoyable. It's dramatic slash yokes, which mirror the shape of the pocket flaps and the brand's arcuates, are designed to look like they've been slashed with a katana, which lines up nicely with the razor-sharp snaps. Like so many of Samurai's pieces, it's a bold and distinctly Japanese take on a western form.
10.5 oz. Japanese selvedge denim
Made in Japan
Indigo dyed
Chain stitch construction with run-off
Wooden neck button
Diamond snap buttons
Exposed silver selvedge absolutely everywhere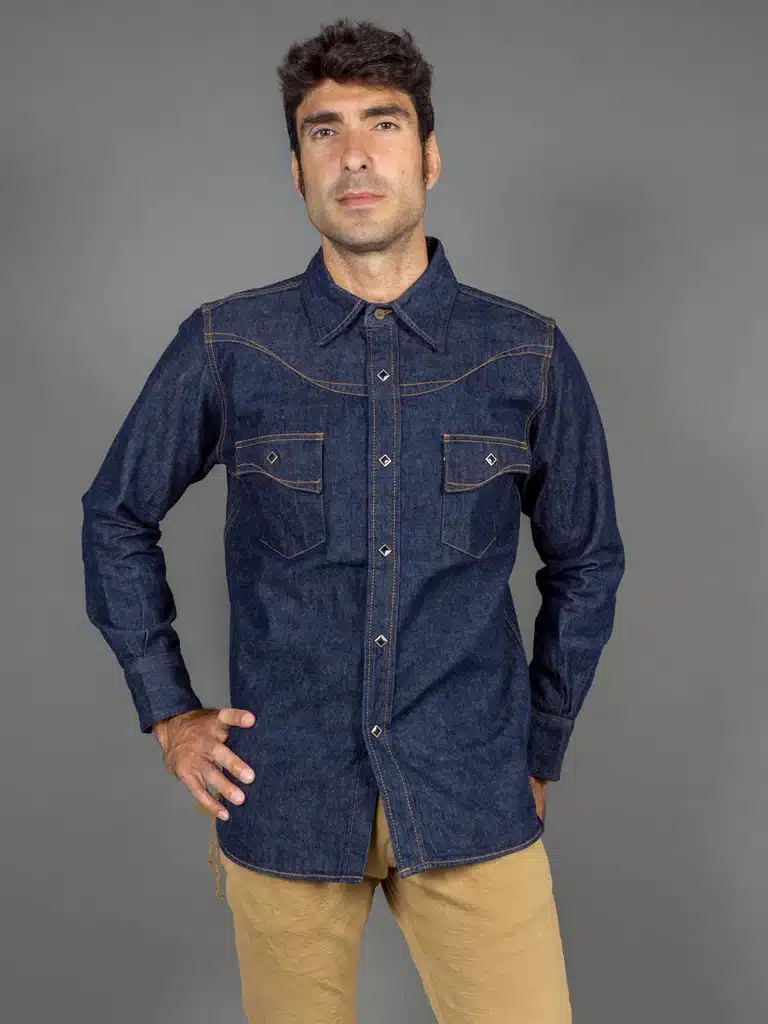 Other Samurai denim shirts to consider: Samurai also has a Type 1 Denim Shirt (same 10.5 oz. denim, but rounded flaps and yokes).
Corlection ship from Australia. If they are sold out, or if you are looking for other places to buy Samurai, try: Okayama Denim (Japan), Denimio (Japan), DC4 (Germany), Son of a Stag (USA), and Statement (Germany).
---
Blaumann Jeanshosen 011
Don't let their untranslated German webshop fool you, Blaumann Jeanshosen are some of the finest denim craftsmen in Europe. The brand was started in 2013 by a trio of German denimheads and textile industry insiders who wanted to put German denim on the map. They've done this and then some.
Their jeans sit firmly at the centre of their small line, but it's their western shirts that have turned our heads. They've sourced the denim from Japan (from Kuroki Mills), but everything else (from the buttons and rivets down to the thread that holds the piece together) comes from Germany.
The shirt is a crisp European take on the American classic. You won't find any flashy details or ornamentation here—just carefully stitched denim snapped up with copper fasteners. No bells or whistles—just a perfectly executed workwear piece that will keep getting better with age.
8 oz. Japanese denim
Milled by Kuroki
100% cotton
Made in Germany
Everything but the denim is sourced from Germany
Unwashed (ready to fade)
Copper snaps
If you live in Germany or a handful of other European countries (Spain, Austria, the Netherland, and Denmark), delivery will be a cinch. Consider the Blaumann 104 (Ecru western) and the Blaumann 088 (beige western), and they've recently released a 10 oz. Kuroki-milled Western that is exclusively available in Germany through Manufactum.
B74 ship from Germany. If you're looking for other places to buy Blaumann, try: Stuff (Germany) and Blaumann Jeanshosen (German webshop with limited delivery options).
---
Best known as one of Europe's premier custom shops, Spain's Companion Denim has been crafting denim masterpieces for nearly a decade. Founded in 2013 in the outskirts of Barcelona, the brand uses a mixture of new and vintage machinery to produce one-of-a-kind pieces that bear Iu's unique signature.
Companion also has a broad range of ready-to-wear pieces, with this shirt being one of our favourites. Made from a textured denim made with a mixture of cotton and bamboo fibres, the shirt has a rough hand feel that primes it for serious fading.
Brimming with touch-friendly details, the Wichita features a tonal drop stitch on the pockets that makes its western lineage transparent. It's a heady mixture of grit and polish, and it will look spectacular with just about anything.
Japanese bamboo denim selvedge
Mixture of cotton and bamboo fibres
Felled seams
Tonal drop stitch on pockets
Chambray binding on arm holes
Gorgeous coffee-coloured snaps
Companion's blanket-lined Indigo Blanket Overshirt might be the best-value lined shirt anywhere. For a perfect fit, reach out to Iu and start your custom Companion journey.
---
The pride of Richmond, Virginia (the former capital of the Confederacy), Shockoe Atelier chose the tobacco leaf for their logo to signal their recognition of the deeply troubled history of the South. They don't glorify this history in any way. If anything, they want their brand to stand for the new South—one that is emerging slowly and, in places, painfully.
They've assembled a diverse team from a hodgepodge of nations, and they proudly say that their clothes are made by hand by immigrants, with a deep nod to the notion that America is a relatively new nation built by hands of all colours.
Their Denim Field Shirt is one of the stand-outs in their small line of passionately made denim. They source their denim from the US, Japan, and Europe, and they've gone with a gorgeous 9 oz. rinsed denim for their Field Shirt.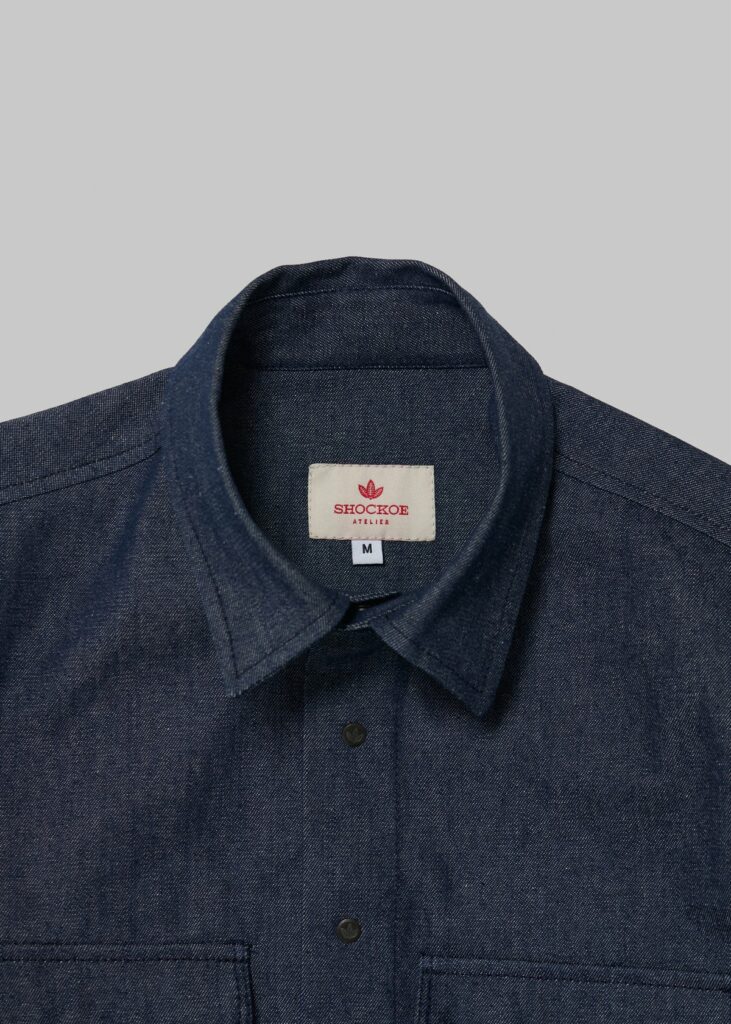 The shirt's strongest drawcard is its simplicity. Though it lacks the pointed yokes, its snap closures and subtly pointed pocket flaps make the intention clear here. If the other shirts on this list have felt a little busy, this one will suit you right down to the ground.
9 oz. raw denim
Rinsed once before assembly (minimal shrinkage)
Constructed in USA
Tonal snaps
Simple, modern design
Leather-backed and tobacco-leaf branded snaps
Great value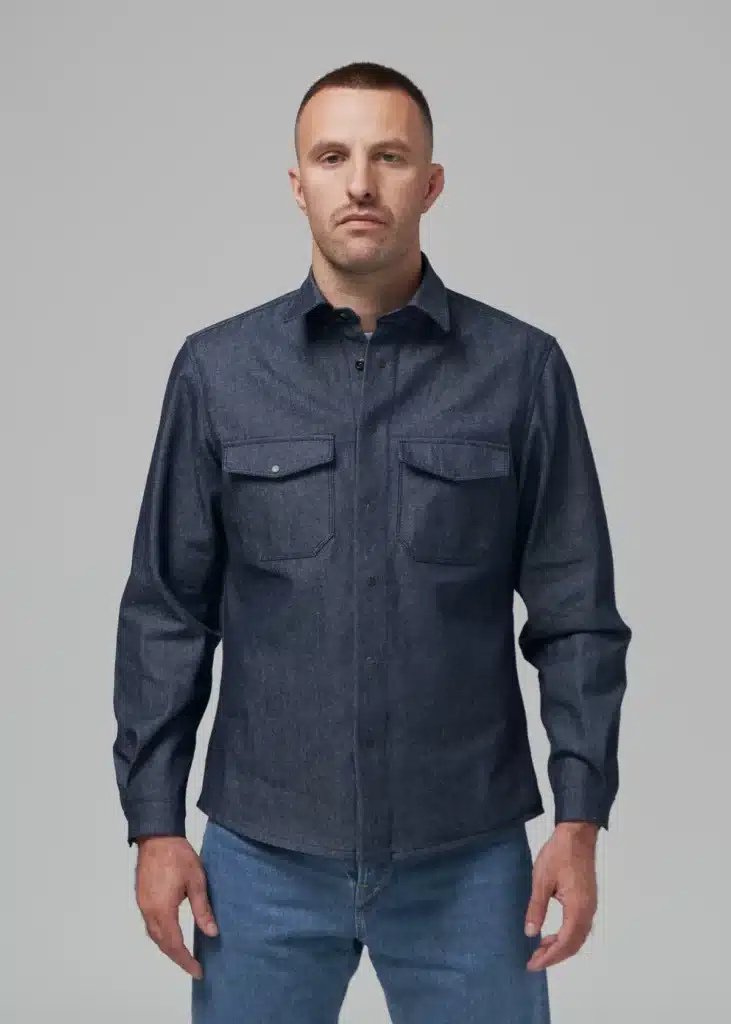 The Field Shirt is the only denim shirt that Shockoe Atelier offers, but they have an impressive range of Denim Jackets and Chore Coats.
Shockoe Atelier ships from the US. If you're looking for other places to buy Shockoe, try Stuff (Germany).
---
Ralph Lauren's americana badge both suffers and benefits from its association with it's parent brand. For label lovers, Lauren's name recognition adds a certain degree of prestige. For those steeped in the well-made scene, though, there's an association with labour practices that most of us would rather avoid.
That said, the label has a handful of pieces that must be reckoned with, and this western shirt is one of them. It's not the cream of the crop in terms of either materials or production, but it's elbowed its way onto this list on the strengths of its looks. The boot-stitch arcuates on the pockets arrest the eye without screaming for attention, and the concho button at the neck gives the piece a distinctive Southwest charm.
You'll be hard-pressed to find a better-looking denim shirt out there at any price. It might not stand up to prolonged abuse as well as some of the other shirts on this list, but it's more than tough enough for your average city slicker.
Japanese denim (non-selvedge)
Probably around 10-11 oz.
Indigo dyed
Assembled in China
Concho neck button
Boot-stitch pocket embroidery
Chain-stitched seams
Bar-tack reinforced pockets
If you want to skip to the end of the process, RRL offers a Pre-Faded Western as well.
Stag Provisions ships from the US. If you're looking for other places to buy RRL , try B74 (Germany) and Ralph Lauren (USA).
---
TCB, or Two Cats Brand, are the first choice for many denim enthusiasts who have a more-than-common hankering for vintage fades. The brand takes pains to reproduce iconic pieces from the '40s, '50s, and '60s, putting only the subtlest of trademark touches on them.
They strive for the perfect balance between durability and beauty, and, those who've ever worn one of their denim pieces will tell you: they've done exactly what they set out to do. If you're looking for vintage fades, TCB will give you a head start.
They butter their bread with their jeans and jackets, but their Ranchman shirts, with their immediately recognisable '40s slanted pocket design, are just as essential. The shirt is a little simmer than the archived vintage pieces it was based on, but the puckering (thanks to the Union Special stitching) will line up perfectly with your vintage fade dreams.
8.5 oz. Japanese selvedge
Woven on vintage looms
American cotton (grown in California)
Made by TCB craftsmen in Japan
Stitched on vintage Union Specials
Universal silver lip shell snaps
Asian sizing, so check the measurements carefully
Other TCB denim shirts to consider: Ranch Shirt (iconic '50s sawtooth pockets) and the Black Ranchman (same shirt but in black)
Redcast Heritage ship from Spain. If you are looking for other places to buy TCB, try: James Dant (USA), Store du Nord (Netherlands), Second Sunrise (Sweden), and American Classics London (UK).
---
Not everybody craves the heavy stuff. Even if you're a die-hard heavyweight fan, chances are there are a few months of the year when wearing heavy denim shirting becomes too much to bear.
If it's a lighter denim shirt you're after, Mr. Freedom's take on classic western shirts from the '60s and '70s will ring your bell and ring it hard. The man behind the brand, Christophe Loiron, does Southwest Americana so well, so this is right in his wheelhouse. He's even named the shirt after Route 101 (the beautiful stretch of highway that weaves its way along America's western seaboard).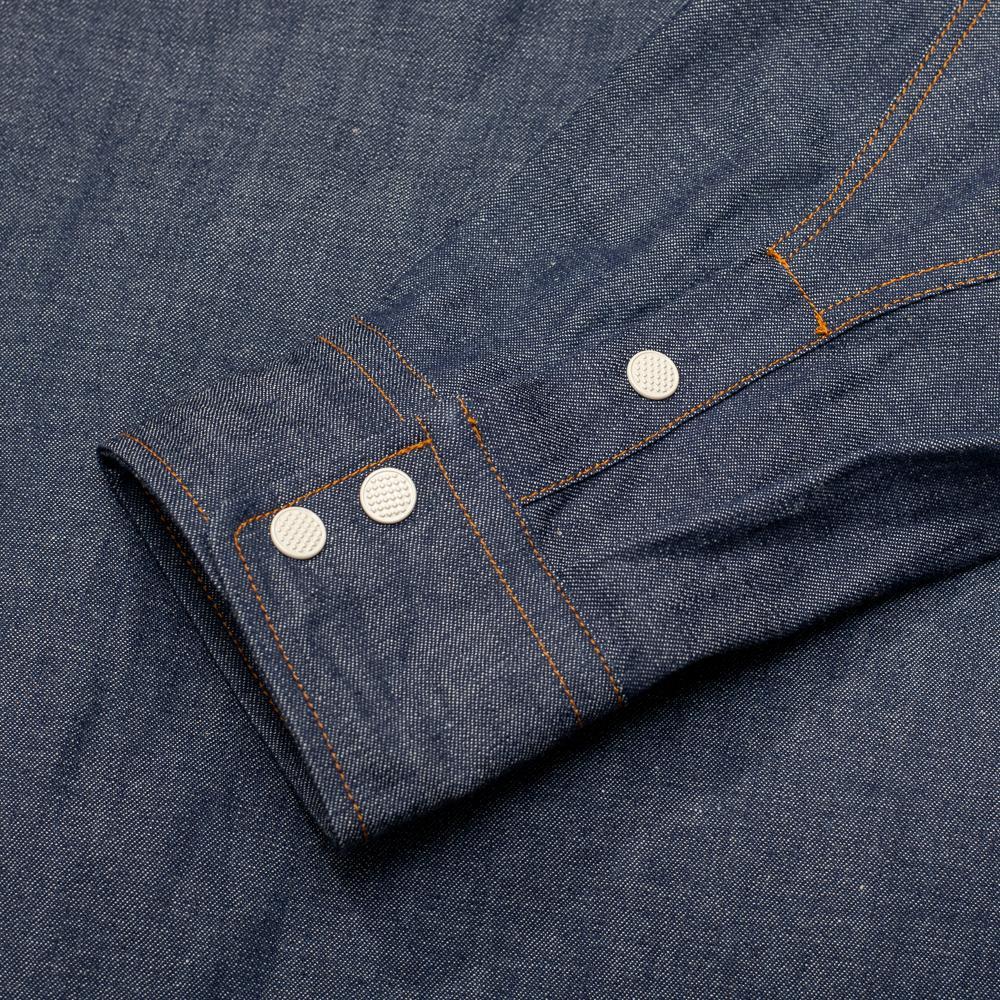 The M's on the pockets and the diamond-shaped stitching on the huge reinforcing patches covering the elbows (and then some) both bear Loiron's unmistakable flourished signature. They make this a stand-out piece that'll be the first thing you reach for on those dog days of summer.
7.25 oz. 2 x 1 selvedge twill
Milled and constructed in Japan
100% indigo dyed cotton
Yellow/orange contrast stitching
Side gussets
Chain stitch run-off
Painted snap buttons (will chip with age)
Other Mister Freedom denim shirts to consider: Black Dude Rancher (same shirt, but in black broadcloth), Prairie Shirt (darker 7.5 oz denim with diamond snaps), and the Appaloosa (8 oz. herringbone modern western).
Clutch Café ships from the UK. If you're looking for other places to buy Mister Freedom, try: Franklin & Poe (USA), Rivet & Hide (UK), Second Sunrise (Sweden), and Mister Freedom (US).
---
Stevenson Overall Co was, until 2005, an extinct American workwear brand—one of the many badges that couldn't quite cross that bridge from the roaring twenties to the down and out thirties.
An American denim connoisseur by the name of Zip Stevenson (no relation) stumbled upon an old Stevenson invoice in the early aughts and, along with a Japanese partner, re-started the brand. They're driven by a simple workwear ethic: they want to make clothes that are "quiet, subtle, beautiful, simple, and well made." Music to our ears.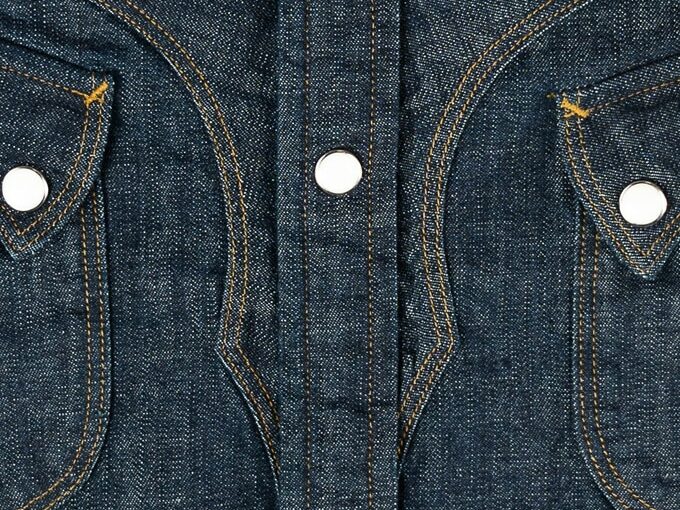 They've been competing in a crowded market ever since, and they've managed to elbow out some space for themselves thanks to their ability to release simple and timeless collections. They do basics as well as anybody, but when they swing for the fences with a bold piece, like this denim shirt, it's almost always a home run.
The Cody (the lightest shirt on this list) utilises 6.5 oz. denim made from Zimbabwe cotton. It's as soft as it is light, and it feels as good as it looks (which is saying a lot). The buffalo horn front yoke and the rounded and slanted pockets make this a piece that captures attention immediately and holds onto it for dear life.
6.5 oz. Japanese denim
Milled and constructed in Japan
Striking Yokes
Zimbabwe cotton
Dyed with indigo
Woven on vintage shuttle looms
Belnap stone snap buttons
Rinsed (minimal shrinkage)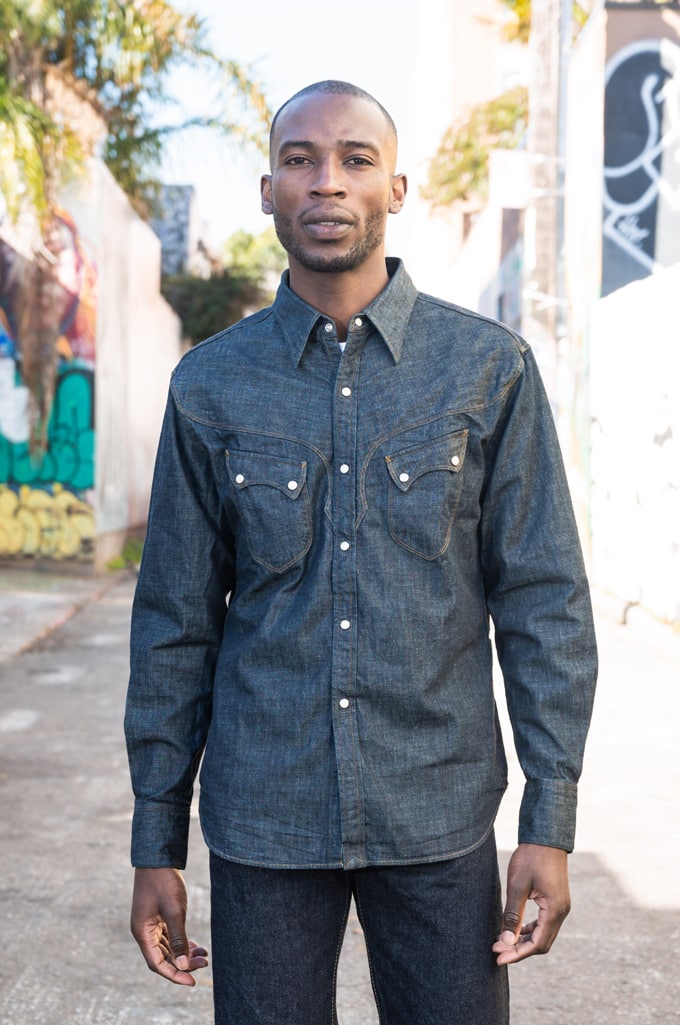 The Stevenson Cody is also available in Black/Black (Black weft and warp for an everlasting black).
Self Edge ship from the US. If they're sold out, try: Franklin & Poe (USA), Clutch Café (UK), Rivet & Hide (UK), Son of a Stag (UK), and Maplestore (Australia).
---
Before You Snap Up, Layer Up
Denim shirts work great against the skin, but they cry out to be layered with a cotton-soft underlayer. For great layering pieces, check out our guides on henleys and tees.
If you've got a hankering for that double denim look, be sure to check our list of essential raw selvedge jeans, and be sure to cinch the whole piece together with a patina-ready belt. Happy trails.