A Review of My Highlights of 2018 and My Goals for 2019
The gifts are wrapped. The bags are packed. Auto-reply is on. That last email is sent. I'm ready for some time off! In fact, I think I've never needed a Christmas break this bad!
And for the first time in a couple years, I've decided to take a (short) two-week break from publishing here on the blog during Christmas and New Years this year. I've consistently put up at least one blog post every week since August 2016, so I feel I deserve it.
What better way to close down a very eventful year than taking a look back at all the great things that happened these past 12 months. Reviewing everything that's happened, I also reflect on my goals for 2019.
Highlight #1: I stepped up my Instagram game!
2018 has been the year of Instagram for me.
It all started when I sat down with @robindenim during Kingpins in Amsterdam back in October 2017. He told me what I needed to do to get more out of my Instagram presence and how to grow my following and reach.
One of his main arguments was that I should post every day. I knew it would be a challenge if I didn't have something to remind me, so I set up a daily reminder in my calendar at 3:30 pm ☑️? And with only a few exceptions, I've managed to post something every day this year.
As part of my focus on Instagram, I also launched the series of Q&As with Blue Blooded Instagrammers. With a new one being published every week since June, I managed to do almost 30 interviews plus a handful of group interviews. You can check out all of them right here.
Being consistent pays off. My following has gone from 4K to almost 14K (at the time of publication), which meant I also reached my goal of 10K followers to unlocked the "swipe up" link-function in my Stories.
My Instagram goal for 2019
For 2019, I want more of my Instagram posts to be "original content."
Even with my daily reminder, I sometimes struggle a little to put up something of my own, which is when I'll often end up reposting something.
Highlight #2: The year of Denimhunters videos!
It doesn't take too much research to realise that video is king these days. Just take a look at your preferred social media feed(s) and you'll see what I mean.
It's obvious why. Video is so much easier to engage with compared to text or even images. Video stimulates more senses than any other media. It's that simple. You don't really have to do anything, just keep your eyes (and ears) open and let it come to you.
I've known for a few years that I should start making videos. But even though it's gotten a lot easier to make and publish videos, it's still harder than writing texts and taking photos. At least it is for me.
But 2018 was the year I finally got a hang of it.
After co-producing the Denim 101 with my videographer in 2017, I'd learned the basics of video editing. And I've managed to put of 27 videos this year, which I'm quite proud of. You can watch them all here.
My video goal for 2019
I want to make my videos more personal, more fun. I want them to focus more on my followers, their interests, and the questions they have.
And I want to focus a lot more on what got me started doing this blog eight years ago: jeans!
So expect to see more of me in front of the camera in 2019. And expect me to talk more about jeans.
Highlight #3: I got back into retail!
After a 4-year hiatus, I got back into retail in 2018!
Back in November of 2017, my good friend Peter (who's the manager of Brund) sent me a text asking if I knew anyone who'd be interested in a part-time job in the store from the beginning of 2018. Without thinking too much about it, I told him I would!
To be completely honest, at the time, I was kind of in-between clients with my main freelance content marketing business. So I had the time for it.
I also figured it would make a lot of sense for me to get back to "the frontline of retail" since I was selling my retail staff training course. Practice what you preach, right.
And I'll be honest, I felt a little rusty for the first few shifts I had. But it's like riding a bike or whatever the metaphor is; I quickly got back into the groove, and it's been a whole lot of fun.
My days at Brund have, at times, been sort of breathing holes for me. It's something I make time for. It's not that I don't enjoy my jobs creating content and telling stories with text and video. But there's just something about not being in front of the computer every single day.
I get to talk to a lot of people, most of whom want to hear the stories I tell about the products we sell in the stores.
And then there are the products themselves. It's a joy to work hands-on with brands like Iron Heart, Red Wing, Indigofera, Tellason, Edwin, Filson, and all the other awesome brands you find at Brund.
My retail goal for 2019:
I'd like to integrate what I'm doing at Brund better into everything else I'm doing.
Highlight #4: I'm on the Rivet 50 list!
Getting recognised for what you do is always nice. It's the feeling you get when someone likes your post on Instagram. You know you're chasing it all the time!
But by nature, I'm not that good at telling people that I'm good at what I do. Just writing it makes me feel like I'm a selfish douchebag. I keep thinking of this bit from How I Met Your Mother:
It's a little easier when it's someone else who gives me praise—although it still makes me a little uncomfortable. In 2018, my name was on the list when Sourcing Journal's Rivet magazine announced the Rivet 50 list.
Basically, it's a list of 50 people who the editors at Rivet believe are the most influential in the denim industry.
It's an honour to be up there with names like the Godfather of Denim, the fourth generation-owner of one of the world's most influential denim mills, the CEO of Levi's, trend forecasters Amy Leverton and Sam Trotman, and pop-icon and G-Star co-owner, Pharrell!
Martin Schaefer takes the trophy for best comment on the Rivet 50 announcement.
You can see the full list here. They also did a nice little feature with my story, which you'll find here.
My acknowledgement goal for 2019
I want to use my position as a recognised influencer more to my advantage. I want to get better at saying, 'I'm good at this, you should hire me!'
And if the people at Rivet update their list next year, I wouldn't mind being on it again.
Highlight #5: I got (finally) into heavyweight denim
2018 will also go down in history as the year that I (finally) got my first (and my second) pair of heavyweight denim jeans. Okay, they're probably not putting it in the history books, but it was kind of a big deal for me.
For the past four-five years, I've more or less exclusively been wearing Indigofera. I love the vibe of the brand, and I love the amazing fabrics they make—especially the beautiful No. 2 aka the 'shrink-to-Prima-fit,' which they've sadly discontinued (or at least taken out of the collection for now).
With my job at Brund, I got a chance to get into my very first pair of Iron Hearts. Something I'd wanted ever since I first learned about the brand several years ago. I decided to start with the icon; the 21 oz. signature selvedge denim in their classic 634 cut.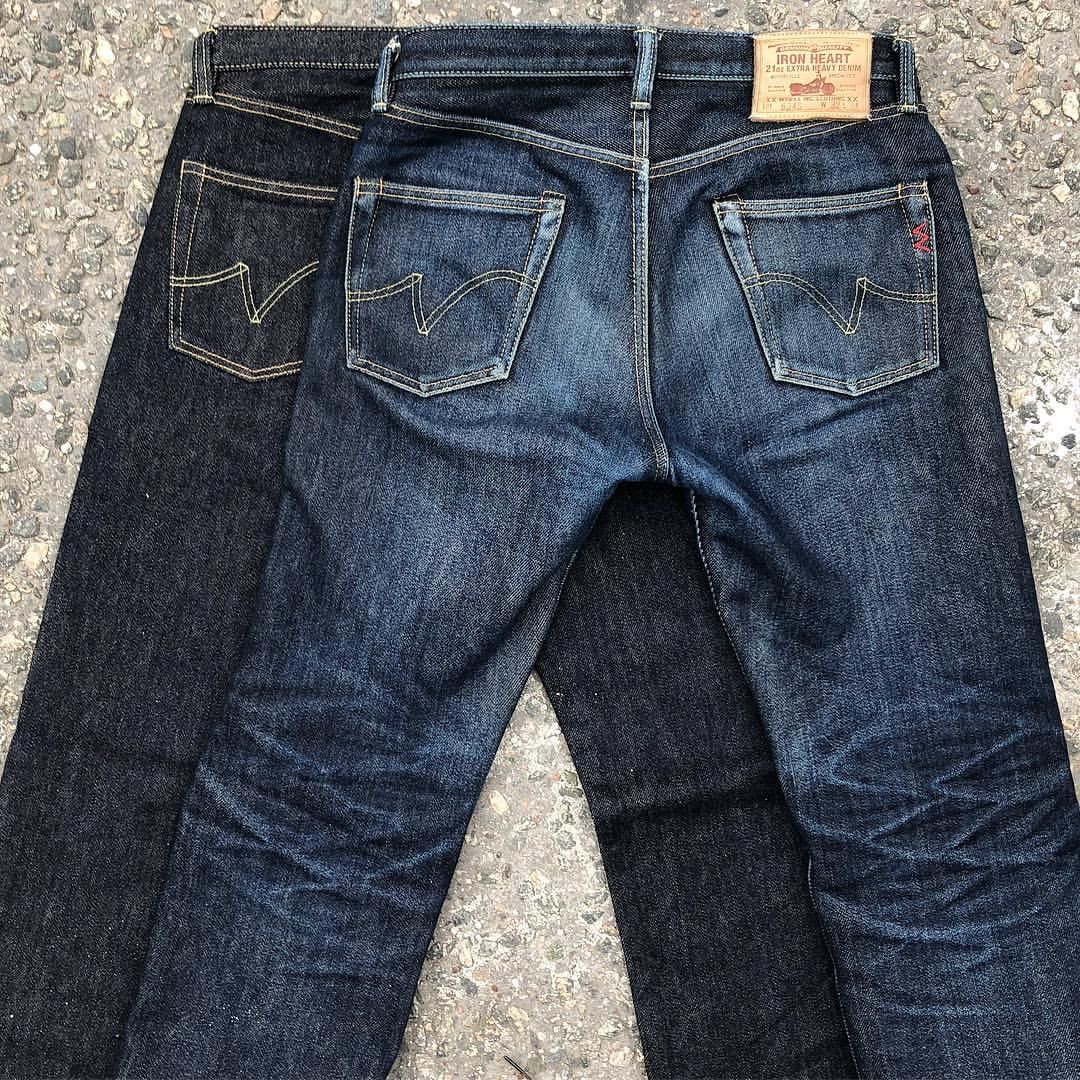 I was curious about the weight of the denim and how heavy and warm they'd feel, especially since I got them as we were going into spring and it was getting hotter. But the loose weave of the fabric makes it a true joy to wear. And I can honestly say I've never worn a fit that's better for my body!
After about six months in the 21 oz. denim, I'm now wearing their 25 oz. beast of a fabric. And I've expanded my wardrobe with a handful of Iron Heart shirts, tees, and most recently their Deck jacket as well. I think I'm getting smitten with the IH virus.
Funny thing is I've really gotten used to the heavier denim. Putting on something that's lighter like a 14 or 16 oz. just feels flimsy now.
My denim goal for 2019
Wear more heavyweight stuff.
What to expect from Denimhunters in 2019?
So, what's my plan for 2019?
Put simply, I want to focus on what I'm best at, the reason people started following me in the first place, and what I truly enjoy: focus on jeans! I want to do this by creating more original content with Instagram posts and with videos!
If you want to come along for the ride, be sure to follow me on Instagram. It would also mean a lot to me if you'd sign up for my newsletter.
That's all from me for this year. See you in 2019. Happy holidays!