Since this was published, Sascha has closed his Instagram account.
Q&A with Sascha aka @saschgtb
Instagram is an awesome place to meet other denimheads. And if your content is good, Instagram's algorithm helps you get discovered too. Sascha surely has good content ?
You can also speed up the getting discovered process a little by tagging others. That's actually how I first found Sascha's feed; he was tagging me ?
It worked; I started following him, and I reposted one of his pictures. I also got curious about his story, so here it is.
What's your story
Name: Sascha
Birth year: 1972
Location: Germany
Profession: Managing Consultant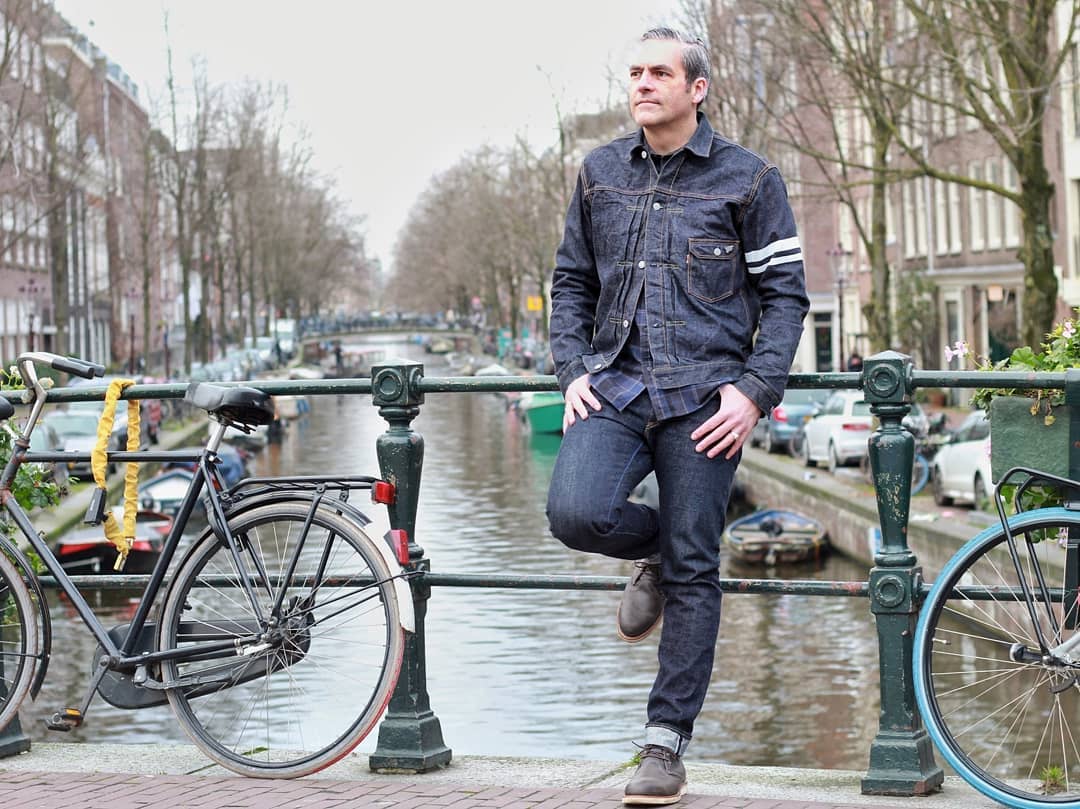 Sascha's Instagram Feed and Routines
Thomas: How did it all start with your Instagram feed?
Sascha: I started my Instagram feed in January 2018. A few months before, I saw all the amazing pics with denim, boots and workwear. I was so excited that I wanted to try it myself.
T: Why Instagram? What are your goals?
S: Primarily for fun and talking with denimheads all over the world. I have gotten to know so many fantastic people in about only one year, it's incredible.
T: How much time do you spend on Instagram on a daily basis?
S: I think it's about two or three hours a day. Maybe a little bit more on the weekends.
T: How do you take your photos?
S: Most of the pics are taken by my lovely wife @owl_2018. She's a hobby photographer and so it's quite perfect to spend time together. On weekends, we combine shootings with a short walk outside or a city trip. Pictures of flat lays I take myself with my Samsung Galaxy S8.
T: Which tools do you use?
S: My wife uses a Canon camera. For editing, I use Snapseed for the outdoor pics and the built-in editing tools in Instagram for my flat lays.
T: What's your editorial flow?
S: Most of the time, I post photos on Monday, Wednesday, Friday and Sunday. Usually, I post in the morning and get back to Instagram during my lunch break at work.
T: What are your favourite locations to take photos? And why?
S: I love taking pics with nice backgrounds. Since I've started posting on Instagram, I pay a lot more attention to locations when I'm walking around, running or cycling. And if there's a good place, I get back for taking pics.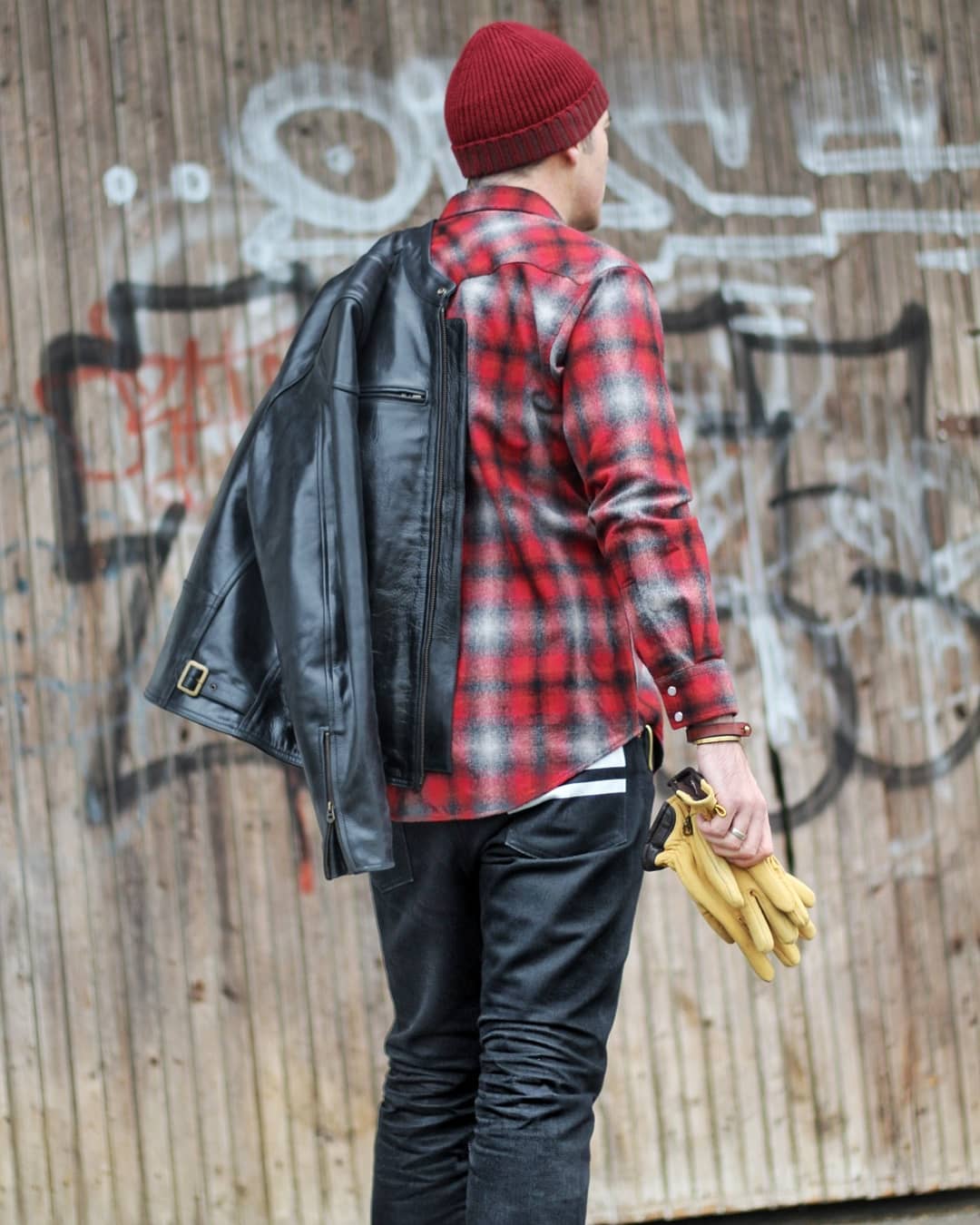 Sascha's Denim Style and Preferences
T: How did you get into denim?
S: Inspired by The Heritage Post, I bought my first pair of raw denim jeans in December 2016. It was the 10th anniversary Momotaro jeans with battle stripes. That's why I decided to take the name saschgtb for Instagram. 'GTB' is for 'Going To Battle.' Through Instagram, I've further discovered the raw denim philosophy and the outstanding craftsmanship.
T: What's your favourite feature of jeans?
S: First of all, I love the battle stripes of my Momotaro jeans and jackets. After that, it's the fabric. I really love the touch of raw denim. And after beating them up and giving them a lot of wear, it's so fantastic to have a personalised and faded pair of jeans.
T: How do you wash your denim?
S: I wash by hand in my bathtub if it's really necessary.
T: What's your favourite fit?
S: Slim straight. I like tapered cuts the most.
T: Which boots and leather goods do you wear with your denim?
S: I'm infected with the #redwingvirus. So I wear Red Wings most of the time. But I like my Thursday boots too.
My favourite leather goods are my belts from Timeless Leather and Forty Nine Leather, and my card case from Ondura.
T: Which sneakers do you wear?
S: Usually PRO-Keds and PF Flyers.
T: Favourite item that's not denim or leather?
S: I love Chup socks since Carl aka @calgeary brought me two pairs from his trip to Japan.
T: Where do you buy your gear?
S: I like visiting shops when we're making city trips, for example Arborator in Maastricht, Black&Blue Nijmegen or Kentaurus in Cologne.
My favourite webshop is Redcast Heritage Co. from Madrid. I can highly recommend their customer service and the variety of Japanese brands.
T: What styling tips would you give your followers if they wanted your style?
S: Always try to choose quality goods. You won't go wrong. Wear what you like and have fun with it.
Ready for More Q&As?
If you'd like to read more personal stories and Q&As, you can check out all the previous ones right here. Want to make sure you never miss one? Sign up for the free weekly Denimhunters email newsletter.