Why You Should Attend and What You Should See
The internet has fundamentally changed the way we interact with each other in the denim business. With just a few taps or clicks, you can learn about new brands and makers, the next big trends, or how your jeans are made.
What I've realised, though, is that in a day and age where our interactions with other people is becoming increasingly more digitised, interpersonal face-to-face communication is king if you want to turn your virtual friendships into real business relationships. It's been a game changer for me!
It may sound a little odd coming from someone who's obviously an advocate for teaching and learning about denim online, but I'd recommend anyone who's someone in the denim business (or hopes to be one day) to prioritise attending at least a couple shows and events every year. You can easily get a whole week's work done in a single day. Not to mention the almost overwhelming amount of stimuli and inspiration you'll get, which (still) can't be matched virtually.
Running the risk of sounding a little biased here, I'd say that the best of the best is the Dutch capital's yearly denim festival, Amsterdam Denim Days. I've not yet attended every denim show in the world, but I haven't encountered an event this comprehensive. Saying it's a must-visit is an understatement.
What To Expect from Amsterdam Denim Days 2017
With the 2017-edition of Denim Days in Amsterdam, you've got a 7-day celebration of denim in the city itself. Stores and showrooms all dressed in blue, offering special deals, product launches and exhibitions at over 40 shopping destinations. Get the full city programme here.
Then there's the popular Kingpins textile trade show. At this boutique-style event, denim designers and developers can meet with more than 75 mills, laundries, manufacturers and other supply chain partners.
Kingpins also hosts the Transformers summit, which this time around focuses on the cost of sustainability in the sector. The list of speakers includes forward-thinking industry leaders such as Enrique Silla of Jeanología, Miguel Sánchez of Archroma, Sanjeev Bahl of Sai-Tex, and many more. Like the Kingpins trade show, the Transformers summit is an invite-only event, but you can request access here.
Last but not least, there's the Blueprint Festival, which is directed at end consumers and open to the public. No less than +60 mills, makers, brands and experts are showcasing and selling their latest wares and technologies, and hosting lectures and exhibitions. You can get the Blueprint Festival programme here.
Why You Should Visit Amsterdam Denim Days 2017
It's almost too overwhelming, isn't it? That's why I've asked some of the business insiders I've met at events like Amsterdam Denim Days to share their opinions why you should attend and what you should prioritise.
Disclaimer: The recommendations below are the opinions of the denim experts I've talked to, which do not necessarily reflect any affiliate Denimhunters may have with any of the companies or individuals mentioned in this blog post.
Why should someone who works in the denim business (or wants to work in it) visit Amsterdam Denim Days?
"Because it's the most striking combination between a city, denim stores, a denim school, and denim trade show organisers," says Tilmann Wröbel of the Monsieur-T. design studio, who I actually met for the first time at Kingpins a couple years ago.
For Tilmann, it's all about getting more insight and inspiration about the denim business, as well as meeting friends, colleagues and business relations. Paul Kruize, the Dutch jeans tailor, agrees and says he also visits to check out what's happening on the denim scene.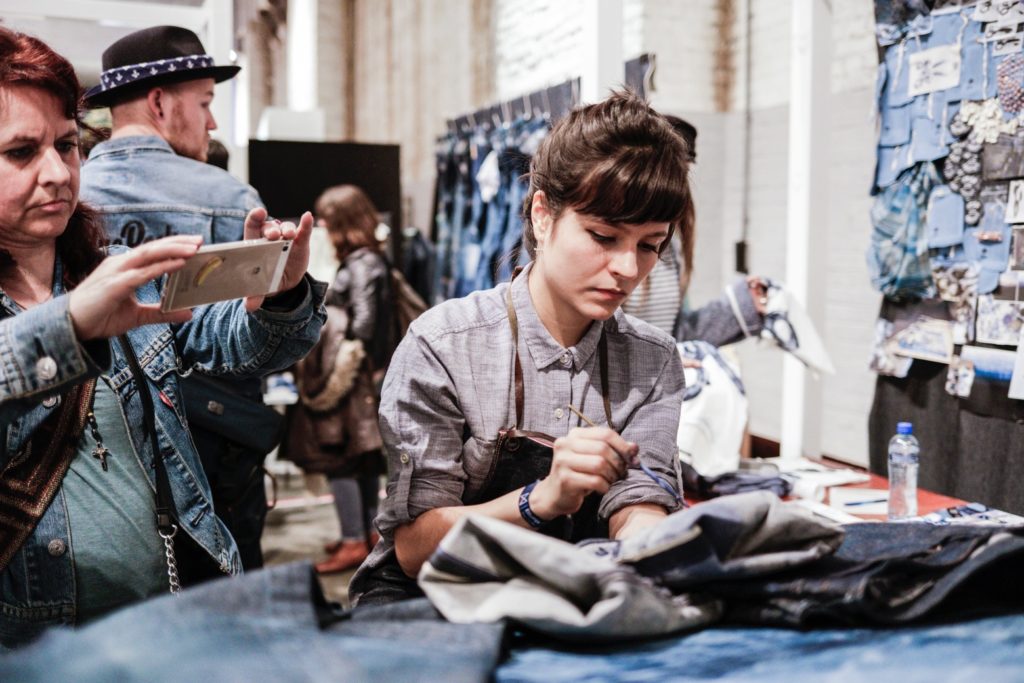 Christina Agtzidou argues that even if you already work in the industry, Denim Days will open a new world for you. It's about seeing the business from another perspective and spotting new trends and opportunities.
Often, people from our business work with the same partners—which is a good thing—but it's also important to see what's out there, and maybe reevaluate a new set up from a mill or a stitching factory," the denim designer argues.
She says meeting with fabric experts and suppliers will give you the possibility to better understand the whole process of making jeans.
You gain further knowledge, see how you can work with fabrics, and learn how the industry is developing," she concludes.
Amsterdam's own Lennaert Nijgh of Benzak Denim Developers says that the Denim Days event covers a very broad spectrum of the denim industry; from the mills showcasing their latest fabrics at Kingpins to brands exhibiting during Blueprint and connecting with end consumers.
There are so many people from the industry in A'dam during the week, networking has never been easier," he adds.
Why should retailers attend?
With events focusing on brands and end consumers, some retailers might be questioning why they should attend.
Christina argues that retailers should visit to see how they can grow their business. "They can check fabrics that can be current at the mills and ready to use."
Especially for someone who works with fast fashion, this can be highly beneficial. She also says that all the events that're going on in the city are worth going for.
Tilmann says Denim Days is a place for retailers to better understand new product and merchandising trends, which, in his opinion, is what makes denim go forward these days.
Why should consumers visit?
The Blueprint Festival is really something unique. There are very few B2C events like it where hobbyists and aficionados have a chance to get this close to the people behind their favourite jeans.
The Blueprint event is the chance to get in touch with the brands directly," says Lennaert. "You will meet the people behind the product and talk about it at a very different level than what is possible in a store."
He adds that many brands are presenting new developments and that there are a lot of interesting lectures and workshops to attend.
Visiting as a consumer, you'll get closer to the denim mentality, understand more about jeans, witness first-hand how it's all made, and get a totally different perspective on denim. Christina also argues that Denim Days is one of the best time for shopping with all the special events and parties that are happening.
Consumers will experience a denim celebration," says Christina.
How To Attend Amsterdam Denim Days 2017
If you haven't already planned to visit this edition of the Denim Days event, you can still make it!
And if you need more information, go to the official Denim Days website.
Photos by Team Peter Stigter.