The Q&A I Used to Write about Tenue de Nîmes for Sportswear International
Today (on October 18, 2019), the printed version of Sportswear International issue no. 290 hits the streets.
Not only is it this year's 'denim issue' from the respected German trade publication; it's also the first to have my writing in it. On pages 36-48 of the magazine, you can read about my favourite top ten 'denim destinations.'
Suggested story: Menno joins me on the Denimhunters Podcast
Let me make one thing clear before you read on: I'm not trying to objectively say that these are the world's 'best' denim stores. And, importantly, I did not list them based on which store I like the most!
When I got the brief for the article earlier this year, Sportswear's editor-in-chief, Sabine Kühnl, specifically asked me to focus on my personal experience with ten denim stores.
I translated that into two criteria that the stores I would include had to meet:
1) I should have some personal experience with the store (all but one on the list I've visited) and
2) I would list the stores based on my first interaction with each of them.
Although I knew the stores quite well, I decided I would ask the people behind each of them to answer a Q&A as part of my research. Just to get their own perspectives.
But even with a ~3,750-word feature that covers ten pages of the magazine, I couldn't include everything about each store. So, I decided (with Sportswear's blessing) to share some of the Q&As in their full length with you.
Number five on my list is Tenue de Nîmes. Here are founder Menno van Meurs' unedited answers. But first …
What is Sportswear International?
Sportswear International is a trade publication that focuses on the European casualwear and denim market. It was founded in 1975 and belongs to Germany's largest trade publisher, Deutschen Fachverlag.
The magazine comes out four times a year and also has a website that is updated daily with industry-relevant news and background stories. You can read the digital version of issue 290 here.
Key Facts of Tenue de Nîmes
Shop name:
Tenue de Nîmes
Location:
Two stores in Amsterdam
Opened in:
2008
Key people:
Menno van Meurs (Founder)
Rudy Ross (General Manager)
Five brands that define the store and its concept:
RRL
Levi's Vintage Clothing
Momotaro
Visvim
Tenue.
Instagram:
Website:
The 'original' store on Elandsgracht
The 'new' store on Haarlemmerstraat
Menno's Path Into Raw Denim and Heritage Style
Thomas: What triggered your passion for raw denim and heritage style?
Menno: My dad never had much as a kid and he's had a hard time throwing things away as an adult. When my brother and I were young, we used to go upstairs and dress up in his 60s and 70s outfits, including Wrangler jeans, Levi's Big E jackets and vintage biker boots.
These gems definitely were the first chapter of my love for functional denim clothing. I still have all of those items in my archive today, and my dad's Levi's jacket hangs in a frame in my office at the Tenue de Nîmes HQ.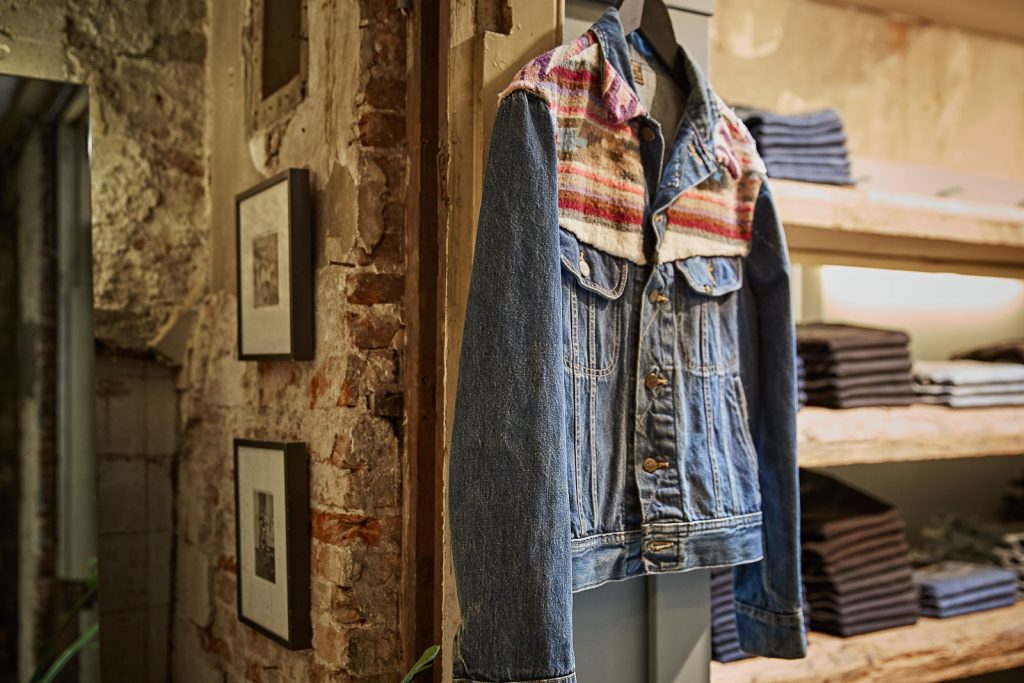 T: What was your first pair of raw denim jeans? And what did they do for you?
M: My first pair of raw denim jeans were a selvedge US First jean by Gapstar (which later became G-Star RAW).
They were inspired by Levi's buckle back jeans and were made of beautiful streaky denim fabric. It's incredible to see how much they were inspired by true Americana when they started the brand.
T: When did you know you were 'hooked' on raw denim?
M: I used to work at a store called Mode D'Emploi in The Hague when I was studying. The co-founder of the store, Gerard Backx, was a true denim legend. I thank him for most of my hobbies that went a bit out of hand.
When he started making his own Atelier LaDurance jeans, the virus really hit me. From that moment onwards, I literally lived in raw denim. Work, party, school, I guess I was even sleeping in my jeans from that moment on.
T: What's your favourite thing about raw denim?
M: Jeans are the most personal piece of clothing out there. When worn well, they become a part of you. Like a second skin.
We can all start to wear the same jeans today, but when we meet each other in a year from now you will see some spectacular; they all became different jeans. Jeans reveal so much of the life we live.
A pair of jeans ages because of the way we live in them. When I spoke about my love for denim with the famous Dutch couturier Jan Taminiau, he said to me: "Denim is the only thing in life that we actually forgive that it becomes older." How beautiful is that?
T: When and why did you decide to open a store?
M: Back in 2007, I realised there were a lot of people embracing the concept of denim, but hardly anyone was really independently specialising in it. Everybody was taking a piece of the pie. But without really going 'all in' on it. Especially in the premium side of the spectrum, there was very little focus.
This is why it was time to open a store like my parents used to know in the 1970s where everybody could find their perfect pair of jeans. On top of that, opening my Tenue de Nîmes store would allow me to talk denim all day, every day!
The Concept of Tenue de Nîmes
T: What are three common characteristics of brands you stock?
M: First of all, the products we stock at Tenue de Nîmes are without exception made to last. We fanatically step away from the concept of clothes becoming something disposable. Clothes at our stores should stay!
Secondly, in addition to the first point, all brands are considered investment pieces. We encourage people to buy less and pay more for clothes.
Third, we believe that all the brands we stock at Tenue de Nîmes add their own unique chapter to the denim world. So whether it is A.P.C., Japan Blue or our own Tenue. brand, they all add to the heart and soul of denim history in their own, unique way.
T: Which brands are most popular with your customers? And why?
M: One of the raw denim brands that works best for us is our long-time partner Momotaro and their sub-label Japan Blue. We were the first store in Europe to work with Momotaro. We kicked off our partnership with a shop-in-shop that emphasised our love for their craftsmanship and attention to detail. Everything the Manabe family does breathe indigo. I am very proud that until today their brands are amongst the most successful we stock.
On the other side of the spectrum, we are successful with more contemporary denim brands such as Acne Studios and A.P.C. This mix between traditional and more contemporary brands is what we feel makes our assortment unique to the denim world.
T: What's the story behind the name of the store?
M: If you would literally translate 'Tenue de Nîmes' it would mean 'outfit from Nîmes.' But we like to refer to it as 'outfit from denim' or 'outfit combined with denim.'
Historically, we believe denim got its name from 'serge de Nîmes' (fabric from Nîmes). So Tenue de Nîmes refers to what we like to wear the most; a denim 'tenue.'
T: Where did the inspiration for the store decoration and design come from?
M: In addition to our product mix, we also search for an interesting clash between contemporary design and true interior classics. On top of that, we love to combine honest materials like stone and wood with steel and glass.
The styling of the stores is influenced by the US, Scandinavia and Japan. One of our best friends runs a mid-century design store that provides us with nothing but the best from designers like George Nelson and Hans Wegner, and we've been collecting Japanese artefacts ever since we started. I guess we really live inside our own Tenue de Nîmes atmosphere.
T: What do you think customers value most about your store?
M: I honestly believe our stores are the place where people find the love and attention they miss online. Of course, there is a lot to gain online, but I feel that our stores have the ability to make you feel welcome and at home.
Put on top of that the expertise of the store staff and you have your answer. We alter jeans while people are waiting. We inspire them to check out new brands. A Tenue de Nîmes store is a place where people let go of time. Where they get inspired. Where they feel the warmth and can connect with others.
T: What has been the greatest challenge you've faced so far, and what did you learn from it?
M: Well, I feel that anyone who looks back the last decade will understand it's been challenging all along. Crises, retail upside-down, brands and retailers going online, etc.
It is a new retail paradigm and no one really knows where it'll land. So although times ahead really excite me, I also think everything will continue to change drastically in the years to come. Never a dull moment in retail!
T: Why should denimheads visit your store? What makes it a 'denim destination'?
M: Tenue de Nîmes is a denim destination ever since we started in 2008.
We offer a huge and unique mix of denim brands from all over the world and do free alterations while customers are enjoying a coffee or a nice beer. All jeans that leave the Tenue de Nîmes stores are basically custom made and ready to be used for years!
Tenue de Nîmes made a special denim dictionary (below) with all the words any denim head should know by heart. The dictionary is free with every purchase.
Need help finding the perfect pair of jeans?
If you'd like to read more personal stories and Q&As, you can check out all the previous ones right here. Want to make sure you never miss one? Sign up for the free weekly Denimhunters email newsletter.
Our Well-Made Essentials buying guides help you build a timeless and adaptable wardrobe of carefully crafted items that're made to last. Start your hunt here!