Q&A with Lucas Fitzpatrick aka @lucaszfitz
Name: Lucas Fitzpatrick
Birth year: 1993
Location: Amherst, Massachusetts, USA
Profession: Bakery Team Leader at a national grocery chain
Lucas' Instagram Feed
Thomas: How did it all start with your Instagram feed?
Lucas: I got an Instagram account shortly after it came out. If you scroll back far enough, the relics are still there. We're talking polos-tucked-into-cargo-shorts-on-my-way-to-the-Hoobastank-concert times.
My personal feed transitioned into talking denim and boots account mid-way through 2017, then went full-throttle about a year ago.
T: Why Instagram? What are your goals?
L: Still in a see-where-this-takes-me phase. For now, I've loved the people I've gotten to connect with and the travel opportunities this niche has brought for me in the last year.
Some good friends and distant figures I admire have gone from hobbyist to employment with some dope brands; I could see myself down a similar path in the future if it's in the cards. In the meantime, meeting as many cool people as I can and seeing where it all lands.
T: How much time do you spend on Instagram on a daily basis?
L: Probably a couple hours, depending on the day. I'm trying to steer away from the few minutes here and there throughout the day—that always seems unproductive. I like to take some focused time to see what's going on in the 'world' every day.
T: How do you take your photos? (By yourself, with the help of others, etc)
L: I took 90% of my own photos up until recently. Every so often, a trusted friend will help out—but I'm super particular and want to retain friends, so that's infrequent.
Lately, I've been putting my head together with @zacharybenard, another true New Englander, to knock out some content in some spots across Massachusetts. He's a gem.
T: Which tools do you use?
L: I use my iPhone 7 Plus, Afterlight, and toggle with the settings on Instagram. Zach has a grown-up camera and it's a no-touchy for me.
T: What's your editorial flow?
L: I've gotten myself into a sweet little routine. I'm kinda neurotic. I have my feed set up in a grid, alternating a full outfit shot, flat lay, and some sort of detail shot. It makes my weeks easier, I don't really have to think about much, just what I'm wearing that day and which aspect I might want to highlight.
I tend to not get super technical in captions—I have retained my own interest in Instagram because it's felt like a journal, and I want to feel like a real person on there.
I also don't really know anything about the technical side of craftsmanship, and I'm not about to start pretending as I learn more. I'd rather write about something I'm doing or something dumb that someone around me said or something like that.
T: What are your favourite locations to take photos? And why?
L: My favorite favorite is when I'm traveling. I always have one spot whenever I go somewhere—something iconic, usually—that I make sure I visit on a day I'm not ugly. The Arch in Saint Louis, Golden Gate Bridge, The Bean in Chicago … that kind of thing.
Zach and I have been visiting what we've been nicknaming "New England Ghost Towns" and using those rugged locations to our advantage. Old mill buildings, forests, landmarks and stuff like that that have been abandoned or just aren't being used anymore.
I was born in a town in western Massachusetts that progress seemed to have forgotten but later put on the map when Anthony Bourdain did a special on American towns most affected by the heroin epidemic.
Having grown up there is a big part of me; making use and scenery out of some of those spots is, to me, a way of remembering where you come from.
Lucas' Denim Style and Preferences
T: How did you get into denim?
L: Long story. The short version: From making fun of a friend when I couldn't believe he spent $200+ on a pair of jeans. Later wound up with a pair of my own, then more, now we're here.
Slightly less short version: Myself and a few friends had built a start-up workwear shop throughout 2017, launching a webshop just before Thanksgiving.
I was clueless about the heritage workwear niche aside from what I had seen on my friends, so I had a unique introduction as a retailer before being a consumer. The company ended up relocating to the West Coast, but I've stayed in touch with a lot of the makers and connections I had made, and continue to learn more and get deeper into the community and Denim Hangs universe.
Travel is a big priority in this chapter of my life, and since getting into denim, I've had hangs or sought out denim opportunity in LA, the Bay Area, Tucson, Chicago, Boston, New York City, Maine, St. Louis, soon to be Seattle – livin' denim, my dude.
As for the denim and workwear style, it's all heritage. My grandfather—who I never met—was just about the same build and size as me; short and stocky (the kind of guy who would offer to change the office water cooler).
Anyway, I have tried on a few old work shirts and sweaters that my family has kept around the family farm, and usually their fit perfectly. He was a firefighter, police chief, and contractor in the 60s and 70s in a small farm town of ~300 people.
I sit in an office in a bakery and sometimes go for a short walk on a break if I'm not going to Wendy's for lunch. Different lives at play here, but I love the way that workwear and heritage style have stayed relevant and adapted to the way I live now.
T: What's your favourite feature of jeans?
L: I am, admittedly, not a detail person in my everyday life. Totally a big-picture guy.
Part of getting sucked into raw denim was learning to appreciate the details and the things that set well-made apart from the stuff on the conventional market.
I mean, I'm still in the phase where I'm psyched up by a funky pattern on the back pocket.
T: How do you wash your denim?
L: Still troubleshooting this one, trying new things and accepting recommendations. Usually, soak with Railcar detergent and hang dry.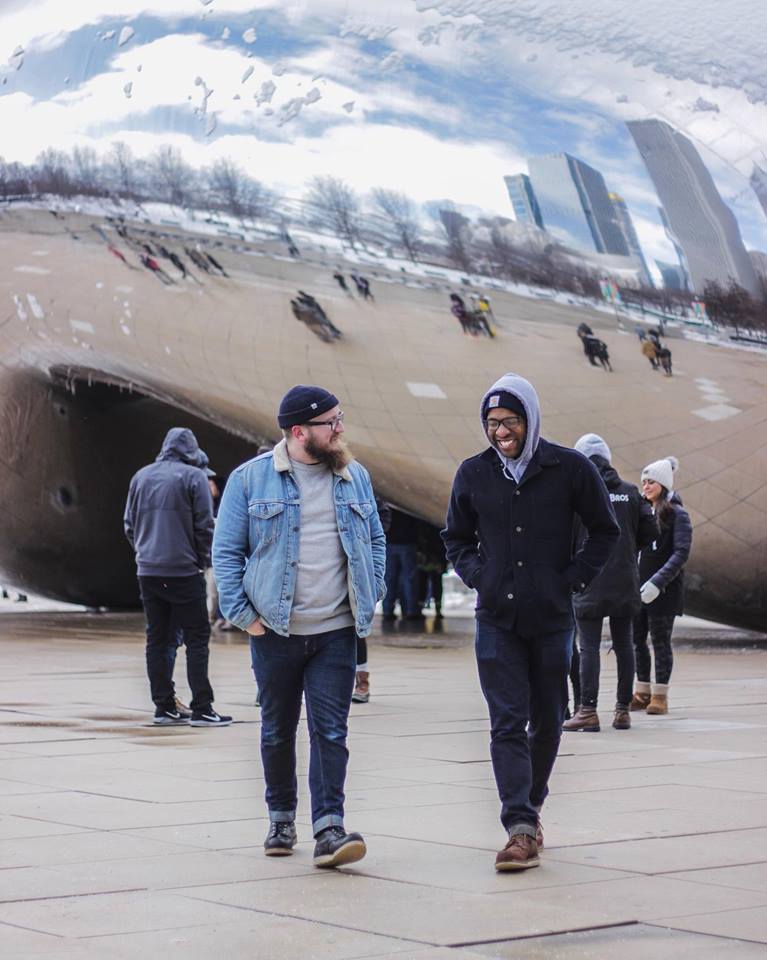 T: What's your favourite denim brand?
L: My favorite jeans are my Charles Miller Brand Denim.
As a small brand, Charles nails the community aspect of the raw denim niche and puts out a product that echoes that spirit.
My Railcar Spikes are grade-A faders and Freenote Rios are solid for everyday wear.
T: What's your favourite fit? And why?
L: I'm a fit-first kind of guy. Again, I really can't speak much to technicality much beyond 'I like the way it fits on me.' I like a slim cut and a strong crotch. I'm a blowout king.
T: Which boots and leather goods do you wear with your denim?
L: I'm a Red Wing guy for now, but gearing up to branch out in the near future. I have a handful of pairs to pick from but generally rotate between three of them.
Other everyday carries these days are my @mackprovisions card holder wallet (made from a vintage baseball glove), @pigeontreecrafting key fob riveted together with a buffalo nickel, @thepoorwillway braided bracelet, and a belt from either @khleather or @174leatherworks.
T: Which sneakers do you wear?
L: I'm not really big into sneakers. I have a pair of Adidas white Sambas (to replace my well-loved black Sambas that I had to throw away at a gas station in Albuquerque), but that's really it.
I wear boots pretty much every day. I've gotten used to the extra inch or two of height they give me—5'8 in the streets, 5'7 in the sheets.
T: Favourite item that's not denim or leather?
L: Tough. I haven't decided which of my flannels from Freenote Cloth I eventually want to be buried in. Probably one of those.
The yellow stripey boi was one of the first made-in-America pieces I ever bought. Though, there's also my custom flannel by my best-denim-pal @heypizano of @okaydenimco. I think that's the one.
T: Where do you buy your gear?
L: Mostly online, direct from maker or vendor. It's a dead zone for good made-in-America shops where I live.
I've gotten some good deals from American Reserve in Syracuse and sometimes shop around other retailers, but especially for smaller operations, feels good to know that margin is going directly back to their business when you buy direct.
T: What styling tips would you give your followers if they wanted your style?
L: In general? If you're the shape of a college dorm mini-fridge, keep it loose up top and tight down low. There's the secret.
Big-picture, though, I take a lot of pride in knowing where the stuff I own comes from and the people that made it. I don't have a ton of stuff. A few things I hang on the walls, a few books, a couple knick-knacks I've had since I was a kid.
The things I wear often and carry in my pockets is what I'd rather spend the bulk of that budget for. To have a personal connection to that stuff and feel like you've helped support someone in carrying it is a good feeling.
Shop small, look for the little guys, and make good choices.
Ready for More Stories …?
If you'd like to read more Q&As, you can check out all the previous ones right here. And if you'd like to get a heads up whenever I post new stuff here on the blog, you can sign up for the free email newsletter.
Oh, and don't forget to follow Lucas on Instagram ?