Review of Oakland's Denim Destination, Standard & Strange
Continuing my series about global denim destinations that're worth travelling to, this review takes a closer at Standard & Strange in Oakland.
It's based on an email interview I did with the people behind the store, as well as the first-hand experiences of two local blue bloods, @denimbitch and @sanforizedson.
Key Facts
Location:
Oakland, California, USA
Opened in:
2012
People behind the store:
Neil Berrett, co-owner
Jeremy Smith, co-owner
Four brands that define the store and its concept:
The Roots of Standard & Strange
If you Google 'Jeremy Smith' and 'Neil Berrett,' you might get results that mention a company called Cedar Cycling, and Made in USA merino wool cycling jerseys. This was the business the two ran before opening Standard & Strange.
It was undercapitalized," Jeremy explains, "and we already had a lease on the space."
Looking for alternative ways to make use of this space, they realised that no store in Oakland at the time dealt in rugged basics and denim, but they knew a ton of people interested in this niche, so they went for it.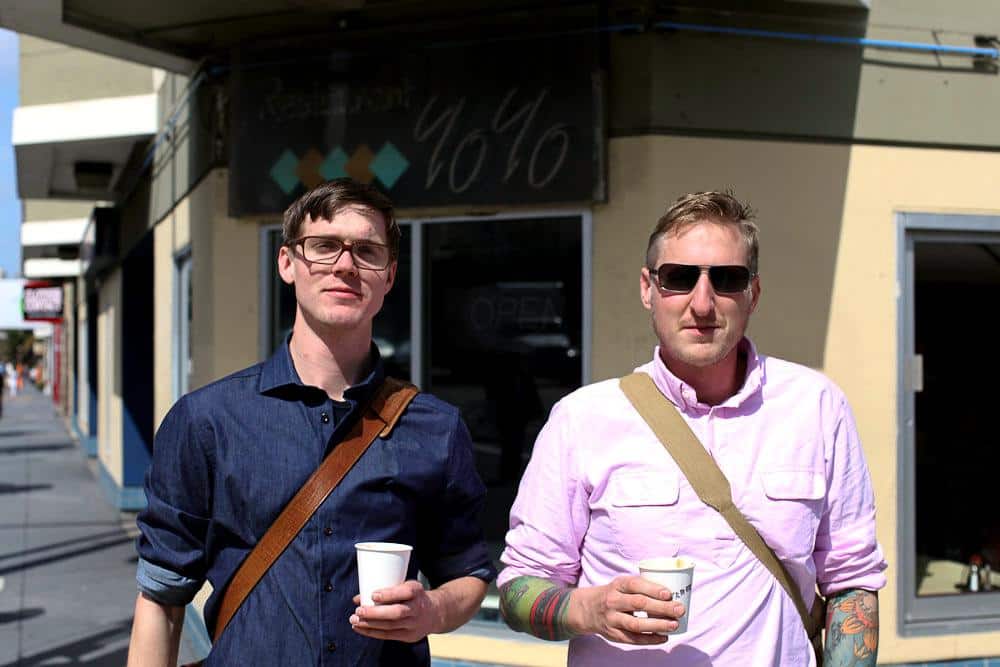 From that decisive moment, things happened rather quickly. "If I remember correctly," Jeremy recalls, "it took us about two months to kick the doors open."
They took the last bit of money they had from Cedar Cycling and spent it on a buildout. "The first thing we did," Jeremy continues, "was get our inventory in order; figure out what we were getting from where; then we did our very basic build."
The fixtures they made themselves, and most of their budget went to hiring a contractor to install a new window, which they later ceremoniously smashed when remodelling. The inventory was on consignment or paid for with credit cards.
"It was very much a 'well, we're doing a retail store now' kind of moment," Neil adds as he thinks back to those early days. He was convinced the store would fail and they'd go out of business. Luckily, it didn't.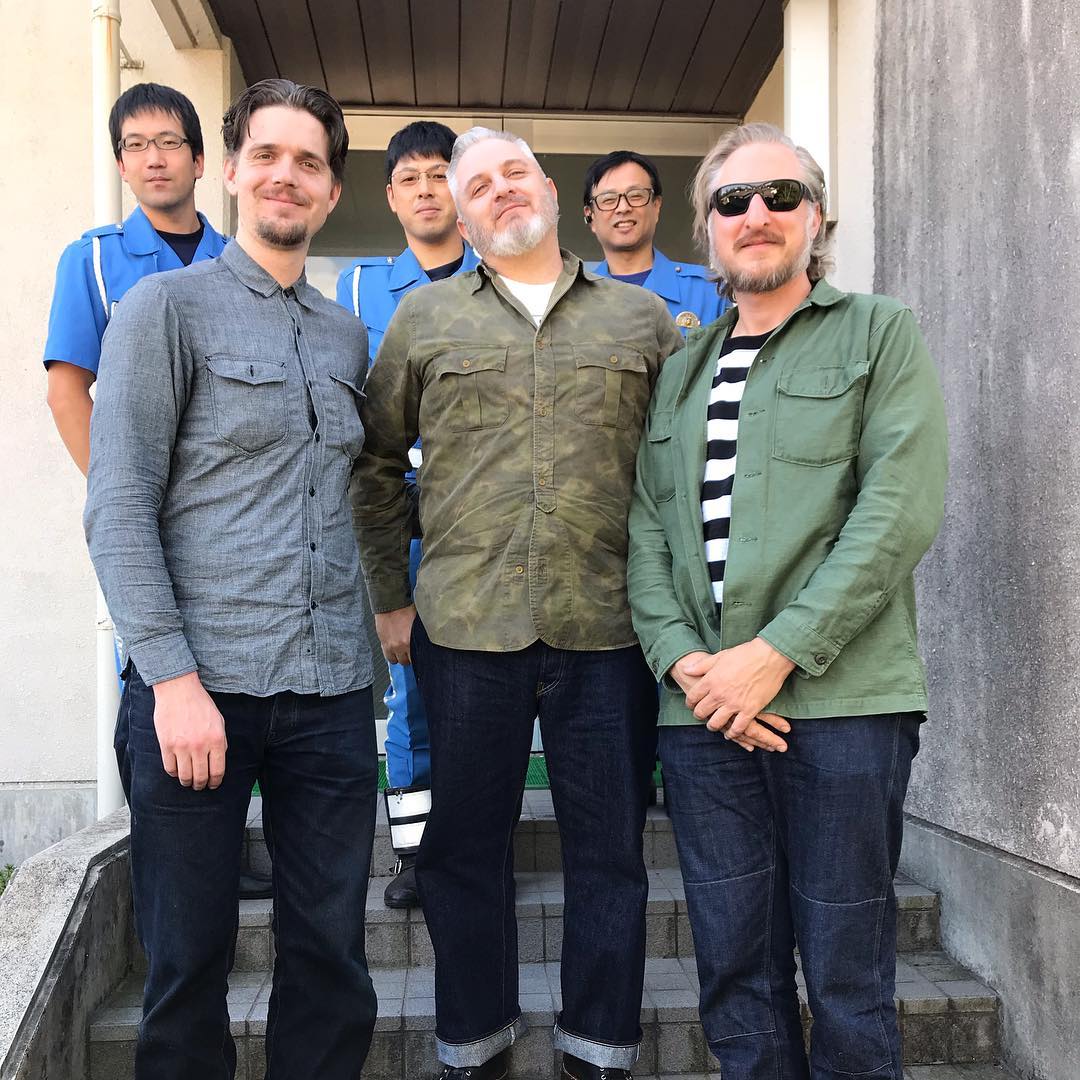 What's In a Name?
The name of the store links back to this change from a cycling jersey retailer to a denim destination. And to the businesses that occupied their original store space long before Jeremy and Neil.
Our name comes from a book titled The Death and Life of Great American Cities by Jane Jacobs." In the book, the author describes what makes neighbourhoods work; a relationship between standard businesses and strange businesses.
"There's also a cycle of the physical spaces they occupy" Neil continues. "A deli will close and an underground music venue will open up. Then it will close and be occupied by a bodega."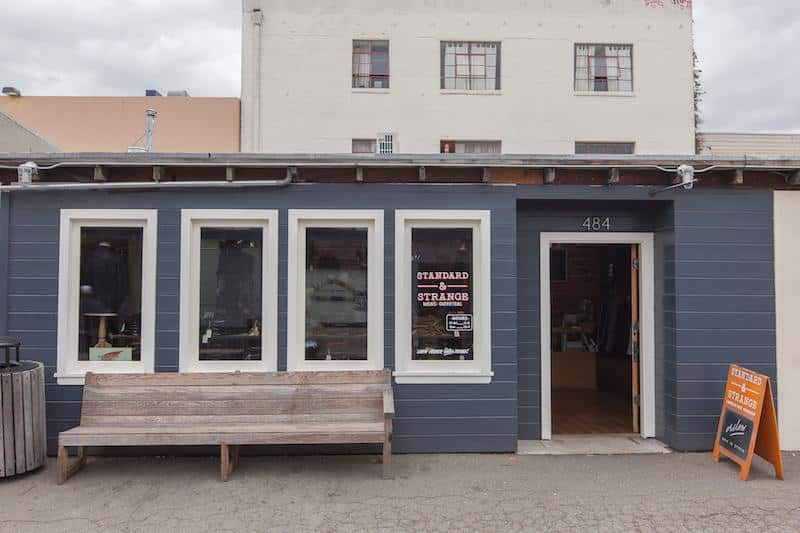 Long before Standard & Strange, the space was a municipal horse stable, and then a storage space for decades. The landlord later turned those old horse stables into small spaces for independent businesses, which really changed the whole Temescal neighbourhood they're in.
So 'Standard & Strange' is more than something that rolls off the tongue very well. It's about being part of the local neighbourhood and community.
The historic Temescal area where the store is located is also home to many places that serve good food, coffee, and beer.
The Concept and Brand Mix of the Store
The store's concept is built on a 'don't sell bullshit' philosophy.
Everything is of the highest quality, with the knowledge and customer service to back it up, Neil argues. "If you're buying a $2,000 leather jacket or $1000 pair of boots, you'll get the same class of service."
In terms style, the overarching direction of Standard & Strange is Americana reinterpretations from around the world. From Japanese takes on denim mixed with Ivy League influences to European interpretations of Americana and western wear.
We have two complementary styles," Jeremy explains. "The dominant one is the heritage-moto-leather-denim style; the supporting one is a trad/tailored look."
The two intersect in a brand like 1st PAT-RN, which combines workwear, Ivy, and military influences in a coherent way. The Real McCoy's too crosses over a lot in these styles.
On top of the brands already mentioned, the stock list includes names like Tellason, Kapital, Wesco, Freenote Cloth, orSlow, Momotaro, C.O.F. Studio, 3sixteen, Eastman Leather Clothing, and many more.
While they're always looking for new or unknown brands, they're not doing it in a particularly fast pace. These days, they primarily find new brands through word of mouth from our customers and existing suppliers. What about trade shows?
"I won't say we never find brands at trade shows, but it's been a long time since we've seen a new brand at a show and bought into it; same goes for the sales emails we get," Jeremy reasons.
In any case, they're quite full at this point, Neil adds. "If we bring on a new brand, it'll be something we seek out to fill a very specific niche and need."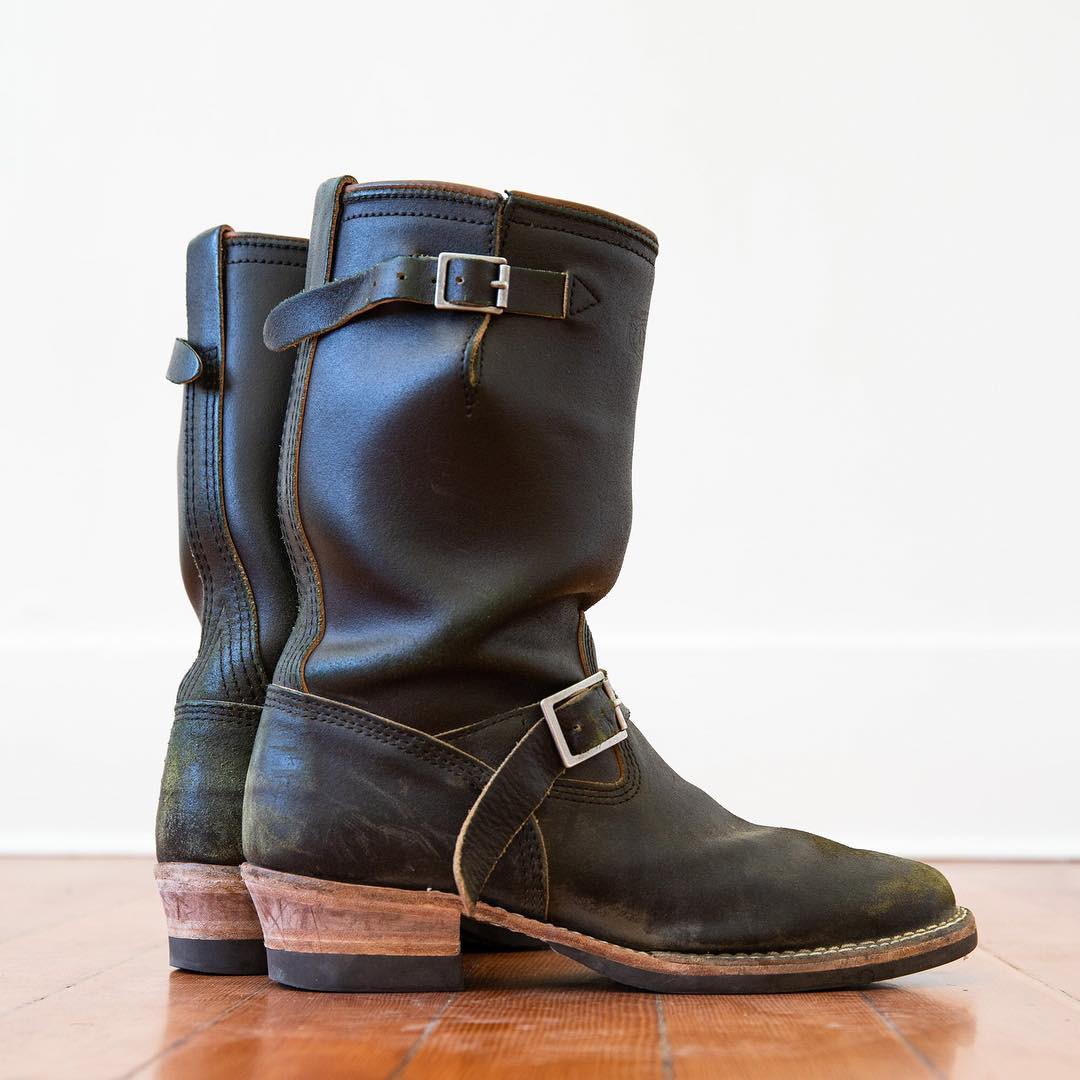 Sometimes, Neil and Jeremy turn to co-develop the products they sell with the brands they stock to meet those needs. This is created some quite coveted collaborations, like their Wesco boots. And there are more to come.
"We've got many projects in the works," Jeremy reveals, "but we don't want to ruin the surprises." Neil does add that it involves leather.
Focus on Customer Experience and Product Expertise
In Neil's opinion, men have gotten the short end of the stick when it comes clothes shopping for quite a while.
"Either the store is not a place you'd want to hang out in, the clothes are poor quality, the service is snooty and judgemental, and sometimes all three."
He's been to shops where he felt like he had to earn the right to purchase something, and he hated it. I'm sure we're all been to that store.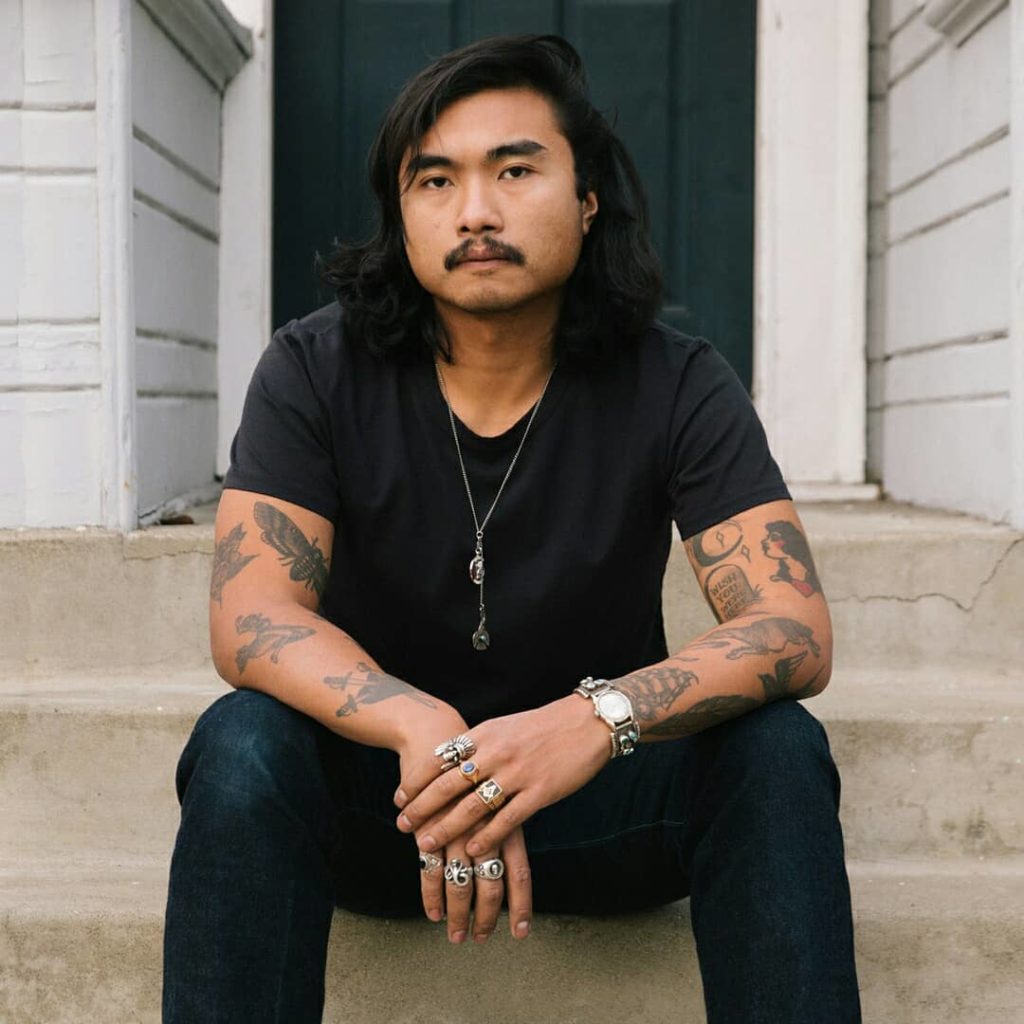 With Standard & Strange, the aim was a friendly and welcoming atmosphere; a place where customers would feel comfortable coming to hang out, without any pressure to buy something. Kenneth Johnson aka @sanforizedson on Instagram explains how they're achieving this:
The environment in the store is pretty low-key and unpretentious. Gen, Mari, and Elliot are lovely, and a pleasure to chat with. They make your visit about more than just clothes and wanting stuff. It's kind of camaraderie."
Suzie Rudloff aka @denimbitch on Instagram describes it as a community hangout. "The folks who go there often feel like family and are incredibly genuine and great to talk to. They help you, but not if you don't want it."
"If you do want to buy something," Neil elaborates, "the customer service will always be absolutely top-notch." That's why they're always working on improving the team's product knowledge, down to construction methods and details, how fabric's made, what goes into yarns, dyeing.
The goal of the online store is to give a similarly welcoming experience, as best as that can translate to the web. "We have lots of detailed high-quality photos, and we go deep into the backstory on products where important," he points out.
Ensuring that they deliver this experience has proven to one of the greatest challenges because it requires hiring the right people, as Neil explains:
"Nearly every other shop-owner I talk find it very difficult getting good staff." And when they moved to a new location back in 2015, things didn't get any easier on that front.
The Autumn That Almost Broke Their Necks
Back in the autumn of 2015, when they were moving into their current location on Telegraph Avenue, Neil managed the buildout and construction while running the existing store at the time.
That was the hardest thing I've ever done; construction never goes on schedule or budget, and we took out a big loan."
On top of that, Neil and Jeremy were scheduled to go to Japan on business for the first time, just as the store was set to open. The stakes were high!
On the day construction began, they found the place in a giant mess; a water heater in the apartment upstairs had broke, and it was quite literally raining inside. "We fought with the landlord over paying for the cleanup and a new ceiling," Neil recalls. "The rest of the construction was full of unforeseen difficulties like that."
It was a stressful time for the entire team; everyone worked long hours and they started fraying at the ends. "We finished just a few days late, but not in time before Jeremy and I had to go to Japan. When we returned, and two-thirds of my team quit within a month, which was pretty devastating."
He felt he had failed his team, meanwhile, they'd got a new store, a lot of debt, were two people short, and in the middle of the busiest season of the year. "We hired a couple of people who thankfully were great additions to the store and made it through."
Why Two Regulars Consider It a Denim Destination
Ken aka @sanforizedson lives about 15 minutes from the store, and stops by at least once a month to see what's new and just say 'hi.' In his opinion, Standard & Strange is the best menswear shop in Northern California. "They have a finely curated collection of goods. You'll find items there you may never see anywhere else in the West."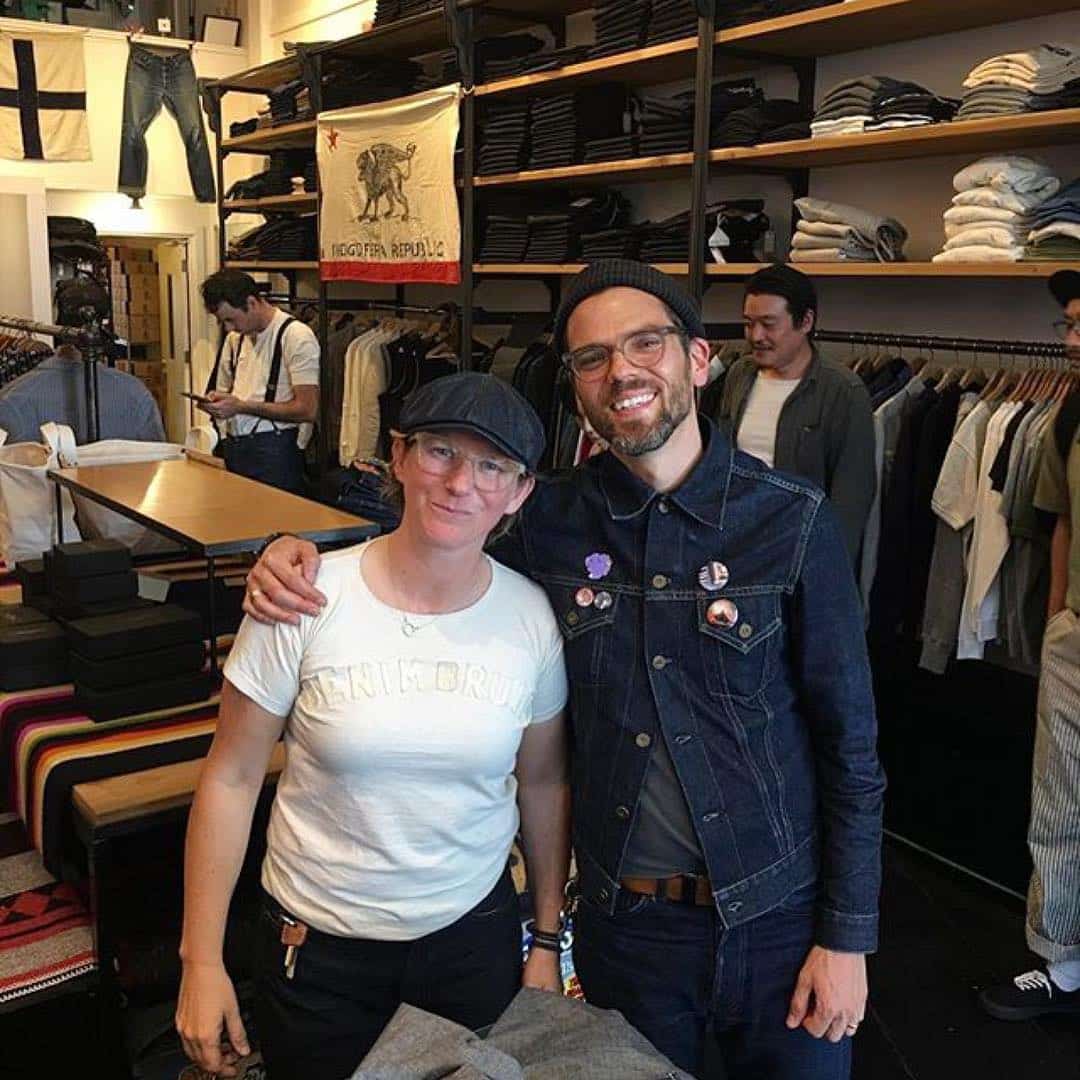 Suzie aka @denimbitch lives only a few blocks from the store, and she's a long-time customer. "I remember coming into the original store and they had only a few stacks of denim, cycling shirts and a few boots. The dressing room was a corner with a curtain around it."
For her, Standard & Strange is a denim destination because there's no place like it in the US. In large part because of the community aspect of it, but also because of the brands they stock:
They're all top quality and unique from so many other stores. Neil and Jeremy go outside the box with Kapital, Ooe Yofukuten, The Real McCoy's, Runabout Goods, Wesco, Obbi Good Label. These guys take chances and I think people really appreciate that."
She acknowledges the hard work that goes into the brand mix. "They travel around the world to find new brands and make connections with people. They work incredibly hard to keep looking for the nicest, coolest, most interesting things."
"The staff is very attentive," Ken adds. "They get to know you, take time to figure out what you like, and do their best to help you find what that is. And that's not just for regulars." He appreciates how they're honest as well. "If something's not the right fit, they'll let me know."
He also enjoys the music they play in the store, be it random 60s Cambodian psych rock, classic soul, or 80s alternative.
Other Things To Do When You're in Oakland
Regardless of how far you have to travel to visit the store, you'll also want to experience some of the other great things Oakland and the Bay Area has to offer.
Suzie suggests you eat in Oakland, take a ferry across the Bay, walk across the Golden Gate Bridge, and just walk anywhere in San Francisco. In Oakland, Ken recommends the Oakland Museum of California. "It's in downtown Oakland and captures a lot of the spirit of California through the ages. It's a gem!"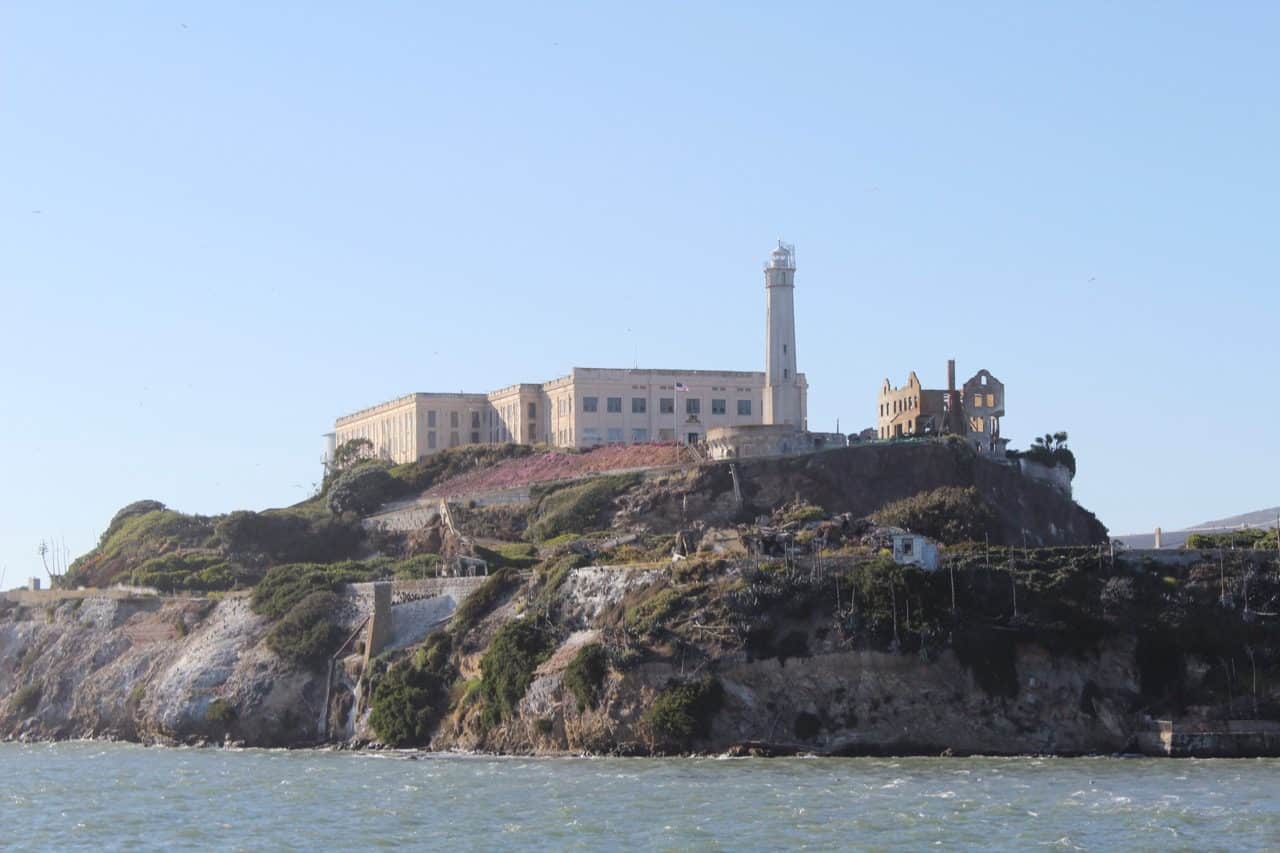 He also suggests that denimheads would enjoy a trip to Alcatraz. Having done the tour myself, I couldn't agree with him more. The prison that housed America's most dangerous criminals of the time closed in 1963, but has to a large extent been left in its original form.
They give you earphones for an audio tour that will direct you around the prison. It contains interviews from guards and prisoners that lived there. Lots of pictures of cool old haircuts, prison denim, and chambray too."
You can take a ferry from Fisherman's Wharf in the San Francisco, and Ken advises you to make your reservations early as the tours usually sell out before the day they actually occur.
Ken also recommends the SFMOMA modern art museum in downtown San Francisco, which has a nice coffee shop inside too.
Ready for More Stories …?
I hope you've enjoyed this review of Standard & Strange. Feel free to share your experiences with the store in a comment below, or on Instagram.
If you'd like to read more stories like this one, check out all the previous posts published here on Denimhunters. Maybe start with the most recent ones below.
And if you'd like to get a heads up via email once a week about new blog posts, you can sign up for the free email newsletter.